Sandwiched between Sabah and Sarawak in Malaysian Borneo, this tiny wealthy sovereign state is home to the Sultan of Brunei, one of the richest men in the world. Its wealth its owed to extensive offshore oil and natural gas fields, with a quick stop over of 24 hours you can get a good impression of this tiny little kingdom.
We were on our way back to Australia from a quick trip to the UK and decided to break up the long exasperating journey with a stopover in the tiny kingdom as we were flying with Royal Brunei Airlines. We arrived late Friday afternoon and left early Saturday evening which gave us some time to both rest and explore.
We had booked a night in the Radisson which is one of the better hotels in Brunei's capital – Bandar-Seri Begawan. It was a treat and we wanted a pool, the hotel is quite well priced at BND$123 (AU$117) per night, a bargain for a 5-star hotel! We were offered an upgrade for an extra BND$30 which gave us a better room and breakfast otherwise it was BND$18 per person for breakfast so the upgrade was a good deal, although they forgot to charge us for it!! We were also offered complimentary late checkout at 6pm and given our flight was at 8pm it was a godsend. The hotel is well located within walking distance of all the attractions which are mostly centred in the city. The city itself is quite small, more like a town so it doesn't take long to see all the major points of interest.
So what did we do in 24 hours?
Dinner at the local food stalls
Arriving late Friday afternoon didn't leave much time to do much but we did enjoy dinner at a food stall across the road from the hotel followed by a dip in the hotel pool! The food stalls are basically a group of cheap food stations selling Asian food and fresh fish and are popular with locals. Our two dishes of ginger beef with rice and nasi goreng plus two fresh fruit juices and a can of 100 plus came to a BND$12. Most vendors speak at least enough English, plus there are pictures and descriptions of the dishes in English on the menus so it's not hard to order. Unlike the rest of South East Asia though, Brunei is a strict Muslim country so one thing you will not be able to get easily (only in hotels and probably expensive restaurants) is alcohol.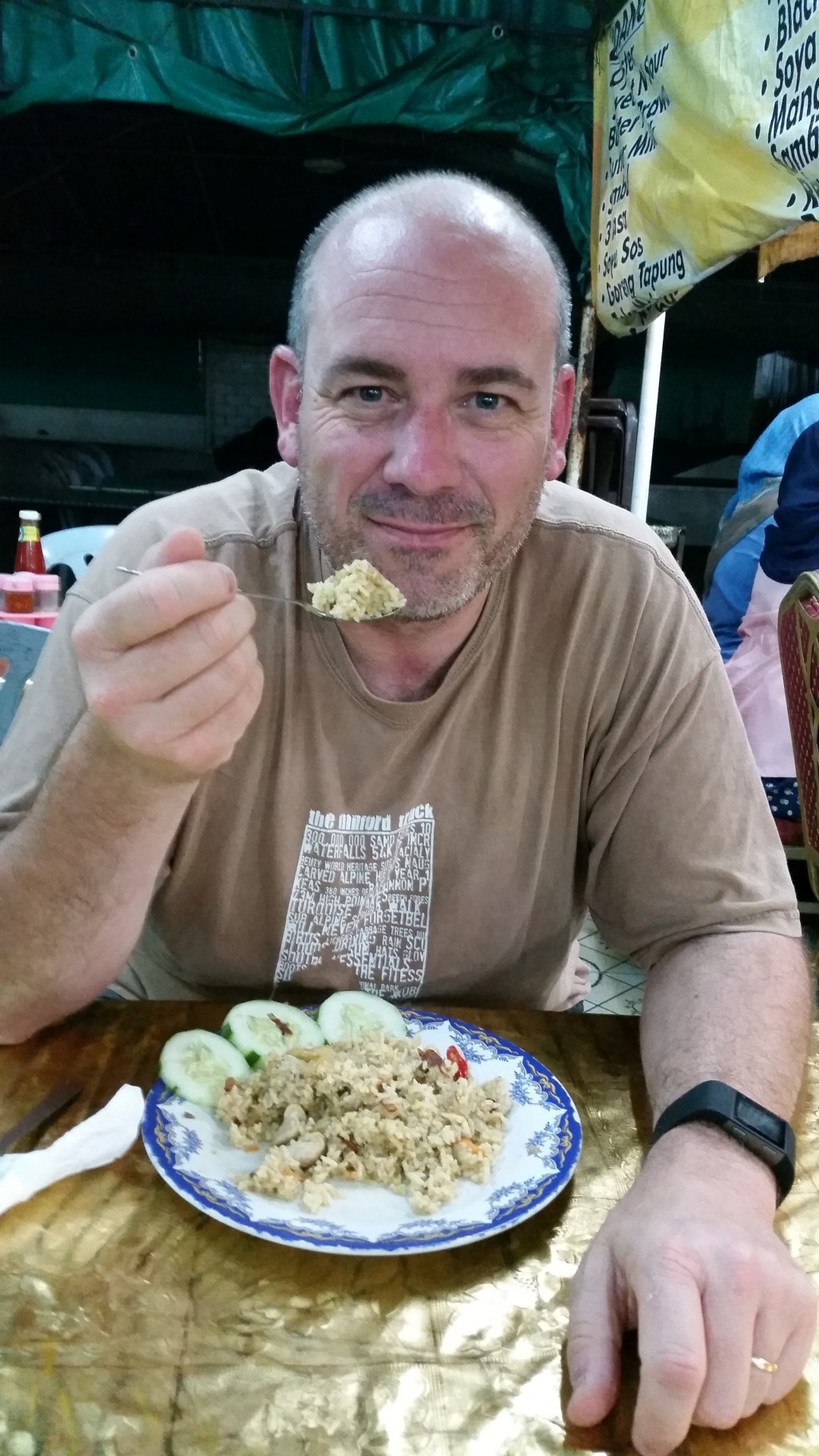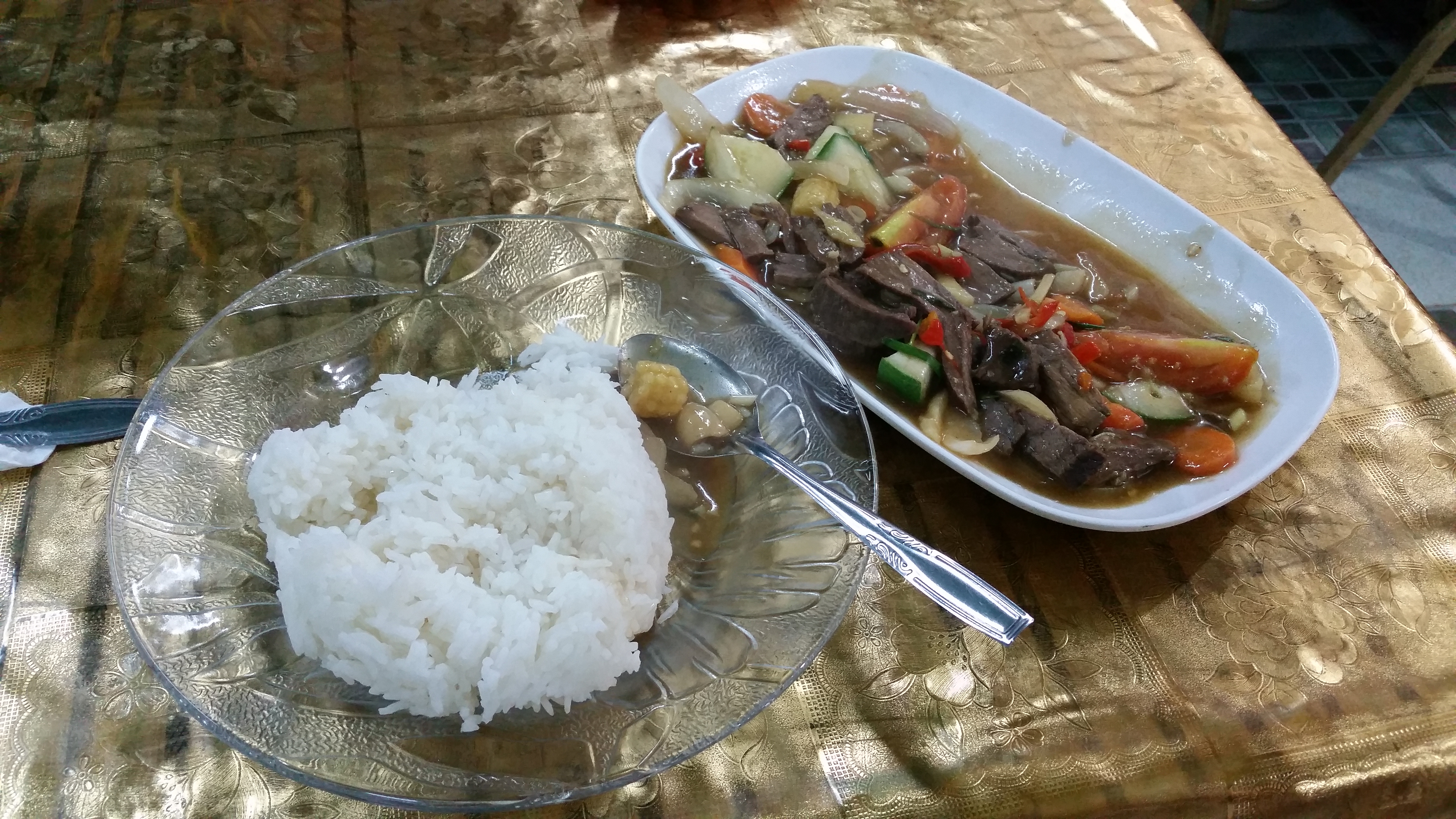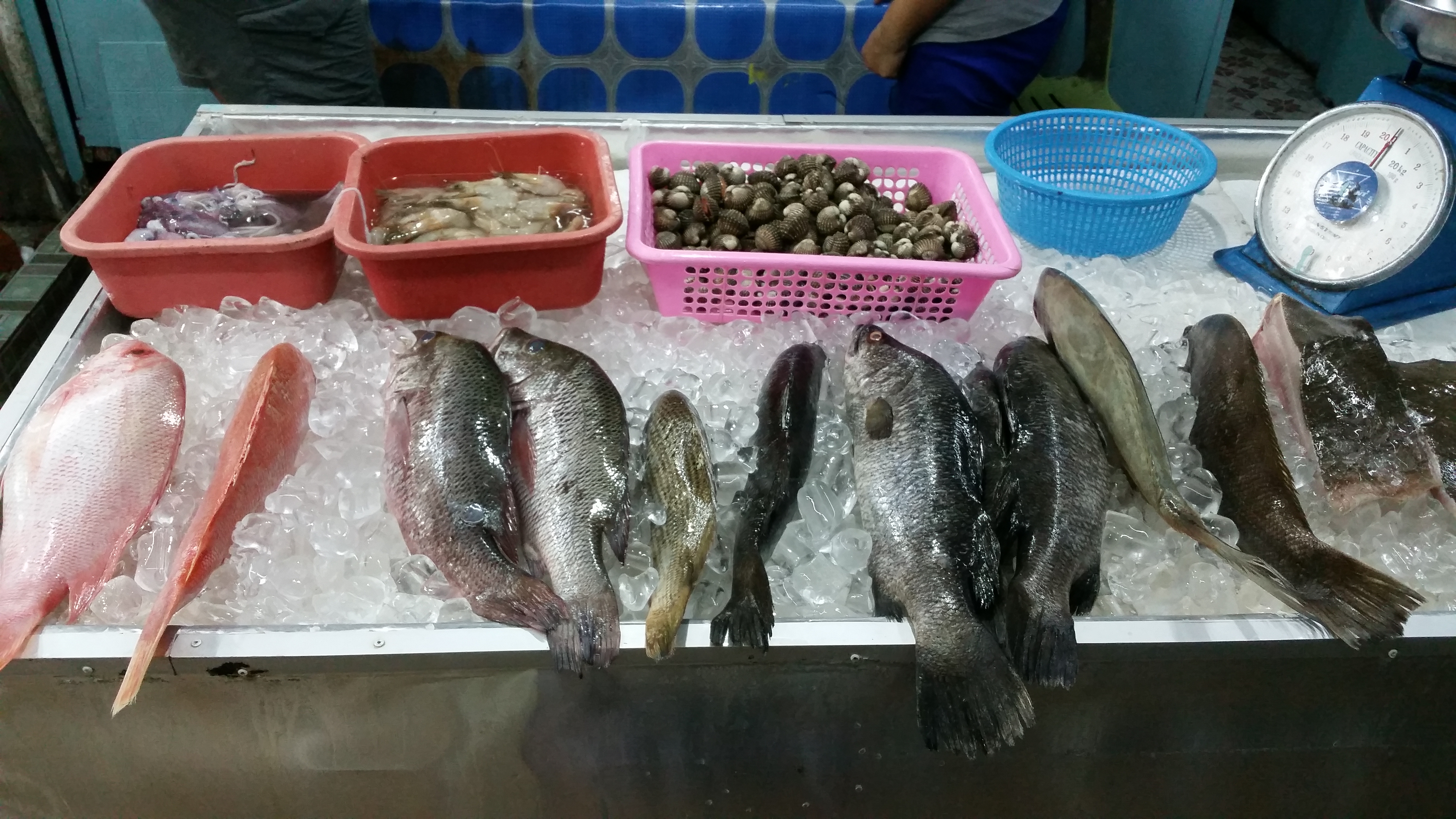 We had nearly a whole day to fill on the Saturday and the city is not that big so all the attractions of interest that are within the city itself can be knocked over in a few hours! After we seen everything we wanted to see we enjoyed the rest of the time relaxing around the hotel pool.
We enjoyed a nice big buffet breakfast in the hotel and came back to the hotel early afternoon for a tasty lunch.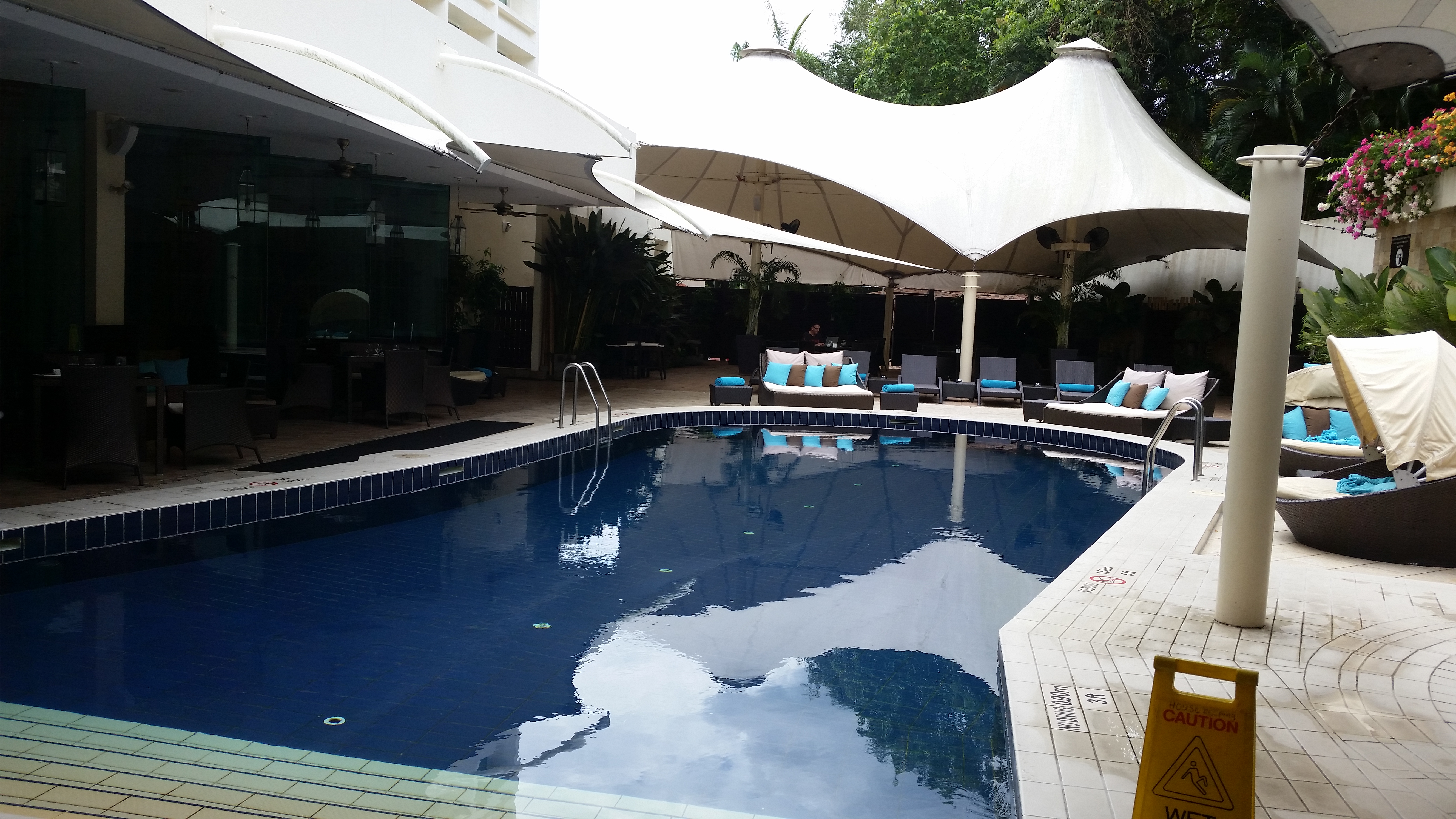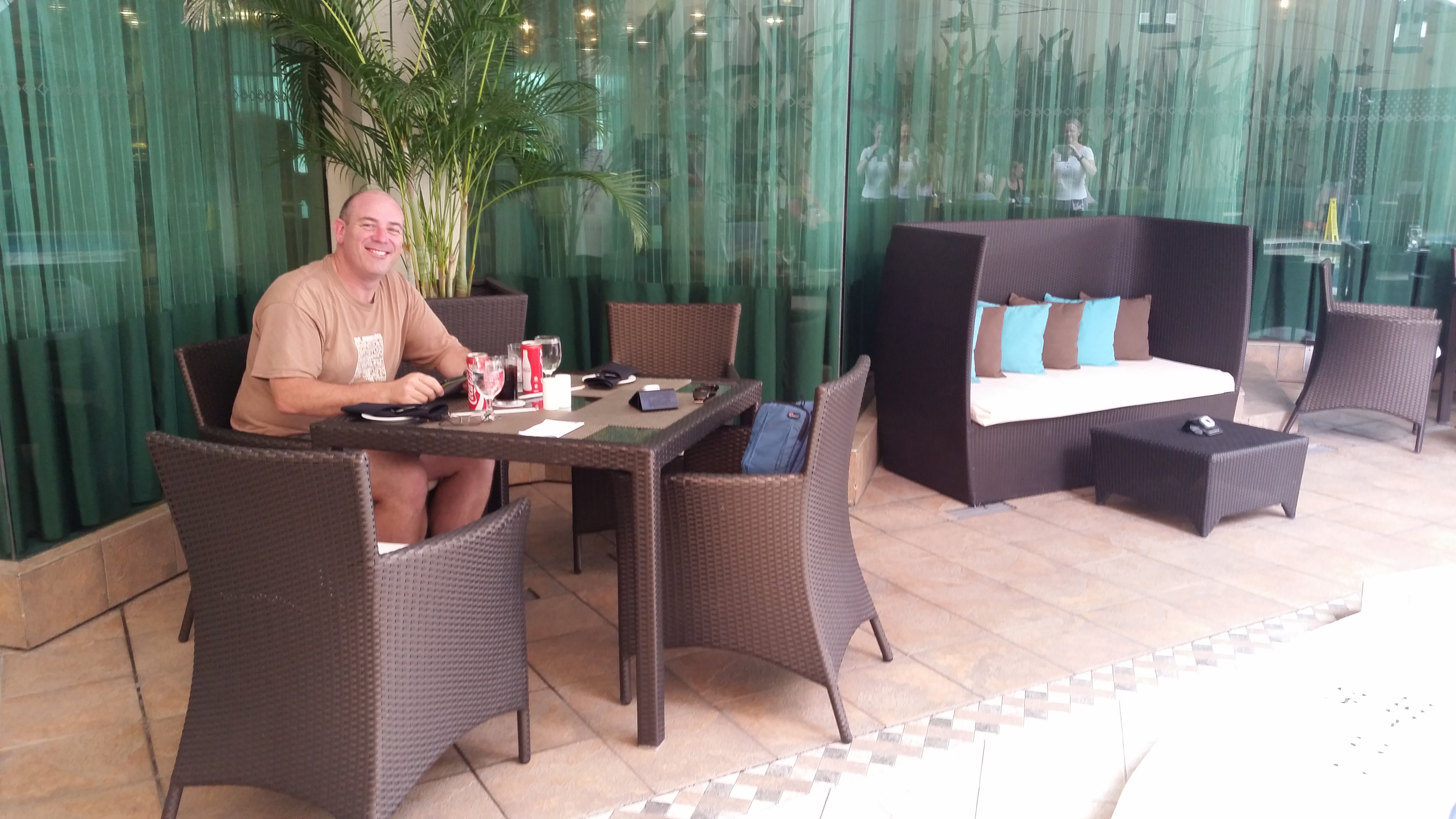 Omar Ali Saifuddien Mosque
Located right in the heart of Banda Seri Begawan this lovely mosque was named after the 28th Sultan of Brunei (the late father of the current sultan). Gleaming white with its golden dome set among picturesque manicured tropical gardens made it a pleasing site for any architecture lover's eyes. We approached the mosque from the back and made our way around to the entrance but sadly we couldn't go in as it was closed for prayers, it was quite disappointing, we promised ourselves we would come back again later but we never did.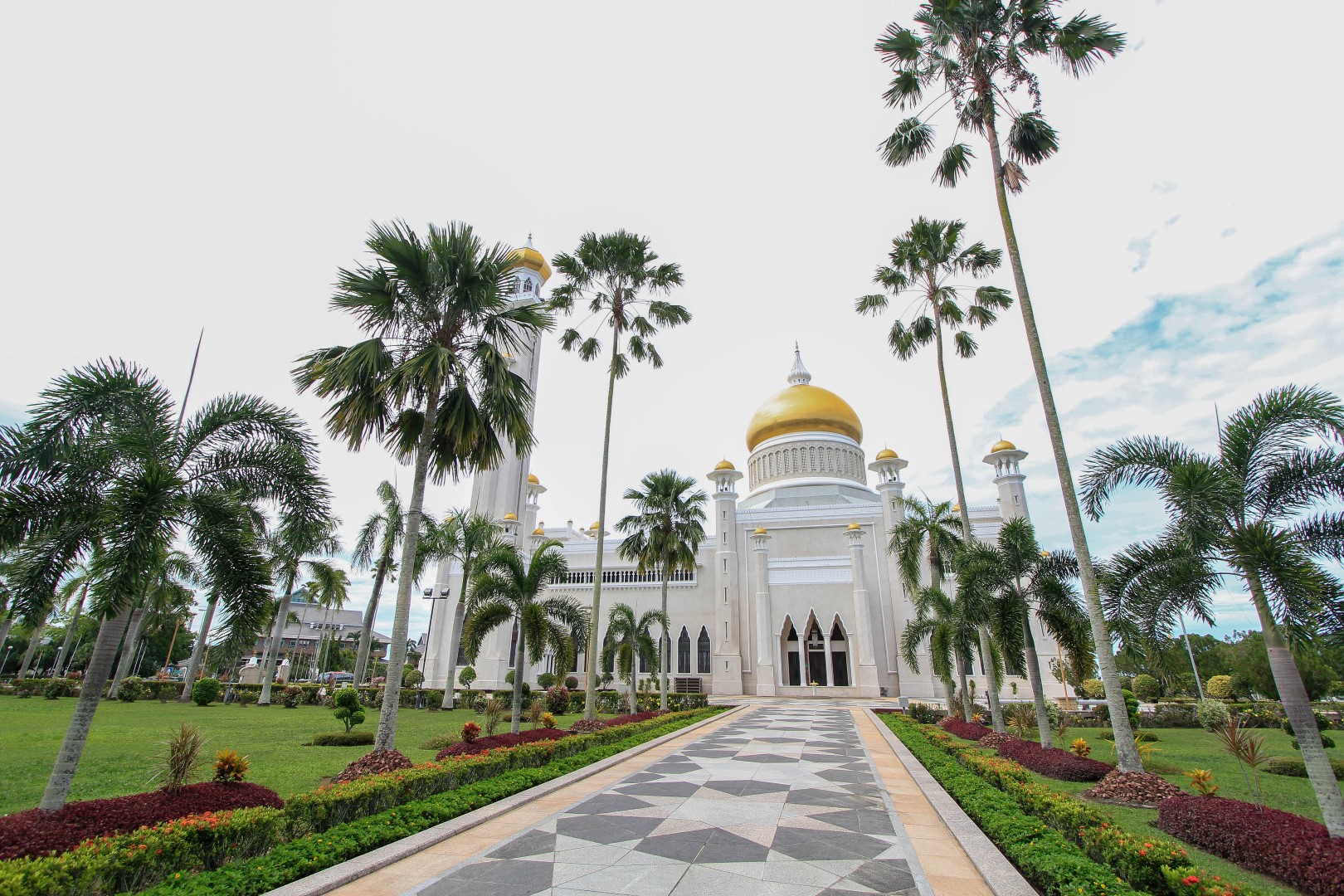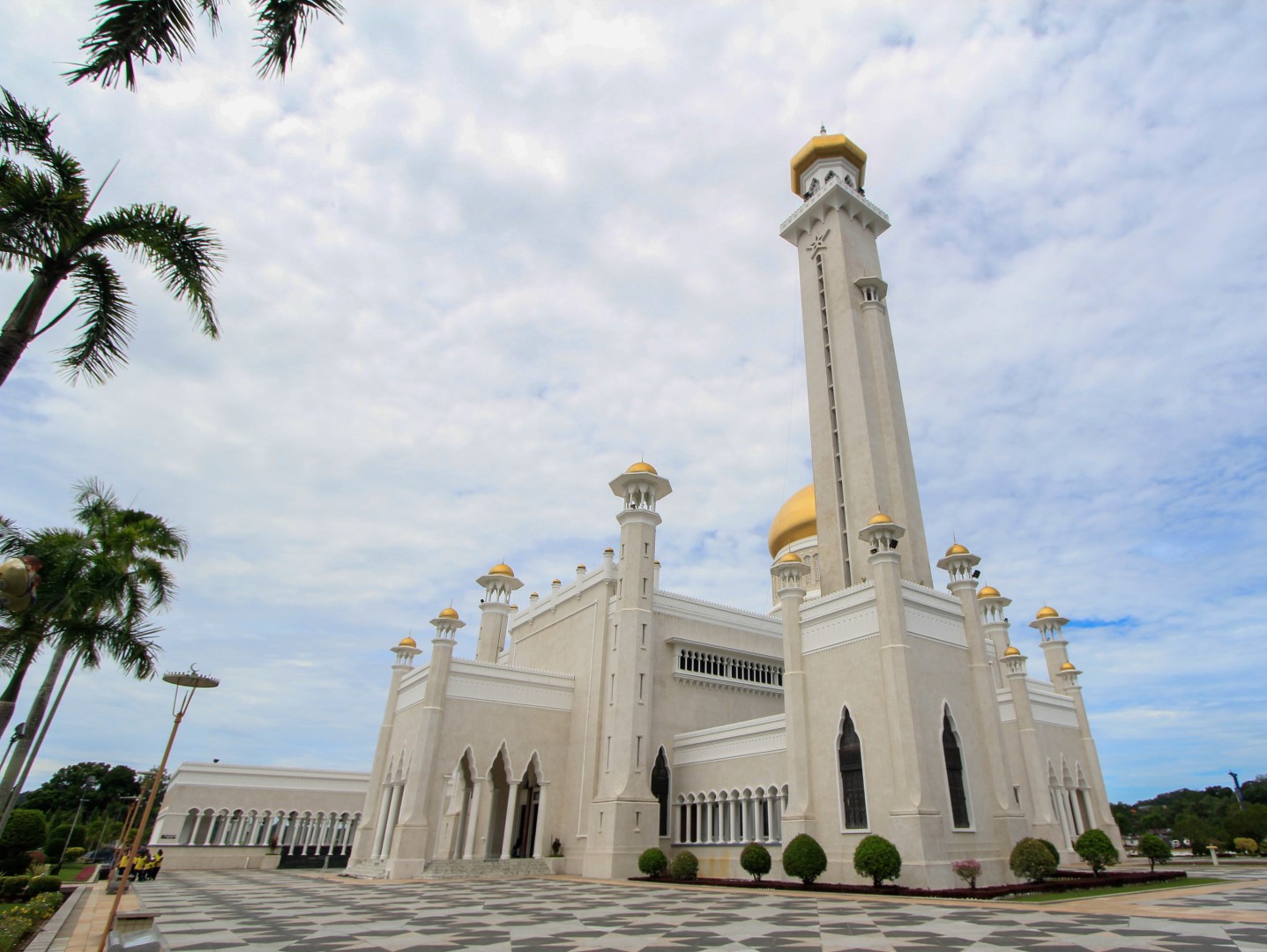 Around the other side, the mosque overlooks a lagoon and a bridged walkway leads out the parked ceremonial barge which provides a vantage point for good overall views of the mosque.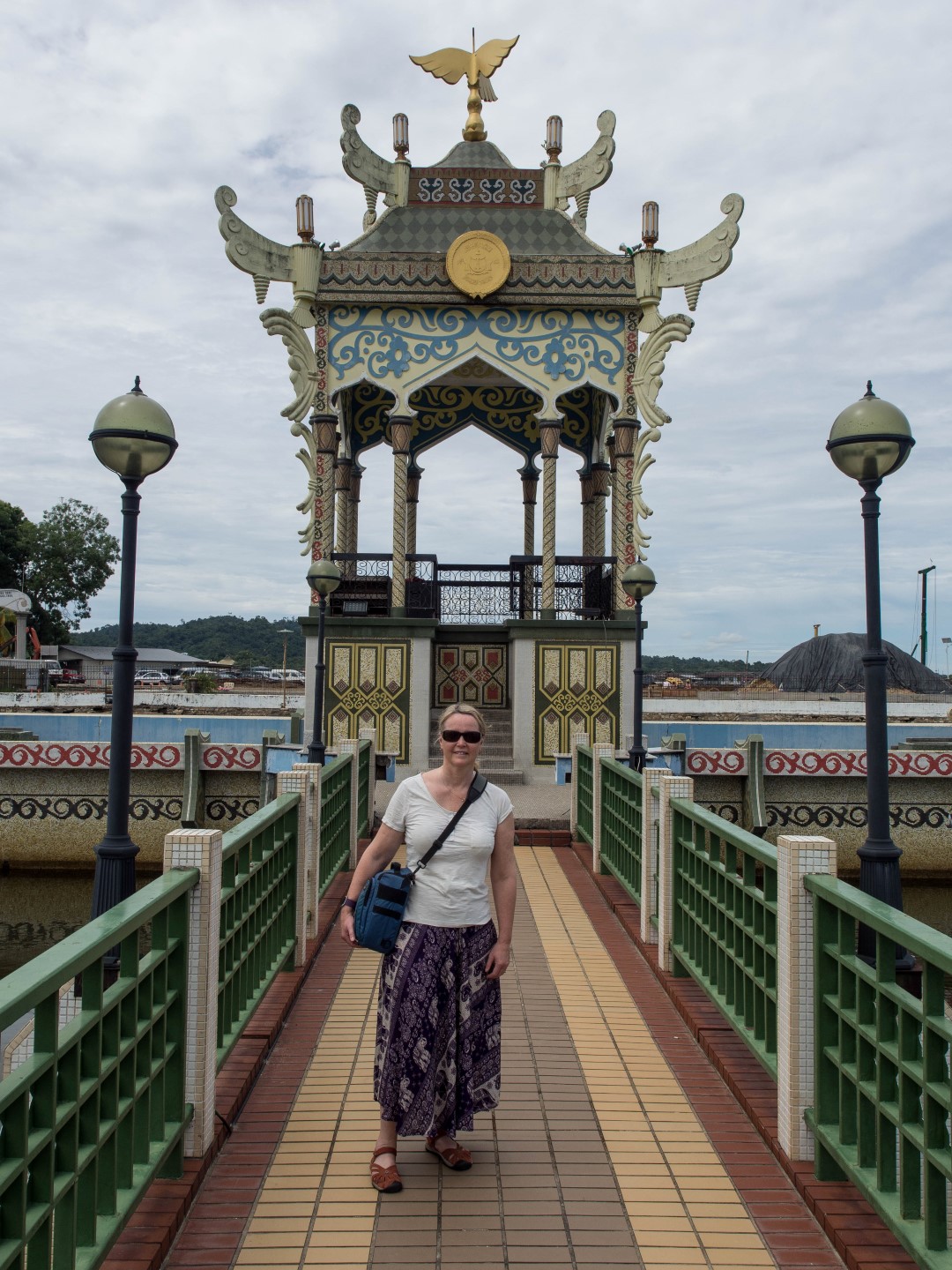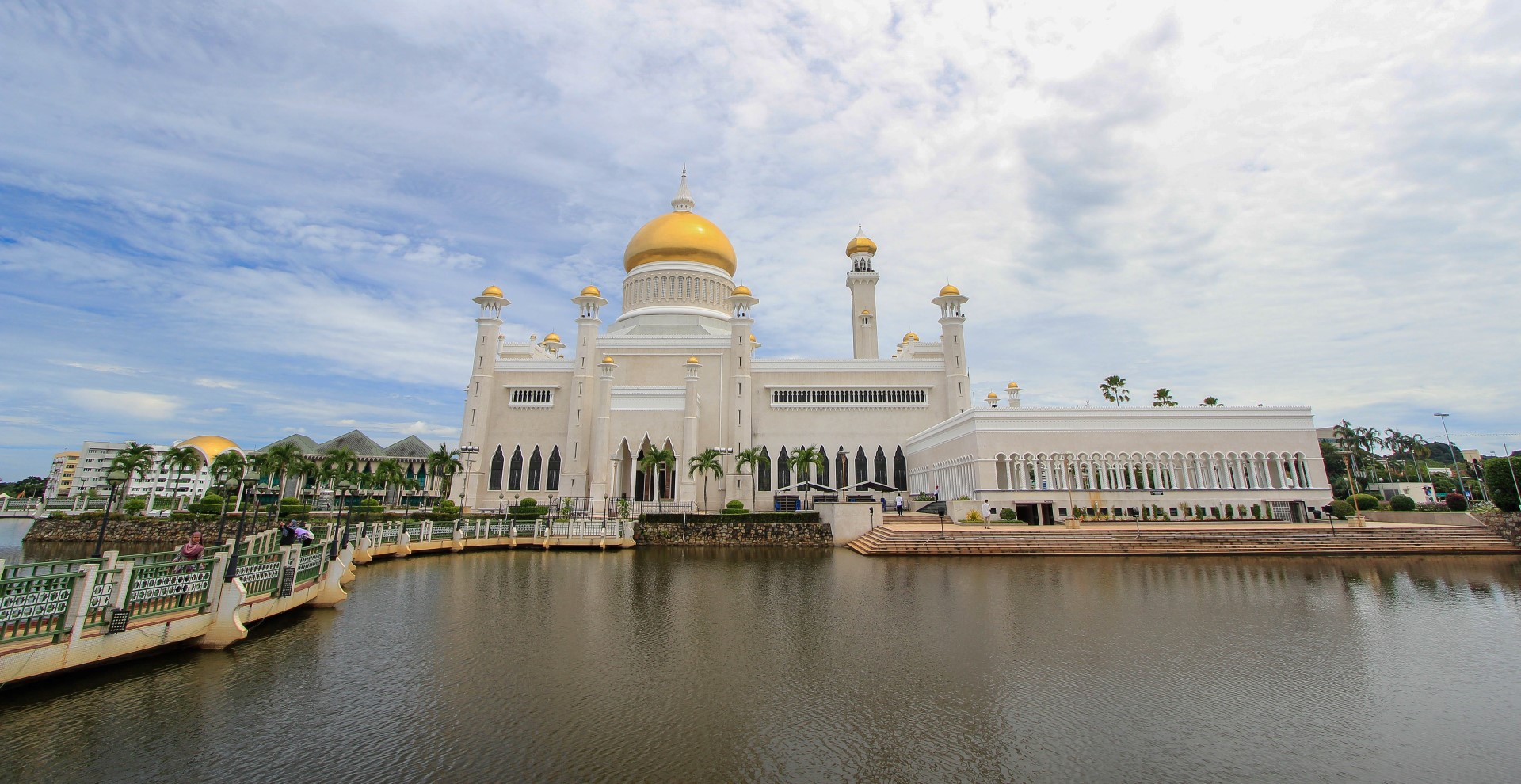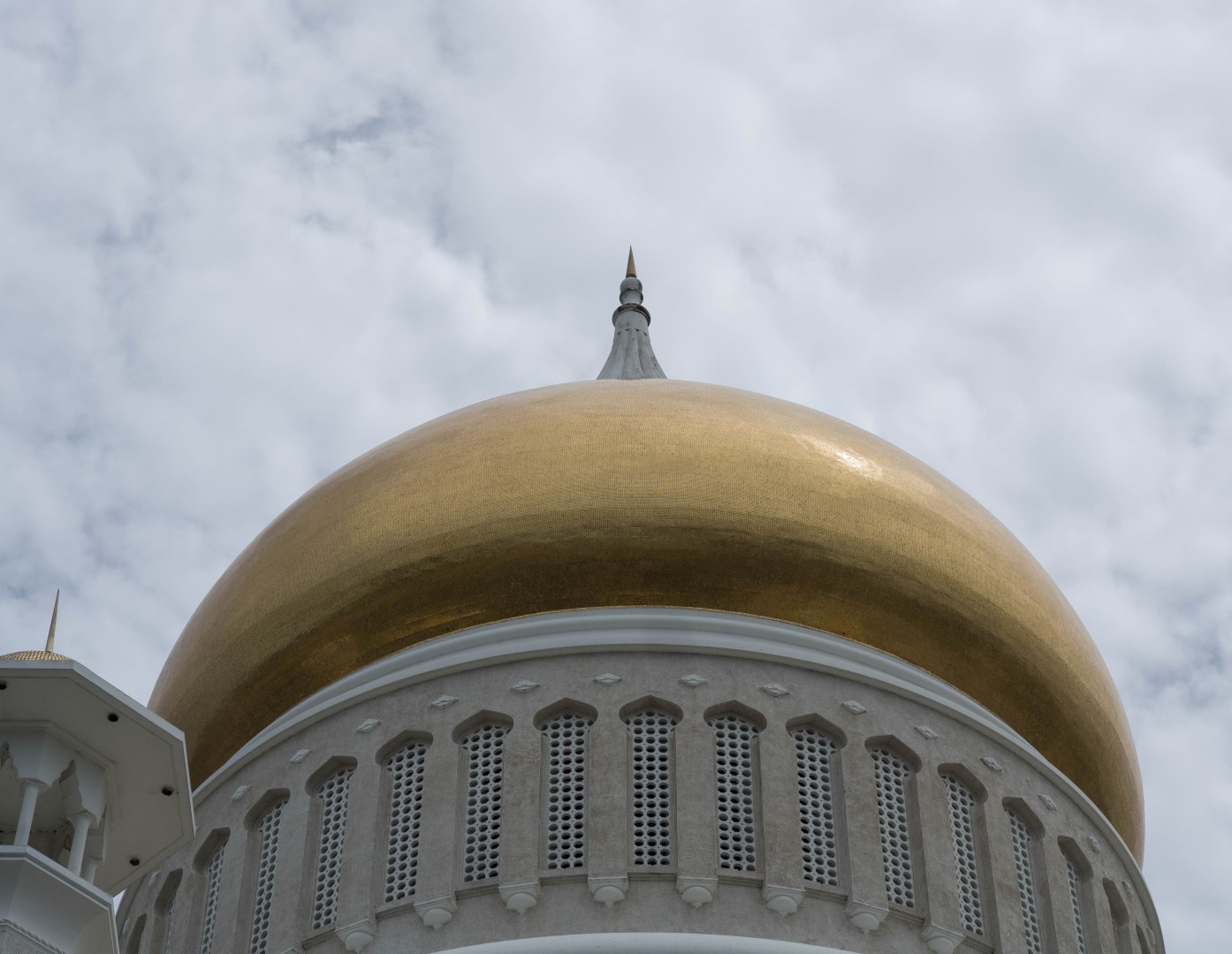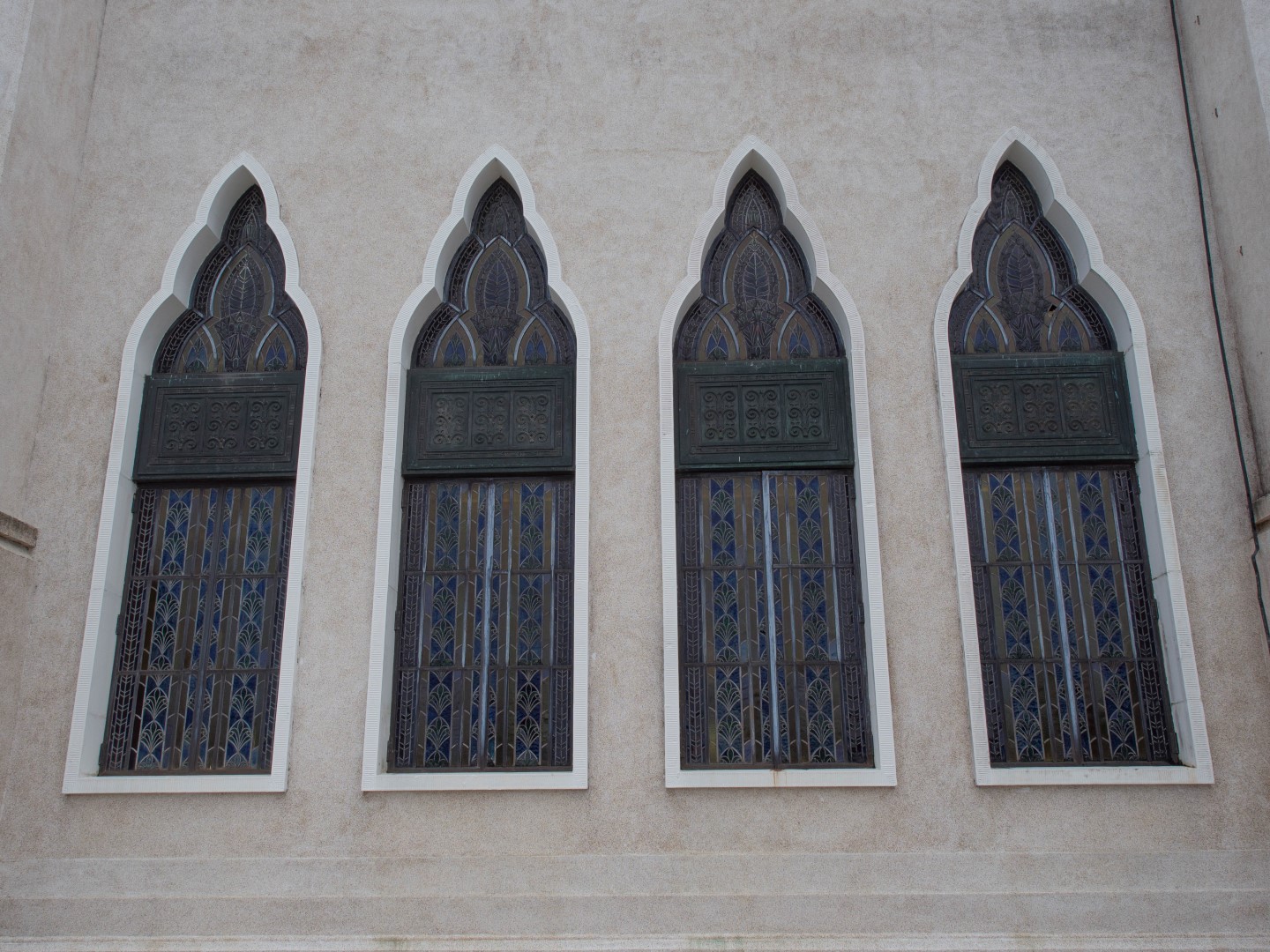 Kampong Ayer
They call this the "Venice of the East" in my opinion I would say "hardly". If you have seen the water villages in Inle Lake, Myanmar then you will probably find this place a little dull in comparison, well, we did anyway! The best way to see the village is to head down to the waterfront and hire a water taxi. But my advice is to be careful as they will try to rip you off, they had a damn good go at trying to pull a fast one with us and partially succeeded (more about that further on) Typically, you only need half an hour to see the water village and an hour if you wanted to explore further to see the proboscis monkeys (monkeys with large noses which can only be found in Borneo).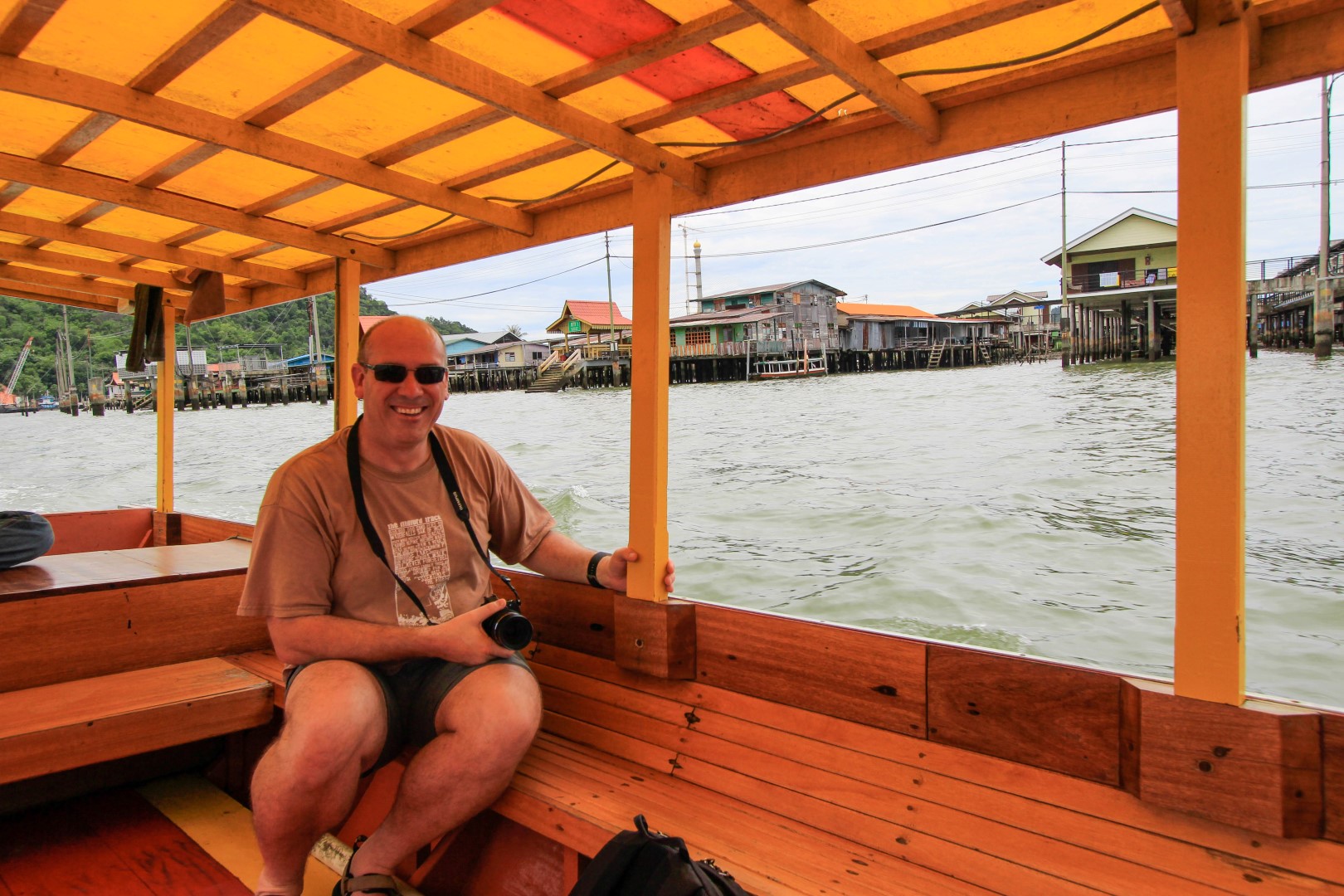 We had two men approach us, one was the middleman the collected the fee, the other the boatman. We had already made the decision that we wanted to see both the village and the monkeys so started negotiations with our fellows. It started at BND$50 for which we laughed and walked off so that prompted a chase and further bartering. We knew the price was between $15 and $25 for just the village tour as per informative blogs we had read plus the hotel had the price we should pay printed in their "what to see and do" guide. We made it very clear to the guy that we wanted to see both the village and the monkey's so we finalised on BND$30 for the hour.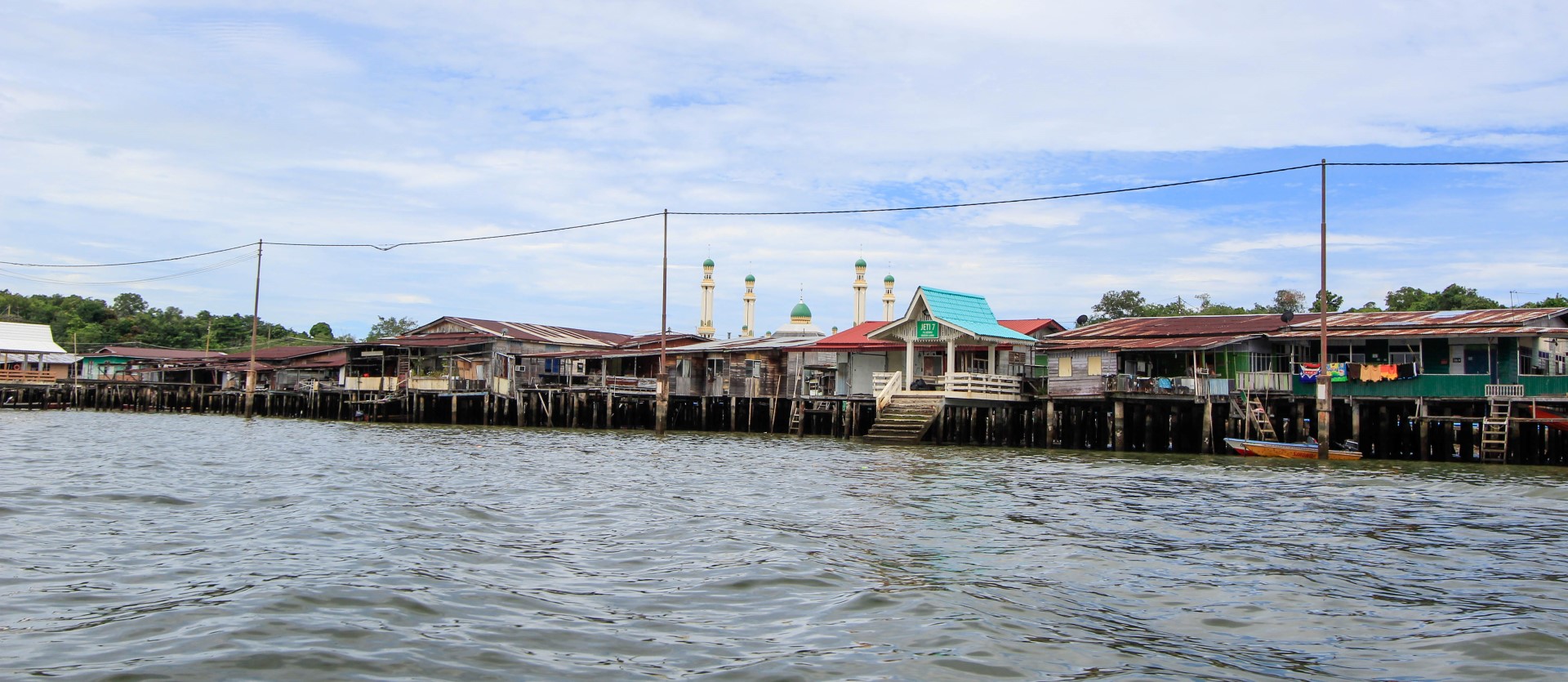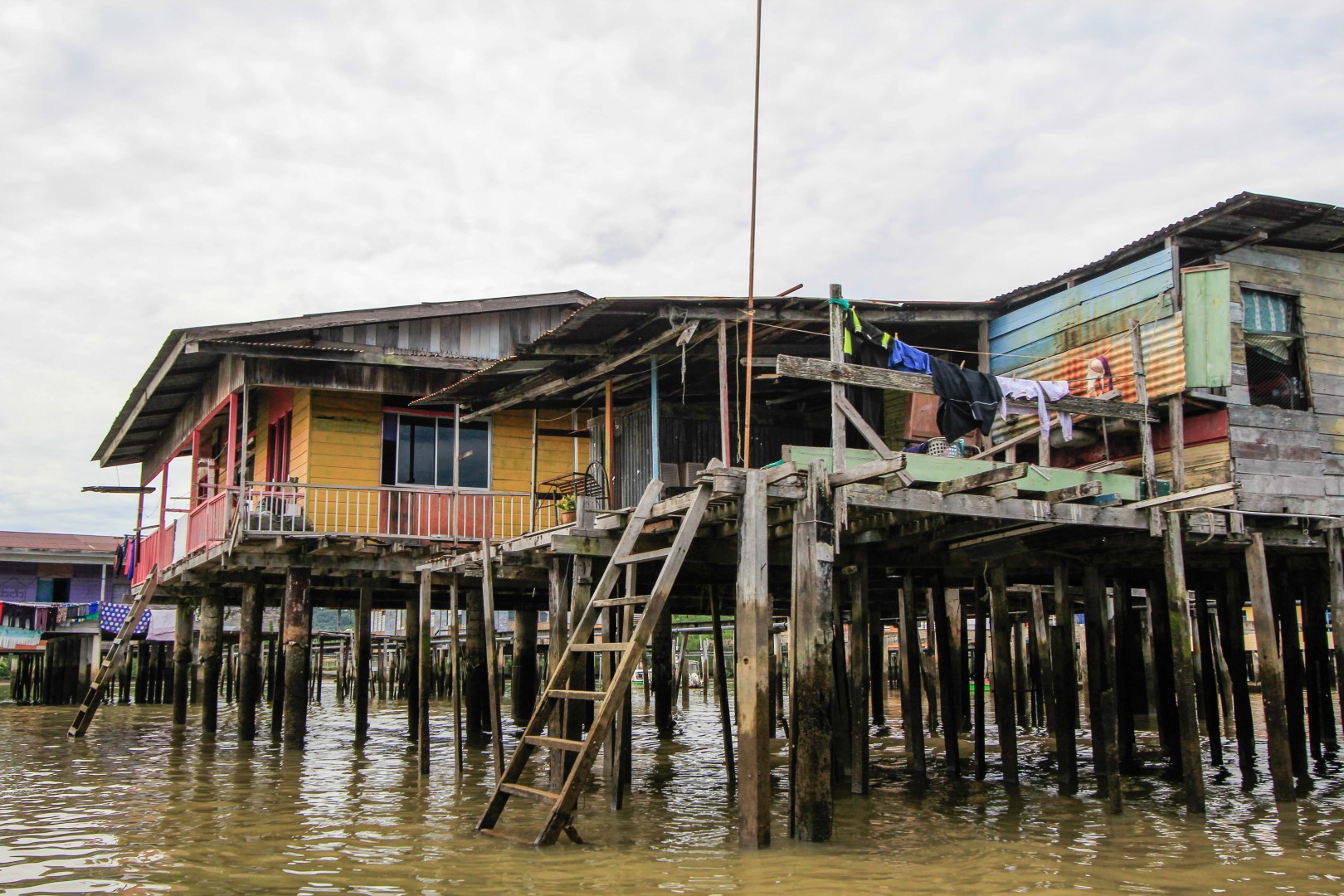 The village is home to around 39,000 people, around 10% of the nation's population. The boatman was quite informative at pointing things out as we chugged up the river, we saw the top of the Sultan's palace as most of it was hidden behind trees! The village is quite a self-sufficient community with its own fresh water pumping station, police station, fire station, Mosque and a couple of schools. Our trip didn't include a stop off in the village itself, although I understand it is possible but probably on a more organised tour.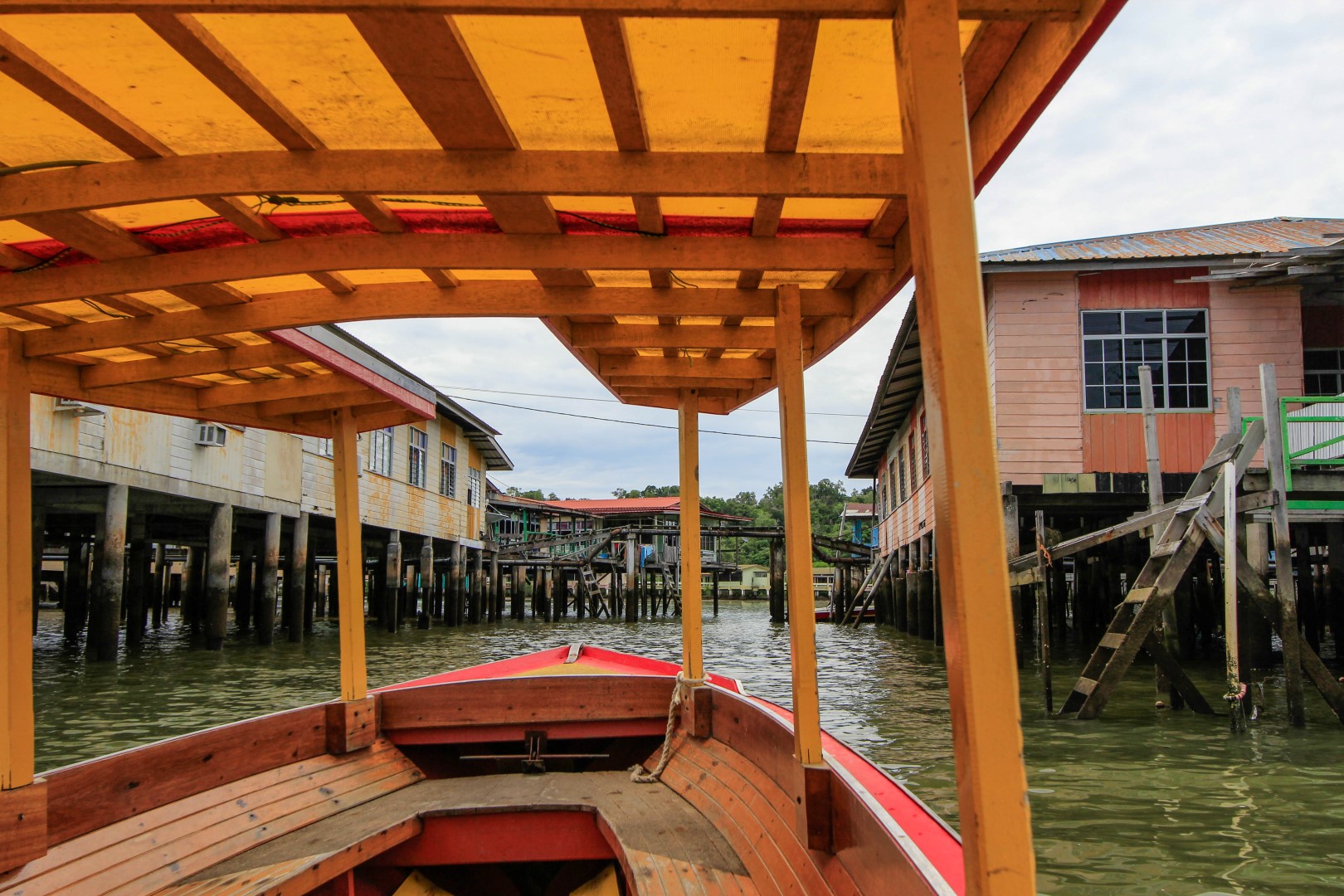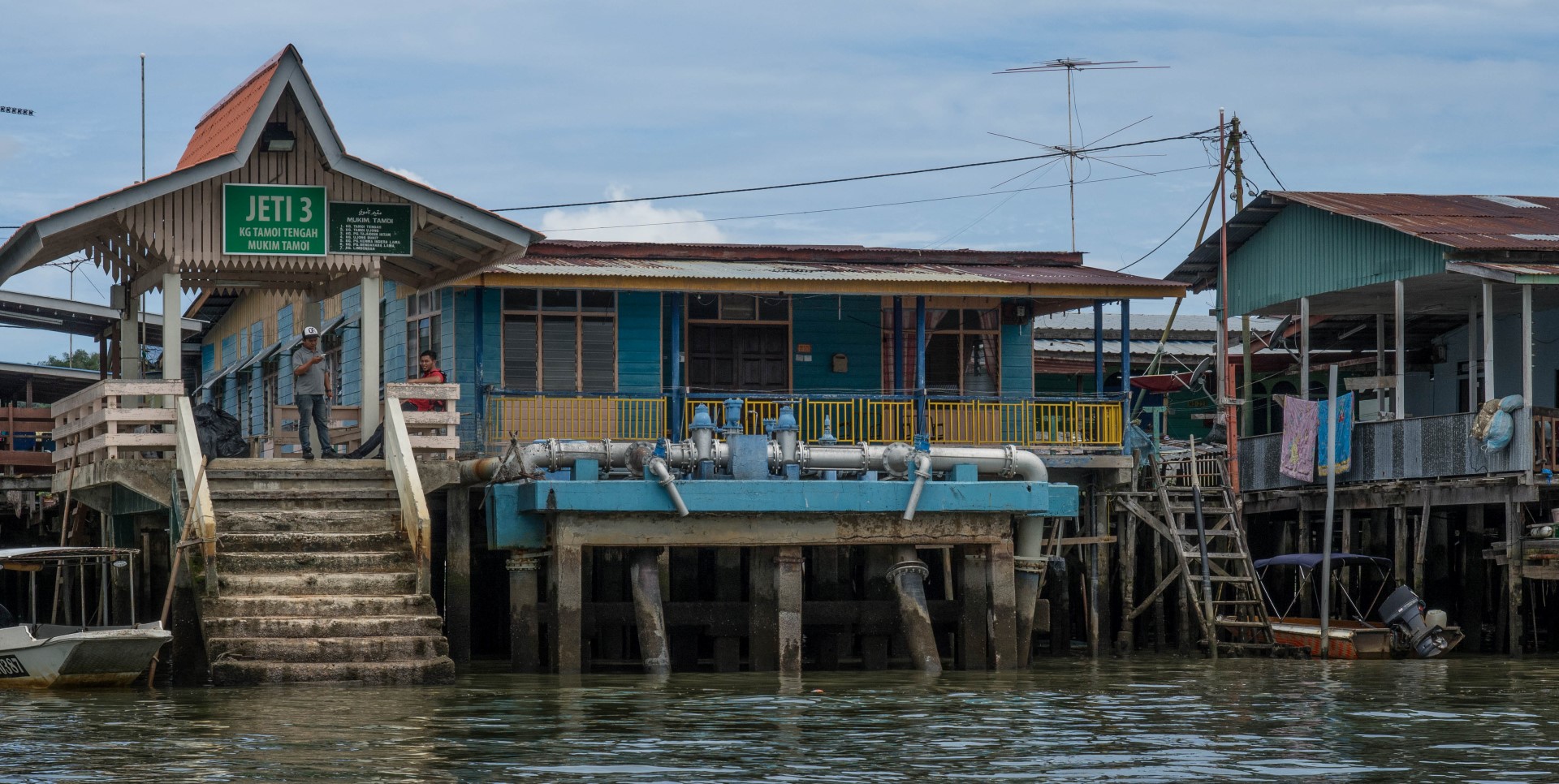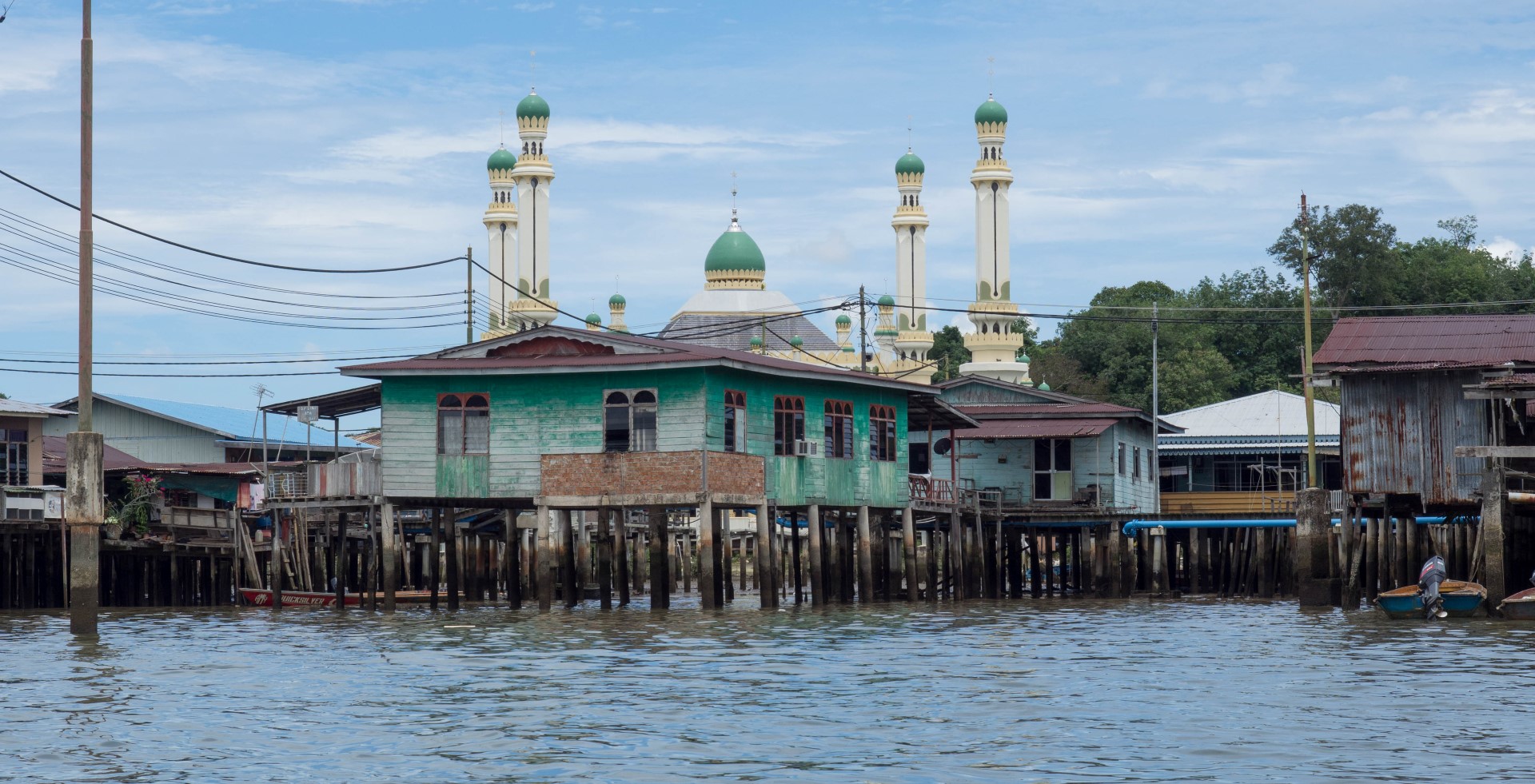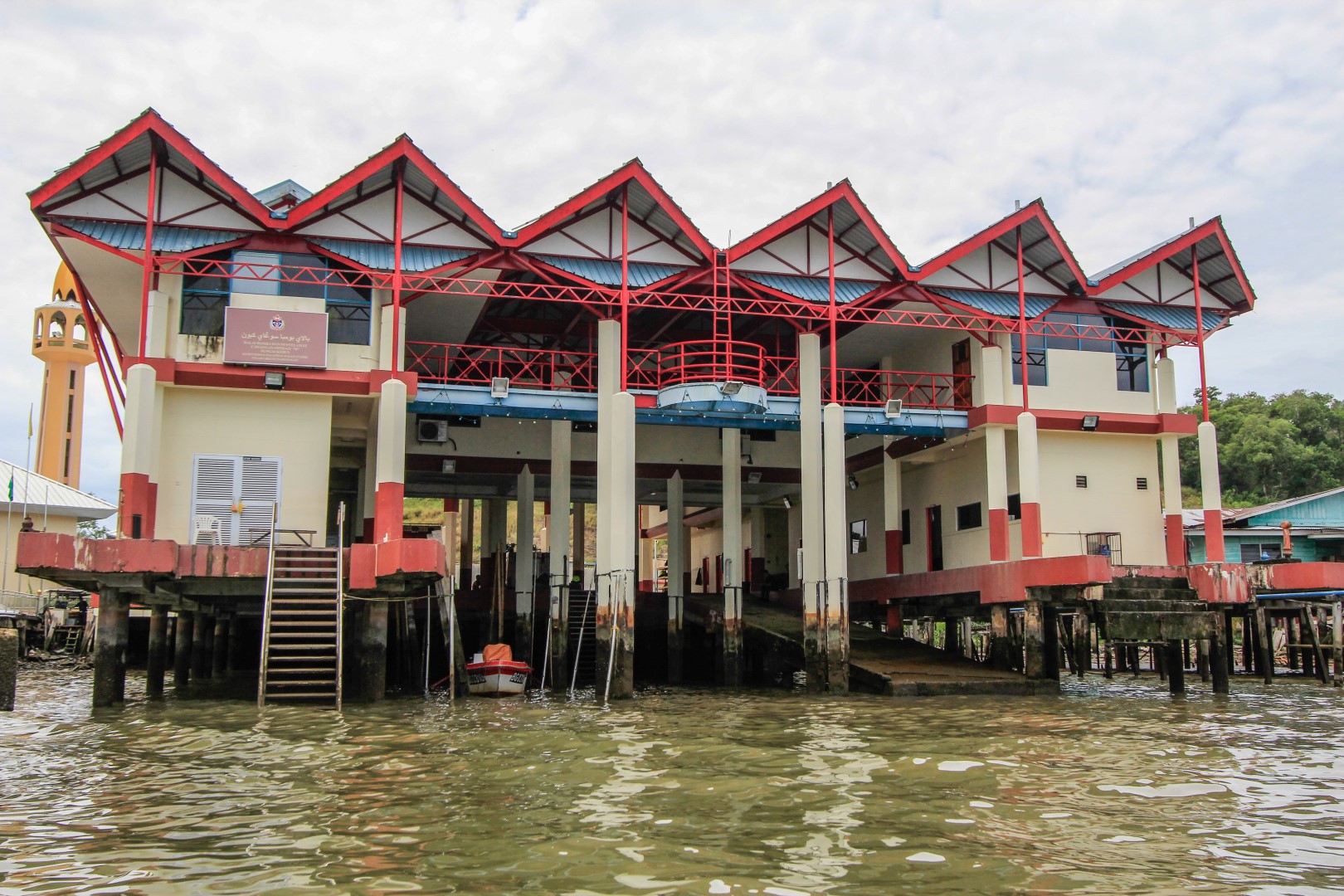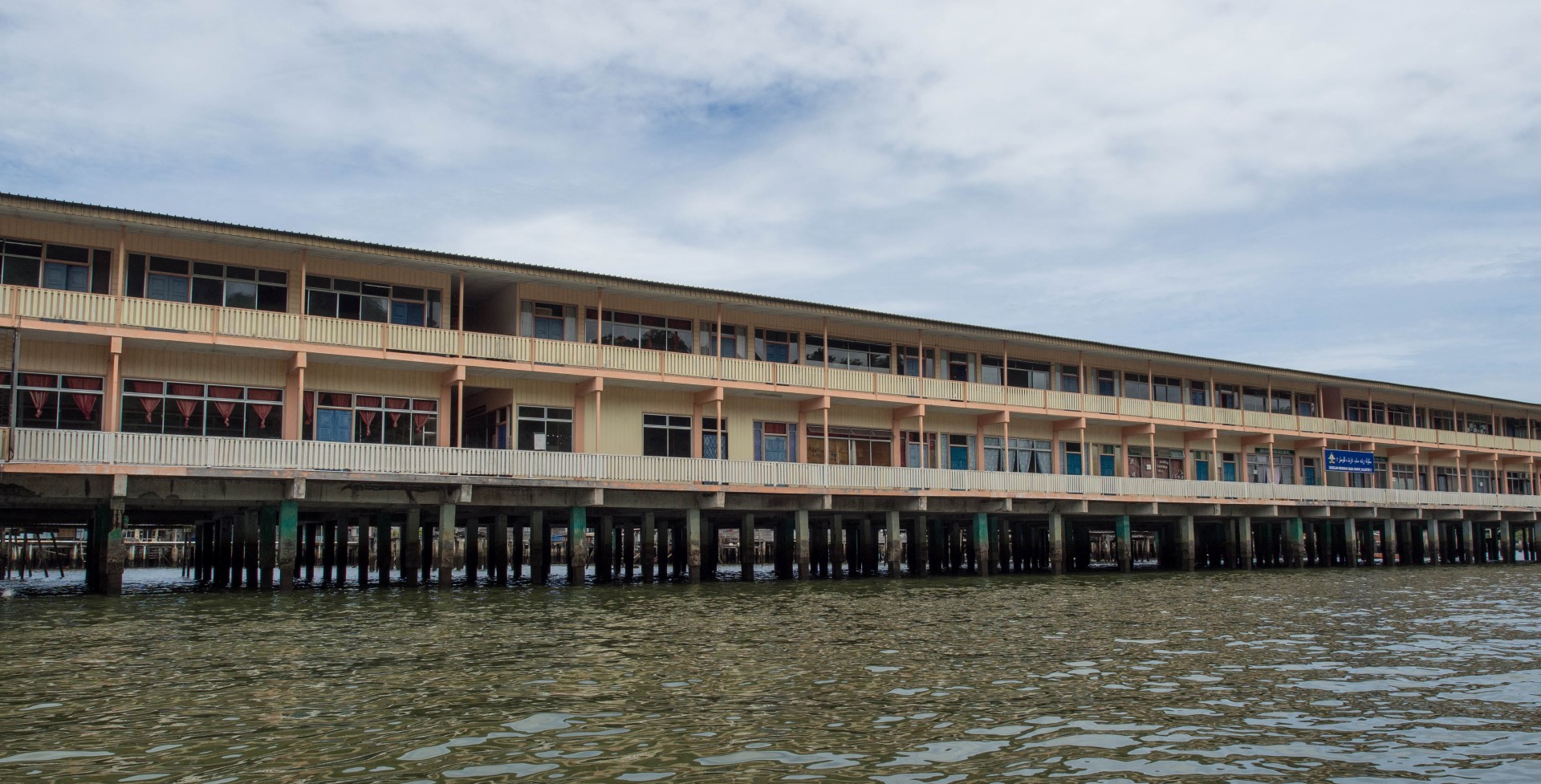 As mentioned above we were partially ripped off not with money but time. We missed out on seeing the monkey's because they tried to make out that our BND$30 was only for half an hour. The boatman pretended that the ticket man hadn't informed him and our middle man friend played dumb and pretended he didn't hear our agreed price and time. With that we lost our shit with both the boatman and the middleman, told the boatman to take us back to shore, gave our cheating middle man a serve and threw BND$15 at him. We lost out on seeing the monkey's but they lost out on an extra BND$15!
To be honest what they charge even for half an hour we think is too expensive, especially in comparison to other boat trips we have been on elsewhere in Asia.
Royal Regalia Museum
This museum is a must see of Brunei and offers a refreshing cool escape from the tropical heat! The museum showcases 25 years of Sultan Hassanai Bolkiah's rule. In the museum you will find interesting history and artefacts like ceremonial costumes, weaponry, crown jewels, treaties, gifts and much more, as well as some informative history of how the country was formed.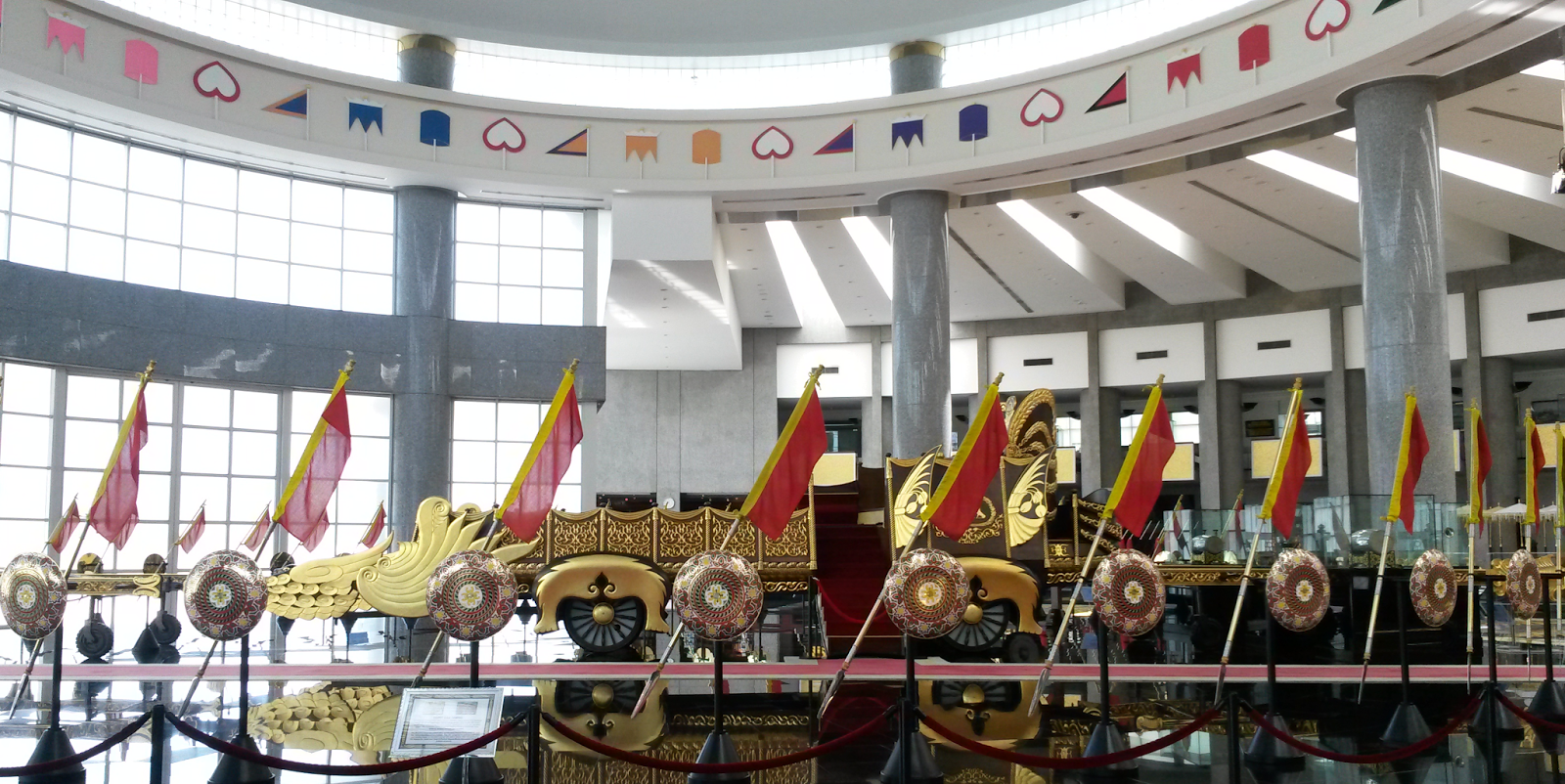 Tasek Lama Recreational Park
This small park was less than 10 minutes' walk from our hotel going in the opposite direction to the city centre. Its only worth doing if you have time although it only takes about half an hour to walk the entire loop of the park. Its main attraction is the waterfall which is quite pleasant, but the loop track was a nice way to stretch the legs, enjoy some tropical foliage and kill some time.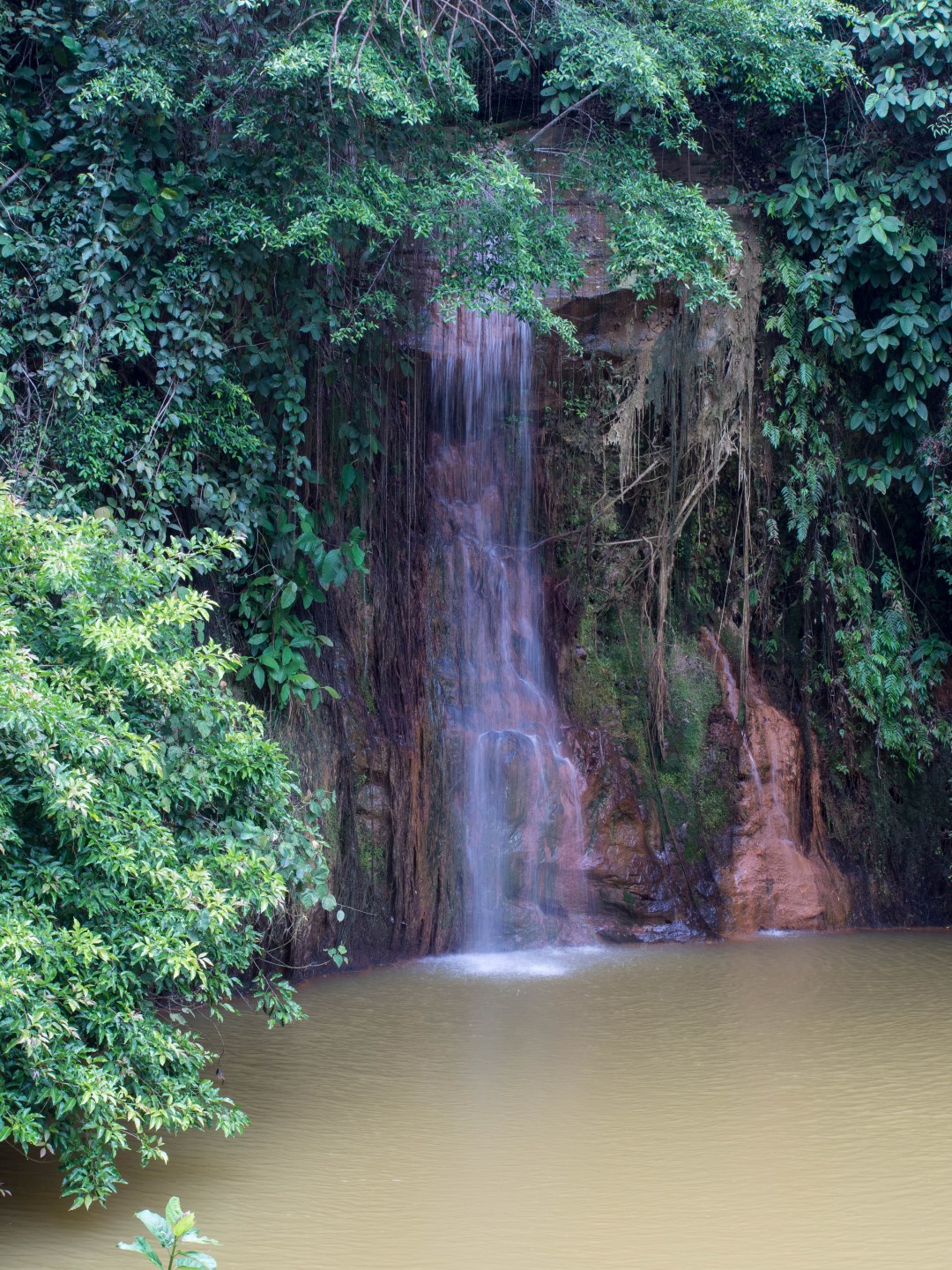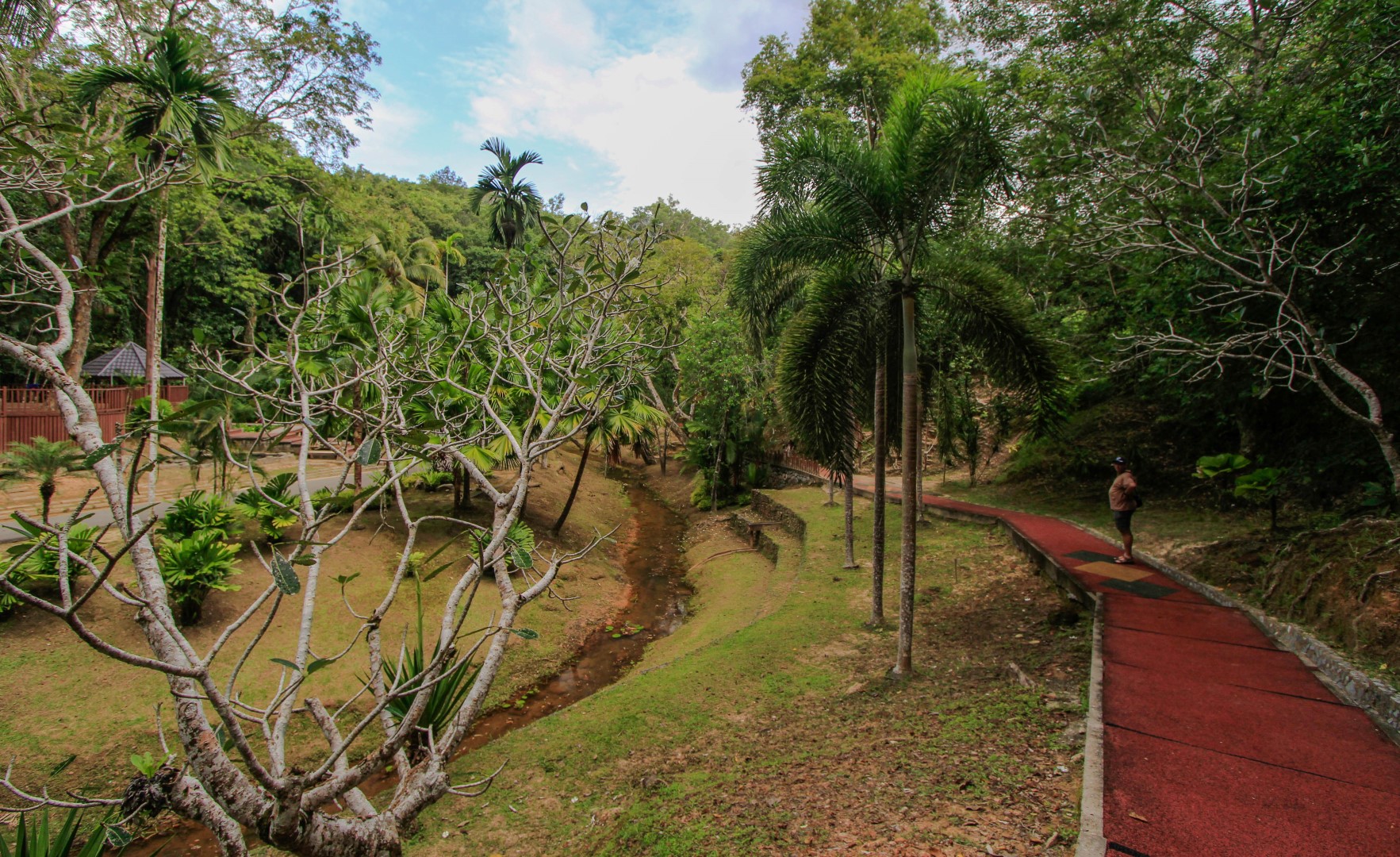 Other attractions in Brunei:
Jame'Asr Hassanil Bolkiah Mosque
Located in the suburbs around 3 km from the city centre this mosque built in 1992 to celebrate the 25th year of the current sultan's reign, is reputed to be more impressive and ornate than Omar Ali Saifuddien Mosque. Had we more time we would have ventured out to see it as it's easy to get there by local bus. Having said that we never saw a single bus, must have something to do with being a Saturday!
Brunei Museum
This museum is located at Kota Batu about 4.5 km from the the city so will require transport to get there. The museum is the largest in Brunei and exhibits Islamic art from the 16th century, archaeology and ethnography.
Ulu Temburong National Park
Brunei's rich economy is based on its oil and gas and as such (unlike its neighbours) has 500 sqkm of pristine rainforest teeming with life. It's so untouched that only about 1 km of the park is accessible to tourists. This park is the only attraction that would draw me back to Brunei and is best done as an overnight trip to spend time enjoying the rainforest. Access to the park is via boat and a tour and probably isn't cheap.
Some useful information..
Costs
Compared to the rest of South East Asia, Brunei's costs are up there with Singapore. It's not exactly on the budget travellers route but it is easy enough to walk to all the cities major attractions and most are free. Not using transport and eating at food stalls will make it quite cheap to visit. Food is comparable to western prices if you eat in café's and restaurant's but the food markets are cheap. The only major attraction you have to pay for is the boat for Kampong Ayer. Hotel prices are reasonable in comparison to western countries and Singapore and we saw a couple of hostels near the waterfront. Your only other major expenses are transport to/from the airport, taxi's/private transport around the country and tours.
** be aware there is a hefty ATM fee if you get money out the ATM at the airport (we were charged AU$5) and the ATM is upstairs in departures. ATM's in the city did not charge us a fee.
Getting there and away
We were flying with Royal Brunei airlines to/from the UK so hence why we stopped off to look around. The airport is small and perhaps the most boring airport we have ever been too, there is literally one little café the other side of security which sells overpriced pies and sandwiches.
If you are transiting, expect long queues for another security bag scan!
The number of people transiting far out ways the number of people going into Brunei so you will find passport control and the baggage carousel surprisingly quiet!
There is a bus that apparently leaves once a day to Miri in Sarawak.
Royal Brunei makes it easier to get to other parts of Borneo like Sabah and Sarawak without having to go via Kuala Lumpur.
Visa Requirements
There is a visa requirement to enter the country, most countries will be able to get one on arrival for a cost of $5 Brunei or Singapore Dollars. You may want to check what your visa requirements are in case you have to arrange one beforehand.
When you arrive you need to go to the "Visa on Arrival" counter which is basically one of the passport control counters. If you don't have Brunei or Singapore dollars, then pay a visit to the currency exchange which is close to the counters.
A note about Taxi's
To put it simple they are as "rare as hen's teeth" getting a taxi is quite a challenge! Your best bet is to arrange for your hotel to send a car to pick you up and it's not cheap. The airport is only 8 kilometres from the city centre and it cost us $26 Brunei dollars (around AU$24) which is what we would roughly pay back home. In fact, even if you are lucky to get a taxi then the cost difference between taxi and private transport is very little.
We did read that a fleet of metered taxi's was going to be introduced.
Getting Around
Again not easy, Brunei really is off the travellers route compared to other South Asian countries. As mentioned above taxi's are few and far between and they are expensive and price has to be negotiated. Buses are also not common but there is one bus that goes once a day to Miri in Sarawak. You don't need transport around the city centre to see the attractions. The centre is small enough to walk to all the major interests but if you do want to go further afield then your best bet is a tour or private car/driver hire, both of which are expensive.
Eating Out
The best place to eat out on a budget is the food markets. There is one across the road from the Radisson. Here you can get a cheap local meal and drink for under $5 whereas you will be paying western prices in the hotels and restaurants. There is a cluster of restaurants around the shopping area near the water front. We popped into the Piccolo Café for a refreshing drink and to enjoy the air conditioning.
Overall Impressions
It's safe, clean and the people are welcoming and friendly and with a handful of things to see it does make a pleasant stop over for a day or two. I probably wouldn't go out of my way to make it a sole holiday destination as there is not enough attractions to keep one entertained and it is relatively quiet. However, it does have two neighbours with some good attractions like Sabah for its Orangutan's, spectacular diving (Sipadan) and climbing of Mt. Kinabulu. Sarawak for Mulu National Park which is close to Brunei. Both these places could be combined with a visit to Brunei.
Visited: September 2016