Located in western Shan State and set amongst picturesque mountain scenery, the 22 km long and 10 km wide freshwater Inle Lake is one of the must see sights in Myanmar.  The serene Lake is famous for its floating teak stilted villages, markets, gardens, one legged fisherman, temples and is home to the Intha people whose functioning self-sufficient communities is based entirely on the water.  The best way to see the sites and observe the Intha's way of life is to hire a boatman for the day for as little as 15000 Kyat (around US$12). The cost does not include lunch but your boatman will stop at one of the many restaurants on the lake and lunch wasn't too expensive.  If you opt to take a tour through a hotel, then lunch may be included.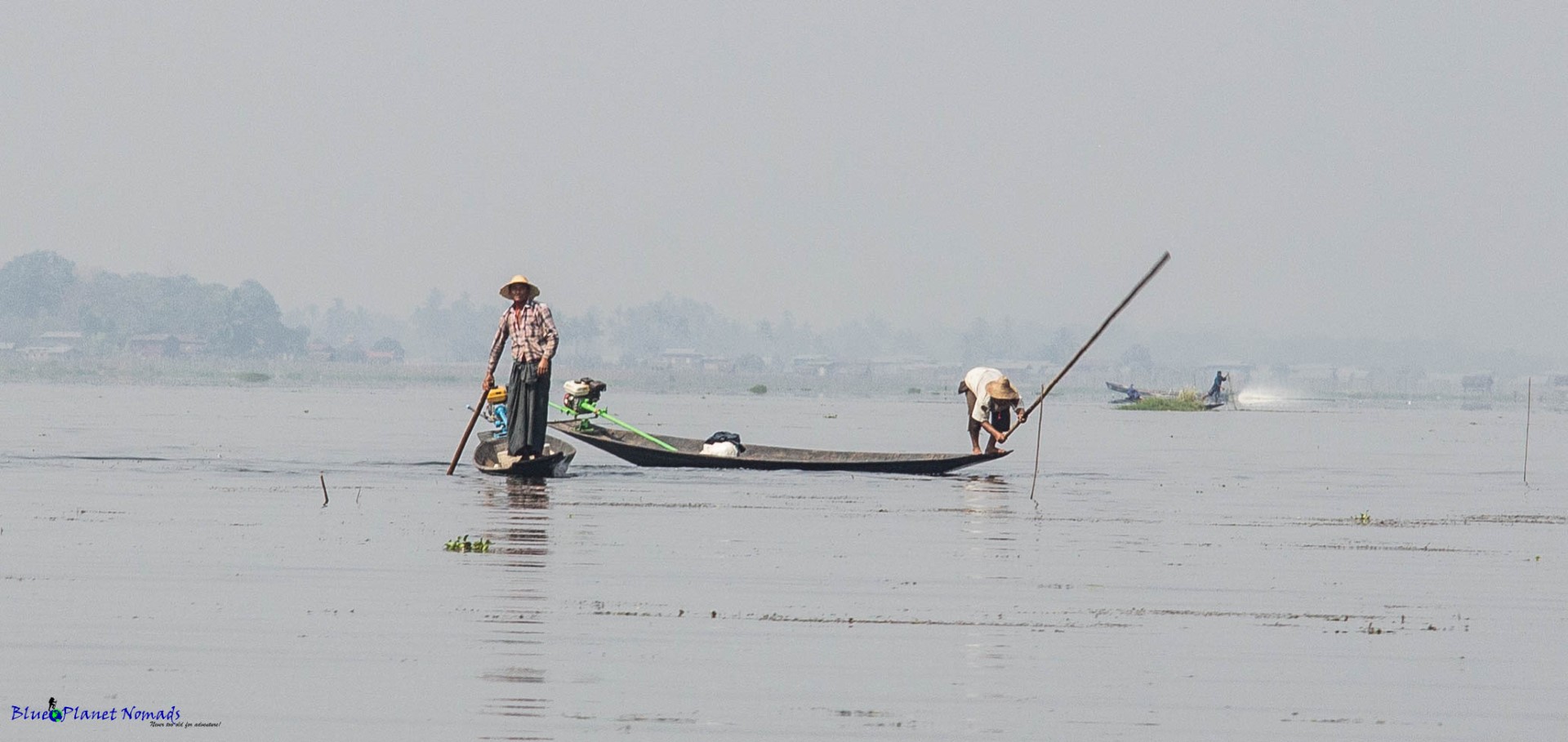 We arrived in Inle Lake's main town Nyaung Shwe by boat as we had just completed a three-day trek from Kalaw.  We were here for a couple of days so a boat tour out on the lake was high on the agenda.
Hiring a boatman is simple enough, just go down to the waterfront and they will find you!  A full day will cost you between 15,000 and 20,000 Kyat which is the average price.  Half day tours are also an option but I think to get the most out of all the sites on the lake you should set aside a full day. You can pretty much decide what you want to see, what to exclude and how long you want to spend out on the lake. Or you can leave it up to the boatman and to be honest they guide tourists out on the lake every day so they know where all the best sites are and they pretty much follow the same itinerary.  Alternatively, you can organise a boatman through your hostel/hotel like we did, only because I was somewhat crippled from the trek and couldn't be bothered to hobble the fair distance down to the docks!  Our trip for the two of us cost 20,0000 Kyat.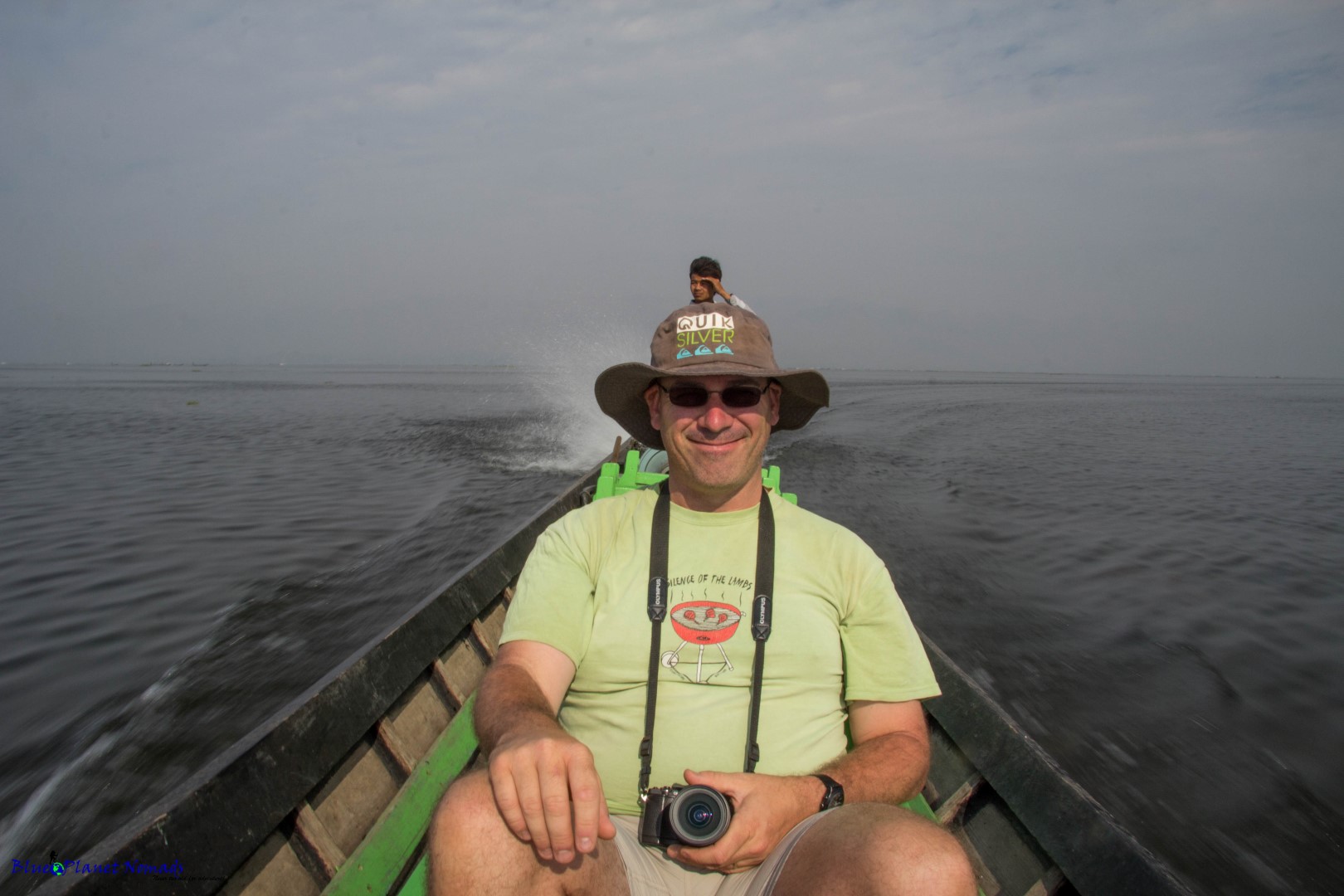 We were met at the hostel about 8:30am and taken down to meet our boatman who probably wasn't much older than 18 and didn't speak much English, if any at all.  The boat is a long wooden canoe with a motor and you have a wooden seat with padding and a life jacket.  It was surprising what speeds the canoes actually get up to you certainly covered some ground.
What to take with you?
The boats have no cover and your pretty much out in the open under the Myanmar sun for most of the day so you will need to pack:
Water
Sun Screen
Hat
Light fleece or something long sleeved as it gets cooler when the sun goes down plus it keeps the sun off you.
And of course don't forget your camera!
What to see on Inle lake
From Nyaung Shwe you follow the wide canal which opens up into the vast expanse of a shimmering lake. We stopped for fuel at one point, which is basically a small pump on the canal side and the petrol attendant filled up the motor with whatever was in the plastic jerrycan.   It was still morning, the sun was shining and a few fisherman were about. The lake is large enough not to feel busy, other boats were moving around the lake some carrying tourists, other packed with locals.  The sound of noisy boat motors echoed up and down the lake.  Sites are dotted around the lake and you will also find more along the many canal offshoots feeding out from the lake.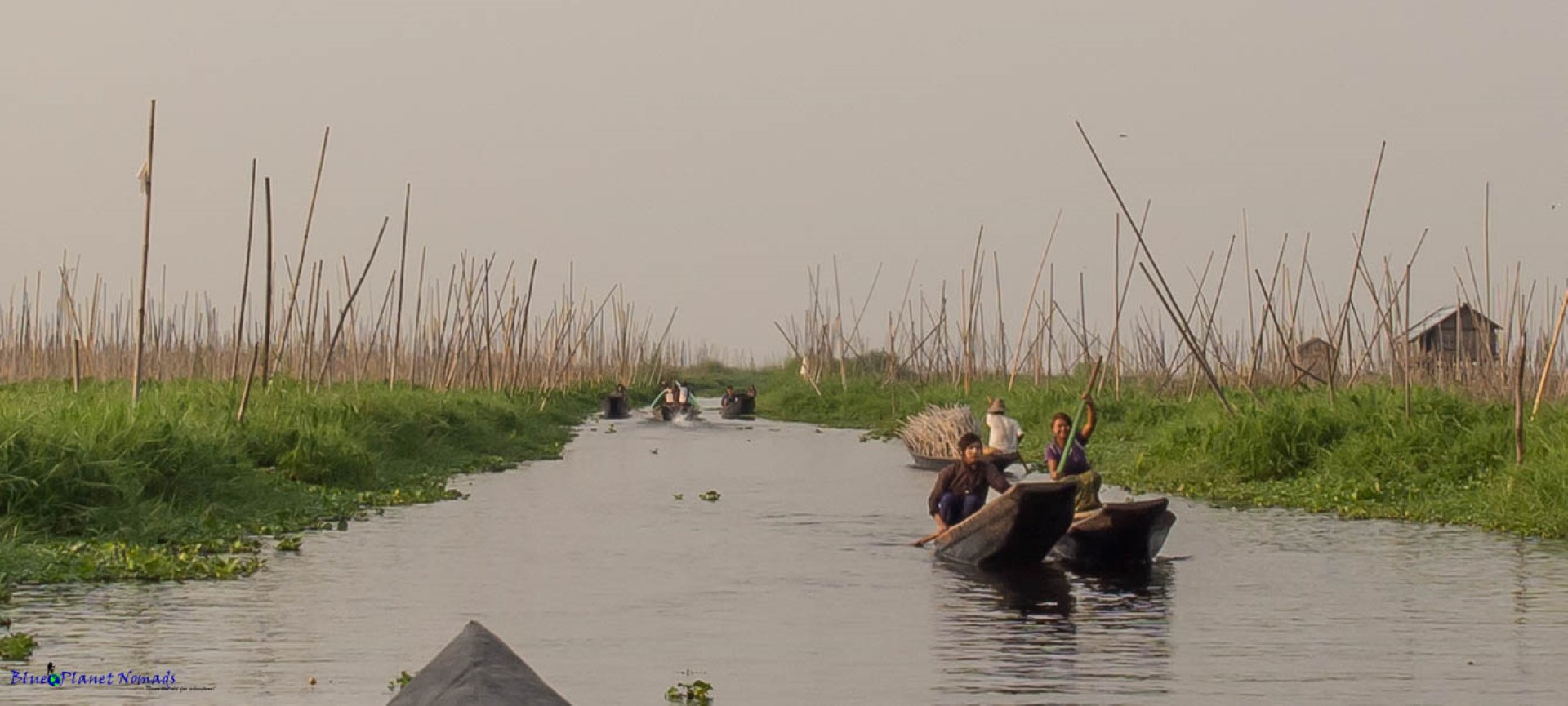 Fisherman
One of star attractions of Inle Lake are the "one legged" fisherman.  They balance at the stern of their long tail boat on one leg while wrapping their leg around an oar and using it to steer their way through the shallow reedy waters.  If they were to row sitting down then they can't see the plants and reeds.  Having both hands free they can push the cone shape nets into the water which is used to trap the fish.
This method of fishing is quite unique to the lake and is amazing to see as well as being very photogenic.  The fisherman know this and will often strike a pose for tourists and then ask for a coin donation!  In all honesty they probably make more money posing for tourists than they do catching fish as it is quite a labour intensive occupation, its also a shame that tourism is encouraging this behaviour.  Most of the culprits are closer to the entrance to the lake closer to Nyaung Shwe . If you want to avoid having to give money, then have a good zoom lens and tell your boatman to keep a distance from the fisherman.
Not all fisherman use cone nets you will also see fisherman use their ores to slap the water which drives the fish into nets  they have placed under the water.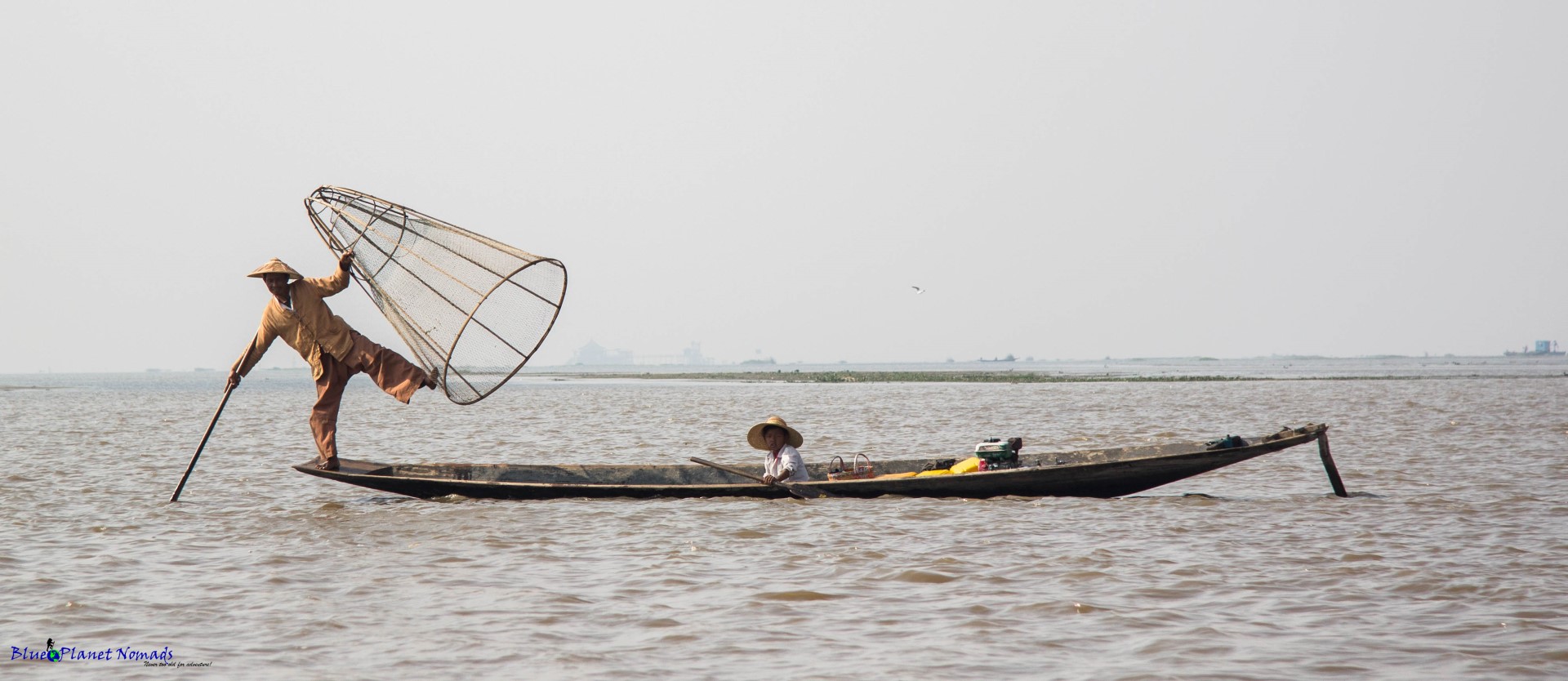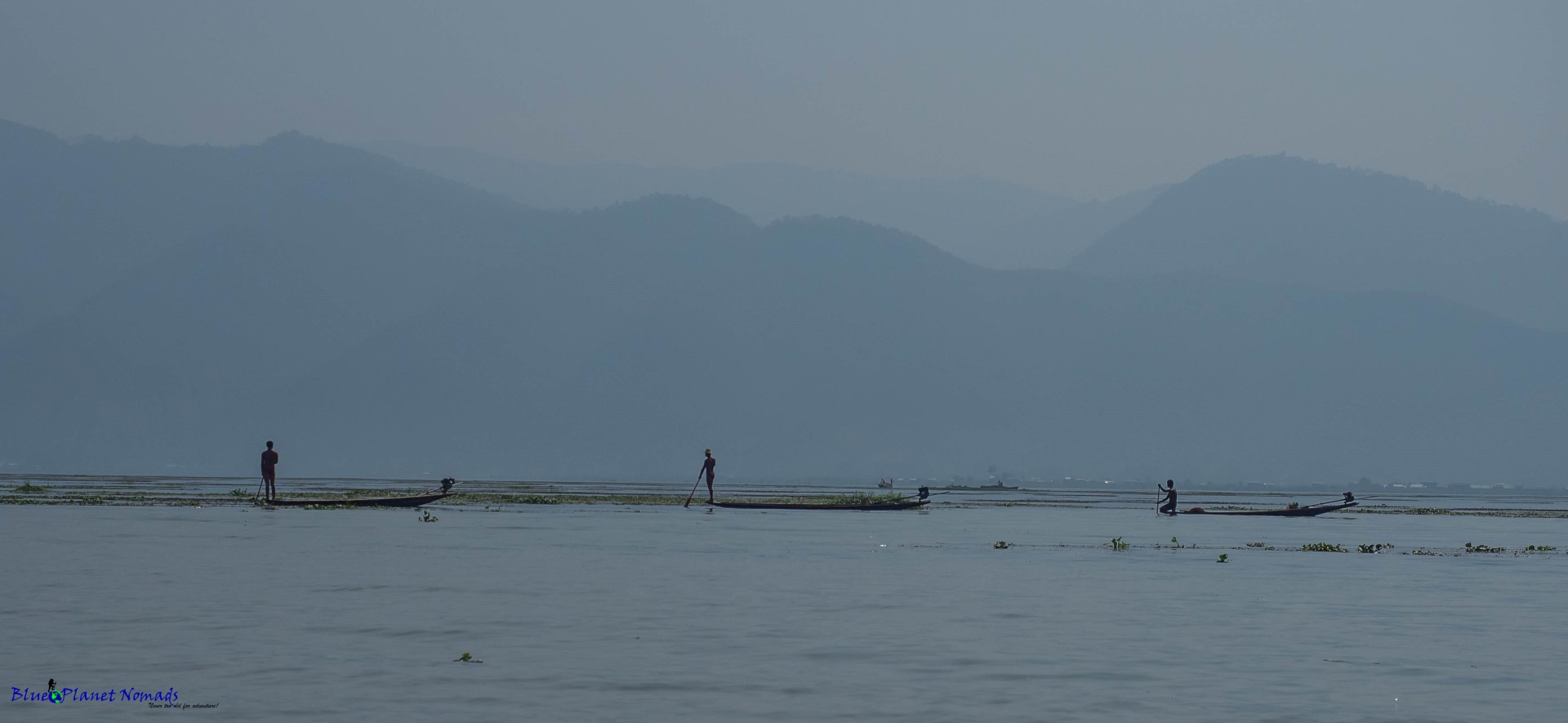 Markets
Inle Lake is known for its five-day market. A rustic market rotates among several cities and towns in the region. The most touristy is the Ywama floating market which didn't happen to be on the day we went out (probably a relief!)  We were taken to Maing Thauk market which is also easy access from Nuangshwe as its located on land close to the Maing Thauk village.
Maing Thauk was our first floating village we passed through. The rows of wooden houses on stilts were quite a site.  The beautiful long teak bridge was your access to dry land and then it was a 15 minute walk down a dirt track to the market, its not sign posted so you just follow the locals.  By the time we got there I was in desperate need of a bathroom and one of the stall owners took me to a local's house so I could use their facilities.  One thing I love about Myanmar is the hospitality of the locals and willingness to help you.
The market itself wasn't huge and was very much a local market and not that touristy which I liked. It sold everything from crafts, kitchenware to vegetables and fruit.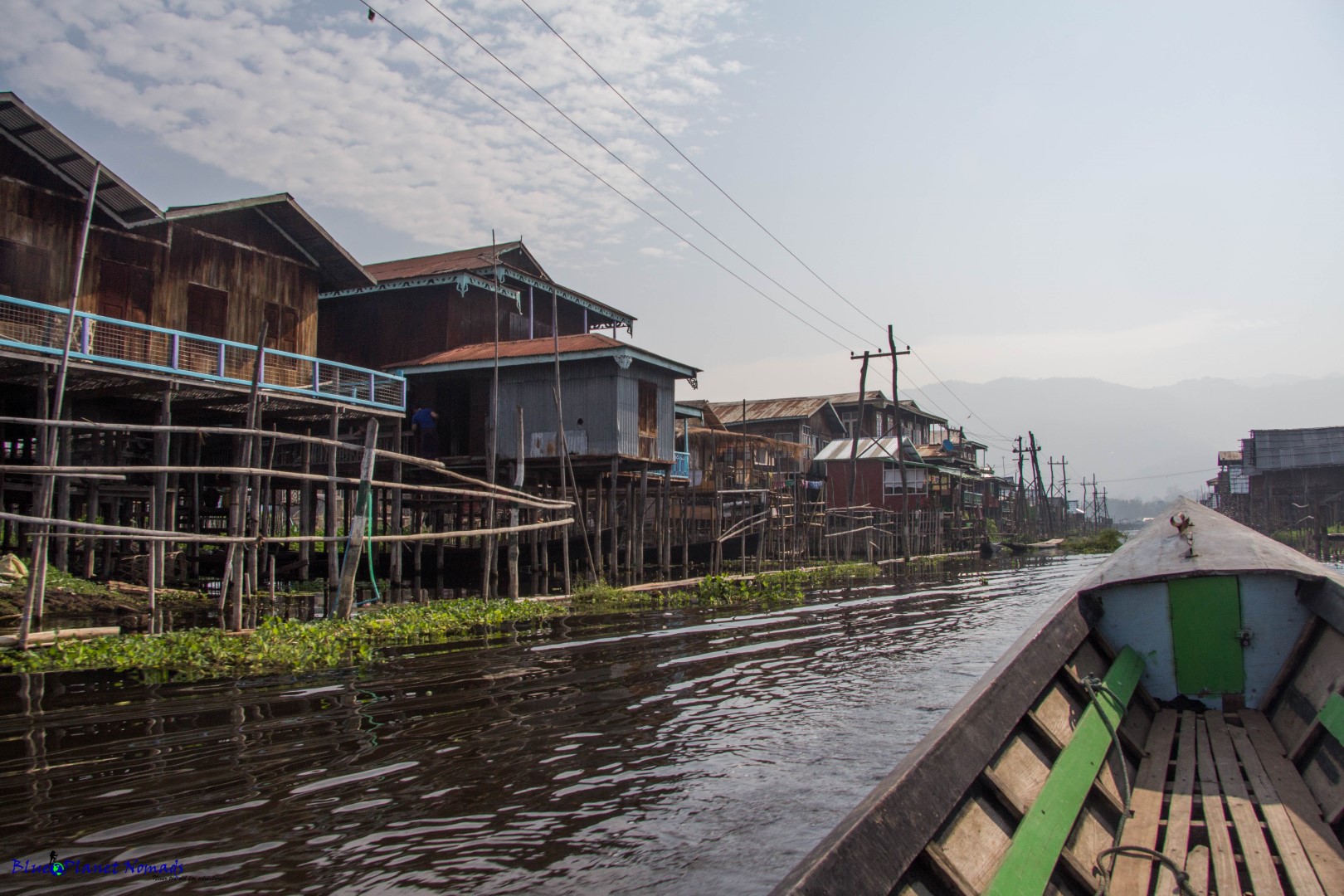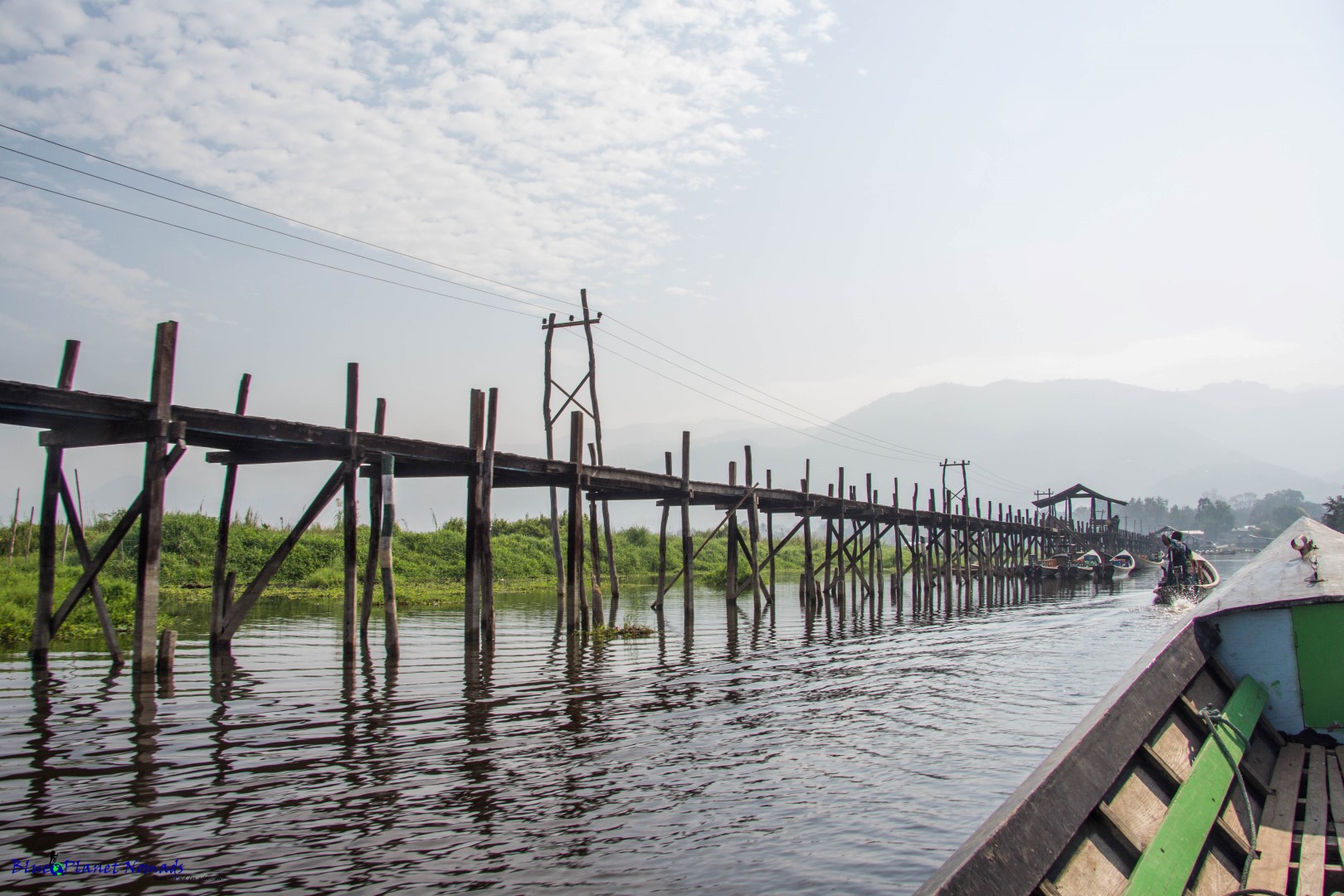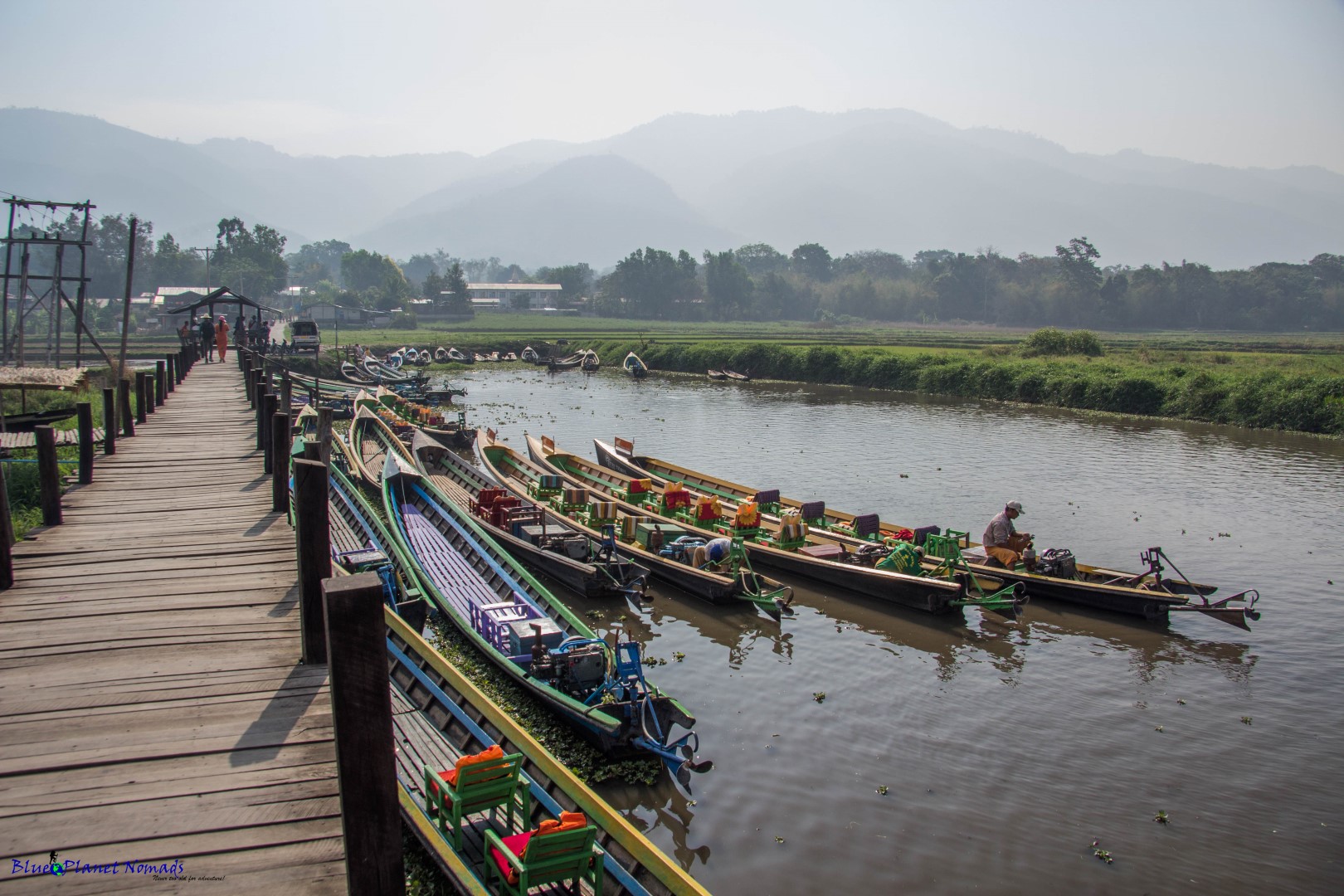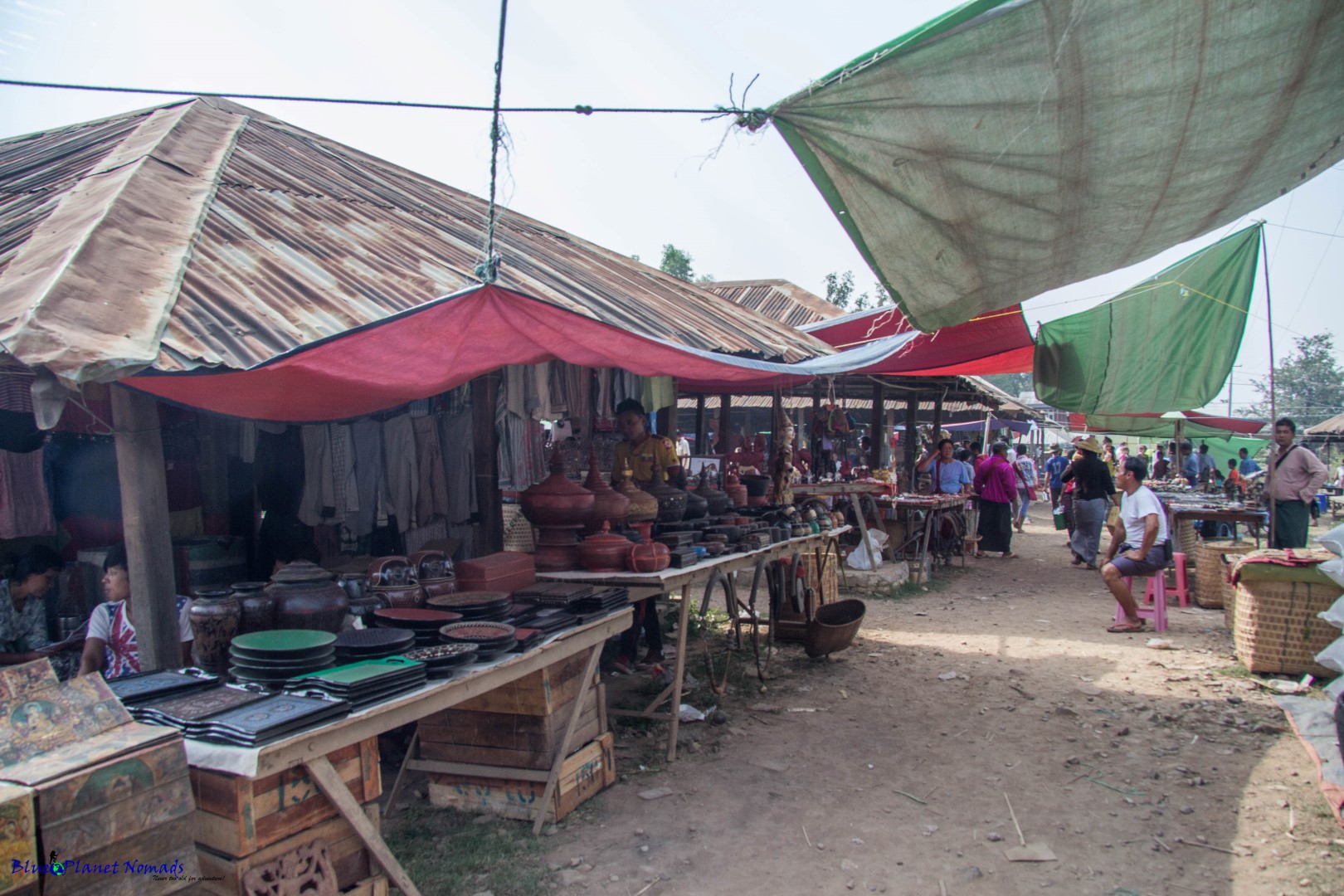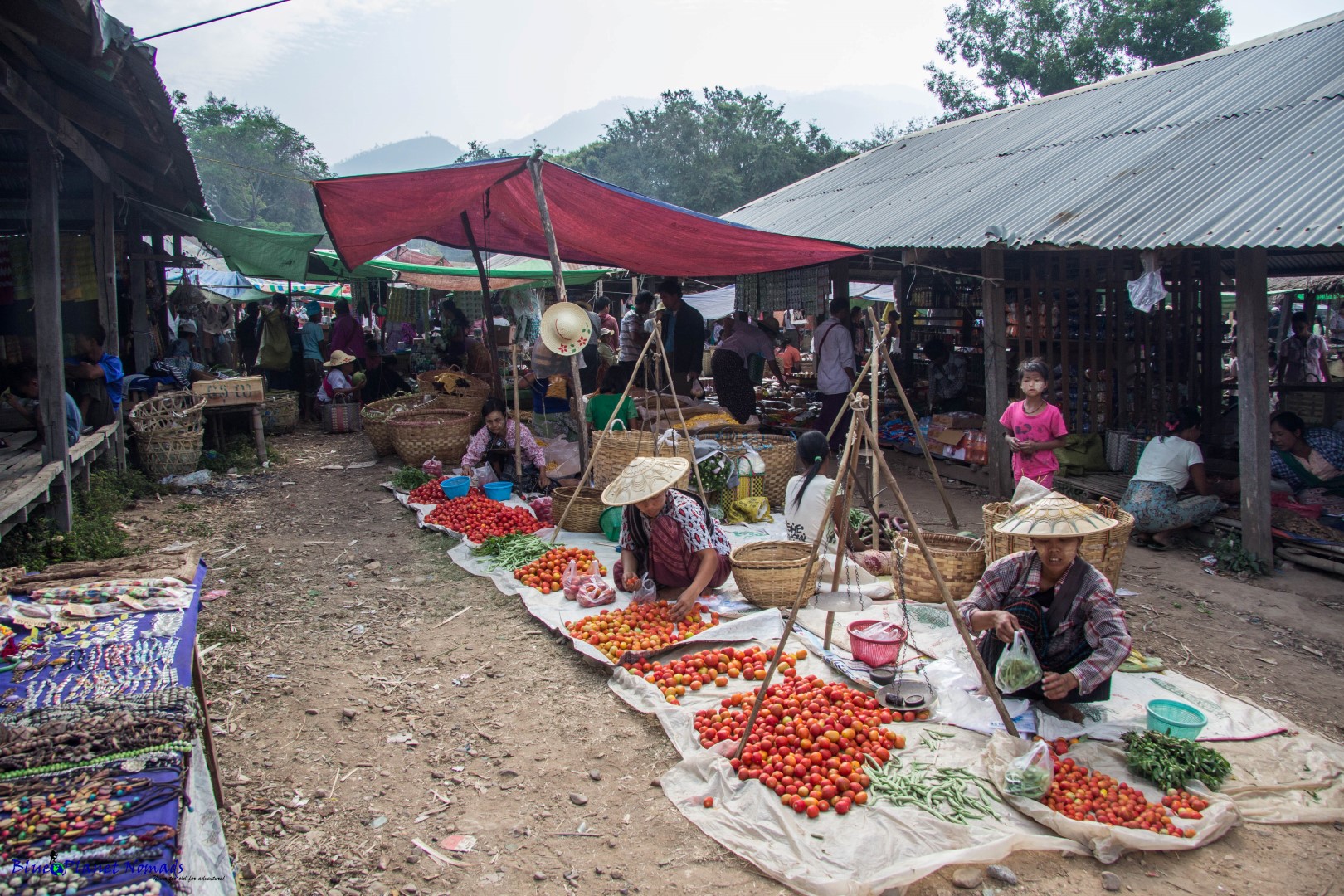 Floating Villages
One of the main reasons to take a tour on the lake is to cruise among the many picturesque floating villages.  The stilted wooden homes and locals who live in them will surely have your camera doing overtime. These are the places to really observe local life and community spirit.  Among the homes you will find shops, schools, restaurants, cottage industry and even hotels on the edge of some of the larger ones.  We particularly enjoyed cruising the network of water based streets in the village of Nampan, it reminded me of a housing estate on water!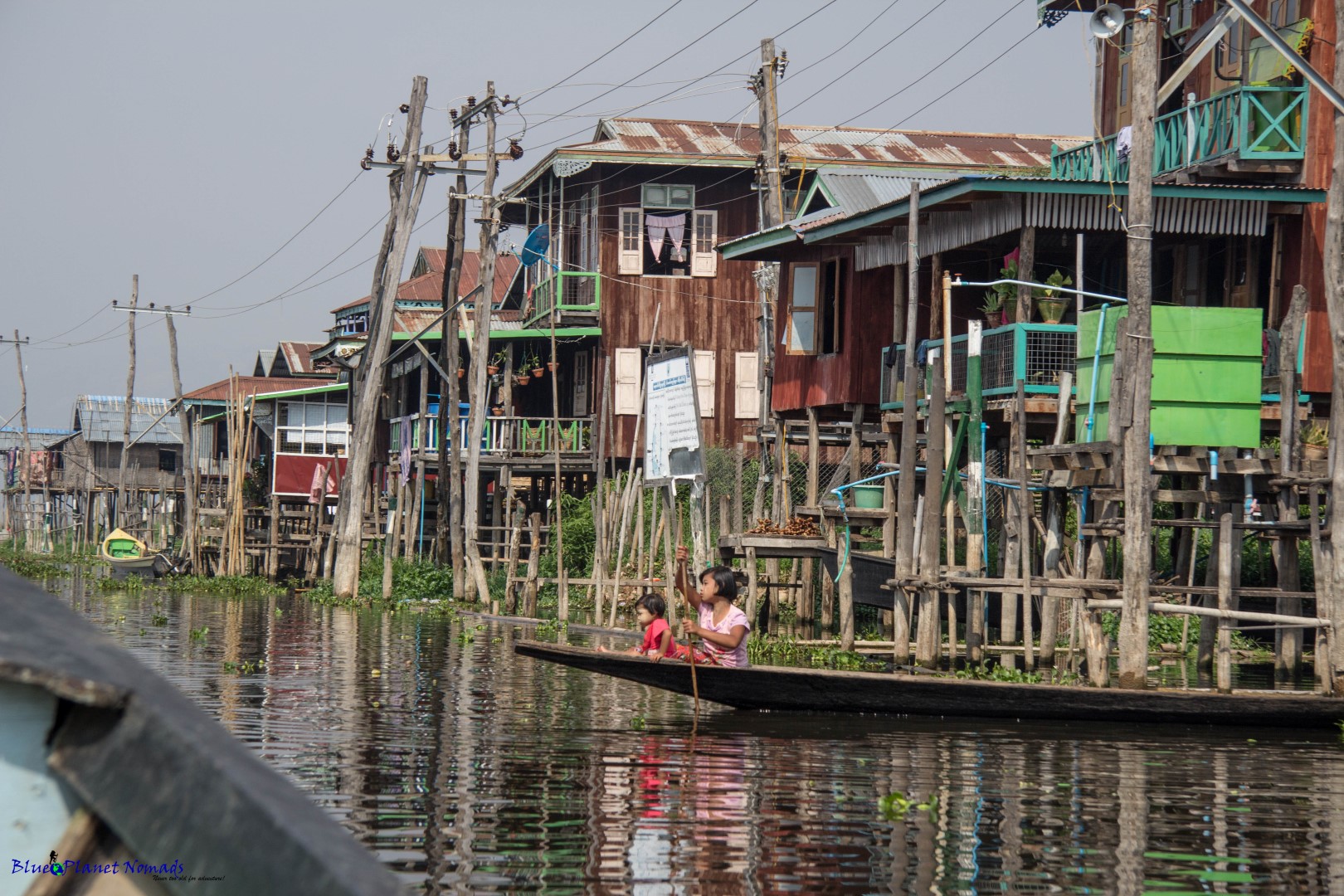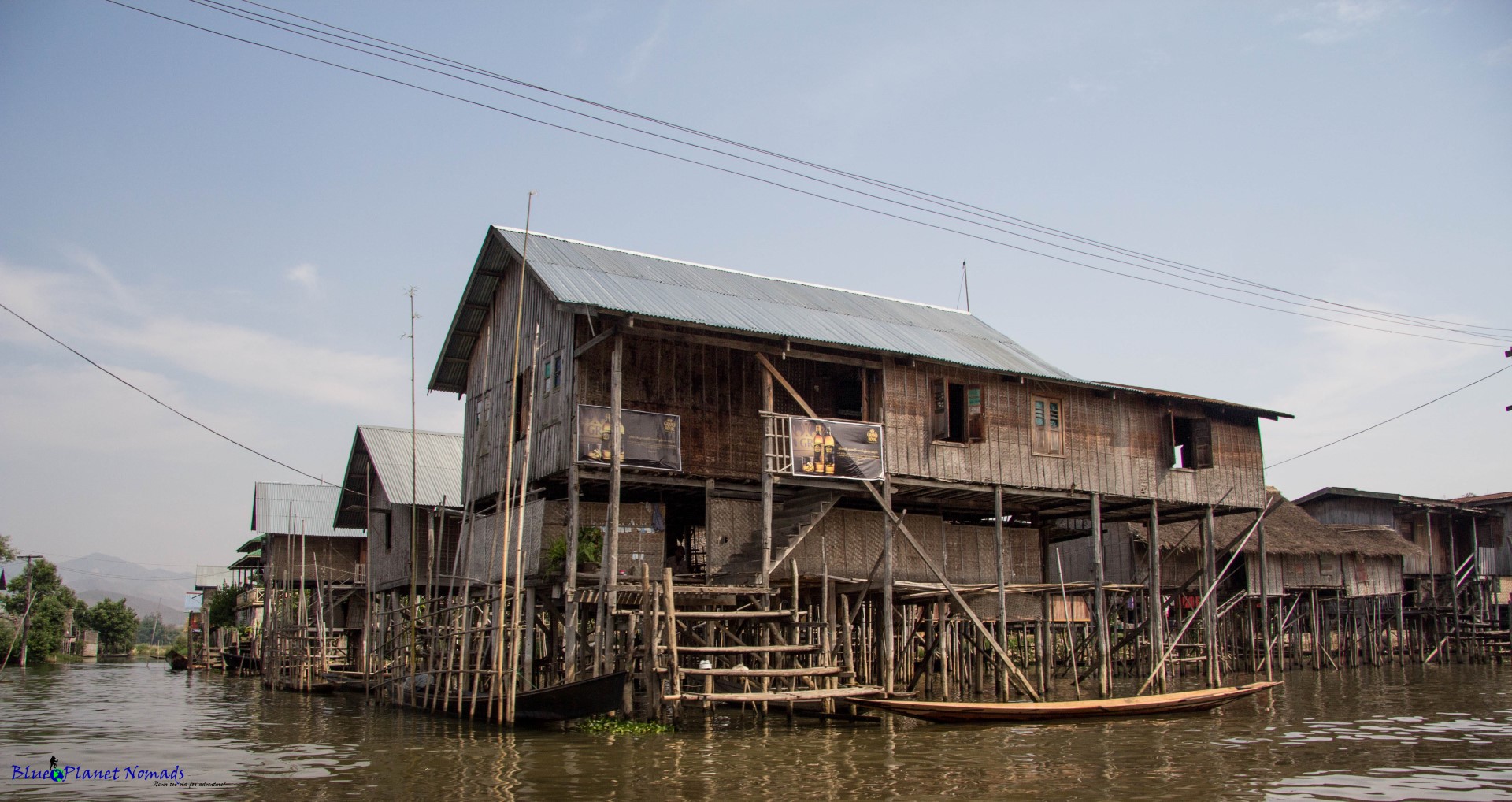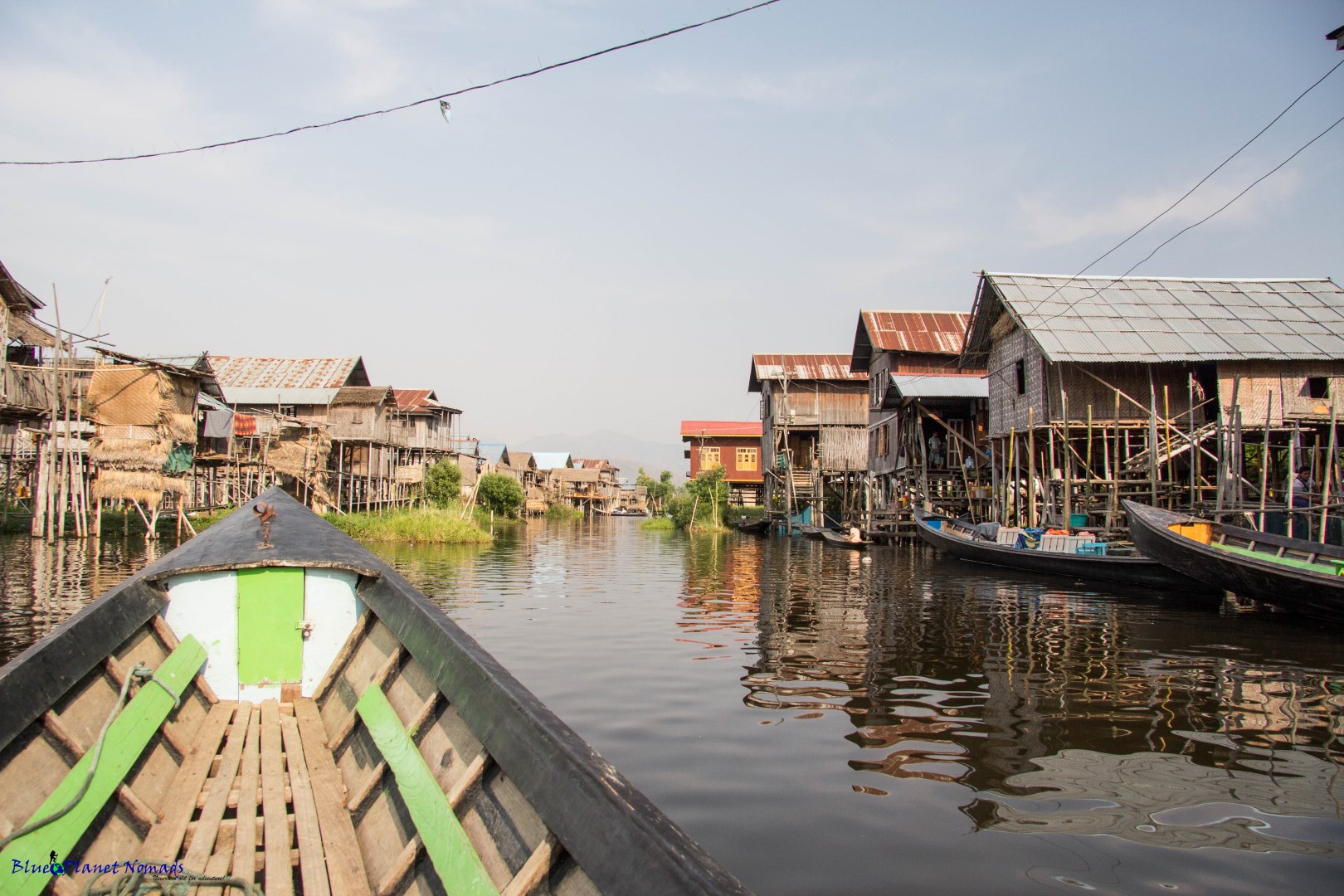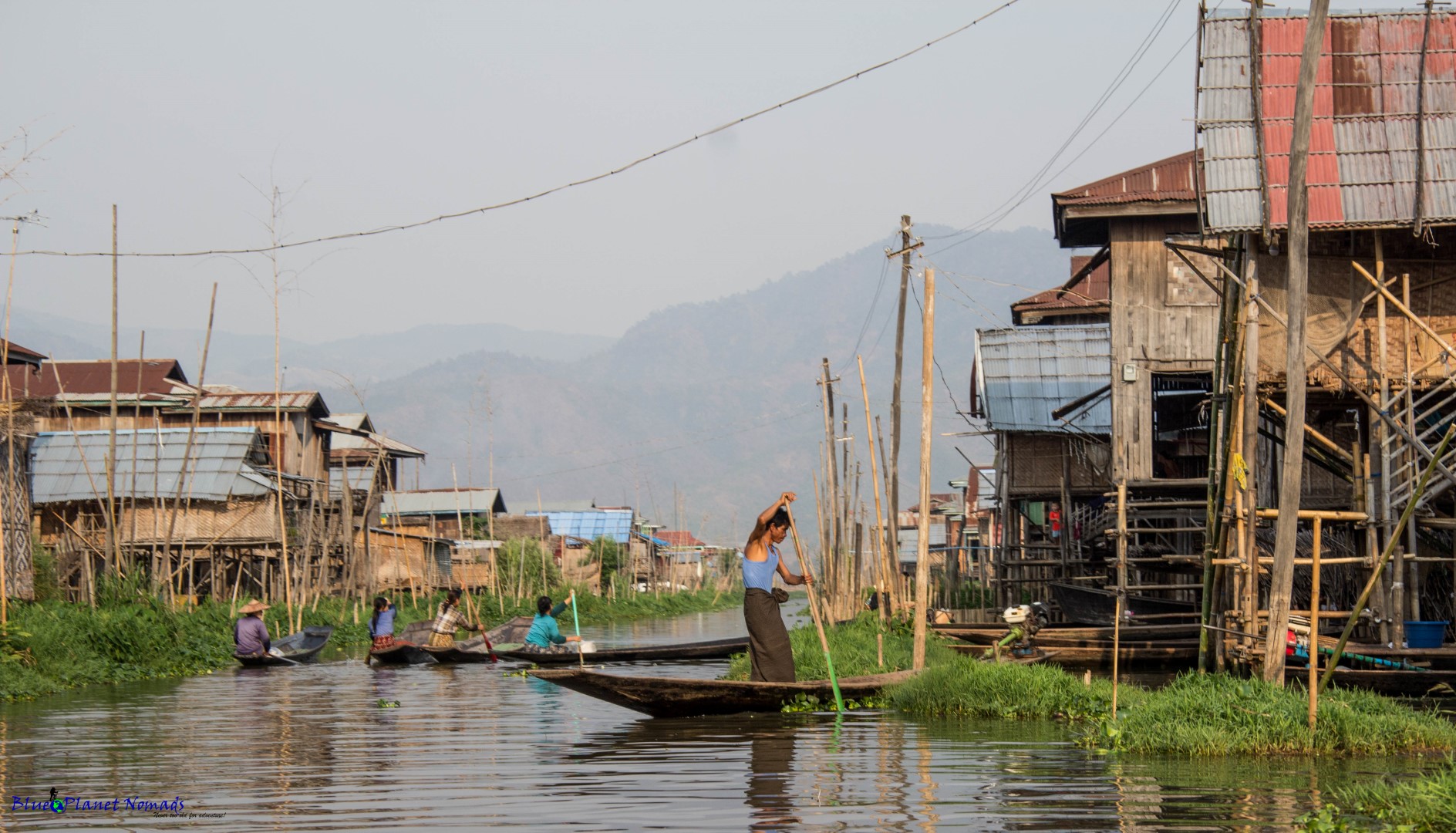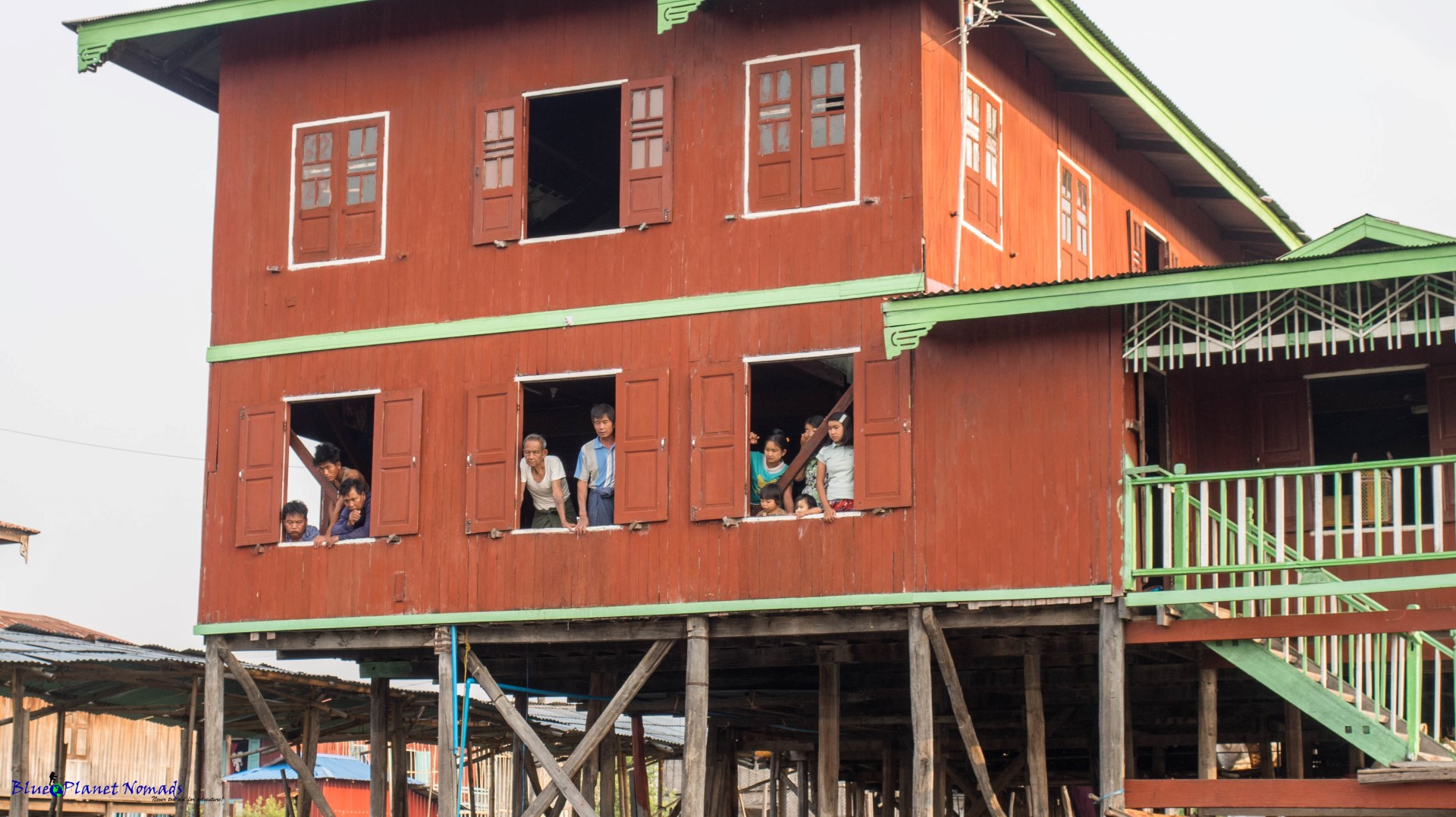 Gardens
Just north of the village of Nampan we cruised slowly passed the floating gardens where we witnessed farmers paddle their way up and down the water channels gracefully tending to their crops of vegetables, fruits and flowers.  We had never seen anything like this before, rows of floating mats of weedy vegetation supported bamboo rods and wooden trellis's which in turn supported the crop growth.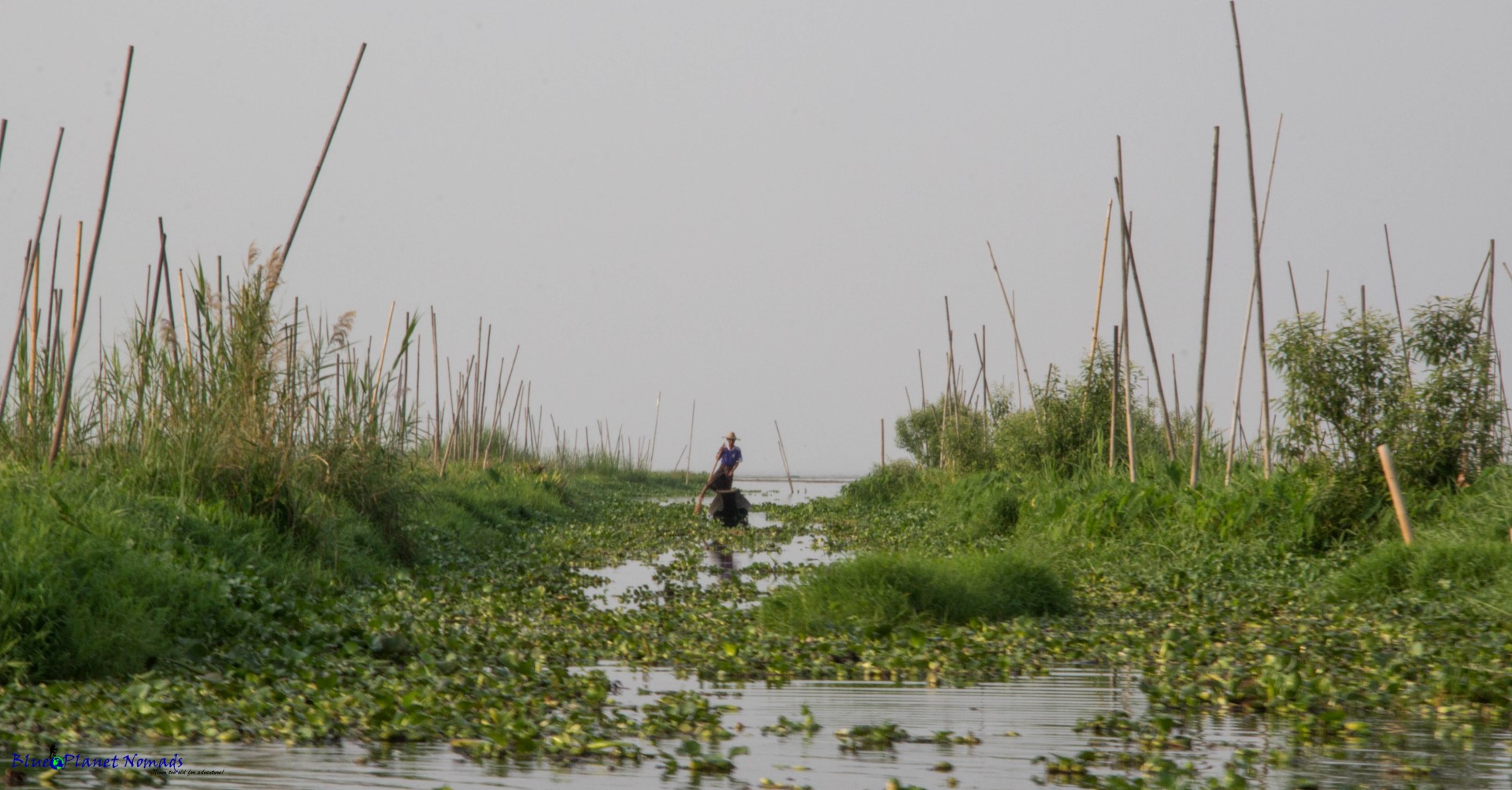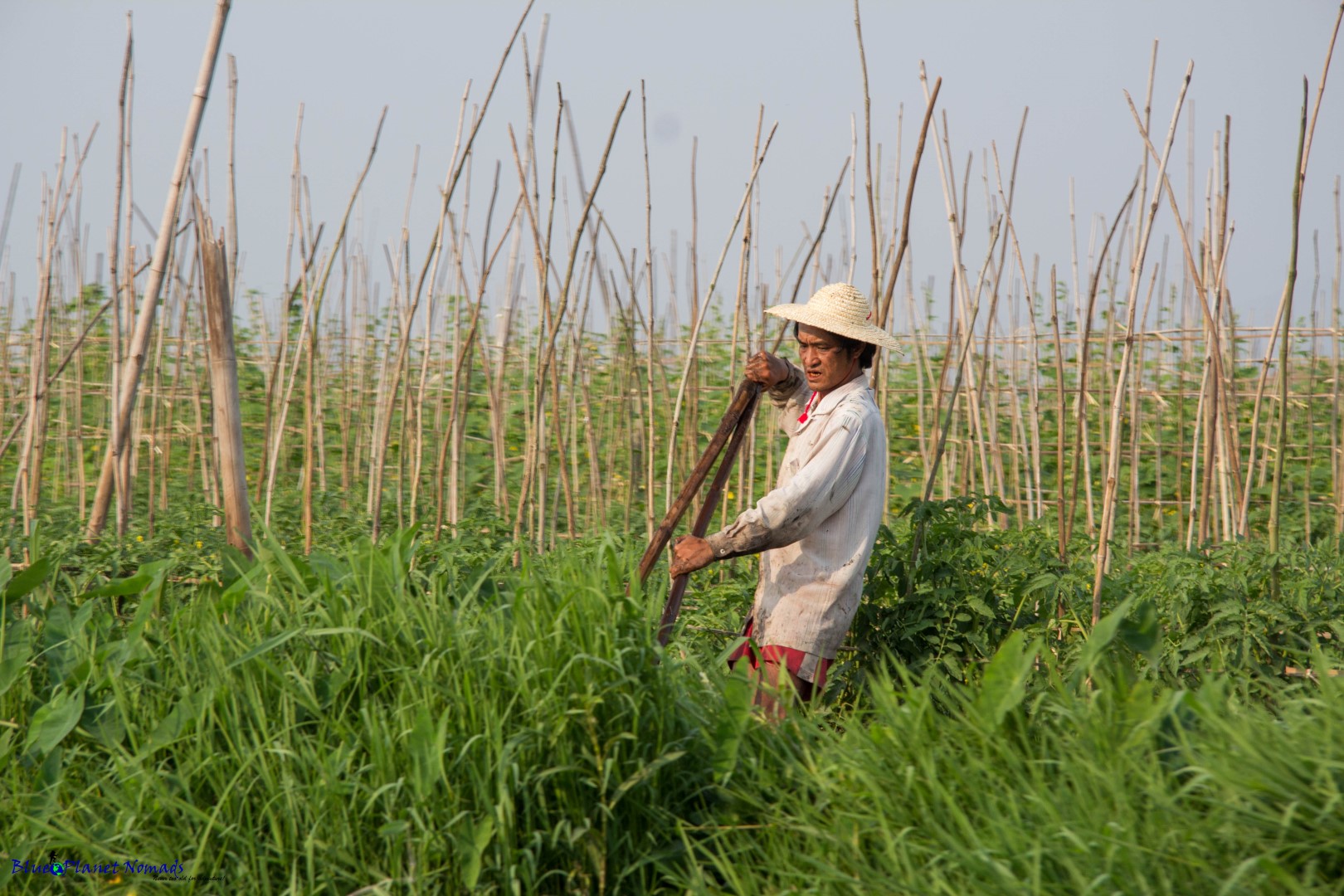 Cottage Industries
Many of the villages make their living from cottage industries, each village specialises in at least one craft which they can earn money from which feeds back into the community.  You will read and hear many other tourists saying its "touristy" and perhaps in some way it is but they are trying to make a living like any other society and you do see some amazing hand made craftsmanship.   Visiting the various workshops is probably the first time in South East Asia where we didn't feel pressured to buy anything so enjoyed the experience.
Silver Smith and Long Neck Ladies
After visiting the market the Silver Factory and the weaving long neck ladies were are first stop.  We watched as the silver smith delicately carved out intricate pieces of silver work, the fish he created was simply amazing.  There was also a small shop where you could by the beautiful pieces, we looked but didn't purchase.  A guide led us across a small teak bridge to another stilted wooden house where we met the long neck ladies.  This was perhaps the least ethical part of the trip as I'm sure these ladies are only here to draw in tourists.  We didn't feel particularly comfortable taking photos of them, but was drawn to as they are so incredibly photogenic with their traditional costumes.  Here I did buy a couple of scarves, they were not particularly expensive given the amount of work that went into them.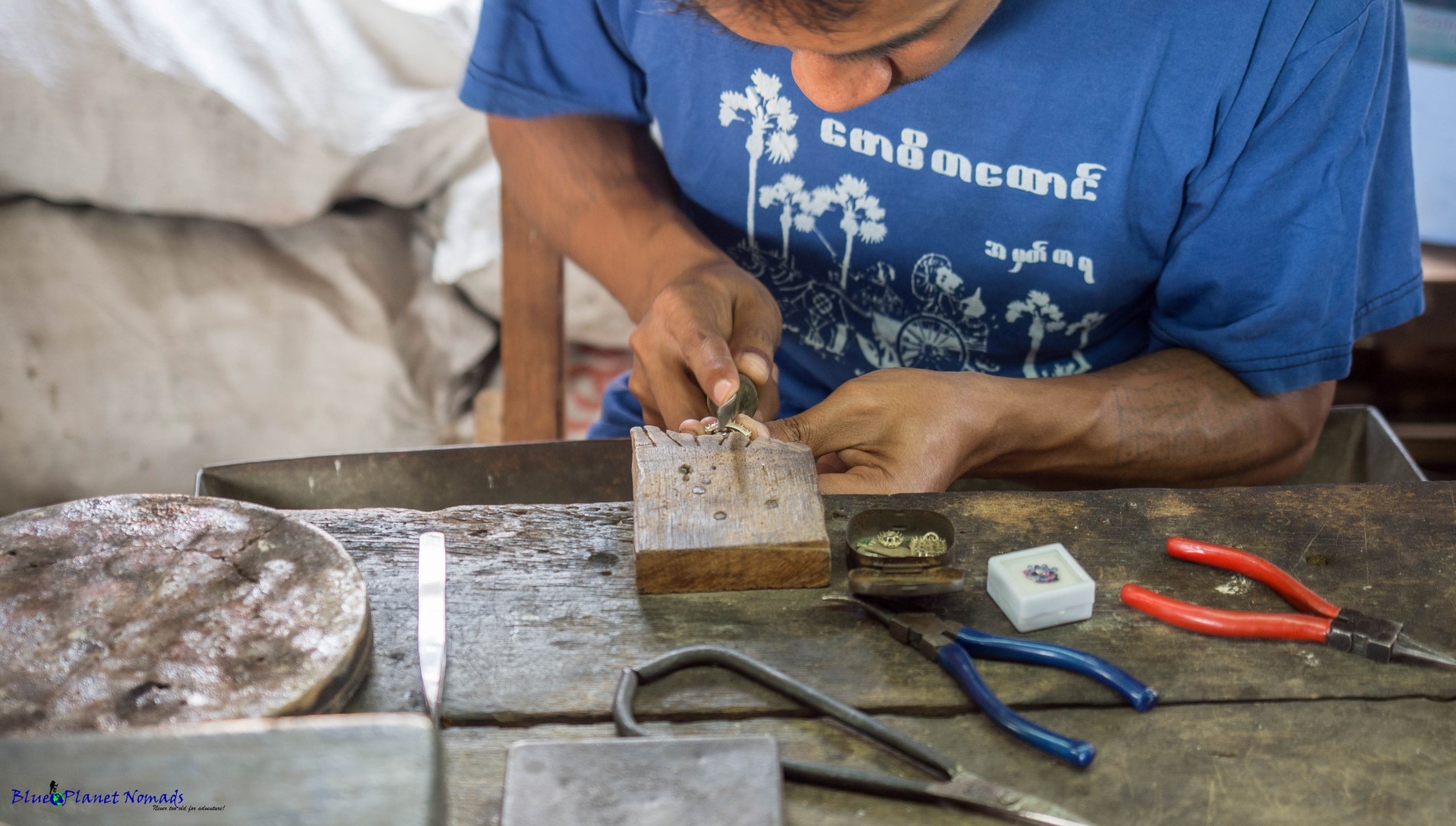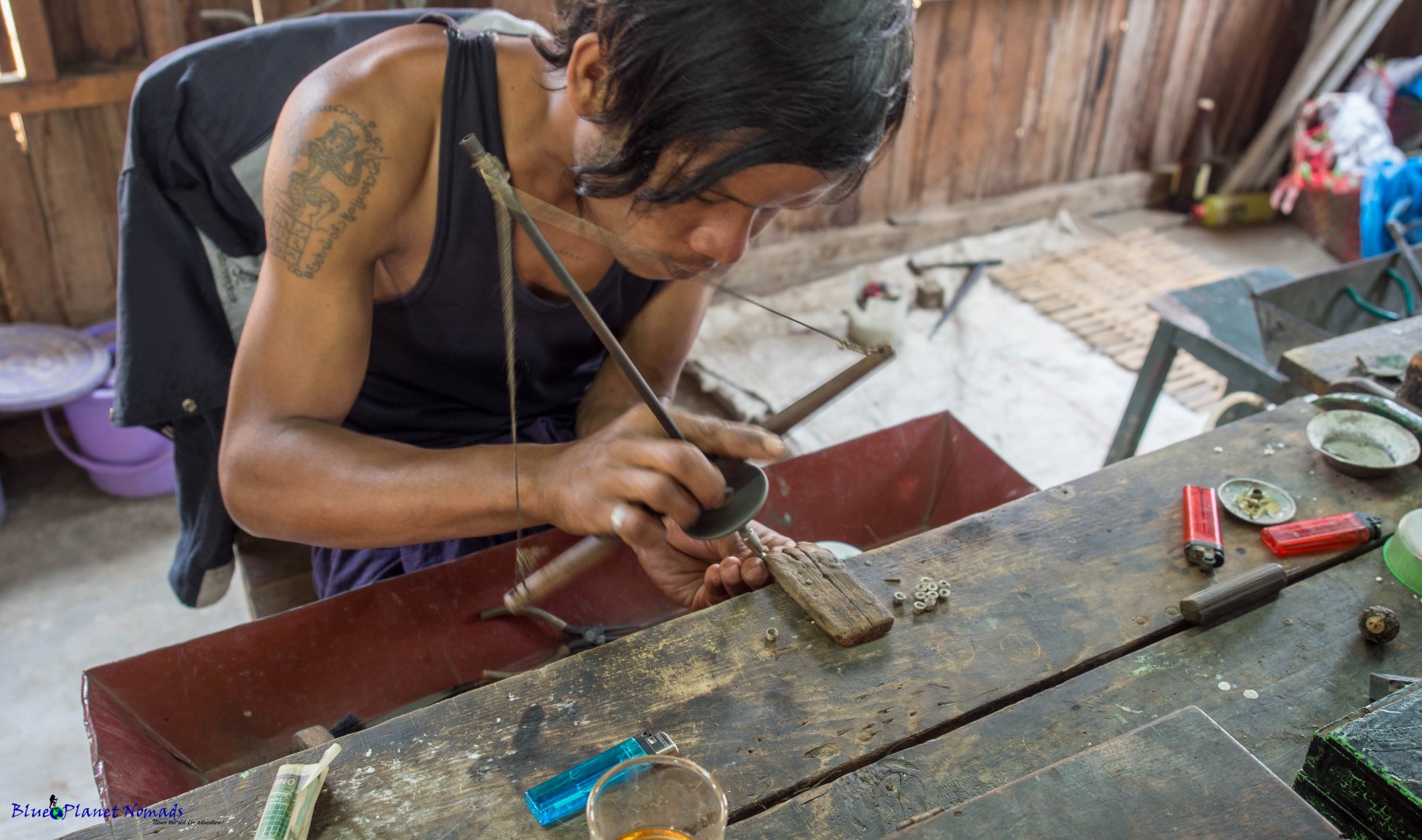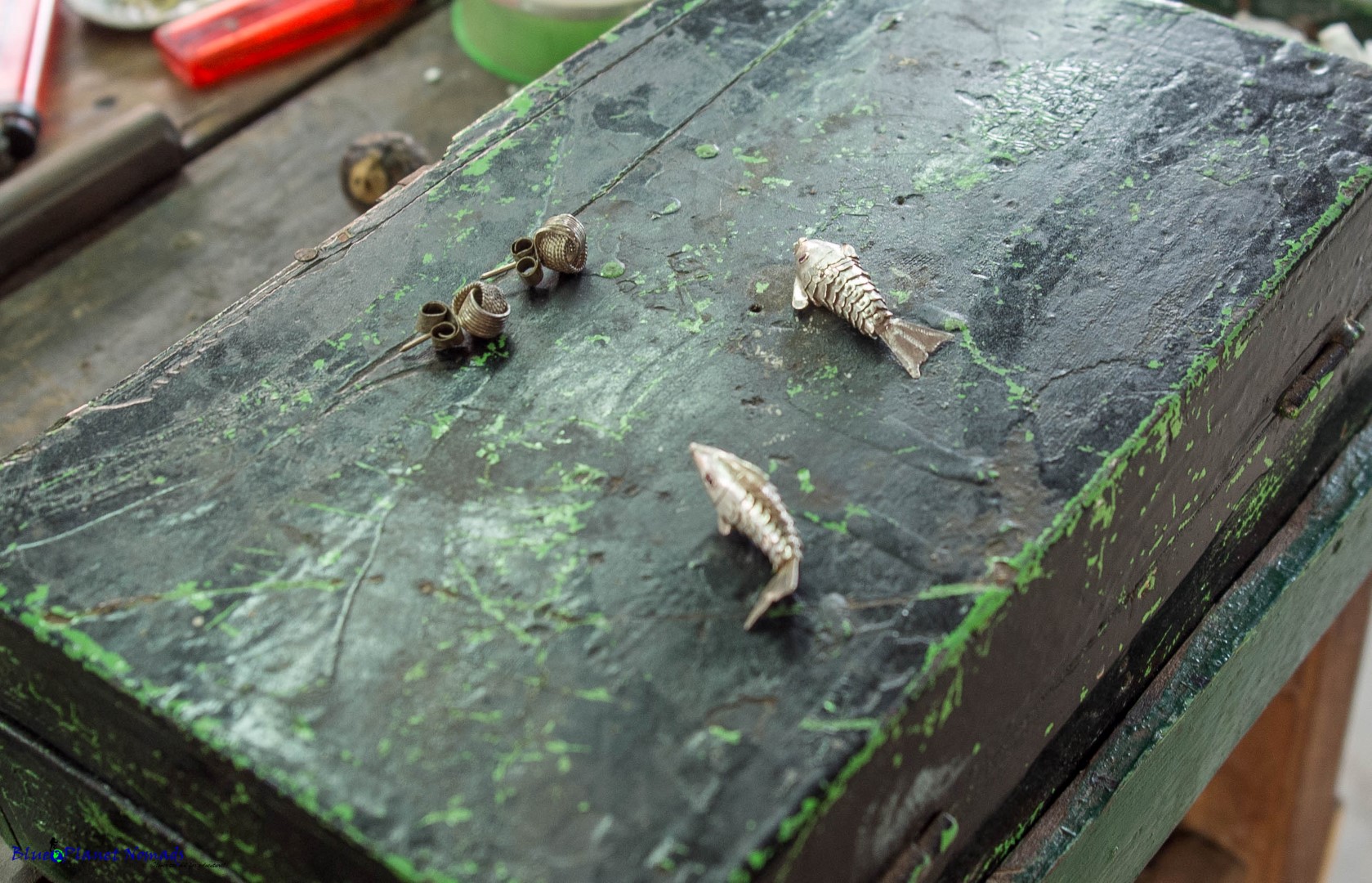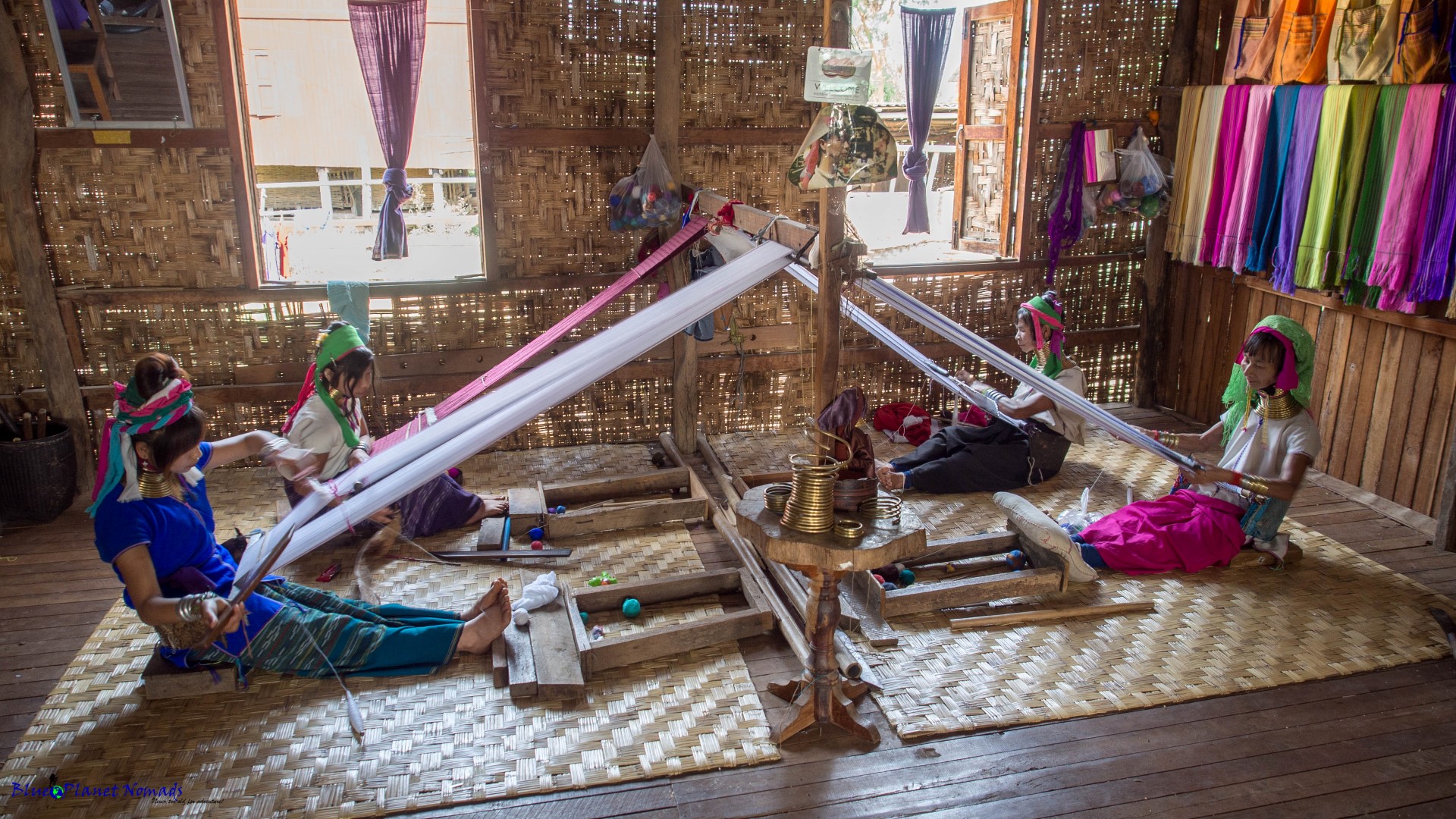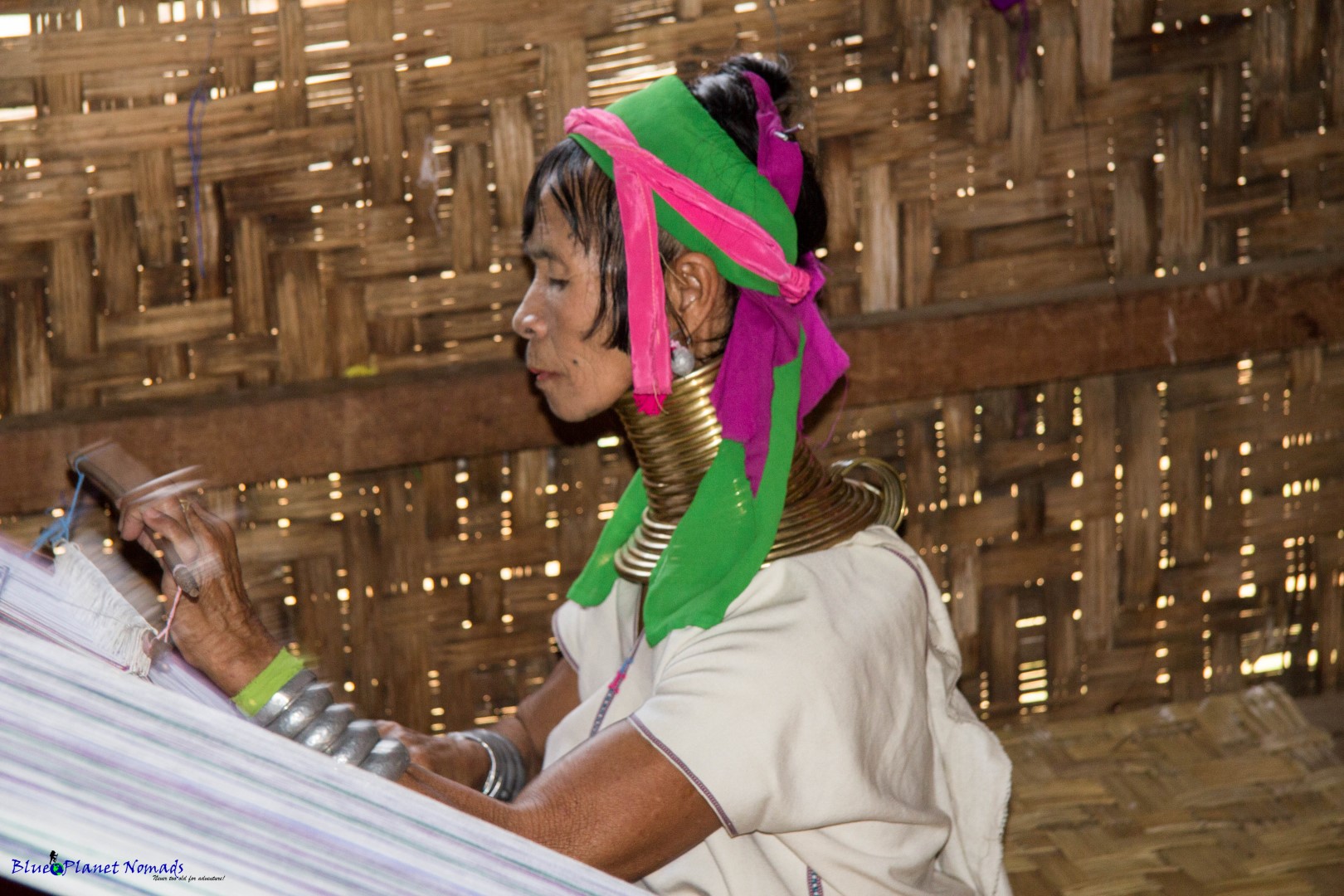 Silk and Lotus Weaving Factories
The stilted village of In Phaw Khone is famous for its weaving factories and is a stop on the boat tour circuit.  You are met by a representative who takes you around the factory and explains how it all works. It was fascinating to watch the speed at which the ladies both young and old operated the wooden looms, shifting the pedals at such speed with their bare feet and at the same time shifting loom frames with their hands to create works of colourful art.  Items were made from both lotus and silk, lotus being the more expensive as the thread is more time consuming to extract. It was interesting to watch this process of extracting the sticky fibres from the lotus stem to make the thread.
With every factory comes a shop!  I enjoyed browsing the extensive range of cloth which was stunning but what comes with beauty and hard work is a price tag to match, instead we popped into the adjoining coffee shop and enjoyed a pot of tea before heading back to our boat.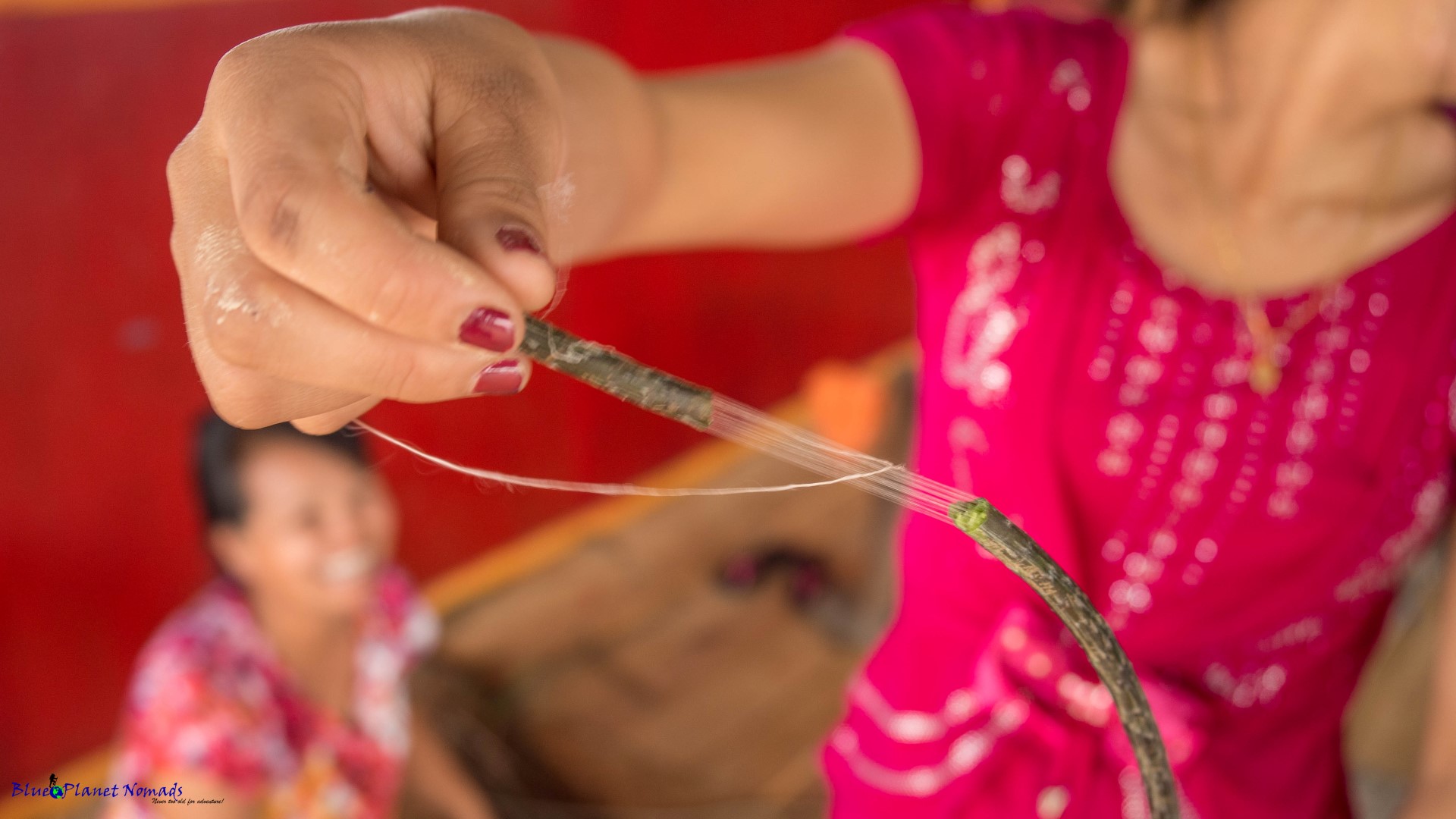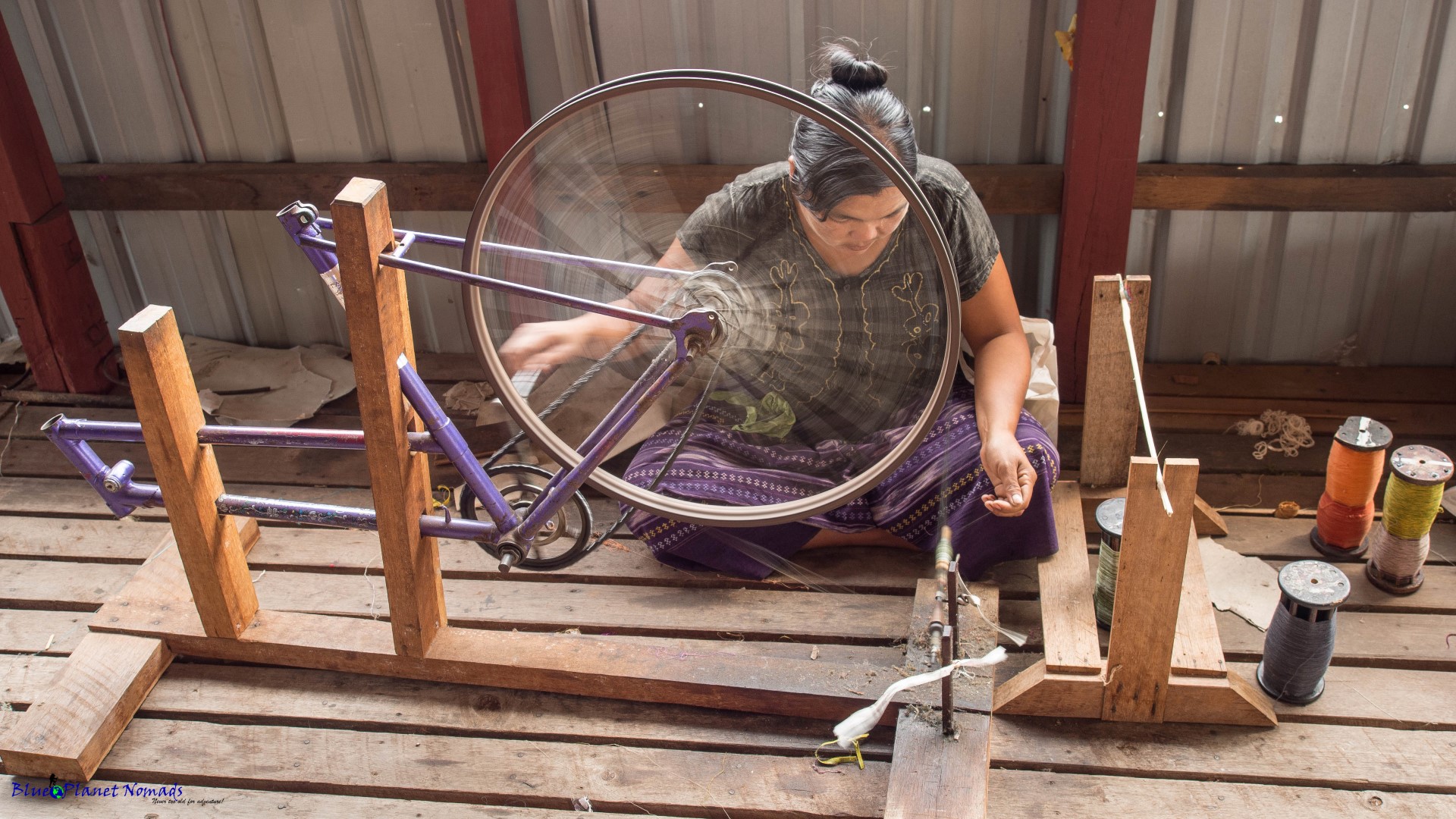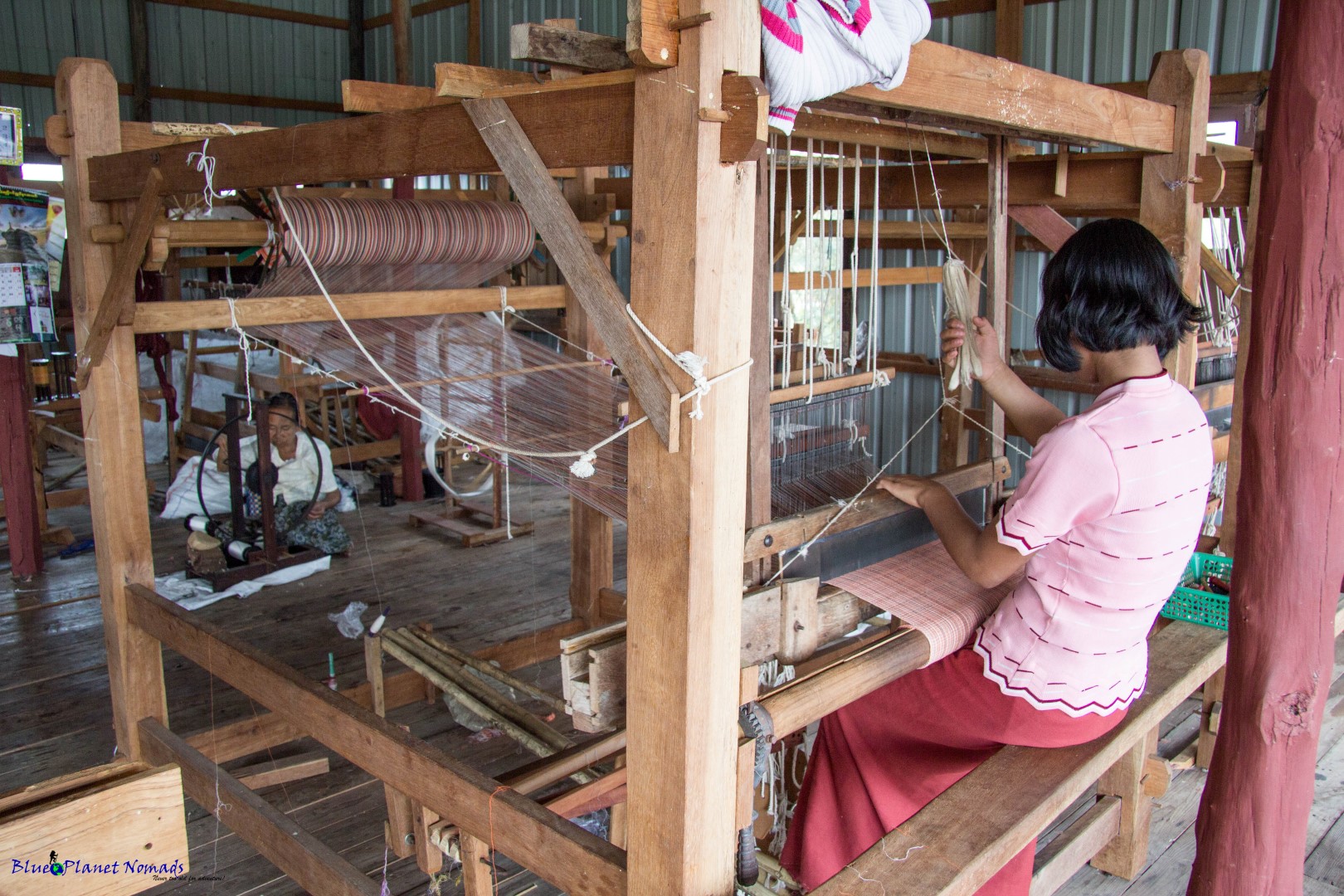 Cheeroot (Cigar Factories)
As you travel Myanmar you will notice locals with cigars hanging out the sides of their mouths particularly older women. In the village of Nampan you can visit the Cheroot factories and witness locals making the traditional local cigar.  The cheroot has both ends clipped and is made with a blend of tobacco and various flavours like dried banana, pineapple, tamarind, honey and rice wine. It is rolled up with the dried and flattened "than at phet" leaf and the filter added is made of dry corn husks or sugar cane fibres. The speed at which the ladies roll the cigars is quite mesmerising to watch. You have the option of trying one which we didn't as neither of us smoke.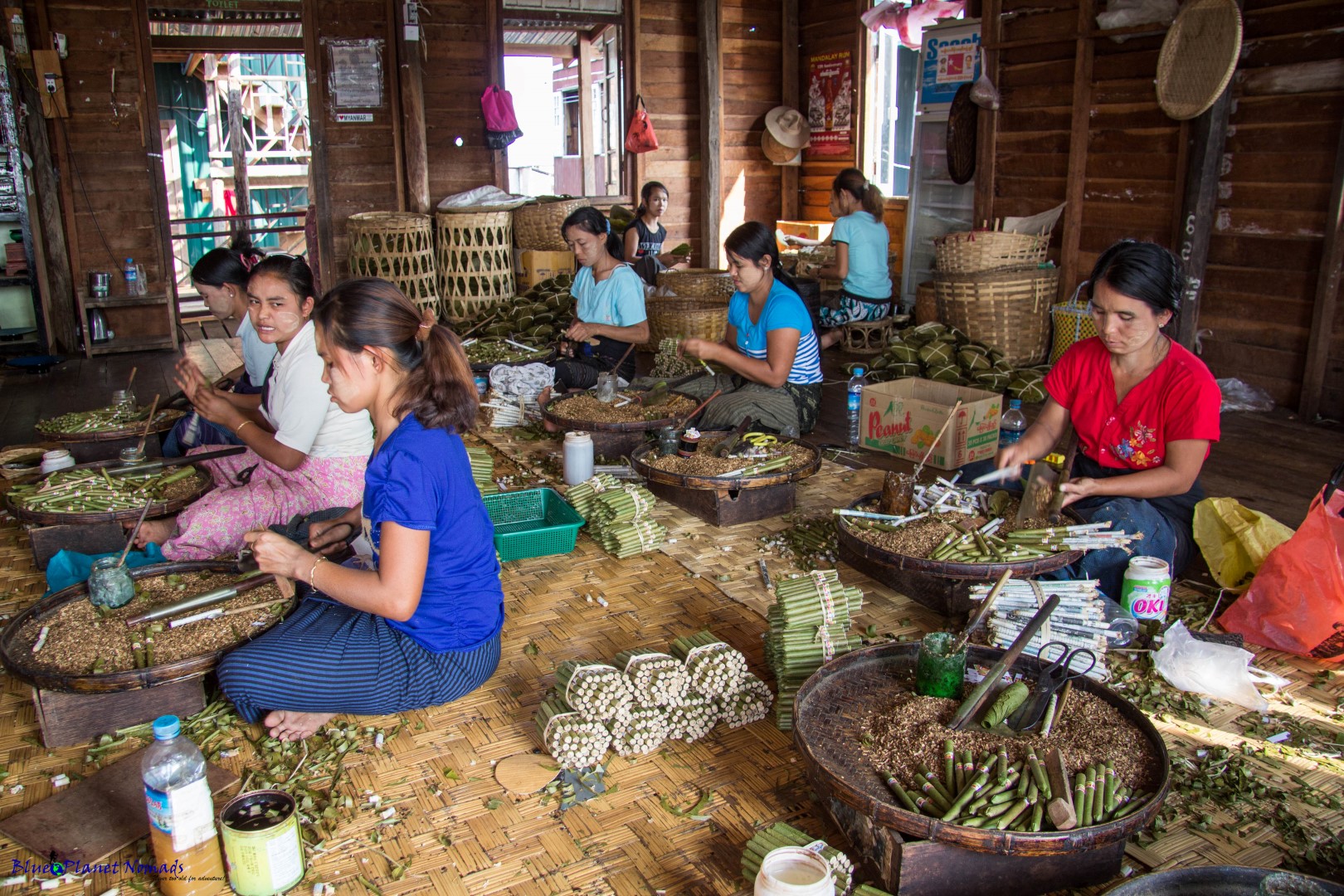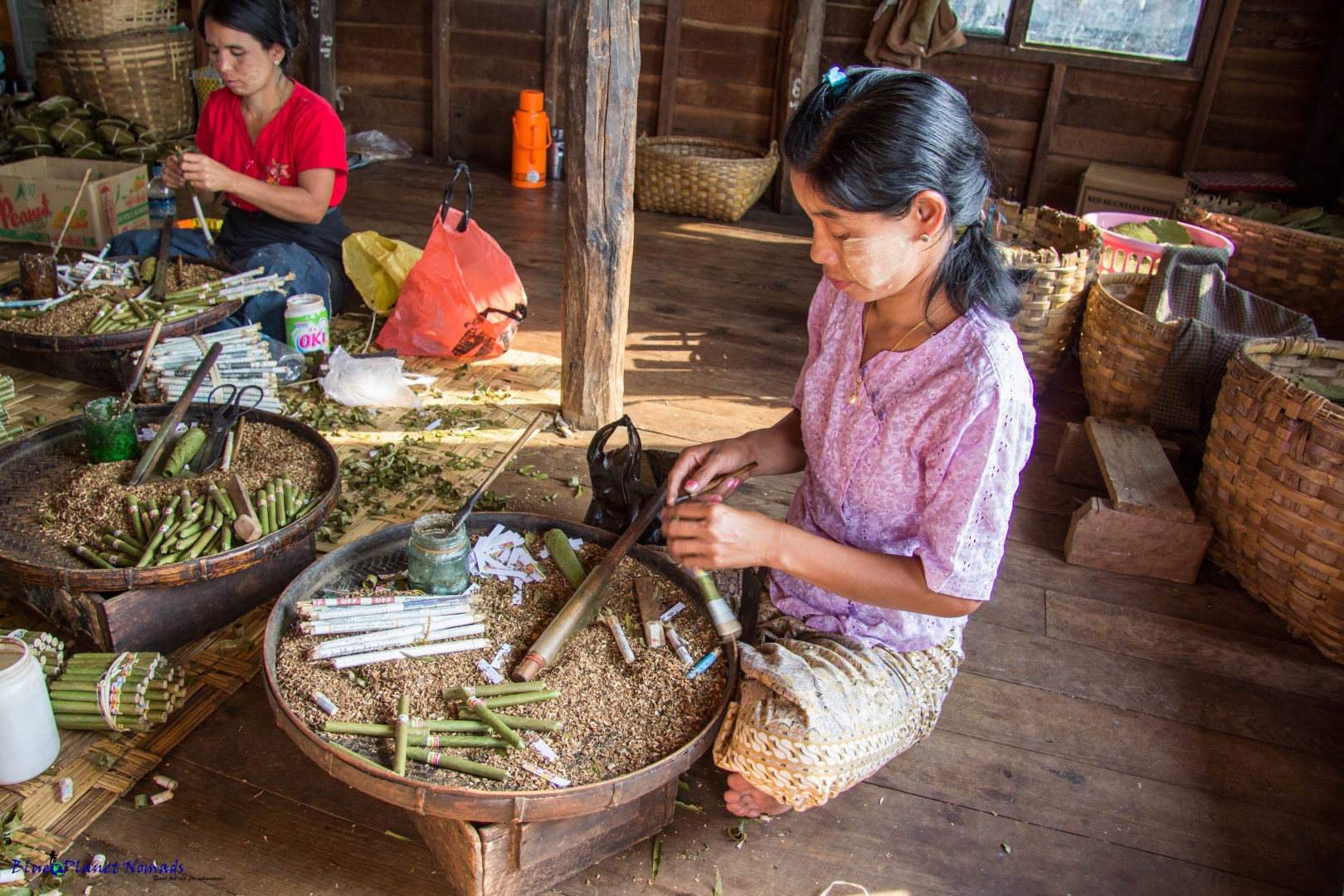 Boat Making
This is something Vaughan enjoyed more than me given he is fascinated by boats, although I did appreciate the carpentry skills.  Here you can witness the making of the long boats as well as other styles of boats commonly seen on the lake. A small shop sells wooden carved items.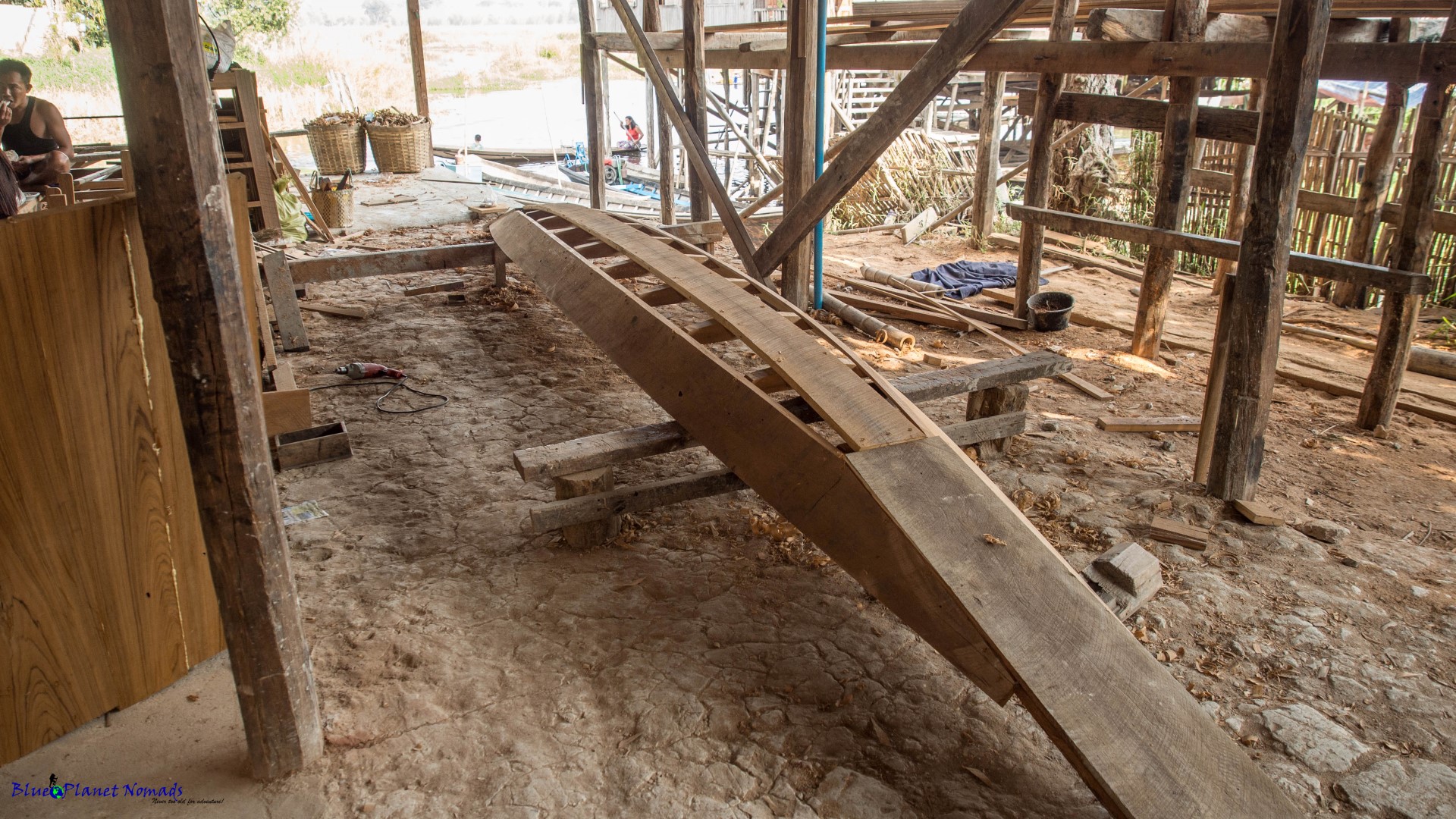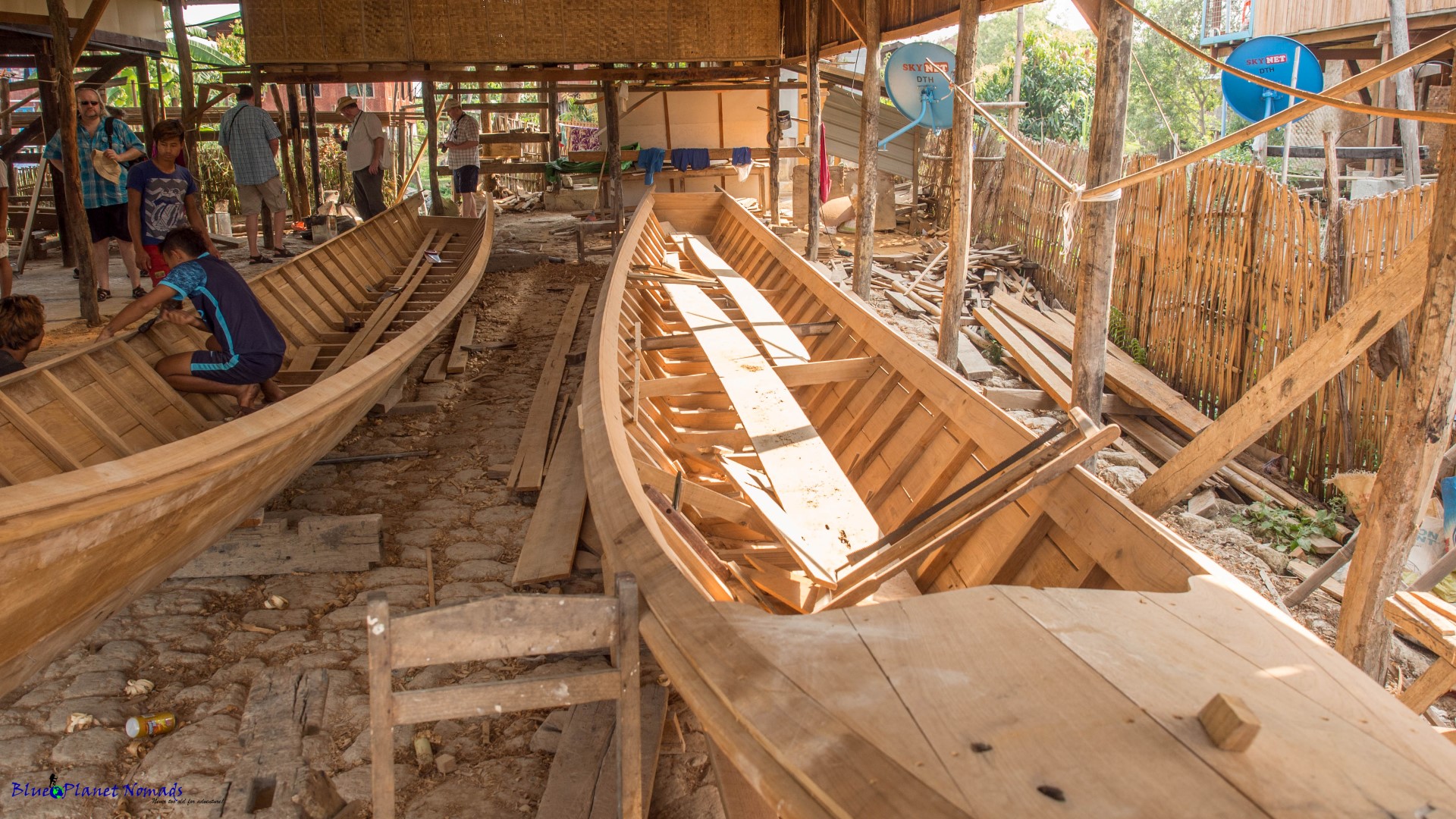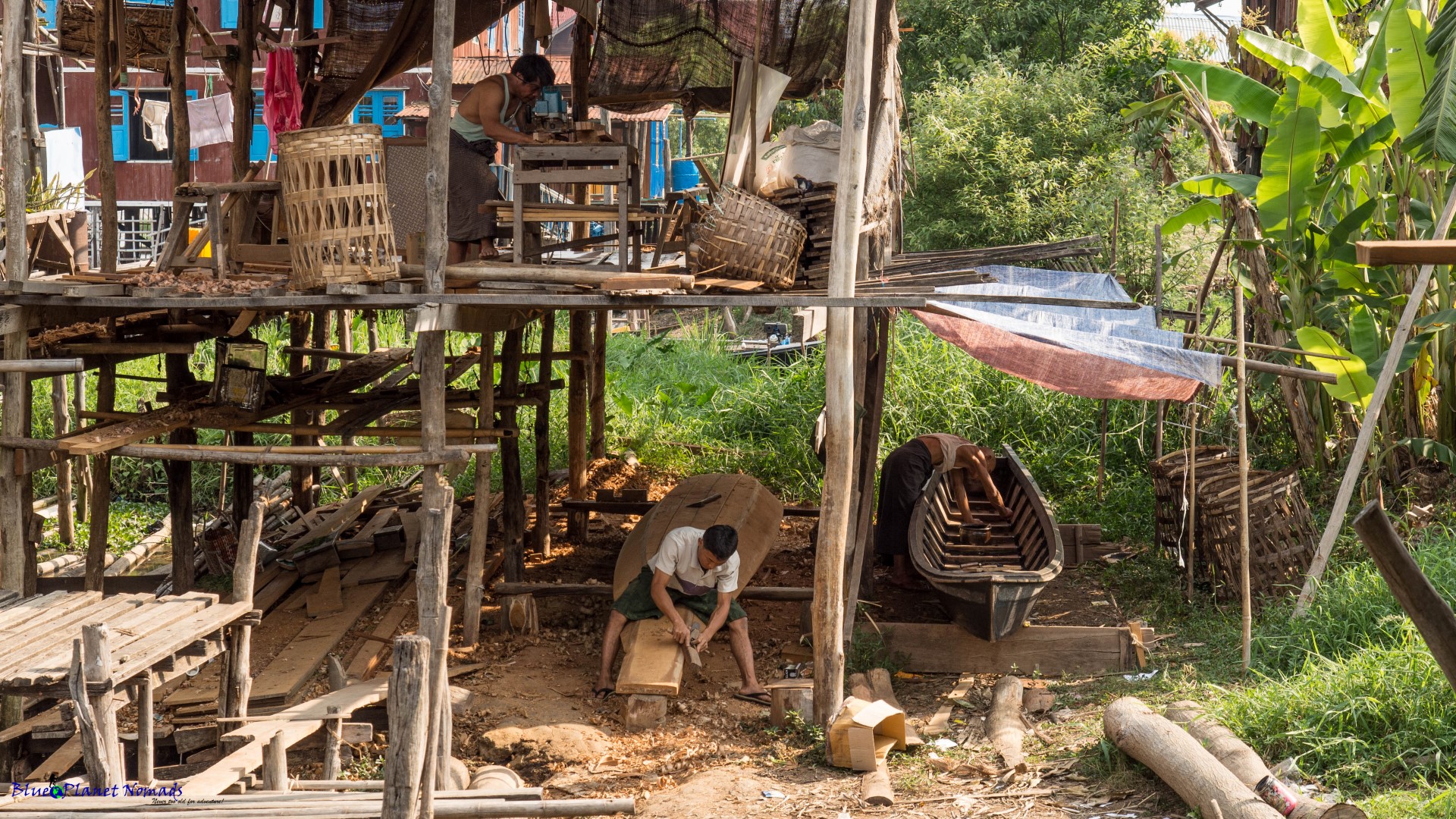 Temples and Pagoda's
Phaungdaw Oo Paya
This multi-tiered golden pagoda is the holiest religious site in the southern Shan State. Within the pagoda are five small golden Buddha images that resemble more golden blobs than images due to the amount of gold leaf that has been added to them by pilgrims.  During the important Phaung Daw Oo festival which takes place in September or October the Buddha images are ferried on a replica of a Royal Barge shaped like a hintha, which we saw parked in a large boathouse.  You can go inside the Pagoda but we chose to skip it and concentrate our time seeing other things.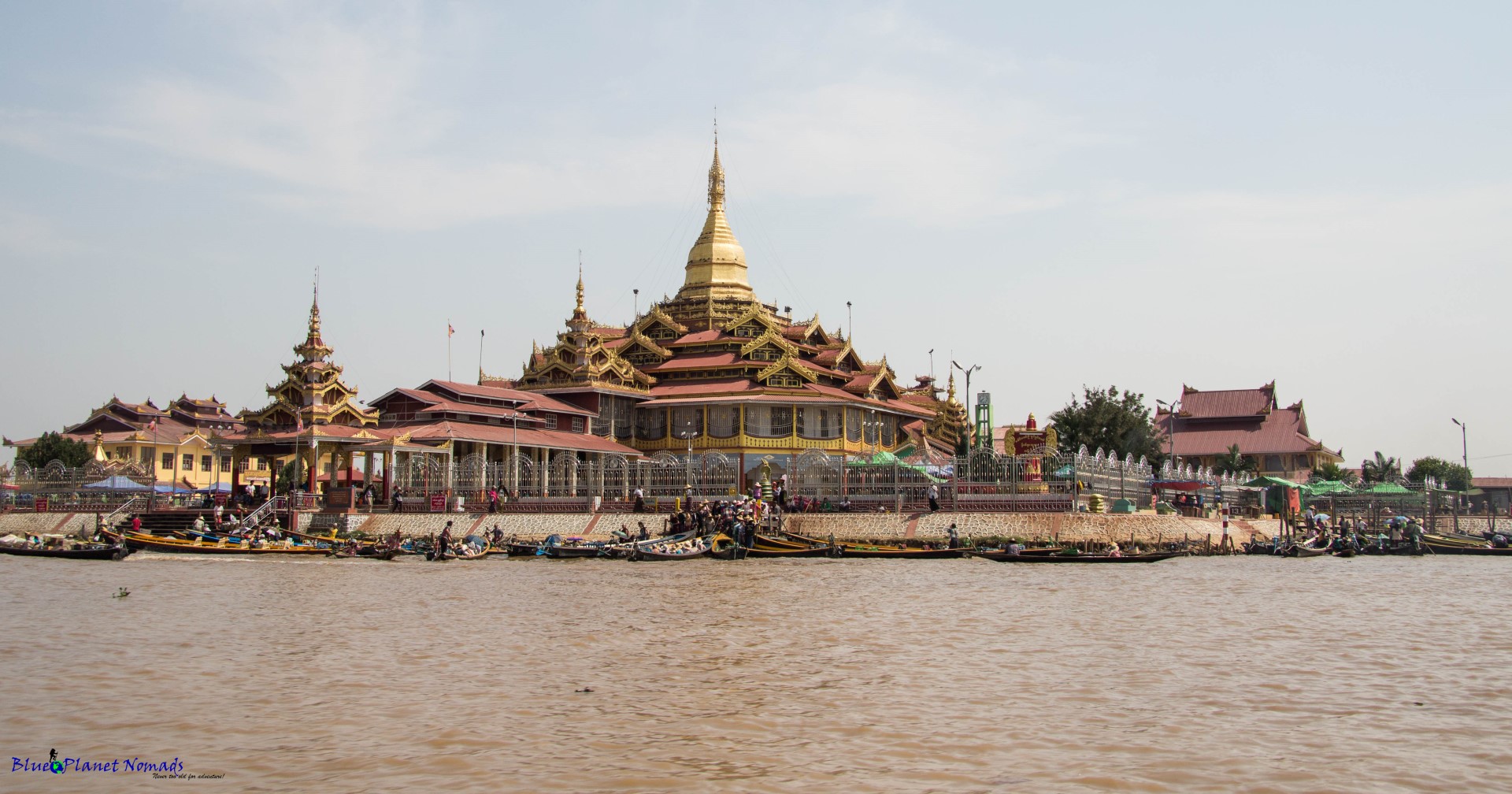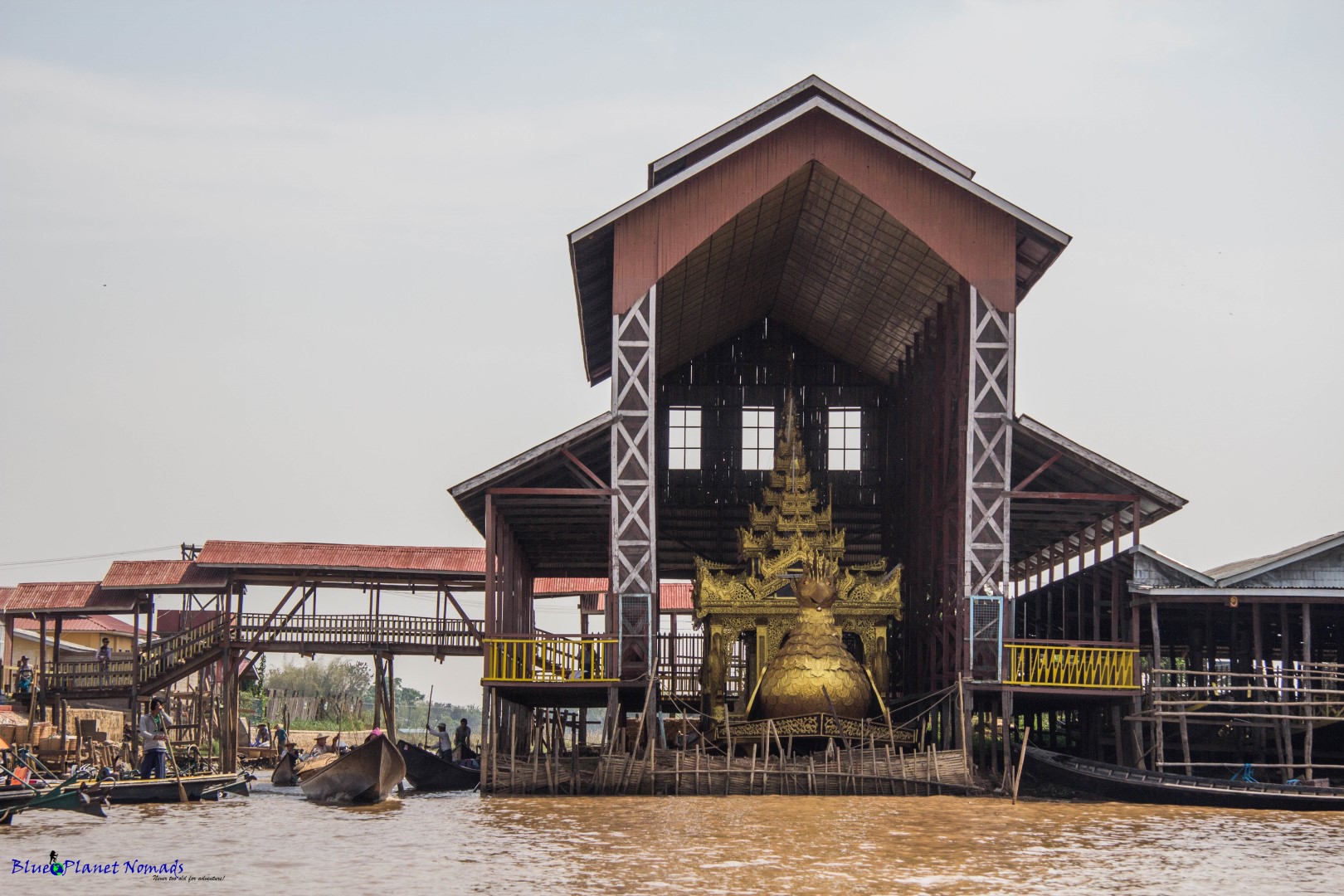 Shwe Inn Thein Paya and Nyaung Ohak at Inthein
After visiting the market, silver and weaving factories our boatman took us down a very long narrow canal where we got to cruise under bamboo bridges and through mini-dams made of straw. The pleasant ride brought us to the village of Indein which is known for its ancient crumbling cluster of pagodas that resemble a much smaller version of Bagan known as Nyaung Ohak.  Further up the hill which is reached by a covered walkway you can visit the much newer Shwe Inn Thein Paya.   The trip to get here takes a while but it certainly is worth it as its one of the highlights of the lake and was one of our favourite sites.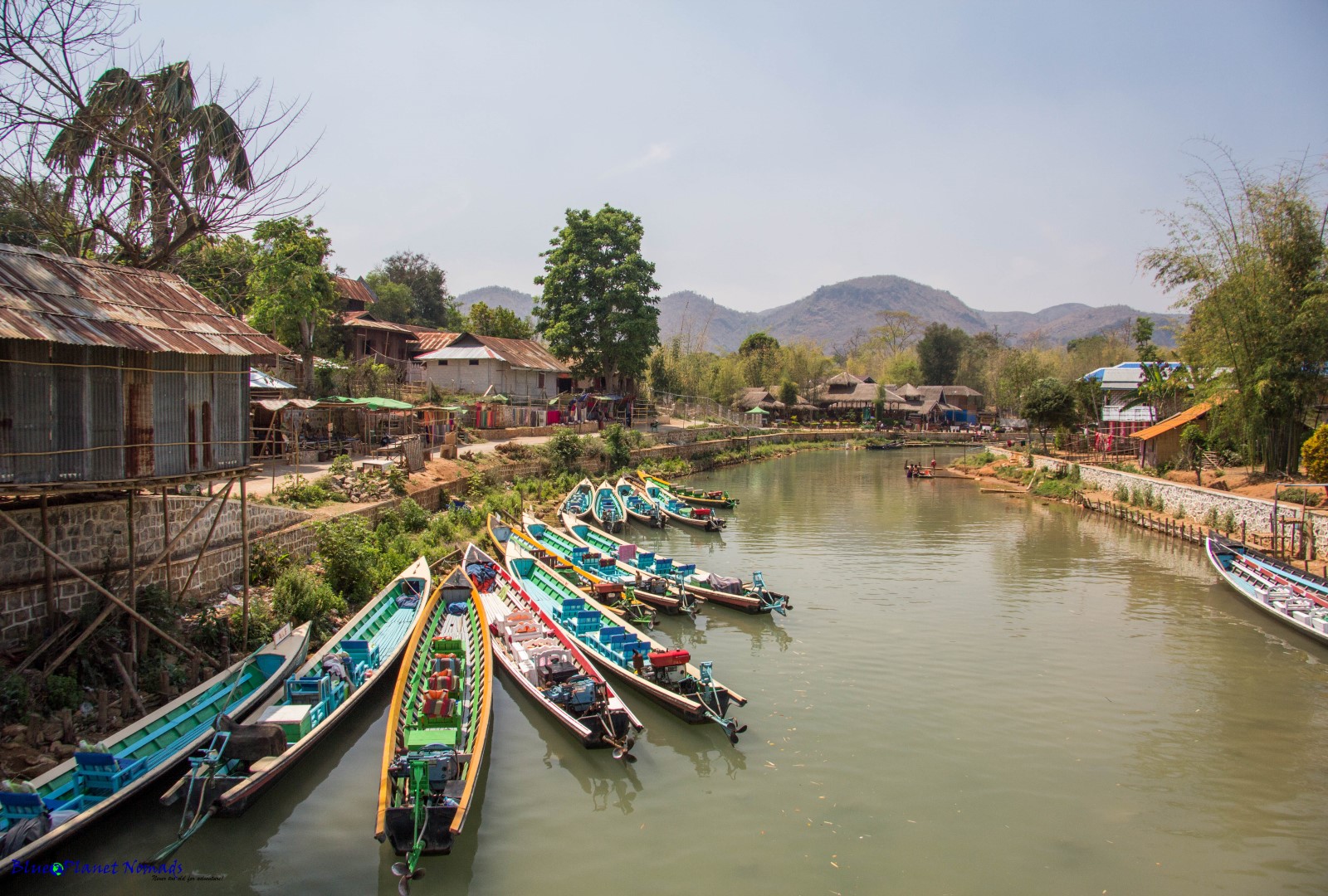 Leaving the boat we paid a small fee for the entrance and made our way towards the cluster of old pagodas.  Walking towards us was a tiny old lady carrying a huge bundle of sticks on her back and smoking a cheroot, her face amazed me as she looked as old as the ruins themselves!  I just had to take a photo of her and she obliged when I asked but of course it wasn't going to be free as her tiny wrinkled hand extended towards us.  Her photogenic face was worth the small coin donation I gave her.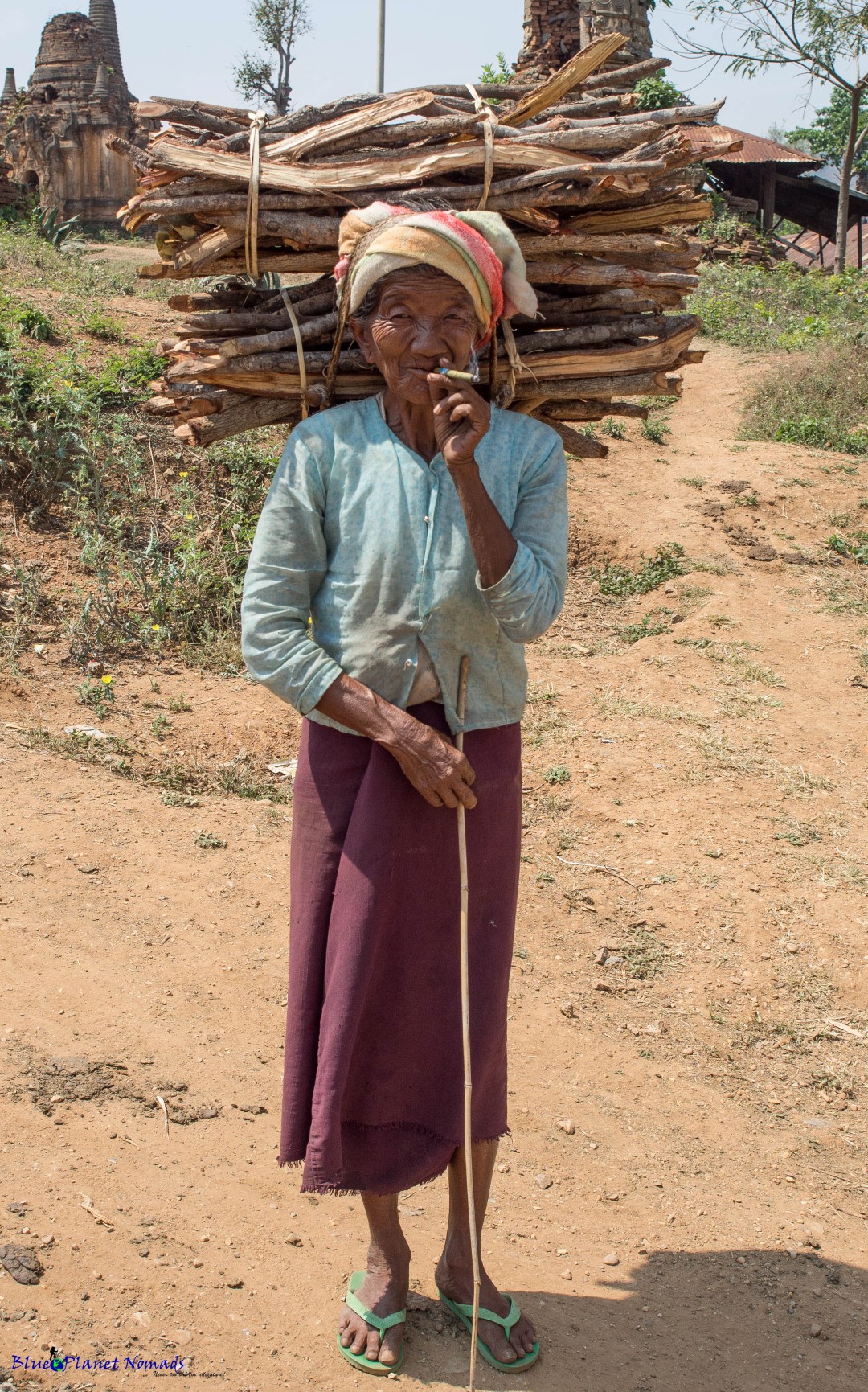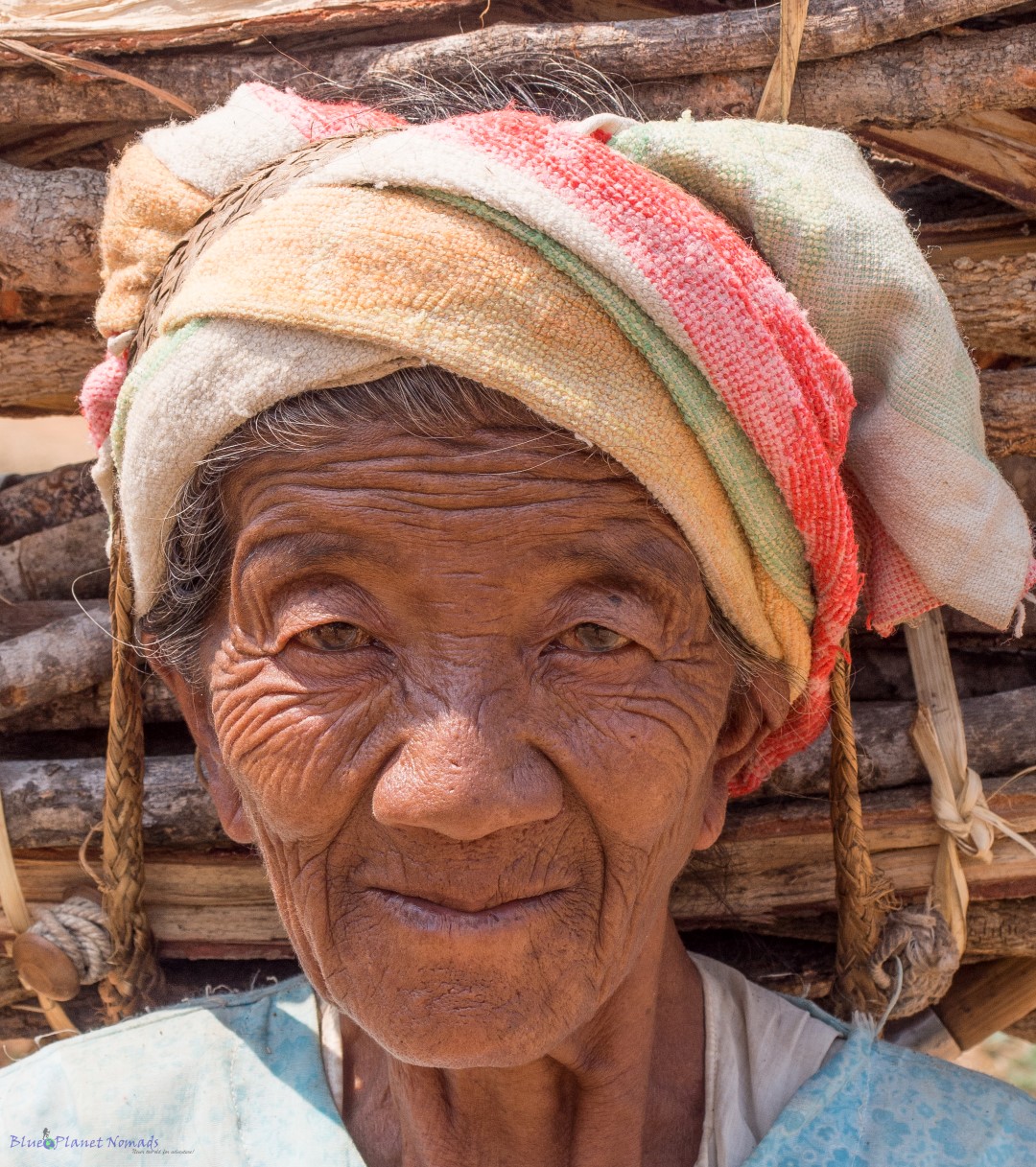 We wondered through the jungle of ruins most of which are being reclaimed by the surrounding vegetation that has pushed its way through the cracks. All except a small group of people we pretty much had the place to ourselves and thoroughly enjoyed exploring.  Some of pagodas were larger and more intricately carved with mythological animals, deva and chinthe and some contained carved Buddha images.  I can't even begin to imagine how many there were but it was a few hundred and they stacked all the way up the hill.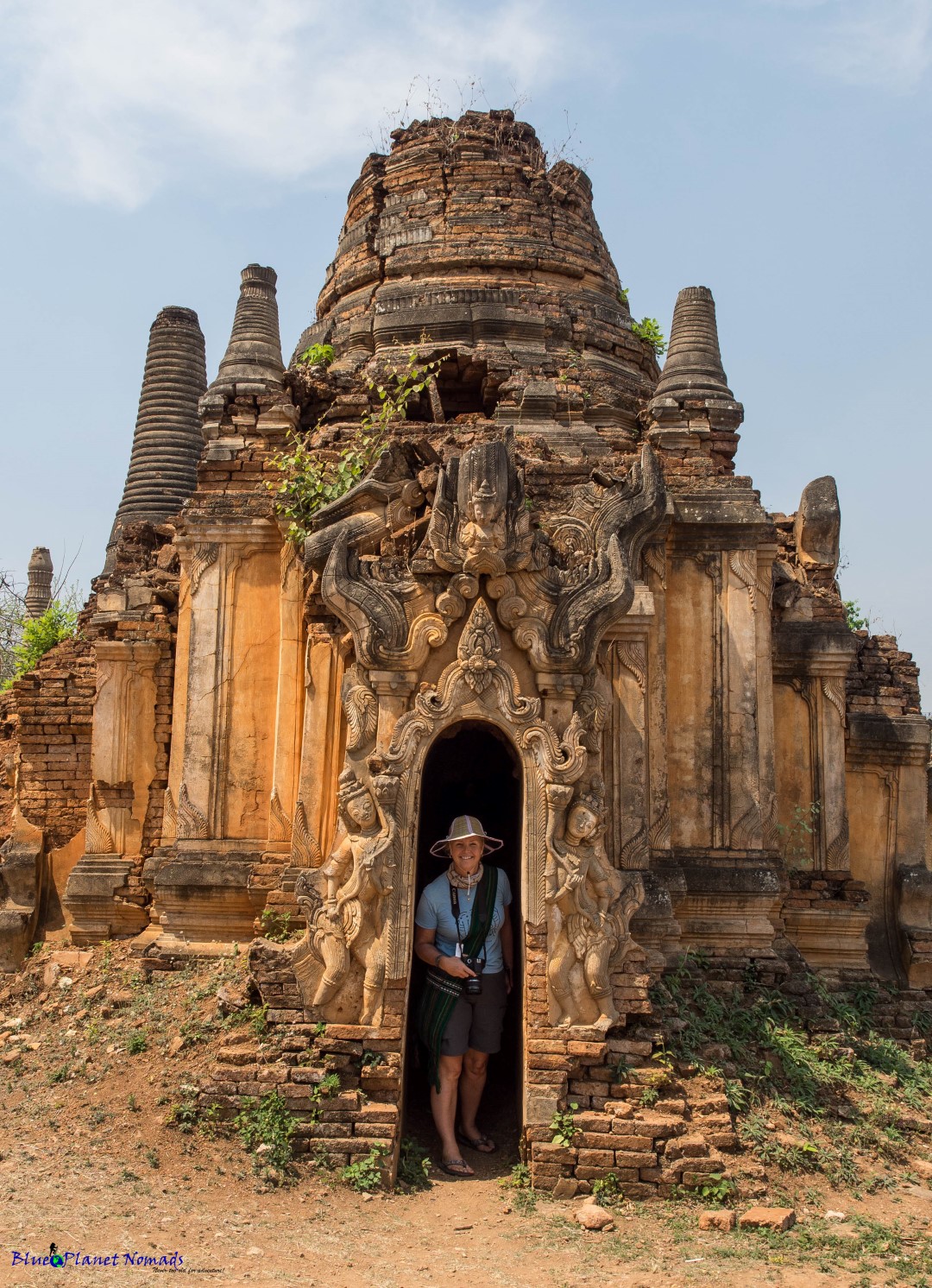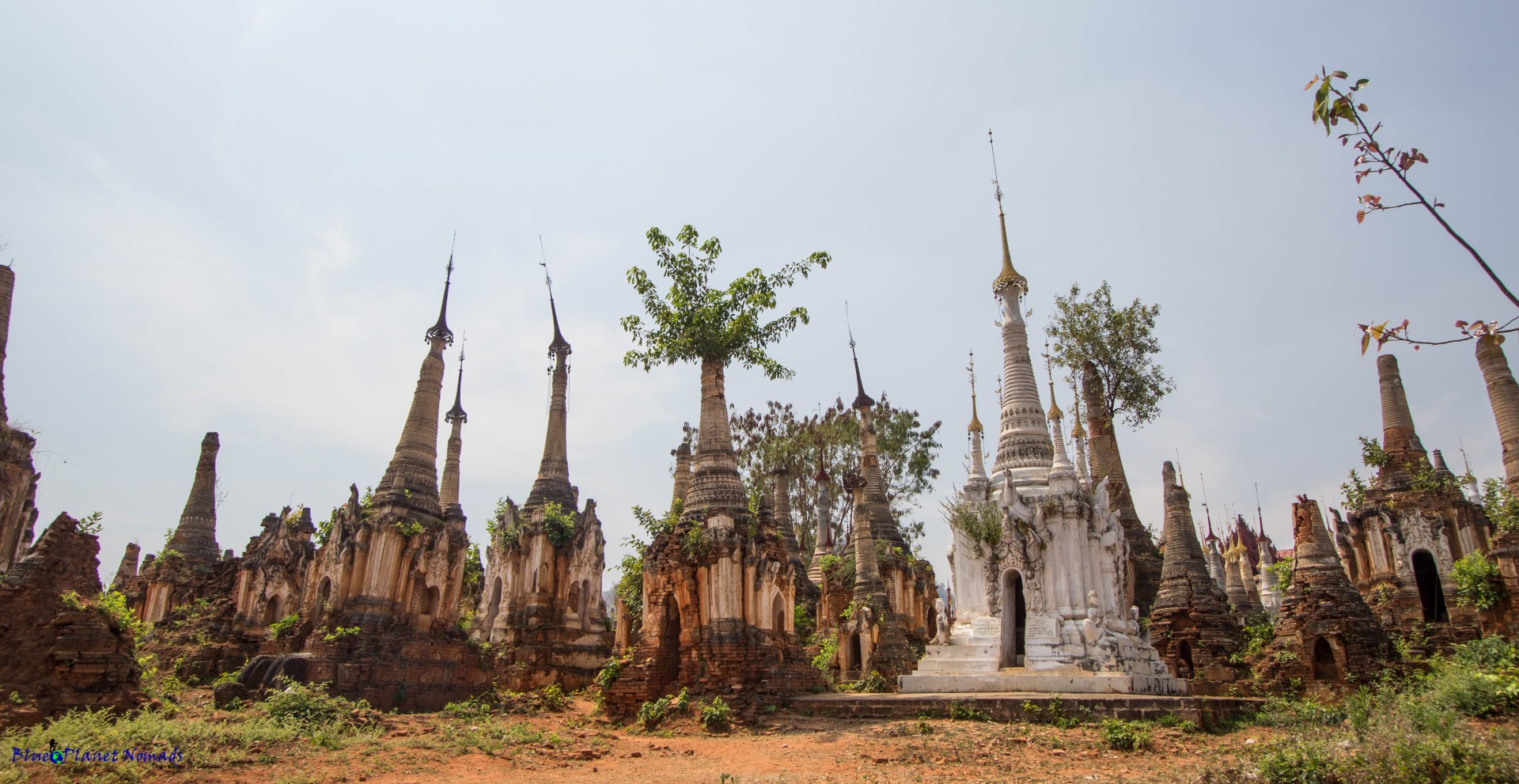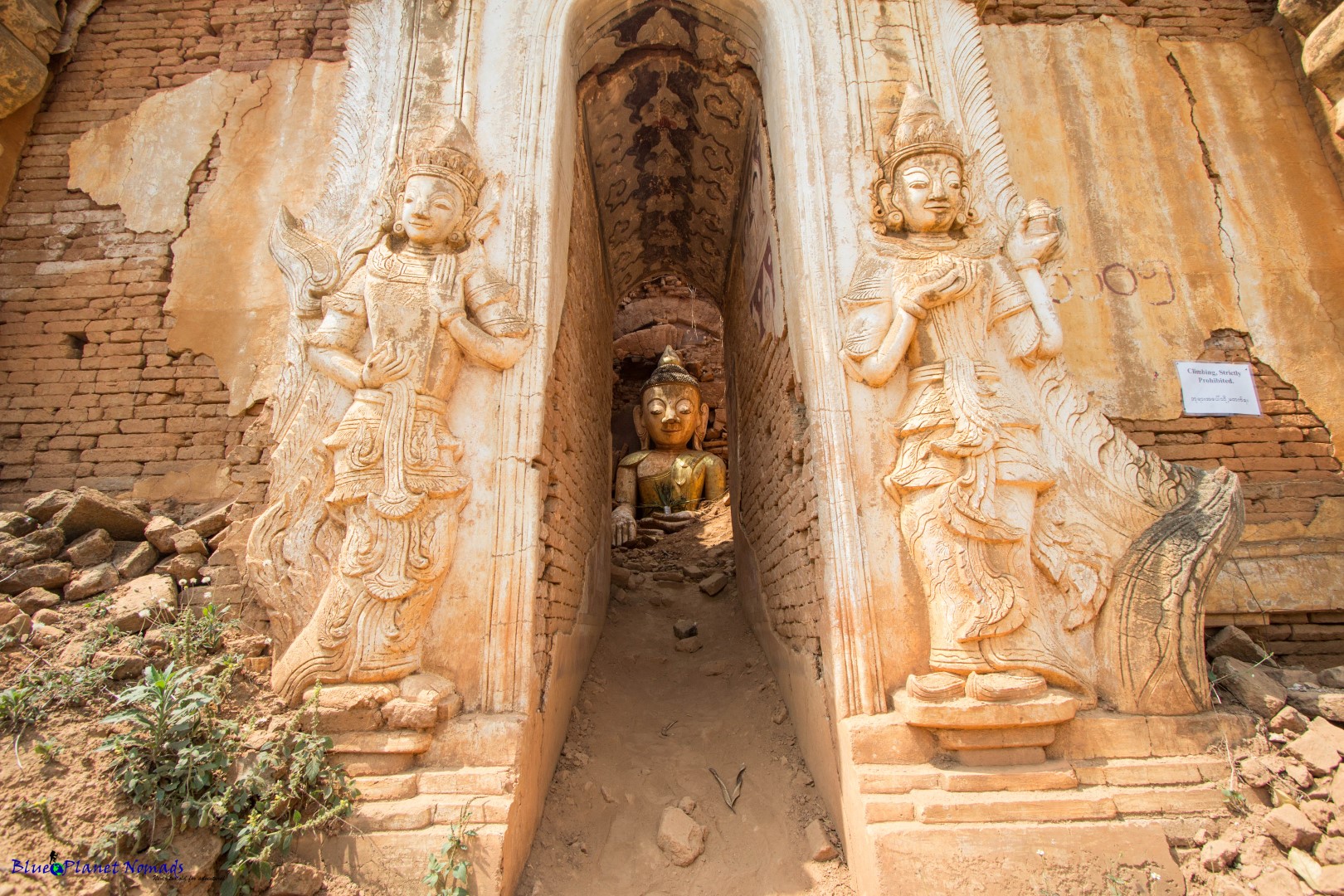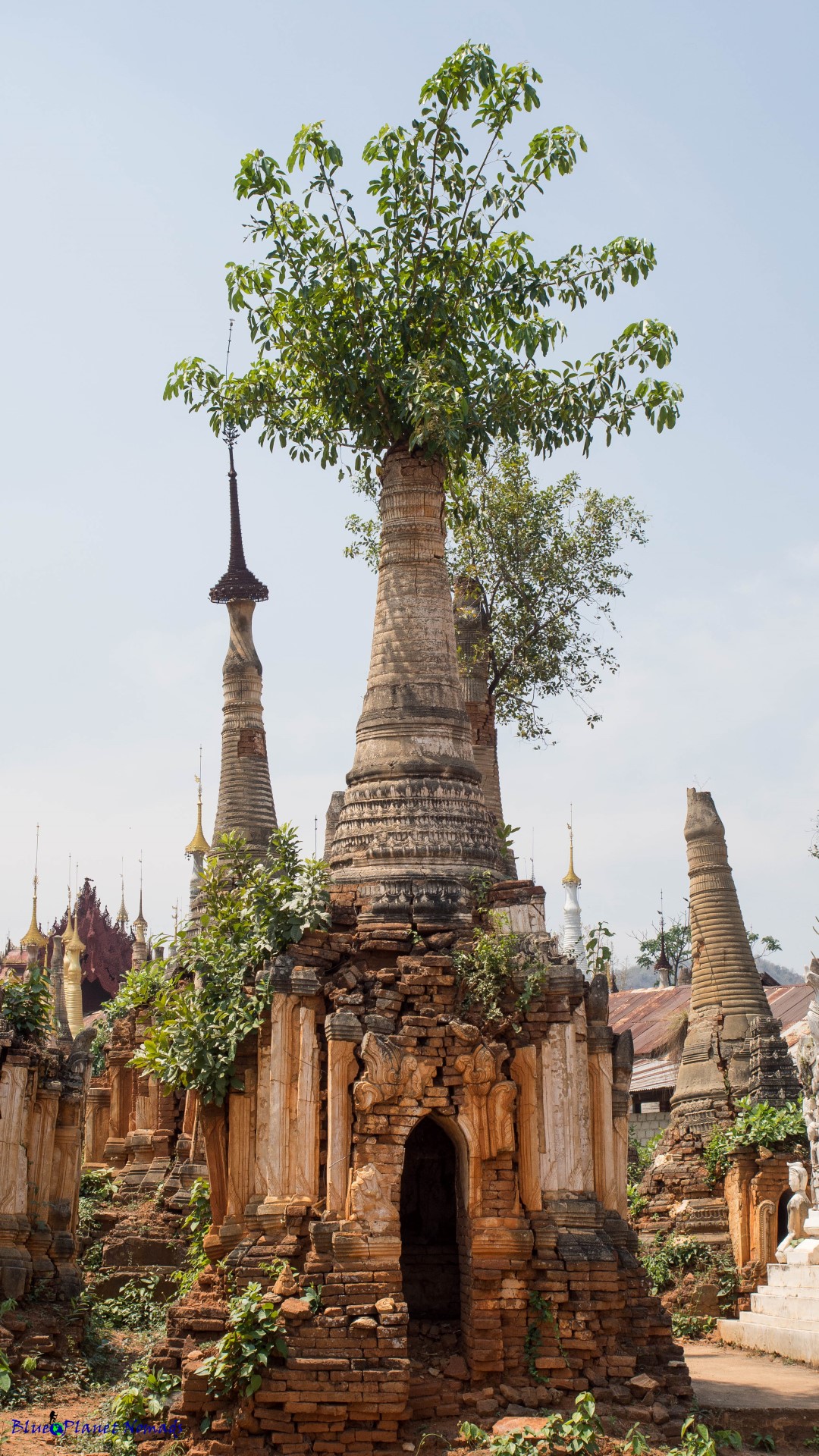 We took the 700 meter covered walkway past the plethora of vendors selling souvenirs to reach Shwe Inn Thein Paya.  The site contains some 1054 weather beaten stupas most constructed in the 17th and 18th centuries. At the centre is the much newer shrine topped with the typical Burmese umbrellas who's bells were chiming in the wind.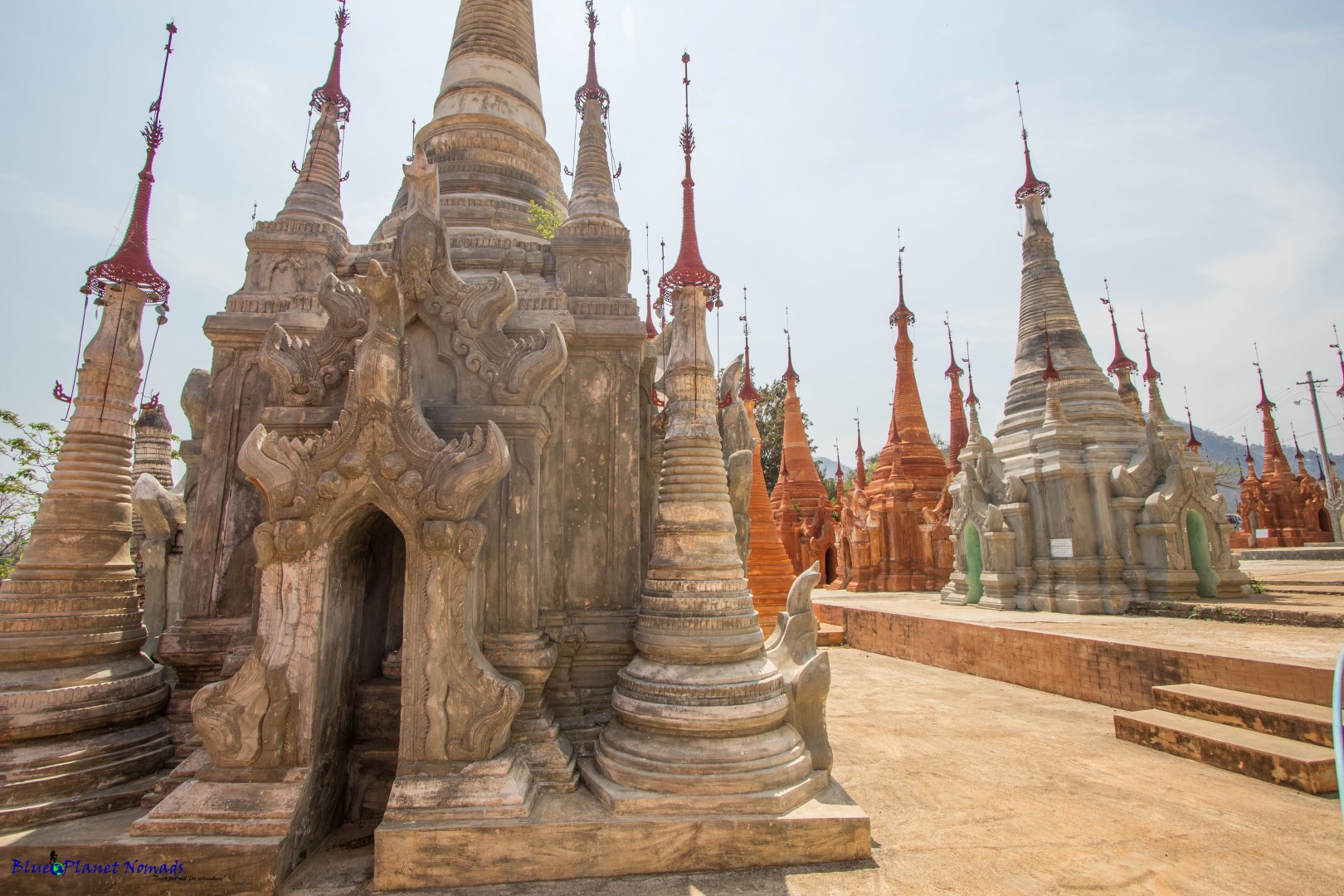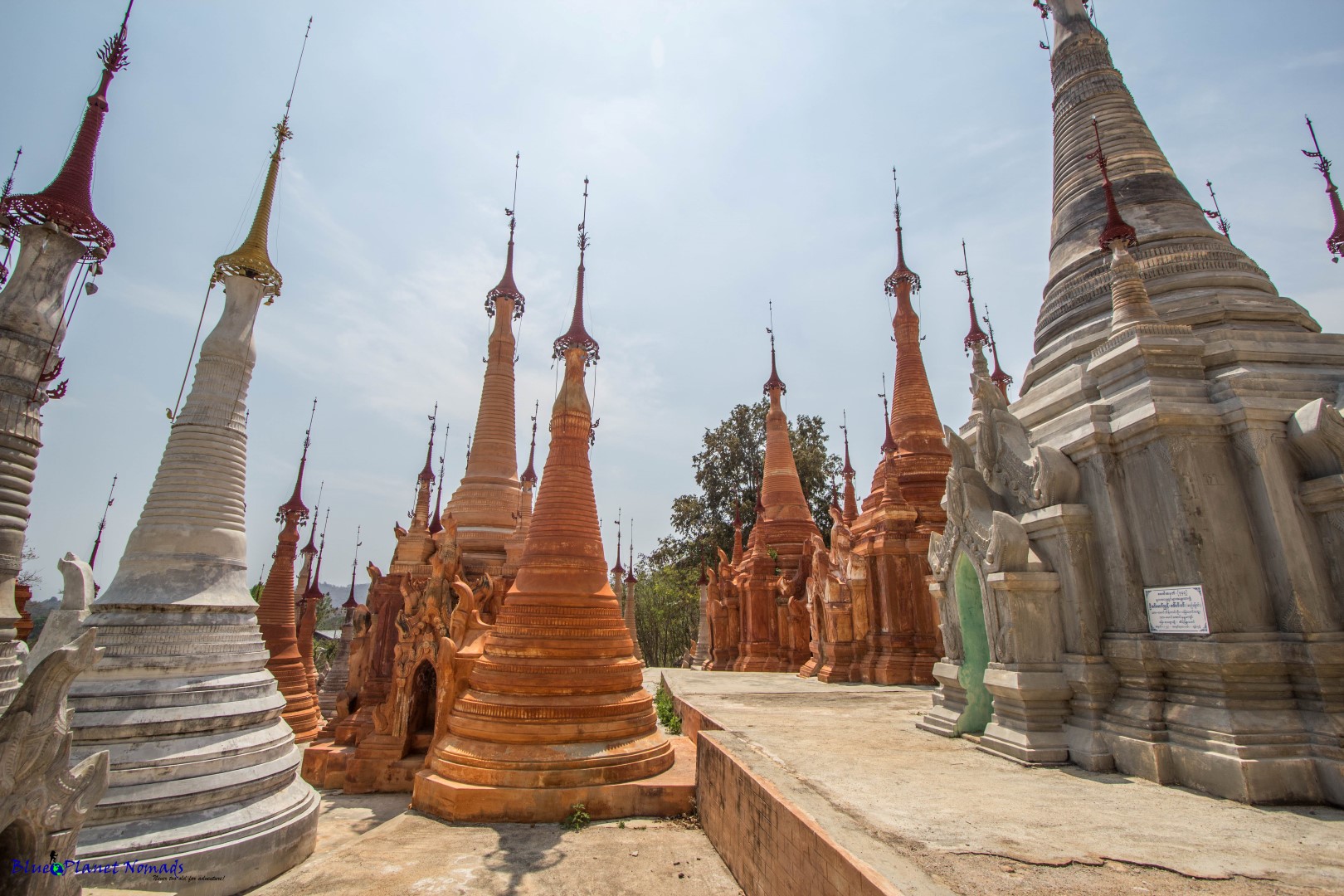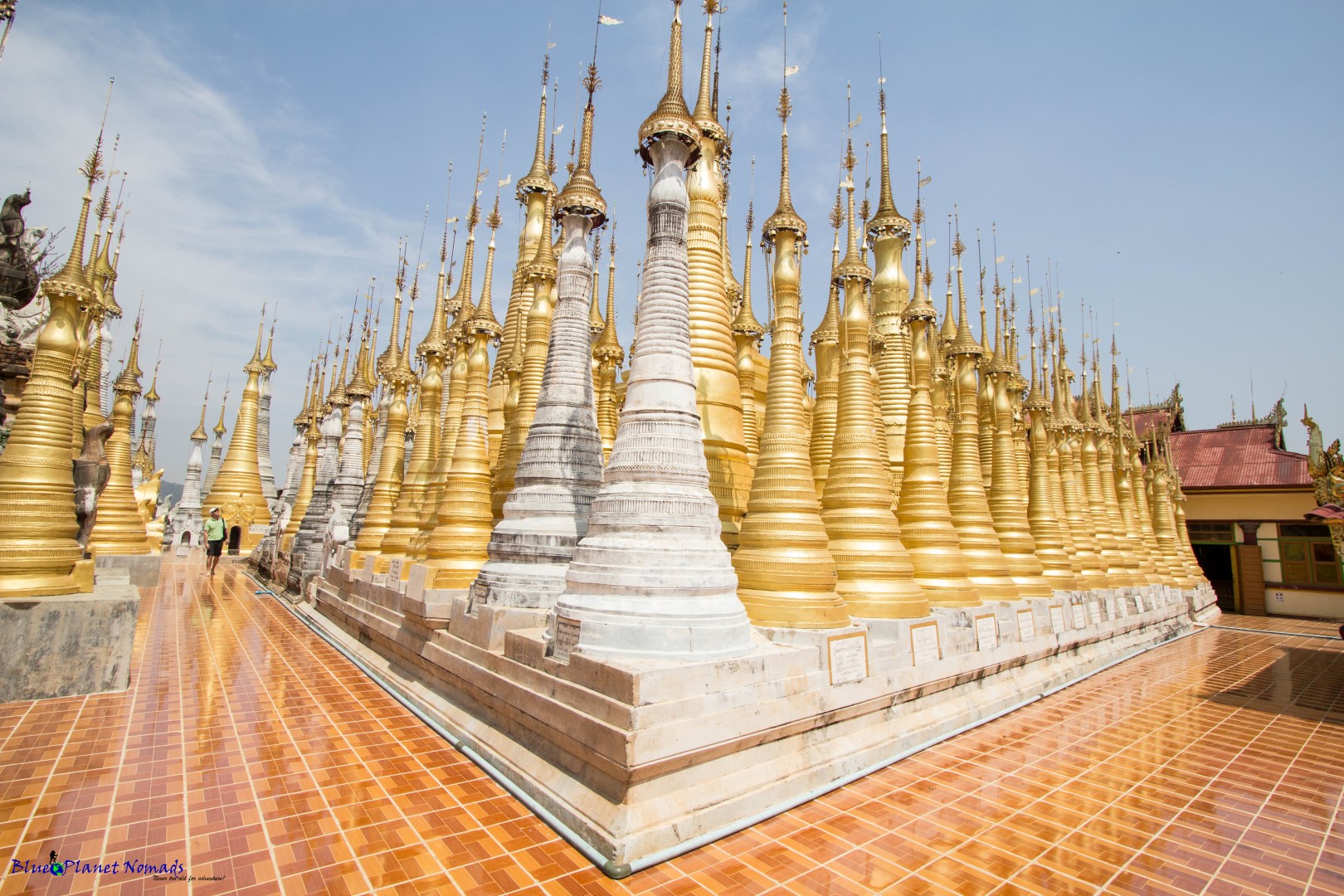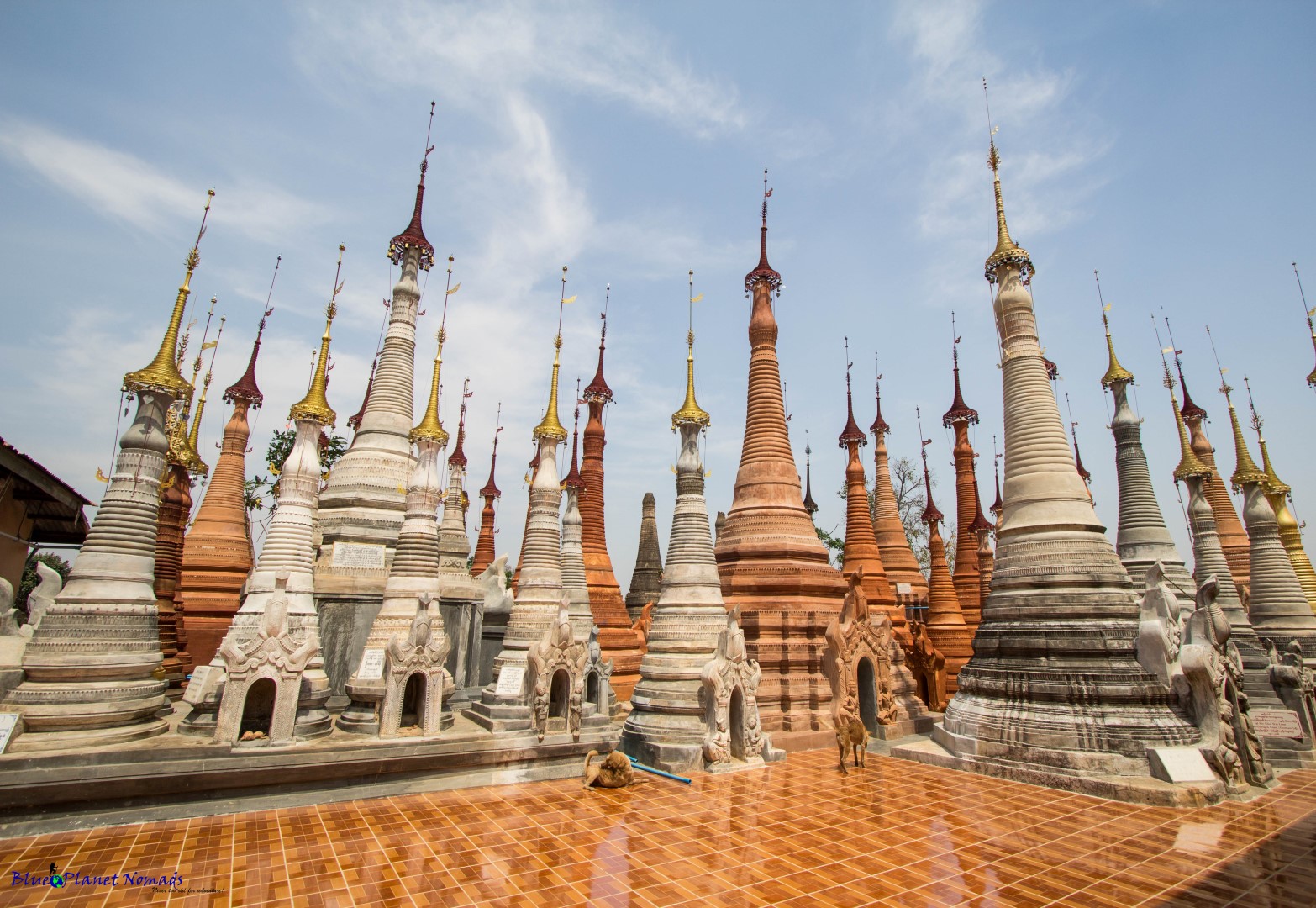 Overall we really enjoyed this site, it was certainly worth the long trip to get here.
Kids helped us get back in our boat but of course they wanted some payment for playing porter, we told them no which I strongly encourage other tourists to do otherwise the face of Inle Lake is really going to change.
On the way back up the canal passing buffalo and children playing we stopped for lunch at a stilted bamboo Shwe Yamen Restaurant.  The menu is a mixture of Shan and Chinese style and certainly didn't break the bank. Whilst enjoying our meal we got to observe the boats chugging up and down the canal and through the small damn gates.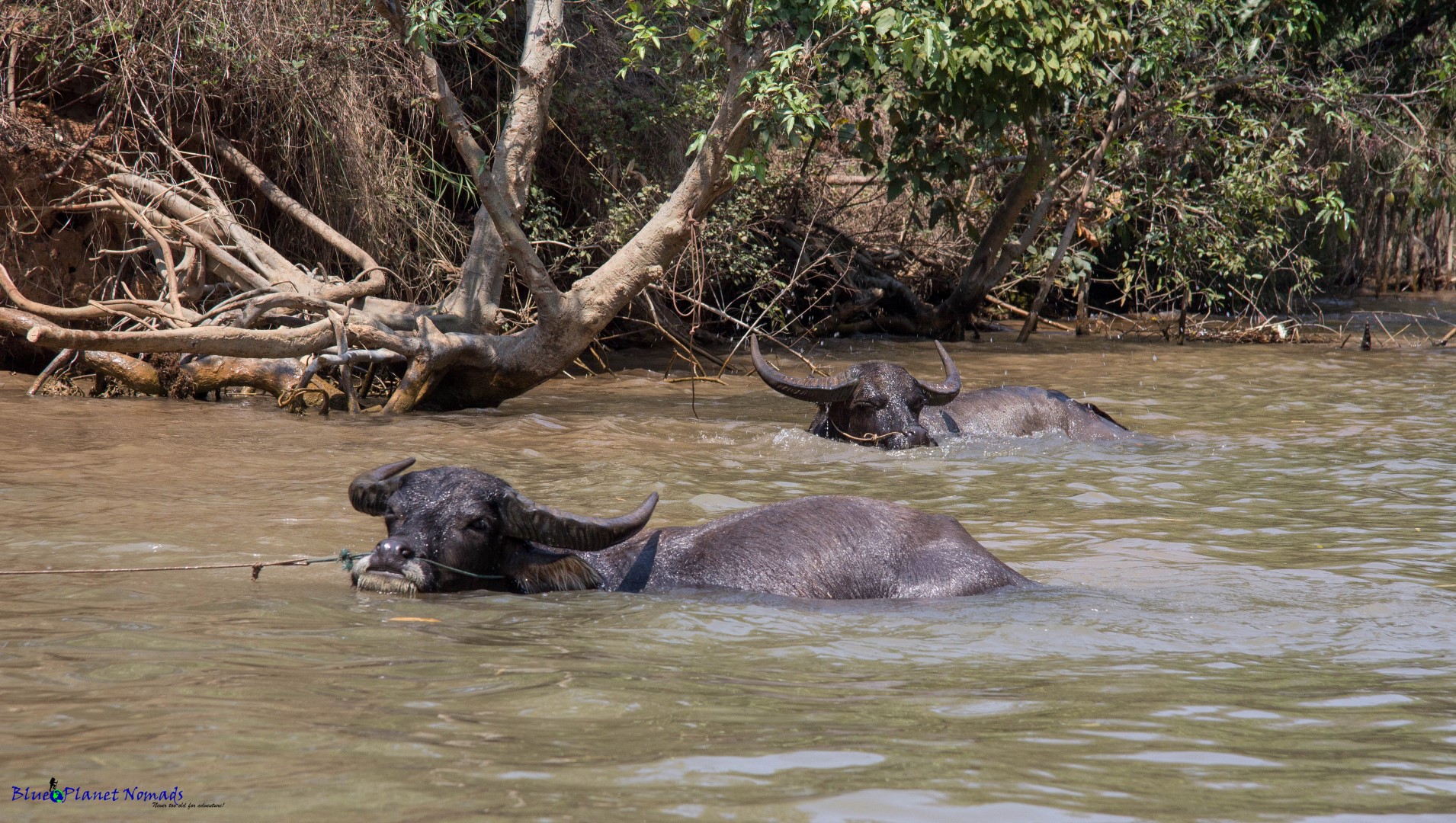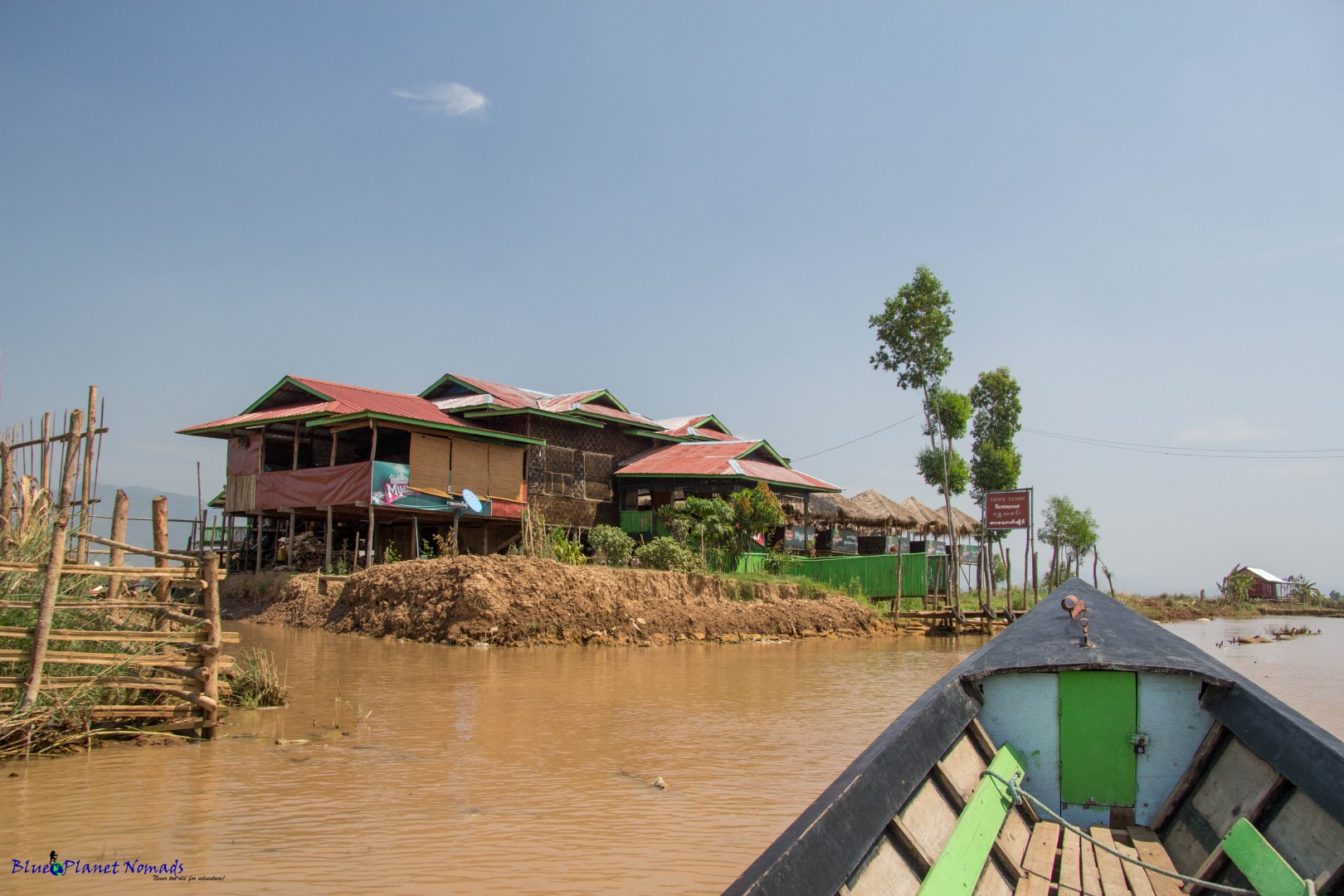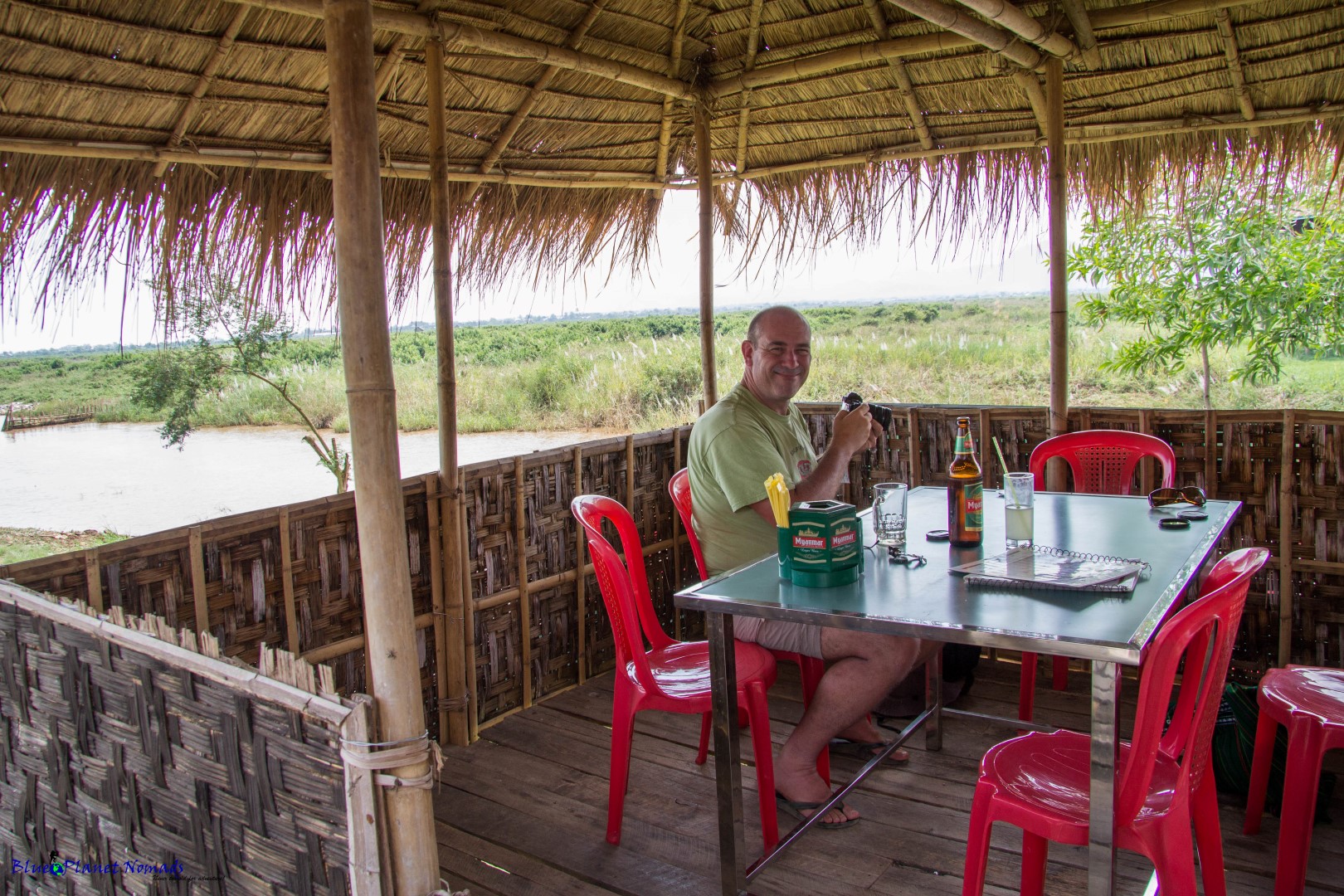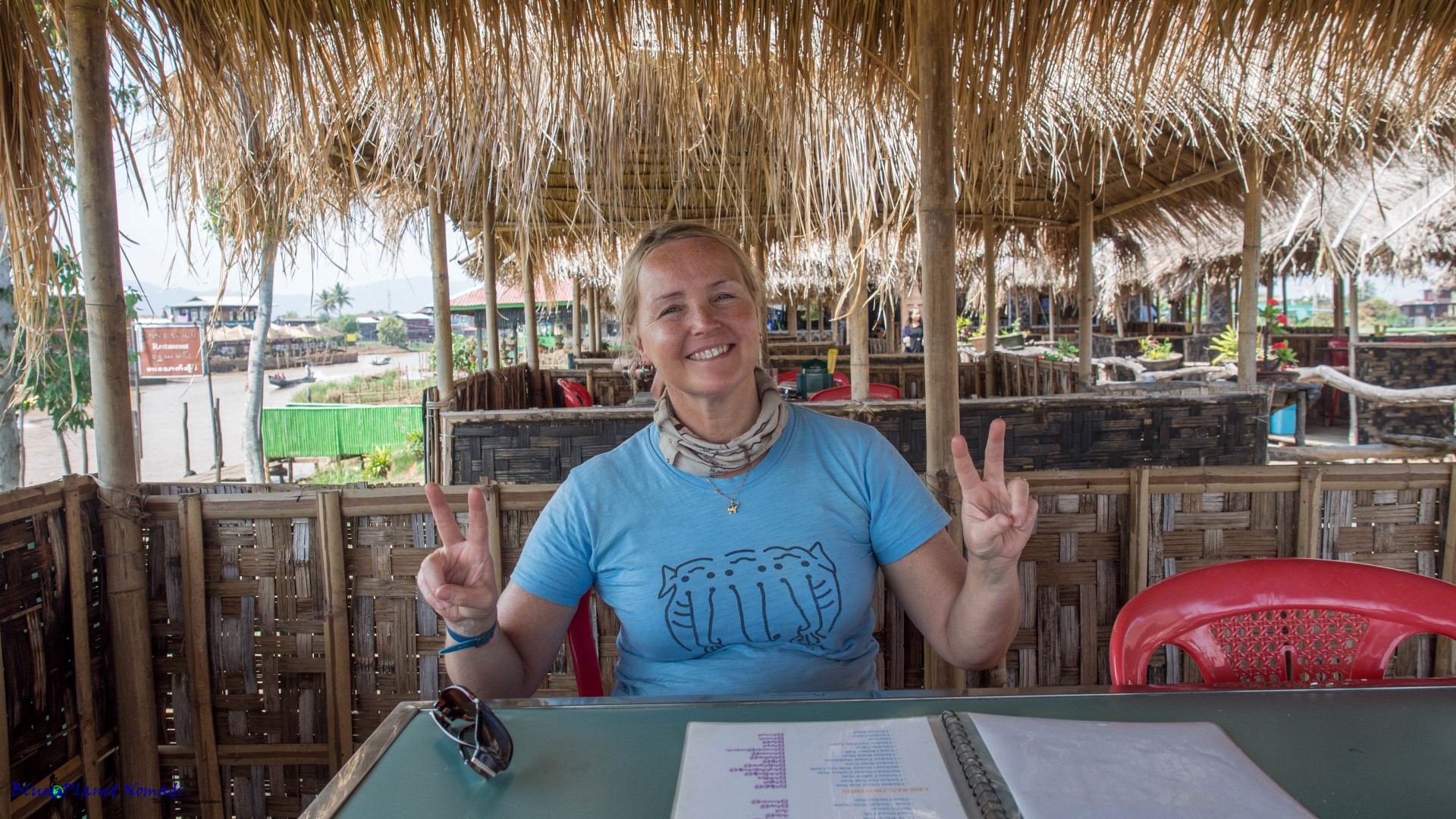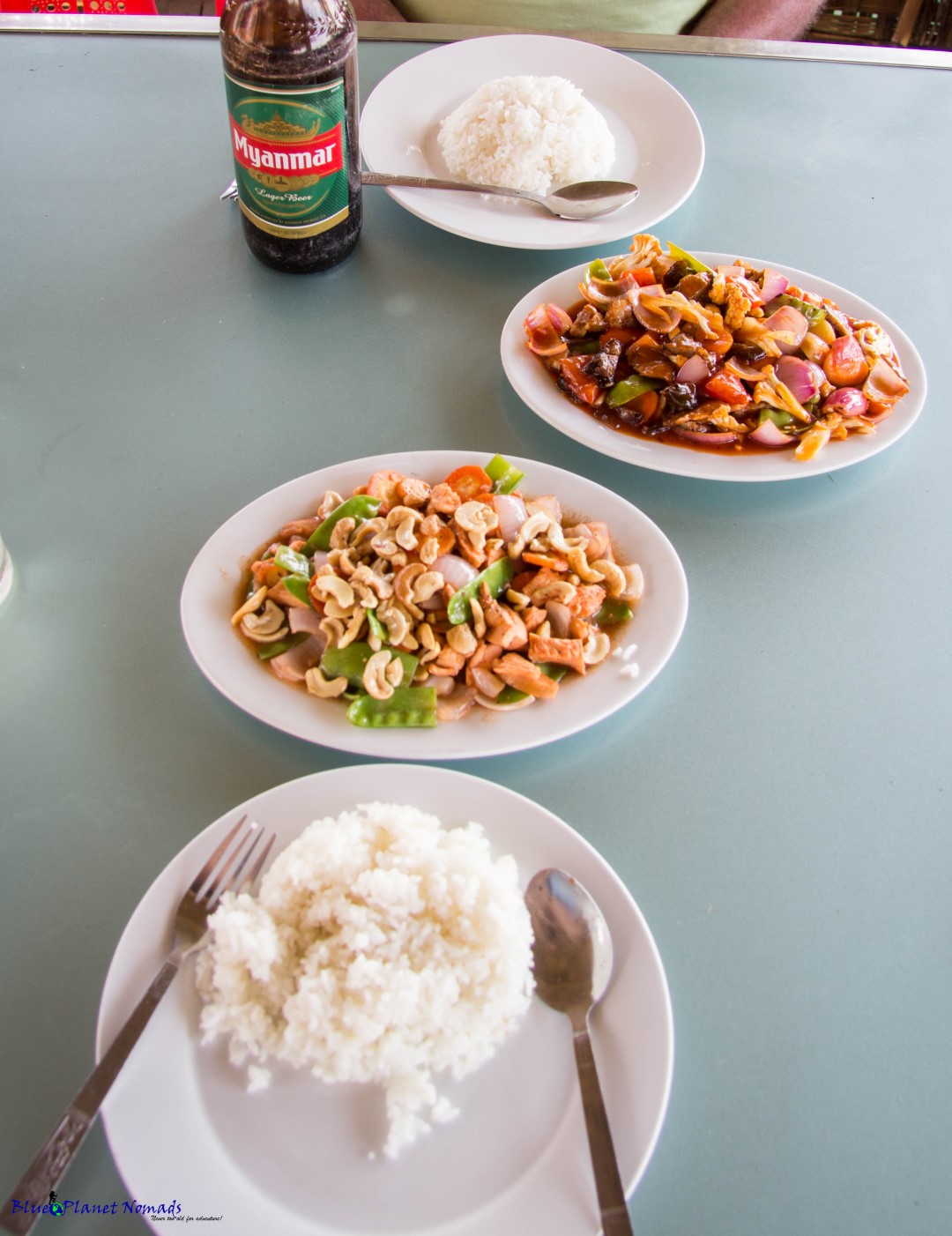 Nga Hpe Kyaung Jumping Cat Monastery
This large teak monastery is famous for its jumping Burmese cats trained to leap through hoops by the local monks.  There was no such think happening when we visited in fact the cats were just lazing around until bowls of food arrived for them. Having watched a YouTube video the jumping tricks are not that exciting.   The monastery itself has a collection of Buddha images the large meditation hall has statues in the Shan, Tibetan, Bagan ad Inwe styles.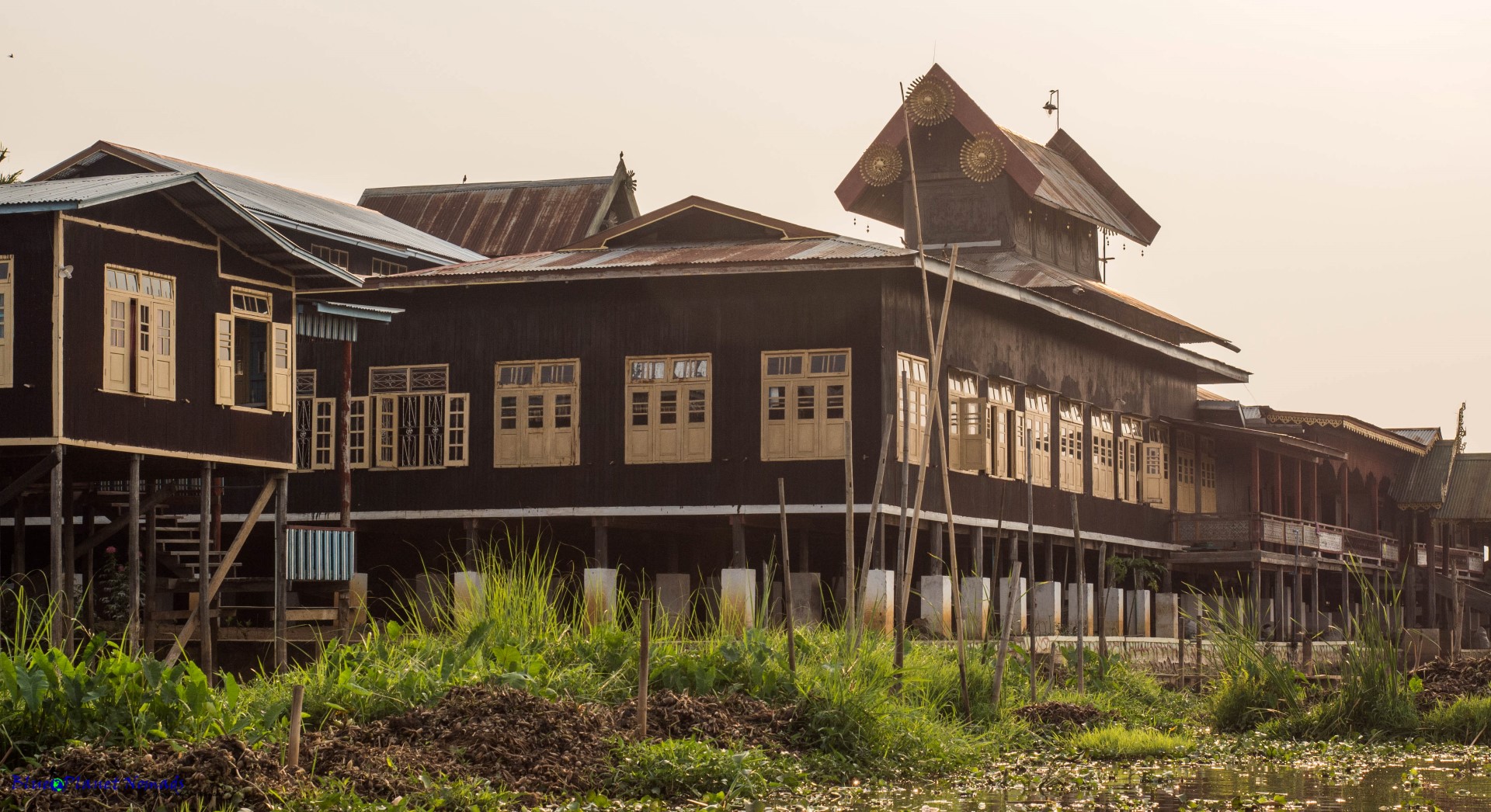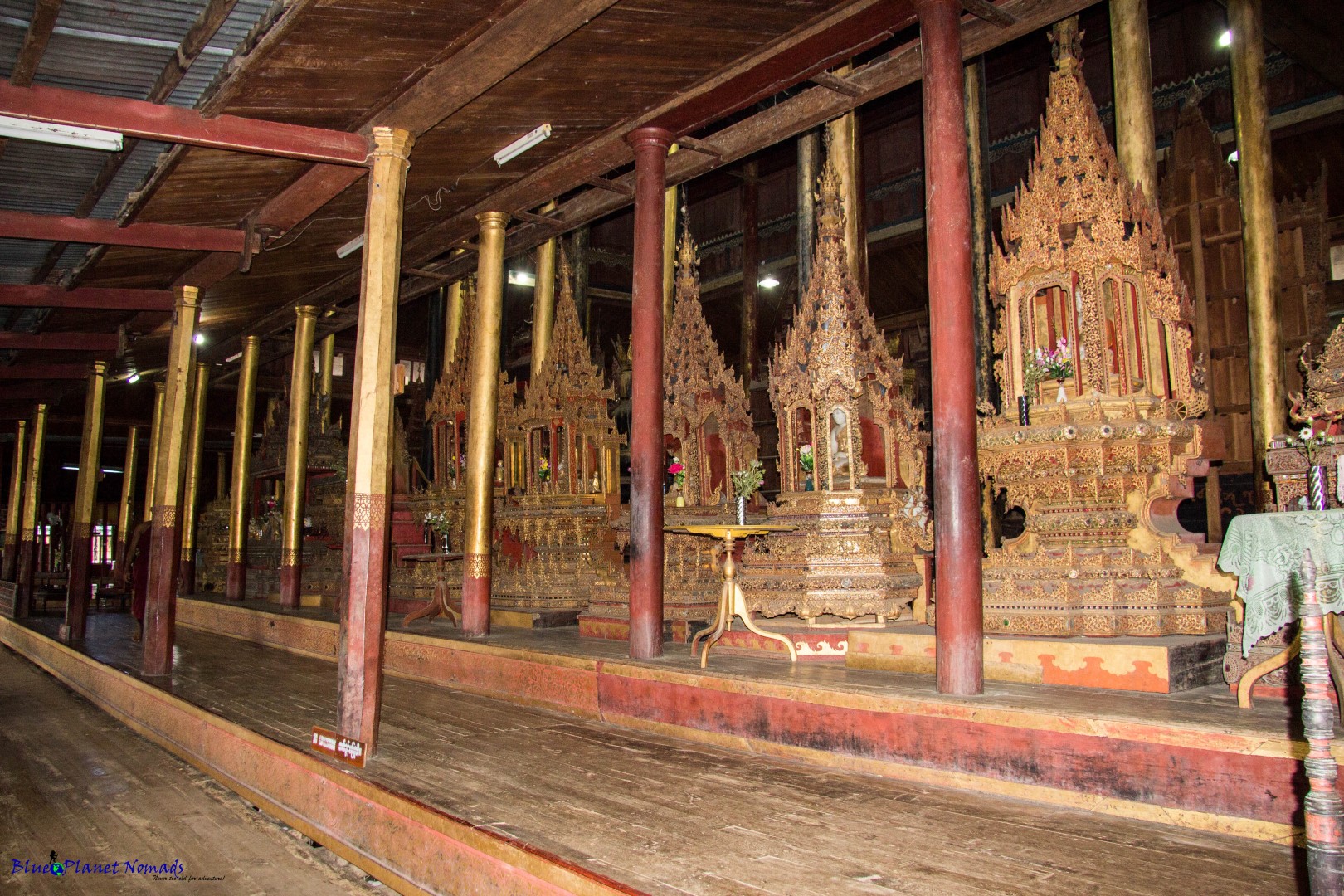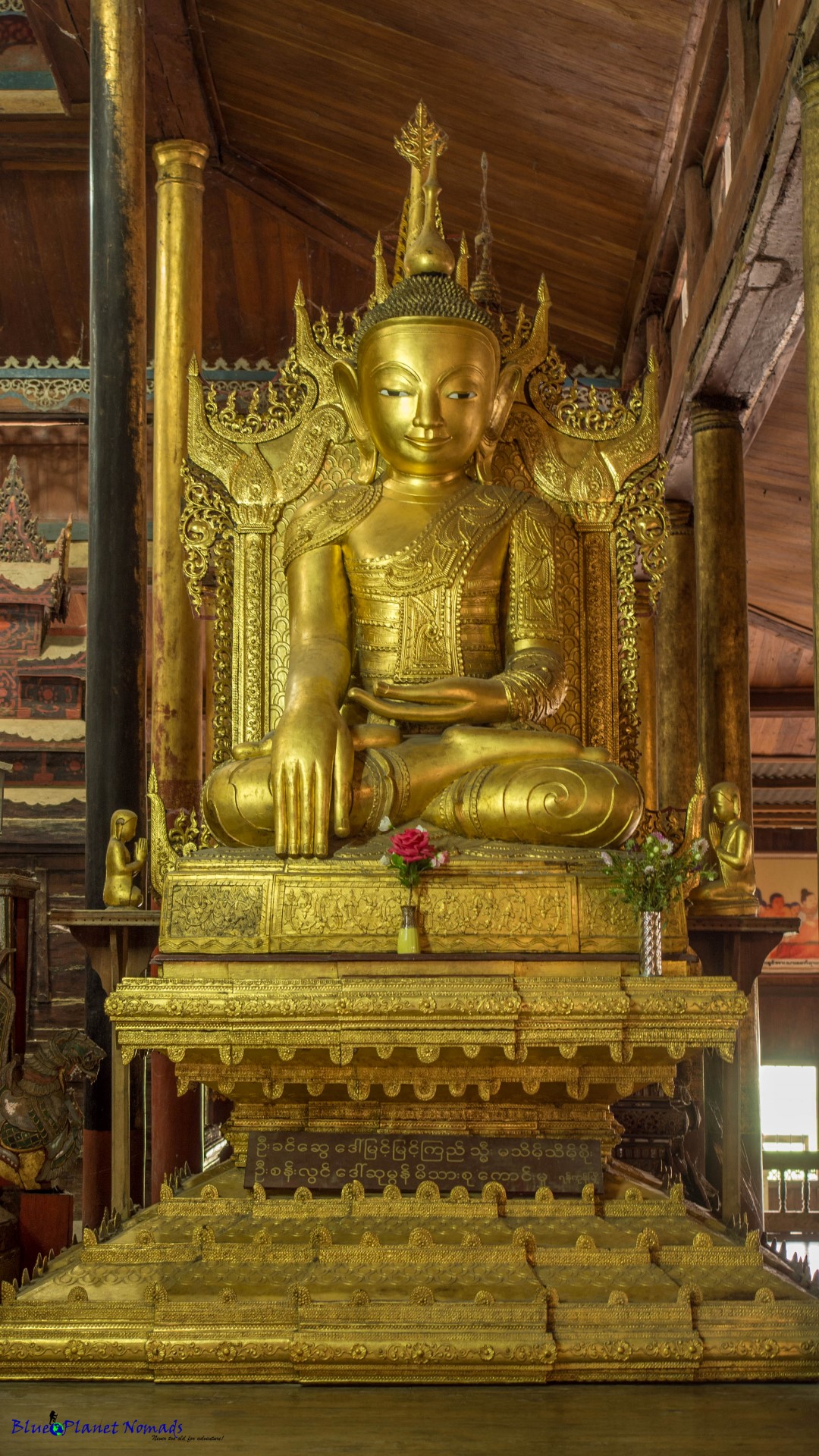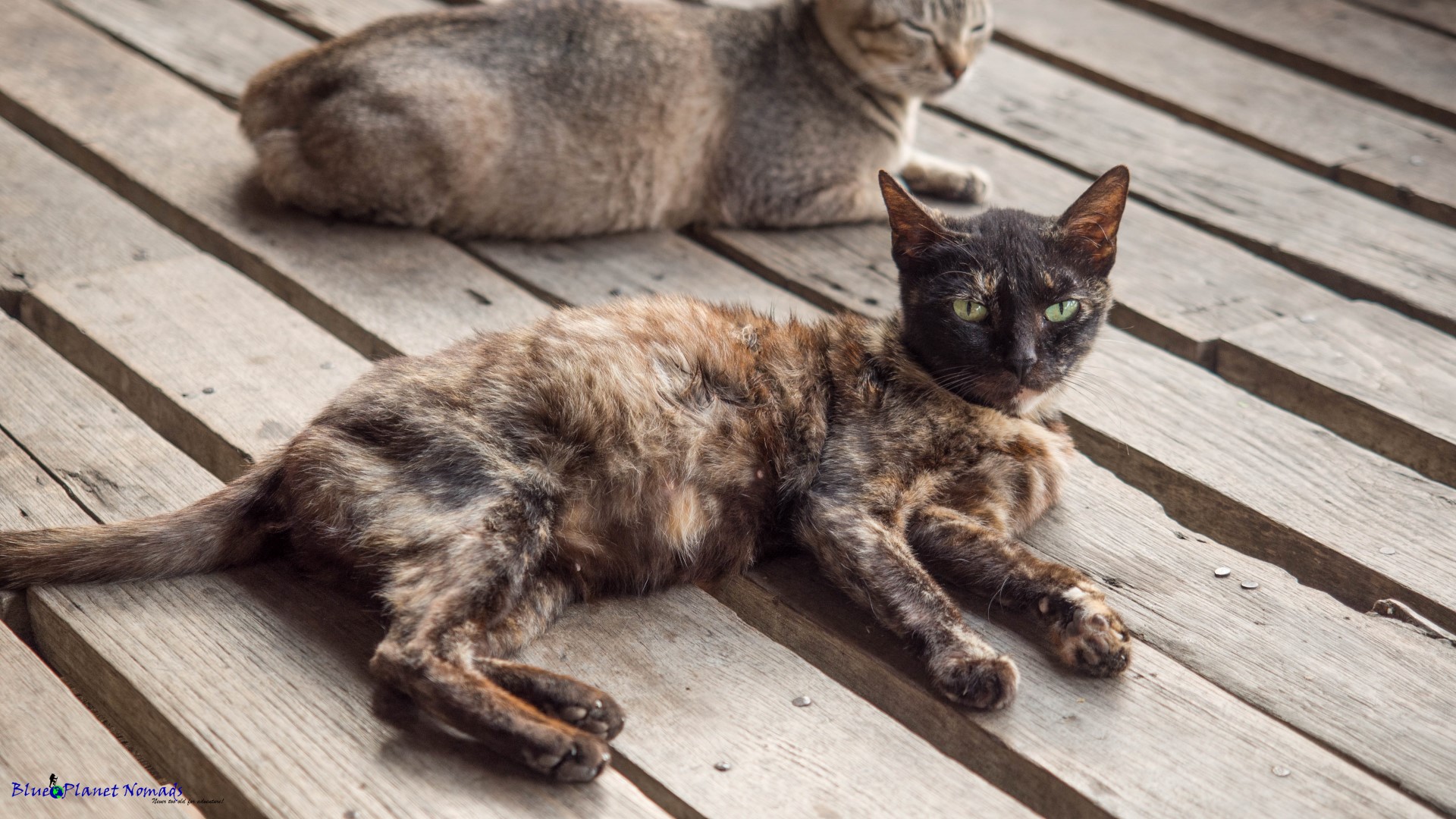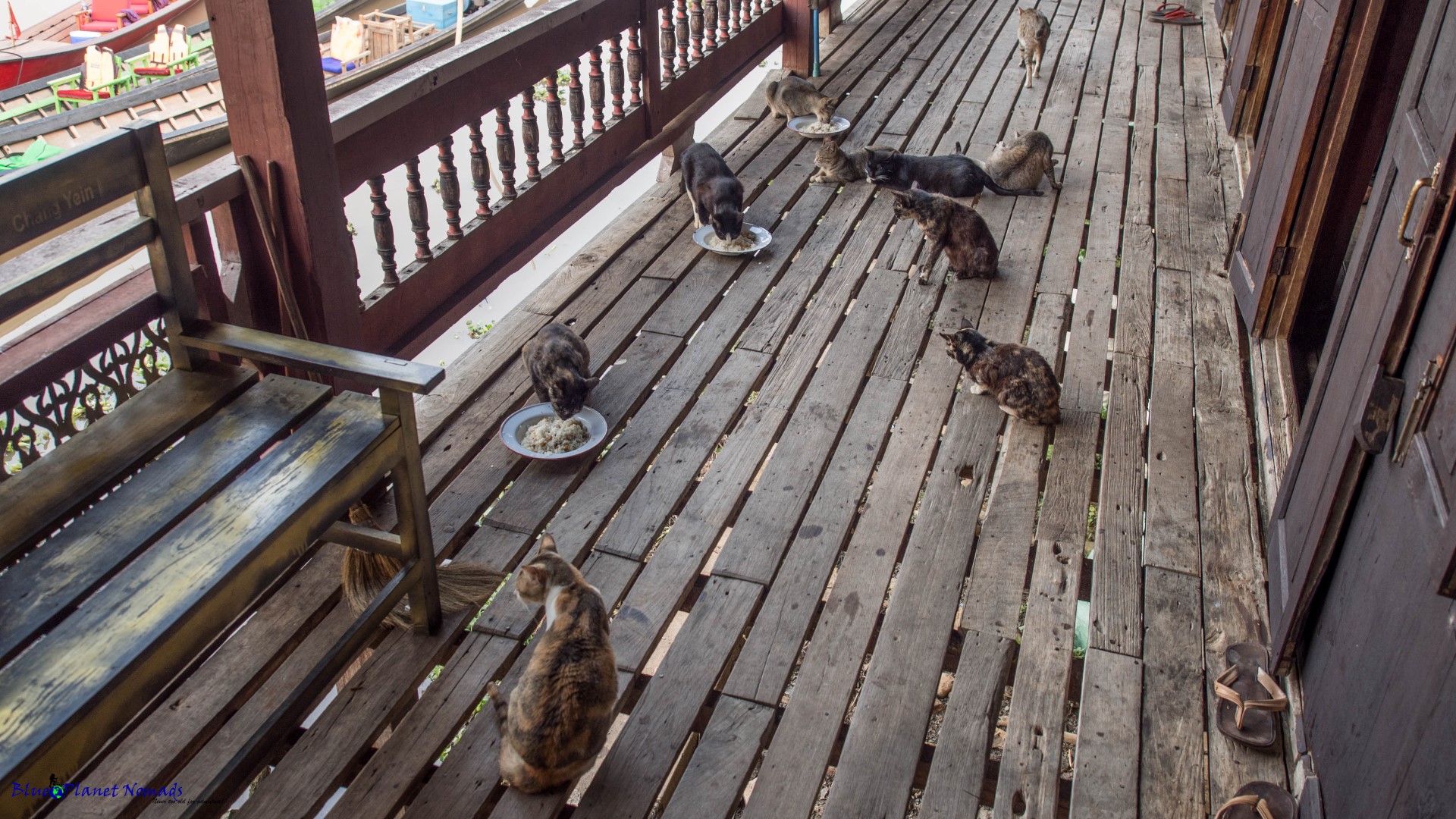 Sunset on the Lake
If you take a full day tour or afternoon tour then you will finish off the day with sunset on the lake.  As we were heading back the sun started to set and we captured some nice images of silhouettes of the fisherman and other boats on the lake.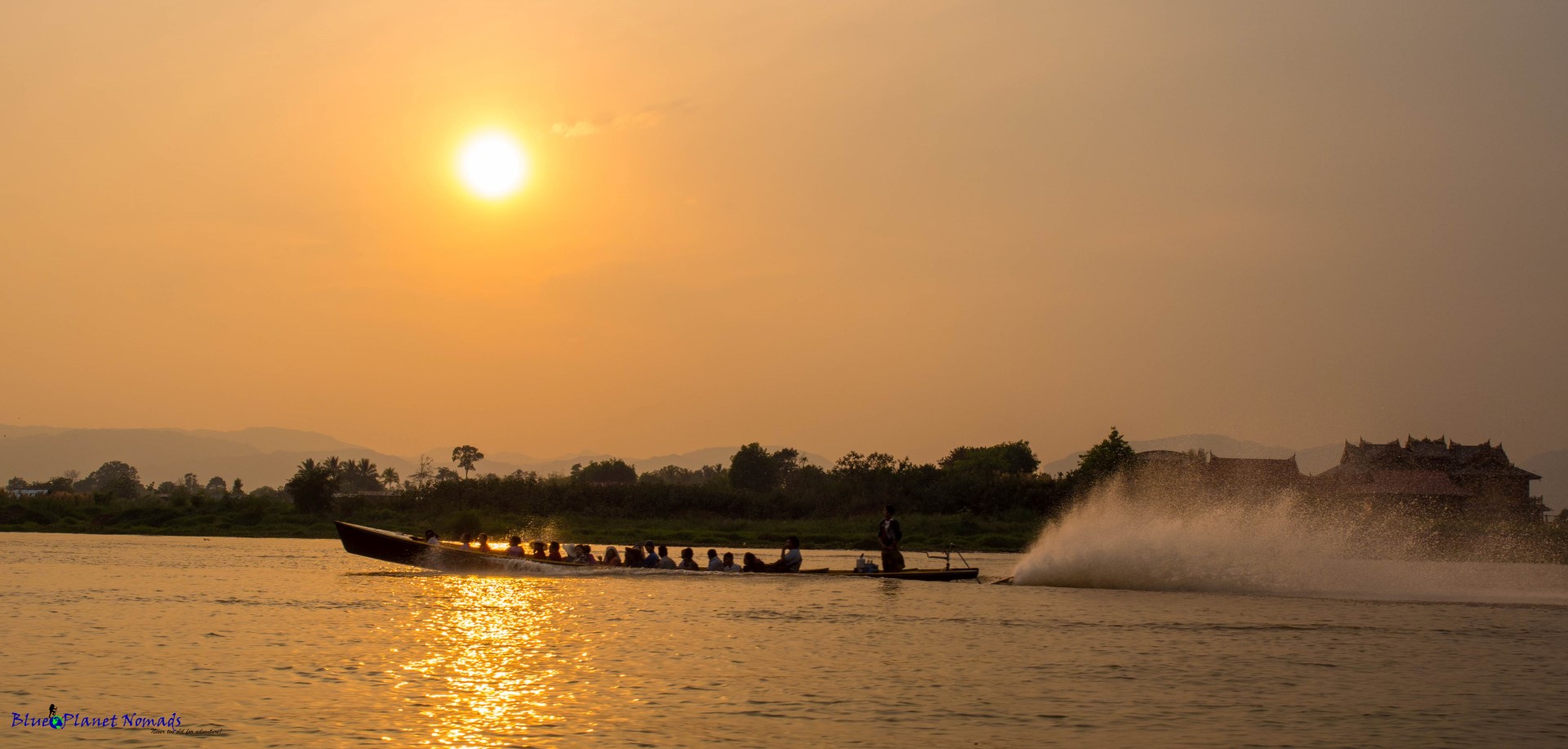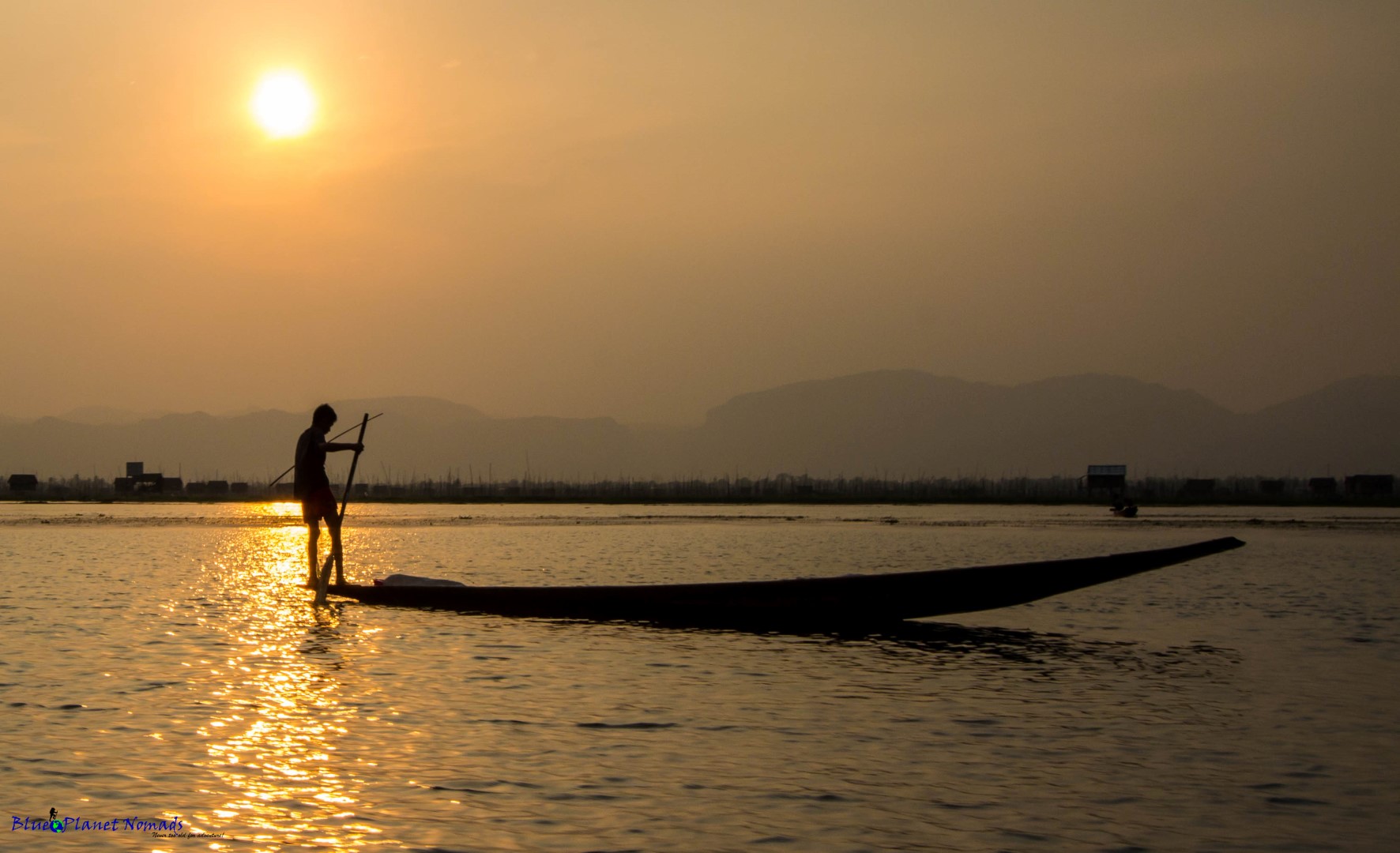 We thoroughly enjoyed our day out on the lake, its both relaxing and educational and you get to experience a unique culture who's society lives entirely on water.  Unfortunately as tourism is growing in Myanmar so is the impact to Inle Lake.  The lakes popularity is already changing the fabric of the Intha society and as time moves on I fear we will see less authenticity and more of a cultural theme park.  We already saw this with our day trip as fisherman are now posing for tourists and locals are putting their hand out for money for photos and services.  So if you want to see Inle Lake then I suggest you see it sooner rather than later before it looses itself entirely to tourism.
Visited: March 2016
If you have enjoyed the photos and would like to see more! then the complete gallery can be viewed in the Trip Photos