Welcome to the first of a two part feature on "Overlanding through Africa".  In the first of this two part blog I will talk about why we went to Africa and why we chose overlanding as our preferred method of travel as well as information on what to look for when choosing a tour company.
Why Africa?
From a young age David Attenborough has been an inspirational figure bringing joy to my life with his amazing BBC wildlife documentaries. In August 2012, Vaughan and I were lucky enough to see the 87 year old Sir David live on stage with his Australia tour "A Life on Earth." It was a dream come true to finally meet this remarkable man and listen to him share his stories, extraordinary experiences and passion for nature.  As a youngster the notion of going on a safari was just a dream that was only within reach of the rich but now I'm older the world seems smaller and plane rides are cheaper so that dream became a reality.
Africa can still be expensive, especially safaris in places like Kenya, Tanzania and South Africa but we want to do more than just base ourselves in one country and go on expensive 5* safaris and staying in luxury lodges (maybe when we are much older), we wanted to see as much as possible of this amazing continent as we believe each country offers something different in wildlife, landscape and culture.  But how do we do this with a budget we can afford?  The answer is simple – Overlanding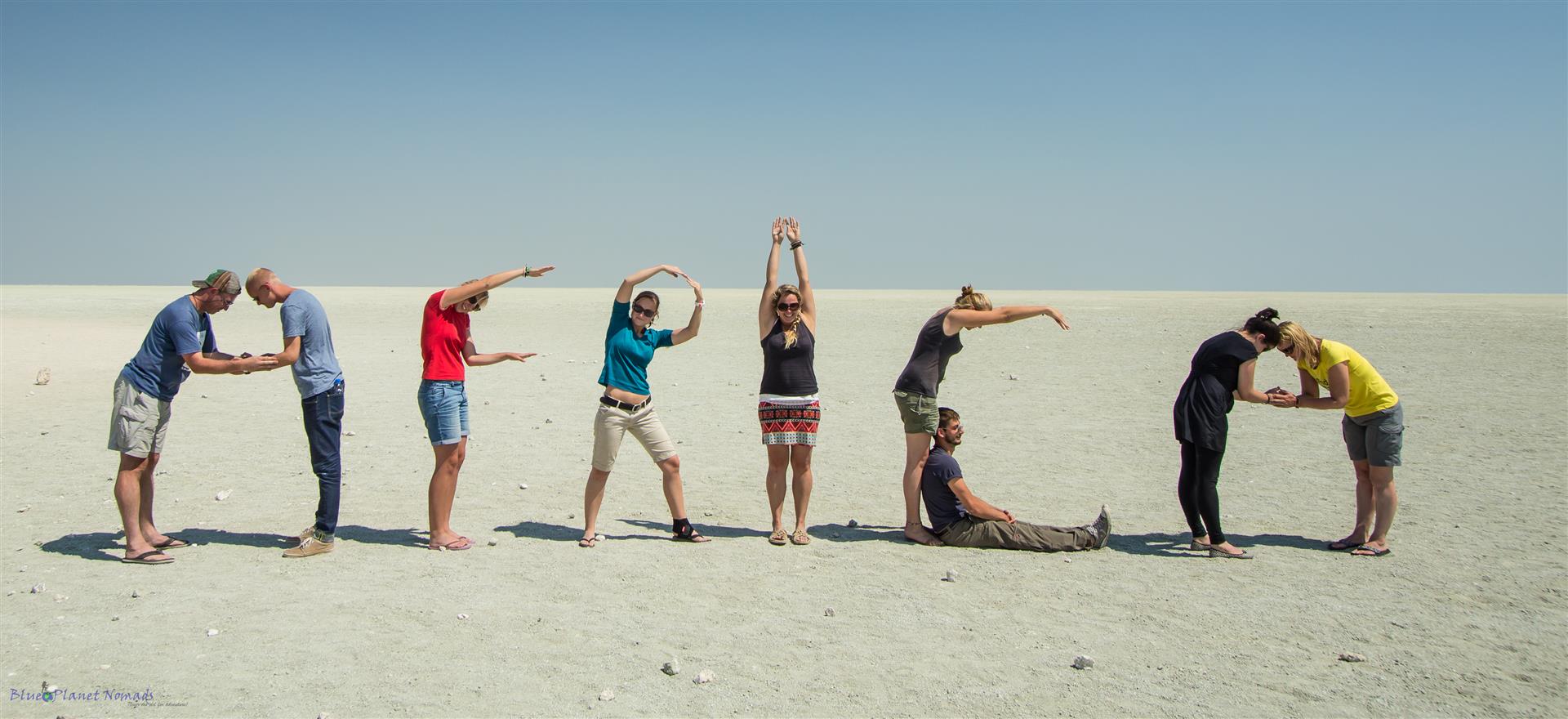 So what is Overlanding?
Well Overlanding can be best described as affordable, sociable and adventurous travel that involves getting from A to B in a purpose built 4WDrive truck and for most part tented accommodation (although there is options to upgrade, more about that in the next instalment).  Overland Adventures are a series of joined tours that range from 10 days to many months and are very popular with the adventurous budget conscious traveller both young and old.  The trip will include for most part your accommodation, food and some activities including National Park entrance fees with other activities being optional extras. The cheaper the itinerary the less that is included which for some this suits as it helps more with managing their budget.  Overlanding suits us, as we are both adventurous at heart and we love camping and we don't mind roughing it a little. It meets our requirements of being able to travel through East and Southern Africa cheaply and without the hassle of trying to organise everything yourself.   Africa is not an easy continent to travel so the overland experience offers the ideal package for an affordable price.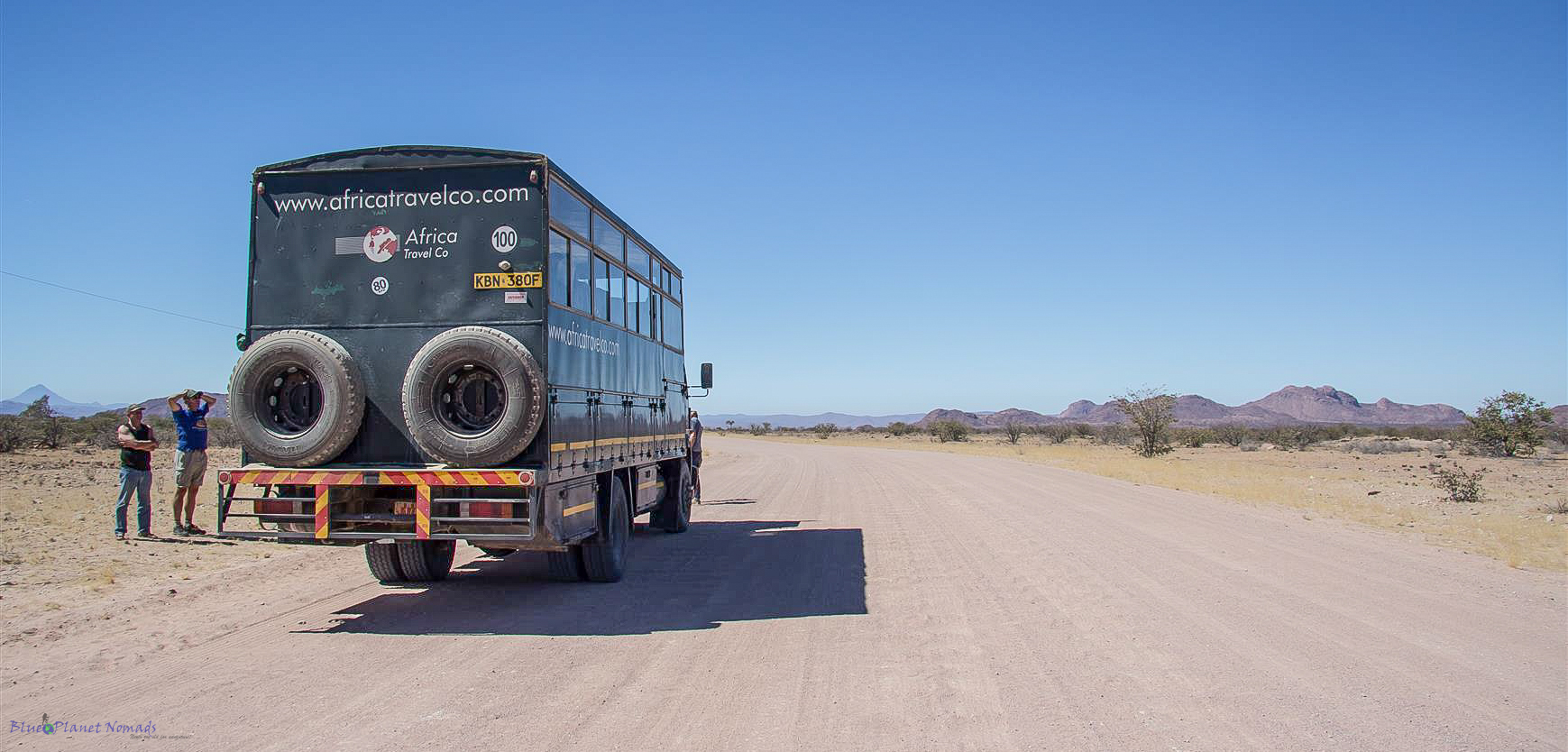 First choose where you want to go?
Before choosing a company it's a good idea to make a bucket list first of where you want to go and what you want to see, especially National Parks.  For example, some itineraries will take you to the Serengeti but not necessarily go to the Masai Mara as well.  Originally we wanted to do the 56 day tour that not only took you from Nairobi to Cape Town but also up through Kenya and into Uganda to see the gorillas.  Time and money wasn't on our side and we thought being on a overland truck this long might be too much given it was our first time so we opted for the 42 day tour Nairobi to Cape Town (which to be honest was long enough!)
For details of our itinerary, click here..
Choosing an Overland Company..
The greatest challenge is choosing the right overland company, there are many overland companies out there, most of them international owned but all offer a different level of service.  I spent months researching different overland companies from your cheaper UK owned African Trails  which seem to attract the 18 to 25 demographic, to your more expensive Dragoman which attracts the older traveller who are likely to be more flush with cash to afford the step up in comfort and service.  Simply put the more expensive the overland company the better the service you will receive and the more mixed in ages your travel companions are likely to be.
So what were we looking for? Well we certainly didn't want to go for the cheapest as we would no doubt be stuck on a bus with a much younger party crowd and in my research many overlanders seem to have a reputation for being party buses (Africa Contiki). Also with the cheaper companies you wouldn't get a cook and for most part the guide and driver are one of the same. So with no cook you would be split into groups and your group would cook when it was their turn.  Not that this is a bad idea as I have done a trip like this before but you just hope that your fellow companions can cook or you might be wishing there was a McDonald's close by!
What we were looking for was a company that:
Is reputable based on other travellers reviews
Attracts a good mixed age group
Have at least a cook, driver and guide, preferably locals
Has a comfortable, safe, well maintained truck and good camping equipment
The main activities included in the price as no matter what you're going to do them anyway and we want to reduce the amount of cash we carry around.
Has a good balance of price versus quality
Took us to where we wanted to go
The dates they departed fitted in with our schedule
We also asked the following questions of the companies we shortlisted:
What is the average age range?
From this you can gauge the demographic of your fellow companions
Is there a cook on-board?
I can't stress how valuable this is, some days can be very long drives up to 10 hours with very early starts and you won't arrive at your camp site very often until after dark. The last thing you want to do is start cooking! Not to mention the shopping you have to do and figuring out what to eat, it's too stressful.  The most you have to do when you have an on-board chef is help chop and wash up but more about that in part two.
Are the guide and driver functions separate?
Another thing to ask but in most cases they are, some of the smaller companies or very cheap companies may be both guide and driver, a tired guide is not a good source of energy around a group.
Where are the guides from?
In my experience the best guides are usually the locals,  they have the knowledge, can speak the languages, know the culture and negotiate the red tape! Africa is rife with corruption and our guides were good with dealing with it. We had two guides over the course of our journey, our East Africa guide was Kenyan and our Southern African guide was South African.
Do you provide sleep mats and if so how thick are they?
Company websites don't seem to provide much info on camping equipment and if you're sleeping in a tent for that long you want to make sure your bed is reasonably comfortable! As it turned out the bed rolls were large and  about 3 inches thick, very comfy and all overland trucks we saw had the same sort of mat.
How big are the tents?
Once again this is your accommodation for the duration of the trip so you might want to know what your bedroom is like. Our company and most of the others all seem to use the good quality South African made canvas dome tent which is very easy to put up and has plenty of room and if you're under 6 feet then you can easily stand up inside them.  Only one company we saw had nylon tents.
What is the layout of the truck seating?
This seem to vary from company to company, most were forward facing, some advertised side facing seats where you could look directly out the window and others were mixed front facing with a few seats that faced each other with a table between. Our truck design wasn't too bad, most seats were forward facing and we had a seating arrangement at the front with 4 seats either side facing each other with the backs to the window and a big table in between. The table proved popular with many of games of Uno! Just not good if you wanted to look out the window.
Reclining Seats?
If you want this level of comfort then you might be on the wrong tour! We didn't have reclining seats which at times would have been nice for those long journeys but it's not to say other companies don't.
The ease of getting on and off the truck?
I would ask this one if you have trouble climbing a vertical step ladder. Ours was just that and it was at most times a pain in the arse, we had a vertical ladder straight up , not easy to climb when your hands are full. I noticed other companies had an easy step ladder type arrangement where you didn't need both hands to pull yourself up into the truck.
Do you get your own locker?
Some overland trucks like Intrepid I noticed have an arrangement where you have your own locker for your stuff.  Others like ours, your large luggage is stored underneath and everything else sits with you by your seat.
Is there a safe on-board?
Ask how they secure your valuables. Our truck provided a locked trunk and three people were responsible for keys, it worked pretty well.
On-board device charging facilities?
Some if not most trucks have on-board charging but don't worry there is plenty of opportunity to charge gadgets at camp grounds.
Does the truck have WiFi?
We had the oldest truck in the fleet so that was a no for us!  but the newer fleet did have WiFi but you do have to pay for it and it's very slow so not worth it, in fact WiFi through Africa is slow full stop (Except Vic Falls and South Africa) but then you are 90% of the time out in the bush so don't expect to be doing too many Facebook updates along the way
What activities are included?
Most company websites will provide you the trip dossier with details of what is included and what not, some are better than others. If you're not sure then grill them for the information as it will help you budget for activities not included.
Is there airport pickup?
Some companies offer airport pickup free of charge like ours did and others will offer the service but charge. I liked the idea of airport pickup especially in a dodgy city like Nairobi, remember when you arrive for the first time you are loaded up with kitty money!
Is there opportunities for upgrades at hotels and campgrounds?
It doesn't always have to be camping, there are opportunities at campgrounds to upgrade to the cute little African huts with a proper bed and sometimes own bathroom. We did a couple of times for a treat costs varied from $10 to $50 depending on the campground and country.  Also with the accommodation in cities/towns, start and end of tour, depending on the company you may be in a dorm so ask for a private room if you want one.
Some questions are answered on the company website but if not then find out as much as possible because once your on the truck it's not easy to get off!!
SO after much research I narrowed it down to four:
There are many more companies like Acacia Africa, Absolute Africa, Oasis Overland, Drifters  that offer the same sort of experience and might also be worth investigating.
How did we come to our decision?
It really came down to which had the most affordable kitty! Silly I know but we were coming from Europe and getting US Dollars in large amounts was another challenge in itself.  G Adventures has no kitty it's all-inclusive and this was perfect but they market their overland tours as YOLO which simply means 18-39 preferred so we scratched them.  Intrepid's kitty was too expensive as was their tour price but they do include nearly everything and we know they have a very good reputation, the cost was out of our budget on this occasion.  We met Nomads at a travel show back in Melbourne, we chatted with them and saw their tents and setup, we liked what we saw so that gave us a level of confidence to choose them. Unfortunately when we went to book they were already full for the dates we wanted so it was down to Africa Travel Company.  We didn't know as much about the company, reviews said they were good and our travel agent backed it up with past client reports so we decided to give them a go and they turned out to be an excellent choice.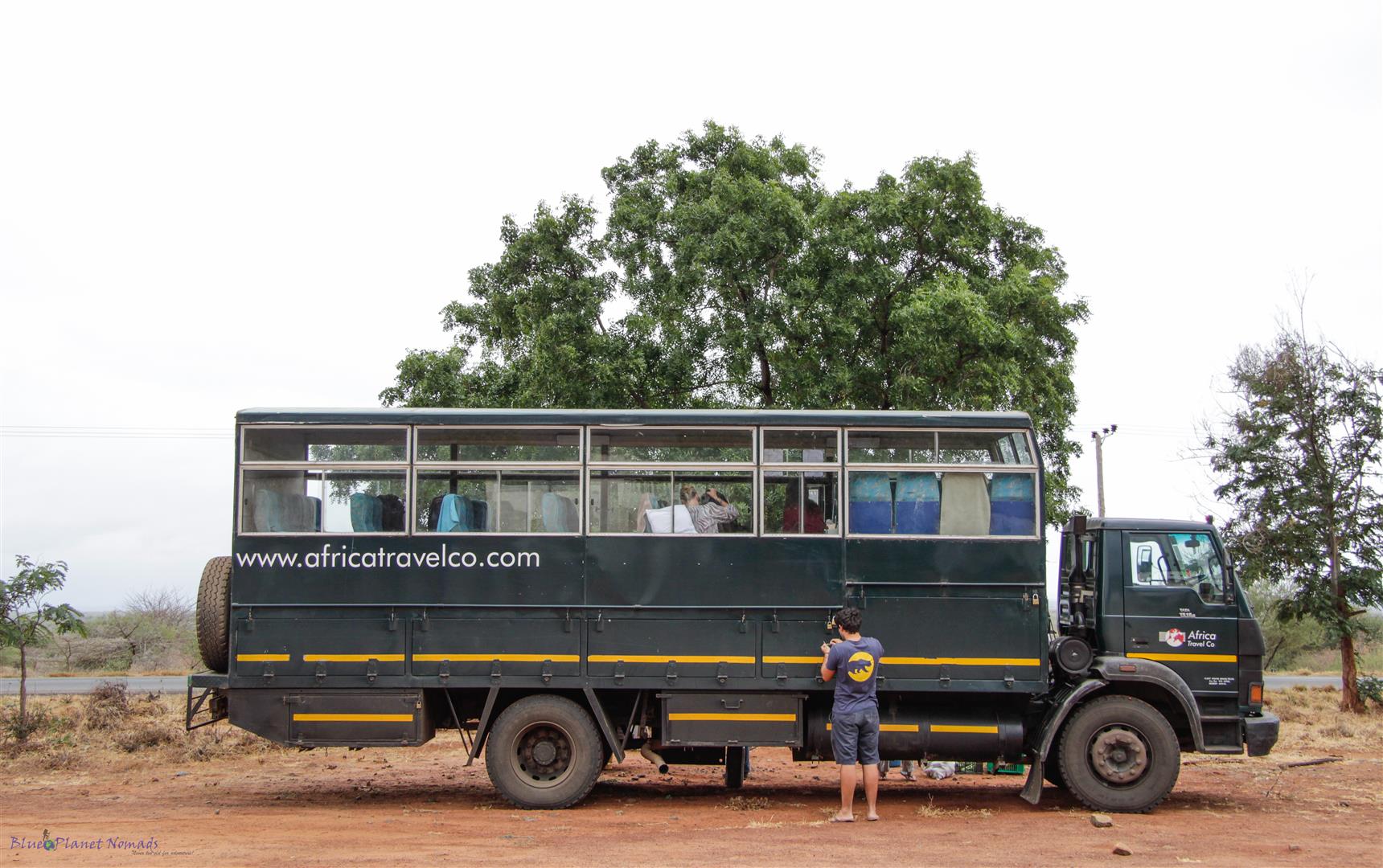 So what did we like about Africa Travel Company?
They were professional and provided us with excellent crew and I really couldn't fault the service. Our driver Steve was a very good driver and given the hours he put in some days he always got us to our destination safe and sound. Joseph was a great cook, he always managed to whip up some very tasty meals  and offered plenty of variety and was very fastidious about cleanliness so we never got sick.  The companies they used for our safari excursions and activities were very good. The itinerary took us to everywhere on our bucket list and it's one of the few companies that includes a visit to the Cheetah Park in Namibia which was a bonus.  The camping equipment was good quality, nice spacious canvas tents and thick mattresses. Given the truck was probably the oldest in the fleet it was well maintained and got us to Cape Town without a hitch.  They are reasonably priced and their kitty isn't outrageous. I booked them through my travel agent back home and got a 5% discount but most of our travel companions booked through On the Go Tours or you can book directly with them and pay in Rand which may work out a cheaper option.
Is Overlanding for you?
Overlanding isn't for everyone. It's not 5*, it's grass roots adventure, you can be stuck on a truck for weeks with the same people and you hope you get along!  It's a lot of early rises and long tiring days spent in a truck on bumpy roads with bush toilet stops getting from A to B. Even though for the majority of the time you're staying in very nice equipped camp grounds with bar and pool your still sleeping in a tent unless you fork out for upgrades which can add up and making it a less affordable trip.  You also move at a fast pace and at most times don't get to spend days in one place so you may prefer a much slower pace of travel.  The cheaper the overland trip the more you have to pitch in and the less time you have to relax and enjoy your trip so it pays to fork out a little extra for the experience you want.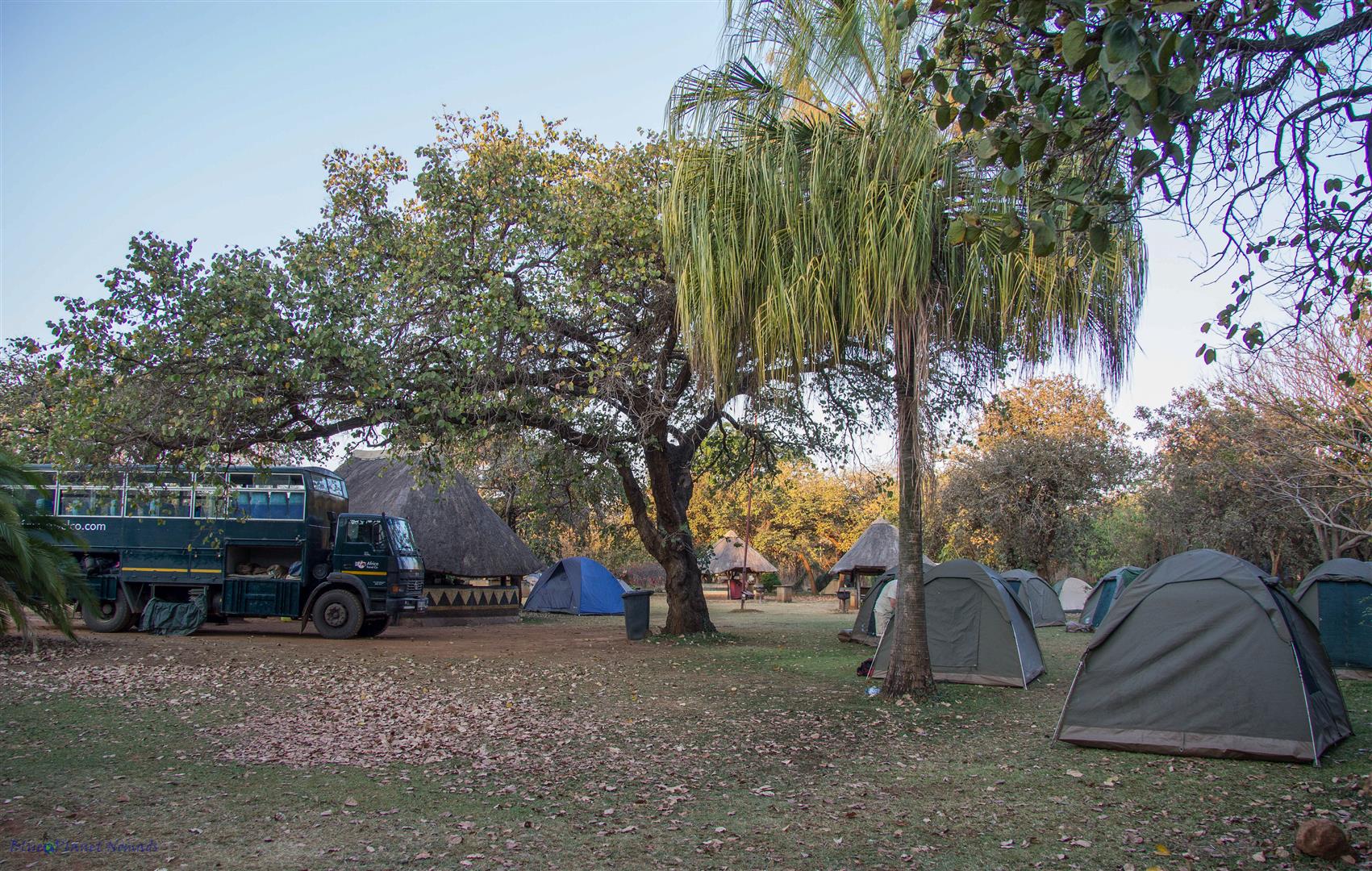 For us it was an incredible experience that we will never forget, a highlight of our 12 month trip away.  A journey through Africa is unforgettable, its varying landscapes, incredible wildlife and the people welcoming and friendly. It was also about the whole truck experience, the lifelong friends we made along our journey and the laughs and stories we shared around the camp fire, laying in your tent at night and falling asleep to the sounds of hippos and lions, something you will never experience anywhere else.  Will we do it again? Absolutely, I'm already planning a return trip in the next two years (2016) to Kenya and Uganda, still yet to see the gorillas 🙂
In our next installment I shall talk in more detail about… Life on an Overland, Truck what to pack and tips for a more hassle free journey.
Have you done African overlanding? What was your experience?