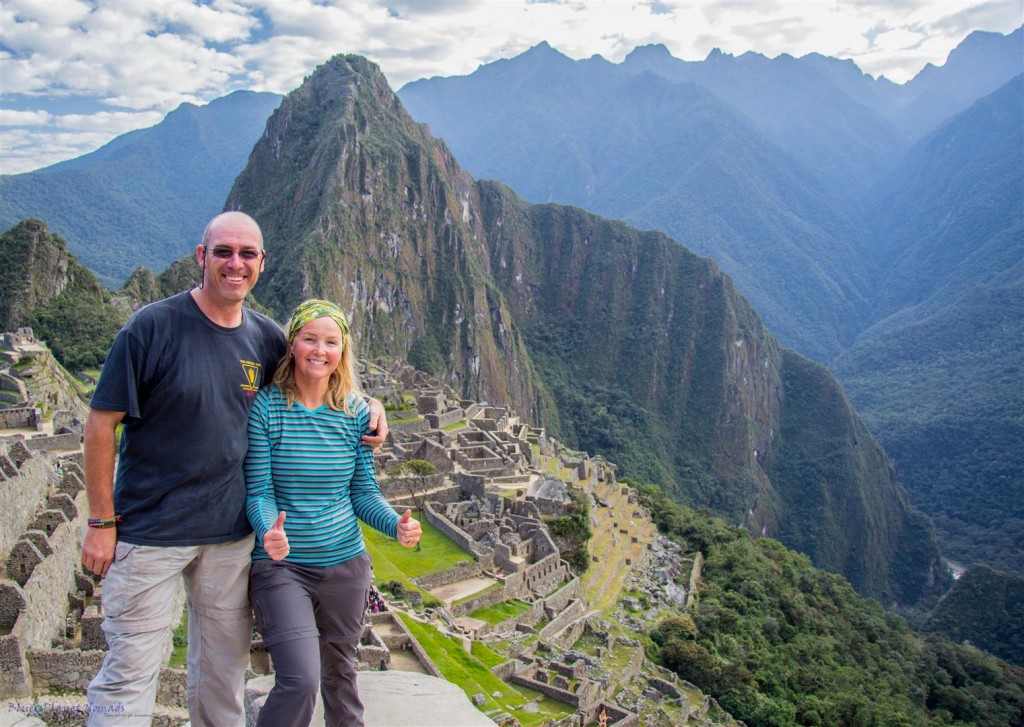 Welcome to the first of a three part blog on Hiking the Inca Trail and climbing Huayna Picchu.  In this post I will talk about what inspired us to do the Inca Trail, What trekking agency we chose the costs involved and what we packed as well as some tips to make your trek more enjoyable.
Why the Inca Trail?
Ever since I learnt about and seen photos of the amazing 15th century Inca ruins of Machu Picchu, hidden 2,430 meters high up in the Peruvian Andes, I was hooked and I just had to see them no matter what!   Yes, we could have taken the easy route and hopped on the tourist train from Ollantaytambo to Aguas Calientes then onto the tourist bus up the mountain to the ruins.  But it's not always about the destination, it's about the journey itself and we felt a journey to Machu Picchu wasn't  complete unless we followed in the footsteps of the Incas themselves. The Inca Trail is an amazing 43 km four day trek through some of Peru's most magnificent mountain scenery and ecosystems.  You will hike through snow capped alpine beauty, lush cloud forest and jungle and tread your boots up old Inca steps, across paving stones and through ancient carved stone tunnels. Oh, and did I tell you that you don't have to wait four days to see your first Inca ruin? The trail is lined with old Inca ruins; some of them very large so it truly is a unique and wonderful experience and it's no wonder it's one of the top 5 treks in the world!
How challenging is the Inca Trail?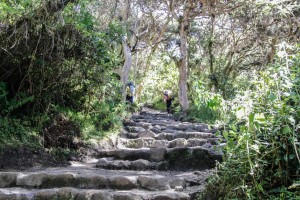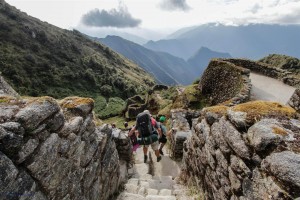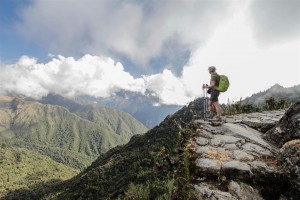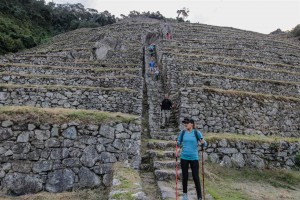 I'm not going to lie and tell you it's easy, it's not!  You will need a reasonable level of fitness especially on day two when you climb 1200 meters to Dead Woman's Pass at 4,200 meters.  There are lots of steps and believe me when I say lots, I mean LOTS so start hitting the stairmaster in the gym!   It's not only 43 km over 4 days it's 43 kms of walking at ALTITUDE and you will average a walk of 12 to 15 km a day which at altitude seemed never-ending.
Acclimatisation
As mentioned above, the trek is at altitude and altitude sickness can be dangerous so you need to take the right precautions. Start by getting into Cusco at least 2 days before the trek starts so you get accustomed to the altitude.  Cusco sits at 3,400 meters so it's perfect for acclimatisation, the earlier you arrive the better your acclimatisation.
Whilst on the trek, drink plenty of water as it's very important to keep re-hydrated, I found dropping a couple of hydration tablets into my daily drink helped a lot.  You will also be given coca tea which the locals swear by helps reduce the effects of altitude sickness.  It tastes a bit like green tea and quite bitter, it wasn't my favourite.
Walk slowly; It is not a race so don't feel pressured to keep up with your fellow trekkers. Walking fast almost guarantees you an altitude headache at the end of the day and really you're there to enjoy the trail and take in all the splendour.
When to walk the trail?
The dry season is from around mid April to late October and peak trekking season is between May and September. During this time days are mostly dry and nights are cool to cold and crisp so making it an ideal time to walk the trail.  From late November through to early April brings the rains and they close the trail during the month of February for maintenance.
How to book?
The Inca Trail is the most popular walk in Peru and perhaps all of South America so you have to BOOK EARLY especially if you want to trek in peak season!  The trail requires a permit and you have to go with an organised tour company, this is NOT a trek you can do independently. The government has controlled the numbers that can walk the trail each day, hence why there is a daily permit quota system and everyone needs a permit including guides, porters and cooks. These strict regulations are what helps protect the trail from slow destruction and ensures its survival for future generations to come.
The permits are released early January every year so my tip is to start researching your trekking company long before this. So when the time comes, you can pick your dates and your chosen company will organise your permit for you.
Choosing a trekking tour operator
How we chose the operator
Trek prices start at around $500 and can be as expensive as over $1000 pp.  I found that the more expensive treks are those offered by your international travel agents like G Adventures, Intrepid etc. but these very often include transfers from Lima and other combined tours.  If you want  to keep the costs down then book with a local agent in Cusco, there are plenty to choose from with lots of competition so prices are competitive.   To find a tour operator I searched the forums and trawled through Trip Advisor to get some recommendations.
I narrowed down to the following three:
All three have a good reputation and feedback but in the end I chose Peru Treks as they were the cheapest and they had space for the dates we wanted.
What was the cost of our trek and what was included
The price of our trek in June 2014 with Peru Treks and Adventure  was US $575 pp   (US $580 with transfer from Ollantaytambo to Cusco)
This cost included the following:
Two English speaking guides (for a group more than 8) porters and cook
3 breakfasts, 3 lunches and 3 dinners
All camping equipment including your tent and mattress plus first aid kit and emergency oxygen bottle. Sleeping bags can be hired for $20
Inca Trail Permit and Machu Picchu entrance fee
Private transfer by minibus from Cusco to start of trail
Bus from Machu Picchu Ruins to Aguas Calientes (this is about US$10)
Return tourist train from Aguas Calientes to Ollantaytambo on the 'Expedition' service is US$61 (earlier trains are more expensive)
Private transfer from Ollantaytambo to Cusco ($5) As we made our own way back to Cusco they take the $5 off the the total price hence why we paid US $575
Cost does not include:
First morning's breakfast as your Cusco hotel may already offer this. They do stop in Ollantaytambo before starting the trail so you can have breakfast and get any last minute bits and bobs.
Lunch in Aguas Calientes – At the end of the trek you are invited to a group lunch at a hotel/restaurant and it's also an opportunity for a free shower!
Tips for guides, cook and porters
Huayna Picchu (see Climbing Huayna Picchu section)
Any additional bus rides to/from Machu Picchu
Tourist Train ticket upgrades
Accommodation in Aguas Calientes
**These prices were 2013/2014 and may have increased now
Questions to ask the tour operator
Peru Treks website is incredibly informative and there wasn't many questions I had to ask. Still it's important that you have all the information you need to help you make your choice so I have put together the following list:
Are the guides English Speaking (or can speak your native language) and how many are there?
In most cases they can speak English but it doesn't do any harm to check also a group of 8 or more needs at least two guides.
What is the average group size?
Our group size was 15 which is around average
What meals are included? 
All our meals were included except breakfast on the first day and lunch on the last day
Is an oxygen bottle included in the equipment taken
If you do happen to run into serious altitude issues then having an oxygen bottle can be a life saver.  A good company should carry one of these on your trek.
Is there Hotel pickup from Cusco and transport to the start of the track?
This should be part of the deal no matter what. If you're staying in Ollantaytambo then you can arrange to meet your trek there.
Are train and bus tickets included to/from Machu Picchu
All our transportation was included, some operators may deem this an optional extra.
Is the Machu Picchu entrance fee included?
Again this should be included as that is your destination!
What equipment does the agency provide (sleeping bags, mats) and can I hire if necessary?  
Agencies should at least provide the sleep mat and if they do, find out how thick they are and how much room in your bag they require. Ours were quite bulky so we had to attach them to the outside of our packs. I would have preferred my Thermarest but because we were travelling for so long we didn't have space in our packs for them and besides you only have to put up with it for 3 nights.
Take your own sleeping bag if possible, one that packs up small as rated to at least minus 5. If you have to hire one then ask what it's rated to as it gets quite cold up on the trail at night. Also find out how small it packs up, the bags you could hire with Peru Treks were huge and took up most of your pack space.
Do we have to carry our own gear or do we get a porter? 
This one is important and will depend very much on the company. With Peru Treks,  you could hire the services of a "Half Porter" which simply means they will give you a small duffel bag which you fill up to 6 kg maximum (so another reason to make sure your sleeping bag and sleep mat pack up small!)  for a daily price of $60. Your porter has to be booked at the  same time you book your trek as a permit will need to be organised for them. The more  expensive tours will likely have porters carry your stuff.  We didn't use a porter but for day  two we wished we had! If you choose to carry your own gear like we did, then pack light and keep it small, it's really only for four days so you don't need any more than 7 to 12 kg each including your  camera gear.
Can I hire a porter while on the trail?
As I said above if you want the services of a company porter then you have to arrange them at time of booking due to permits required.   However there are locals that live on the trail and offer porter services for a negotiable fee so if you decided that you want a porter for say the more difficult second day of your trek then your guide can usually help arrange it.  Although he will try to discourage it because it's a risk that your belongings might not make the next base!  One couple hired a porter for day 2 and their stuff did arrive at the next camp 🙂
Are uniforms or appropriate clothing provided to the porters?
This question gauges how well they look after their porters.  Agencies  who supply their porters with trekking gear is a company worth considering in my eyes.  Unfortunately it is a sad fact that exploitation of porters does exist with inappropriate clothing and gear carry overload although the government is trying to stop this by putting in weigh stations at check points.
On the Trail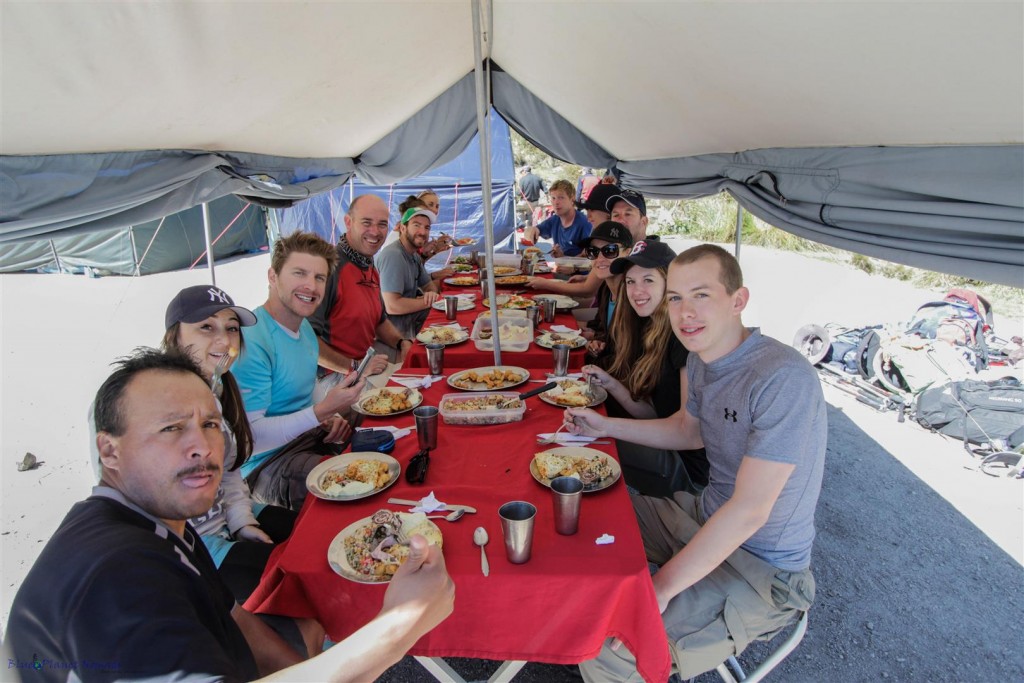 So what's for eating?
Except for breakfast on the first day and lunch on the last day we were provided with 3 breakfasts, 3 lunches and 3 dinners.  Food was excellent, delicious and fresh, our cook exceeded our expectations and you didn't go hungry!
 Meals went something like this:
Breakfast: Omelettes, pancakes, cereals and fresh fruits
Lunch and dinner:  Soups, avocado, pasta, chicken, rice, fish, meat, salads, plenty of fresh fruit, vegetables and you even got dessert.
Snacks: Popcorn and biscuits.
Drinks: Tea/coffee, chocolate, fruit juice, coca tea and water.
Each day the porters would leave before you or if they left after you they would soon overtake you! They have a mission to get the lunch set up ready and campsite set up before you arrive.
On the way there is an opportunity to buy snacks from the locals but don't totally rely on them as it's far cheaper to stock up on supplies before you leave for the trail.
Camping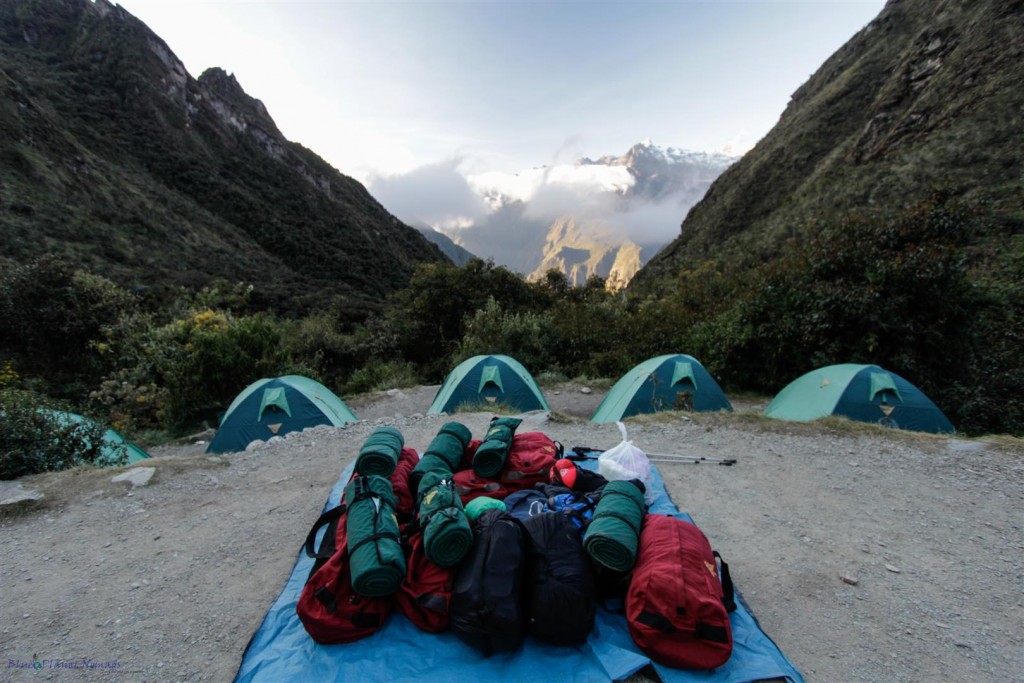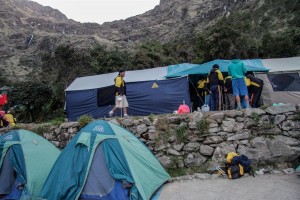 The trail has no huts so you will be sleeping in a tent! All the camping equipment is carried by the porters; all you need to carry is your personal belongings, all of or part of if you have hired a porter.   Tents are usually lightweight nylon two man dome and they will already be erected for you before you reach camp.  Camp grounds are basic with cold running water and stinky Asian style flushable toilets, but on the up side they are situated in beautiful locations. Yes, there is a downside to the trail and the toilets are it!  The campsites are shared by many companies and it's difficult to keep the toilets clean at all times.
The camp setup is pretty good, there will be an enclosed dining tent housing a long trestle table and chairs. The cook will have his own tent for rustling up those yummy meals.  The trek is fully catered for you, don't have to do anything, you don't even have to help with the washing up unless you want to!
In case you're wondering where the porters sleep? It's the dining tent! Once dinner is finished, the table and chairs are removed to make way for the porters' beds.
Filling your water bottle
Each evening the porters would boil up water so you can fill up your water bottles, by next morning they will be nice and cold!  Peru Treks did suggest taking water purification tablets but we didn't use them and we didn't get sick.
Climbing Huayna Picchu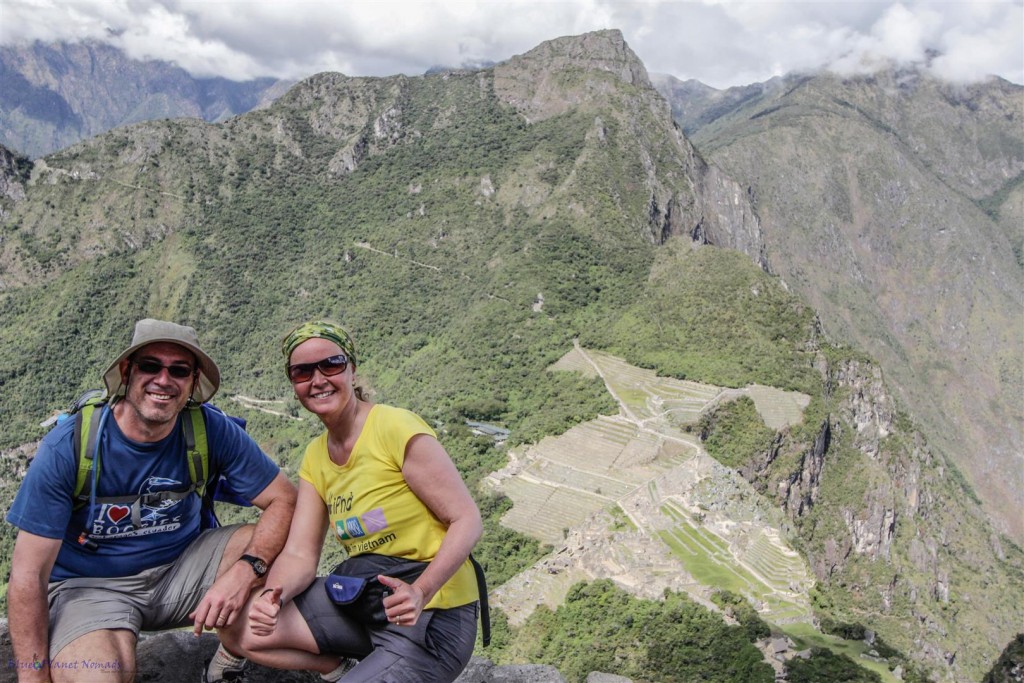 Huayna Picchu is that famous landmark of a pointy mountain that sits directly behind Machu Picchu and yes, you can climb it and yes, it's a must!  The climb itself isn't as difficult as it looks and you are rewarded with spectacular views down on Machu Picchu and across the Andes as well as amazing ruins on the mountain itself.  The climb is optional and it is not included as part of the trek and you have to book it yourself.
I will now tell you how to do this.
How to book the climb
On the day you reach Machu Picchu you will spend the first half of the morning touring the site with your guide before taking the bus to Aguas Calientes for lunch and before catching the evening train back to Ollantaytambo.   You will not have time to climb this mountain it really needs to be done the next day.  The reason for this is because there are designated time slots and maximum numbers allowed per day for climbing it. The two time slots are 7am to 8am and 10am to 11am and yes they do only give you an hour to climb it and it was plenty of time. So now you can see why you won't fit it in and why you are better spending the night in Aguas Calientes then tackling Huayna Picchu the next day.
You can book and pay for your ticket to Huayna Picchu via the government website and in addition you will need to purchase another entrance fee to Machu Picchu as you obviously have to enter the site to reach Huayna Picchu. But look on the bright side, you get to explore the ruins for a second day at your own leisure! Machu Picchu is a huge complex so spend the time enjoying it.
The site gives you the option of four languages including English but  I had trouble with the English webpage.  Every time I got to the checkout page I was presented with a blank page so I ended up making the purchase using the default Spanish (pago = pay).  This bug may have been fixed, I don't know.
To book the ticket:
Choose Machupiccu from the drop down menu then select Machupiccu + Waynapicchu from the second drop down menu.
Choose your date and it will tell you how many tickets are available.
You choose the ticket price from the "Foreign Category" which is currently

S/152

Then step through the process to fill in your passport details etc. and pay which can be easily done with a foreign credit card.
You will be e-mailed a "Reservation" letter, this is NOT your ticket. You must take that letter together with your passport to the "Cultural Office" in Aguas Calientes (Av. Pachacutec (just off the main square) and exchange it for a proper ticket.
In addition to your ticket, you will need to purchase another return bus ticket (US $20) to take you up to the ruins . The booths are on the main street and can be purchased on the day you go up.  Allow enough time as it takes over half an hour to bus up to the ruins then you need to walk the length of the site to reach the start of Huayna Picchu!
TIP:  Choose the 10am start time where possible as it's known to be cloudy over the ruins early in the morning and it starts to burn off by 10am
We were very lucky we had perfect clear days for the whole trek and the Huayna Picchu climb
Accommodation in Aguas Calientes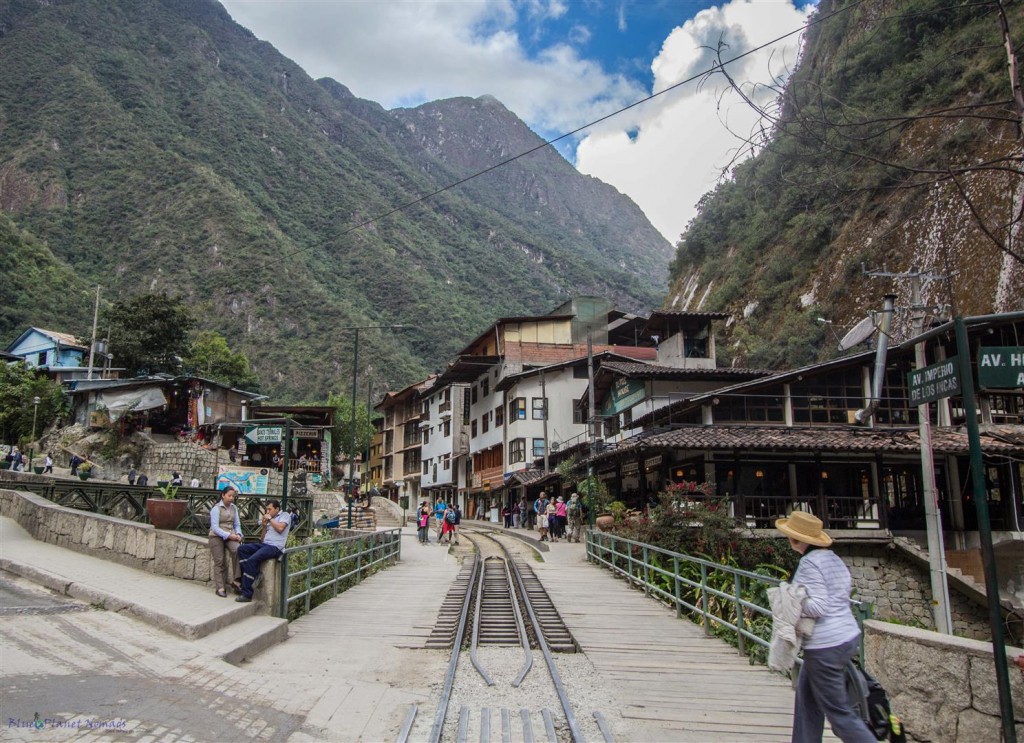 The town is quite quaint and its setting gorgeous, being nestled in the gorge beneath the ruins. It has plenty of accommodation choice (on the more expensive side) as well as nice restaurants, cafes and plenty of massage on offer. We found the budget end of the accommodation scale is a little on the thin side and if you are staying overnight in the peak season then it's wise to try book ahead as it's a popular tourist town and not that big!
We stayed in Hostal El Mistico which was a lovely treat after being in a tent for three nights!
Changing your train times and transfers back to Cusco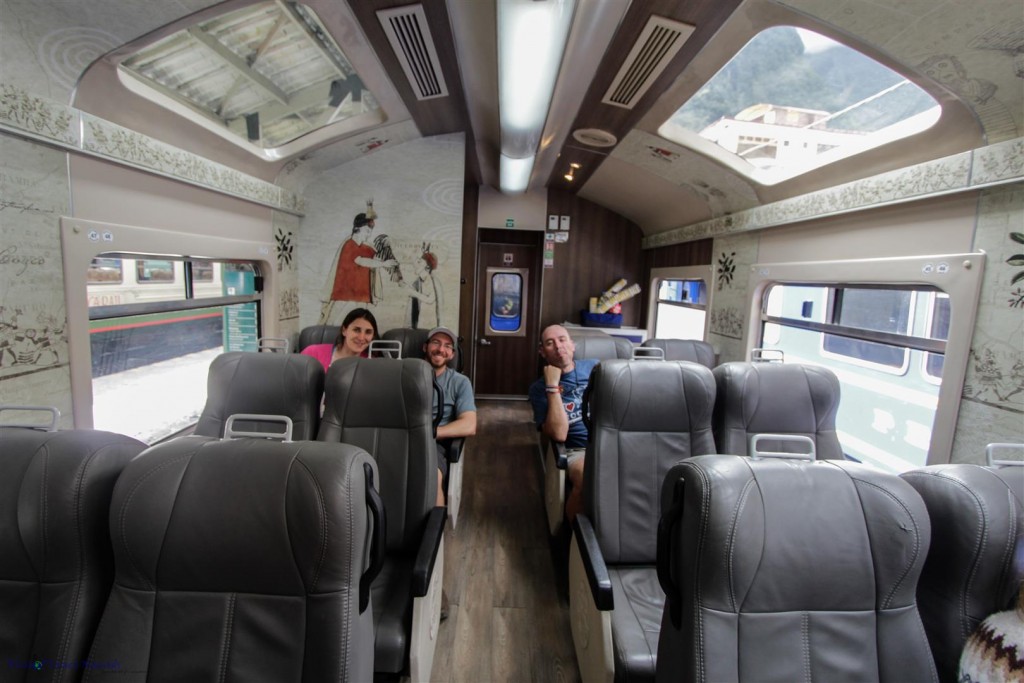 If you book the standard tour with Peru Treks i.e. you return with the tour back to Cusco on day 4 then you will be returning all together on the evening train to Ollantaytambo. You will then have a private bus transfer back to Cusco from there.  If you choose to stay an extra night to climb Huayna Picchu then at time of booking they will book your train for you for the following day but you are responsible for getting yourself from Ollantaytambo back to Cusco. This isn't usually a problem as there are countless taxi vans waiting for you at the train station in Ollantaytambo and they will leave when they are full.  The journey takes about 1.5 to 2 hours.
Peru Treks book the 6:00 pm  departure train time slot which is the cheapest but it also means you don't get back to Cusco until midnight!  You do have the option of getting an earlier train and this is something we did but it will be more expensive. But at least you will get back to Cusco at a reasonable hour and also you get to enjoy the journey in the daylight and the scenery is definitely worth the extra.  The train is a luxury tourist train with a glass roof and the journey from Aguas Calientes to Ollantaytambo is truly spectacular.
What we packed
The trek is only 4 days so you really don't need much and if you have the services of a half porter, he is restricted to carrying up to 6 kg of your stuff.  If you are carrying your own stuff like we did, you can carry whatever weight you like but remember you are carrying it, so pack light!
Backpack
If you have a porter, all you need is a good sized day pack for your camera, water, snacks etc. and anything else you want for the day. Everything else up to 10 kg in weight (sleeping bag, clothes, toiletries etc.) goes into your porters bag.
I was  carrying my large day pack chock full of my camera gear and a change of clothes and Vaughan carried his big pack which combined both our stuff which was around 10 kilos as we didn't use porters
Good Sleeping Bag
A good 4 season at least rated to minus 5, down filled are the best.  You are most likely be trekking in the cool dry season and it gets down to zero and even less at those altitudes.  We had down mummy bags rated to minus 10 and they were nice and toasty.
A couple of pair of trekking pants
We had the zip off type. You wear one pair and the other goes in your bag
Light cotton Asia pants 
Wear as pyjama bottoms and to wear around camp, very light and comfortable
A couple of quick dry t-shirt tops
Lightweight long sleeved thermal top
Fleece, beanie, sweater, gloves, scarf
Peru (and South America in general) are great for Alpaca wool clothing and they are cheap
Rain Jacket
Even in "dry season" the weather is known to change and you could get very wet. You are in the mountains after all!
Rain pants 
We didn't have these with us but they are a good idea
Flip Flops/thongs
For around camp at night. Gives your feet a break from your hiking boots, I just strapped them to the outside of my day pack
Couple of pairs of good hiking socks
Injinji toe socks
From the USA and great for preventing blisters although I wore them with my flip flops to keep my feet warm and the bugs off. More information here on their website
Swim Suit

If you want to take a dip in the hot springs at Aguas Calientes then you will want these!
Trekking poles
Dry bag
In case it rains, keeps your camera gear protected
Buff 
A favourite item in my pack, it can be used in multiple ways to cover your head, face and neck.  You can buy them in any outdoor store. For more information click here…
Sun Hat/sunglasses
Small first aid kit
Be sure to stock up on headache tablets as altitude can give you headaches.  You can also purchase Diamox which helps with altitude sickness
Energy gels/rehydration tablets
Sun cream/Insect repellent
Toilet roll/wet ones/hand sanitiser
Head torch/flashlight and Tent Light
We had our little "Black Diamond" tent light, its small and light and takes up very little space.
Camping Pillow 
We had the self-inflatable "Black Wolf" brand camping pillows.
Small toiletries
We had small plastic bottles with enough soap/shampoo for the 5 days
Small towel 
Quick dry ones are the best
Water bladder/Bottle
I prefer water bladders, they fit snug in your pack and hold plenty of water and having a hose means you can take drink when you want without having to take your pack off.  Ours were 2 Litres
Bum bag/Fanny Pack

I found having a bum bag in my front I could have small things like tissues, lip balm, money, passport  within easy reach rather than taking my pack off all the time
Snacks
We stocked up on these in Cusco – Chocolate bars etc
Passport
You will definitely need this with you!  You have to show you passport at the checkpoints along the trail and they will even stamp it for you 🙂
Trailblazer Guide
You don't really need a guide but we had one and Vaughan loves to know in detail where we are going!  We like the Trailblazer Guides and their hand drawn maps!
Clean set of clothes for Aguas Calientes and the journey back to Cusco
If you're staying the night like we did then you need something to change into while you get everything else laundered! Also there is an opportunity to take a shower at the hotel in Aguas Calientes where you meet for your group lunch so you may want to pack some clean stuff anyway.
Our overall opinion of Peru Treks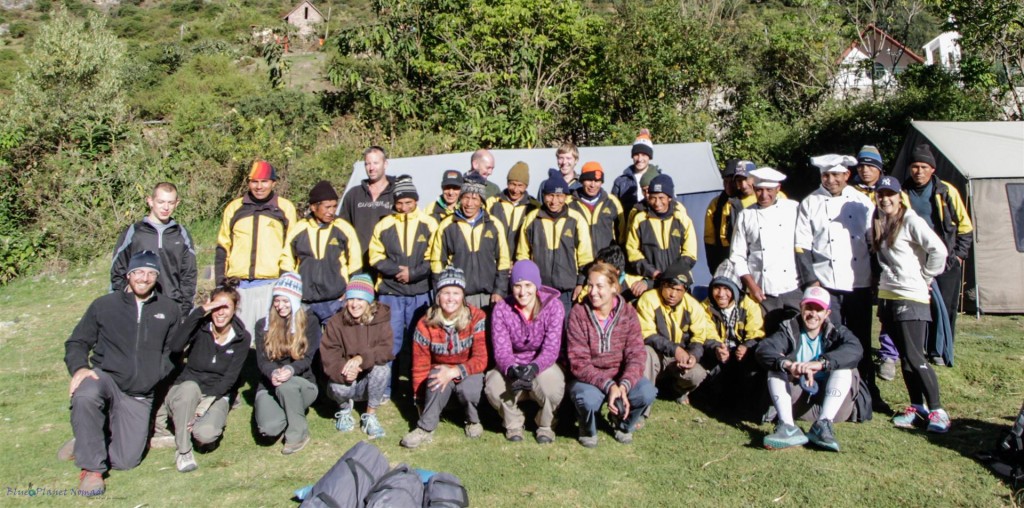 We were pleased with our choice they were professional and delivered what they promised. The two guides were knowledgeable and spoke good English. When our guide wasn't leading tours, he was a history teacher so was very knowledgeable and passionate about the ruins so we learnt a lot.
The equipment was of good quality although tents could have been a little longer as Vaughan had to sleep diagonally to accommodate his 6'2″ height!  The mattresses were comfortable and it wasn't an issue attaching them externally to the pack.  The hire sleeping bags were on the large and bulky side so as I have mentioned in this blog, try take your own. There is nothing like your own sleeping bag anyway!
The porters were well looked after and respected, they had good clothes, uniform jackets and decent footwear.  Some companies unfortunately have a reputation for not treating the porters properly; they are exploited so be wary of this when making your choice.  Feedback from forums and blogs will give you some insight.
The food was exceptional, our cook was very popular and was consistently praised for his delicious meals and the effort he put him (we gave him a big tip!)
A good choice all around and very enjoyable experience.
Stay tuned for my next  post…

"Walking the Inca Trail"