When I first starting writing this post I found it was going to be a BIG one! It was too much to put all 19 days into one post so I have split it into two separate posts to make it easier to read.
It's been three years since we were last in Nepal for trekking. The ten day Annapurna Sanctuary we did in 2010 was an amazing introduction to the stunning beauty and culture of the Himalayas and it left us yearning for more. We have returned this time to take on something a little more challenging – Everest Base Camp with a side trip to Gokyo Lakes, the trek in total is 19 days.
We did the Annapurna Sanctuary as a group tour with Geckos Adventures but this time we chose to go with one of the local agencies based in Kathmandu and there would just be the two of us plus a porter and guide. Doing it this way lowered the cost and gave us far more flexibility in start and finish times, plus we could go at our own pace. I will cover more about how we choose the agency etc in a separate post.
Arriving Kathmandu
As part of Trekking Team's service, they meet you at the airport and transfer you to your hotel. Some things never change with Nepal like the appalling queues at immigration and the hideous Kathmandu traffic! We had booked Trekkers Home a budget hotel in the heart of Thamel's backpacker district and a minute walk to the Trekking Teams office. We had a couple of days in Kathmandu before embarking on our trek which gave us time to purchase any last minute supplies, do our laundry and to visit Trekking Team's office and to meet the team. Hari and Ram were great they made us feel very welcome and gave us all the information we needed for our trek. We had opted for the food package so we didn't have to worry about money as last time we did the Annapurna Sanctuary we run very short on cash!
Day 1 – Lukla > Jorsale (2740 meters)
The alarm went off at 4am! I hadn't slept very well as I was nervous about the plane ride. I don't mind flying but Lukla is one of the top 10 most dangerous runways in the world! I was also panicking that our laundry still hadn't returned but it was there when I went downstairs. Our transport to the airport was with the same guy who picked us up from the airport. We were supposed to meet our guide Ram at the hotel but there was a strike on (no shops open and no transport running) and our guide was stuck at a police checkpoint so we had to pick him up on the way to the airport. Our flight with Tara airlines was on time and the weather was clear enough for us to take off. We were charged 600 rupees for excess baggage I guess they make quite a bit out of that little scam. Ram suggested we sit on the left hand side of the plane for the best view. The 30 minute flight was amazing and very enjoyable, very smooth and no wind so all my nerves vanished quite quickly. The views of the mountains was stunning and being a small prop plane with around 20 people we had a view of the cockpit window so could see the approach to the runway which was quite exciting. Our landing on the short airstrip was perfect and I was relieved that we had arrived in one piece 🙂 If we hadn't we would have collided with a dirty great wall!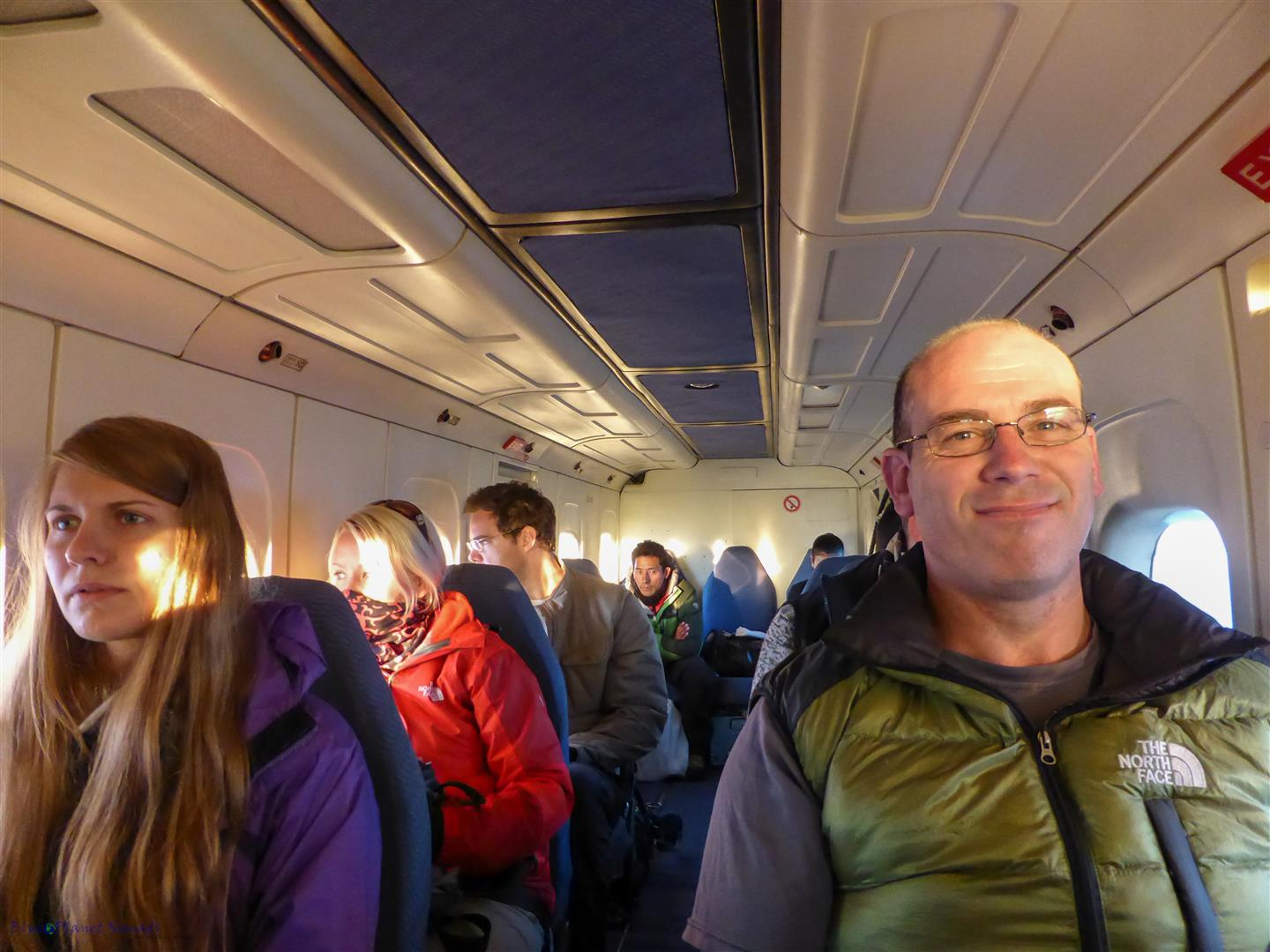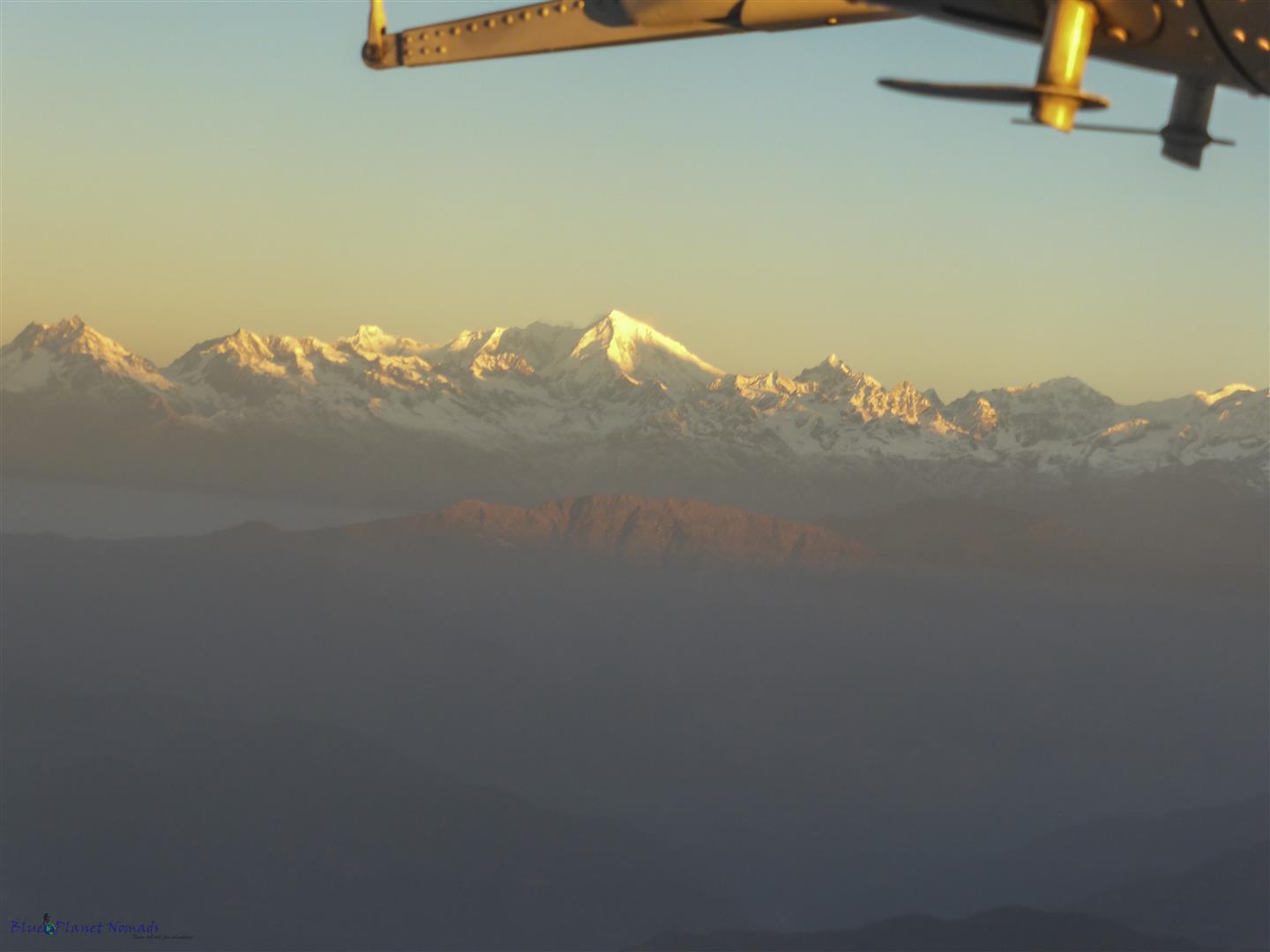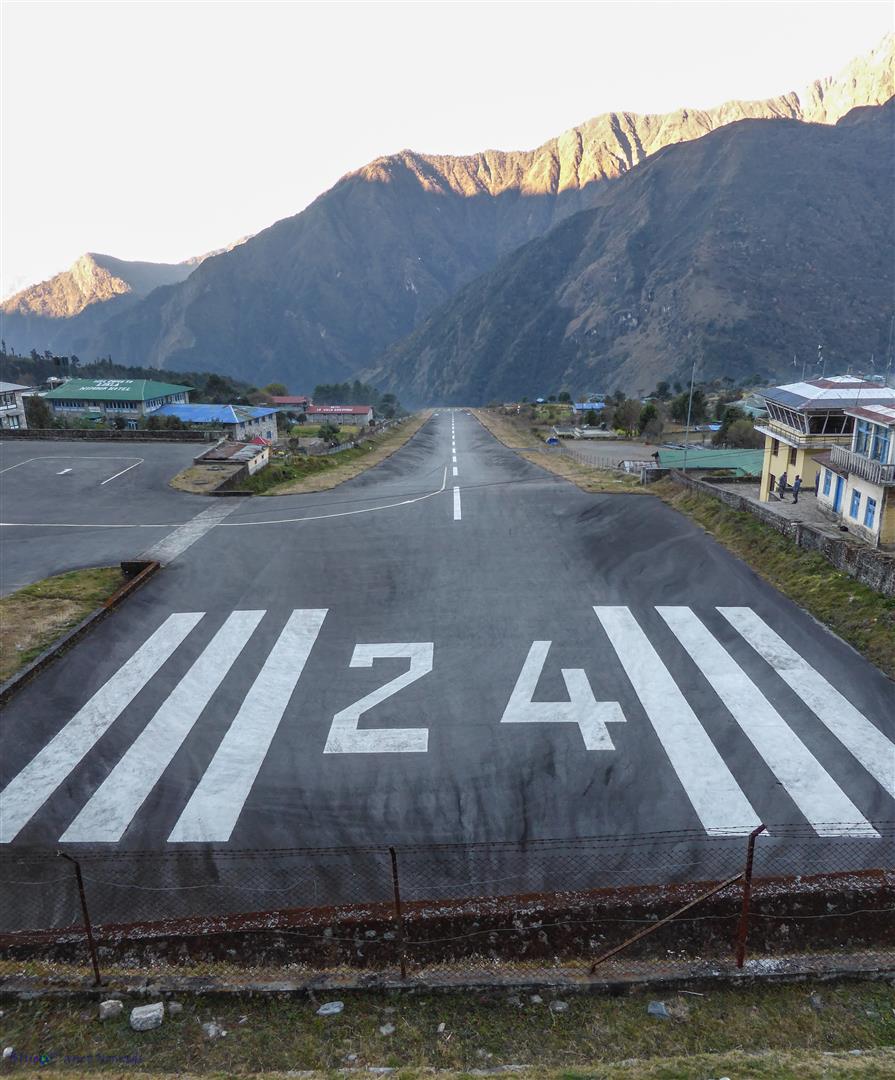 It was noticeably chilly when we disembarked from the plane. Ram took us to a guesthouse for breakfast where we enjoyed banana pancake, toast and a hot drink. After breakfast we set off through Lukla and out the other side. Once out the town we followed a fairly narrow track in places which we had to share with donkey's and dozia (crossed between a cow and yak) so we had to stop a few times to let them pass.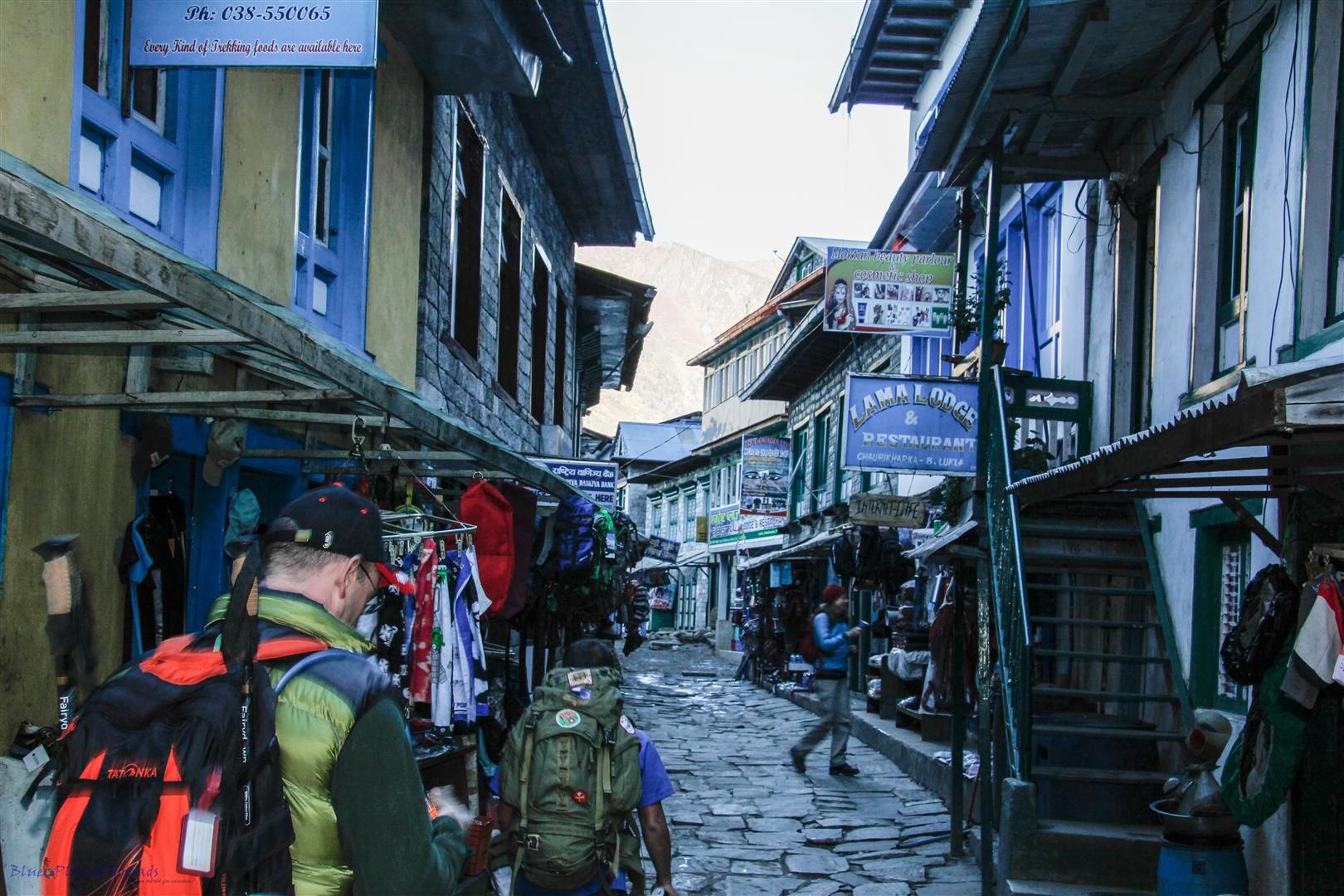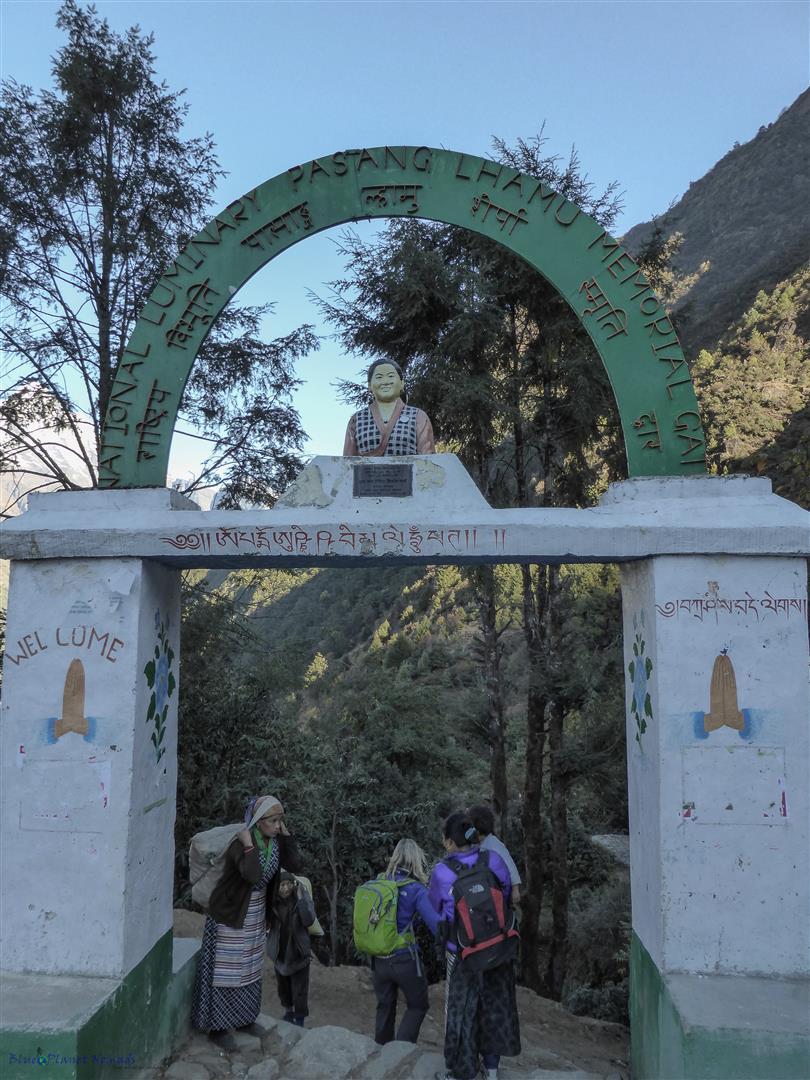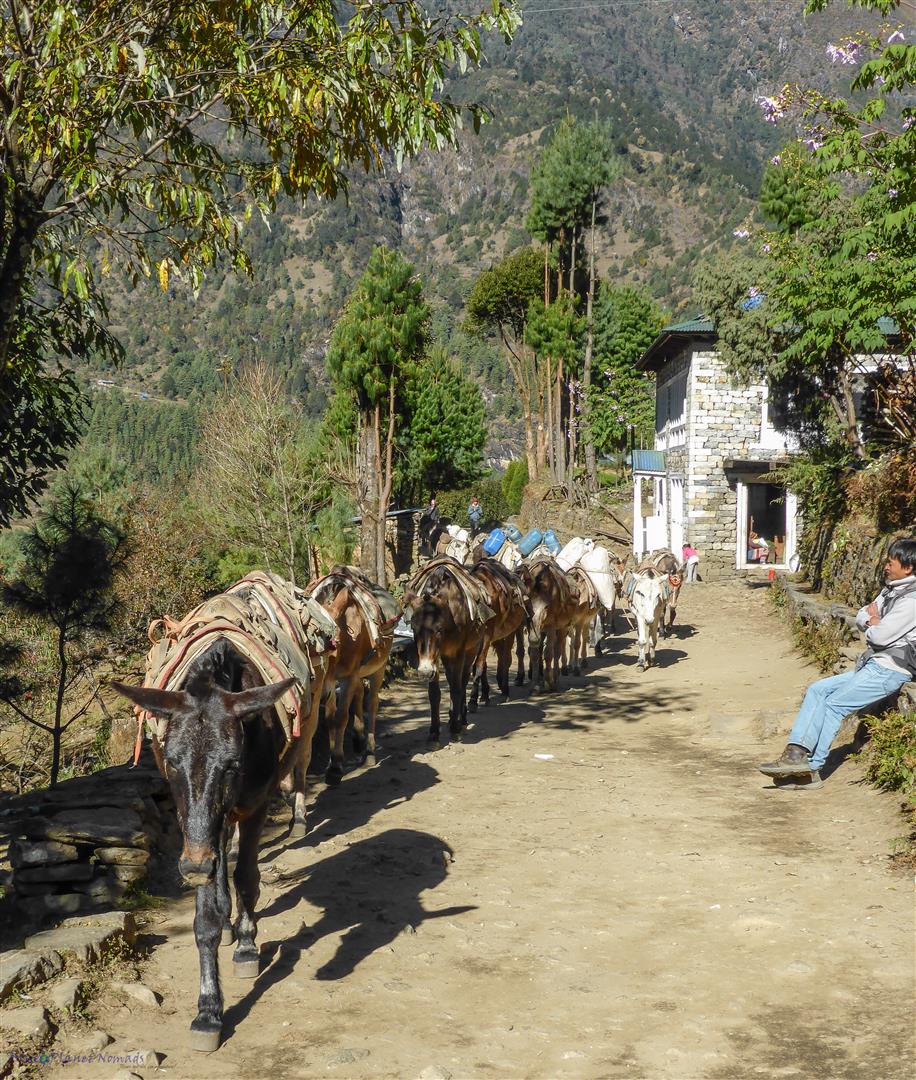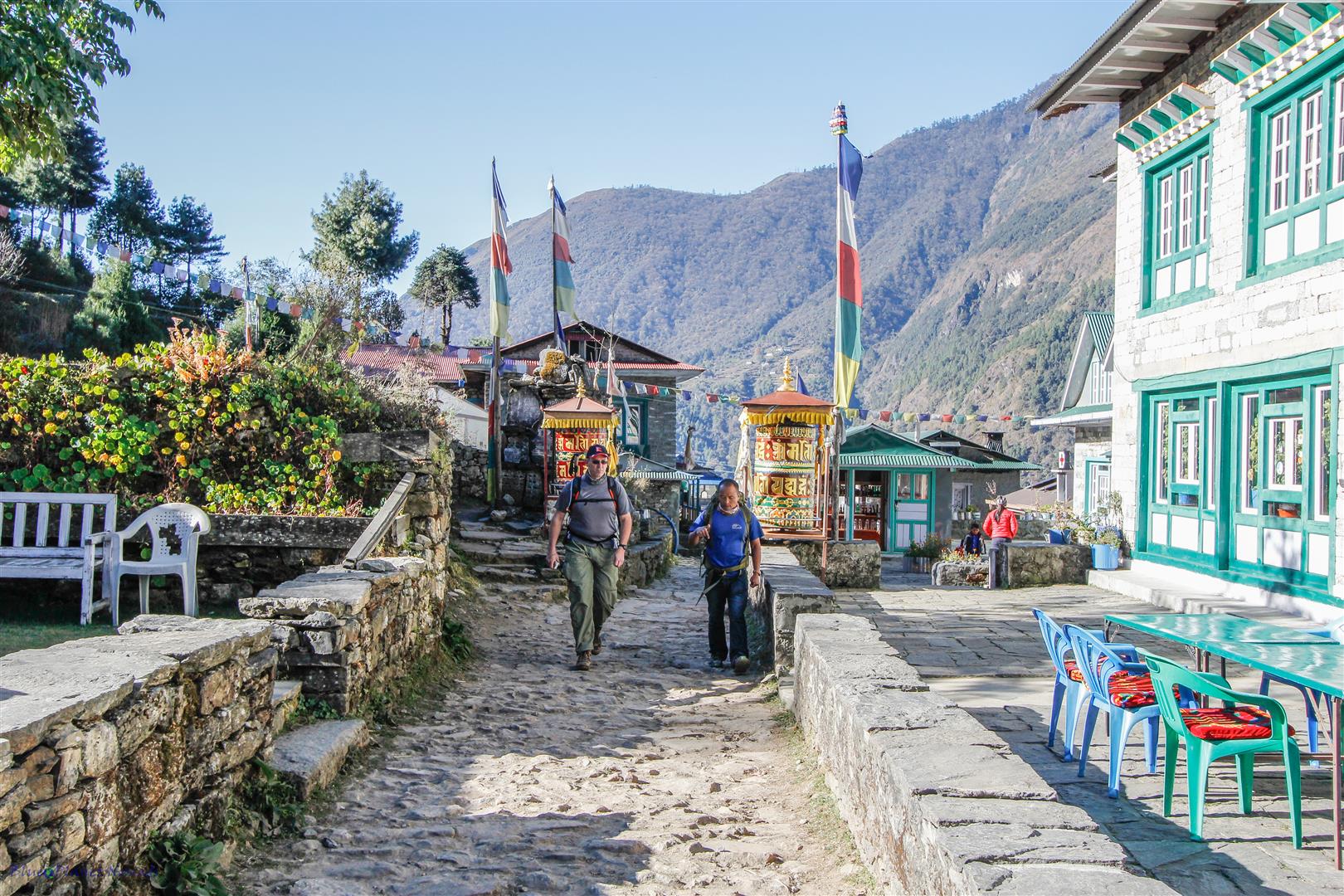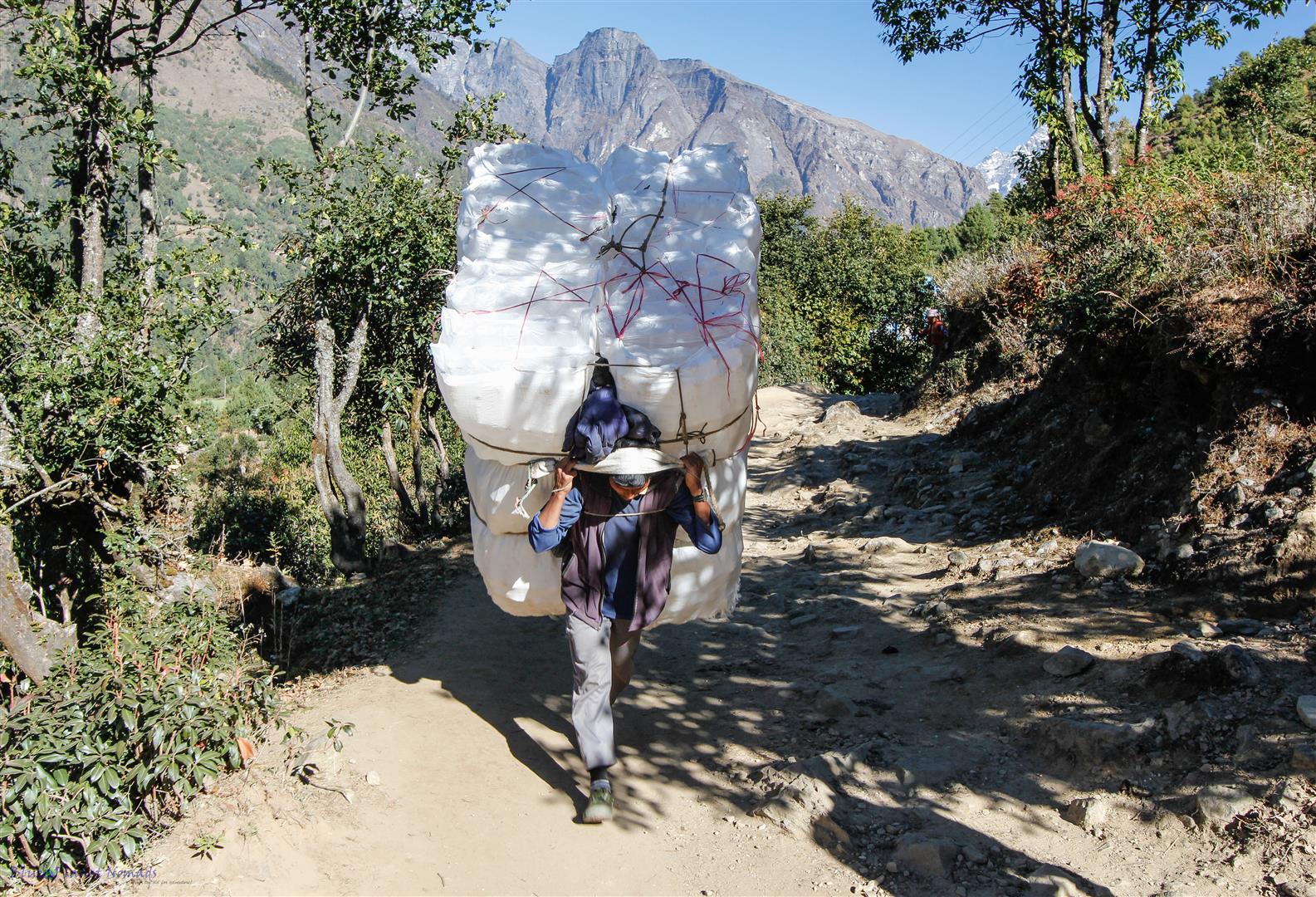 The track the first day was fairly flat with some undulation. We passed through villages and followed the Dudh Kosi river. We stopped for morning tea at a lodge and again at Phakding for lunch.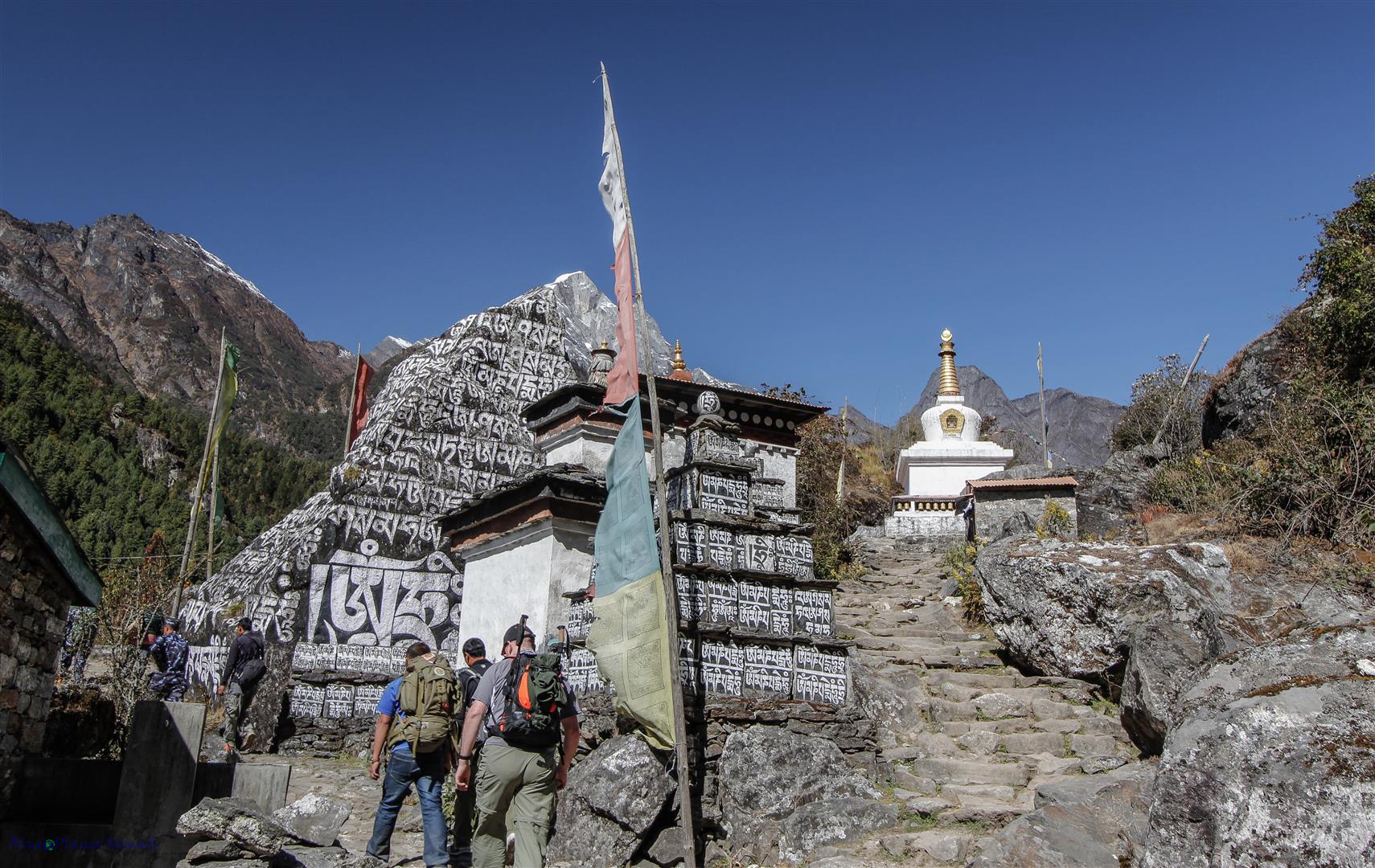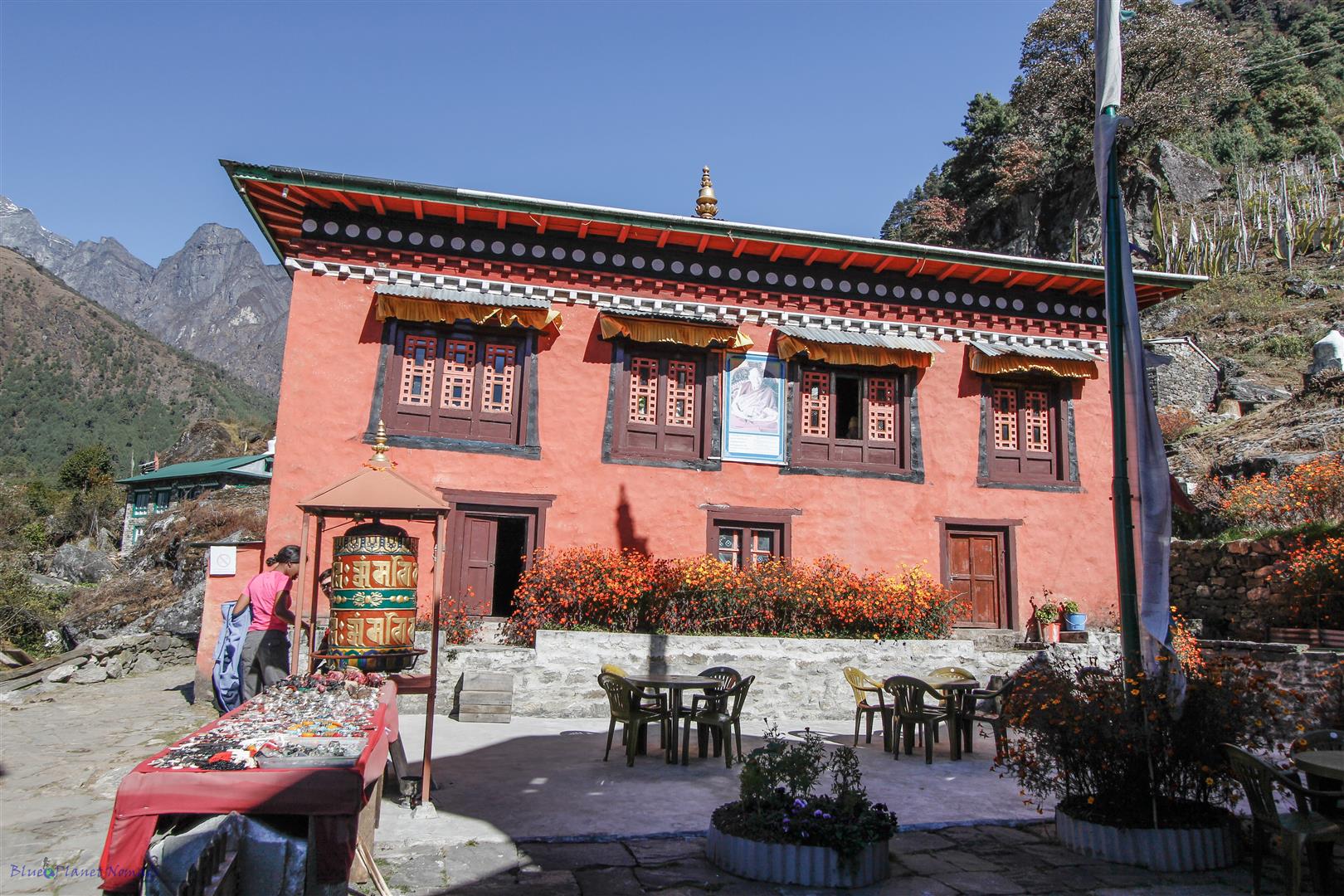 We crossed our first suspension bridge but had to wait for the Dhozia and mule trains. Sharing the suspension bridges with the domestic animals was quite a regular occurrence.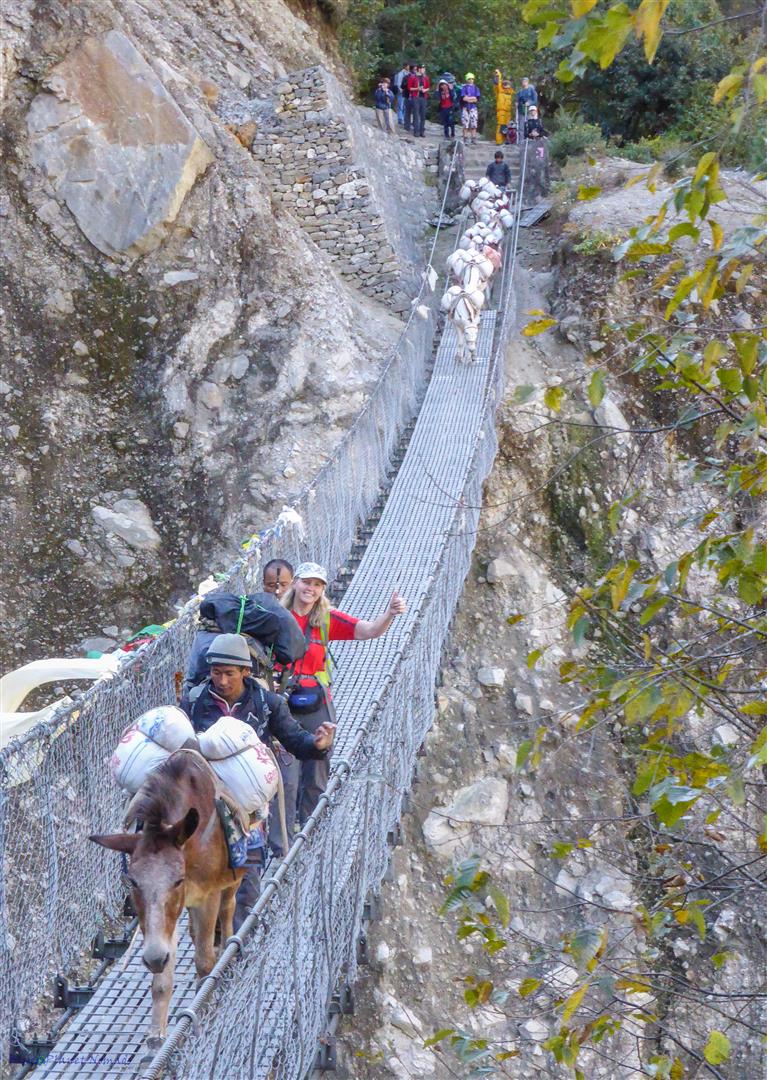 Our next large suspension bridge was crossing the river to Phakding where we stopped at a guesthouse for a tasty momo lunch.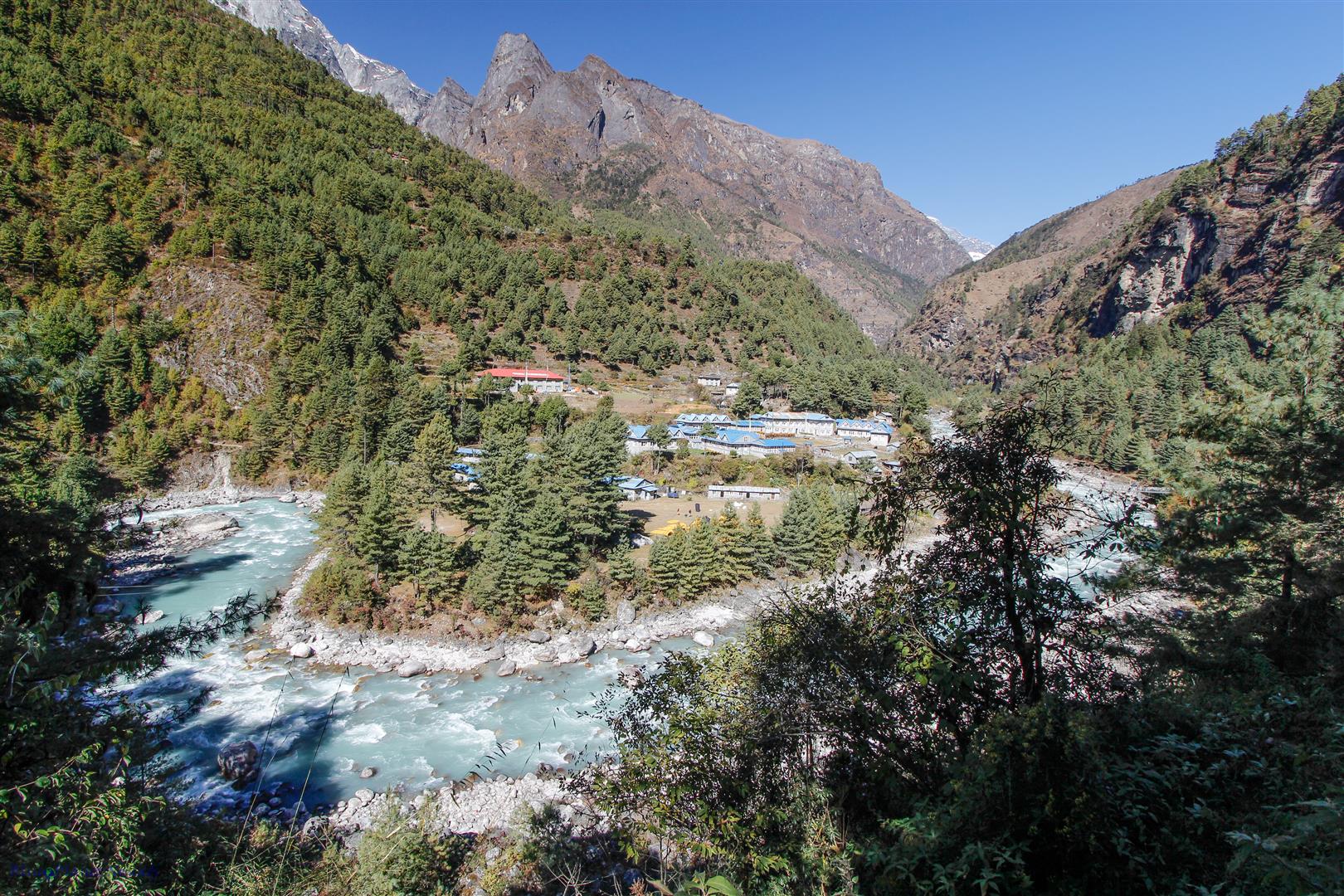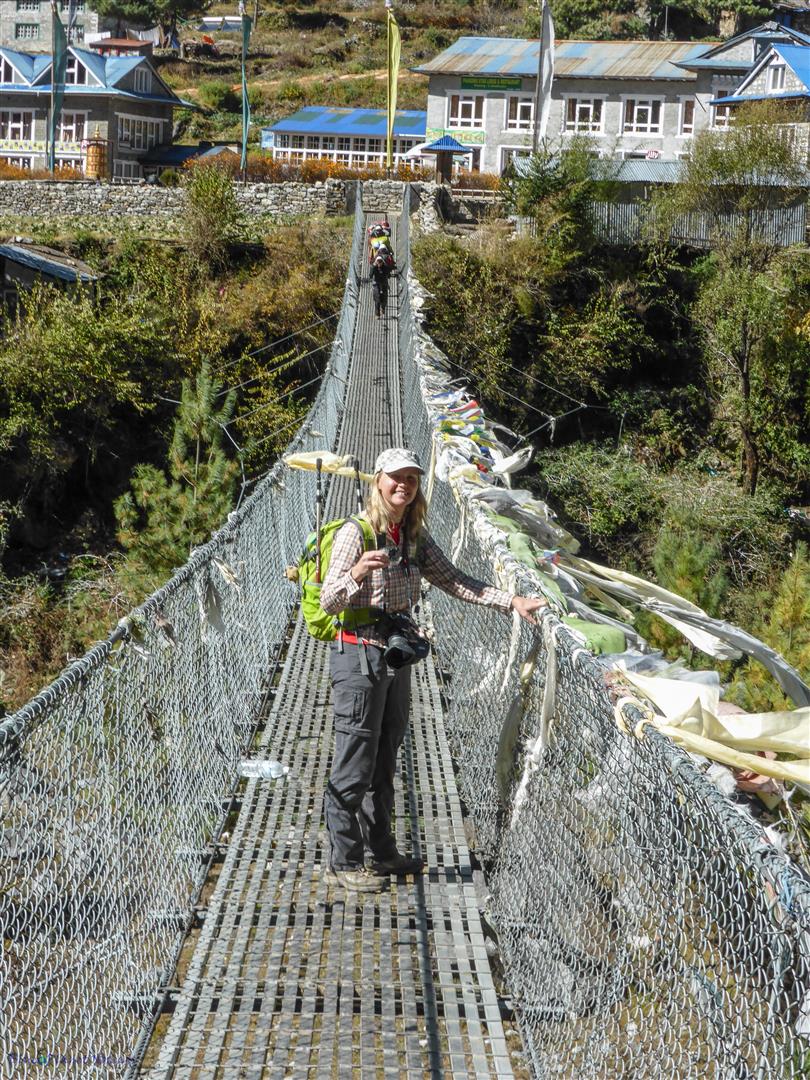 After lunch it was downhill to Monju then up hill to our guesthouse at Jorsale, crossing yet another suspension bridge along the way. Since leaving Lukla we had dropped 120 meters in altitude but I know tomorrows walk will take us much higher.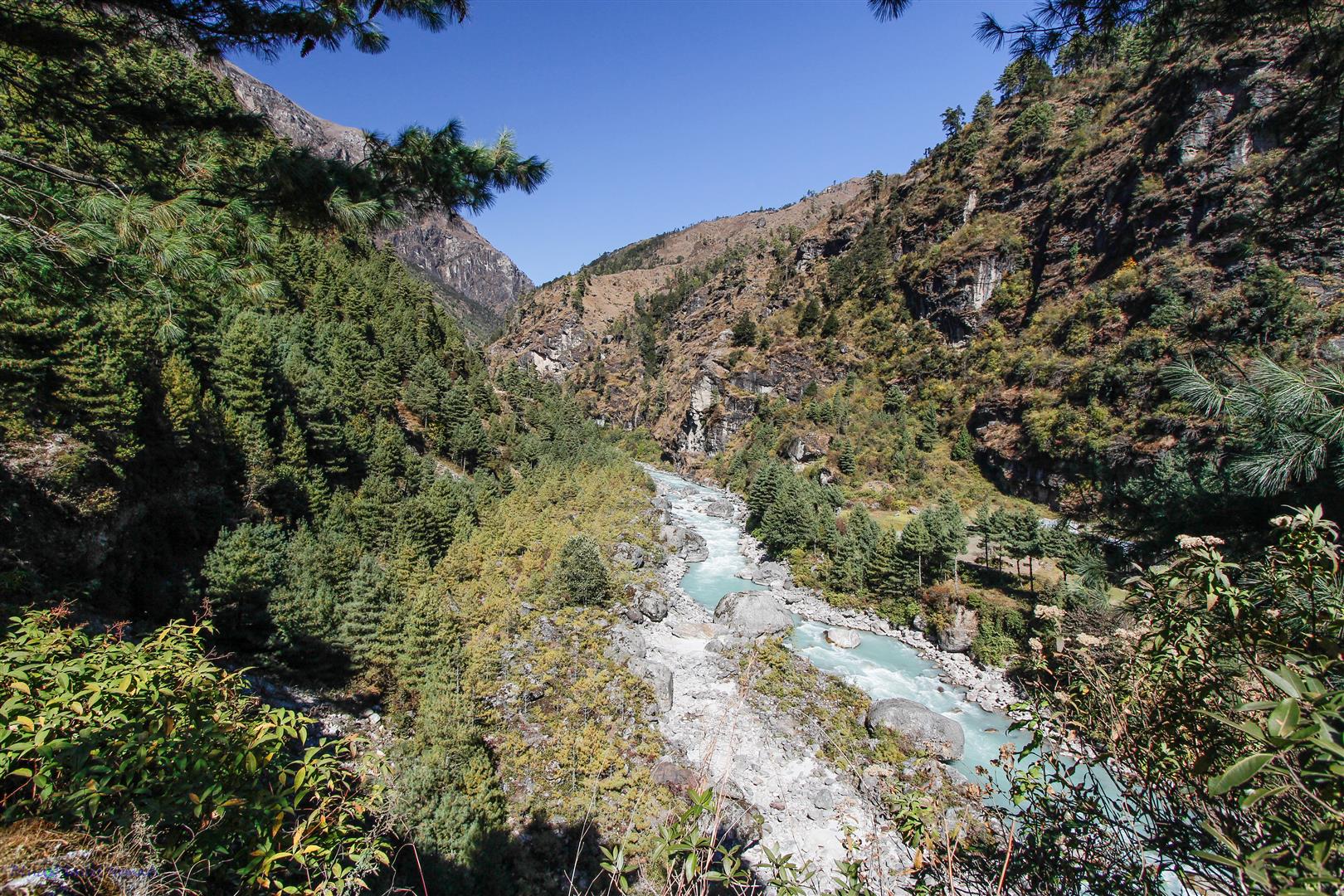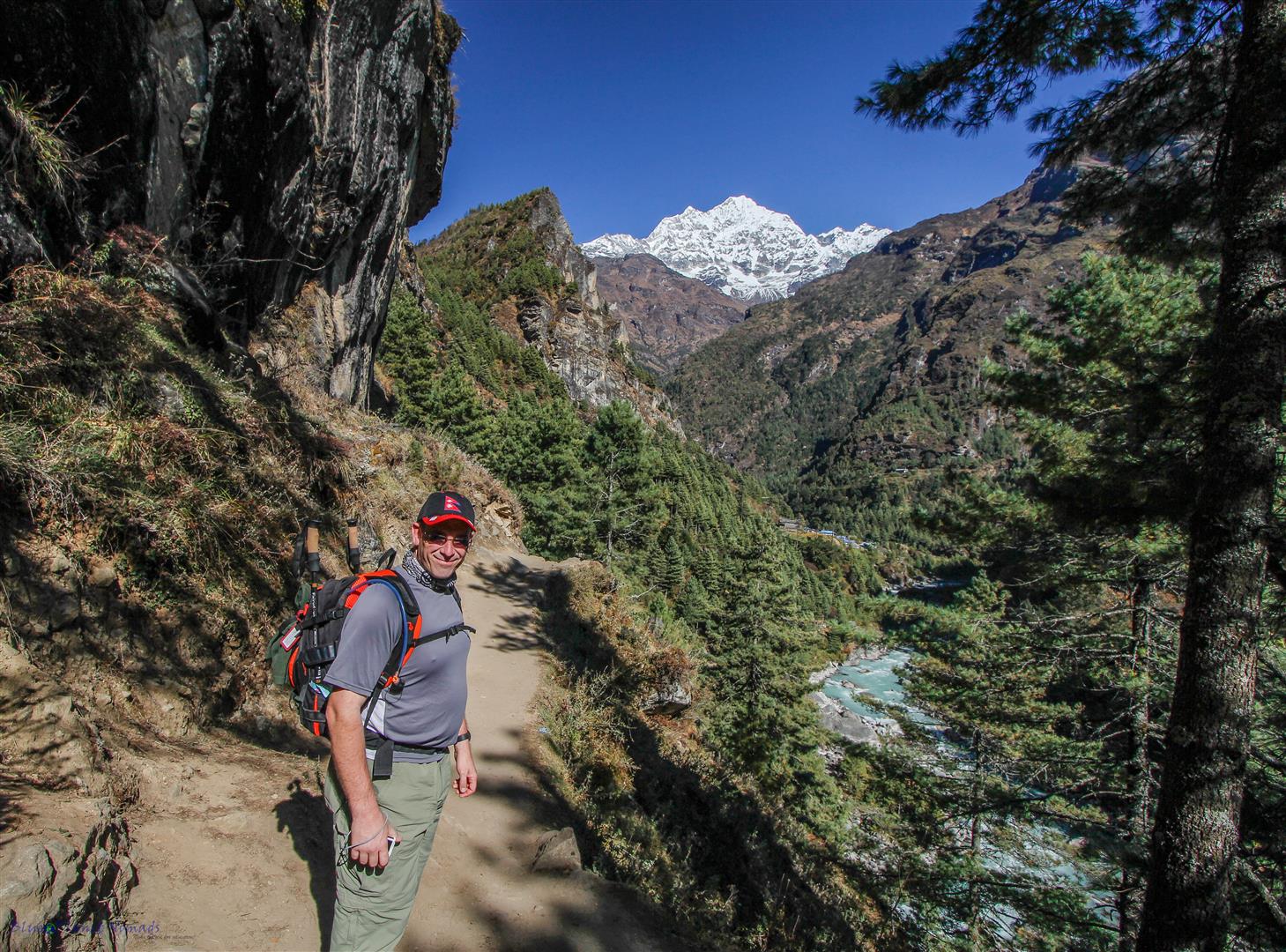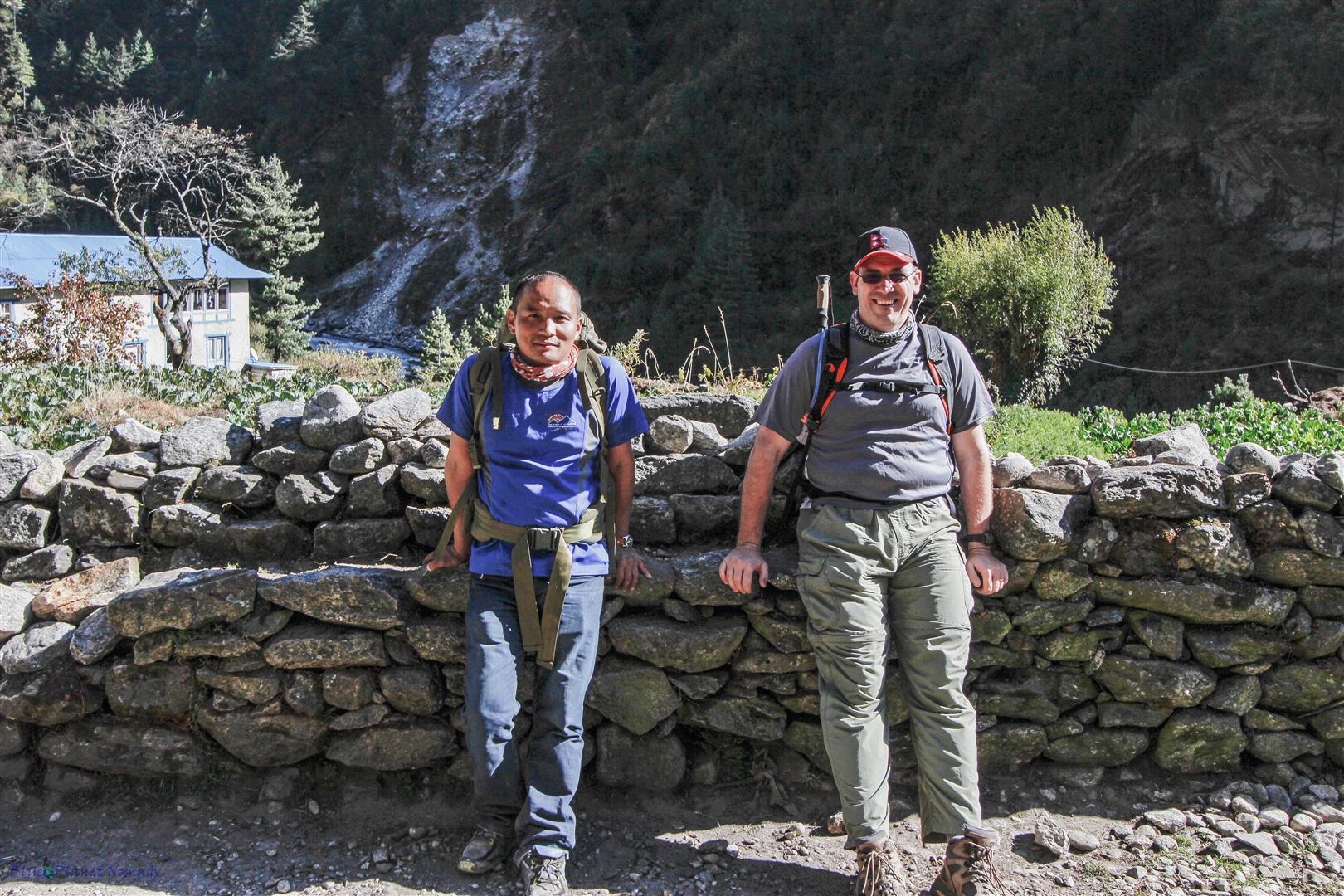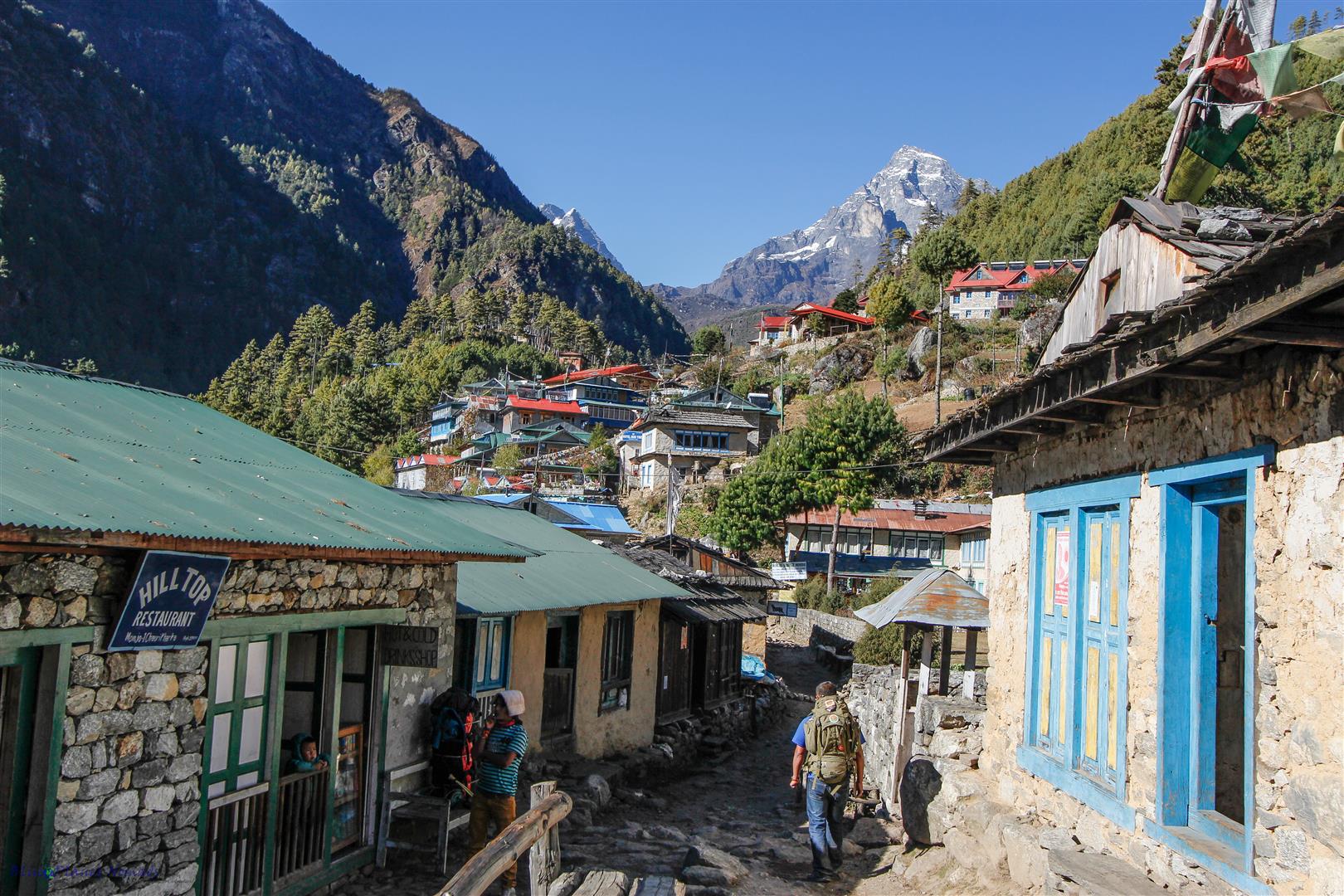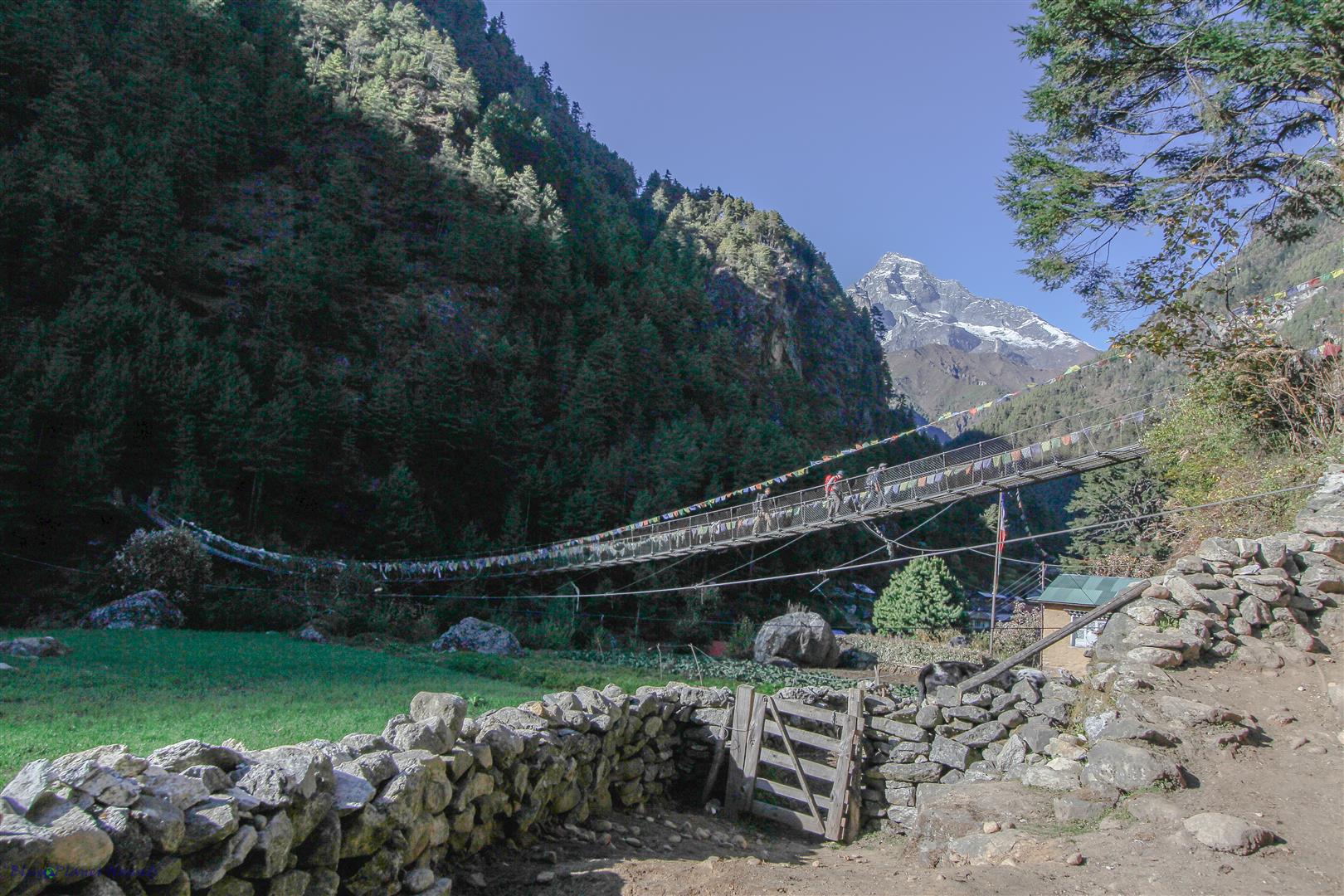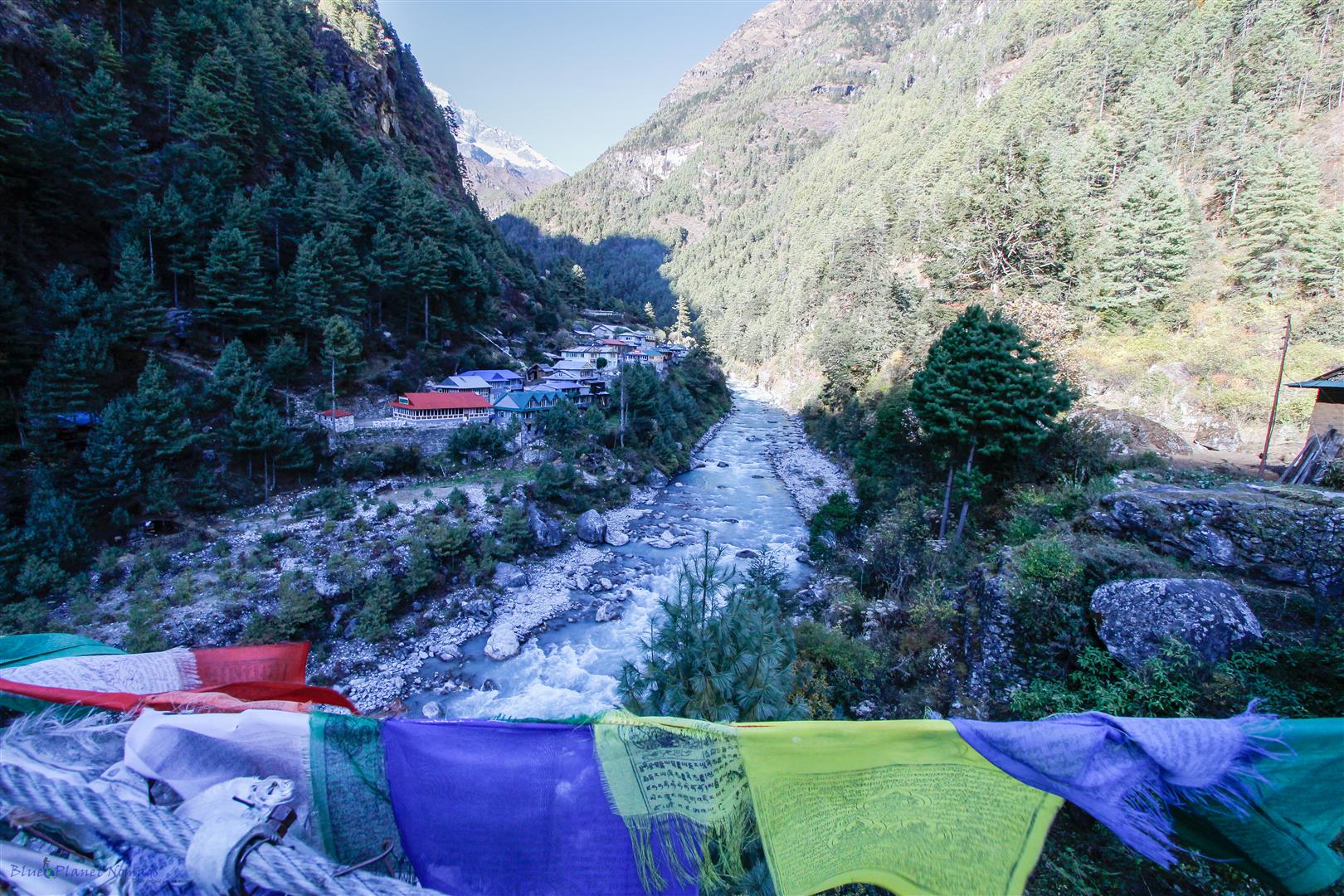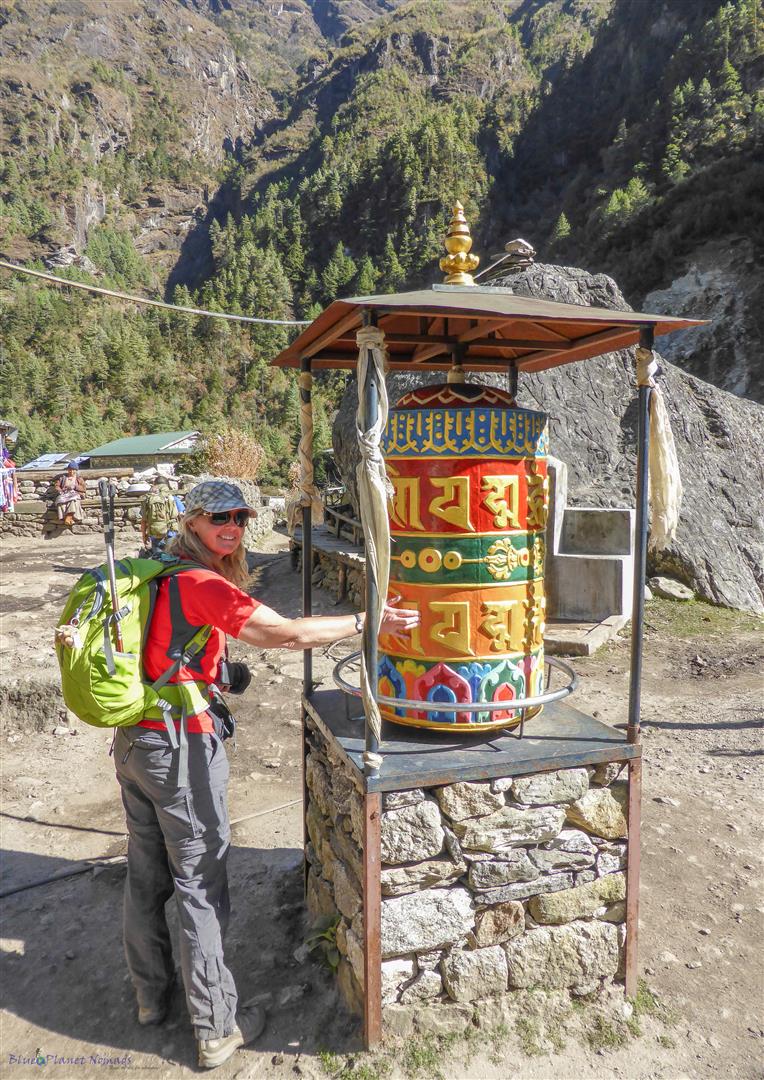 We passed through the official park entrance and visited the small museum.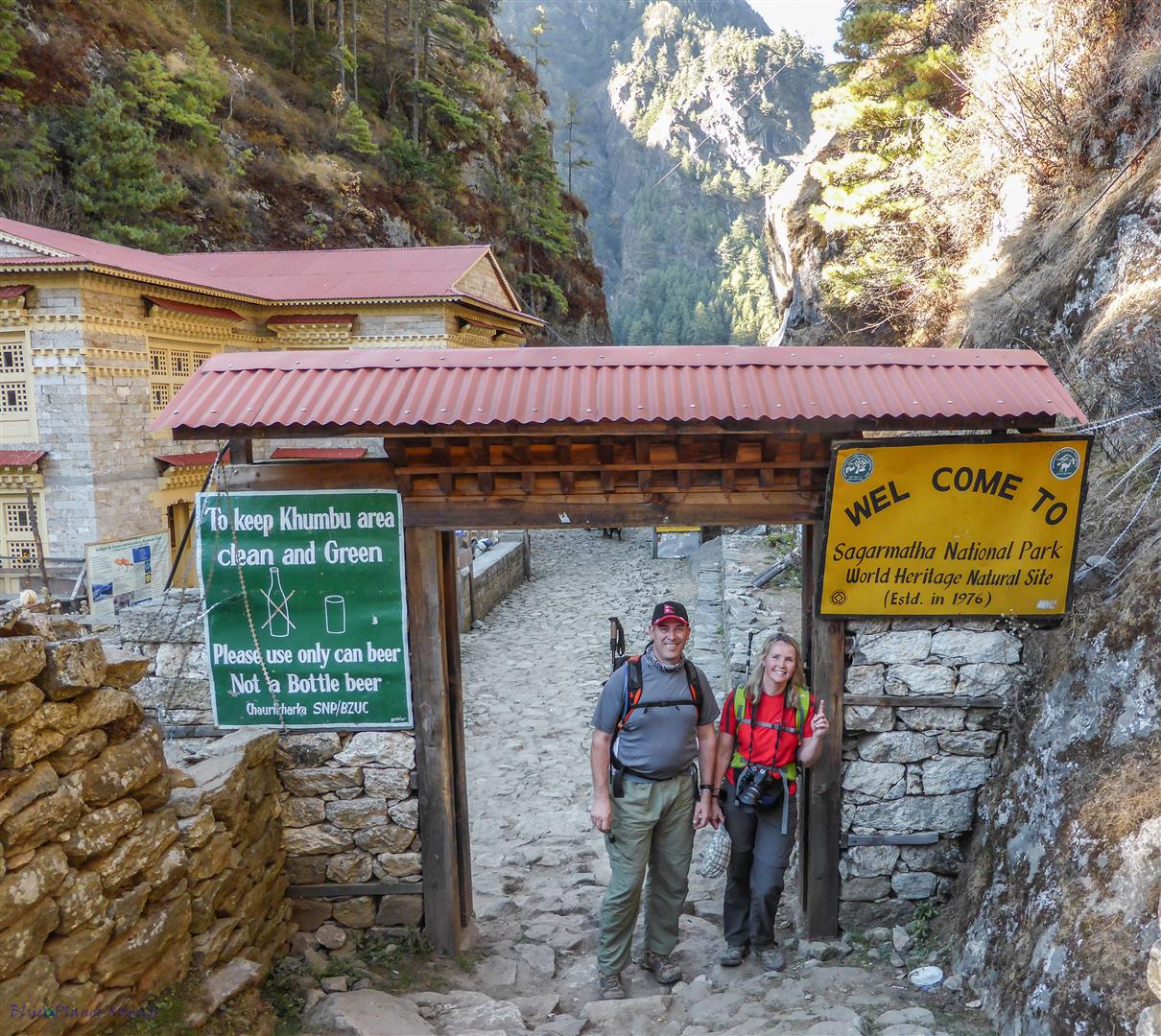 We arrived at our guesthouse Nirvana at 2:30pm in the afternoon so had made very good time. The guesthouse was lovely overlooking a pretty cottage garden and next to the river. We were the only guests there until a Japanese lady and her guide turned up later in the afternoon. The guide was interesting to talk to, a mountaineer who had summited Everest four times without oxygen. It was that evening that Vaughan felt ill when his dinner was put in front of him, he couldn't stomach his tomato soup or his pizza for that matter and ended up going to bed. My spaghetti went down well and I had some of Vaughan's pizza but it had been a long day with a very early start so it wasn't long before I hit the sack either.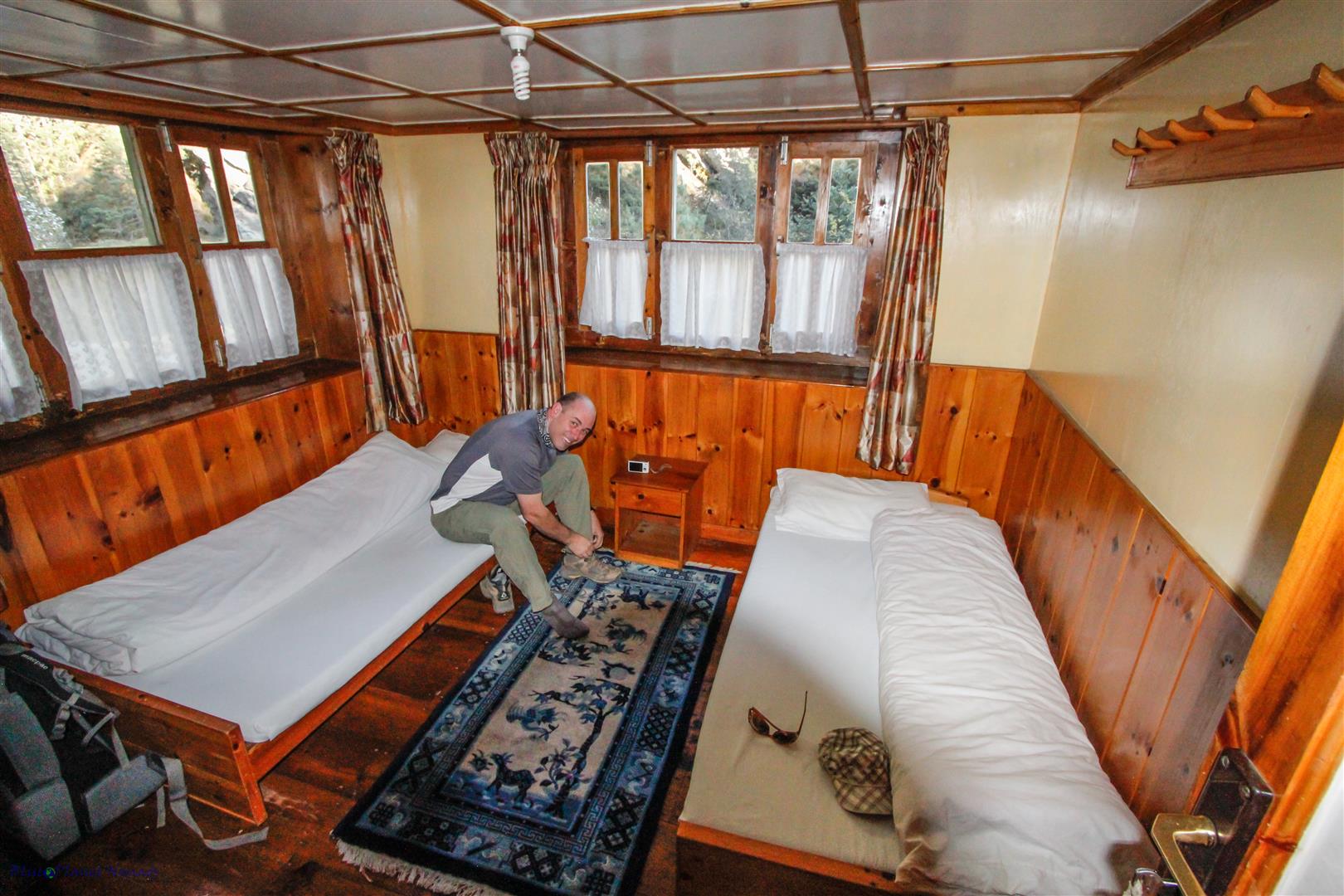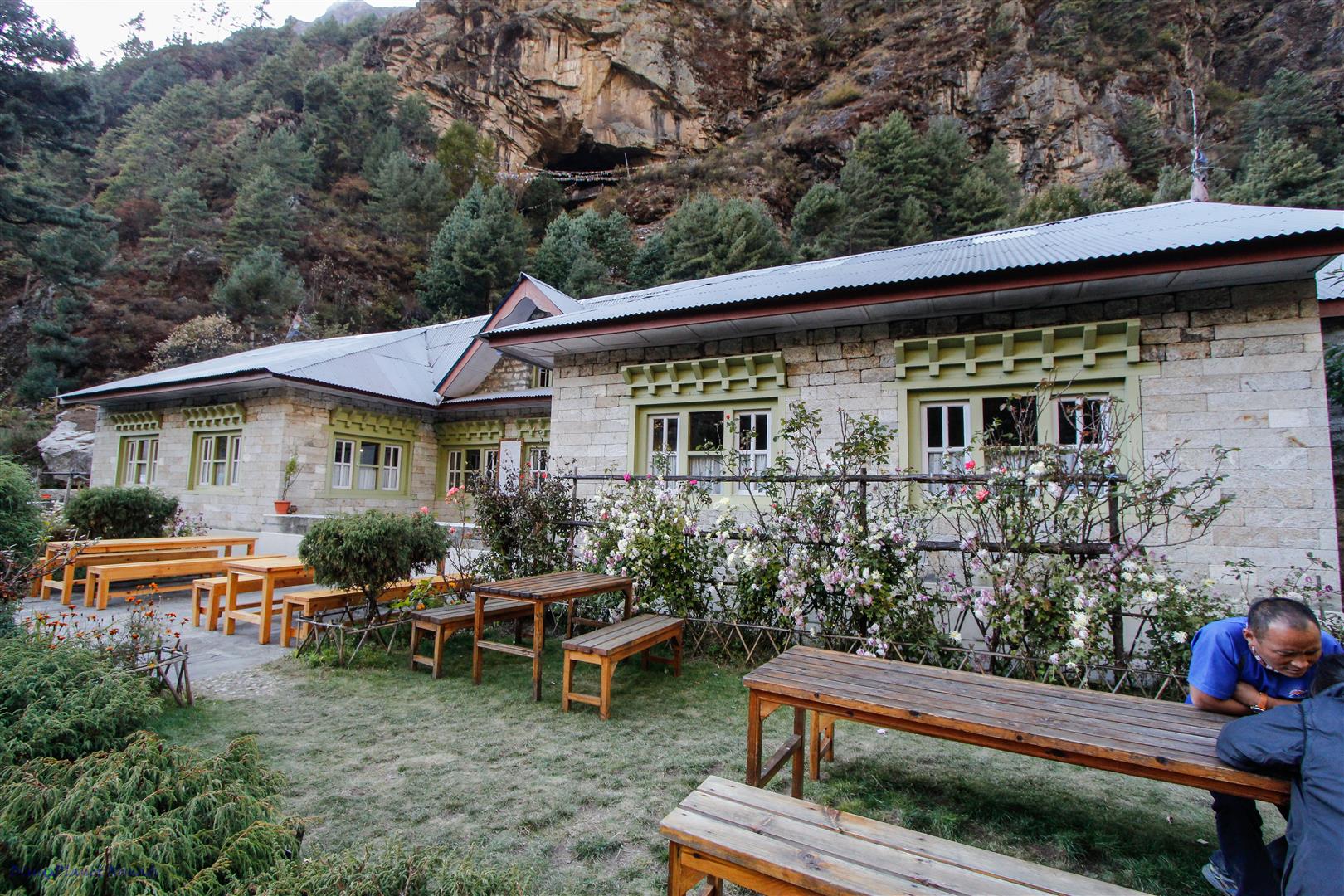 Day 2 – Jorsale (2740 Meters)
Both Vaughan and I had the worst night's sleep, he was throwing up and I was firing the opposite end! We both felt tired and a little off but decided to try for Namche which ended up being a big mistake. We started out along the riverside track to the checkpoint. We crossed the swing bridge over the the Dudh Kosi river and along the rocky track the other side. I had only walked 50 meters and started to feel quite ill and started to throw up, with an audience too as passing trekkers looked on. I felt better afterwards so continued on to the base of the steps, I had only climbed 10 steps and started to feel ill again! I think it was obvious that we needed to rest today and get whatever food poisoning was in my system out. We put it down to the momos we had for lunch in Phakding the day before.
Ram had to chase after the Porter who had our bags, meanwhile we waited at the bottom and watched all the passing trekkers. There was also a race on and many racegoers passed us, one guy got very frustrated when he had to wait for a train of dozia's to cross the bridge. When Ram returned he said he finally caught up with our porter who was nearly at Namche! We spent the rest of the day back at Nirvana Lodge resting. This was the advantage of doing your own trek, in times like this when you get sick and need a day of rest, you simply wouldn't get the same flexibility in a group tour.
Day 3 – Namche (3440 Meters)
We felt much better today so was ready to take on the climb to Namche Bazar. After breakfast we set off back along the river to the checkpoint, across the swing bridge to the other side and back towards the base of the steps. The climb wasn't as bad as I thought, it was a mixture of steps and gradual slope up a series of switchbacks, it was even flat in places and we had a suspension bridge to cross which took us back the other side of the river. The trail was quite busy though with other trekkers, porters, mules and Dhozia's.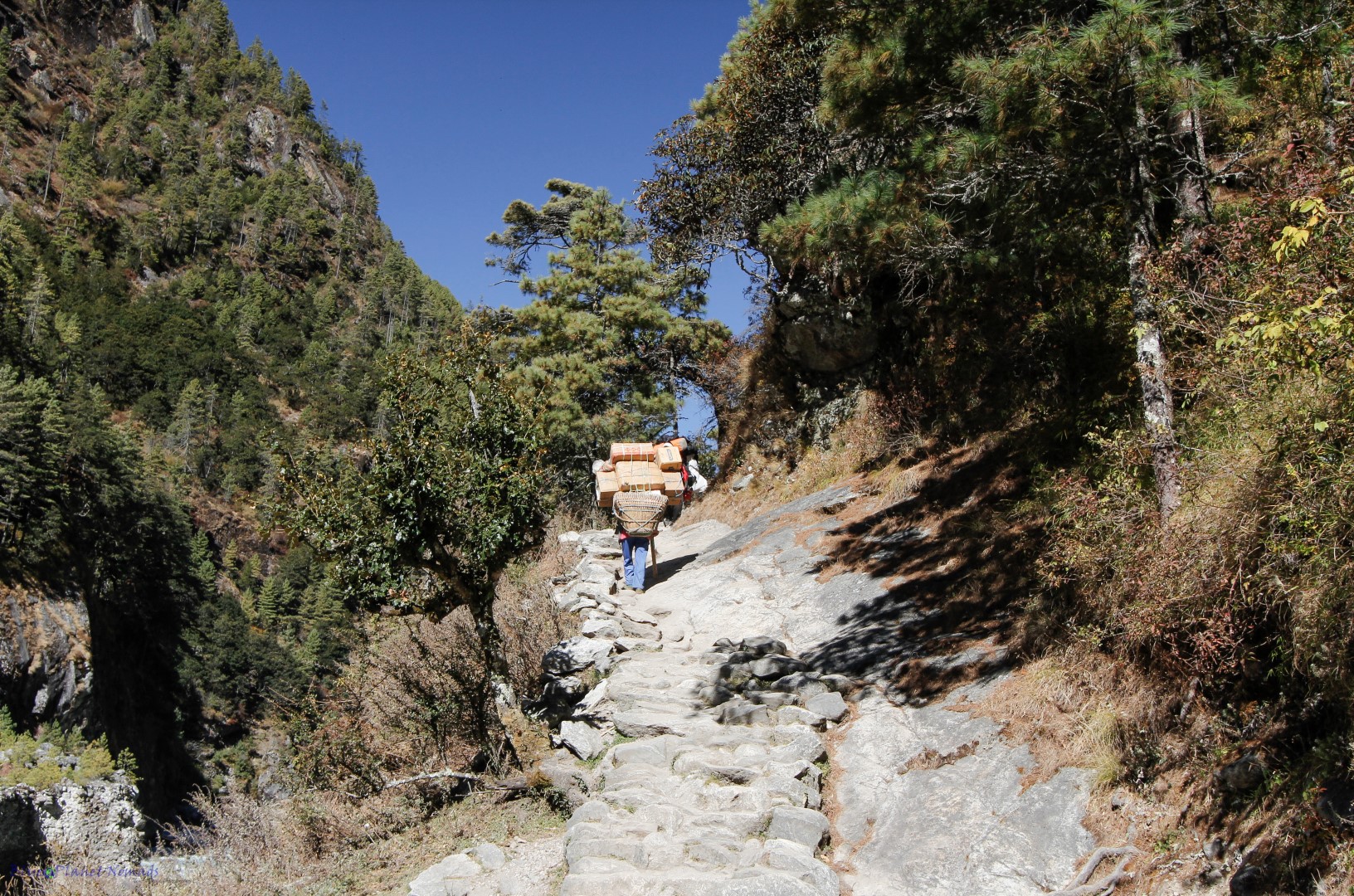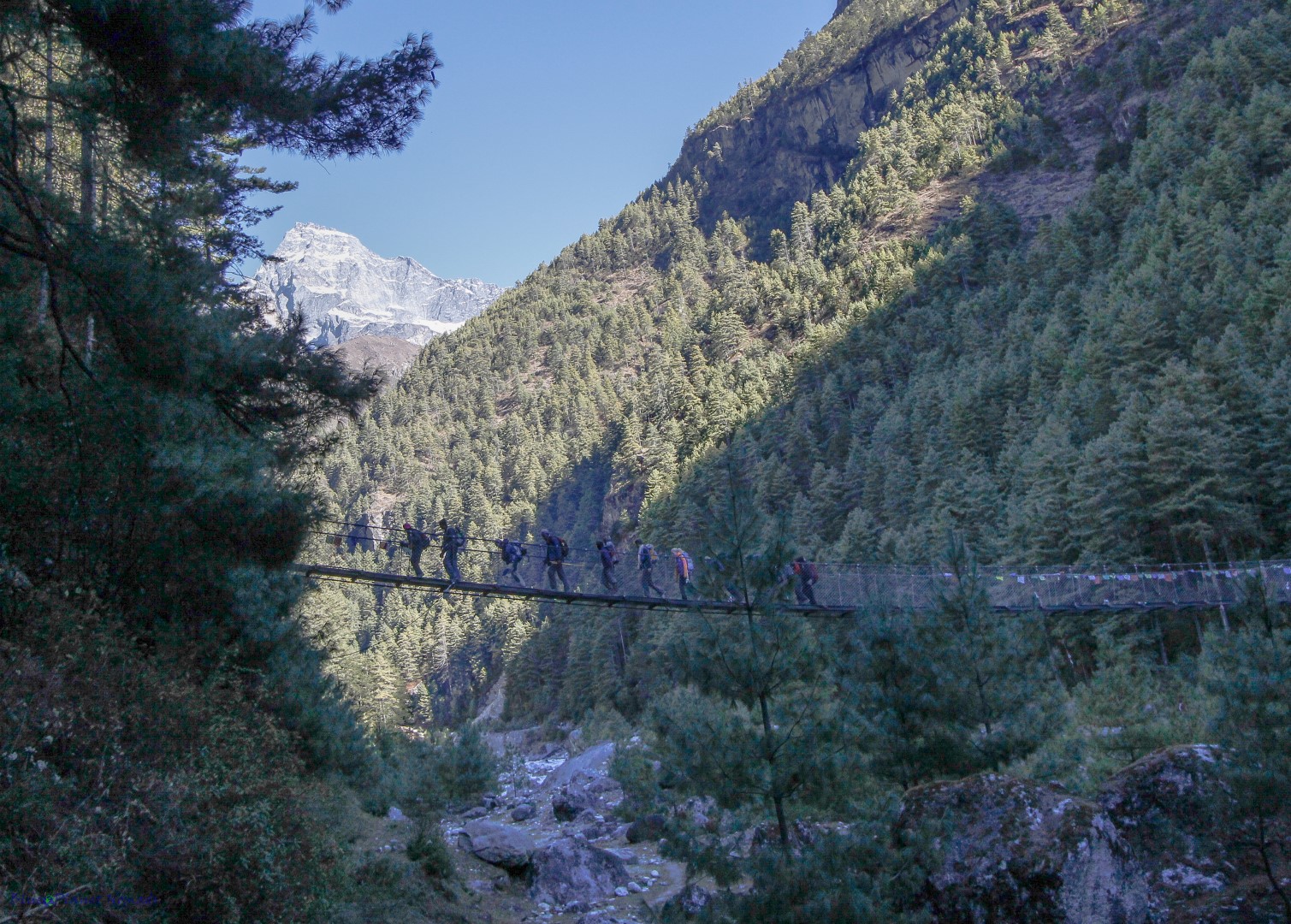 We were climbing up through sparse pine woodland and other native species. Our first major stop was at the Everest lookout where we got excited about seeing the top of Everest for the first time. From here it was a gradual climb to the next checkpoint after which Namche came into view.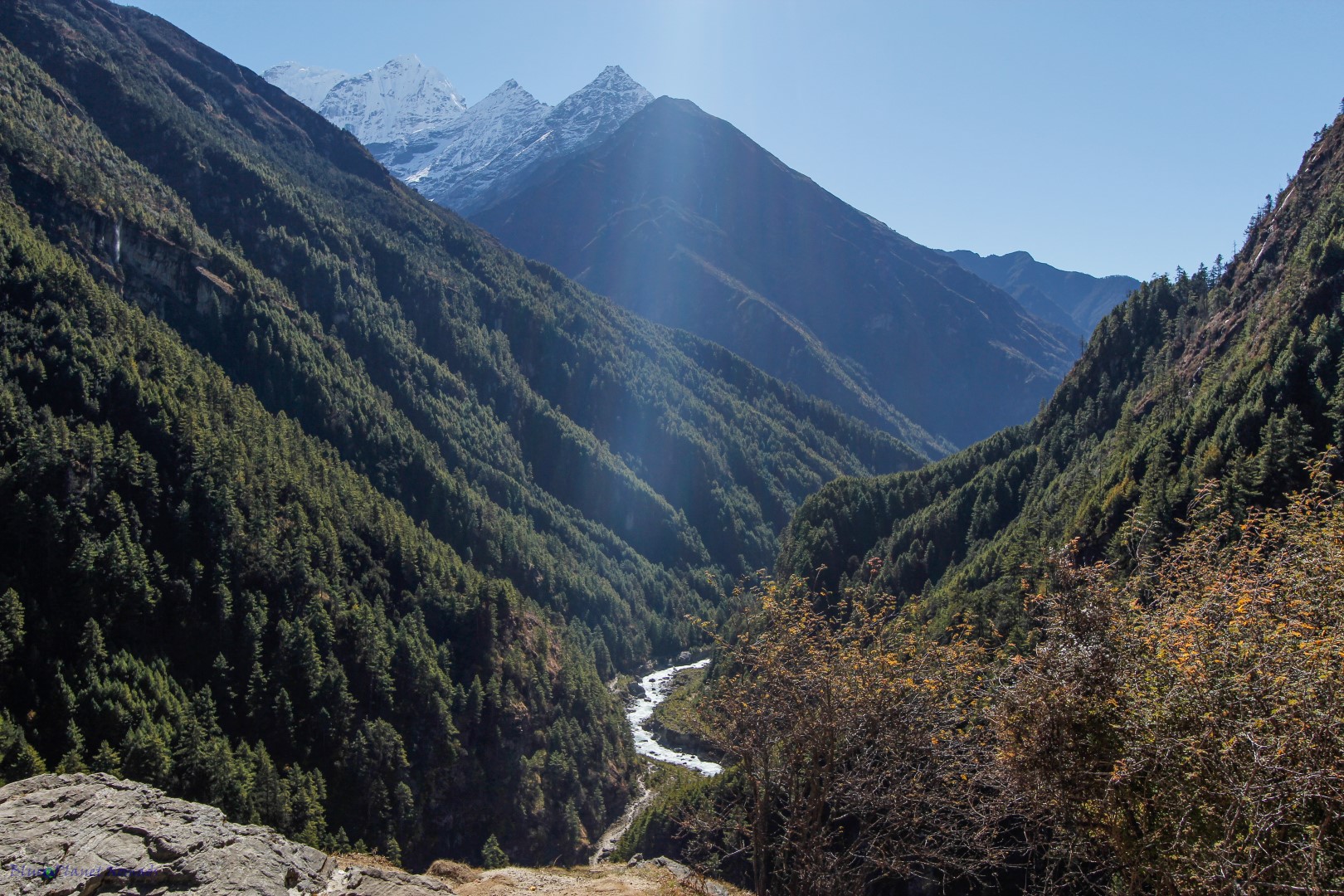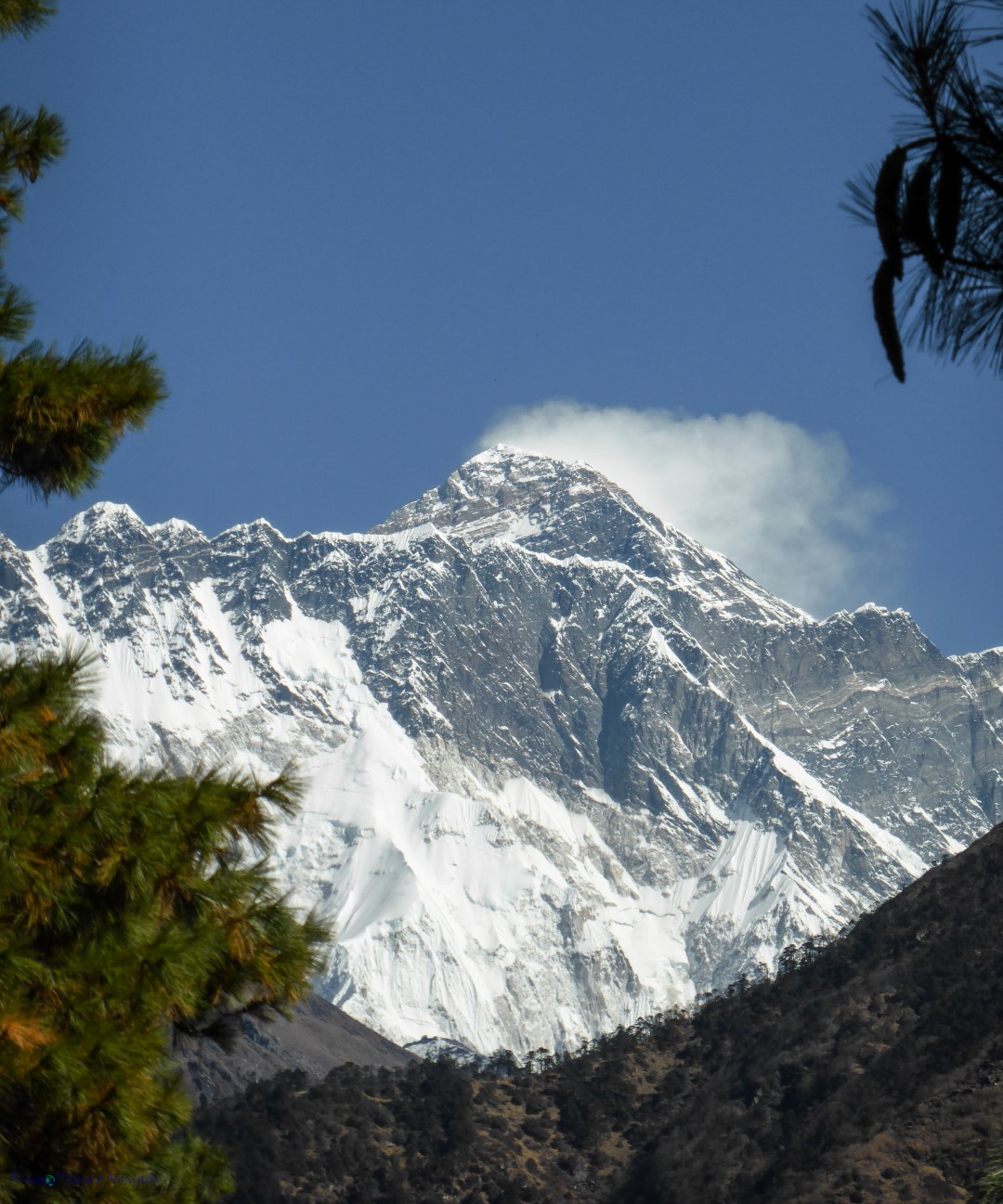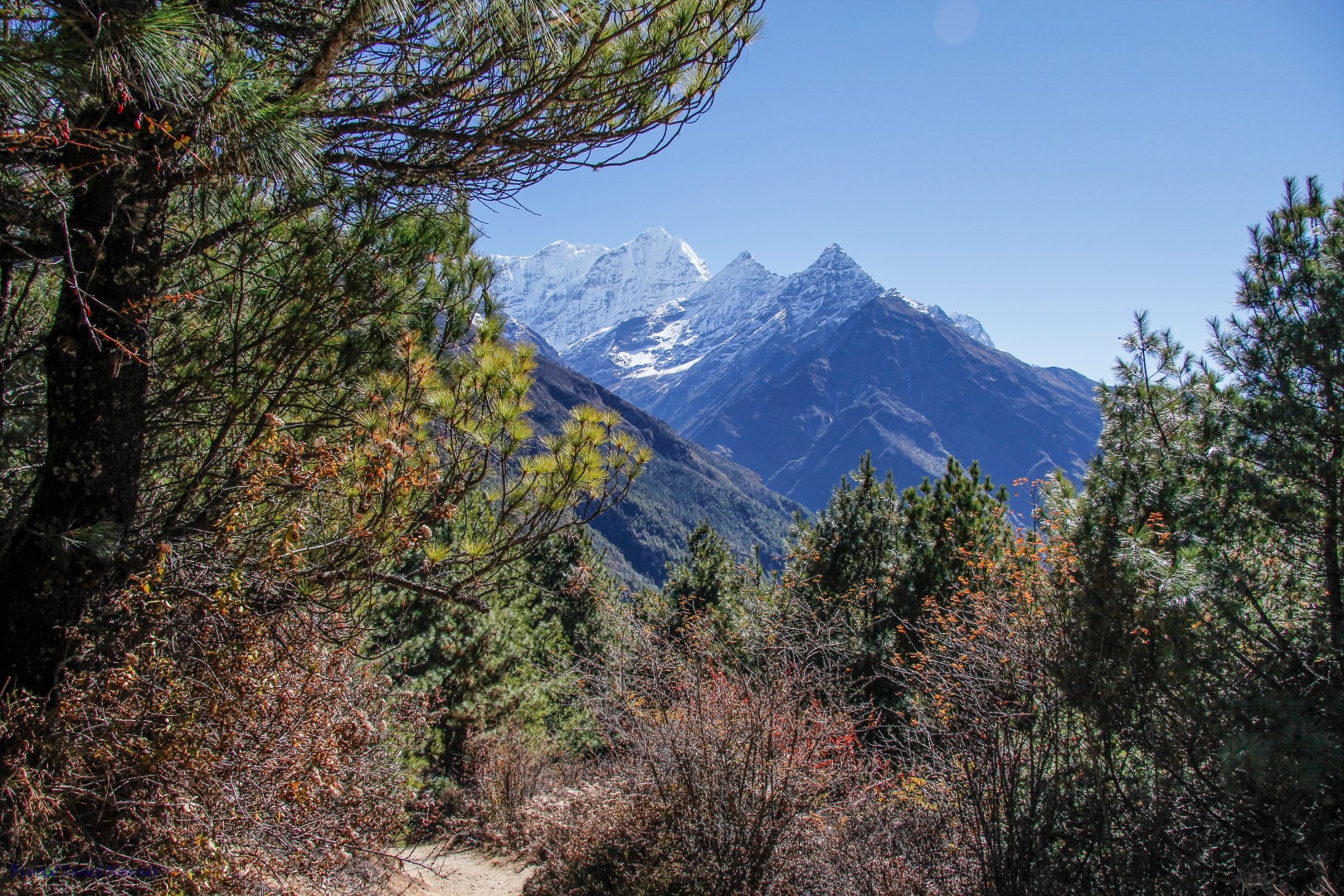 The climb in total from when we left Jorsale to the base of Namche town was 3.5 hours and it was quite an enjoyable walk up. Our guesthouse Moonlight was at the top of the town so we continued on up through the narrow cobbled streets passed the plethora of shops, market stalls, restaurants and café's. We looked forward to exploring more later in the afternoon.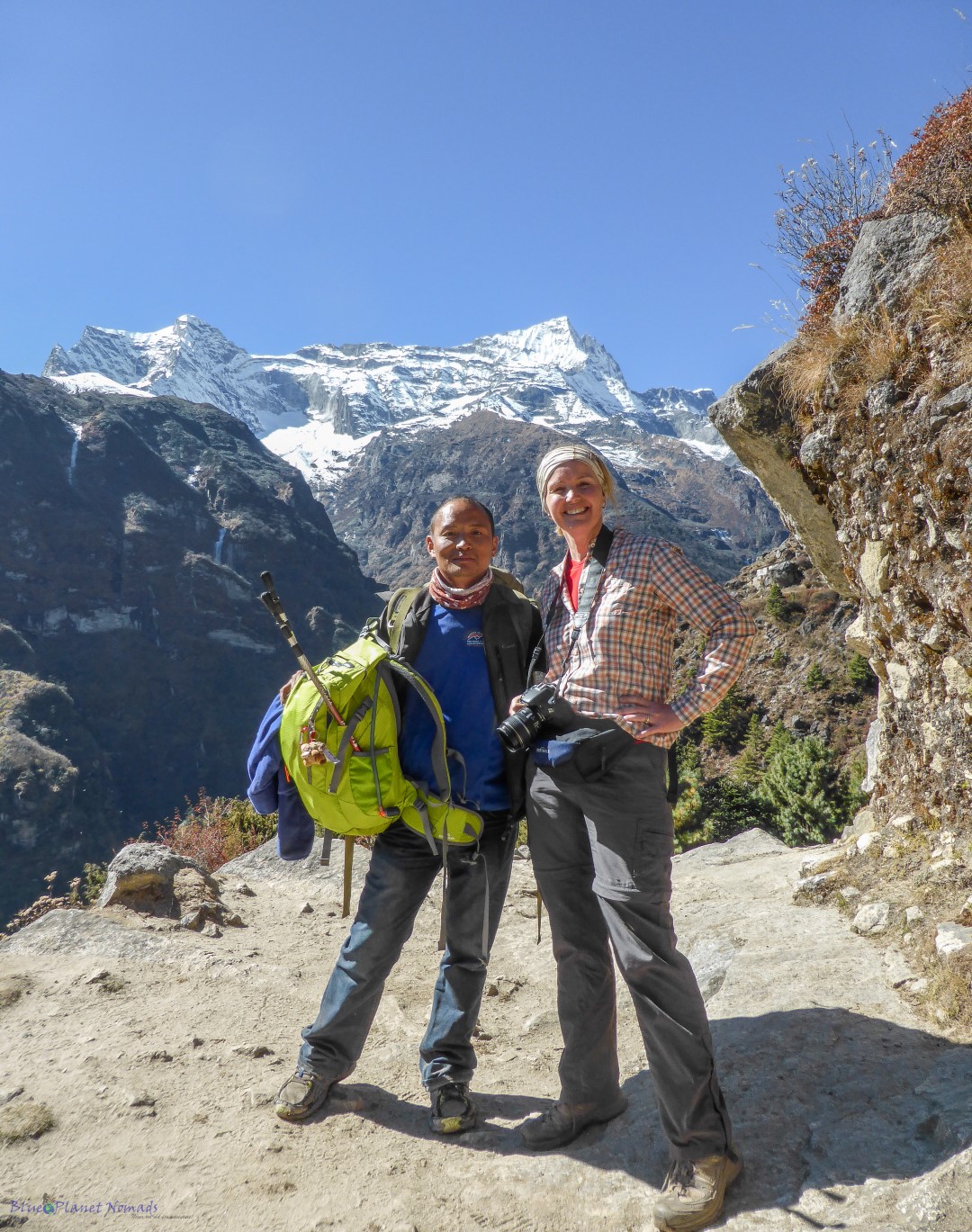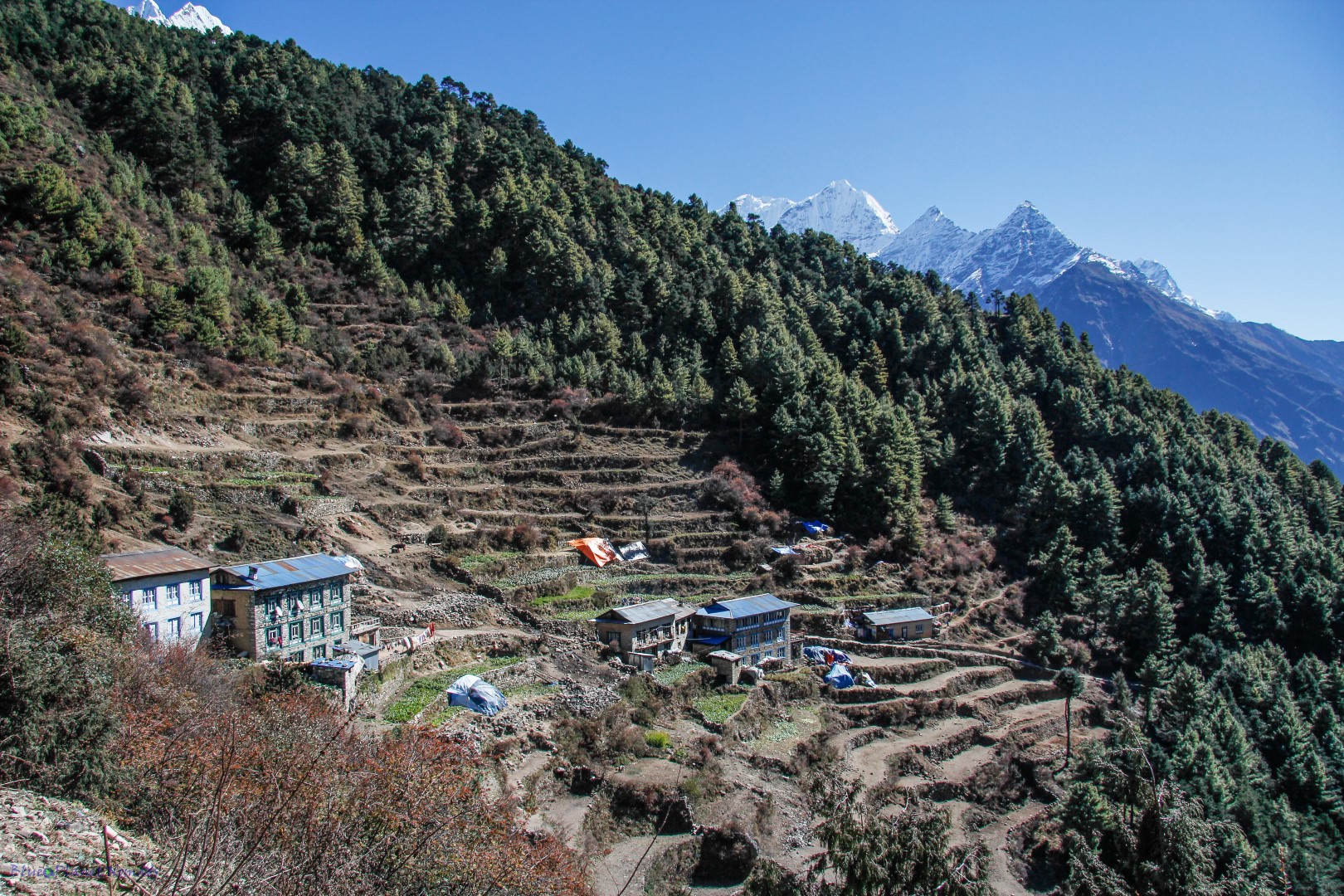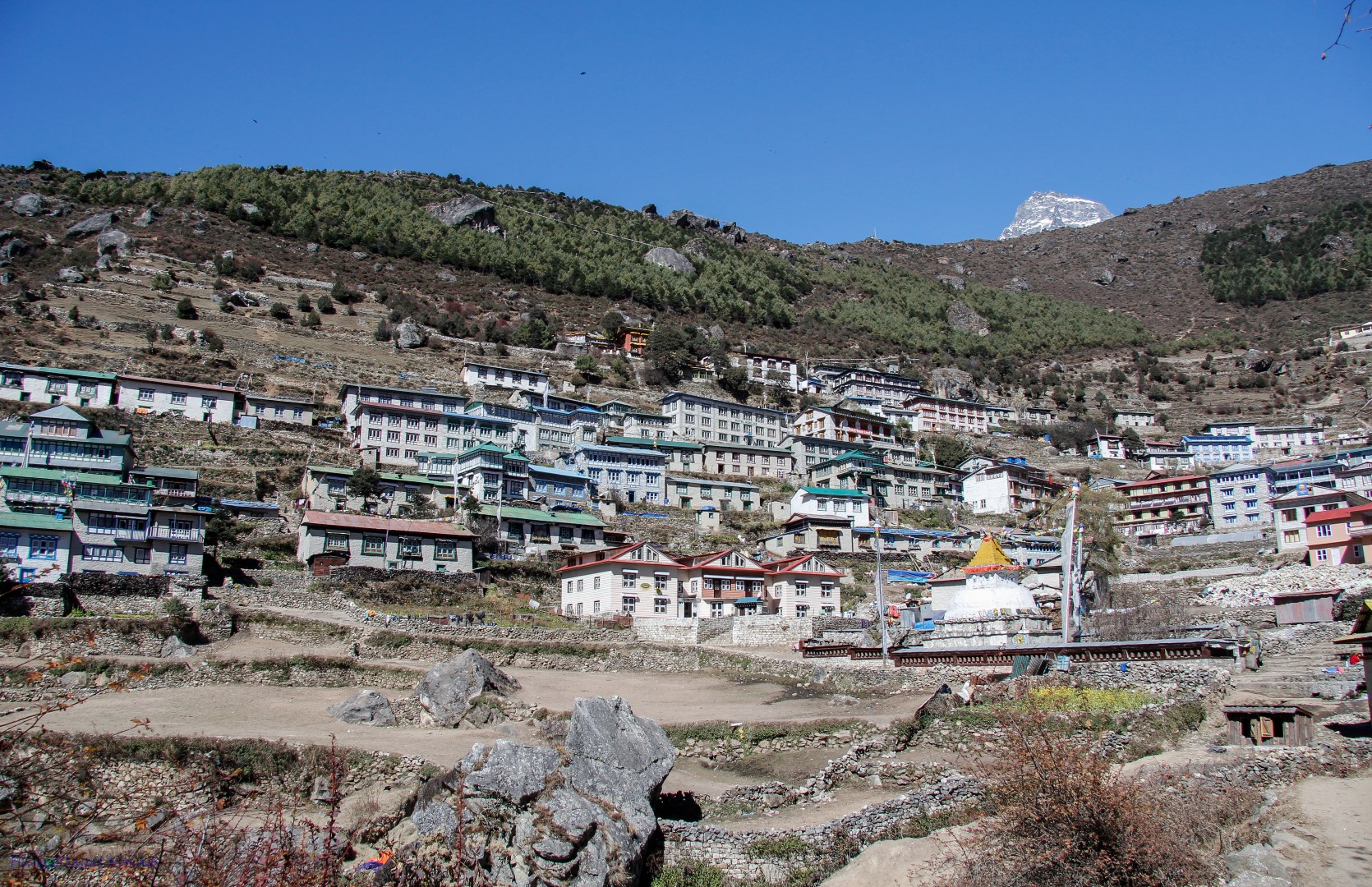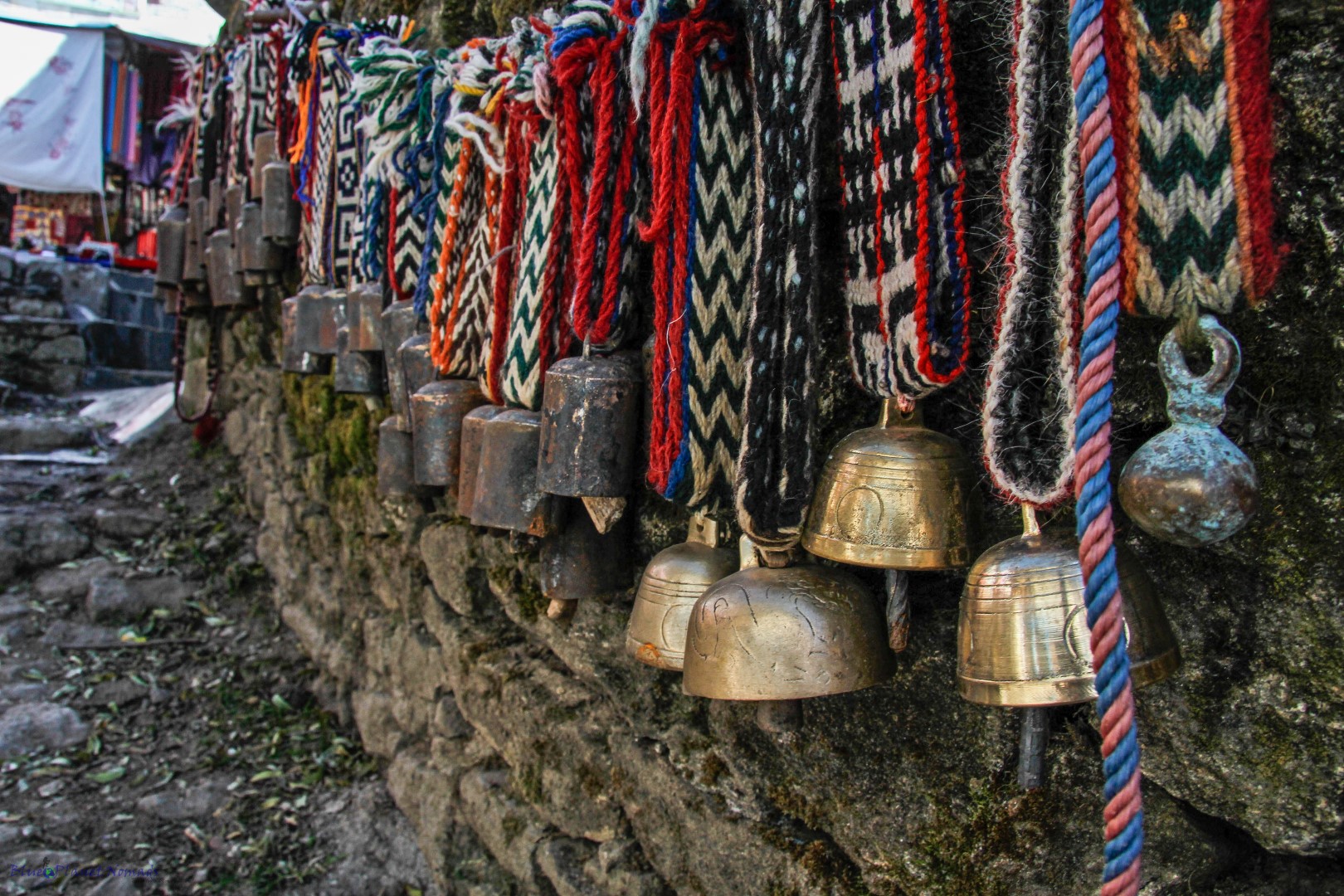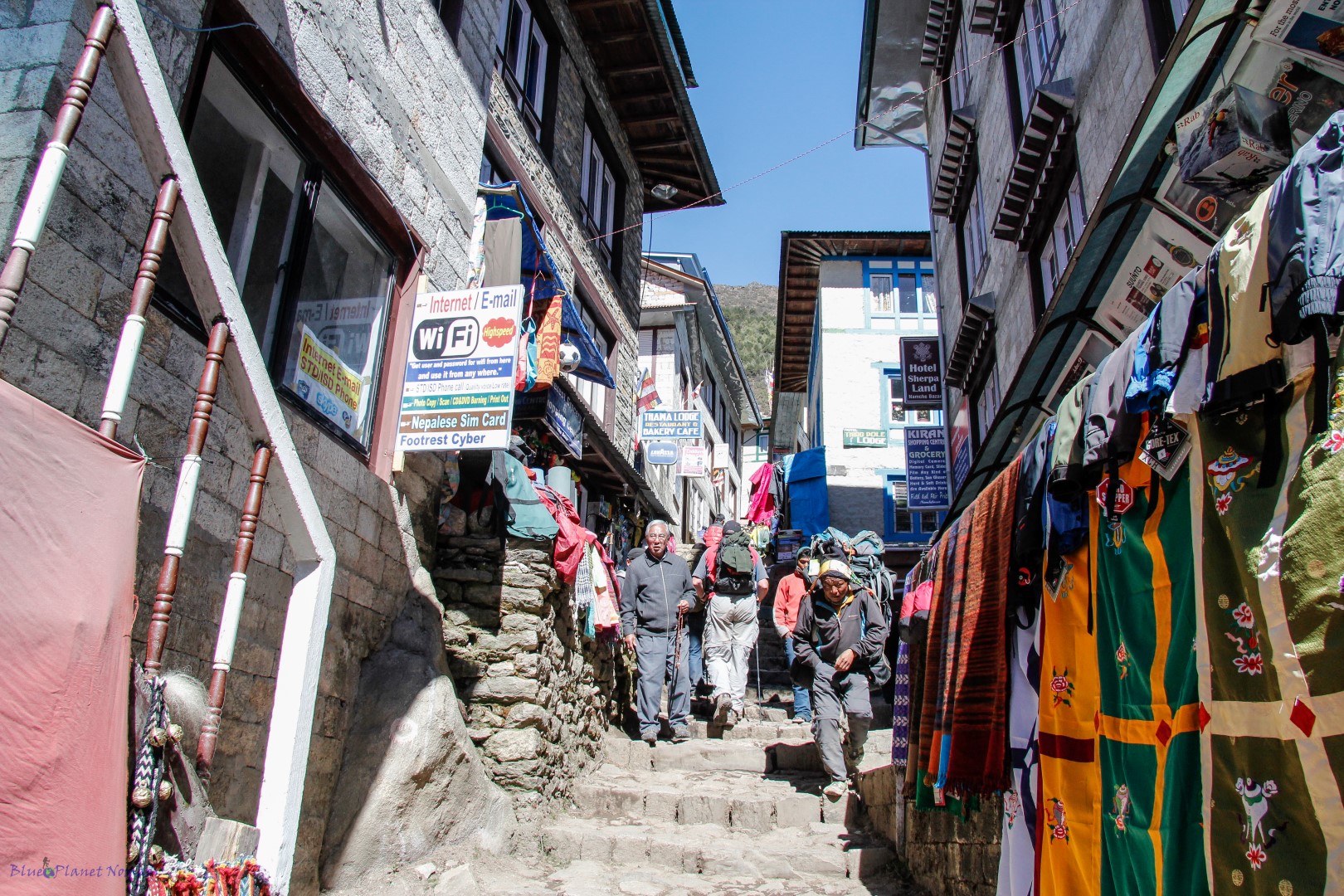 It was lunchtime by the time we reached our guesthouse Moonlight so we had the rest of the afternoon to relax so we took advantage of a nice hot shower. Our room was on the top floor and had the most amazing views over the town and the surrounding mountains. I sat outside for a while enjoying the sunshine and writing my diary. A Japanese lady was slowly making her way up the path next to our guesthouse and really struggling with the walk. Her guide was encouraging her to keep moving, I guess she was on her way to the medical clinic. She didn't look at all well and I heard the guide making a phone call to get her evacuated. I guess this is the dangers you face when you trek at altitude, you never know of you have to cut your trek short which is quite heartbreaking. Once the sun dipped behind the mountains the temperature dropped pretty rapidly so I escaped to the warm inside. While there was some daylight Vaughan and I took a walk into town to explore the shops and café's and make some necessary purchases.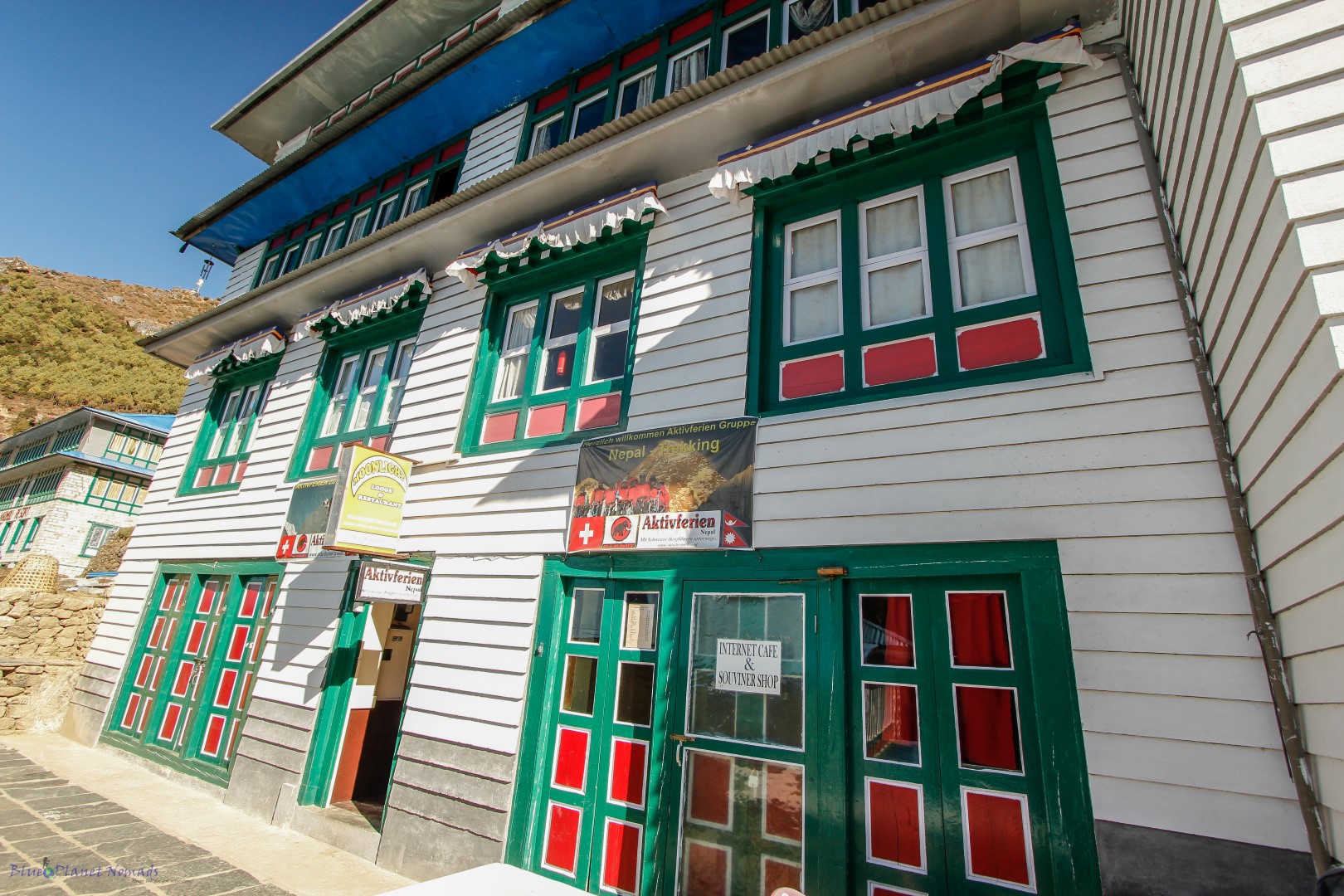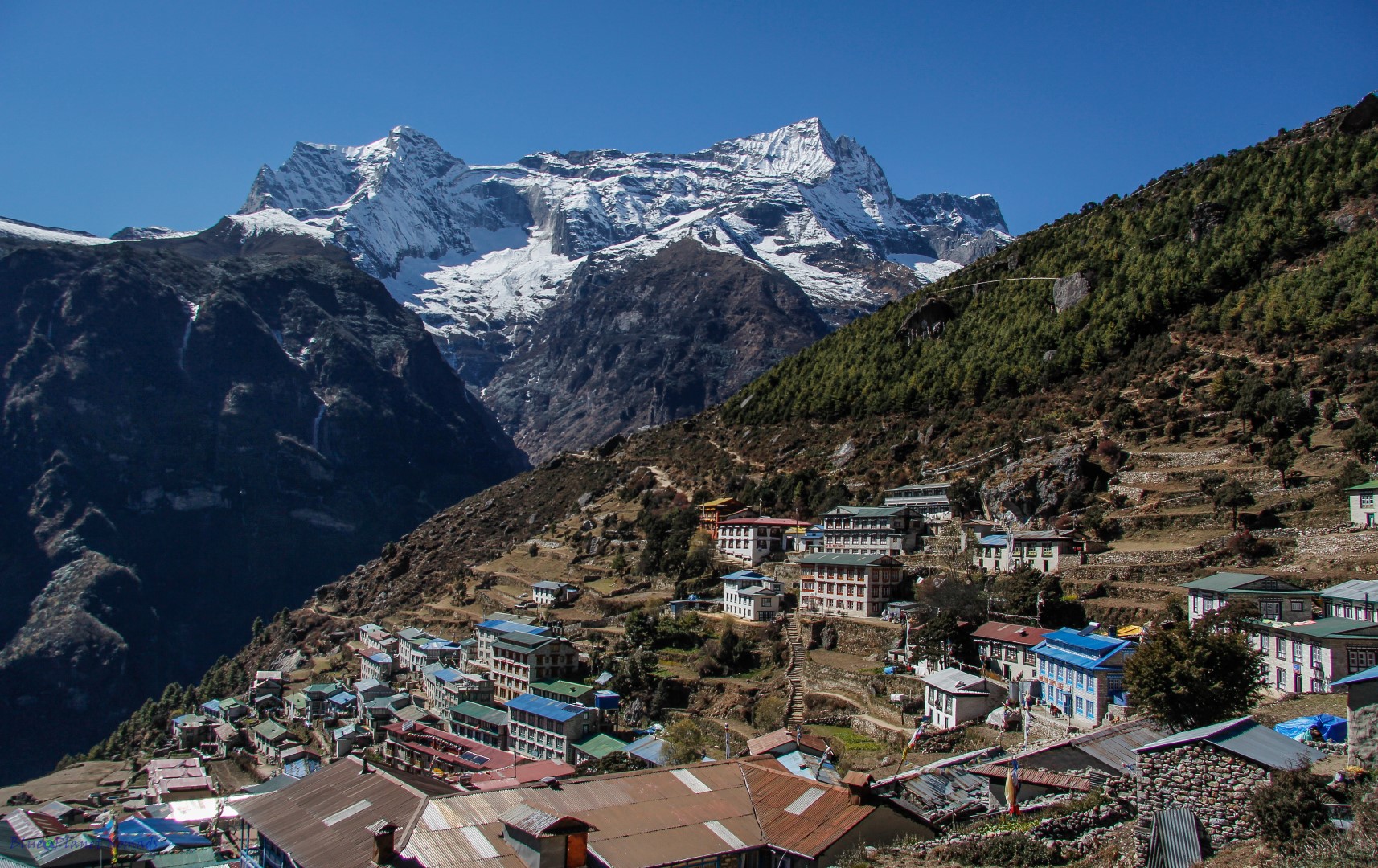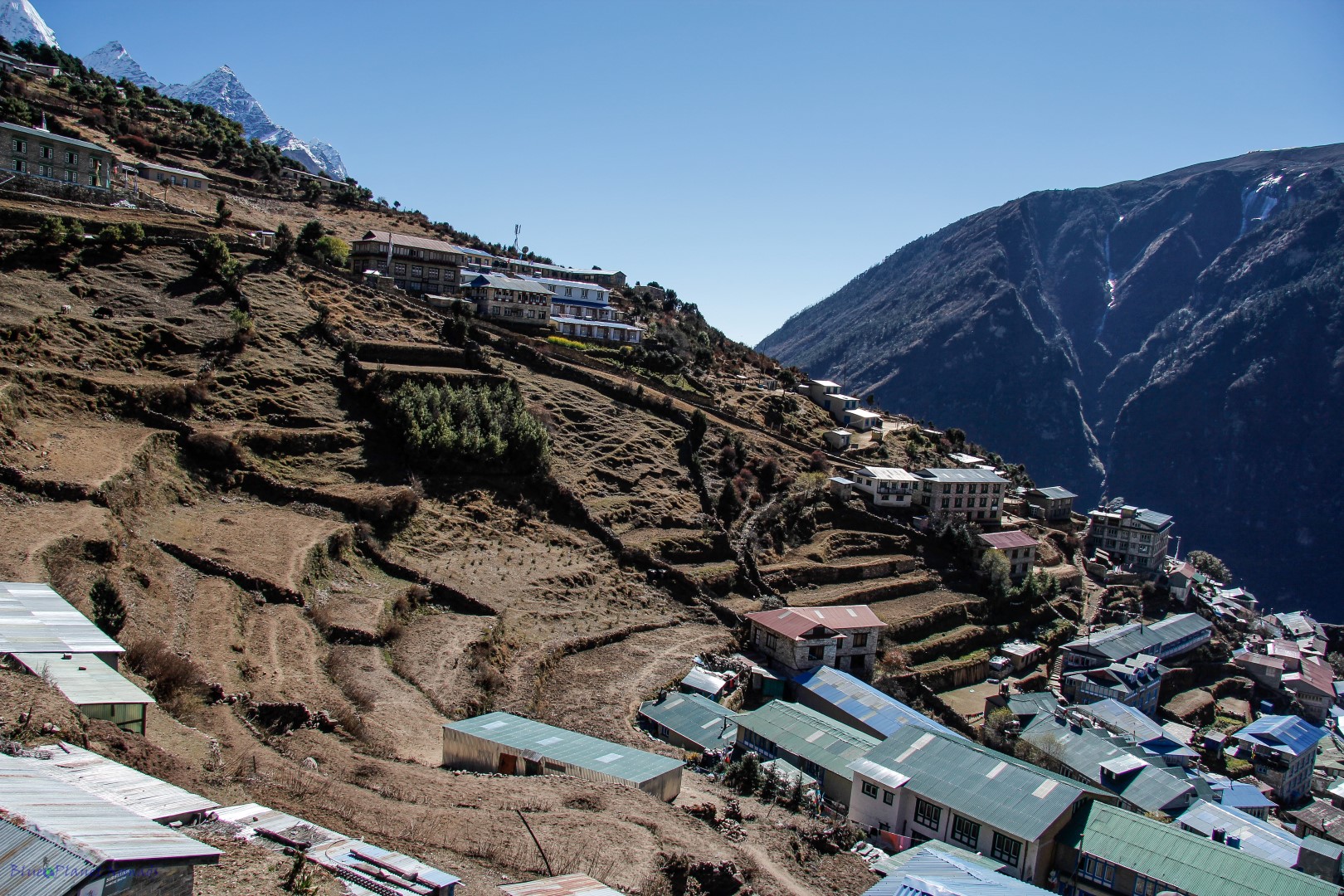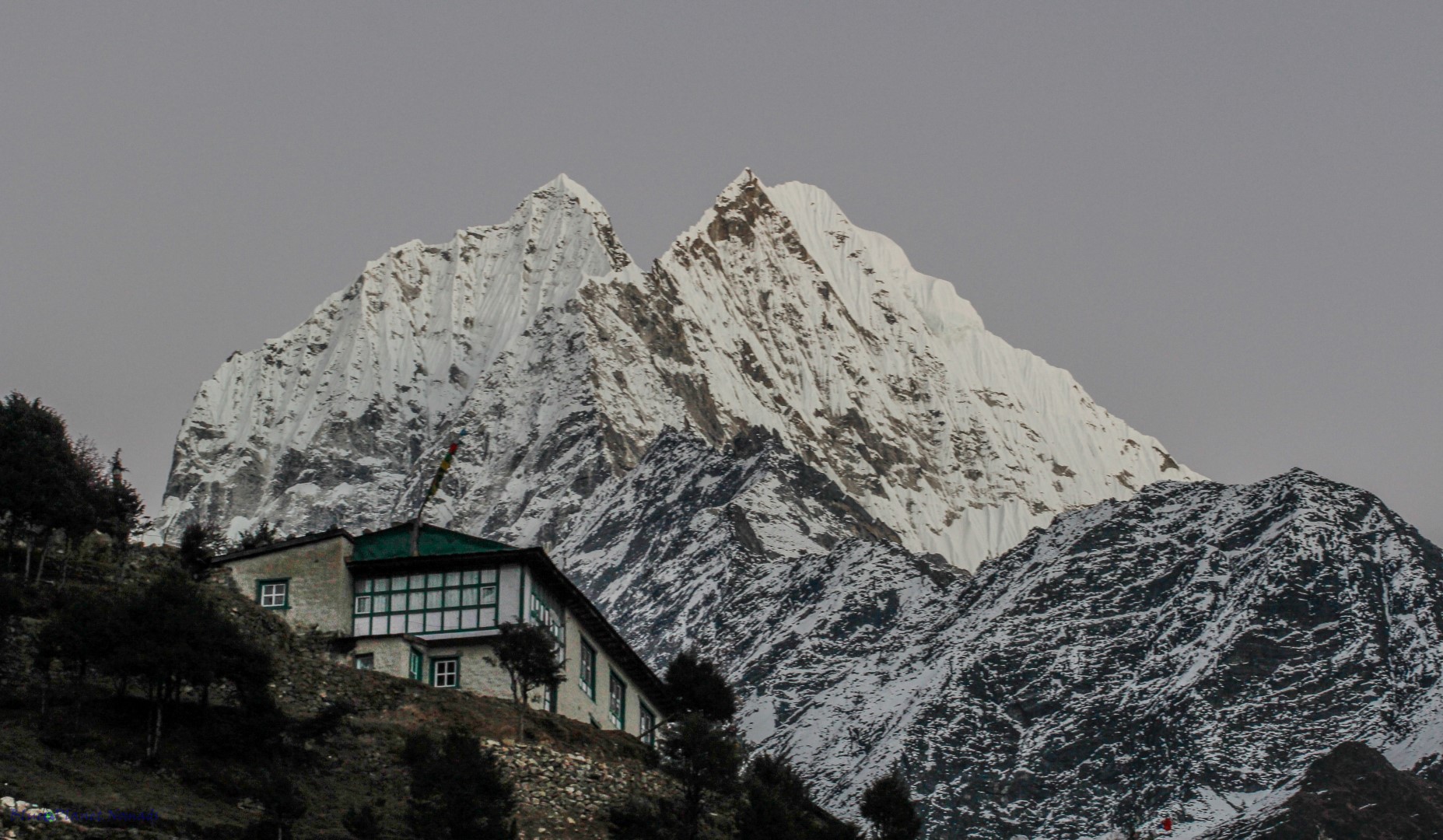 Day 4 – Namche (3440 Meters) Aclimitisation Day
Today was our acclimatisation day and Ram had planned day loop trek 400 meters above Namche town. We set off up the cobbled steps with the rest of the trekking hoards until we reached the Stupa, here we lost the hoards as they continued up towards the air strip and we turned right towards the National Park head quarters. The walk to the HQ was very pretty through pine woodland which opened out into a grassy plateau where we were rewarded with spectacular views of Everest, Lhotse and Nuptse.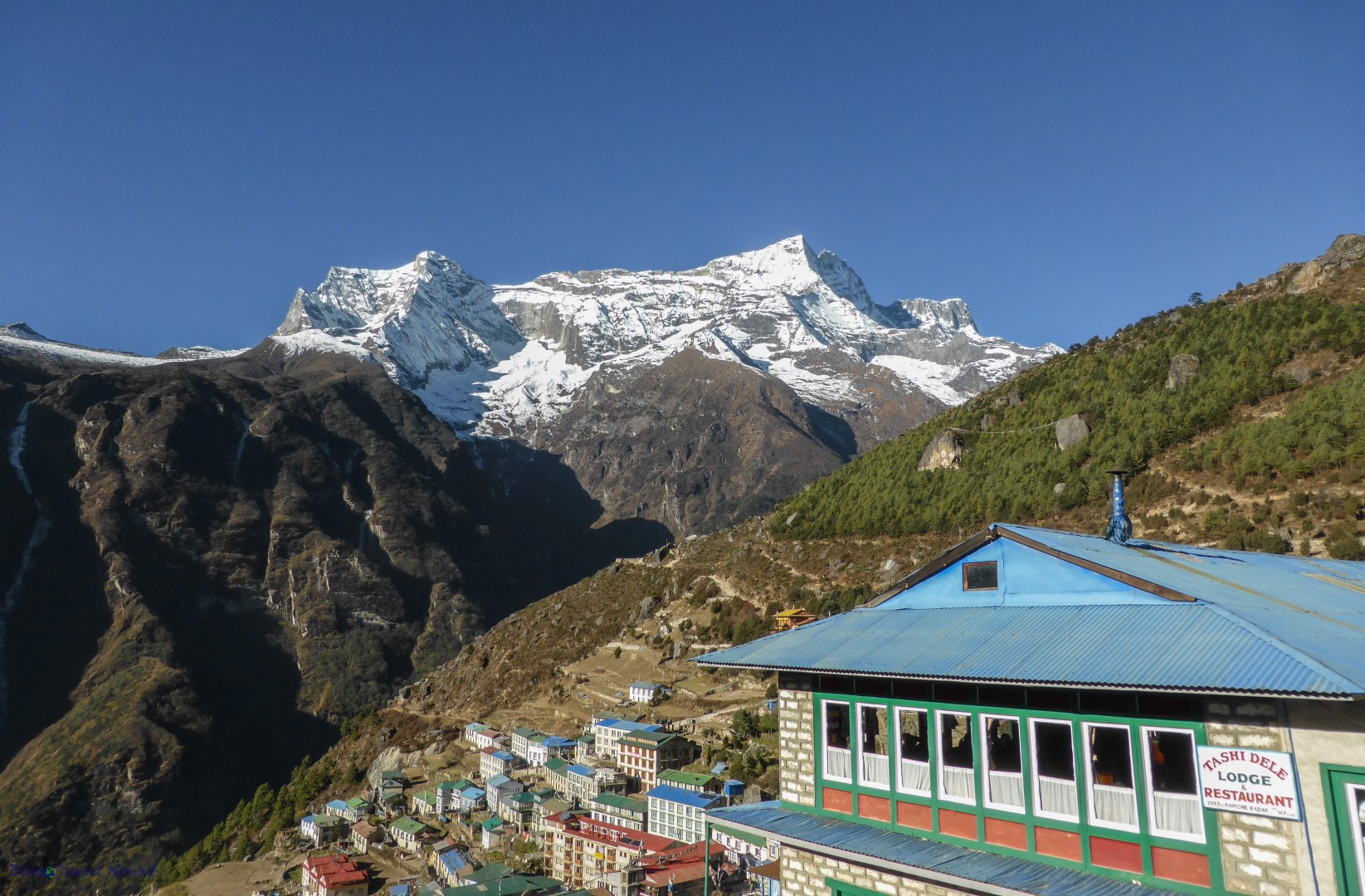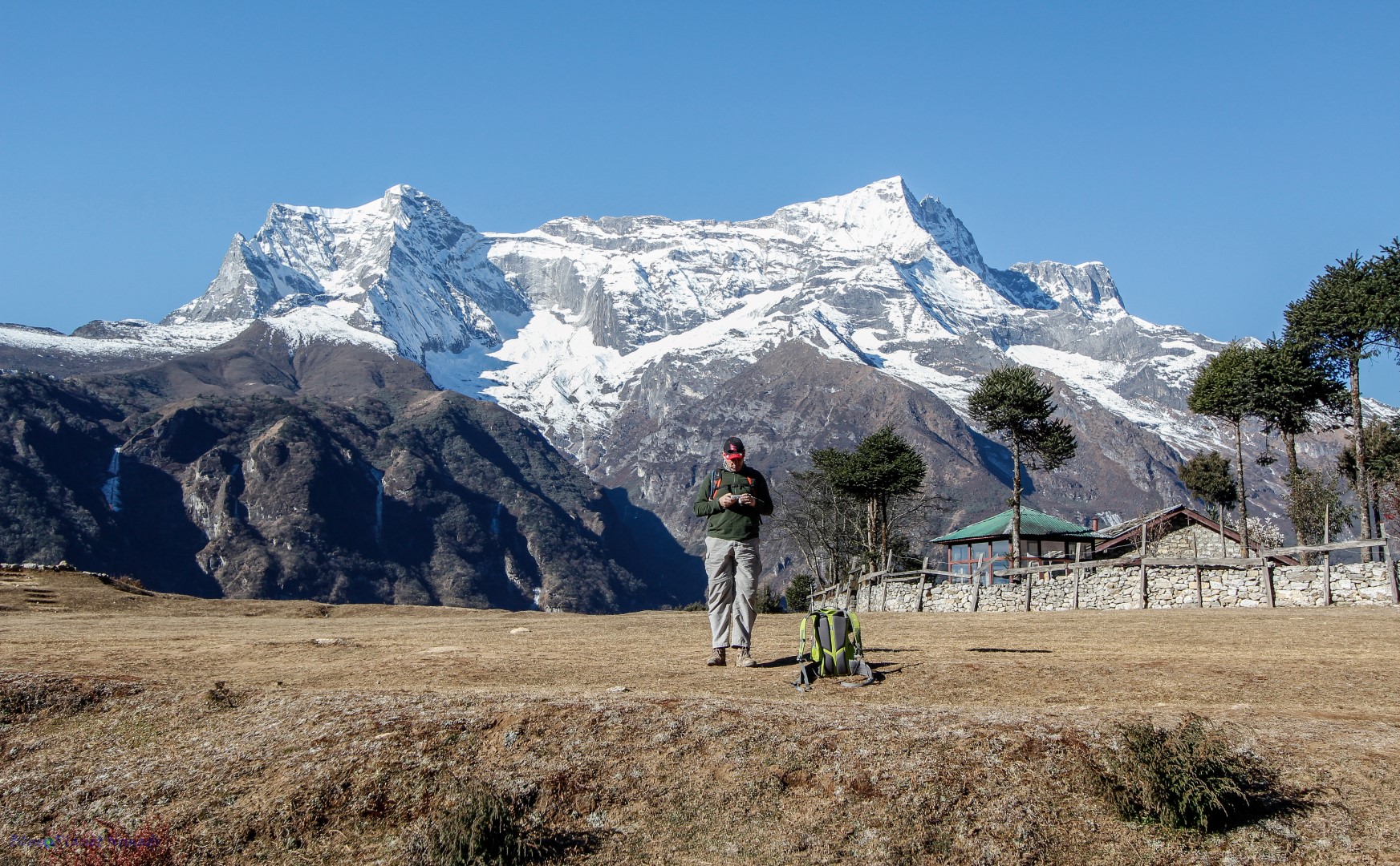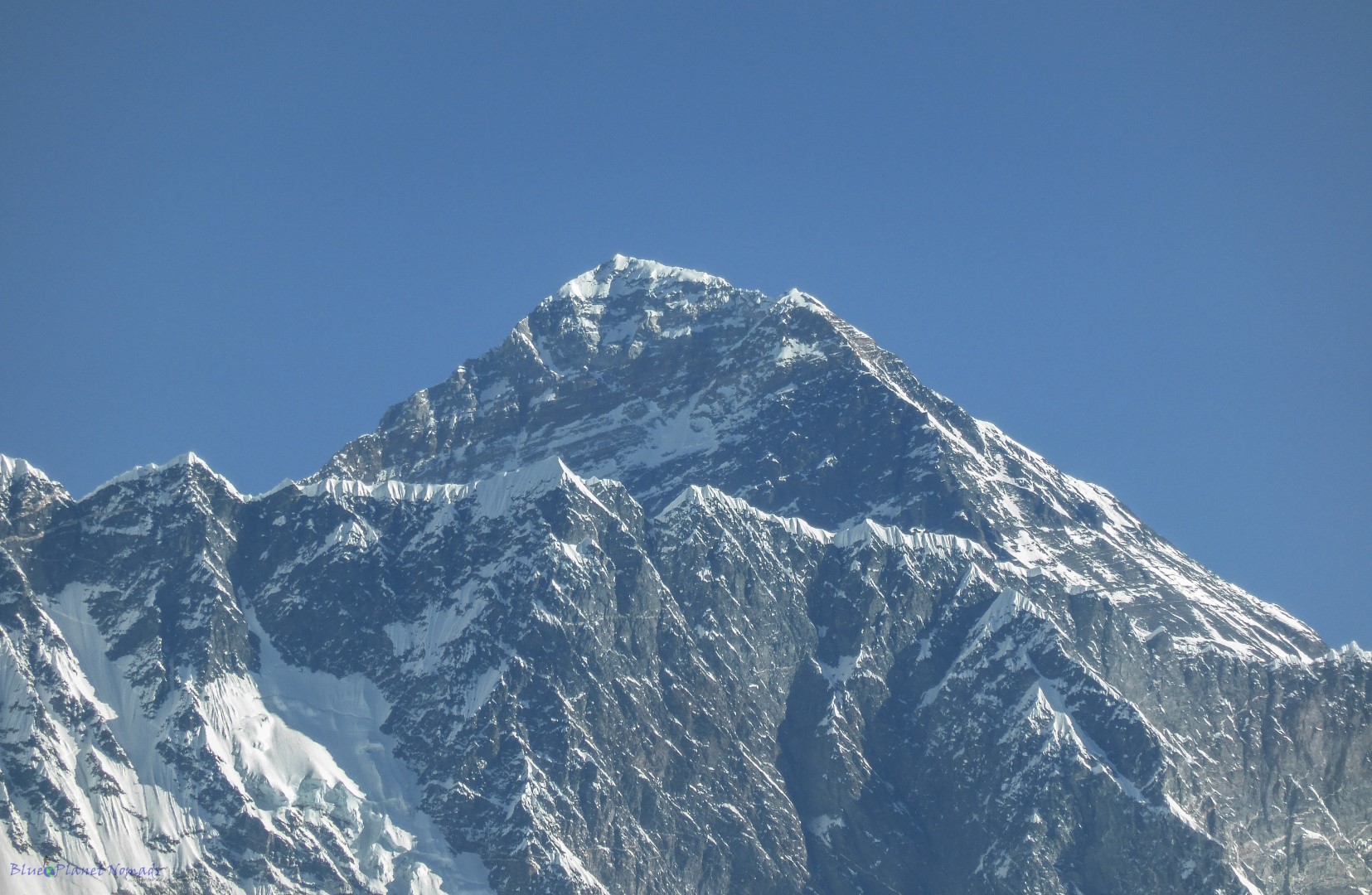 The headquarters itself has a wealth of information as well as being a museum, I'm glad we came here. We backtracked the way we came and took the steep switchbacks up to Synboche air strip all the time being rewarded with incredible views of Namche and the surrounding mountains.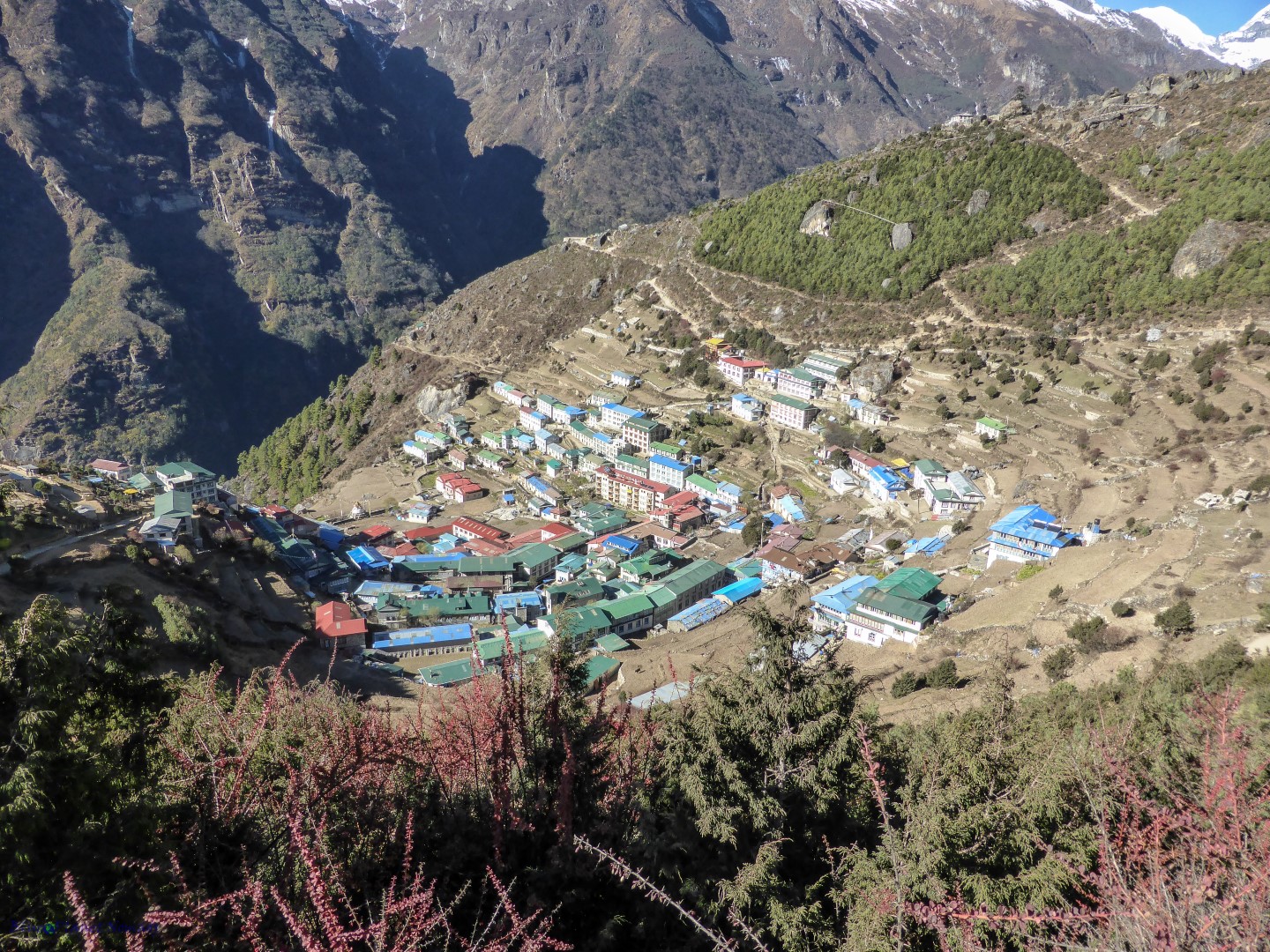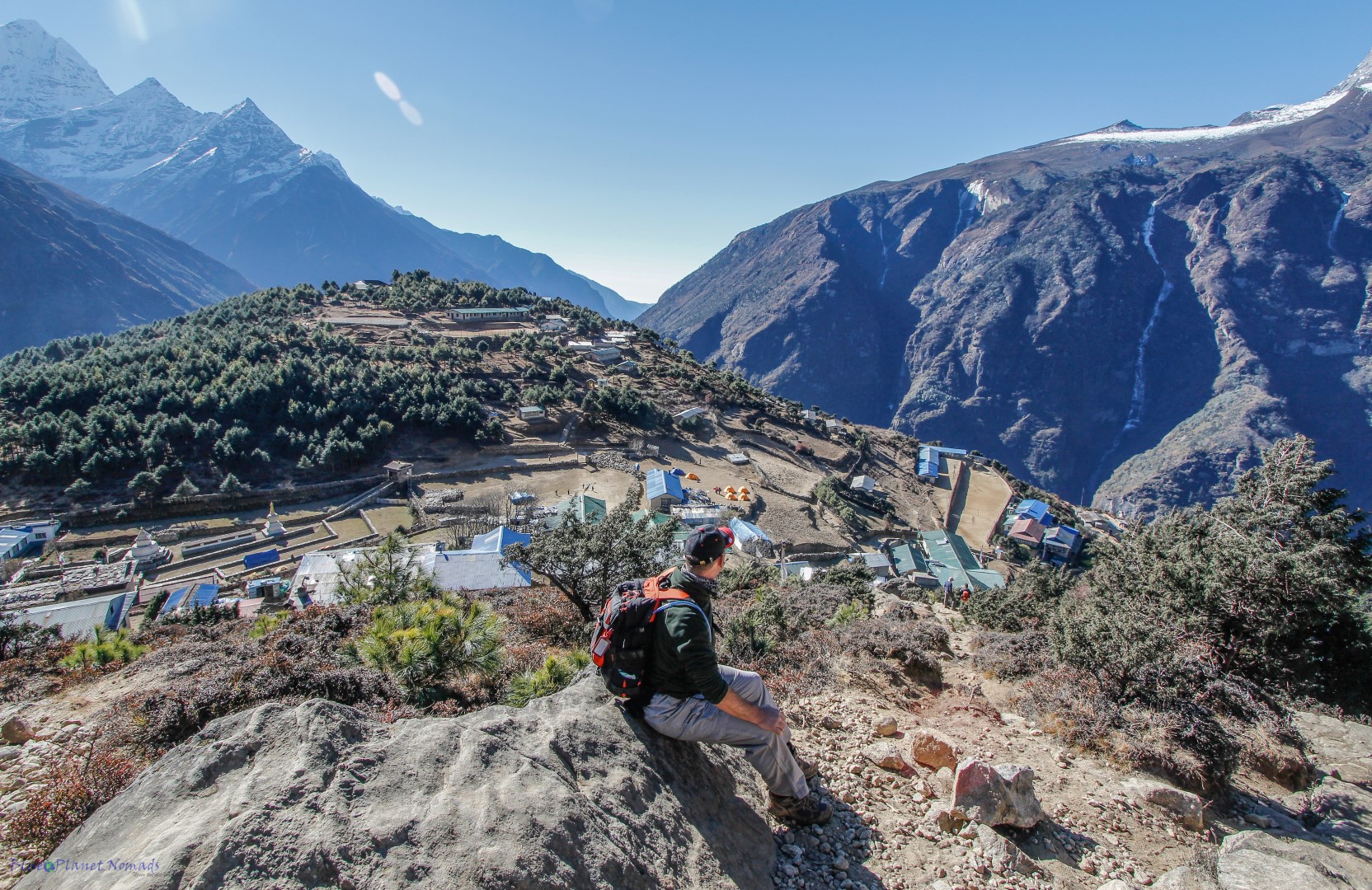 Once we reached the air strip it flattened out to a grassy plain dotted with clumps of trees. We came across a few yaks grazing, now we were at higher altitude we would see more Yaks and less Dhozia's.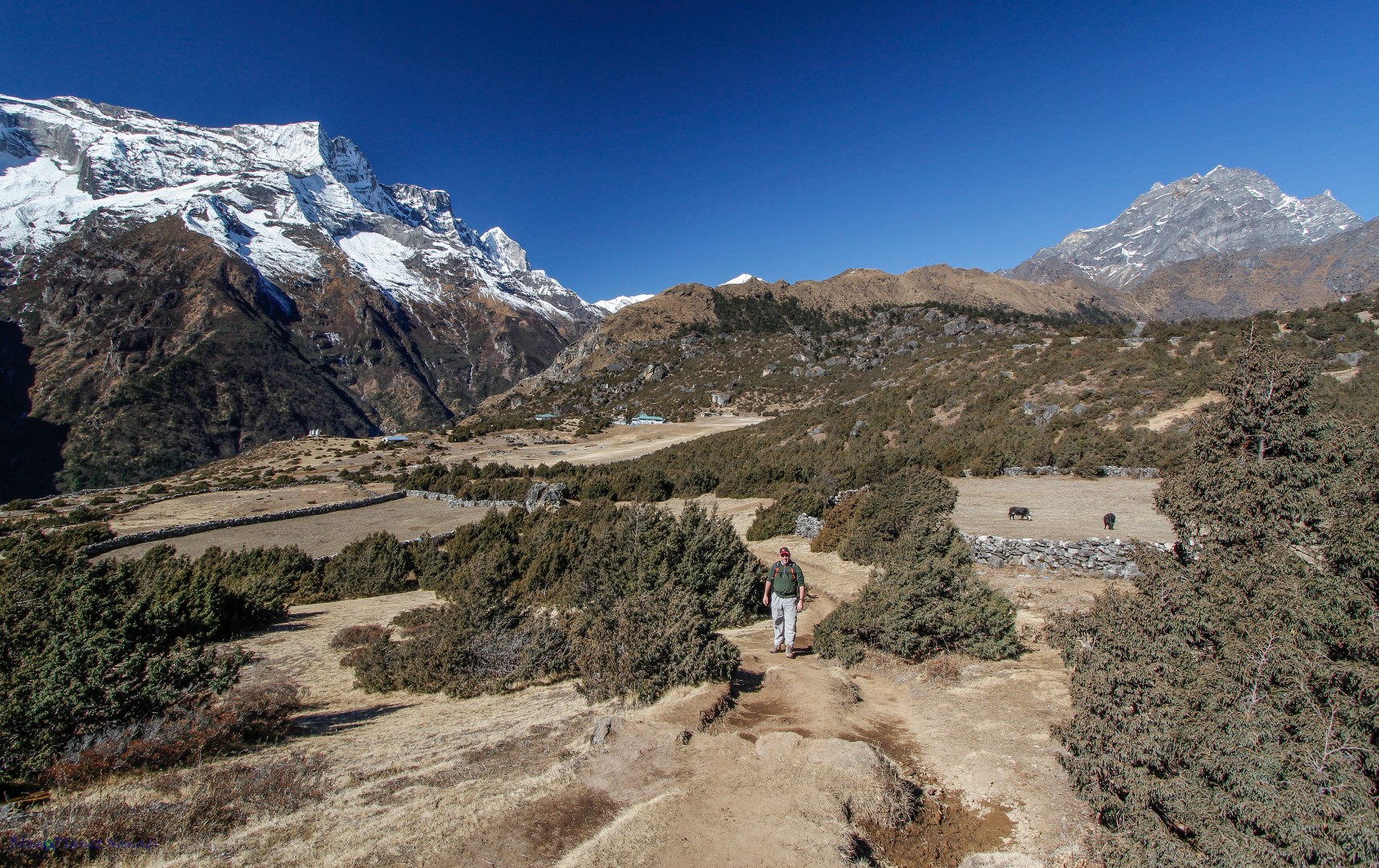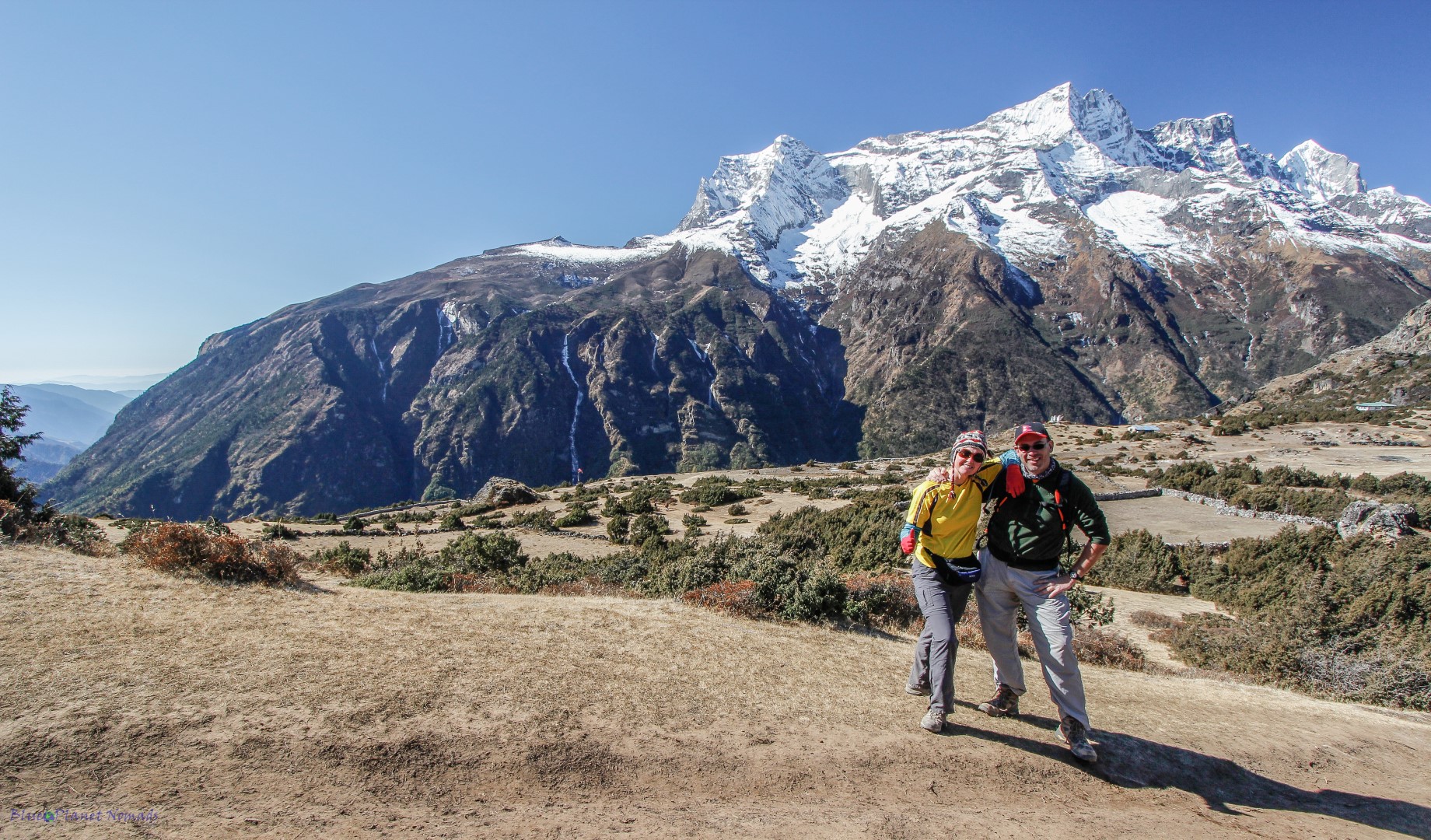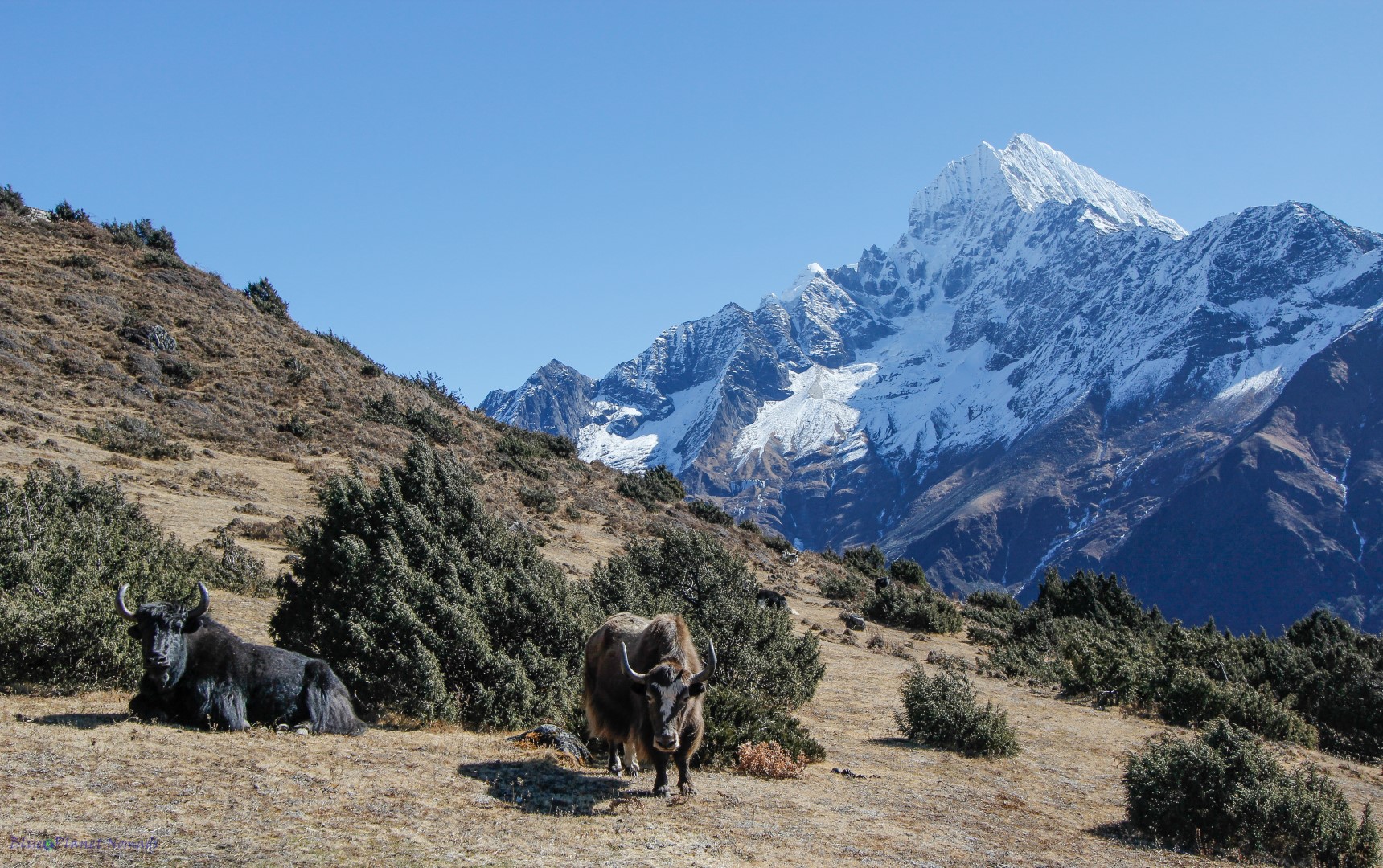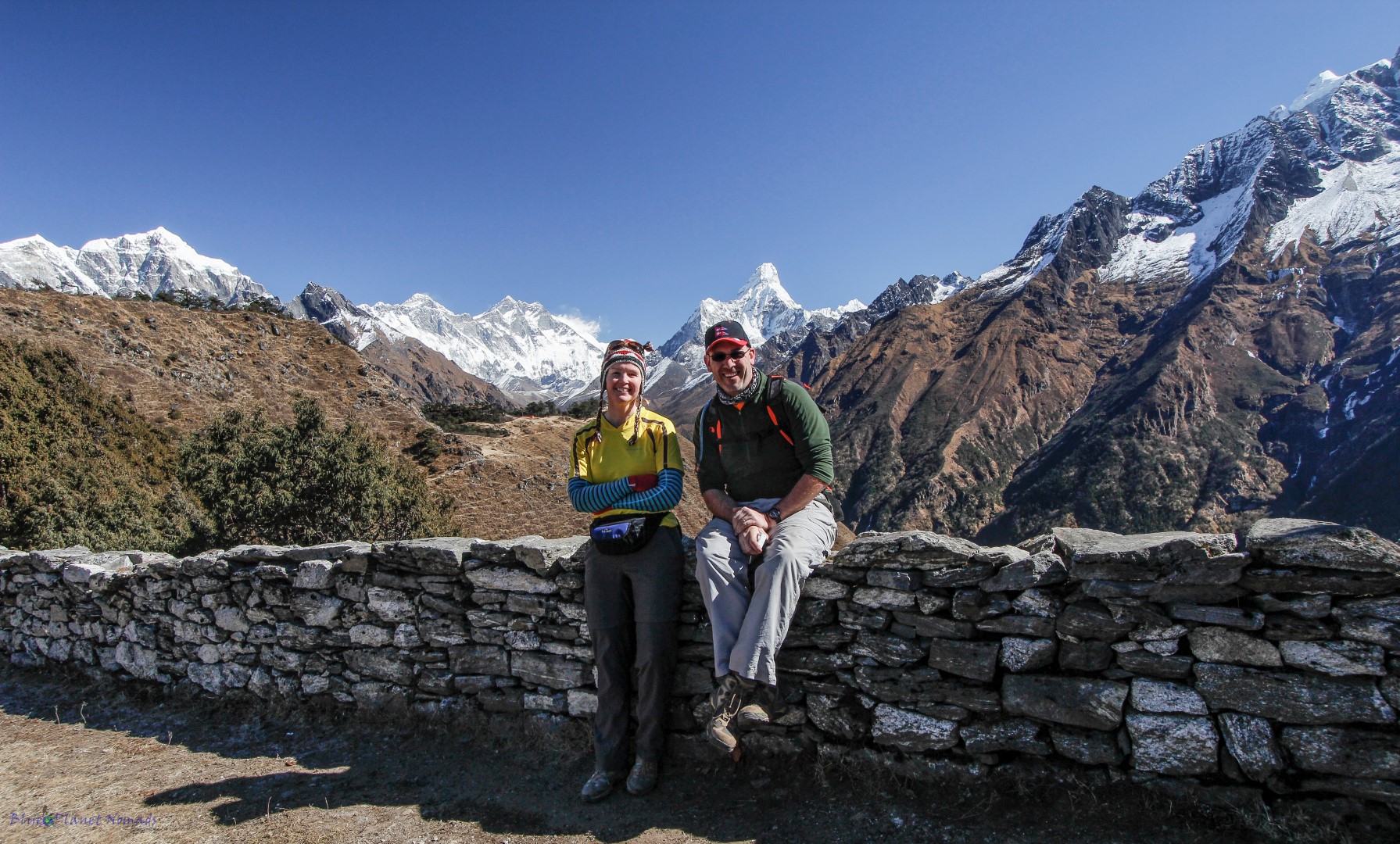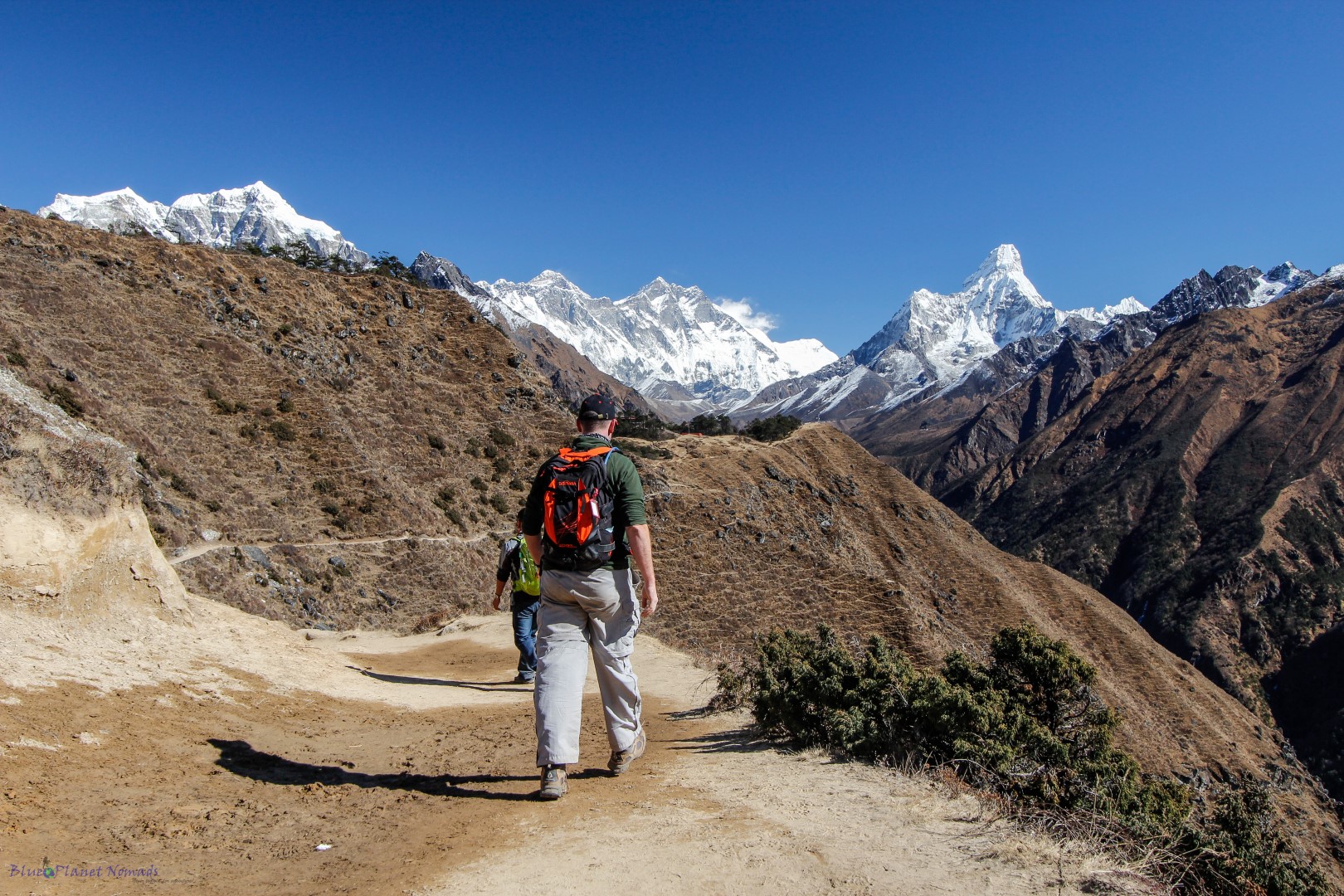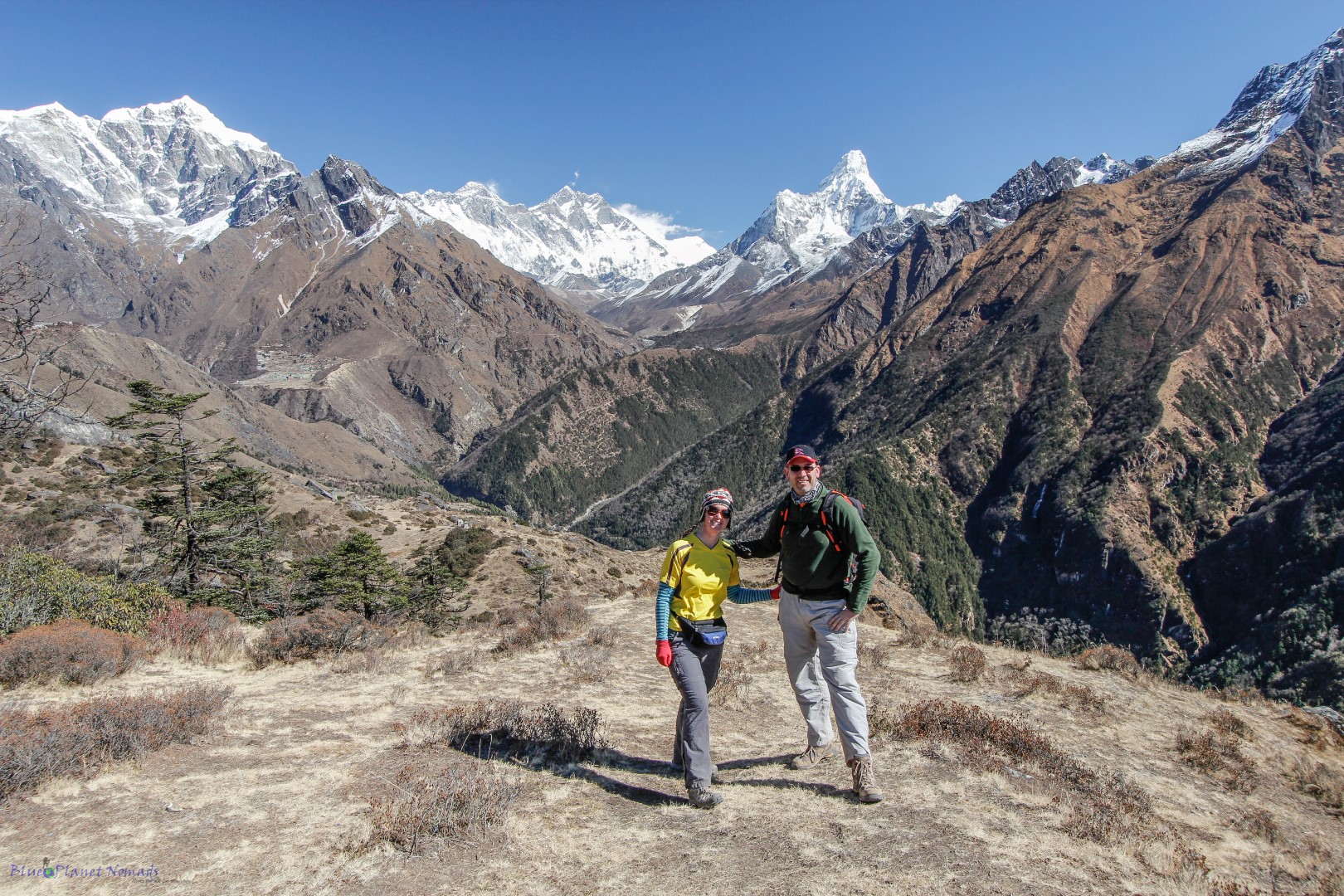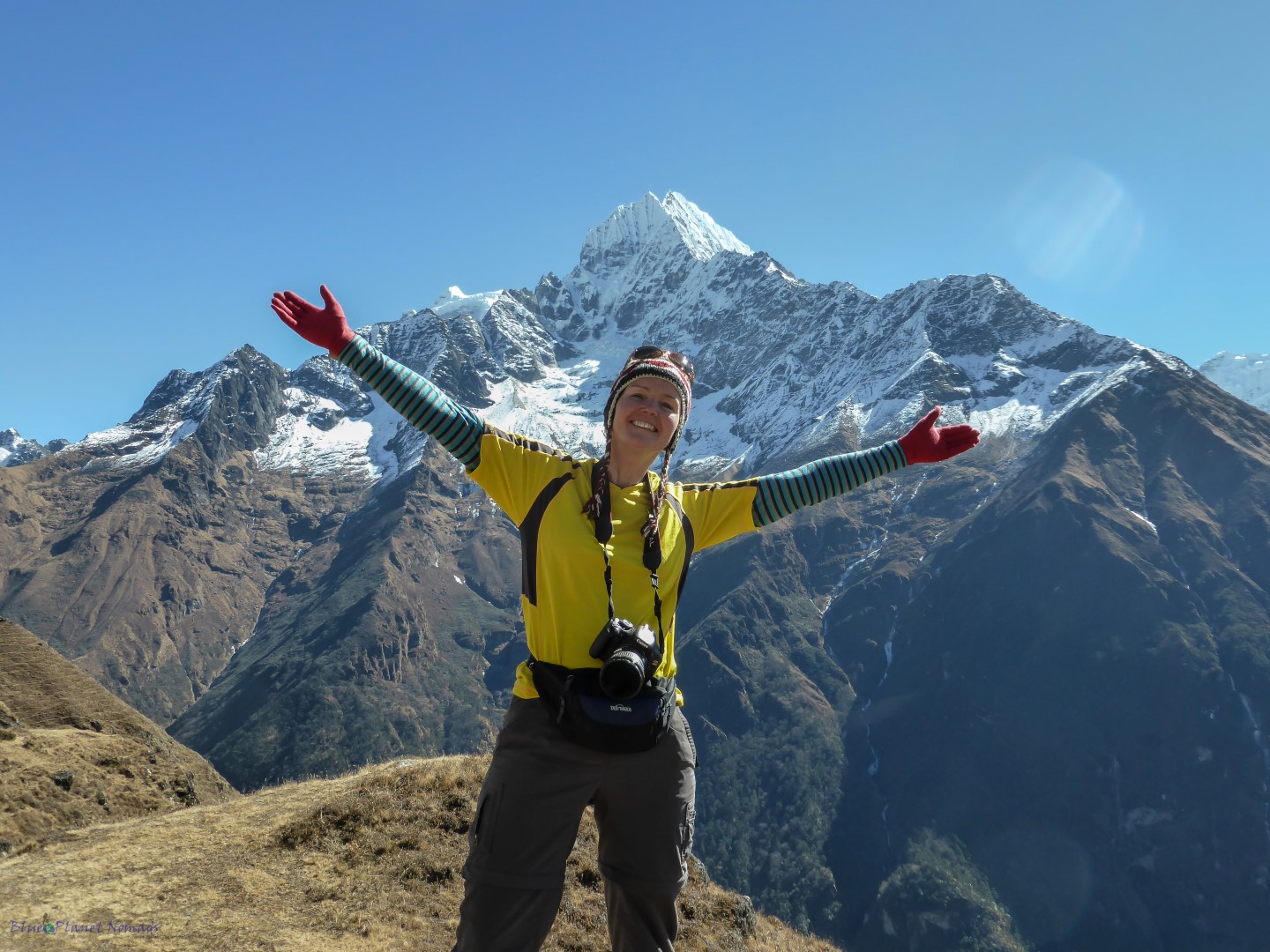 The walk was fairly flat and brought us to Everest View Hotel where we stopped to enjoy some tea and the fine views.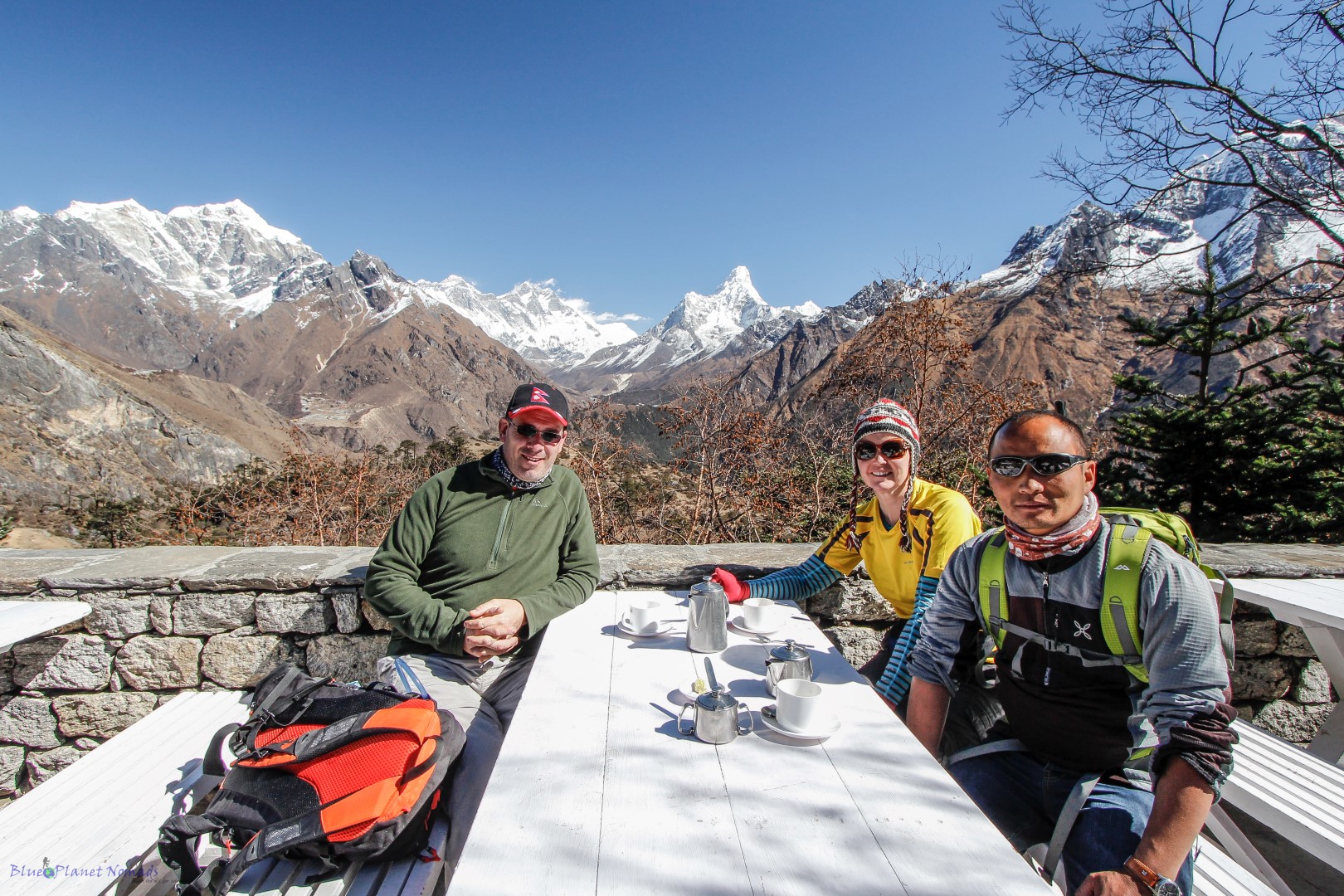 From here it was a downhill track to the village Khumjung a fairly largest settlement on a treeless plateau. All the time we walked we enjoyed the magnificent scenery, we were really enjoying today's walk.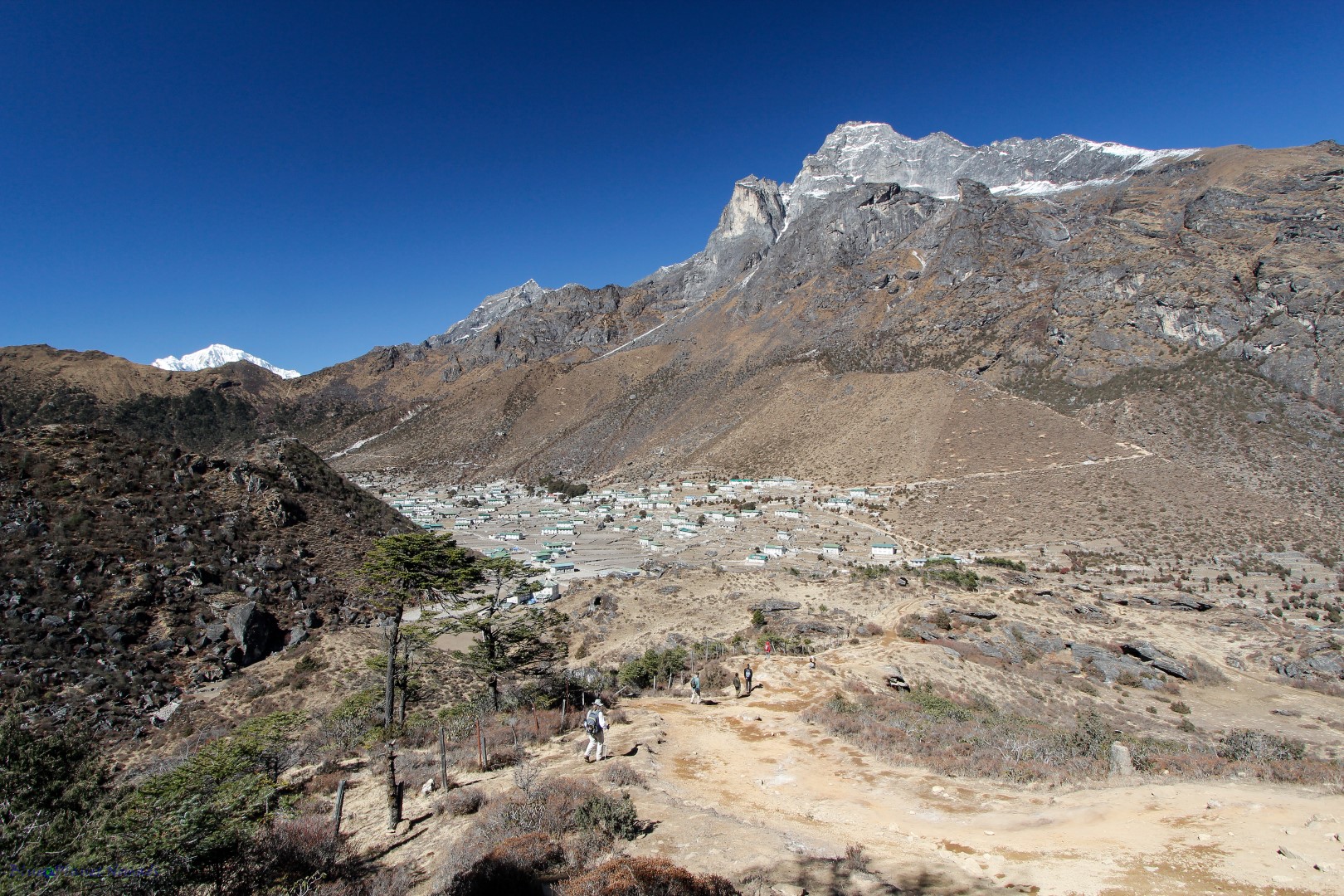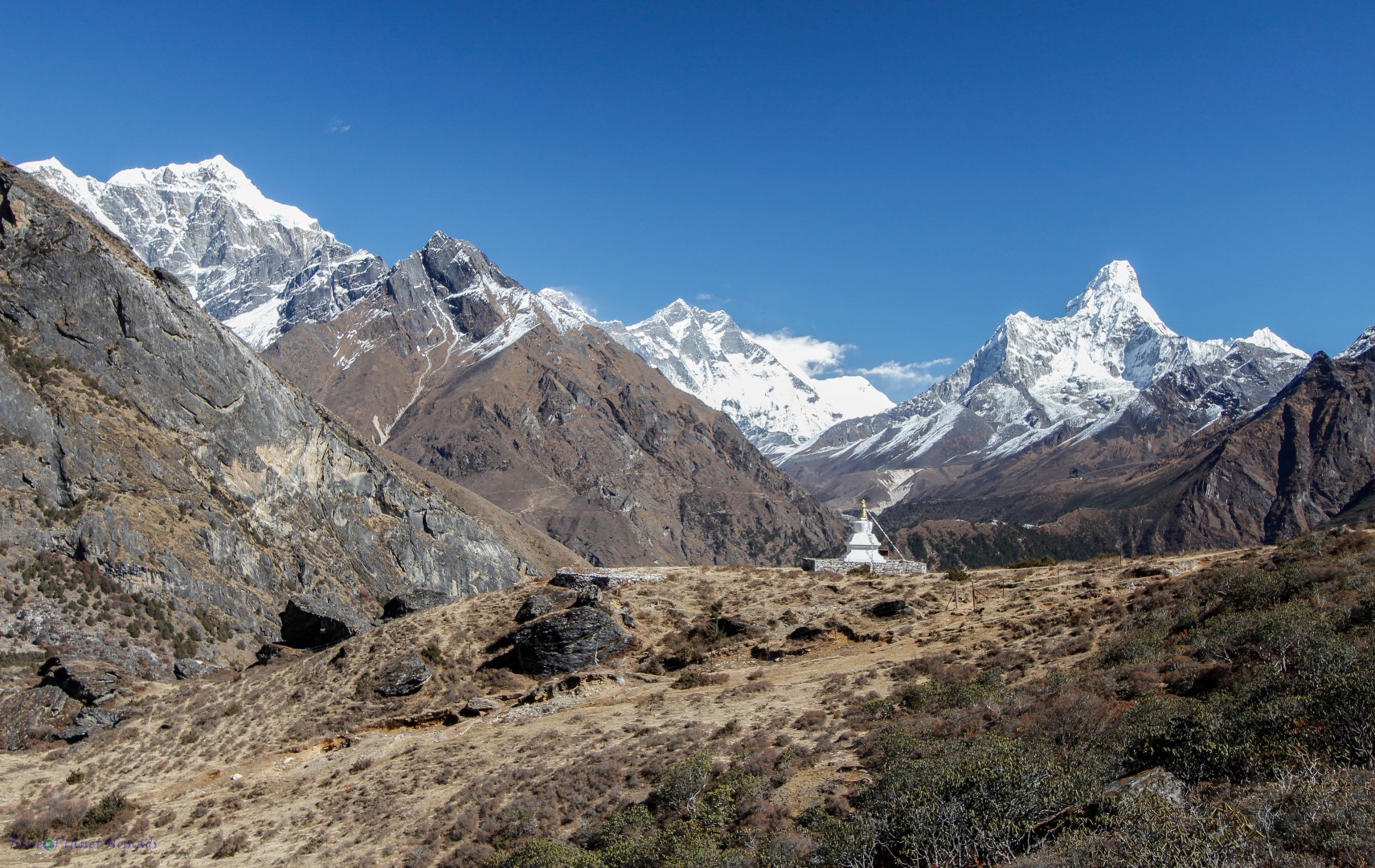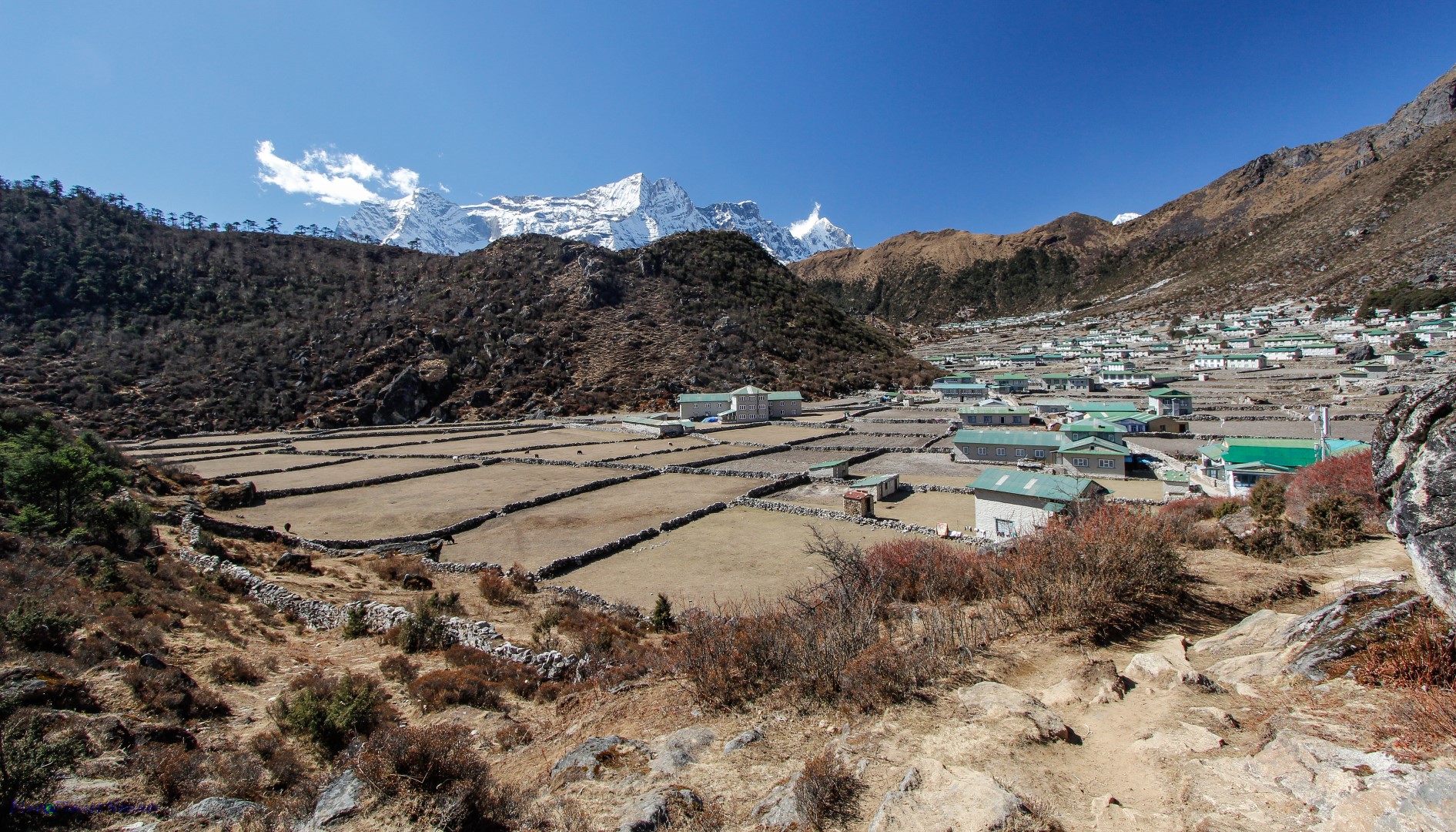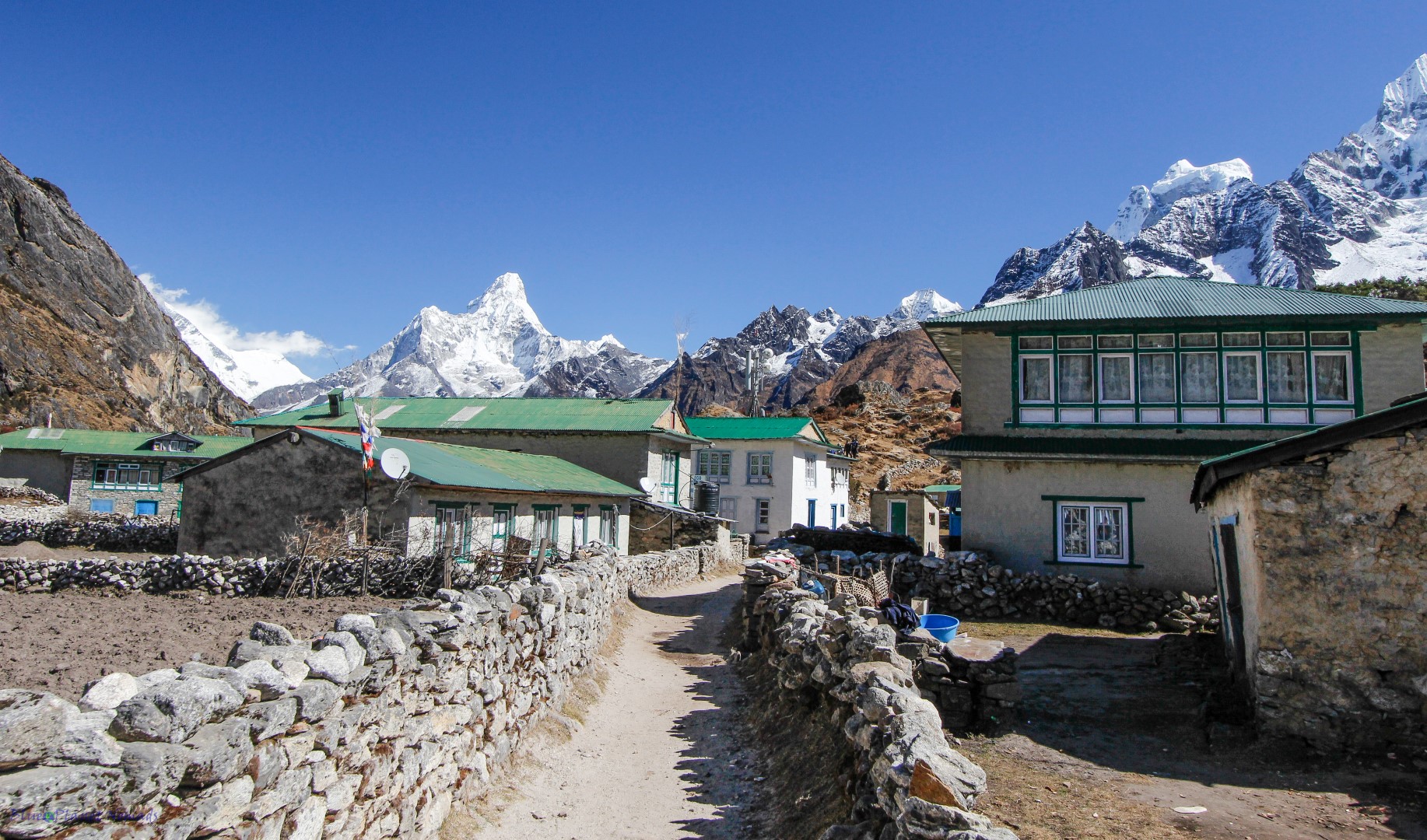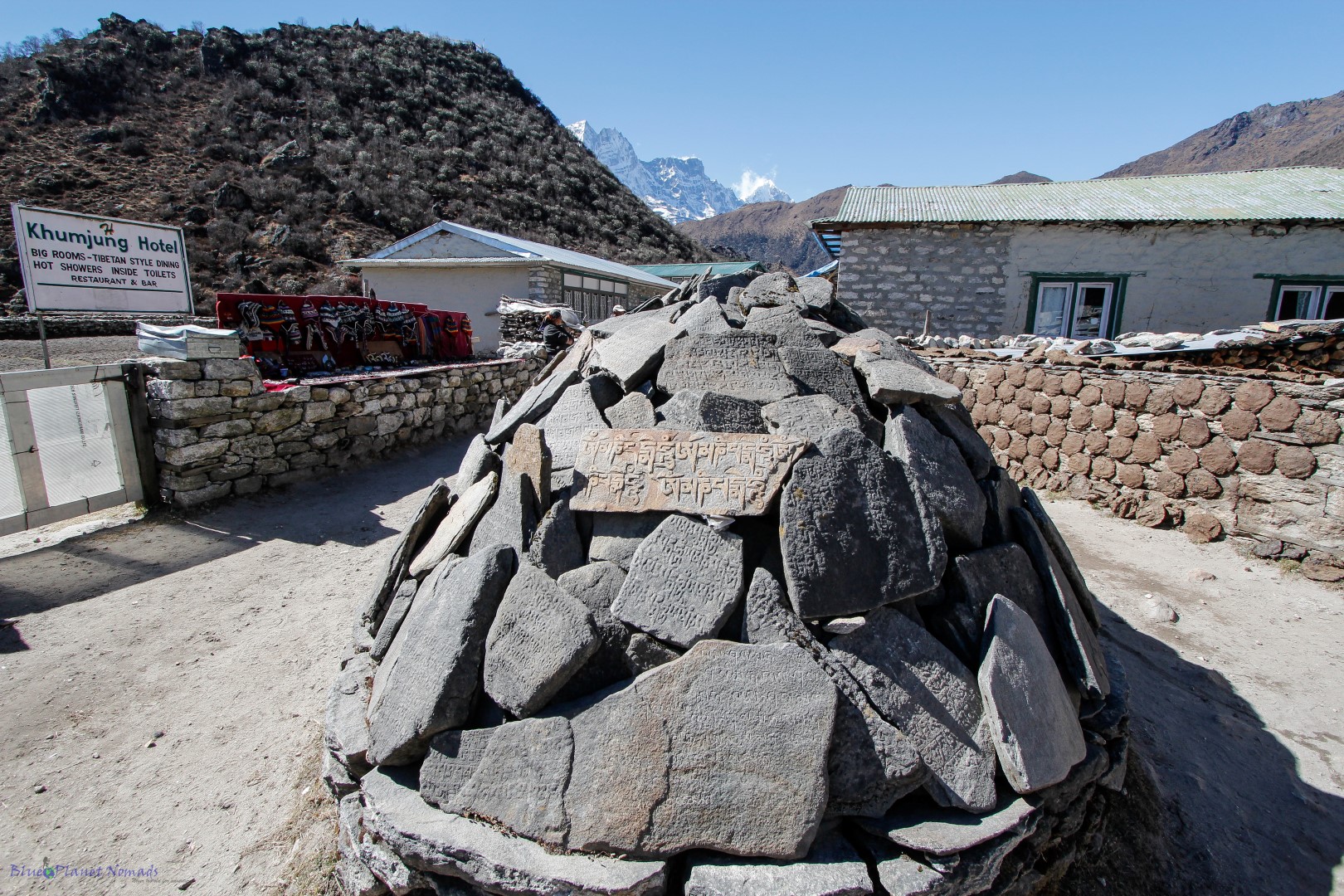 We lunched at one of the guesthouses in the village where we enjoyed hash brown with cheese and egg. Outside was a large flat area populated with some baby yak.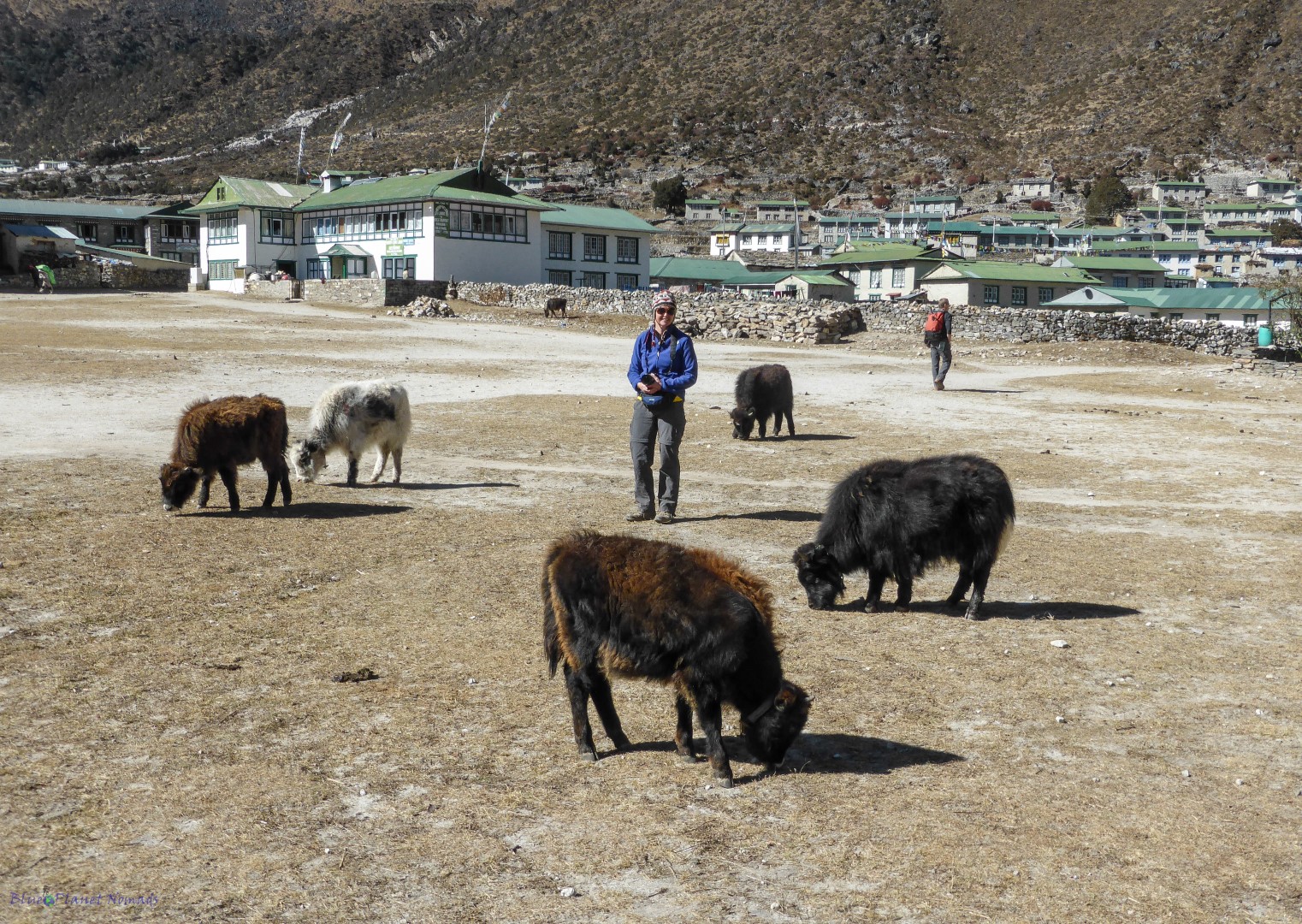 After lunch we visited the local Stupa and monastery, which was richly decorated with colourful Buddha deities.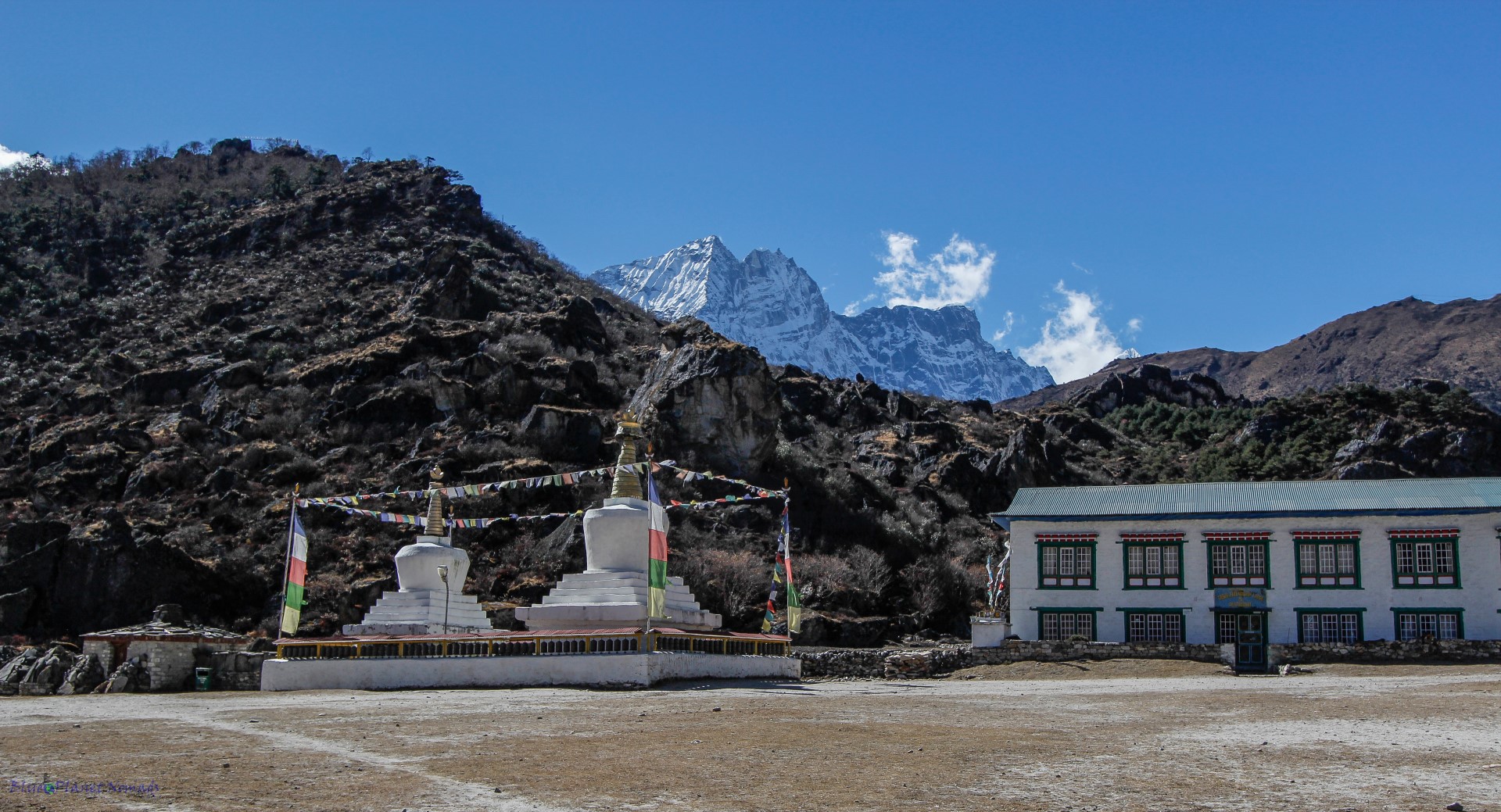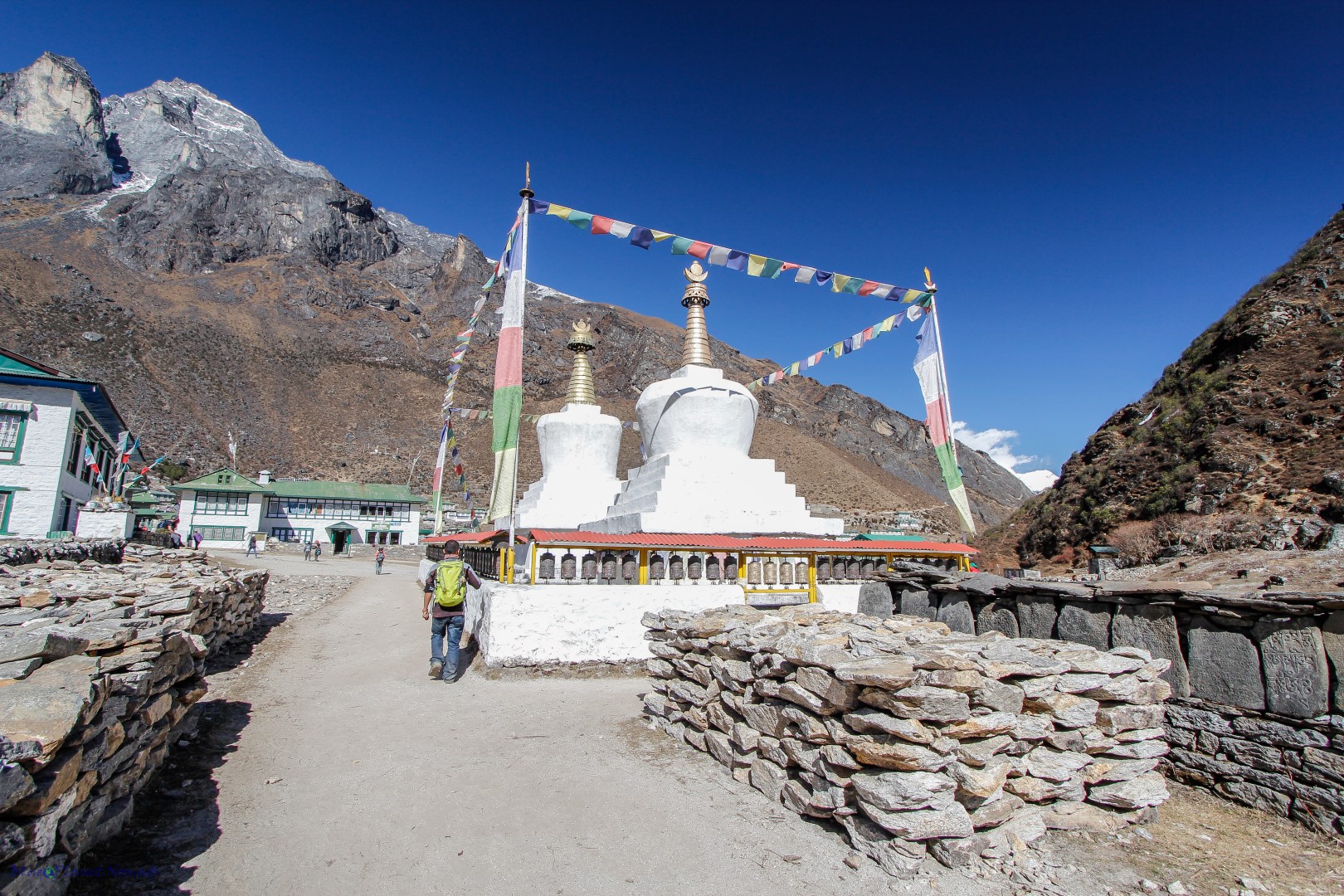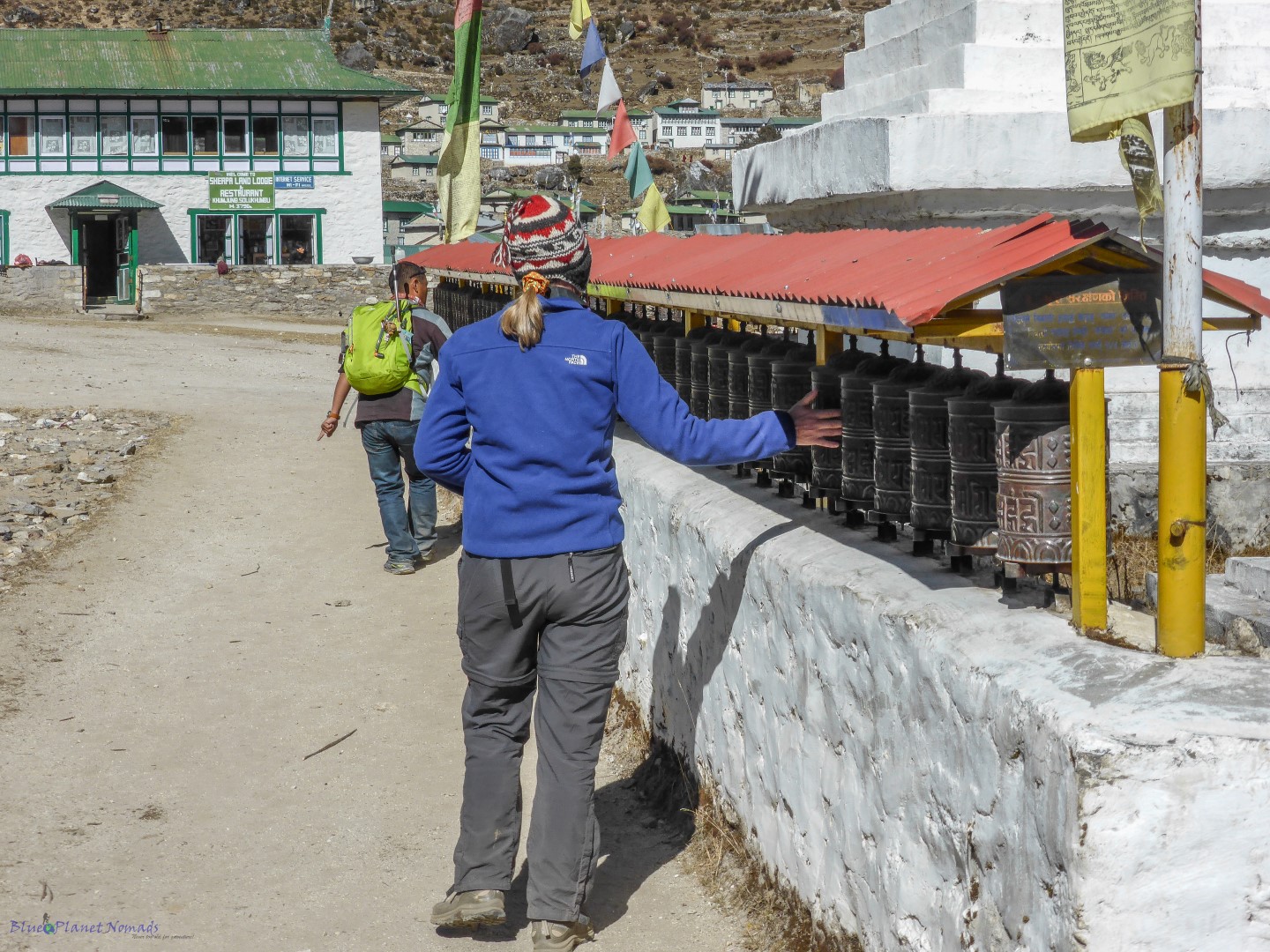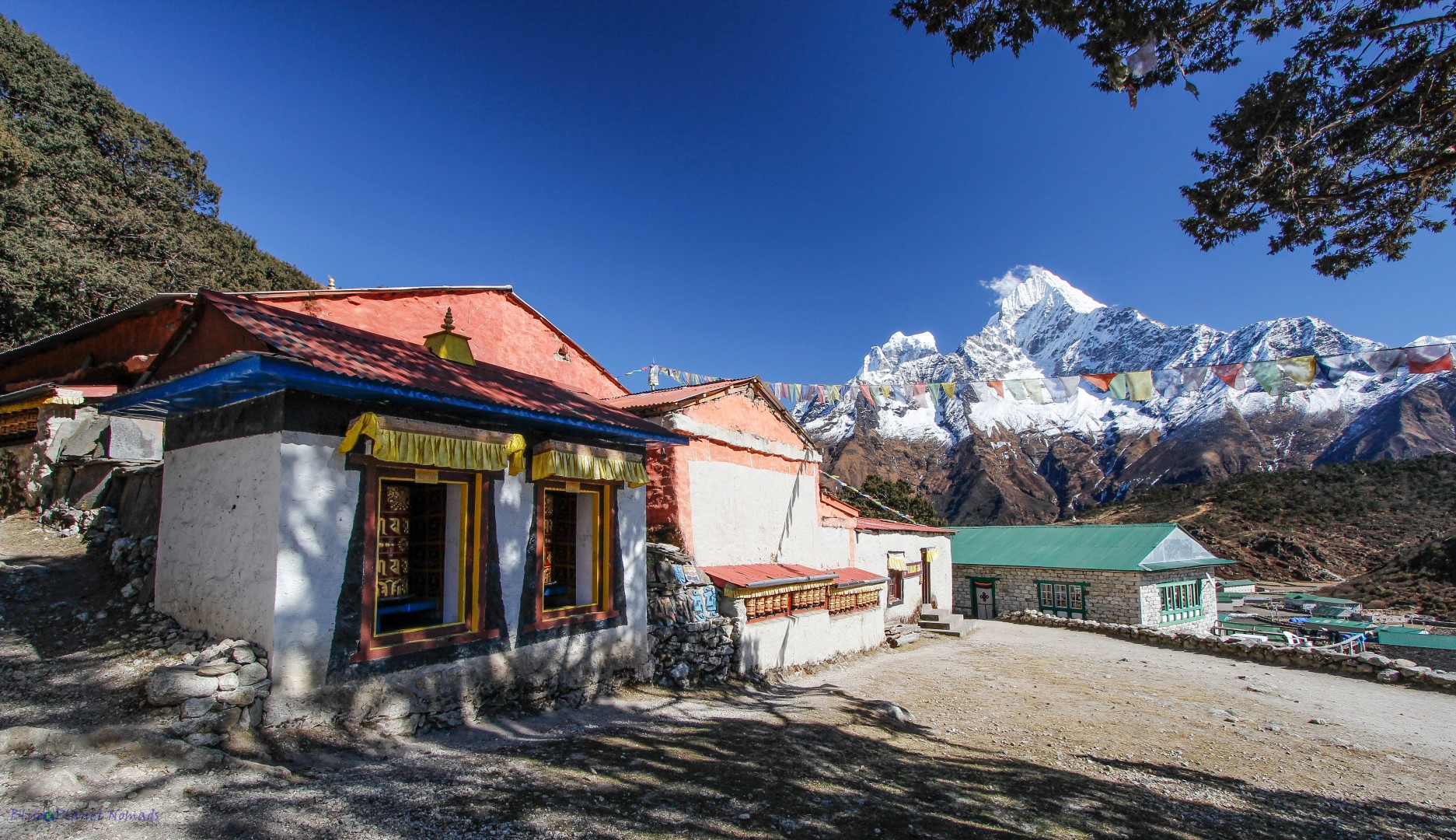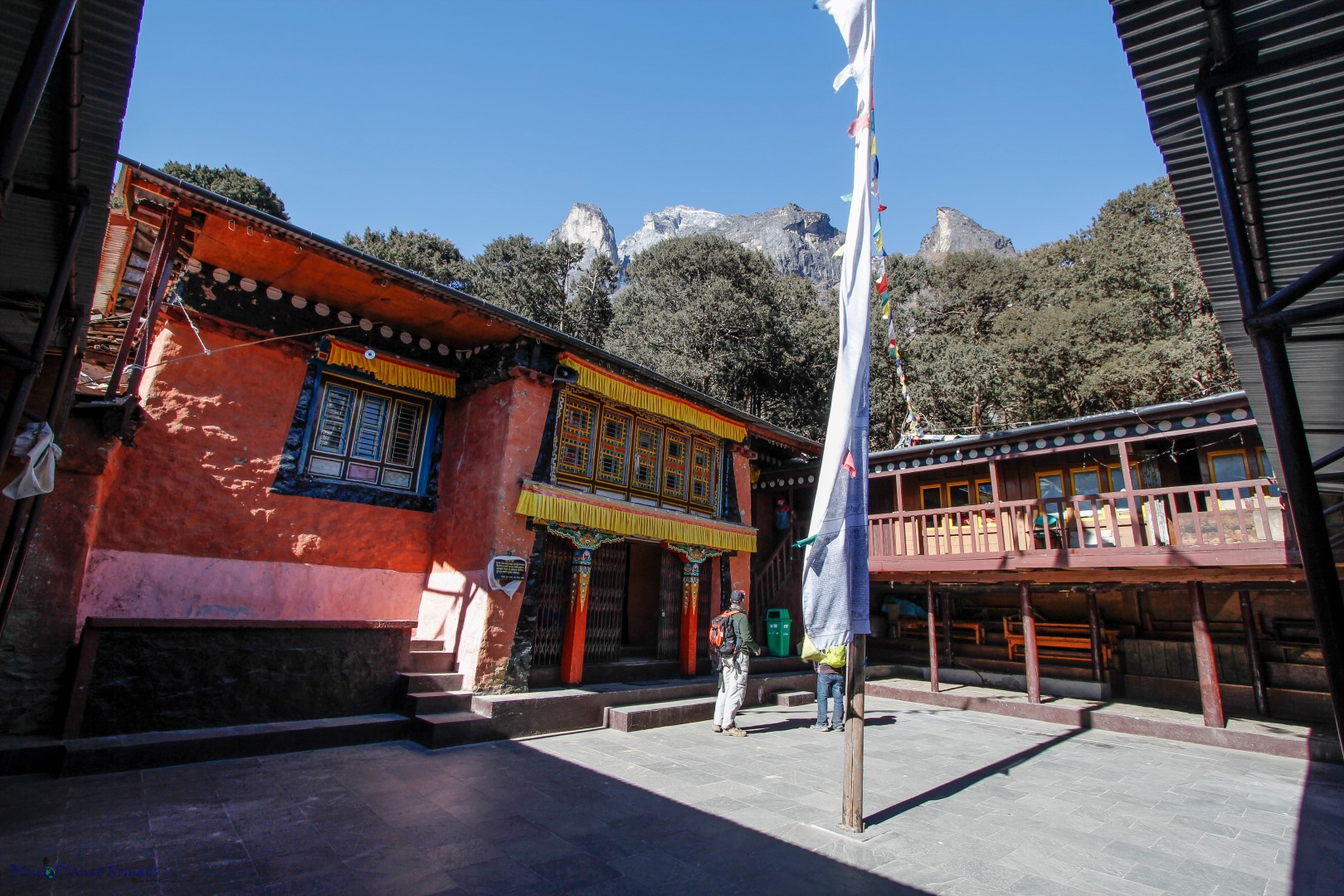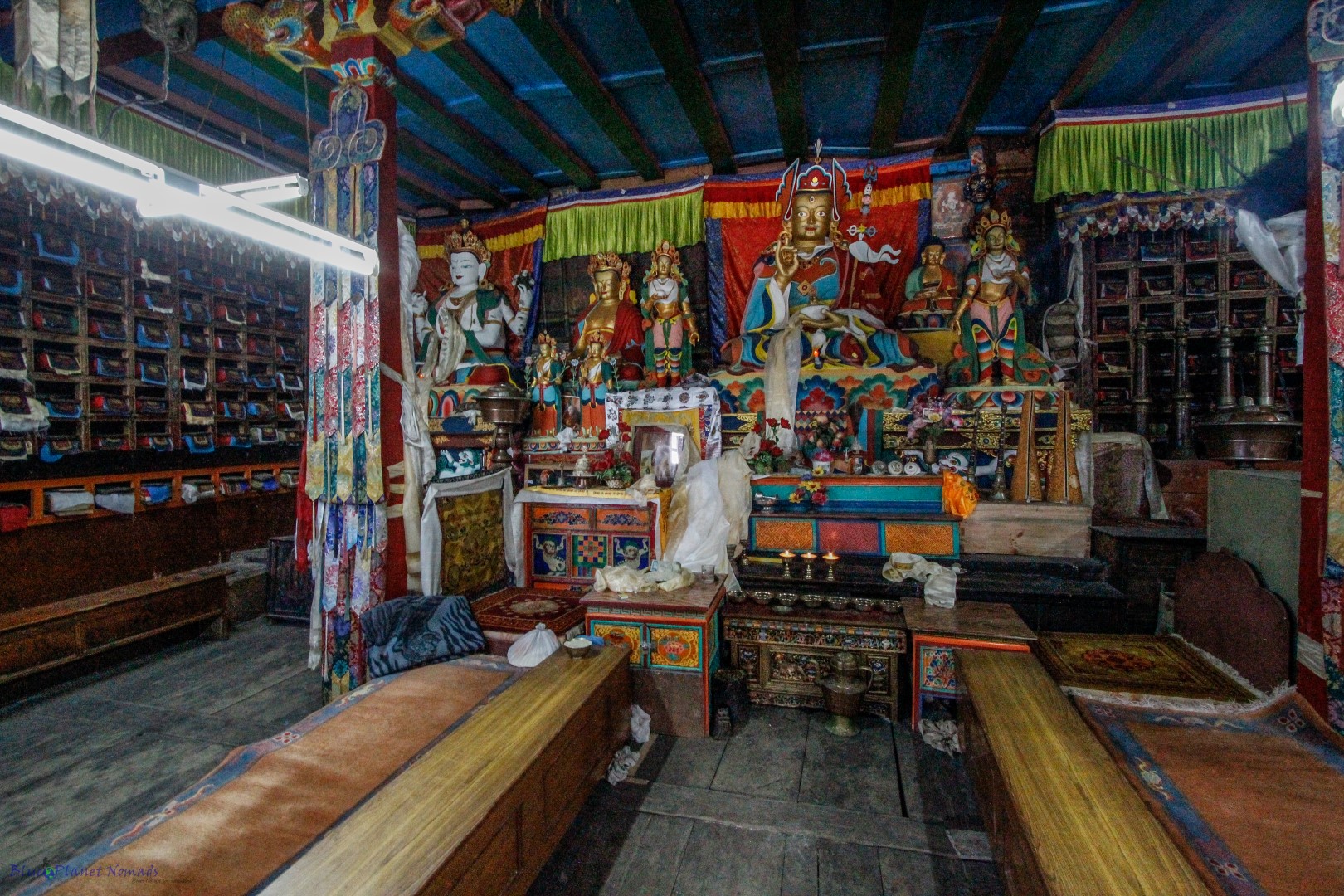 We trekked past farm fields and stone walls to visit the hospital and Khunda. To get back to Namche we took the steep downhill path which gave us some unbelievable views of Namche. The trek we had done for the day took 7 hours all up. It had been a fantastic day with some amazing mind blowing scenery.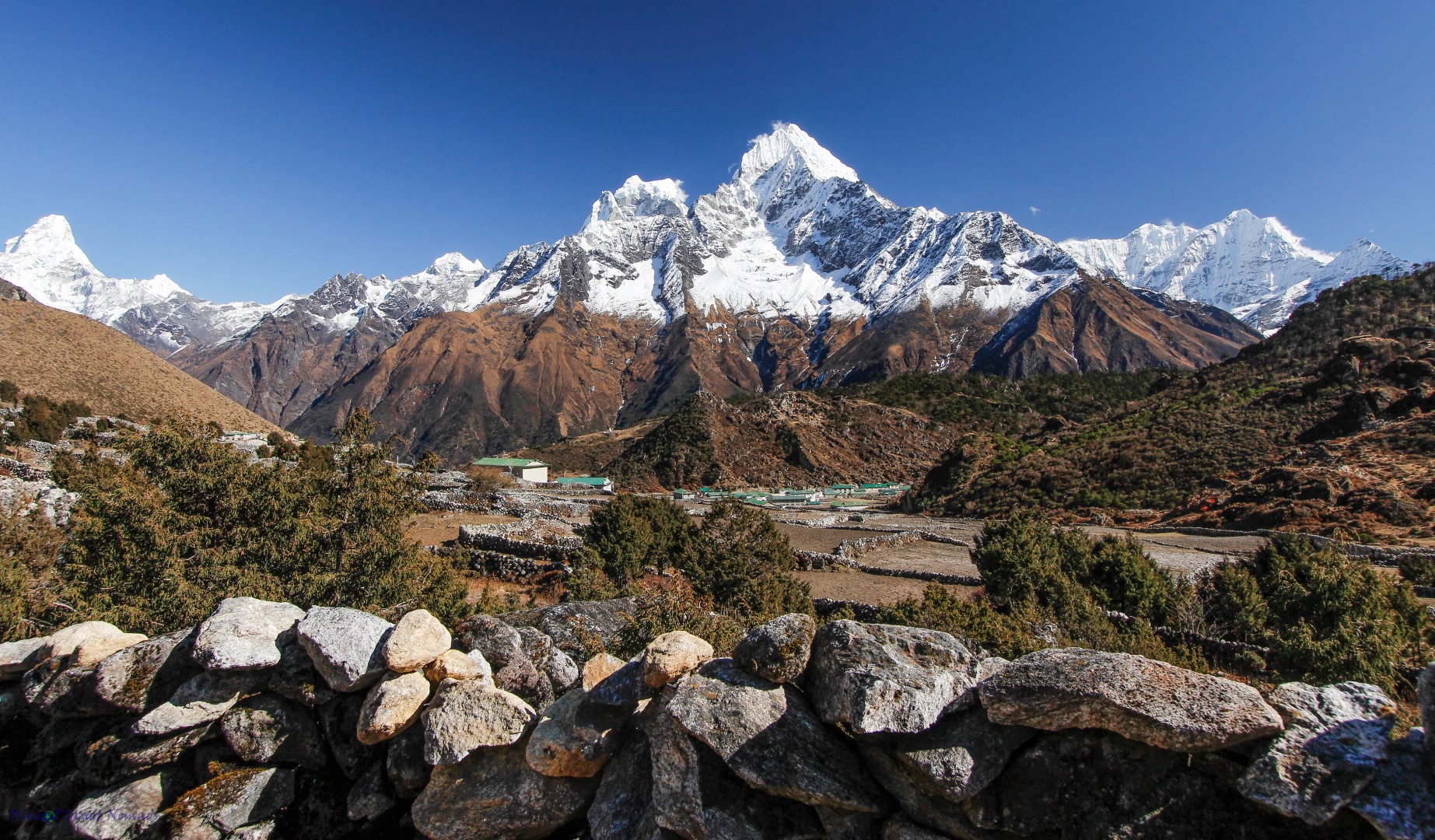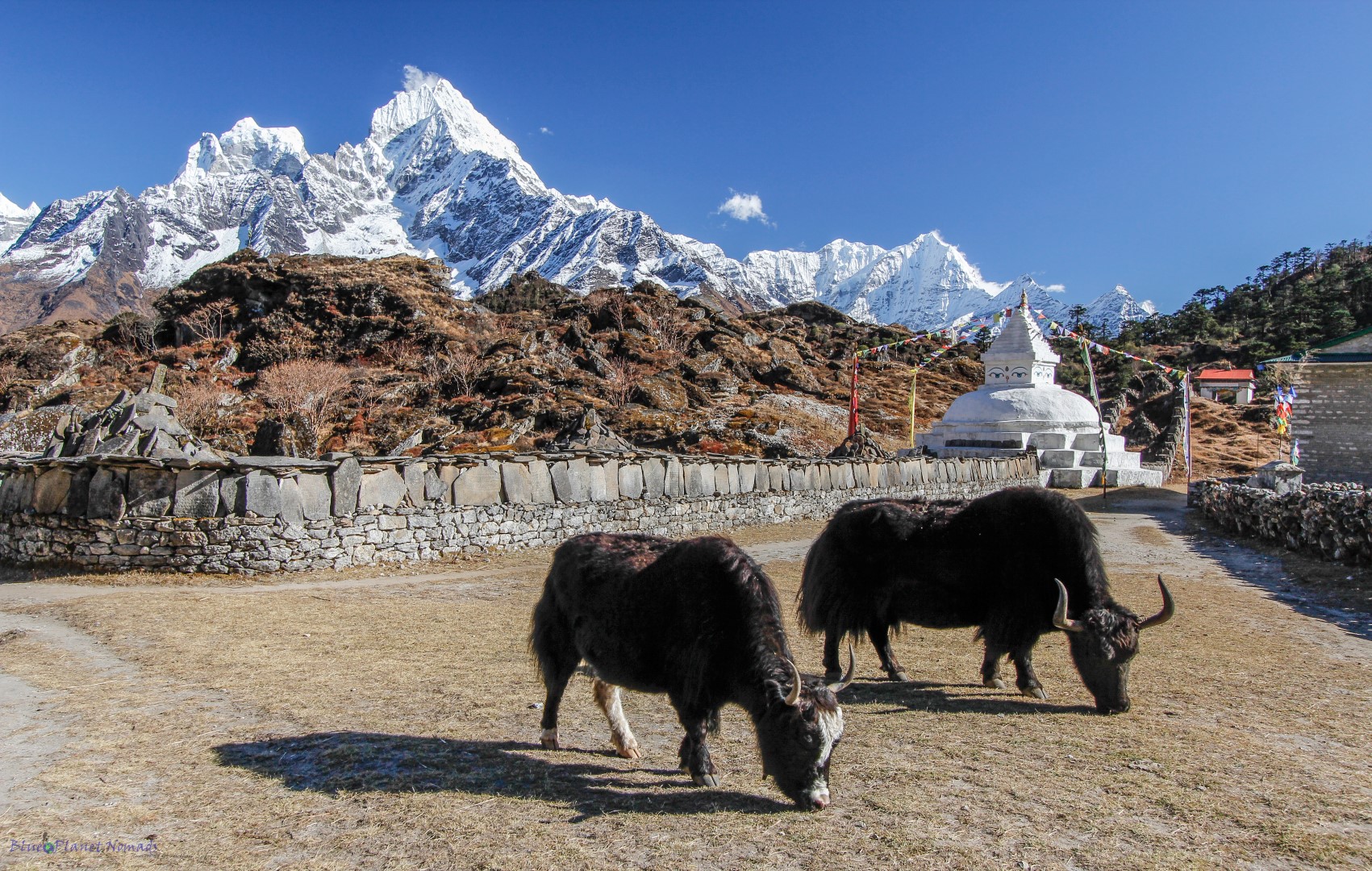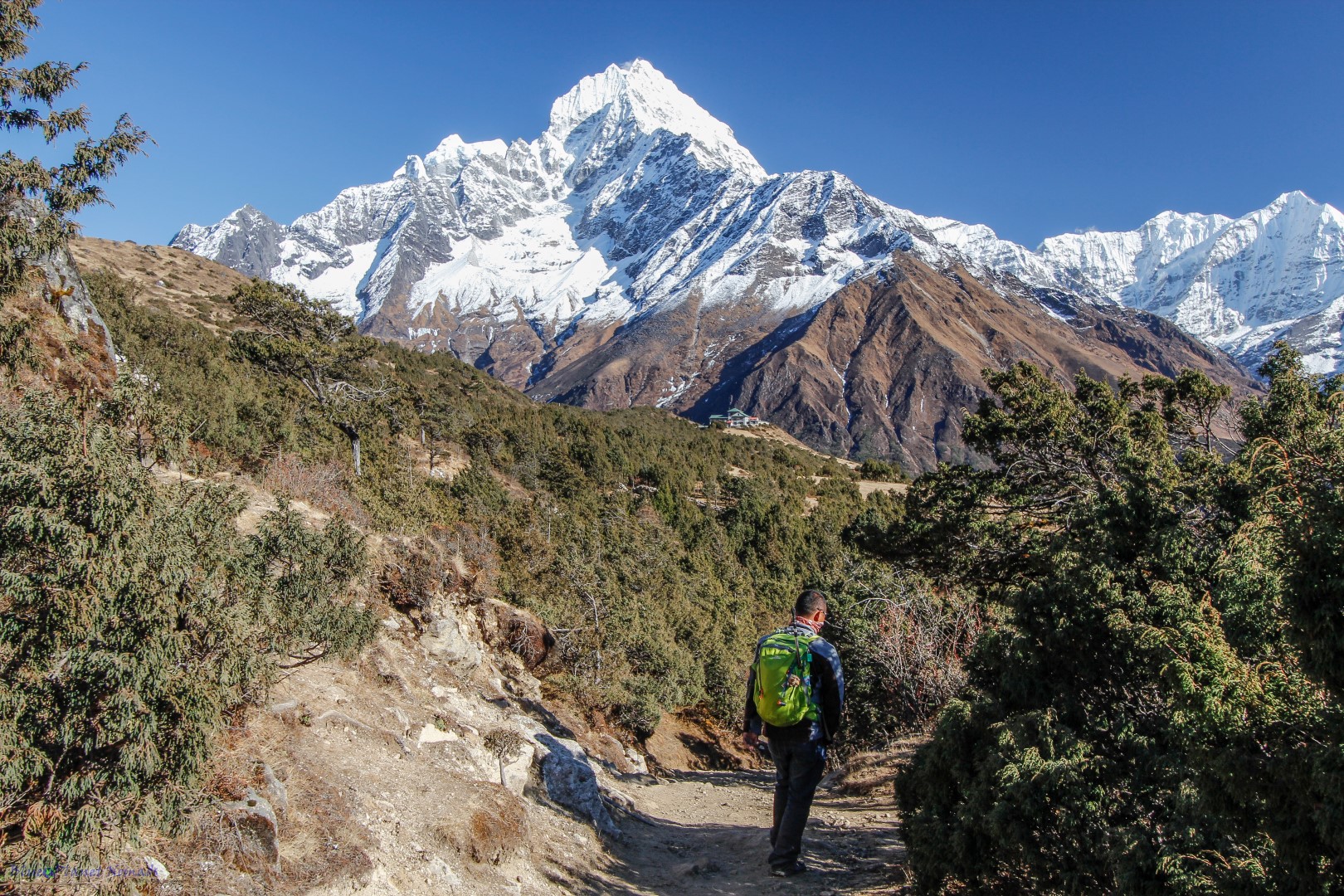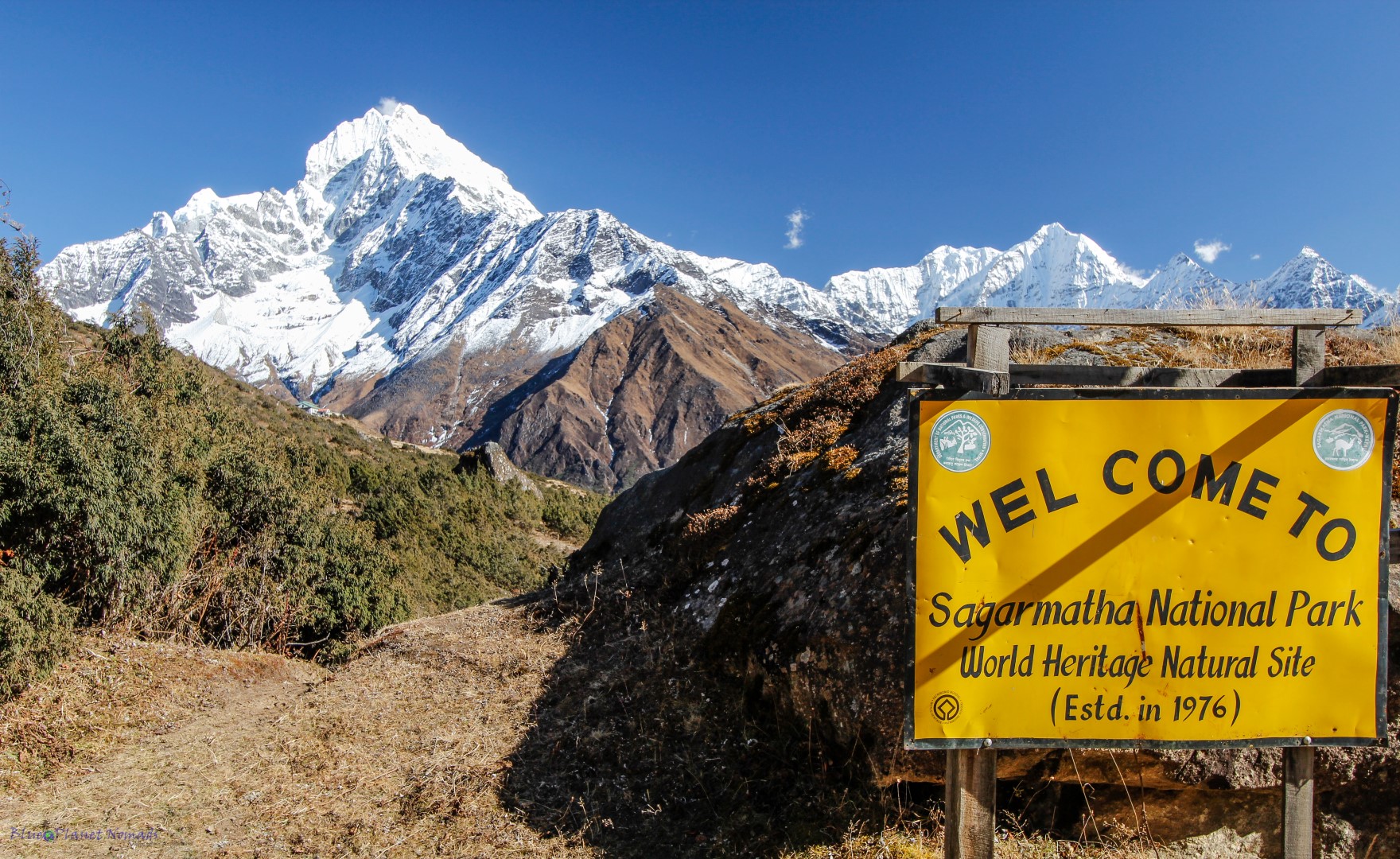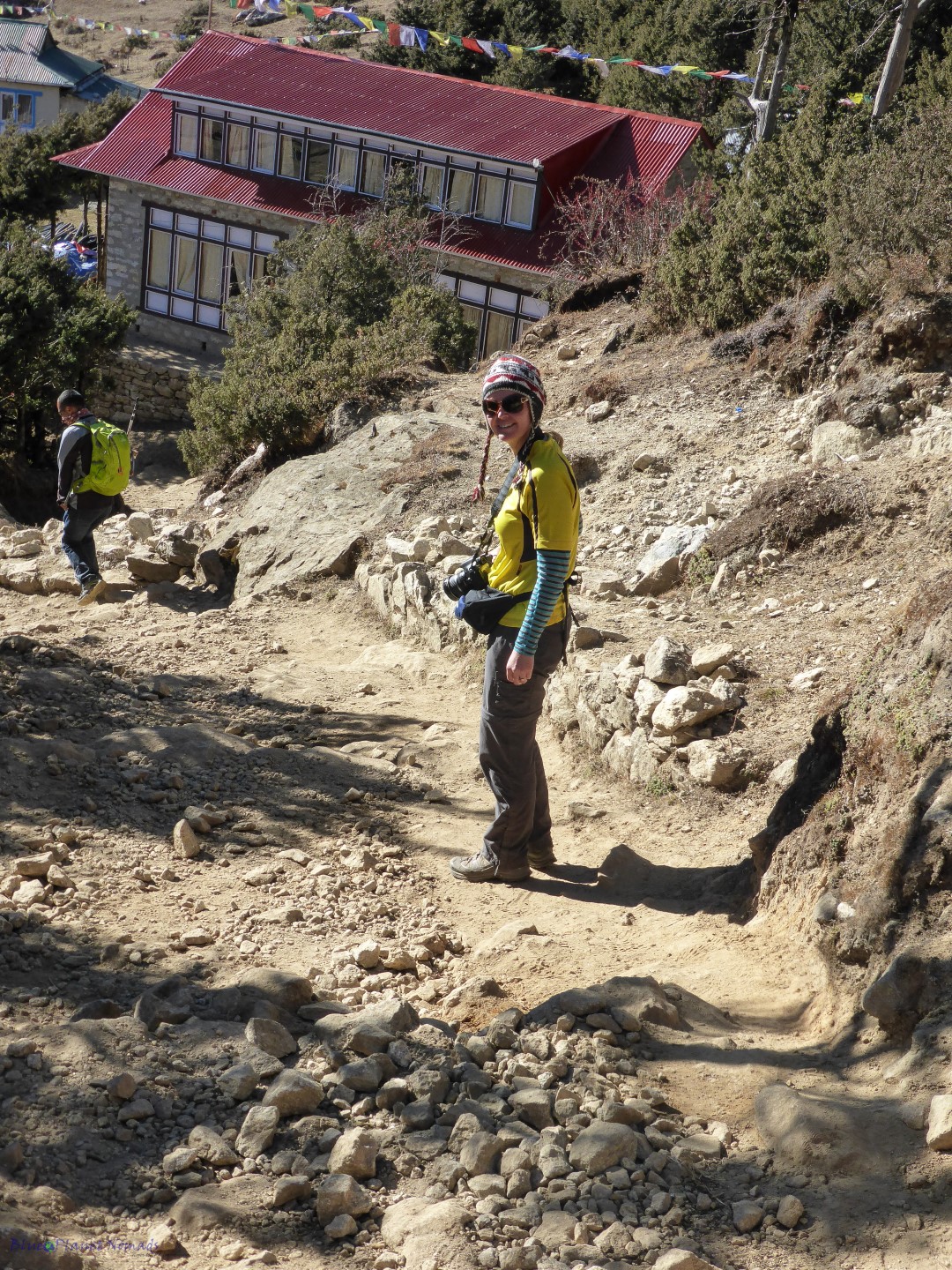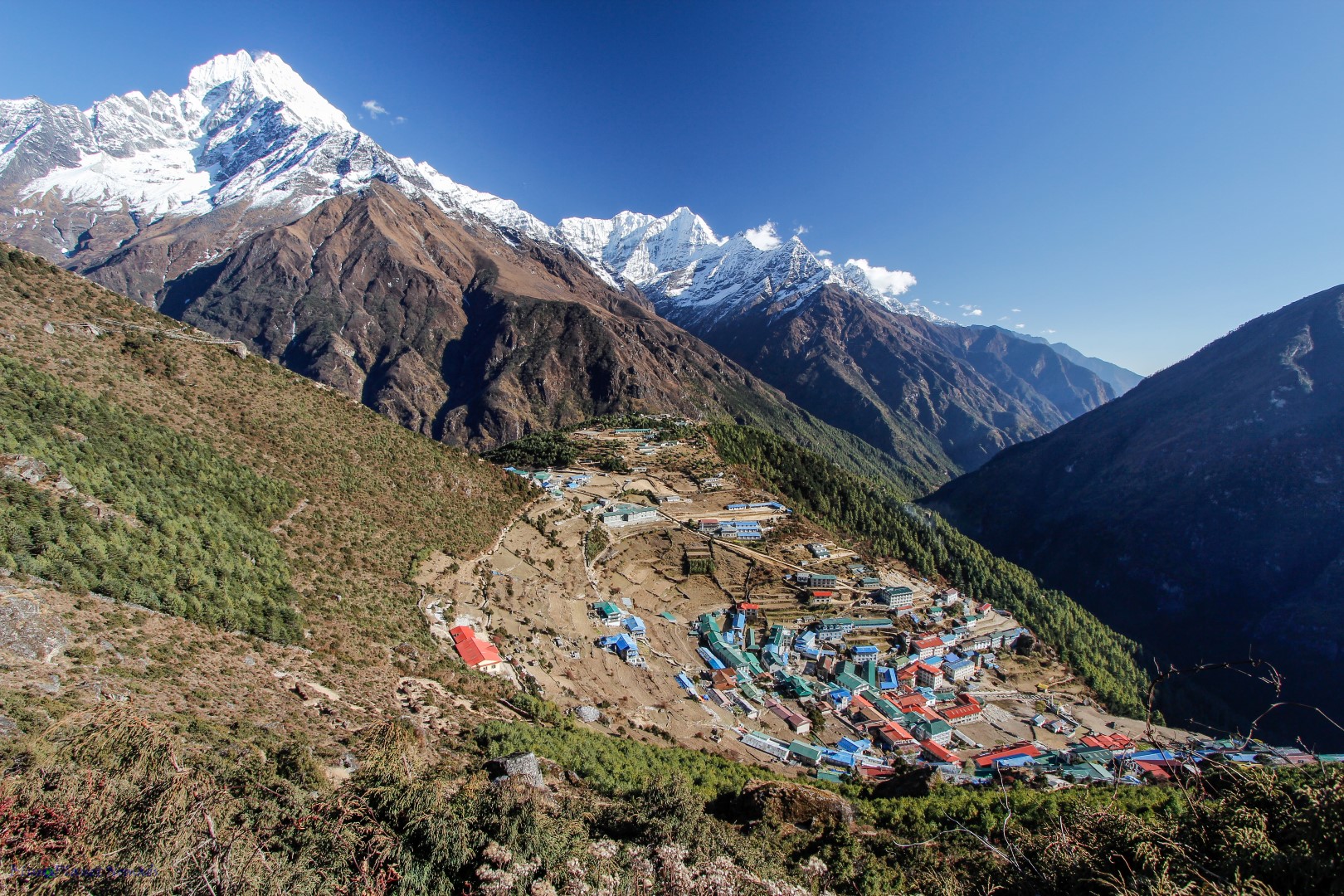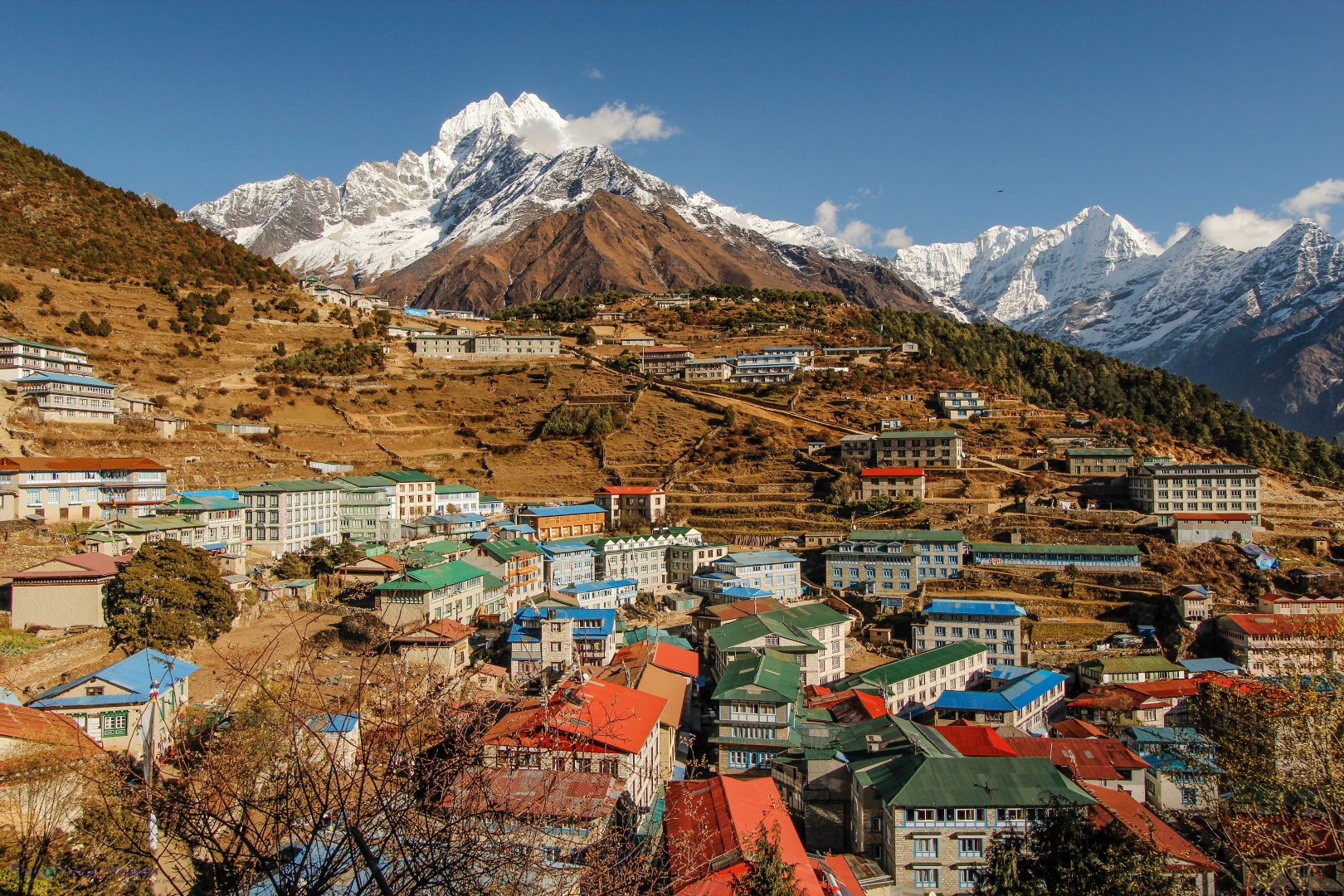 Day 5 – Mong La (3975 Meters)
Today we left Namche for our trek to Mong La which would take about 3 to 4 hours. After a leisurely breakfast we took off at 9am and started back up the steps to the junction where we were yesterday.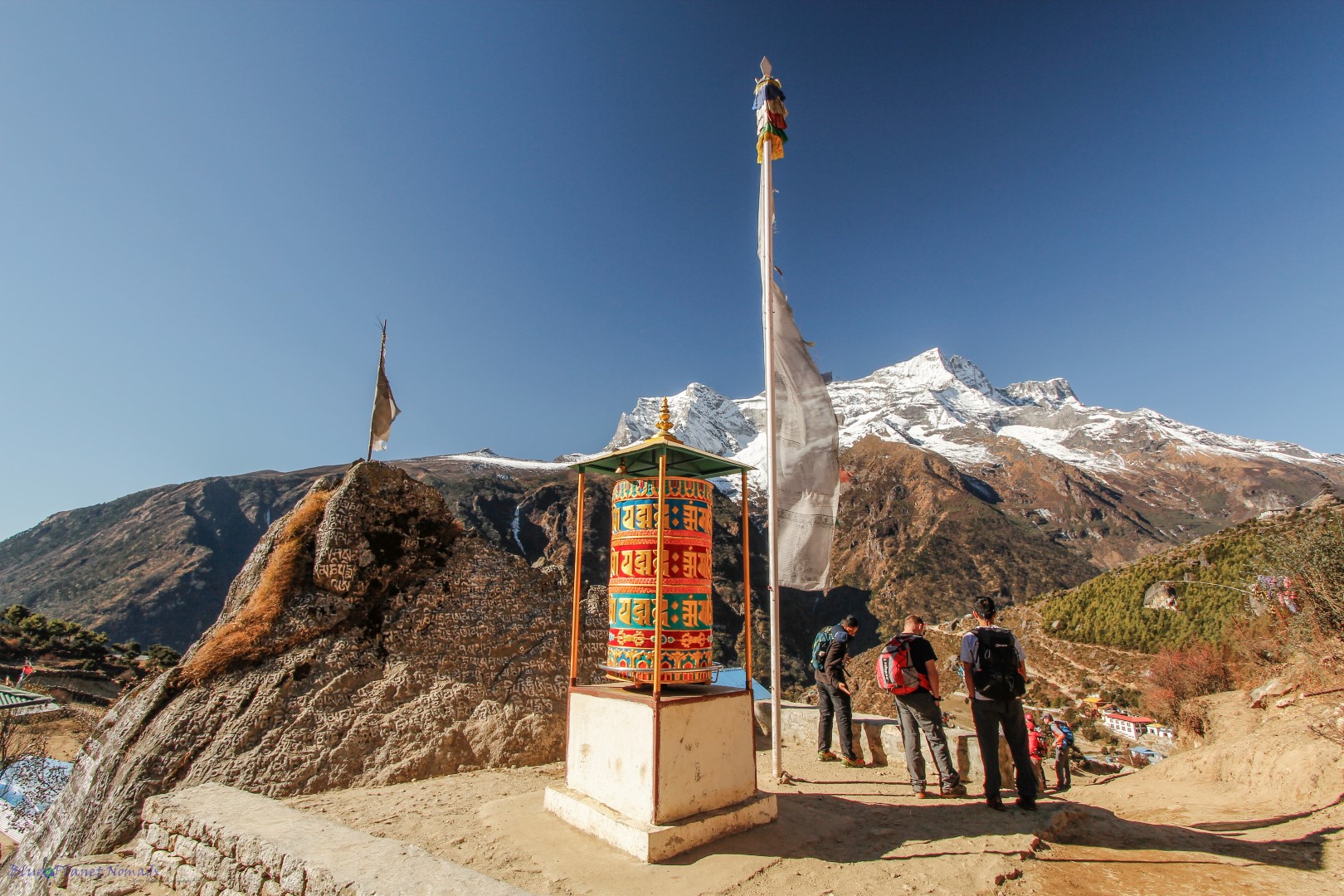 The track to Mongla basically followed the valley so was lightly undulating.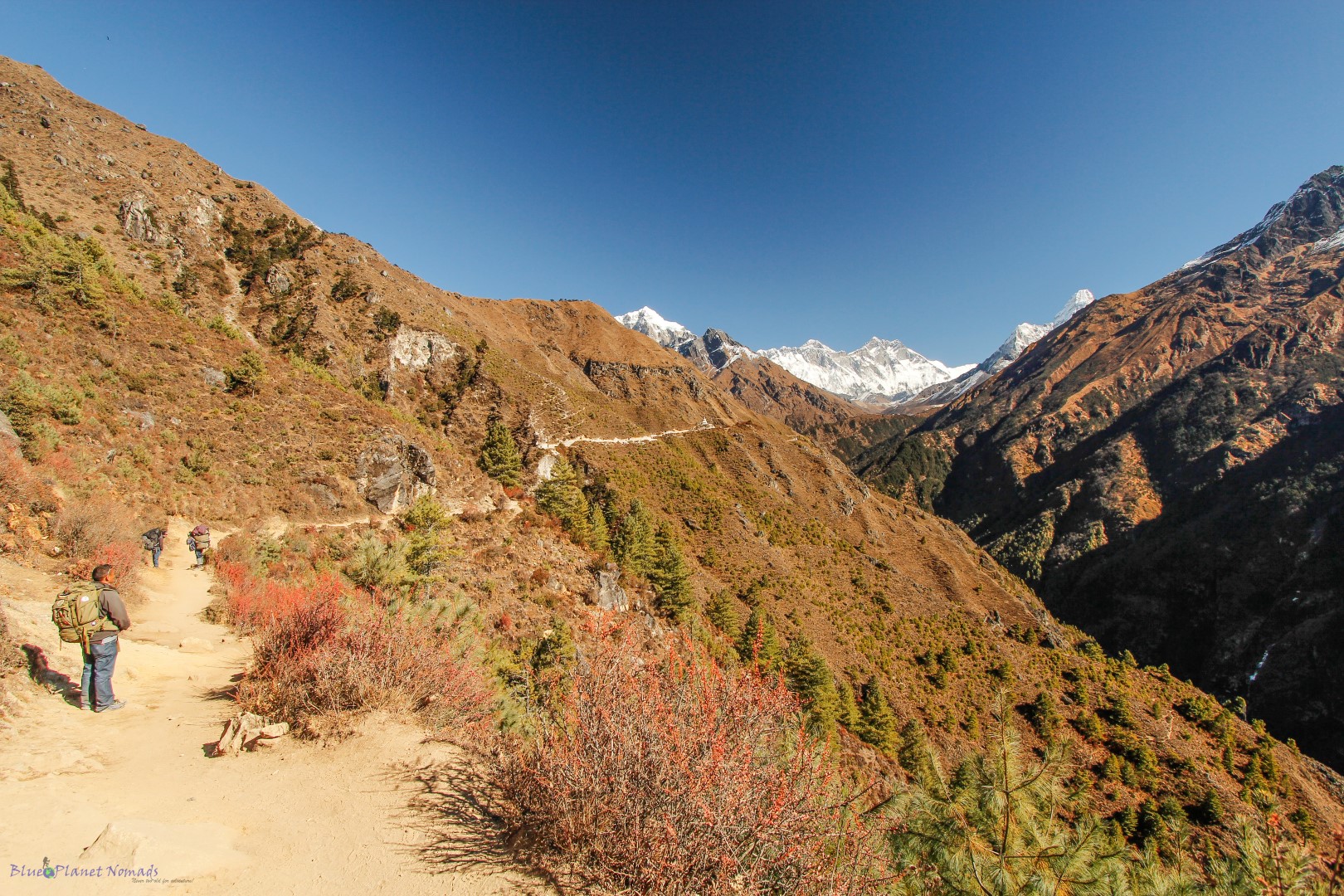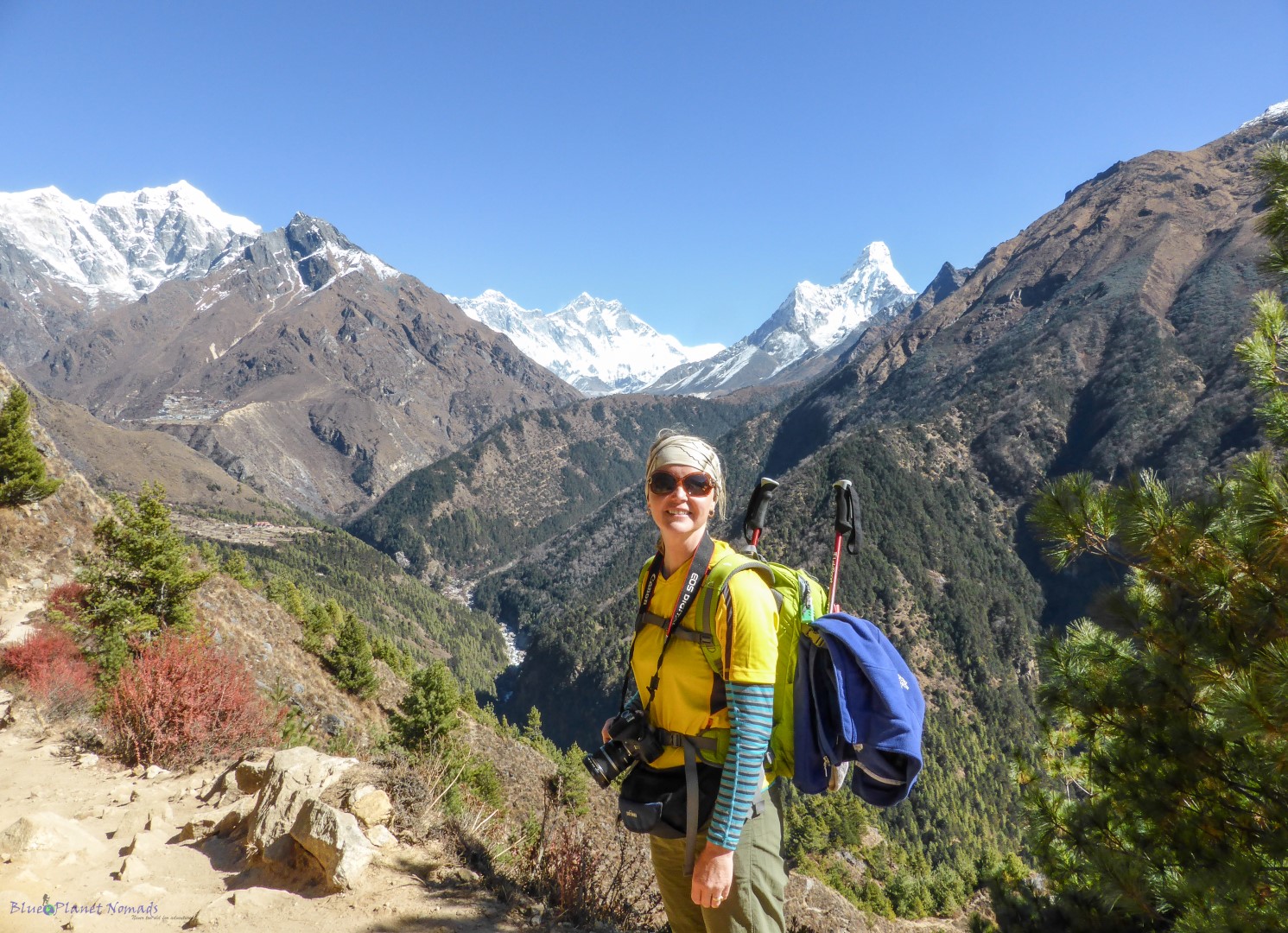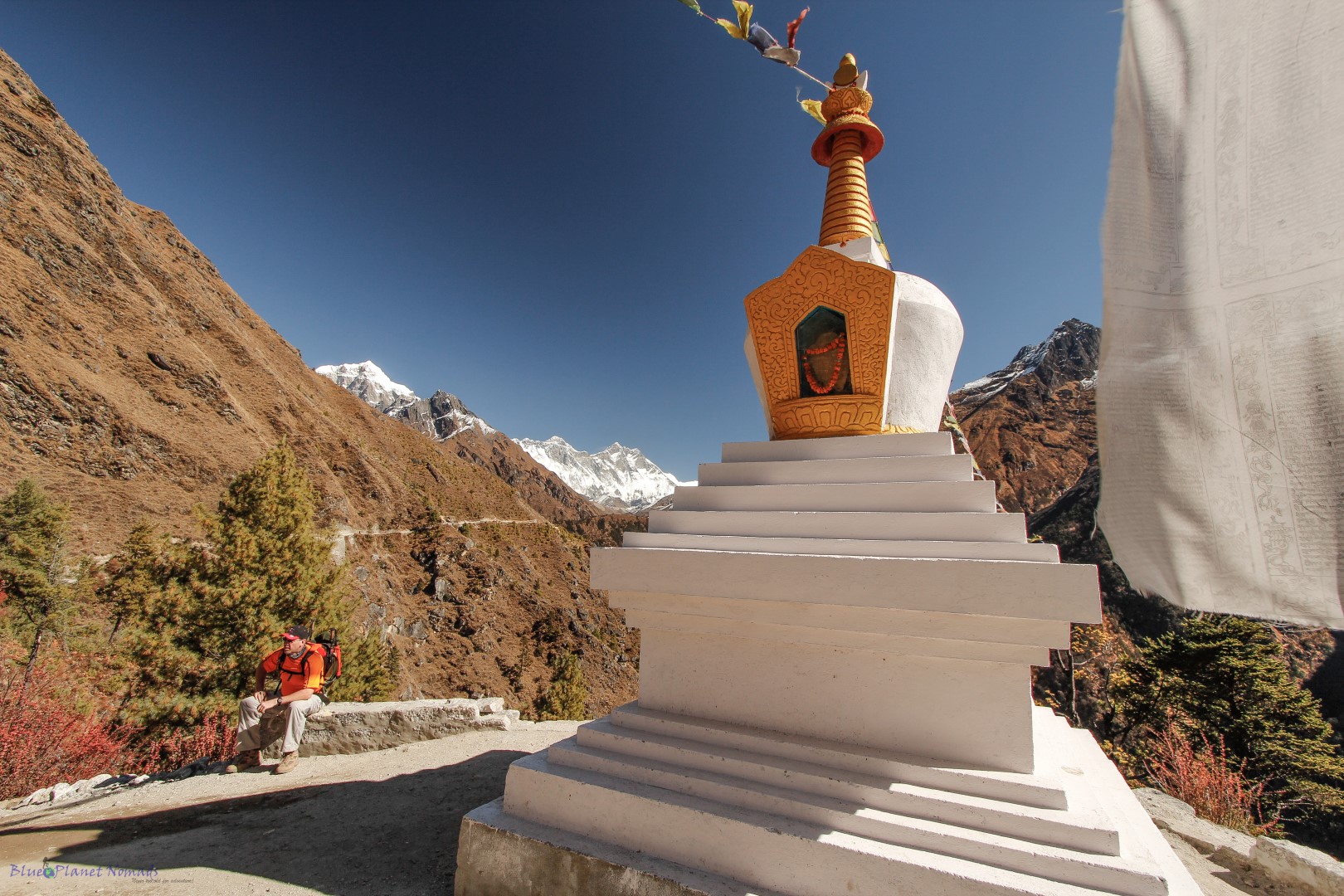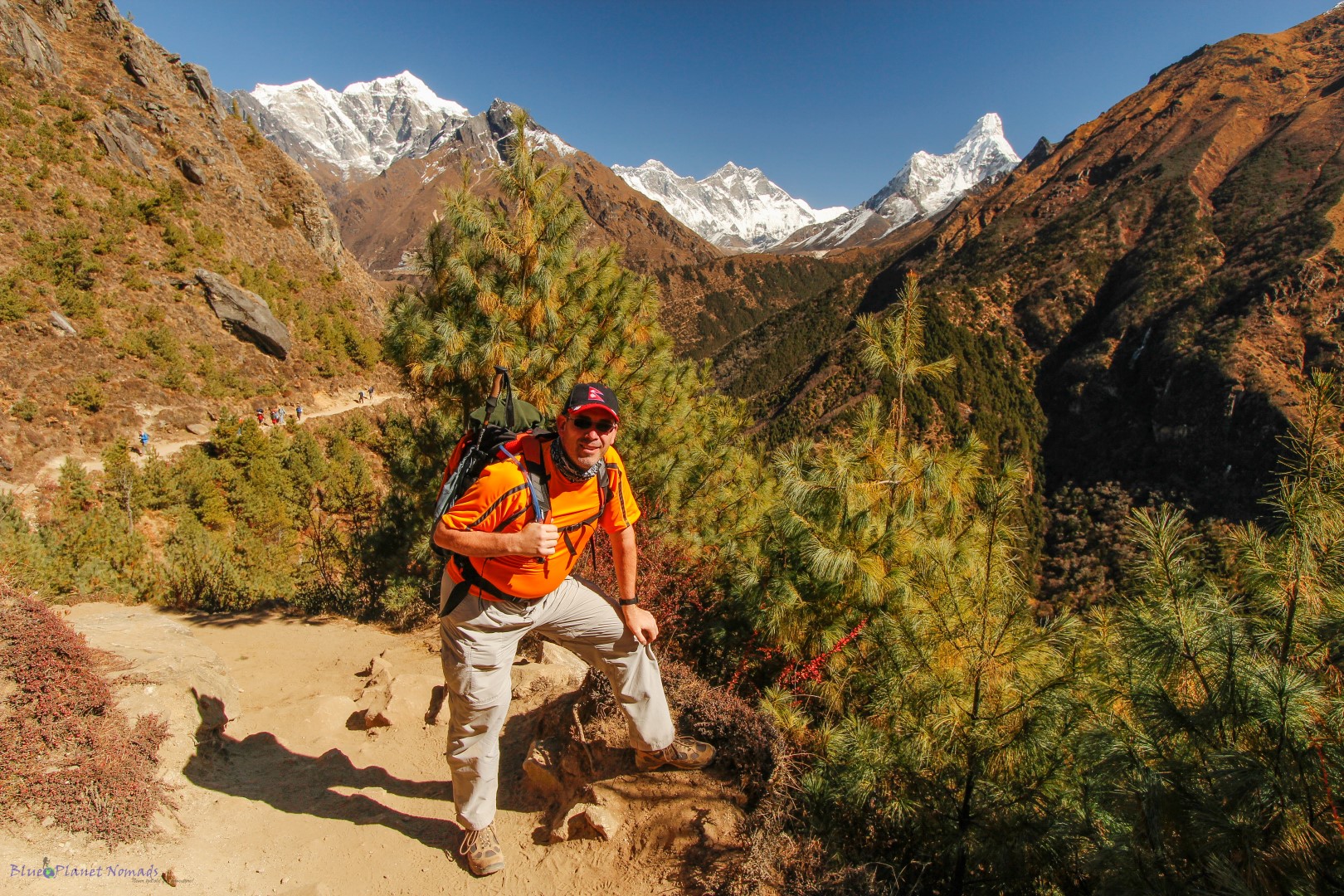 We stopped at Kyang Jurna for a break and tea on the terrace of a guesthouse.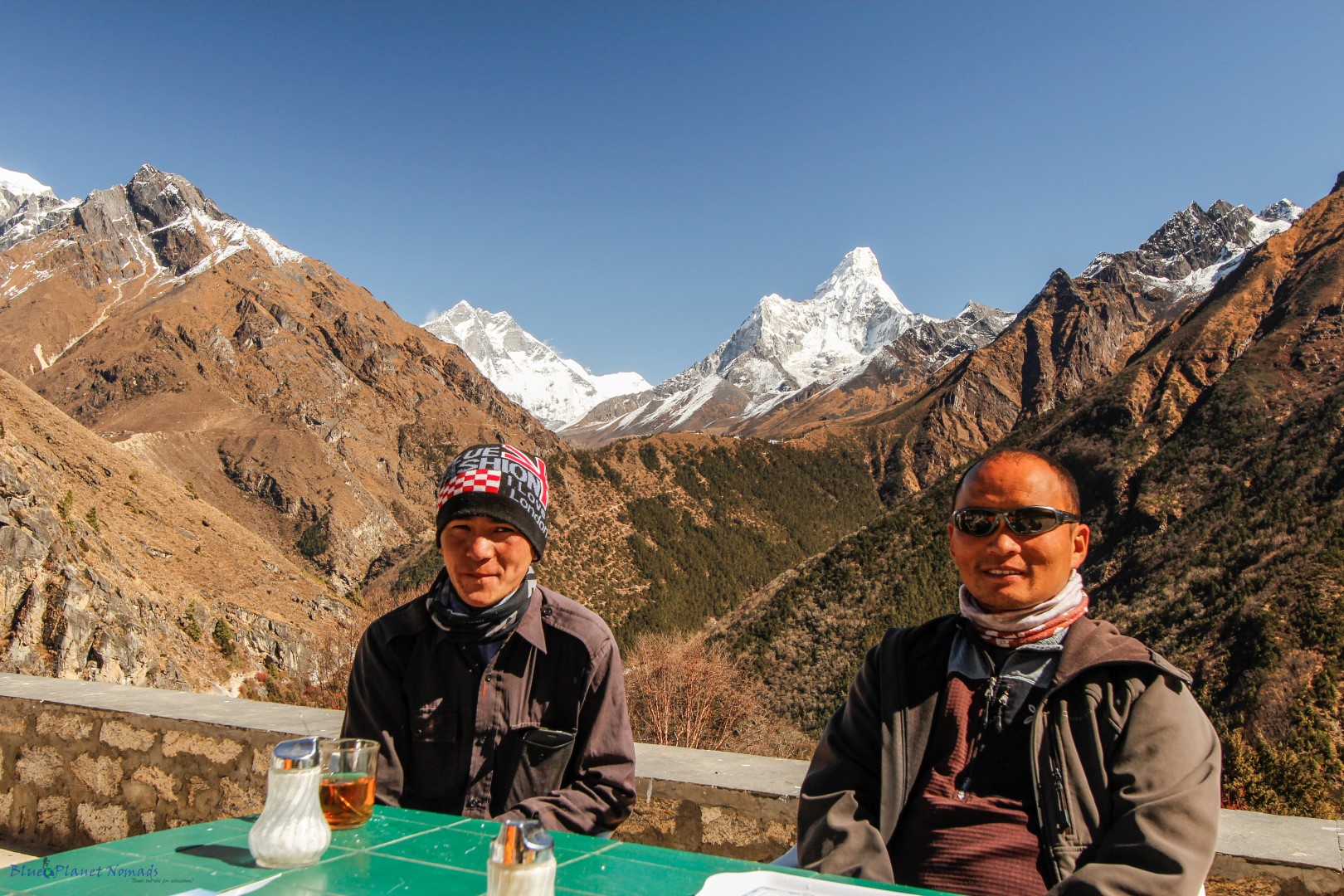 A gradual uphill brought us to the tiny hamlet of Mong La.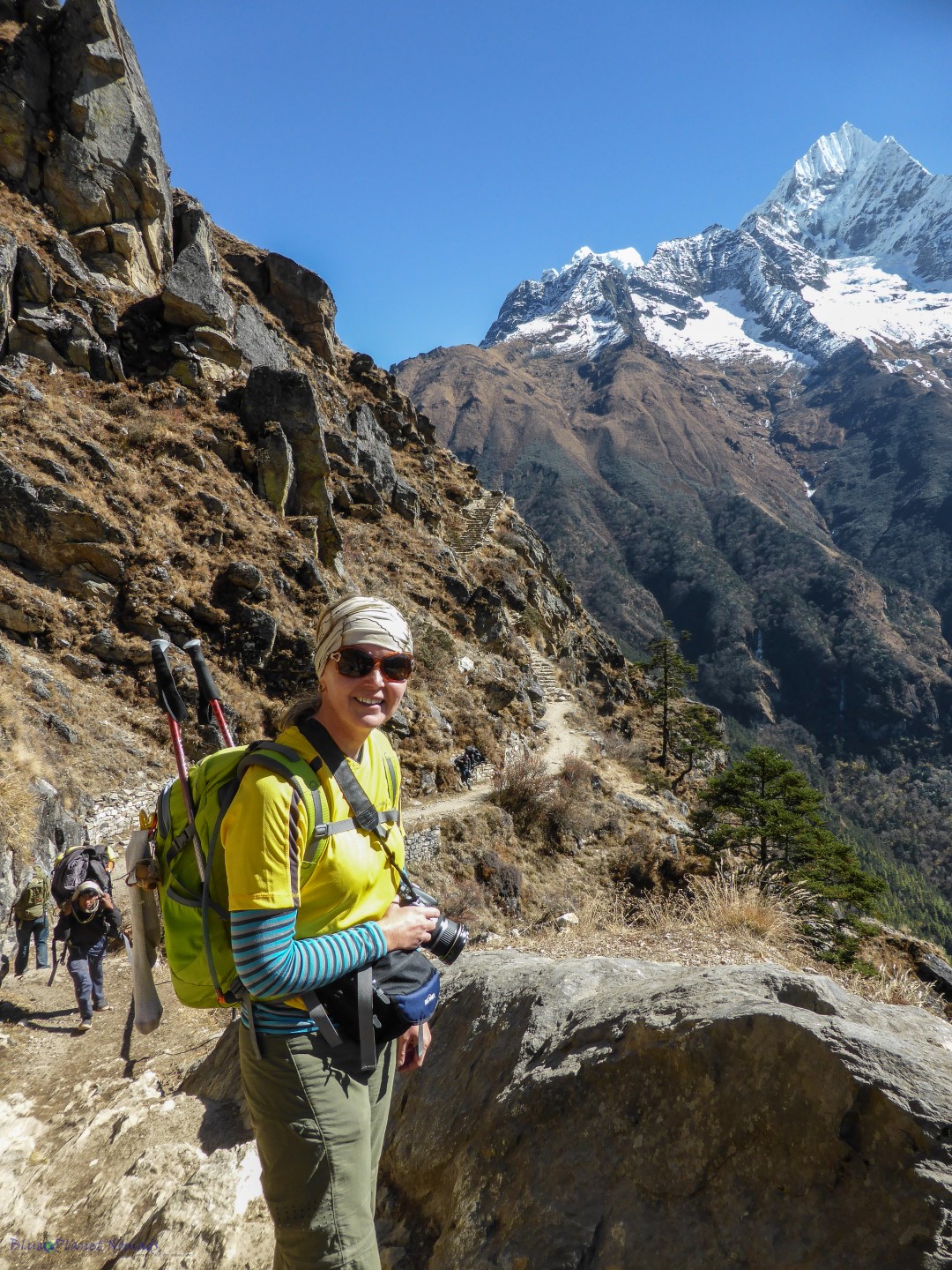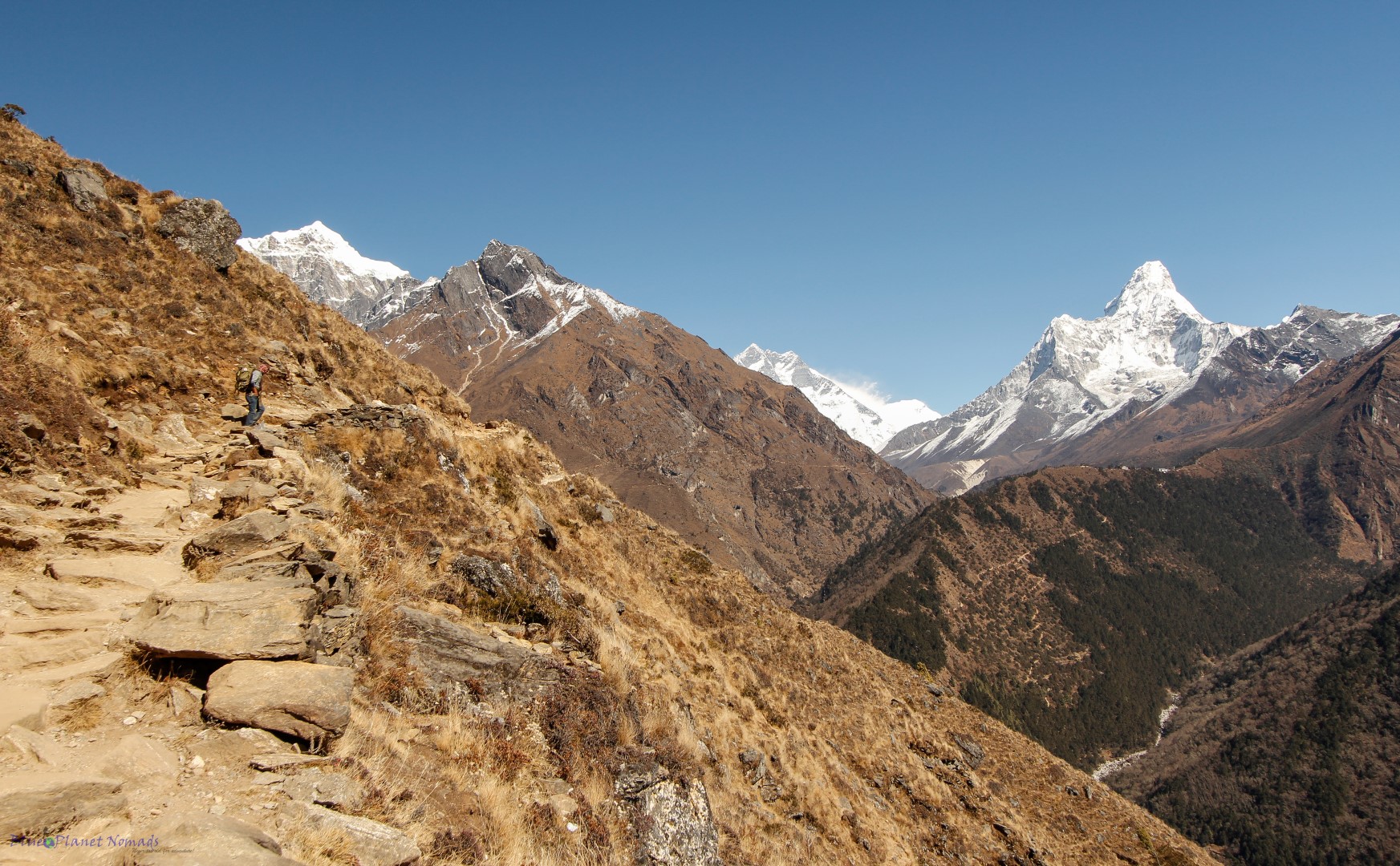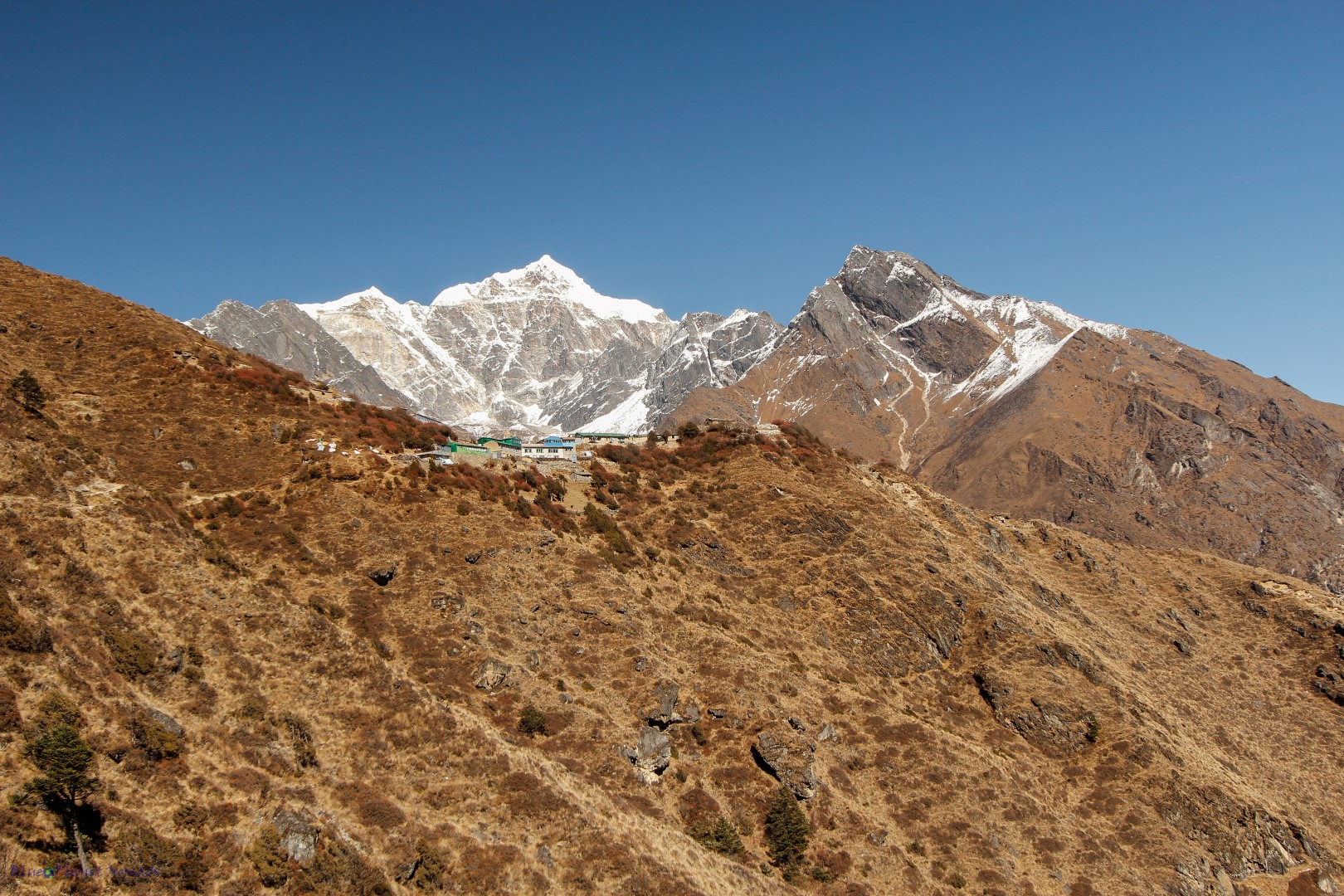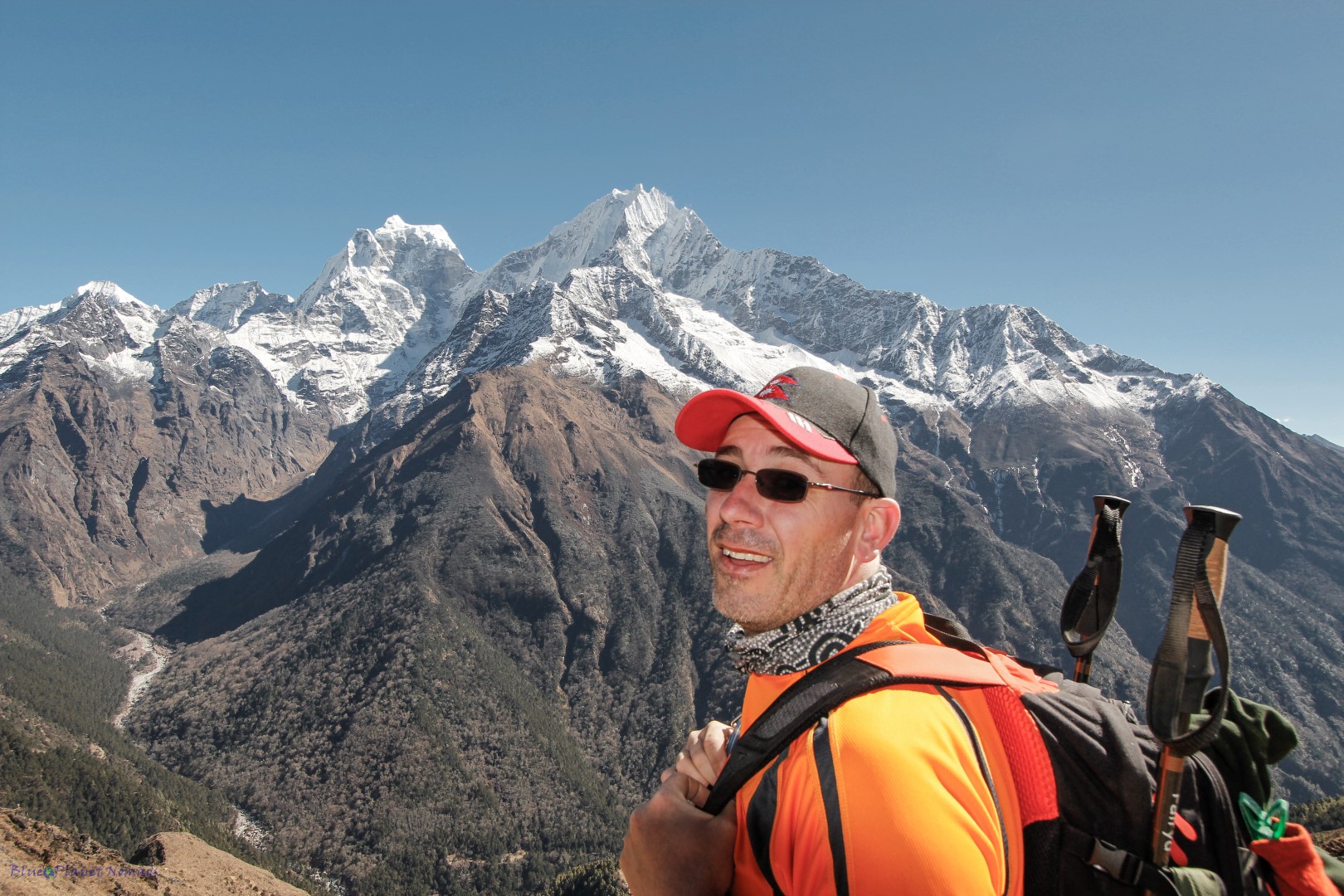 We were supposed to stop at Snowlodge but it was full with a Geckos group so we stopped at a little guesthouse opposite called Hill Top which turned out to be nicer as it was smaller and homelier and the lady that owned it made us very welcome. Arriving at lunchtime gave us the afternoon to relax and enjoy the sunshine on the terrace and get some laundry done. The shower was interesting it was basically a cylinder with a shower rose underneath. They filled the cylinder with hot water for me, not much came out the shower head though but it was better than nothing! The only other guests were two unsociable French trekkers and a Korean lady. A majority of the trekkers we met were French which was quite disappointing because they were just so unfriendly and only socialised with each other. The hosts were very friendly and enjoyed a chat so we spent the evening sitting around the fire chatting with our hosts and guide and ignored the other miserable trekkers!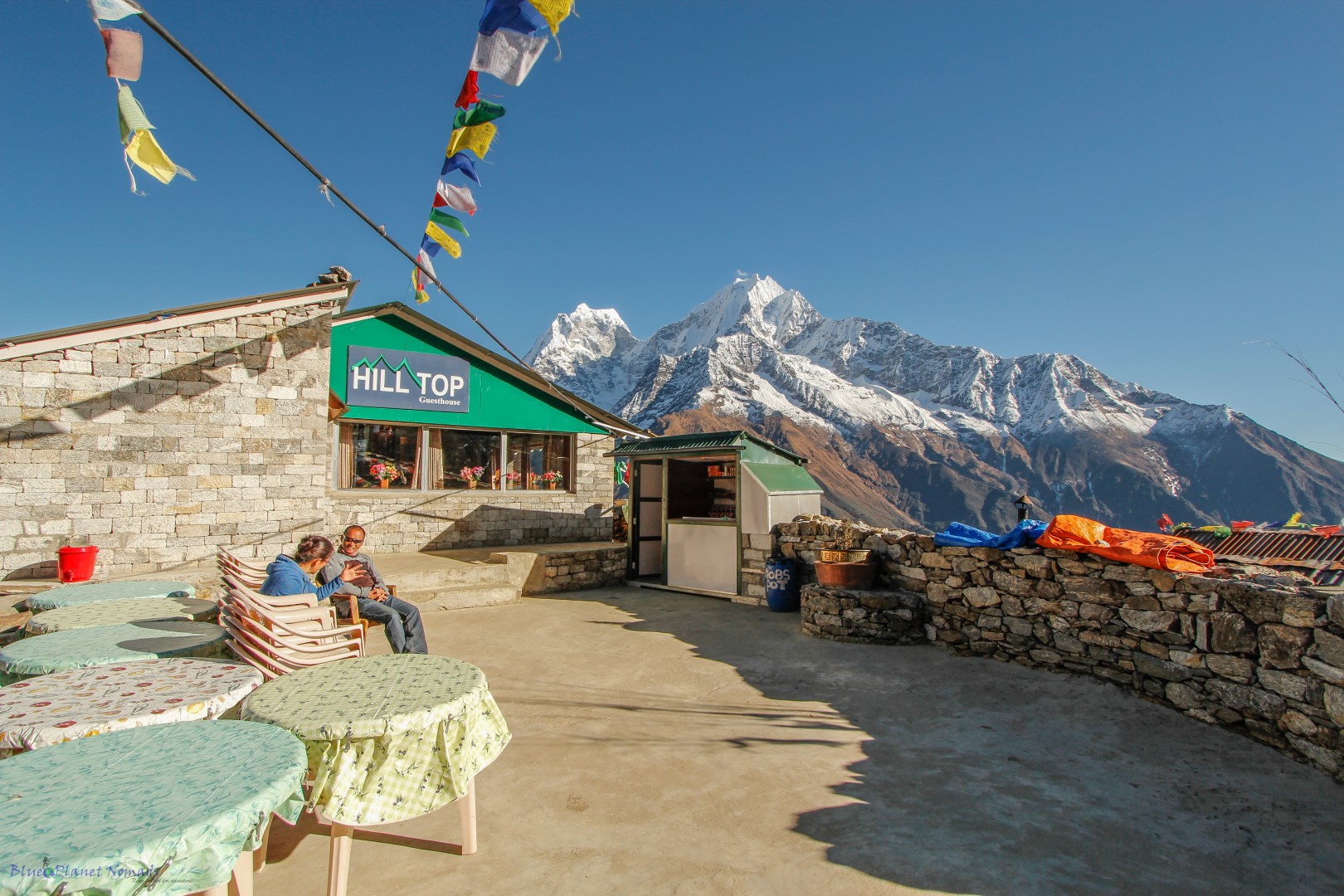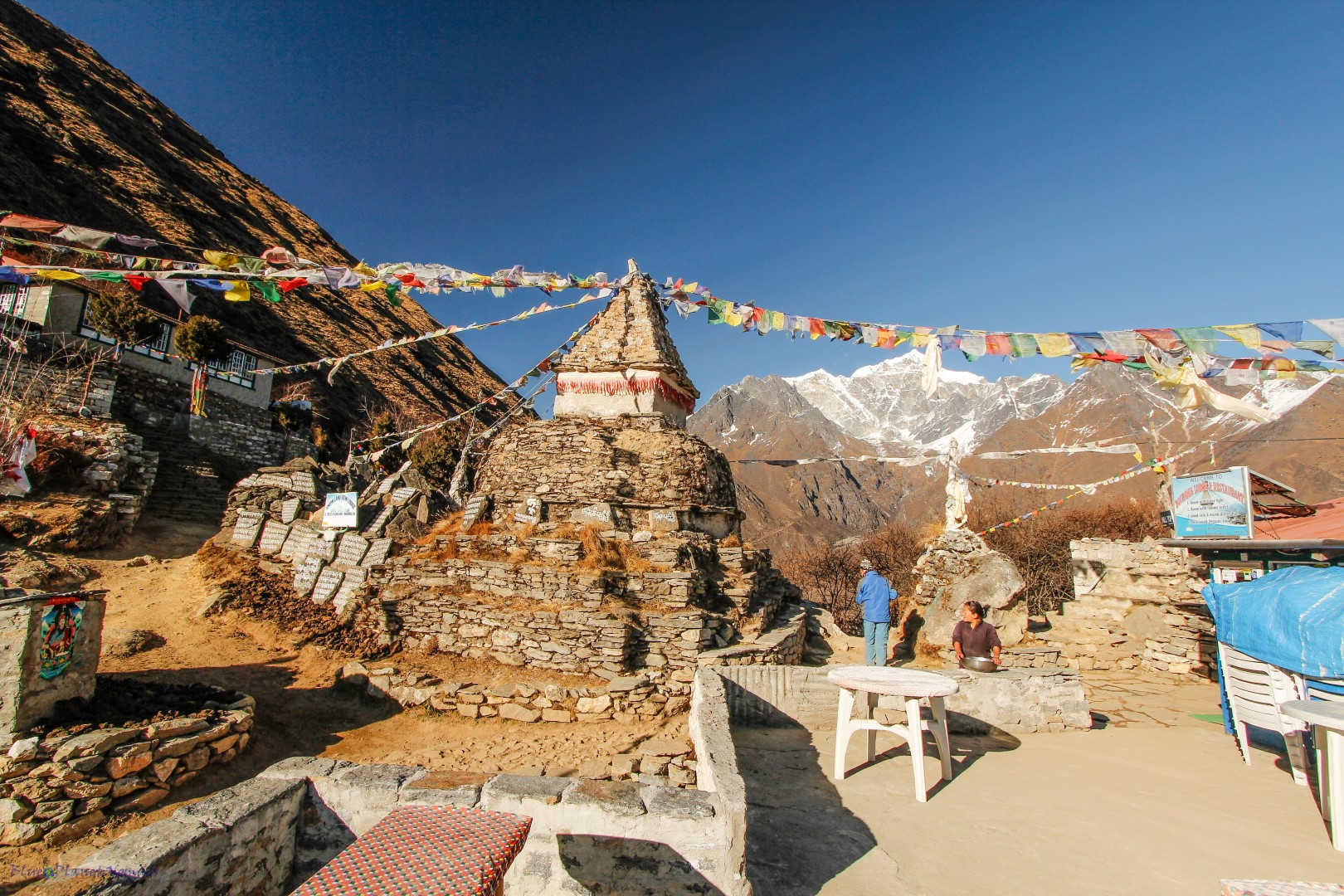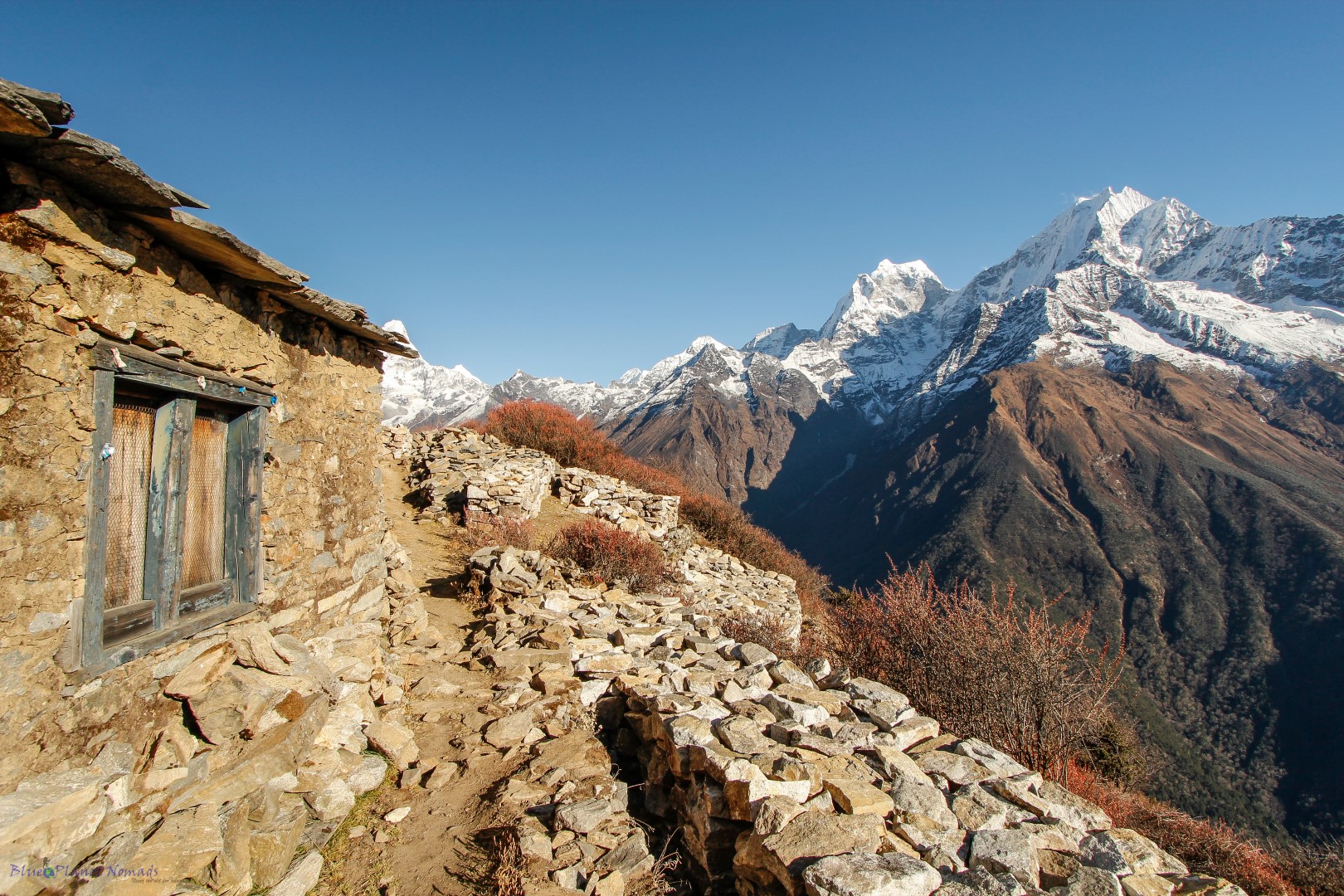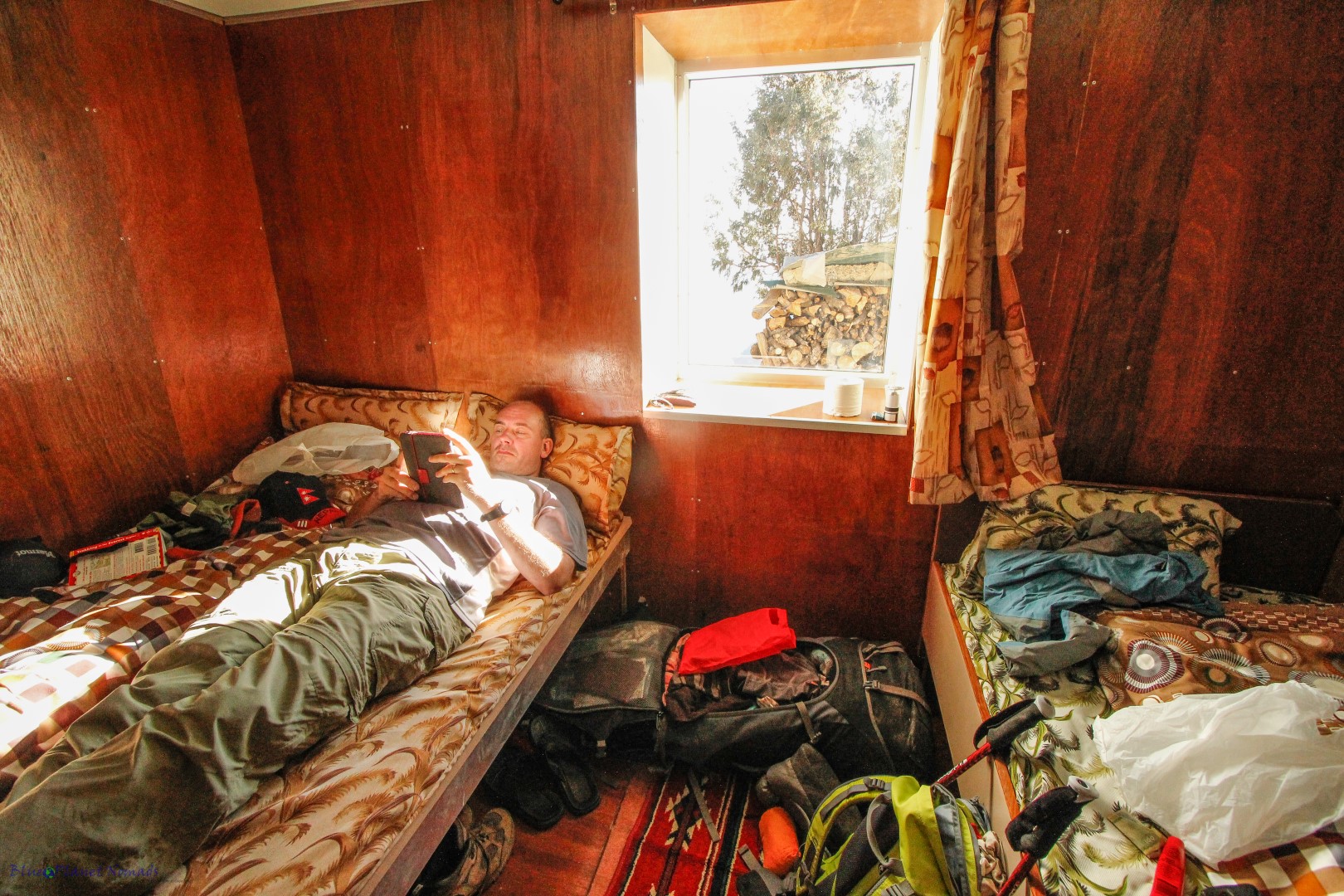 Day 6 – Dhole (4200 Meters)
We woke up this morning to a frosted up window! It had been a cold night and was a cold morning.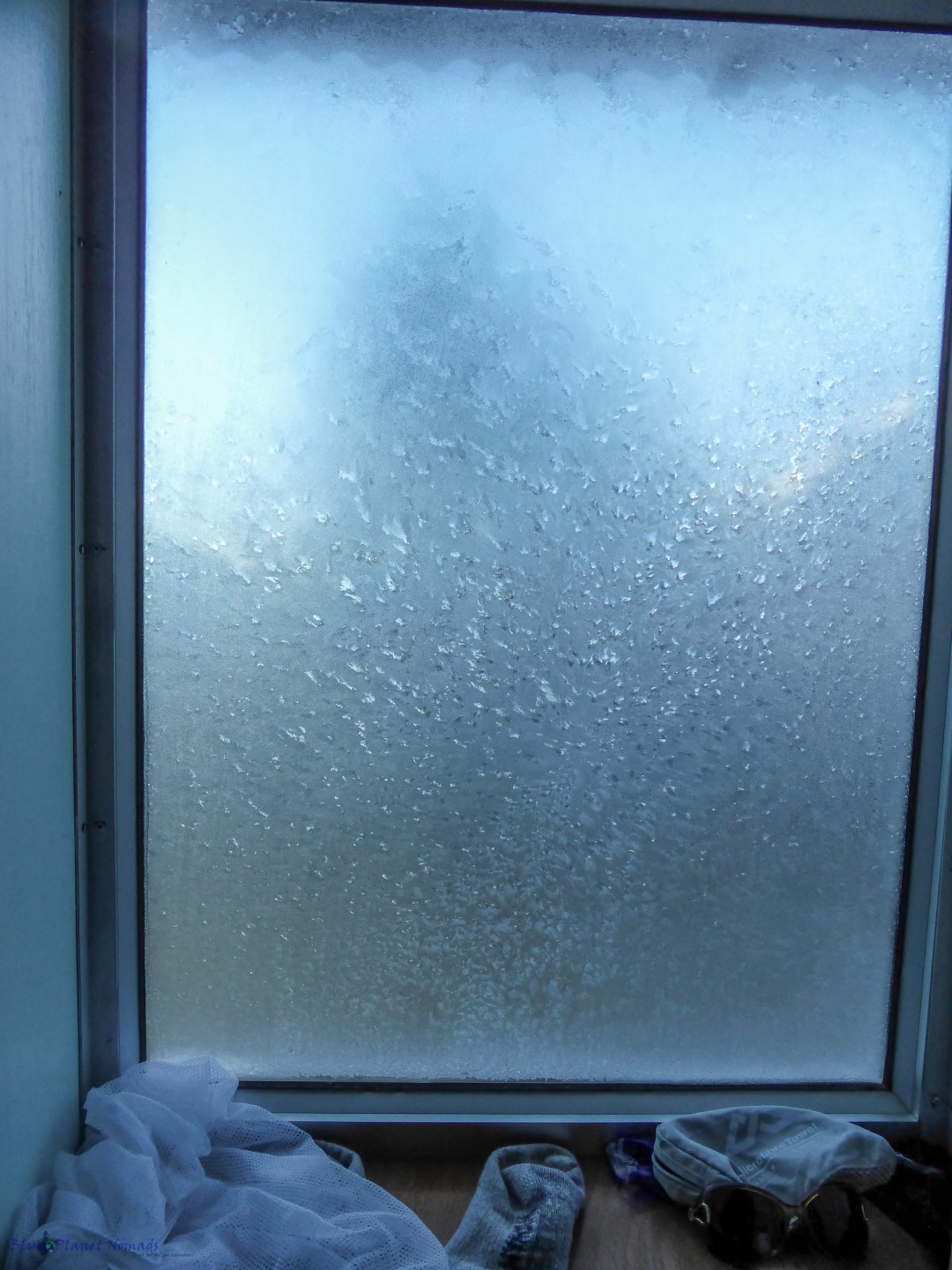 We set off before 9am, the Geckos group had already left 10 minutes before but we soon caught up with them at Portse Thenga. Portse Thenga was the junction that split off the trail to Gokyo Lakes and Everest Base Camp, we would be taking the track to Gokyo Lakes. Before I arrived in Nepal I had unfortunately picked up a cold in Hong Kong. It had gone through all of our China Group and really wasn't something I wanted. Being asthmatic and weak chested the damn cold had made its way onto my lungs and left me with an annoying cough. Now we were climbing higher and the air was colder and very dry and quite dusty I started to feel the effects of the cough and prayed that it didn't get worse. The first half of our trek was downhill and quite a rough path of loose stones and rocks. We stopped at Portse Thenga for a hot drink before moving on.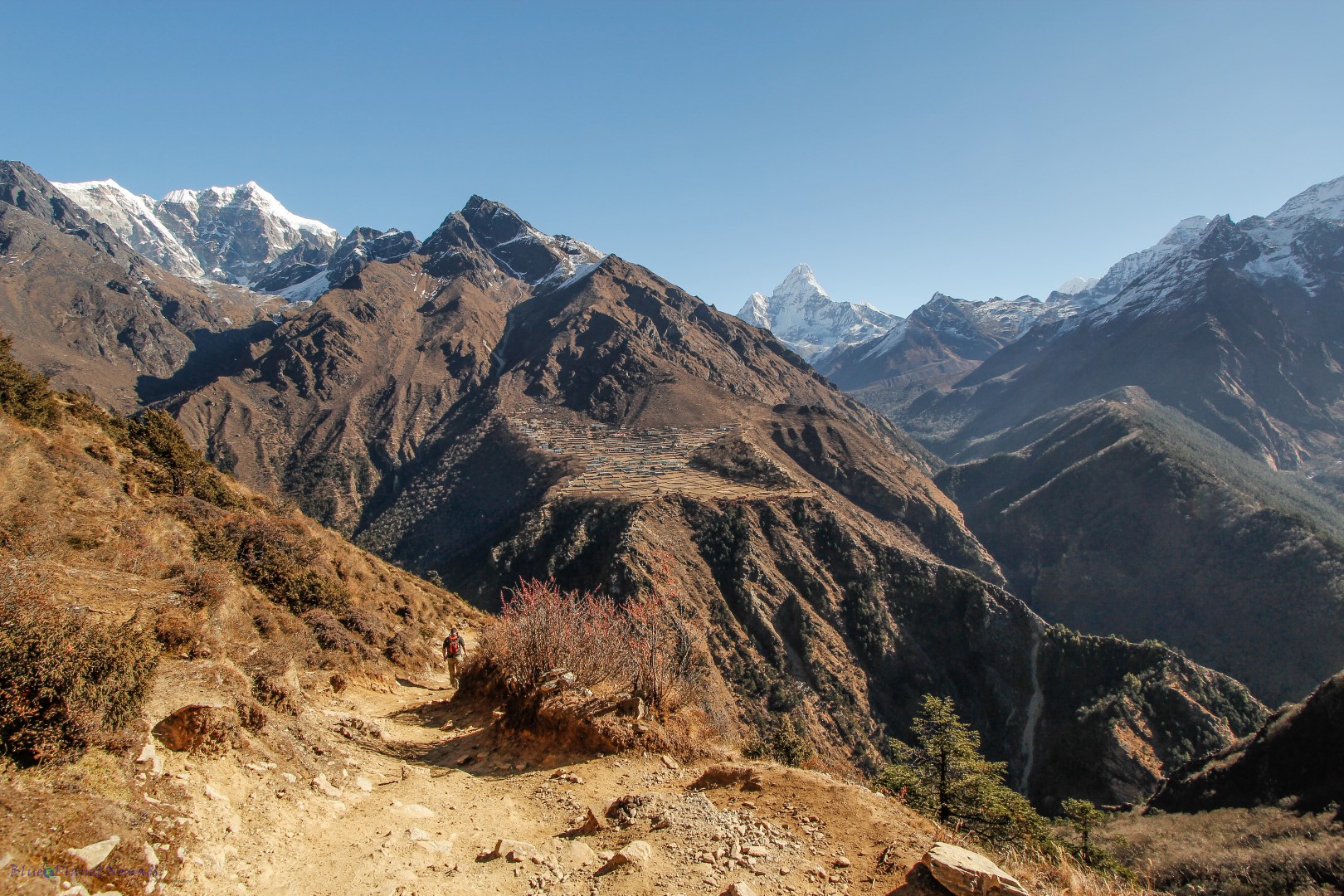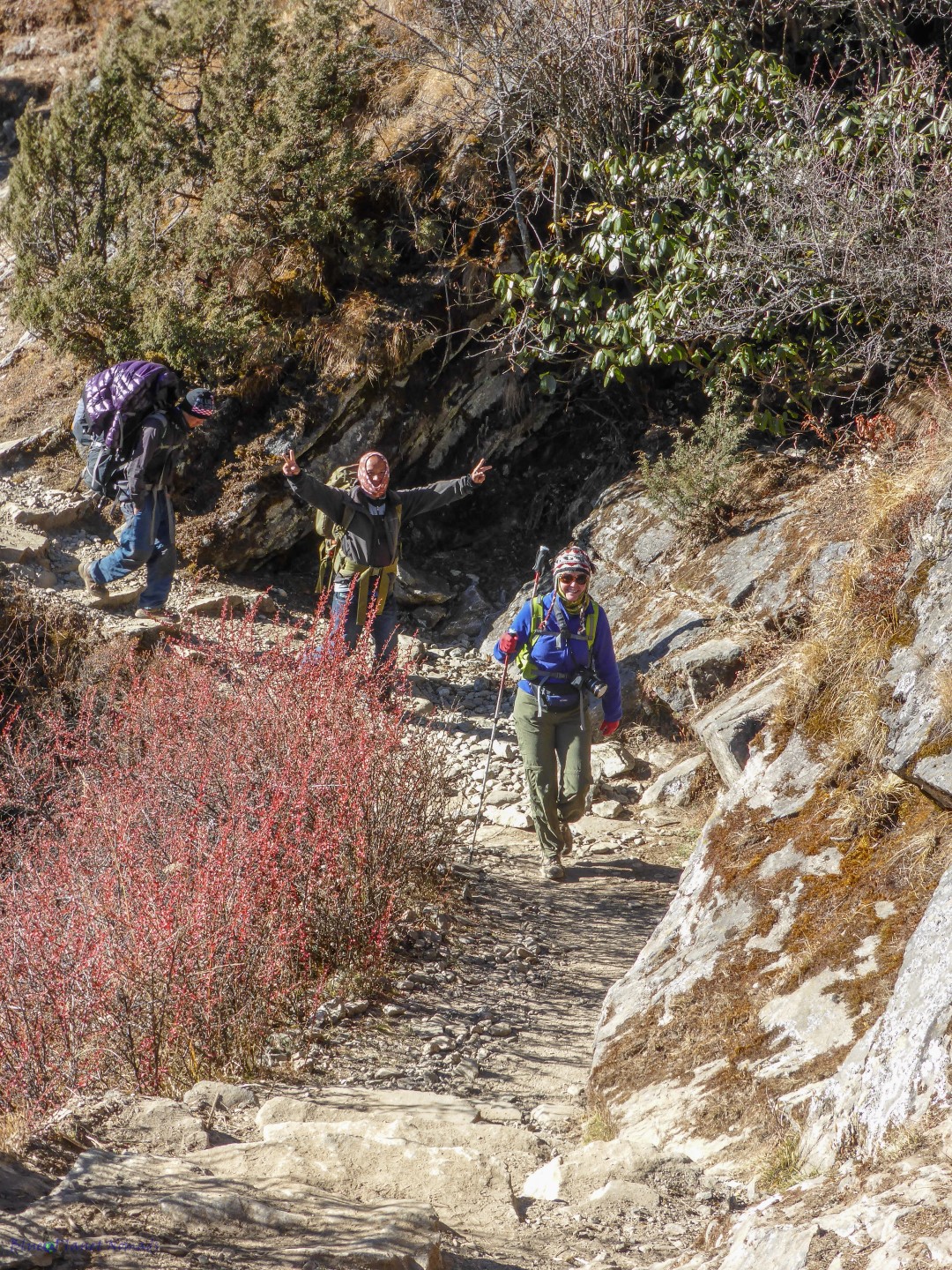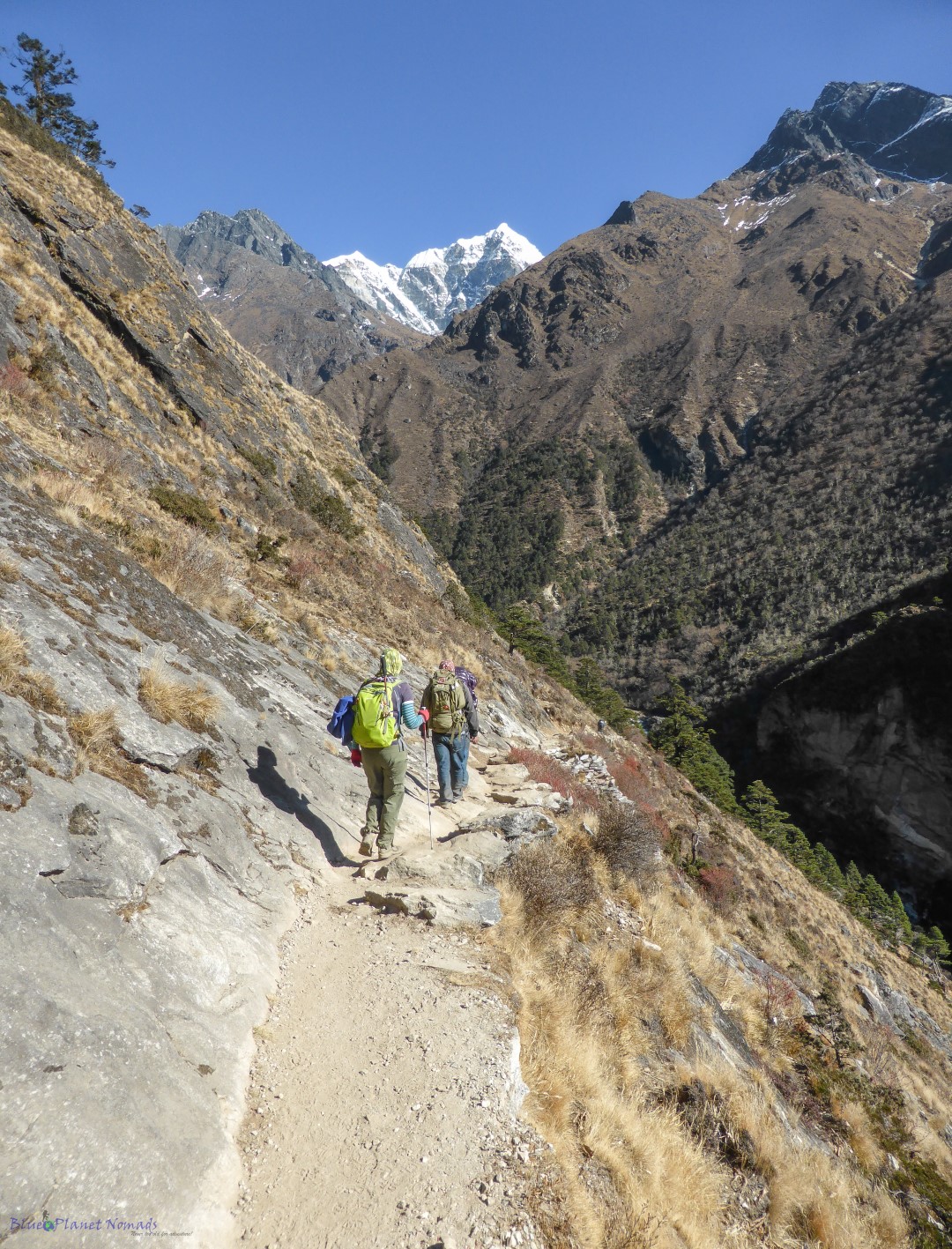 The path became a gradual uphill through Rhodedendron Forest and pine. We were in a valley so there wasn't much in the way of views, the river was thundering below us. Now we were at higher altitude it was noticeably much colder and we started to see frozen waterfalls which were quite impressive. We climbed up and out of the valley passing many frozen waterfalls and streams along the way as well as icy overhangs.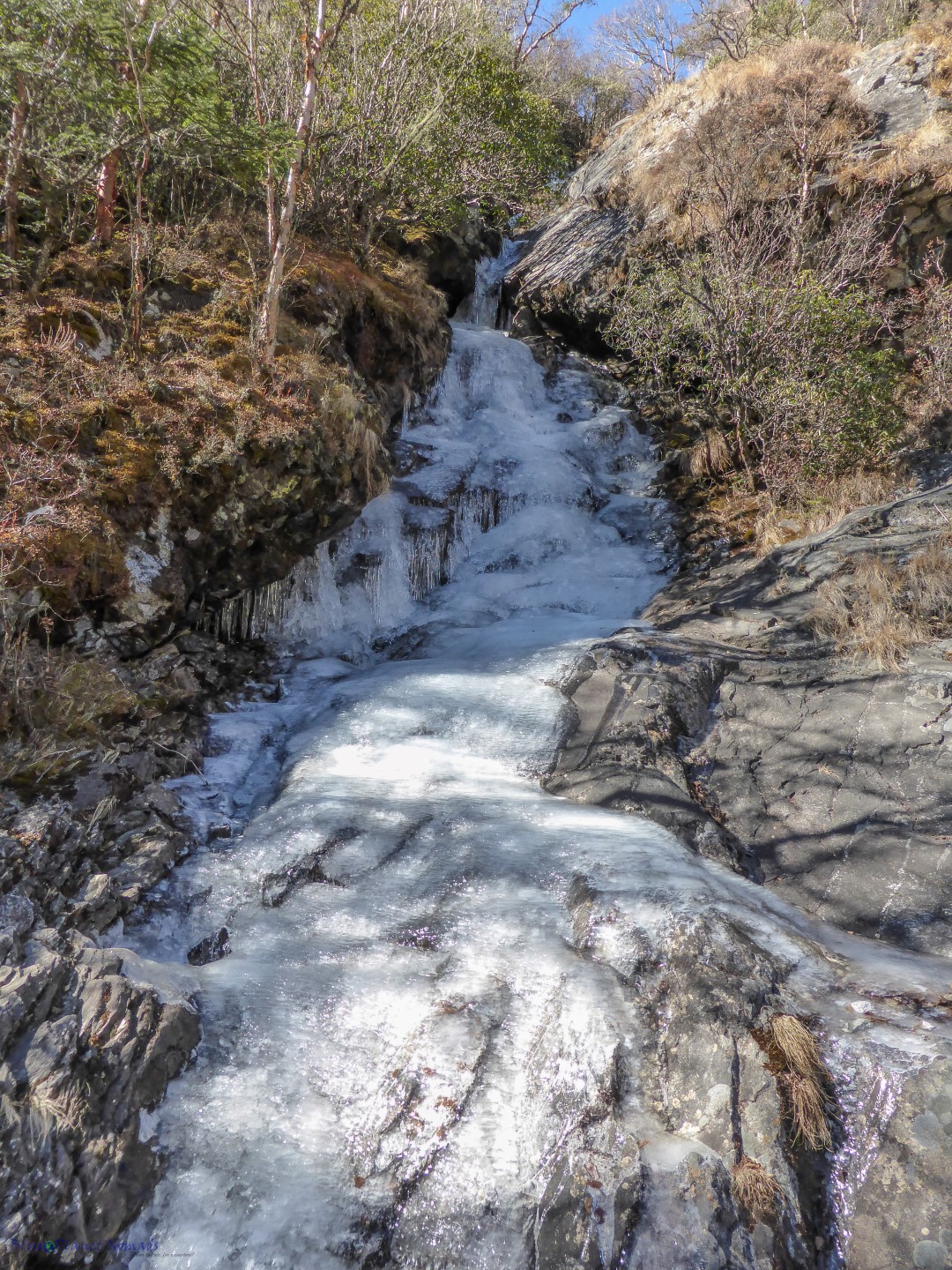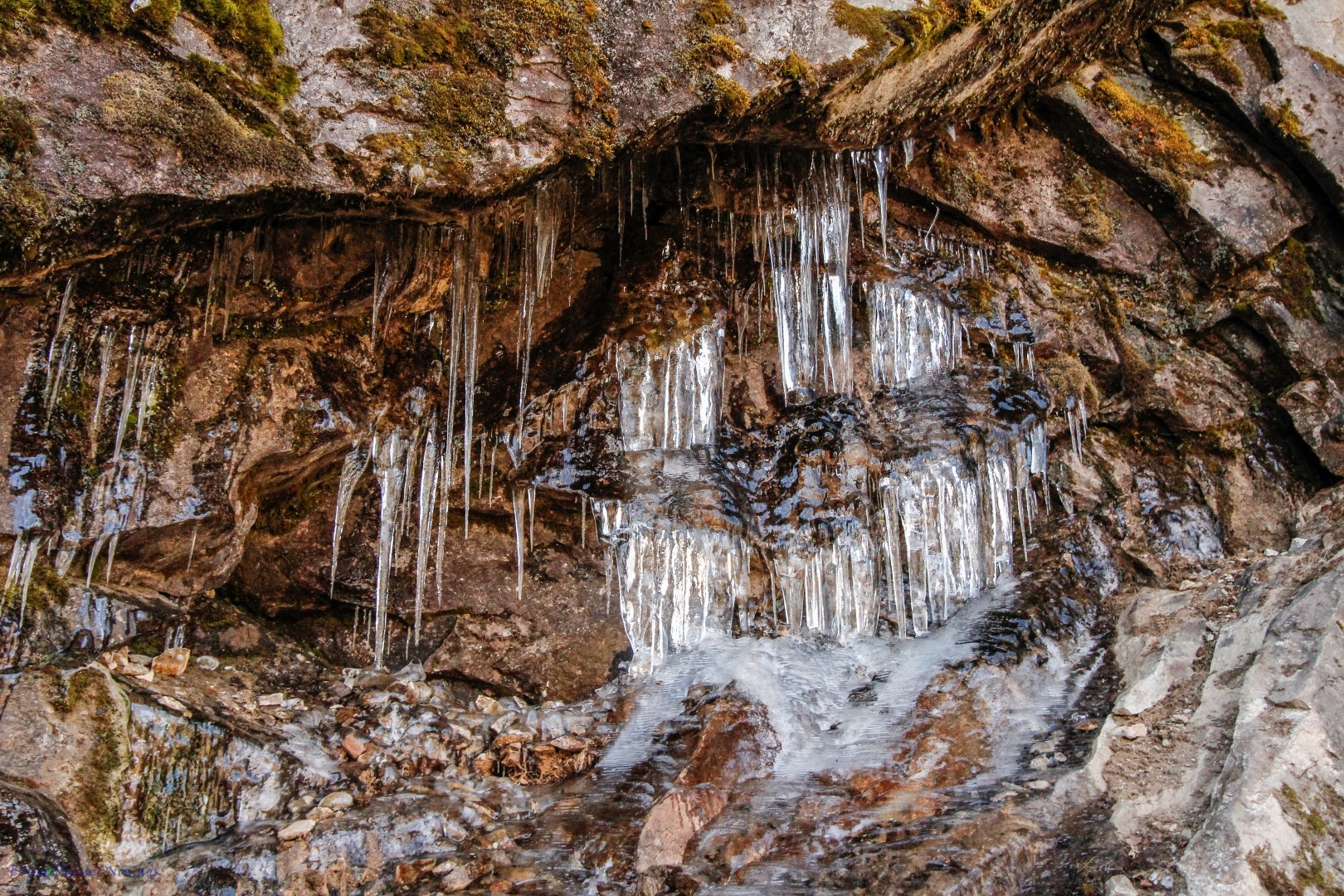 We had a long set of steps to climb up which I found hard going, as we climbed higher we left the trees behind and was soon up on top of a ridge. The track to Dhole was fairly flat but I found it slow going, the altitude really started to take affect and my cough wasn't helping matters.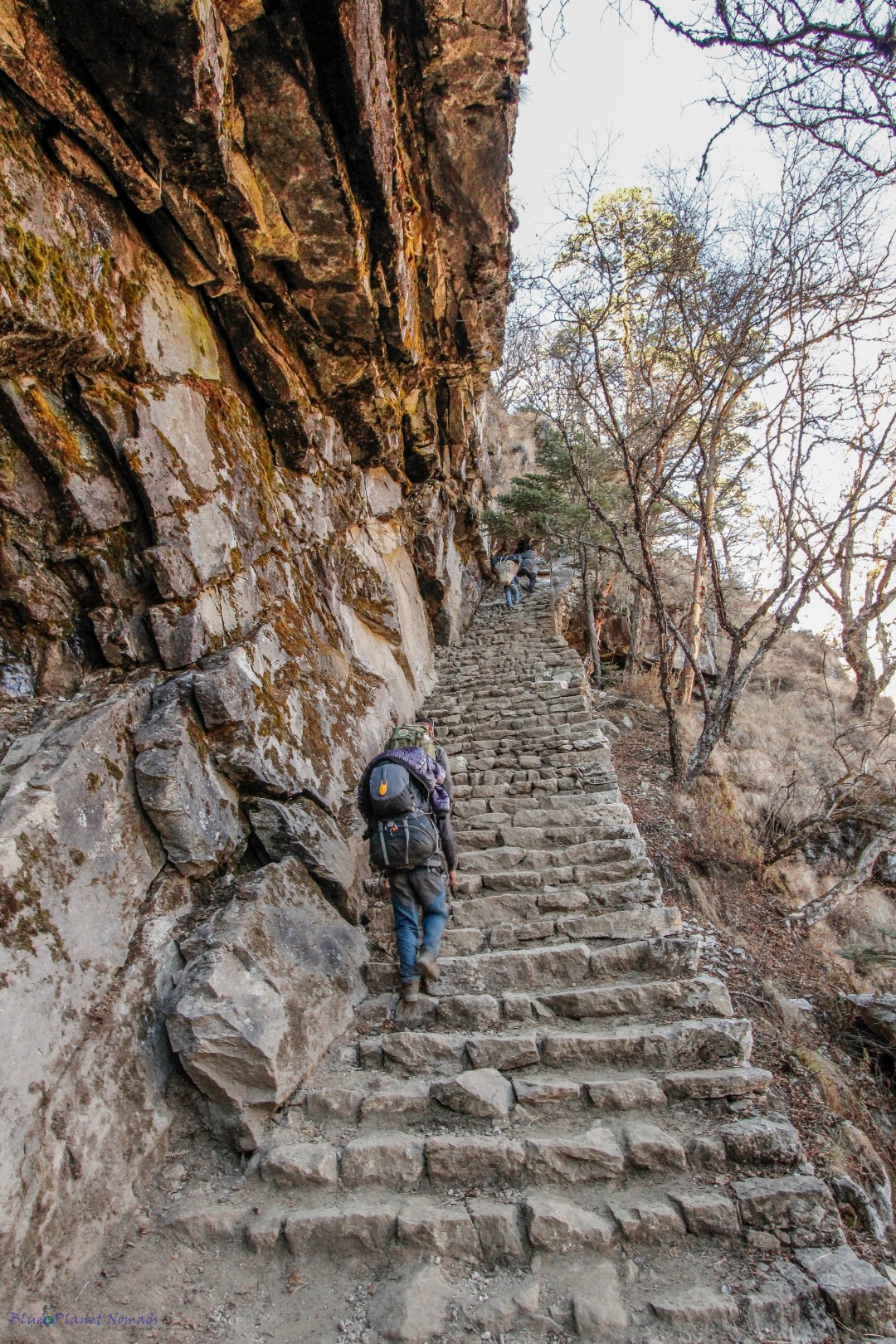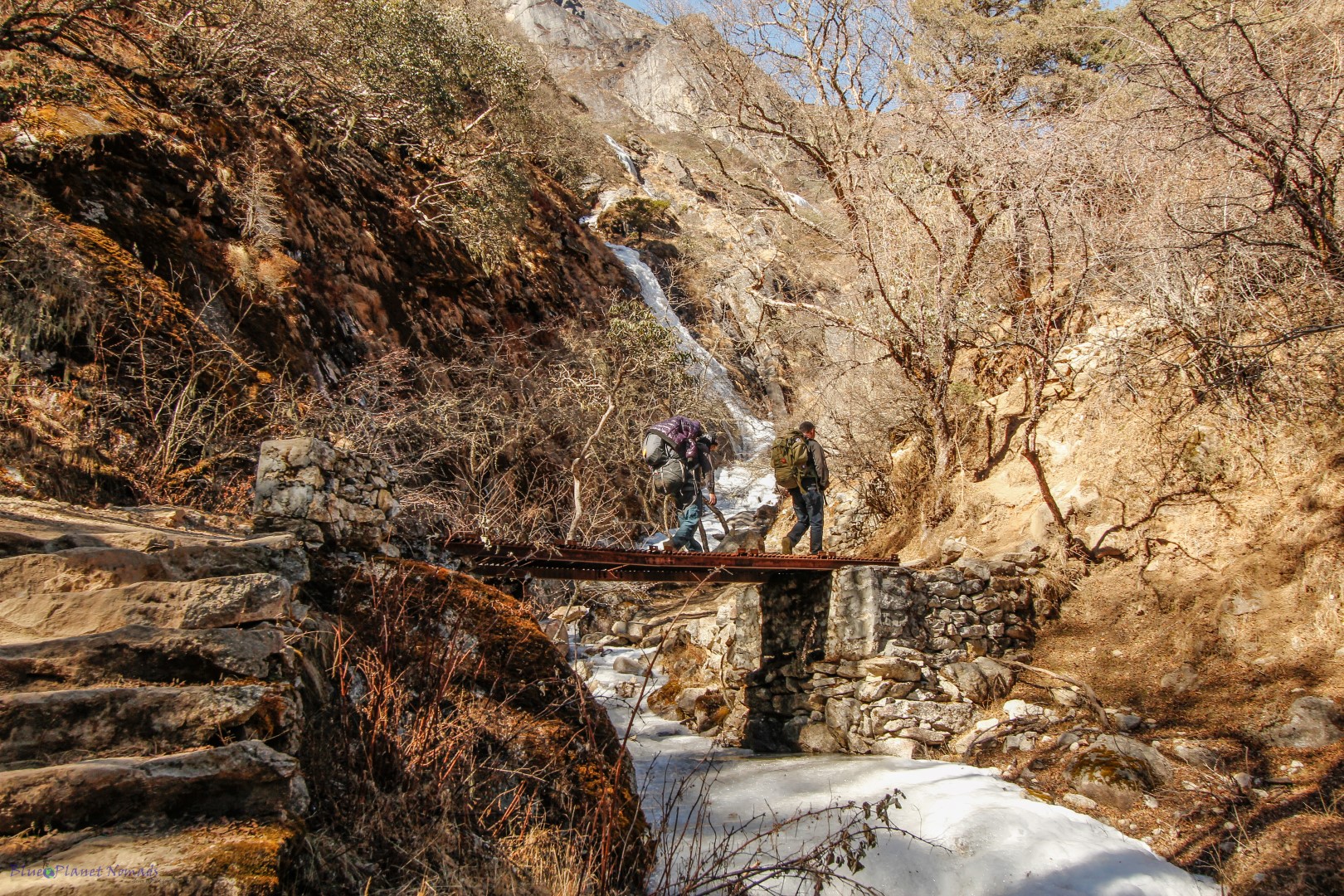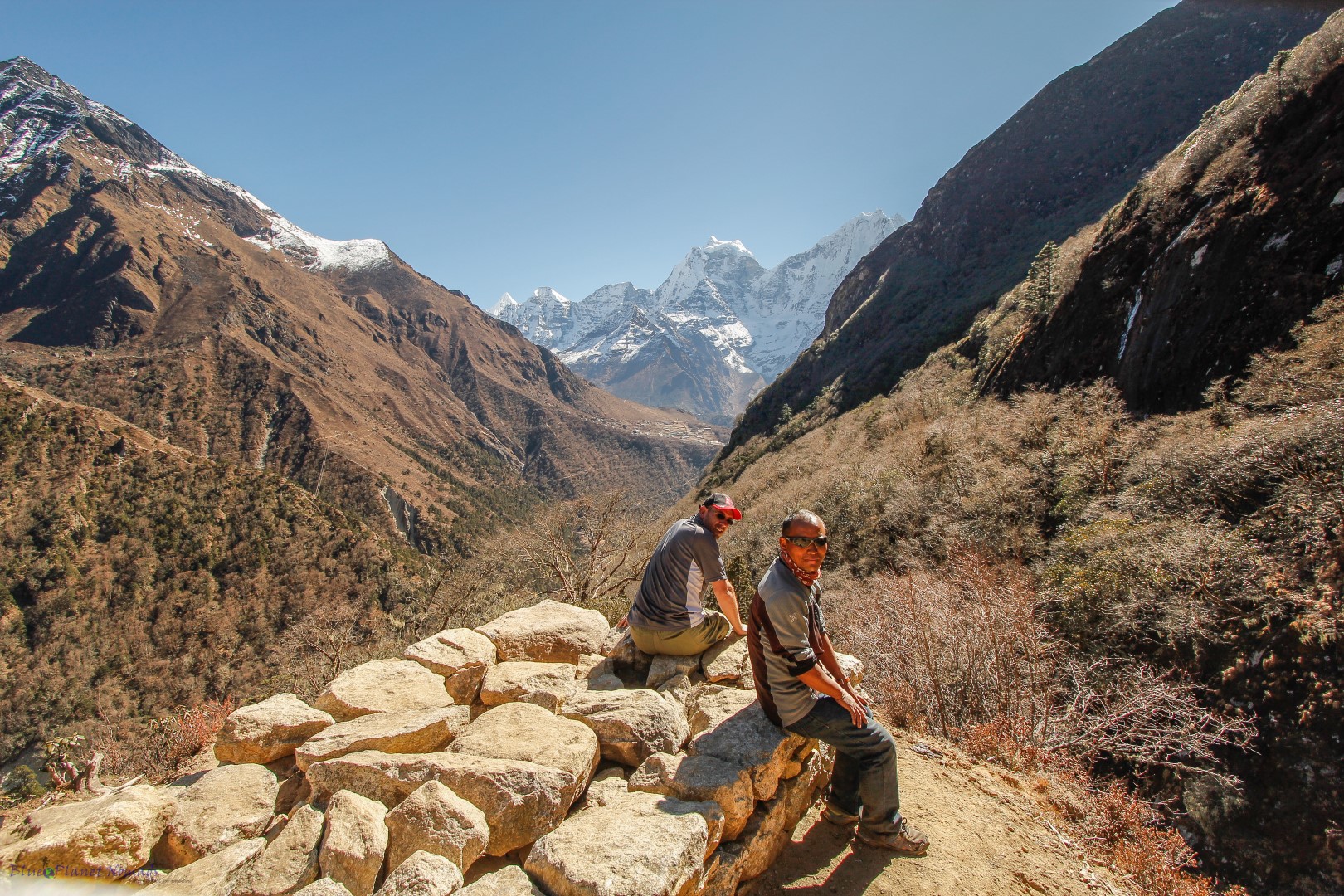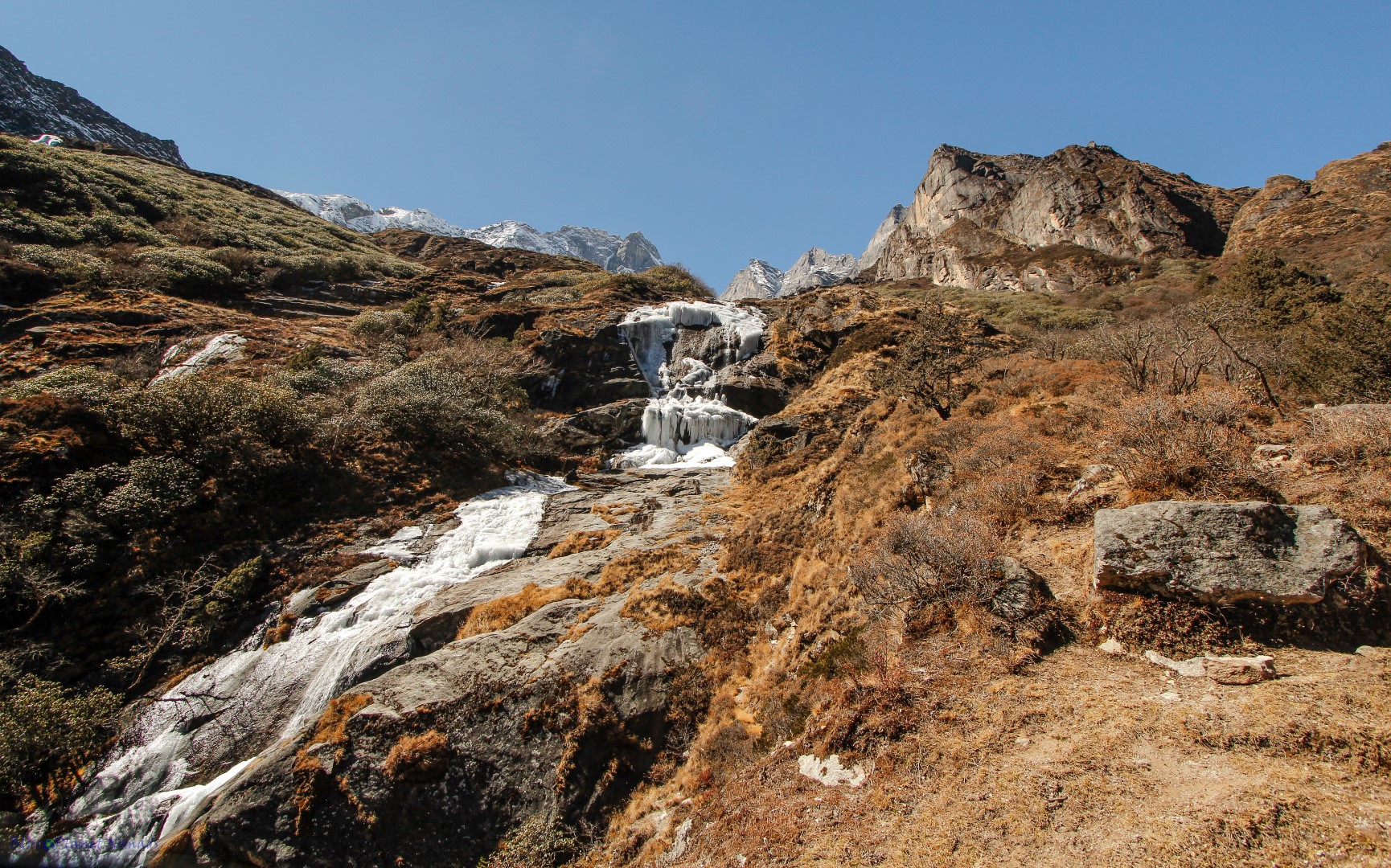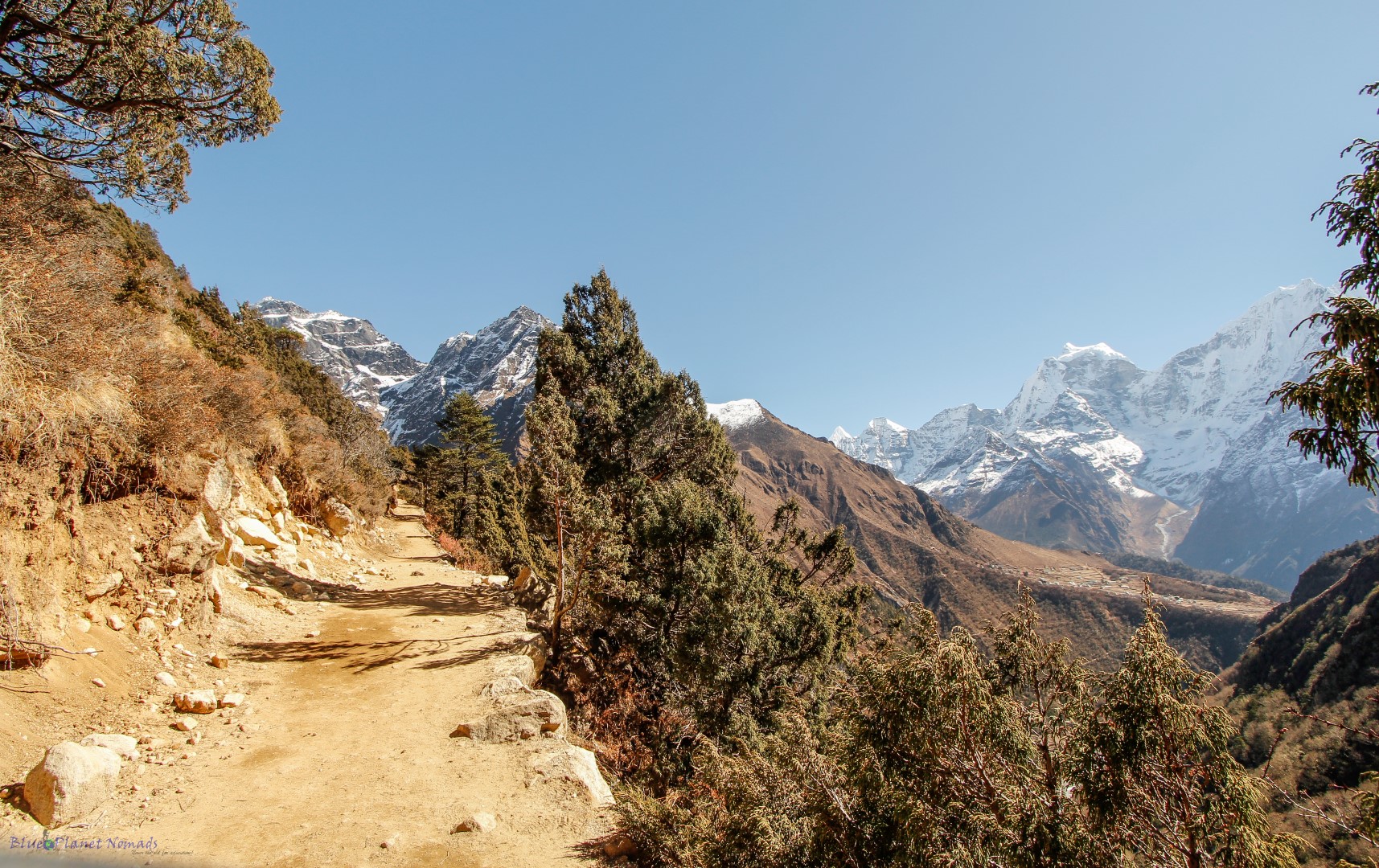 Finally, we came to Dhole and clambered down the rocky slope to our Guesthouse Yeti Inn. We had arrived in time for lunch so made our way into the large common room. Here we met a couple of Aussies Ken and Gordon, it was nice to finally meet some friendly trekkers. Ken's story was quite impressive, he was 72 and had walked all the way from a place (can't remember the name) not far from Kathmandu, they hadn't taken the flight to Lukla. The walk to Dhole alone had taken them three weeks! Gordon was much younger in his 50's. They were on their way to Gokyo where they would fly out. Ken could walk up but his knees didn't permit him to walk down so their only way out was by chopper. I was happy to sit and talk all afternoon but I developed a worrying headache and had to go lie down. I came into the common room for dinner but my headache hadn't improved much. I took Diamox which made me feel drunk! Ram had also organised a bowl of steaming water with some vapour drops to help ease my cough. I really felt I was in the wars, even when I finally went to bed my headache was still screaming. I really hope I wasn't getting altitude sickness.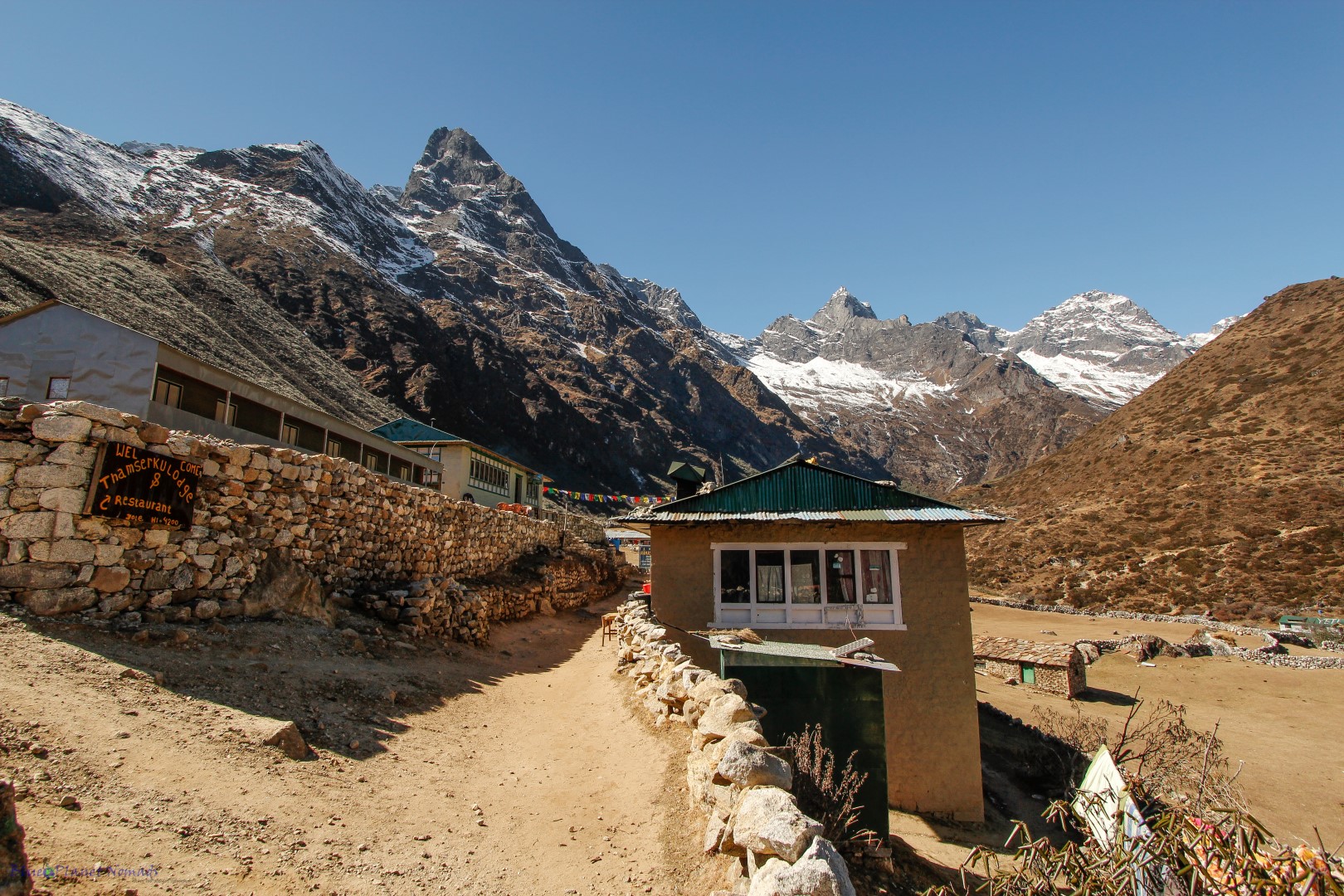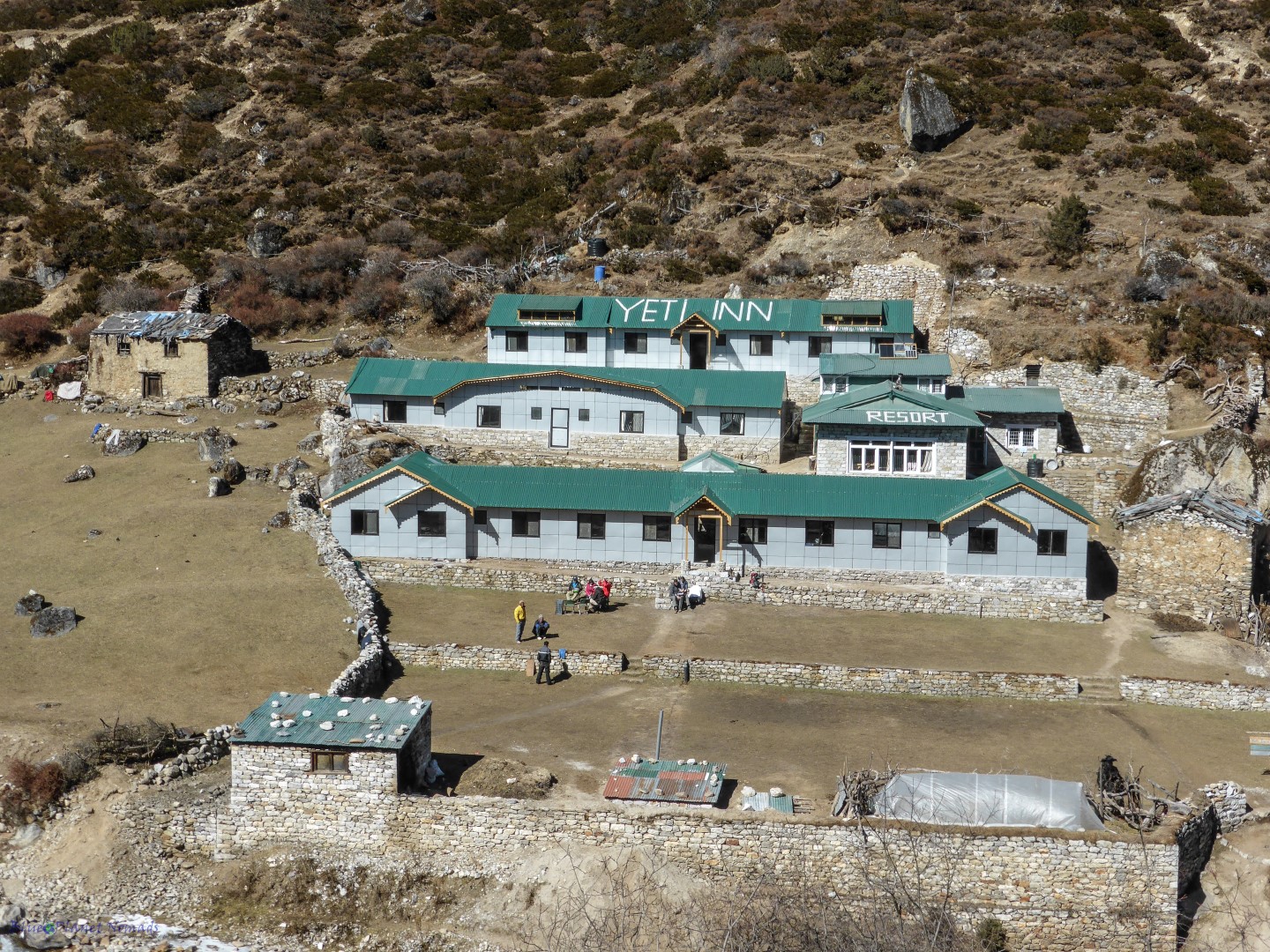 Day 7 – Machhermo (4410 Meters)
I woke up still with a headache so popped more pills in the hope it would get rid of it! We had breakfast with our friends and Gordon gave me some more pills and potions. We had to make the decision as to whether we wait the headache out or get going. I went back to bed for a while and it seemed to ease off by 11am. I made the decision to walk up the hill to the flag and if the headache eased off then we would set of for Machhermo after lunch otherwise we would stay another day which I really didn't want to do as I would start running out of acclimatisation days. Vaughan and I climbed up the steep hill to the flag and my headache seemed OK so we climbed up higher to the cairn and I was still feeling OK. I passed the test so we made the decision to set off for Machhermo after lunch.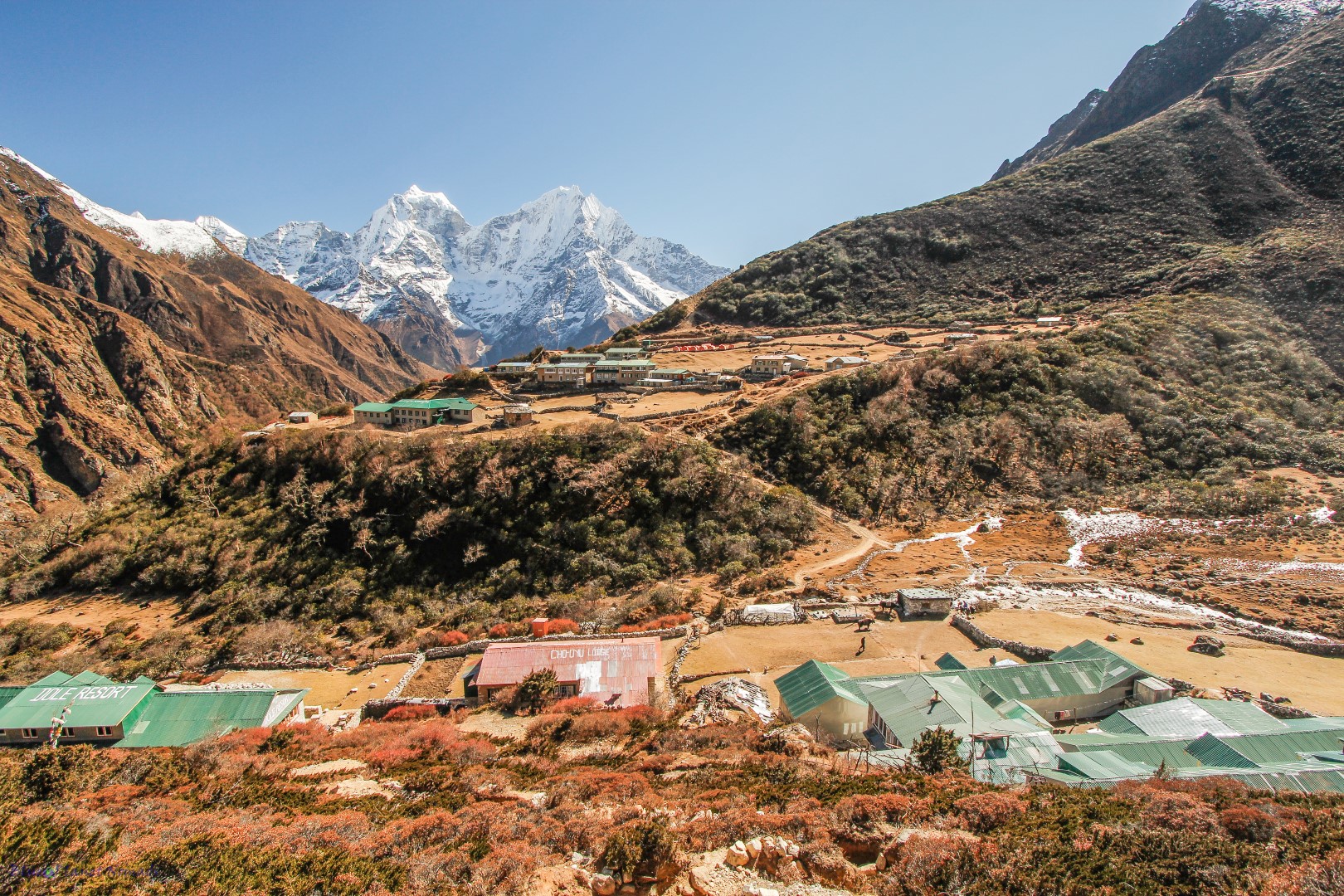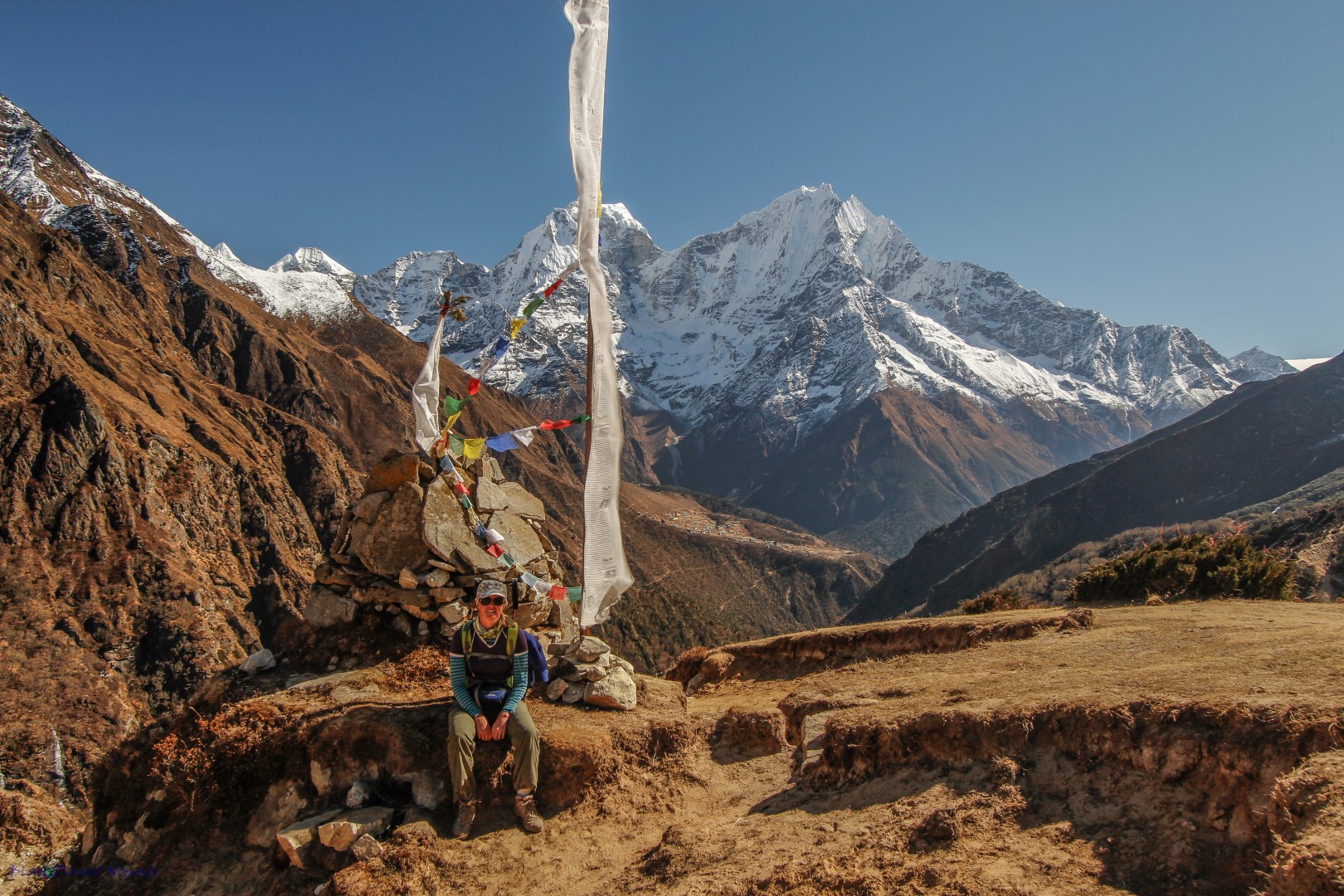 Around 1pm we headed out and climbed back up the hill again to the flag and continued on past the cairn until we met up with the track. The trail was fairly flat as it followed the contours of the rocky valley with the Dhudi Kosi well below us. The scenery once again was mesmerising and very beautiful. We passed a single guesthouse at Lhafarma and the path continued relatively flat until we got to Luza (4370 meters). After Luza the tracked contoured gradually up hill on to a grassy expanse where we could see Machhermo below in the valley. The last hour of walking was with yaks which we got stuck behind and boy they are so slow!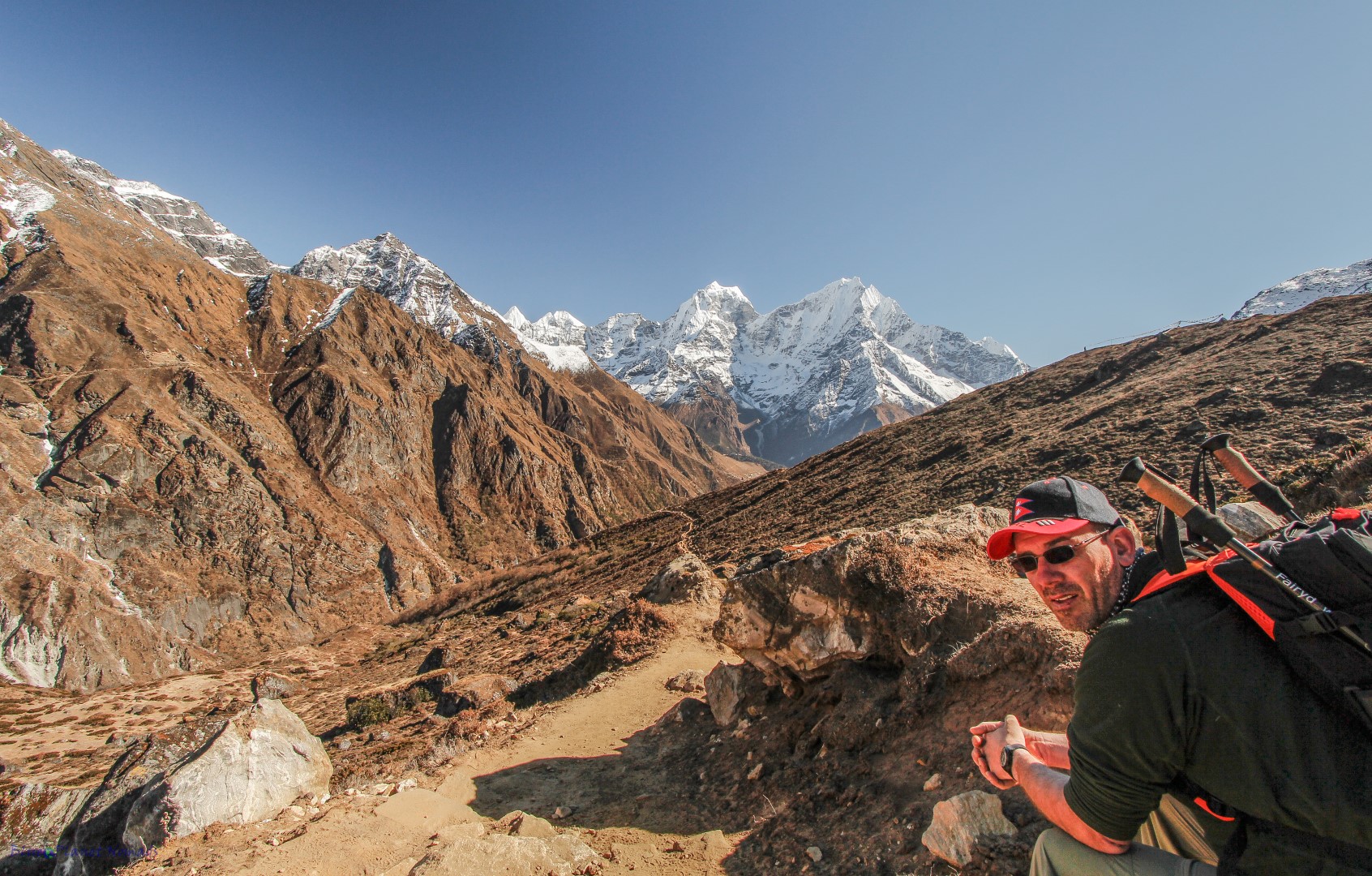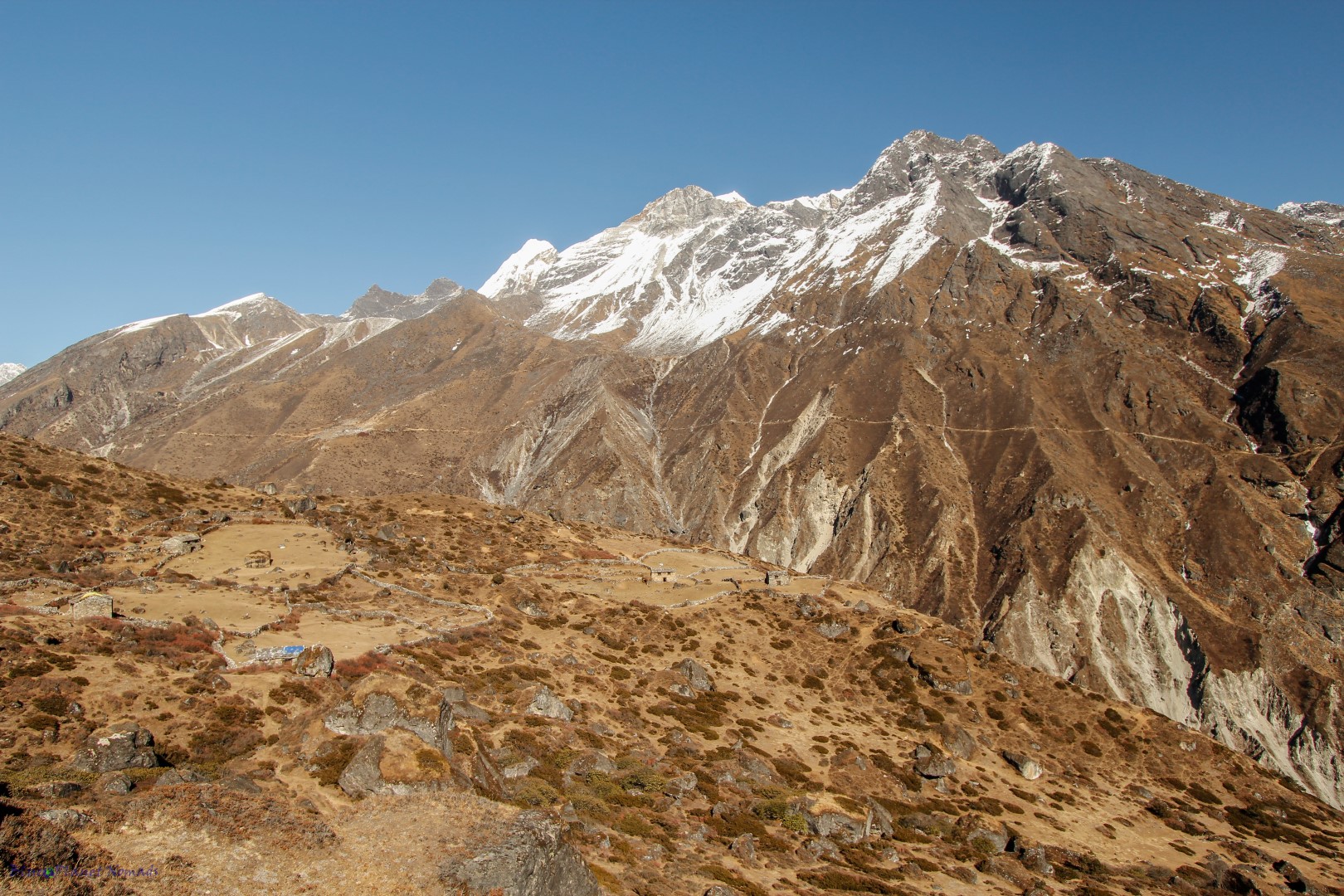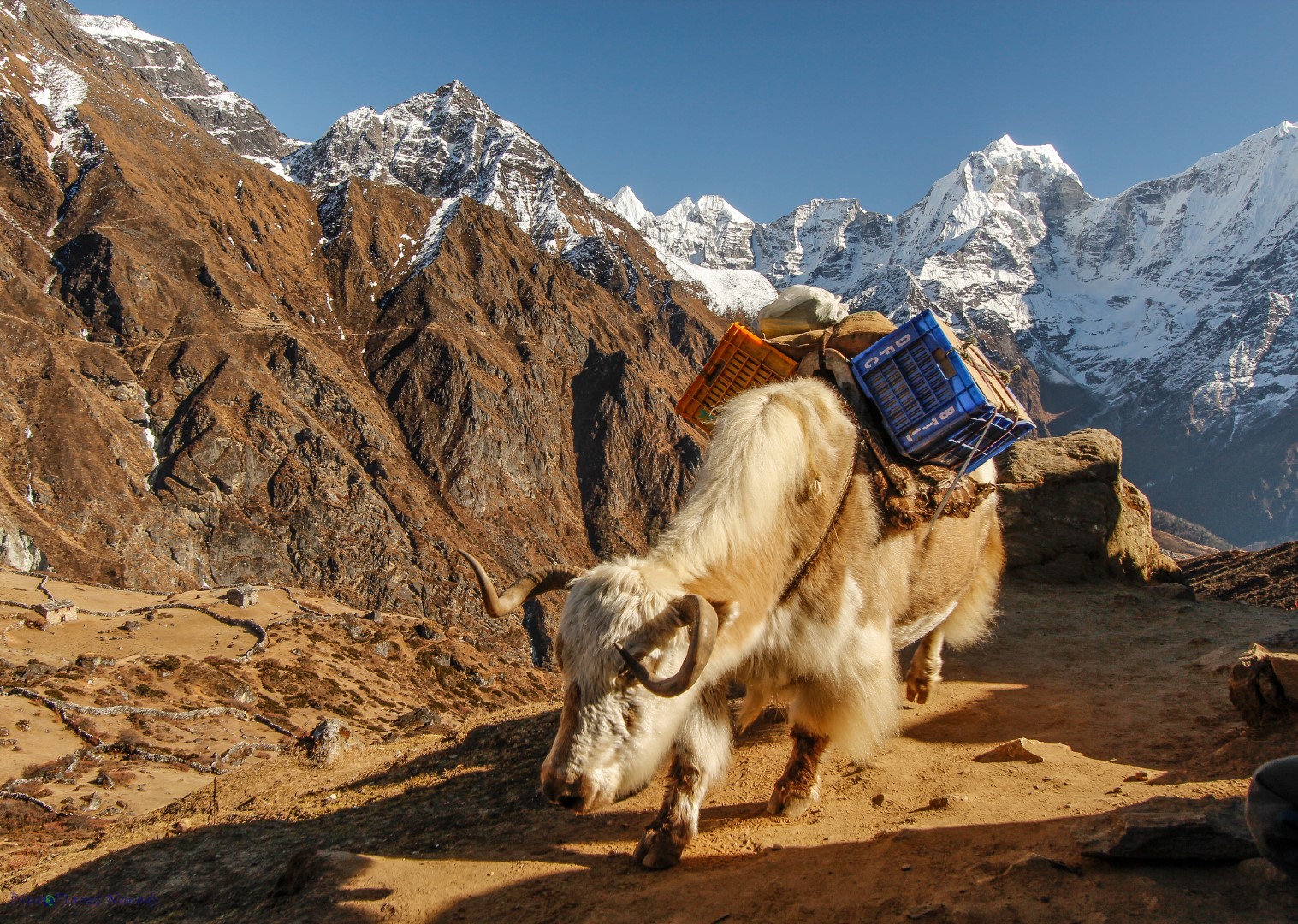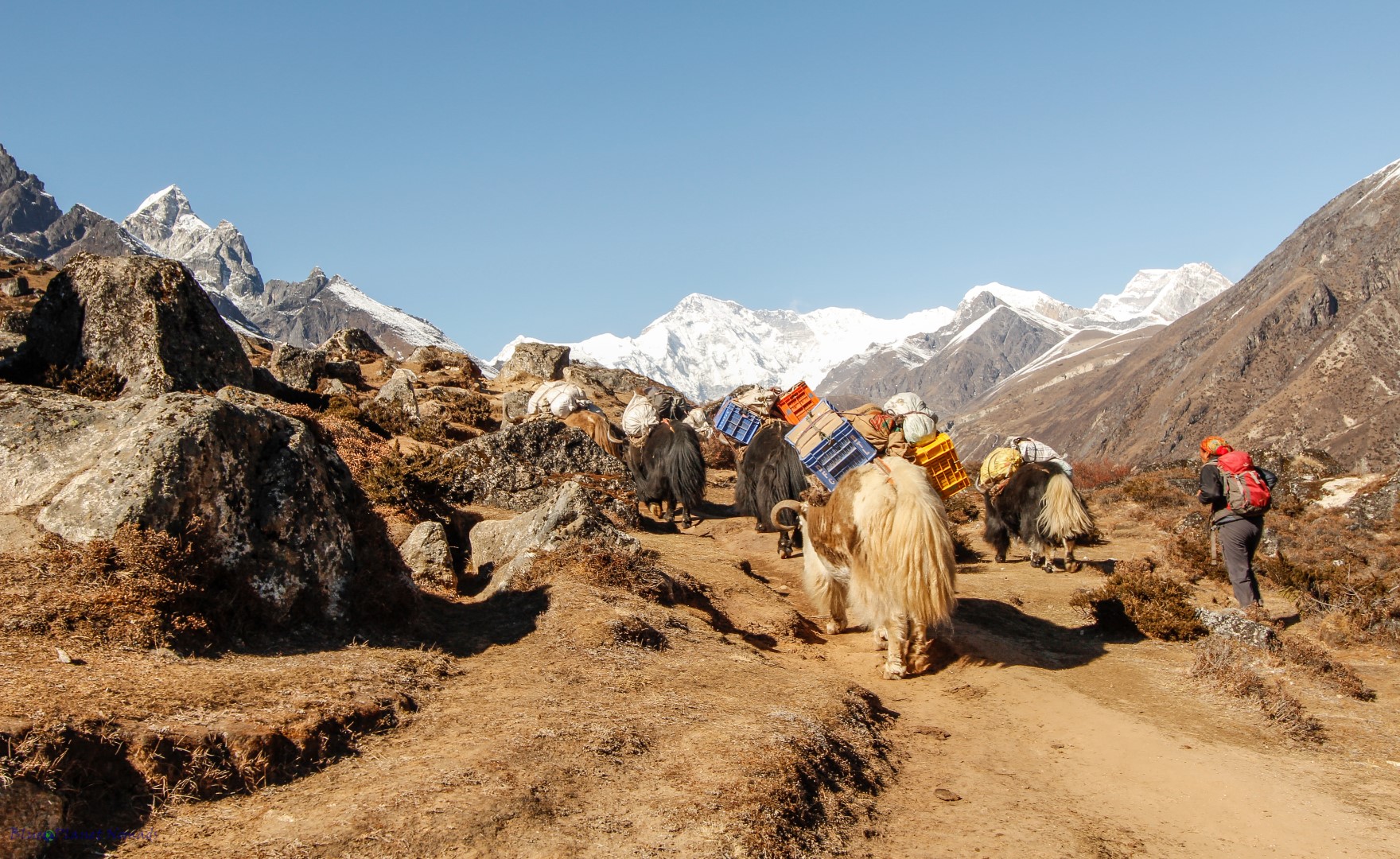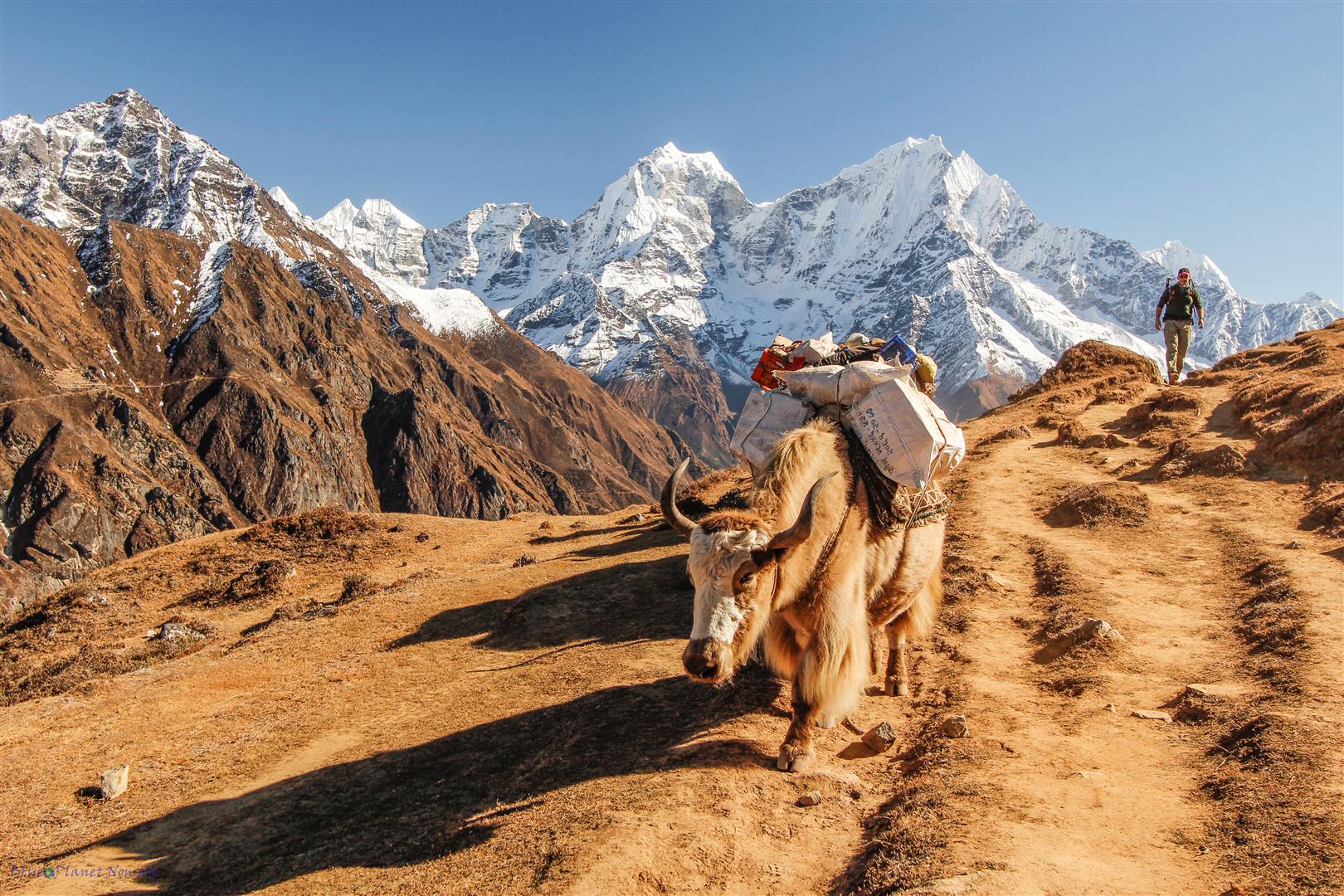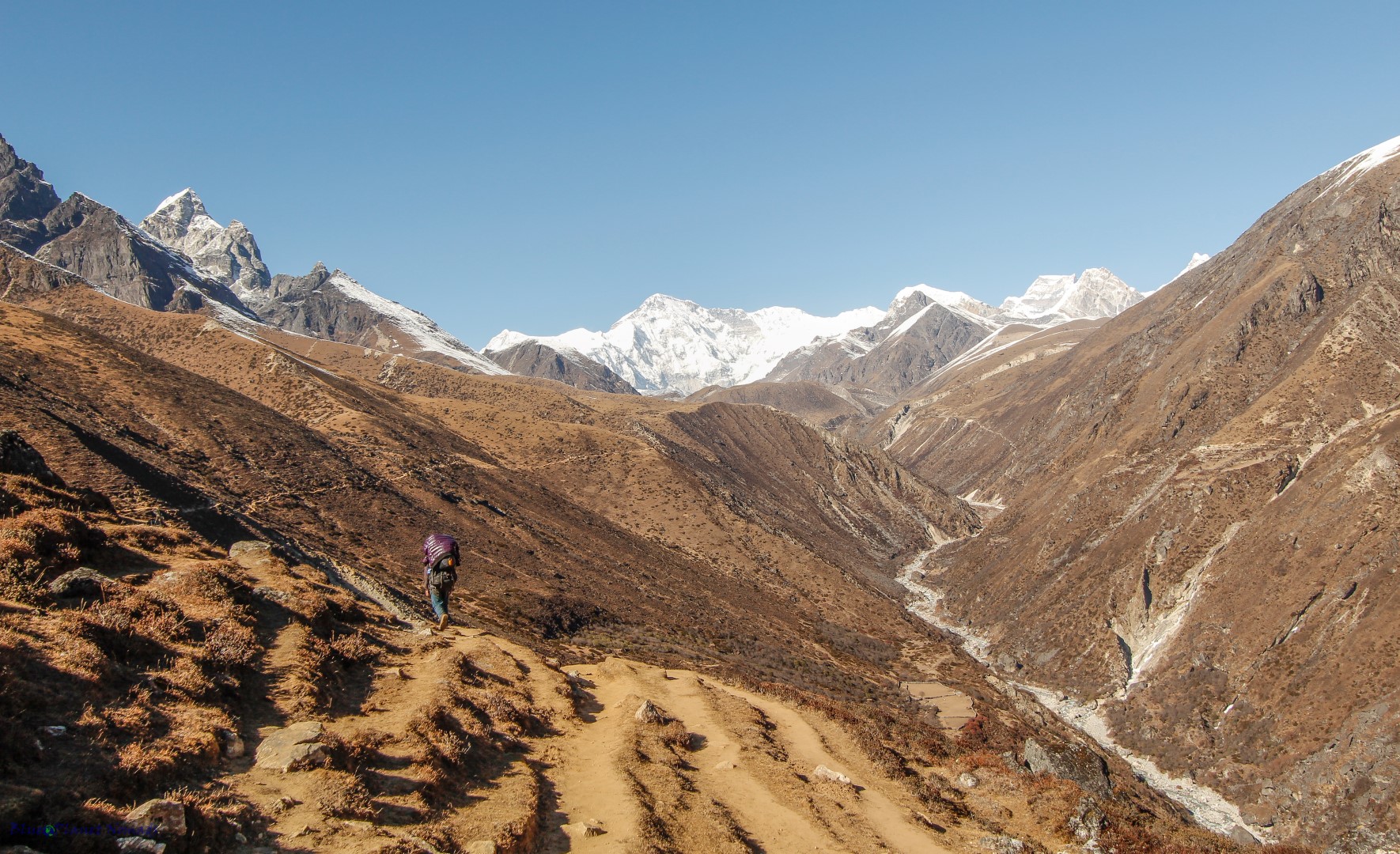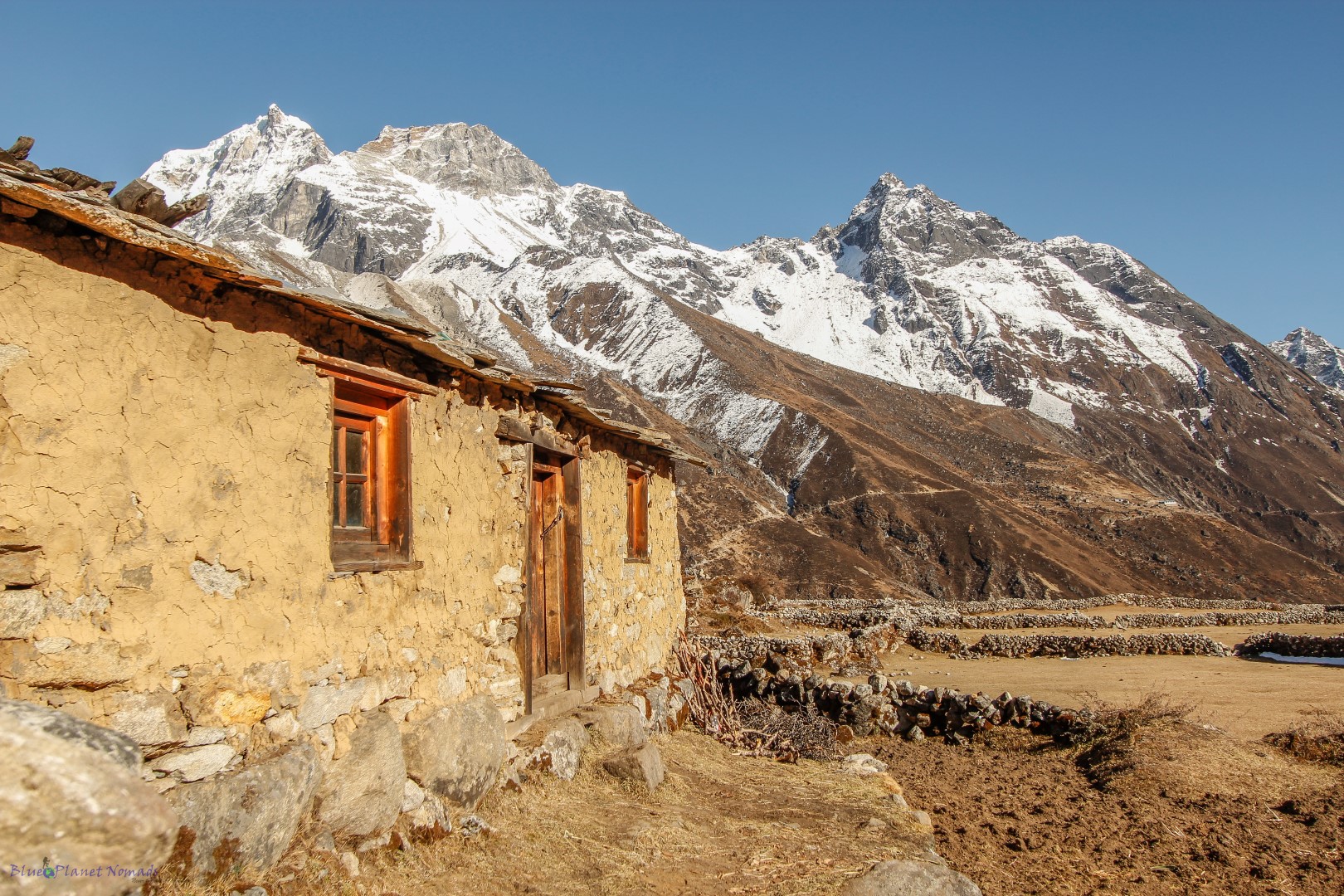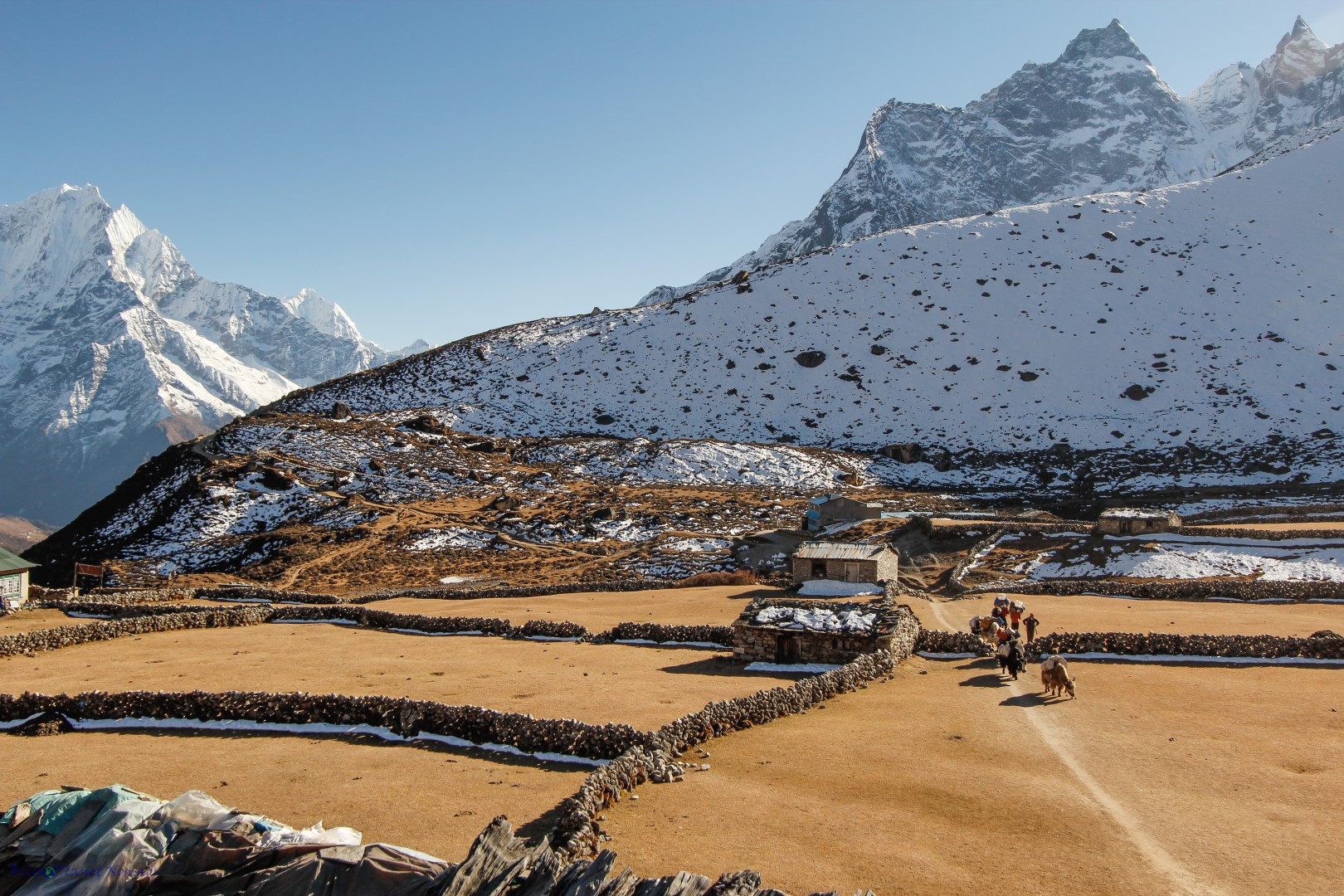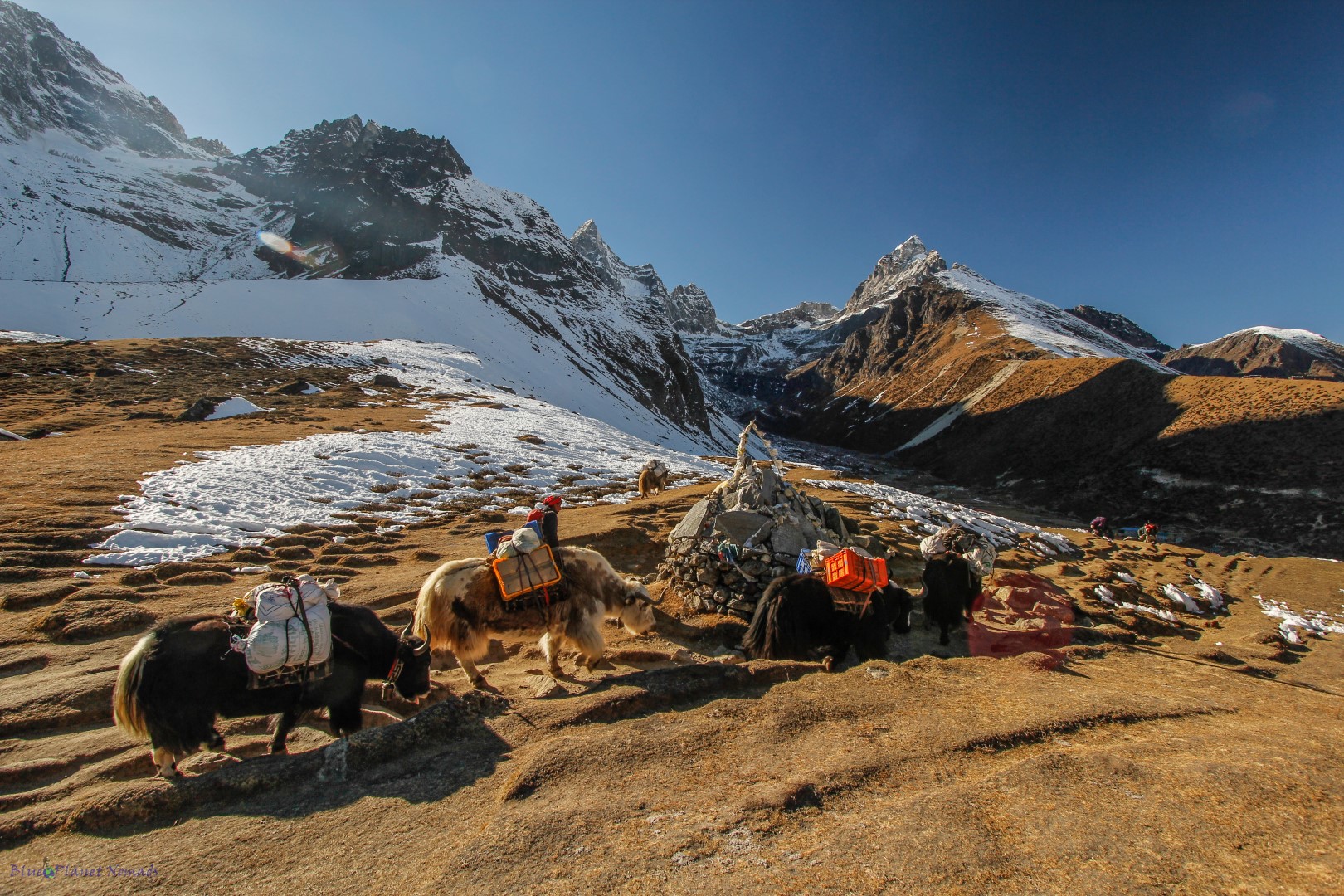 It was late afternoon when we reached Machhermo. Ram had booked us in the Namgyal Lodge which was supposed to be the best but it was way too busy for us and obviously popular with the unfriendly French brigade. I really didn't like the lodge at all and the toilets stank. Outside it was freezing with quite a bit of snow and ice around.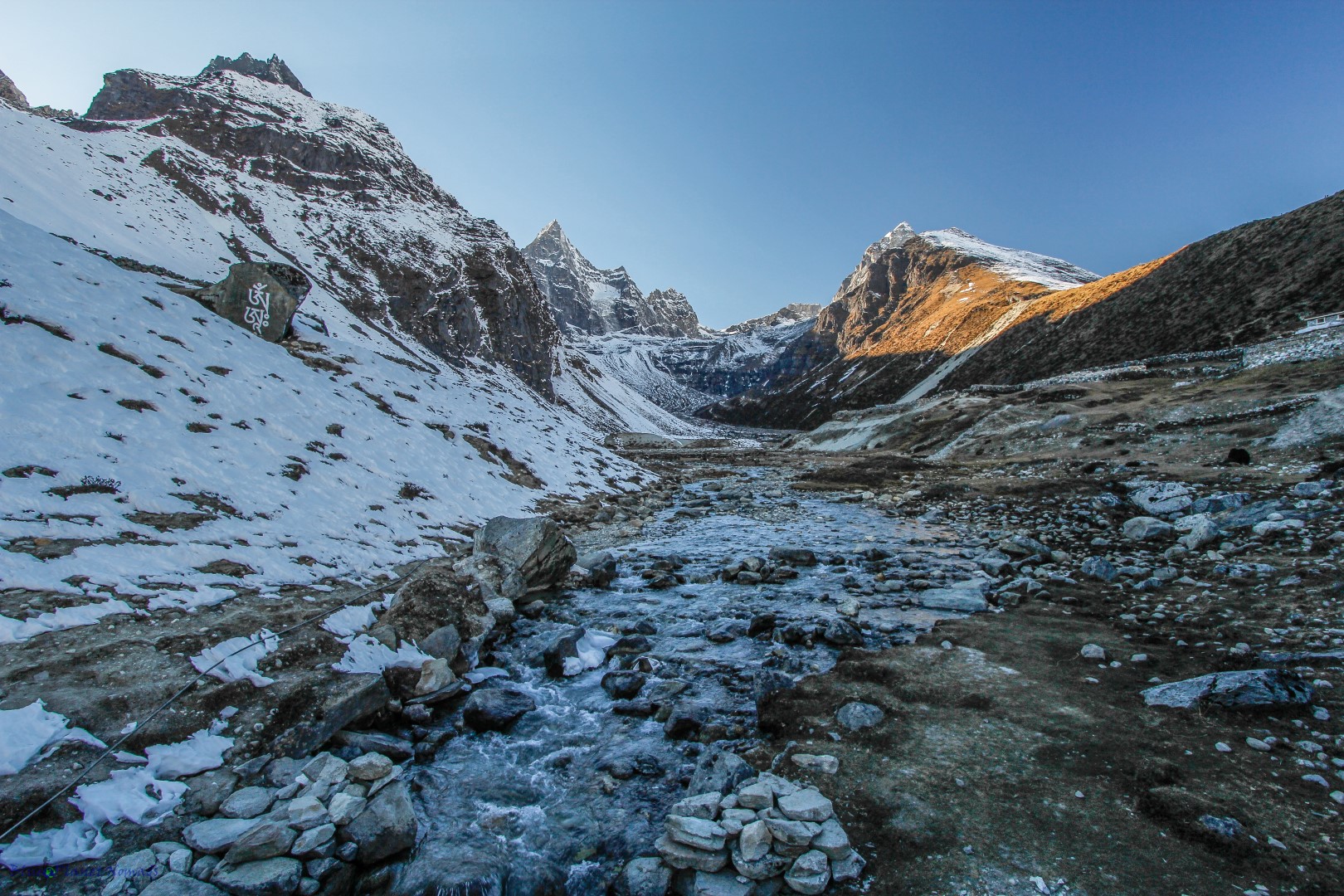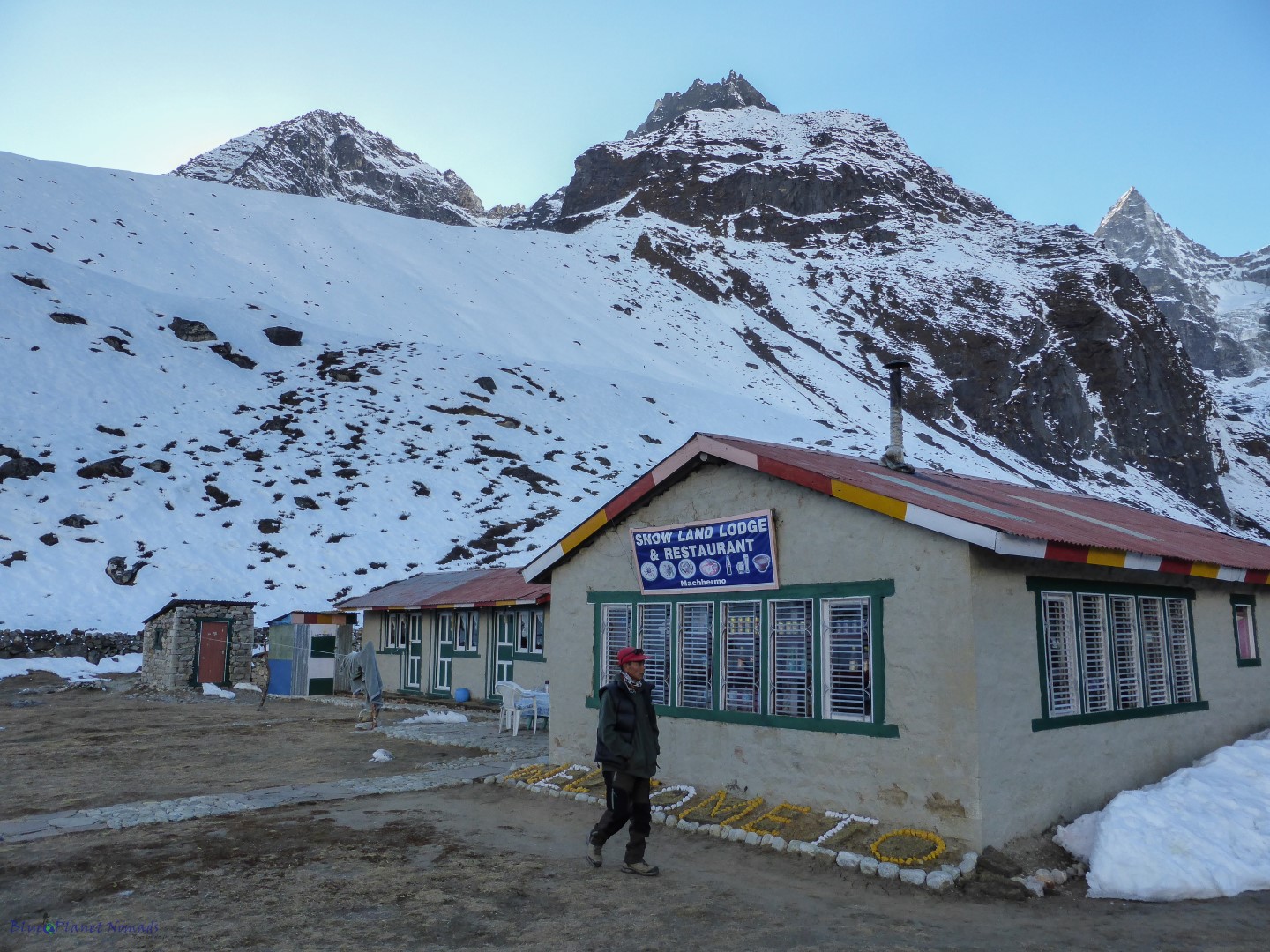 Day 8 – Gokyo (4750 Meters)
We were looking forward to today because we would be finally seeing the stunning Gokyo Lakes region. We were up and out by 9am with a climb out of Machhermo to pick up the trail.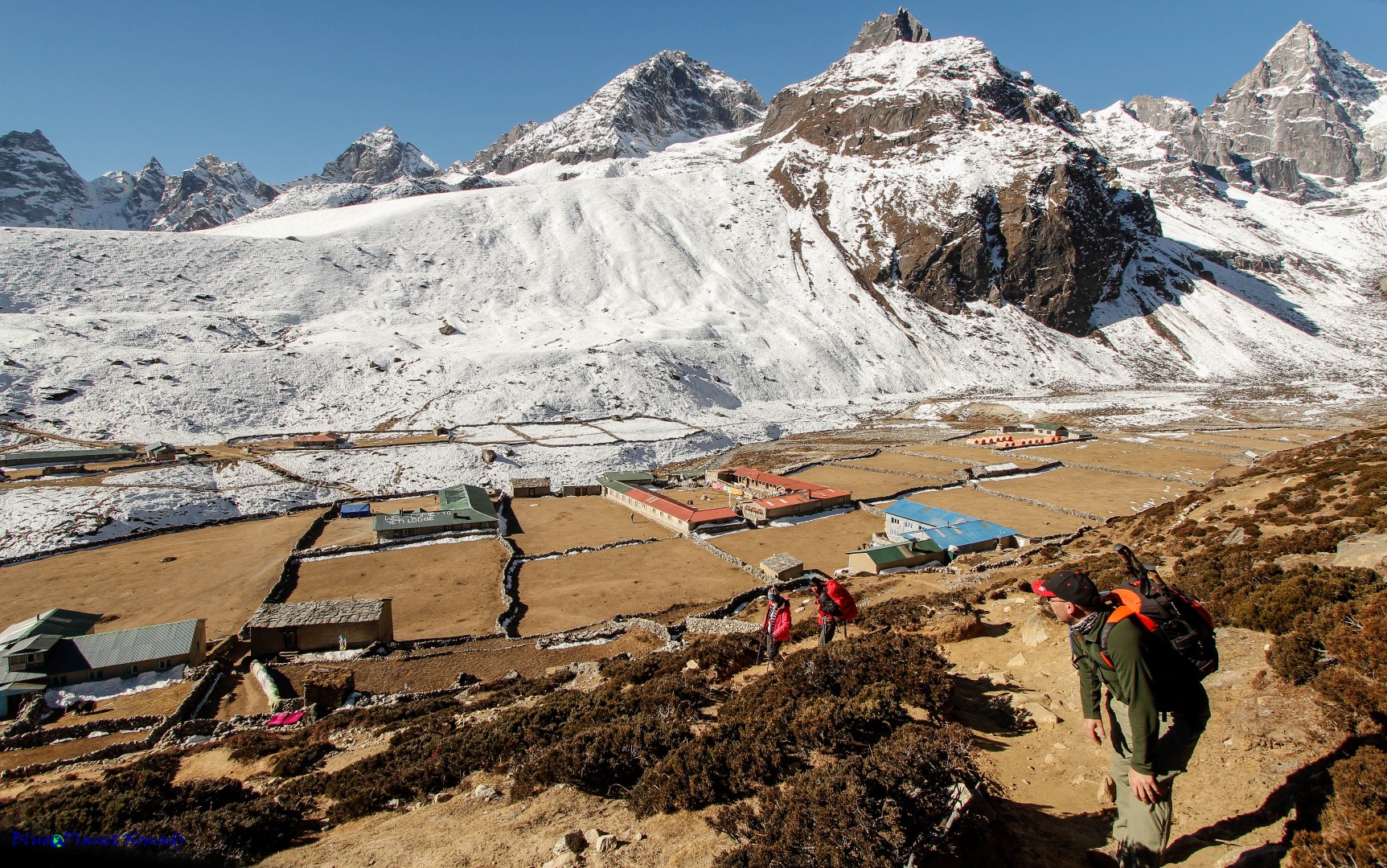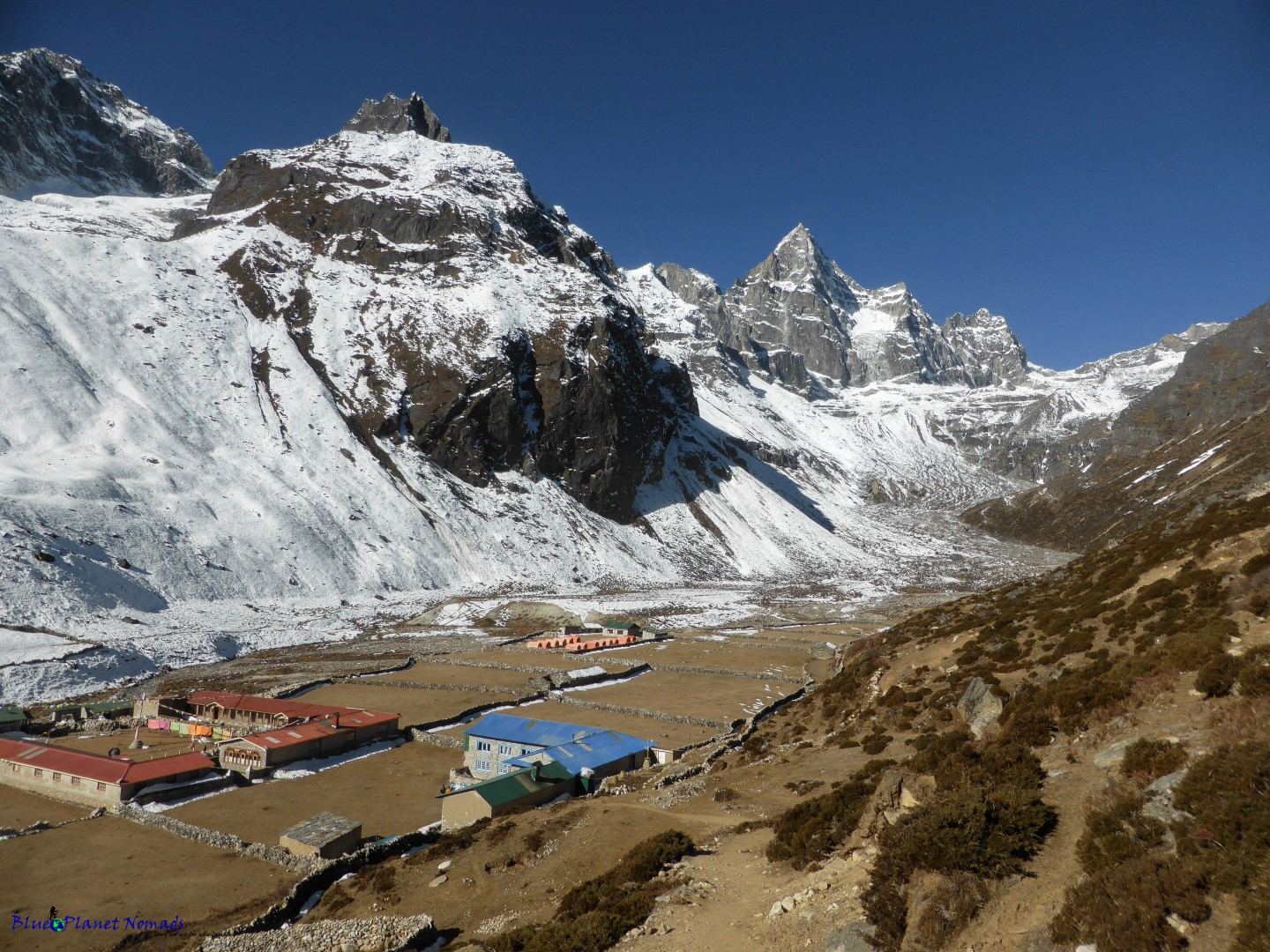 It was relatively flat until we got to Pangka then the valley started to narrow and the river was much higher as it flowed down from the glaciers.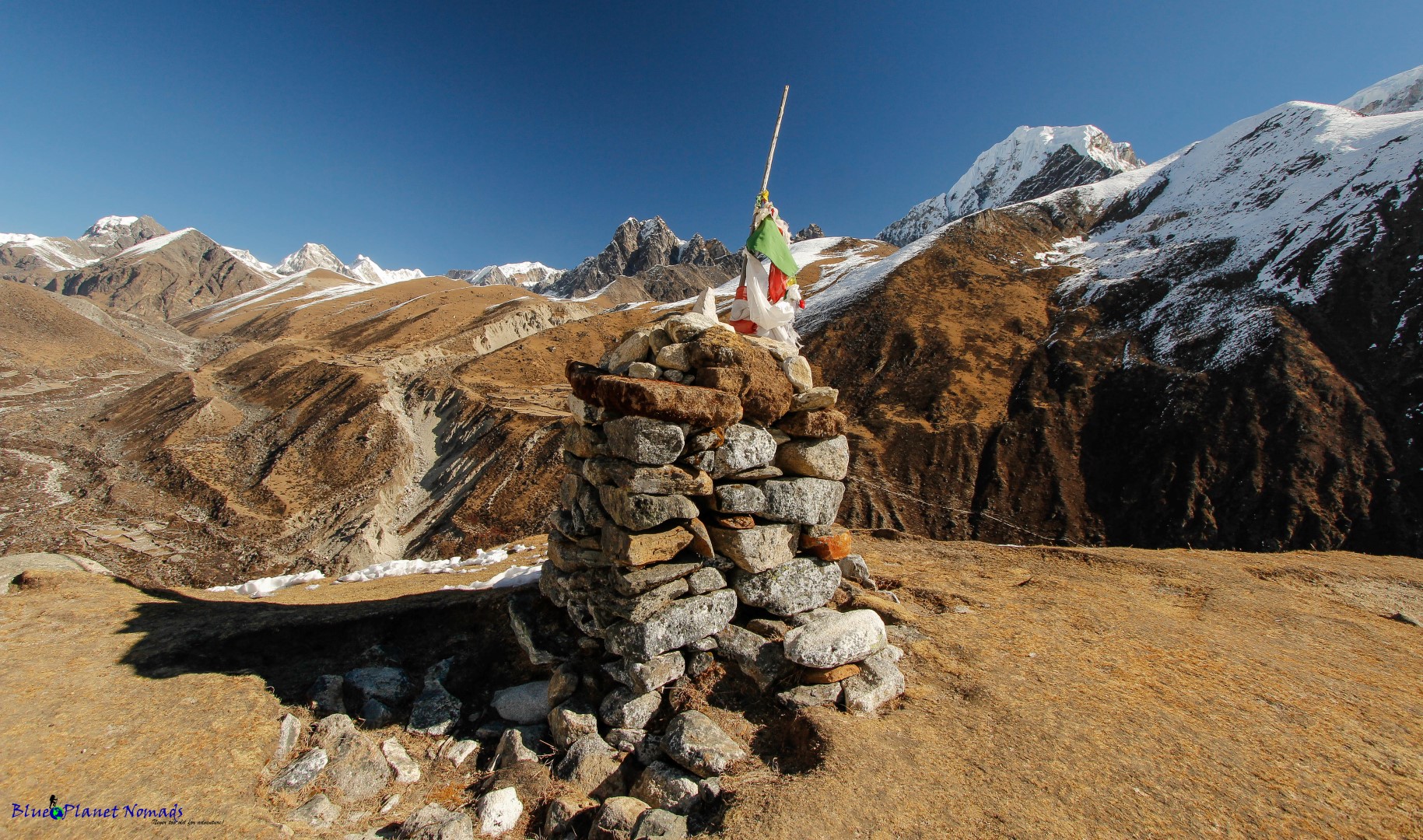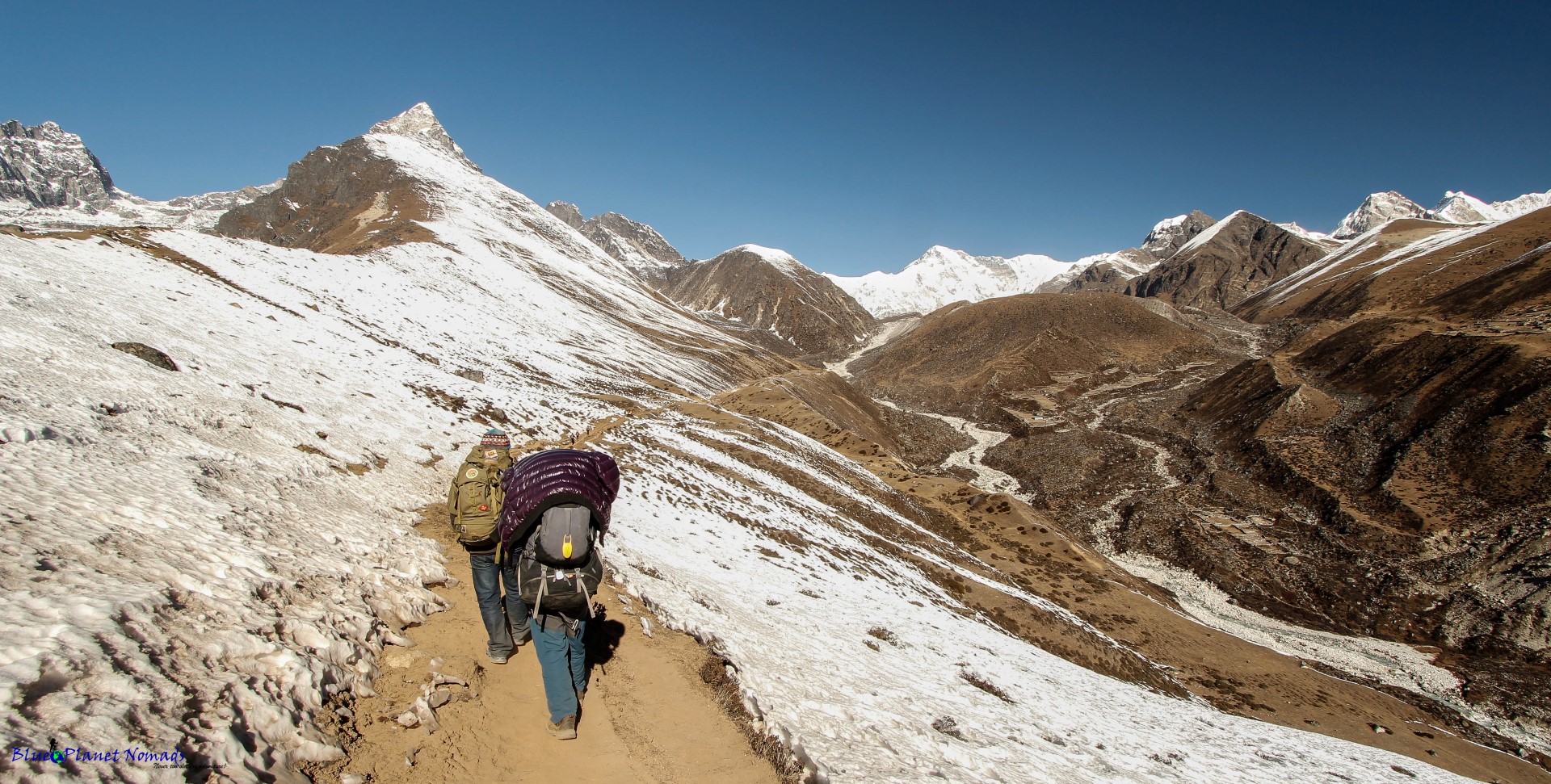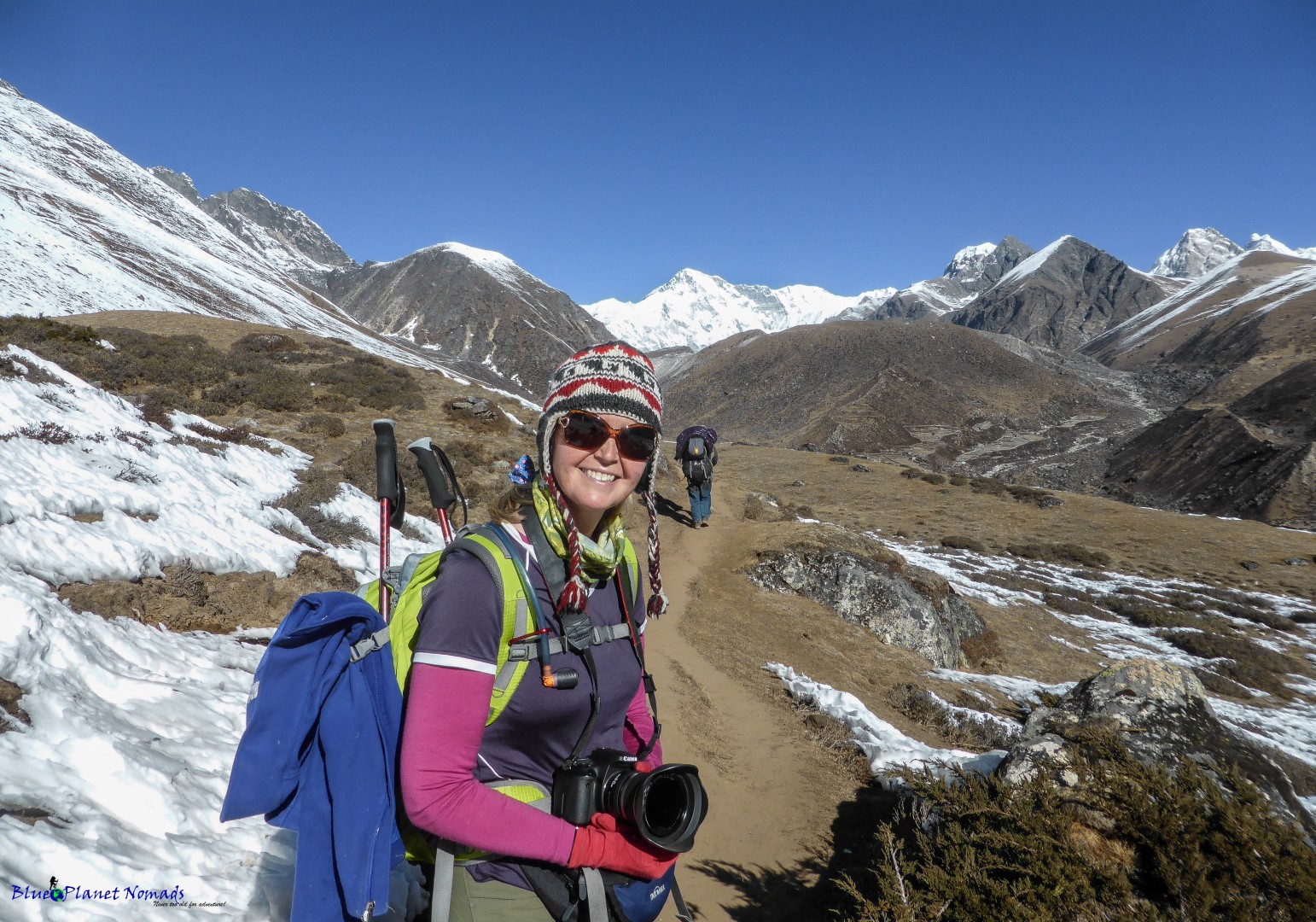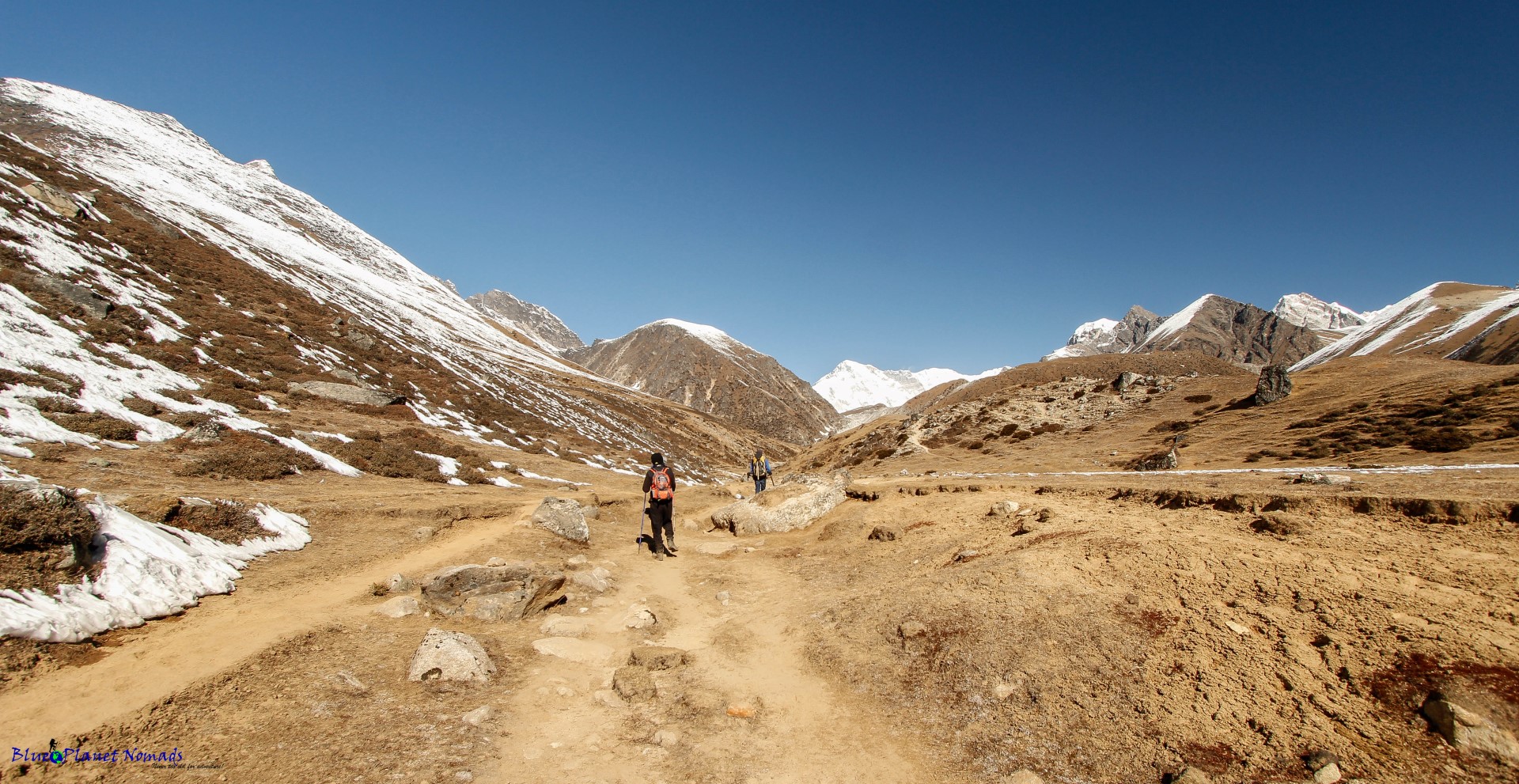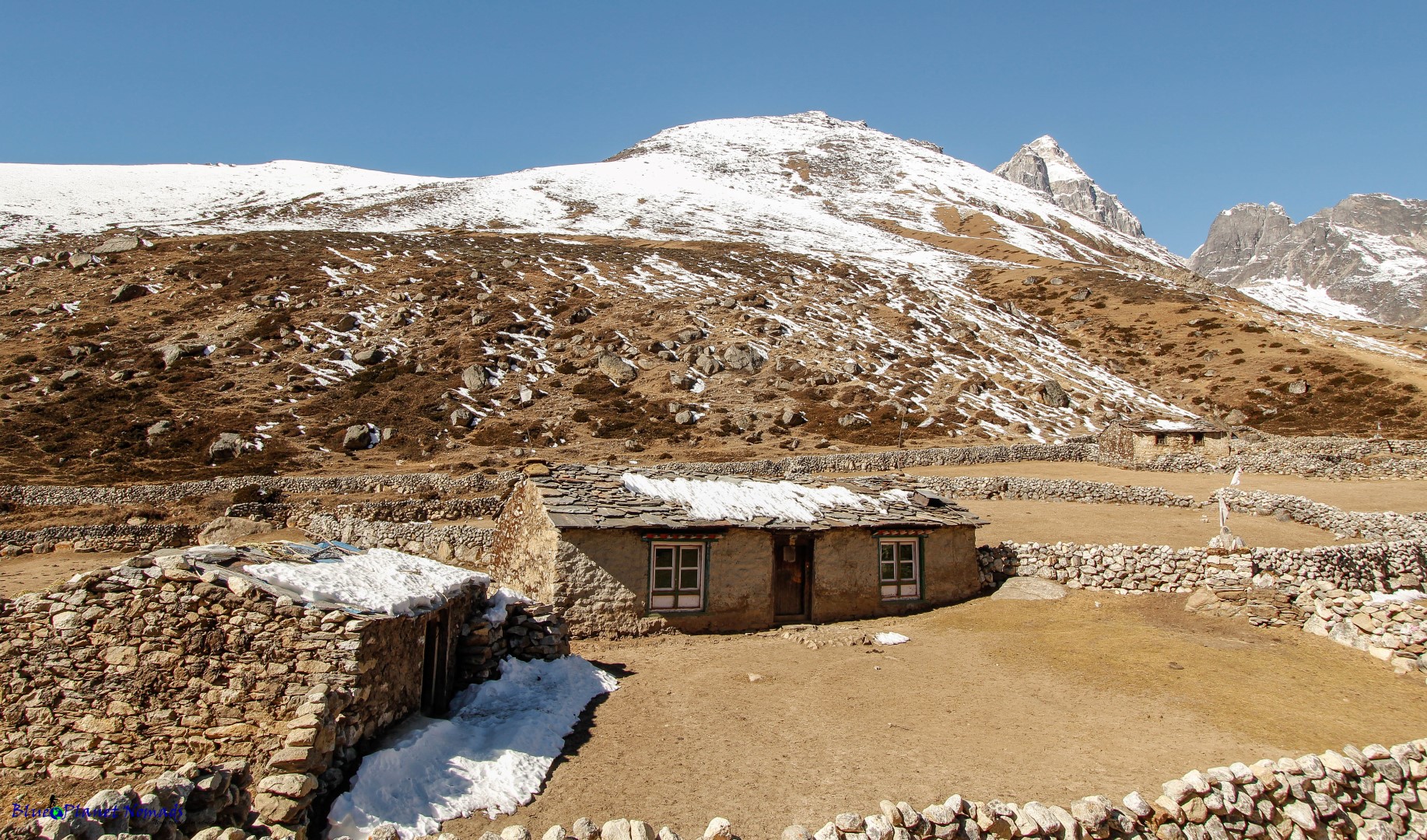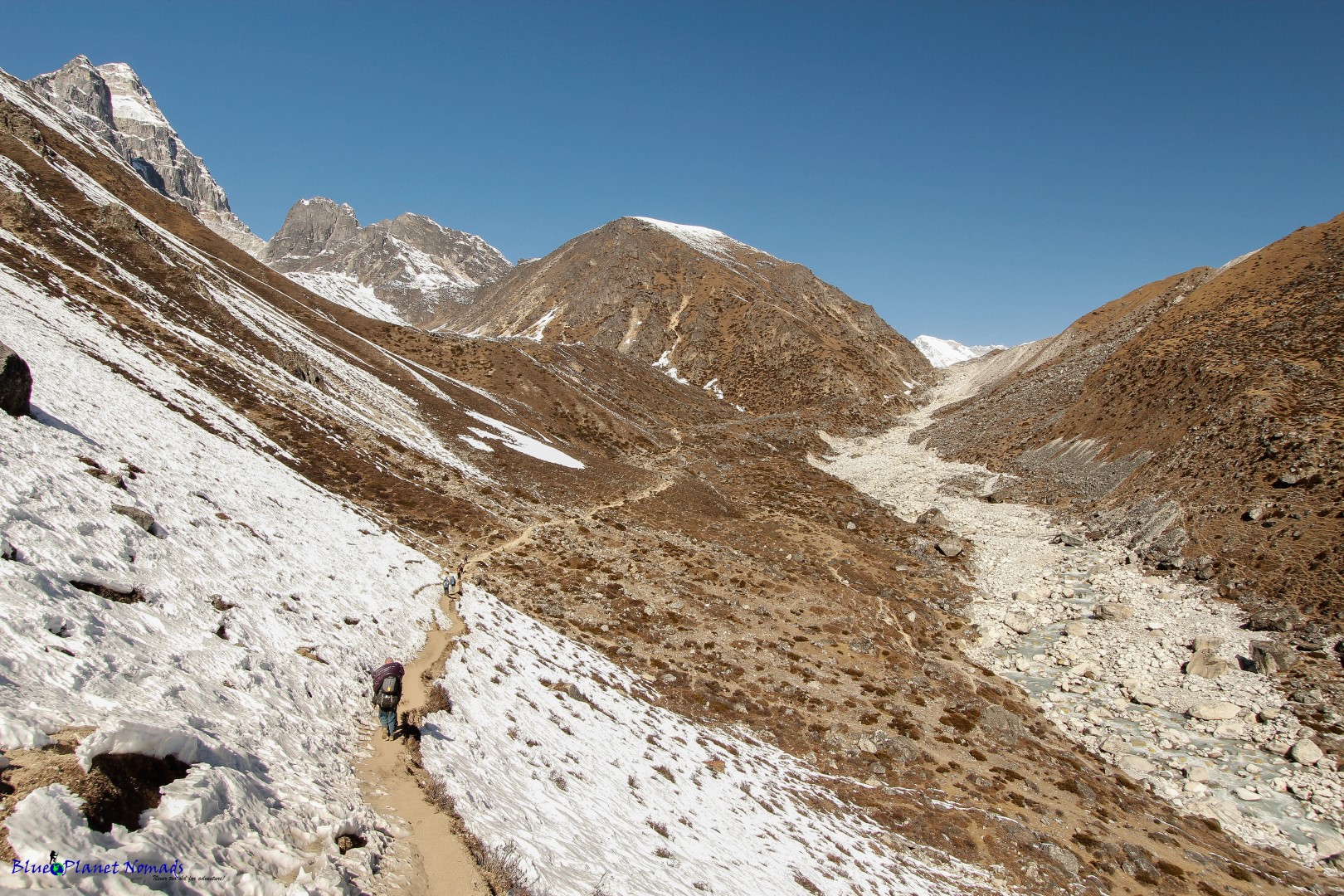 The area was now glacial terminal moraine, part of the Ngozumpa Glacier. We climbed up steps and through a narrow rocky section which had two rivers running beside us one from the glacier which was murky, the other flowed from the lakes so was crystal clear.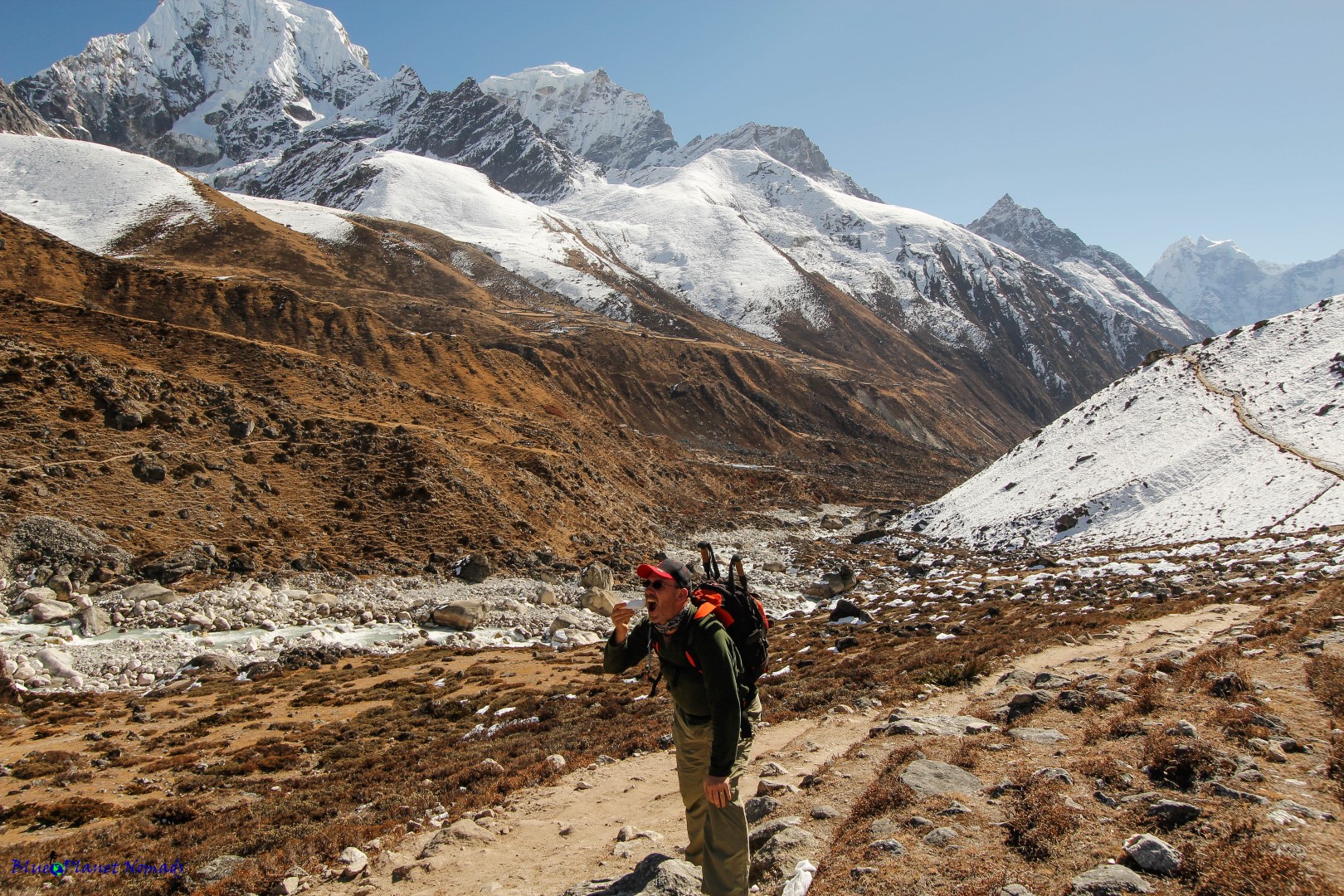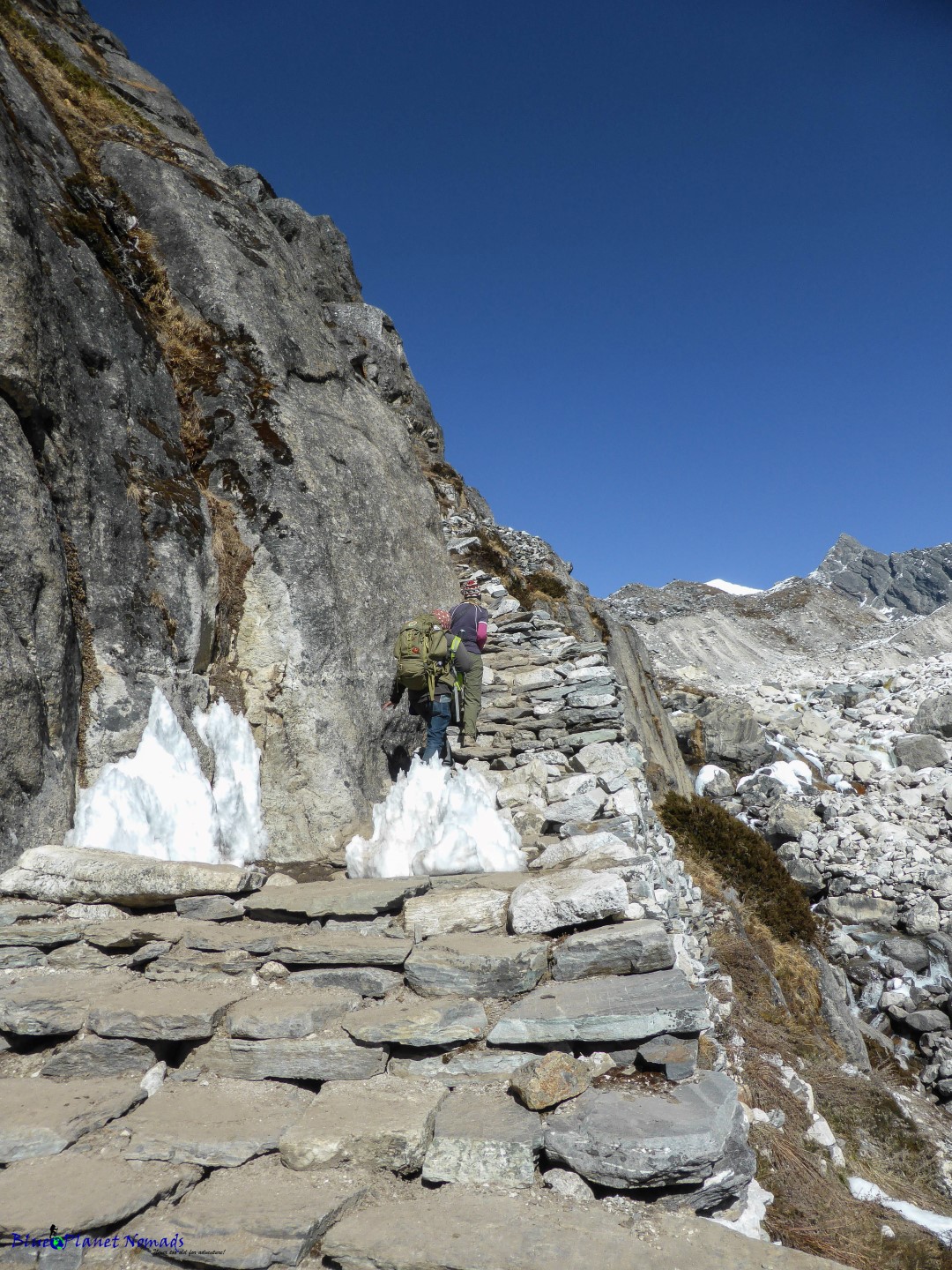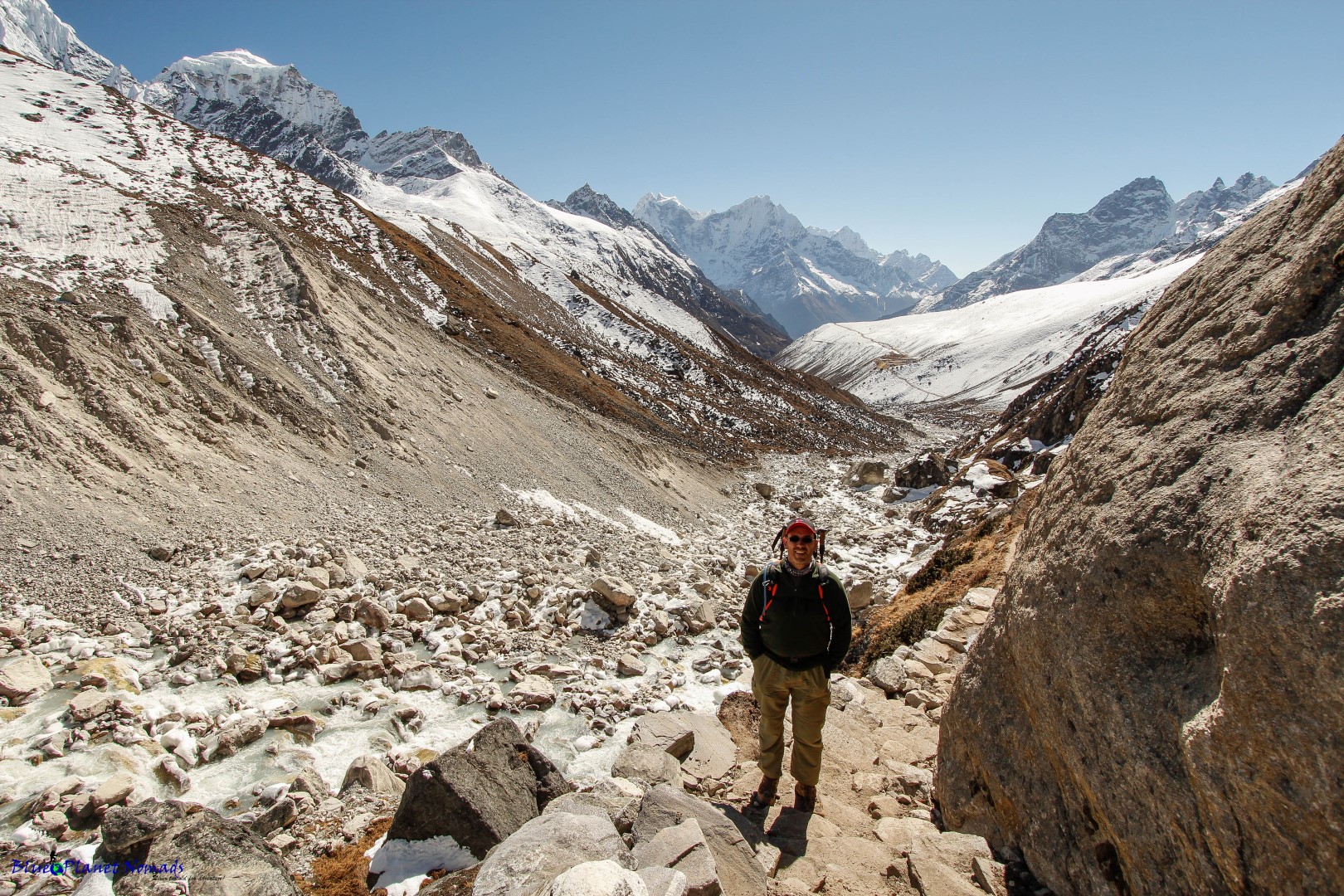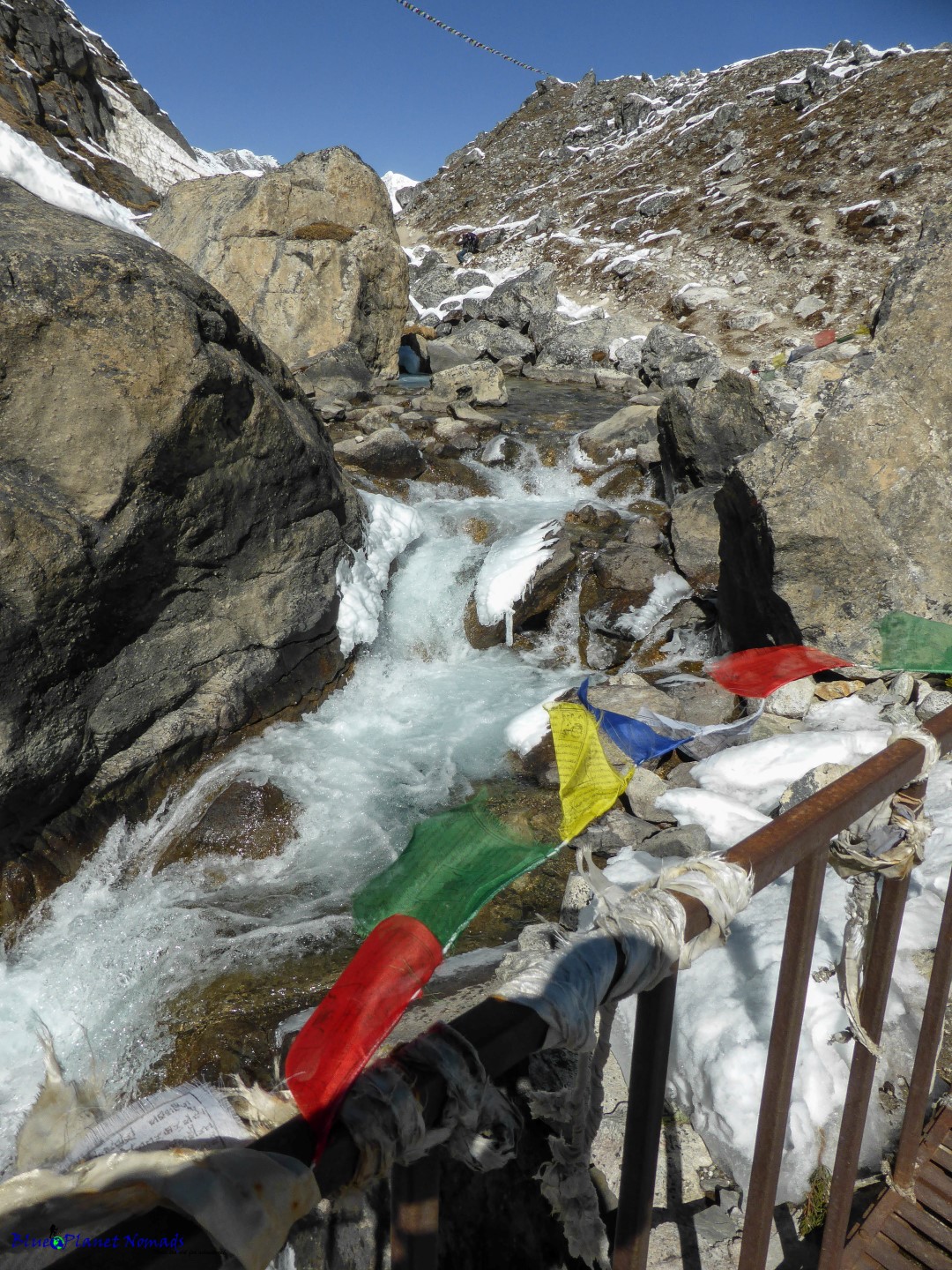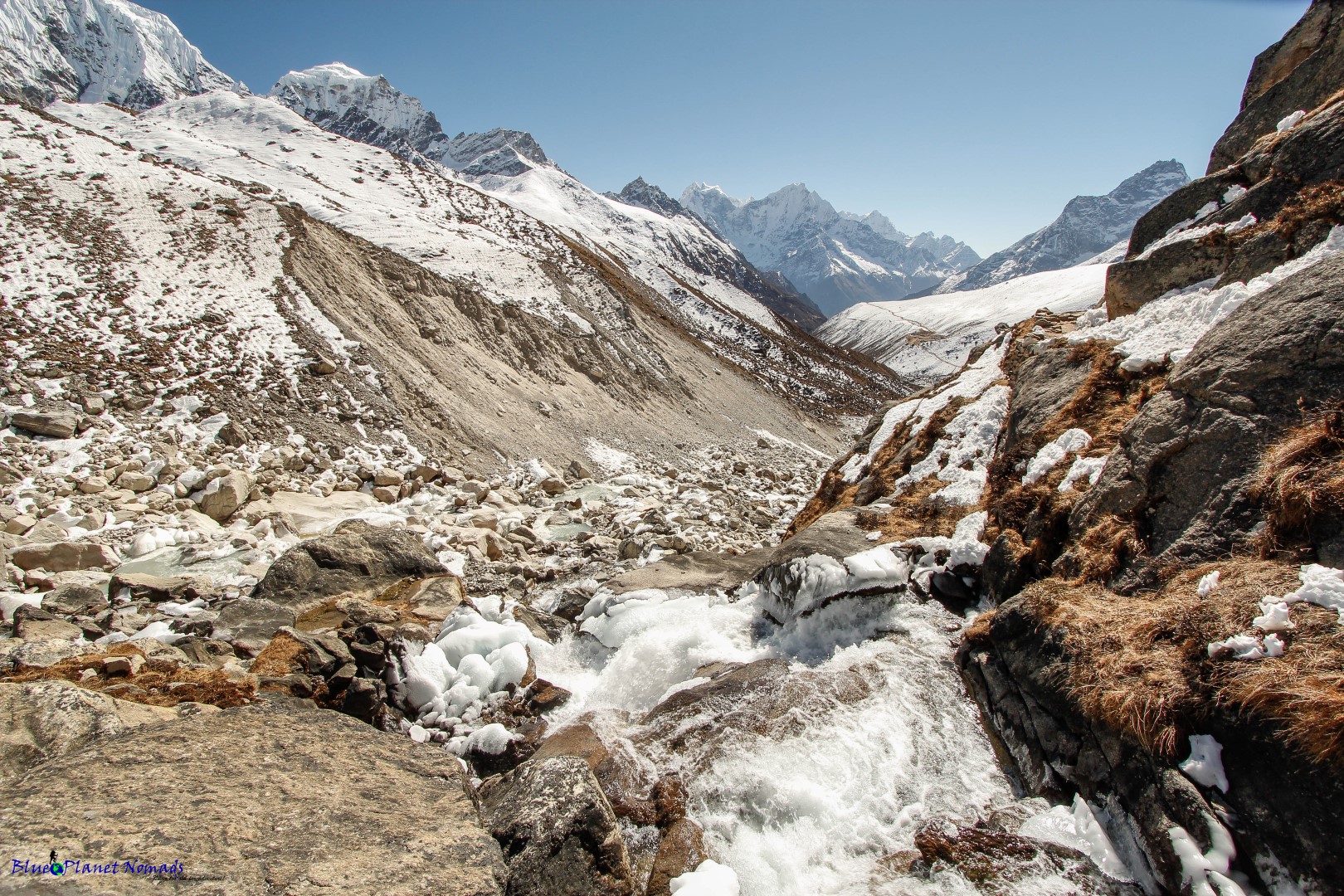 Once we reached the top it opened out into a vast expanse of snow fields and ice, it was so gorgeous. We picked our way through the snowy trail and crossed small streams. The walk was flat across the snow plains and we reached our first lake which was dotted with lots of small cairns which trekkers had built.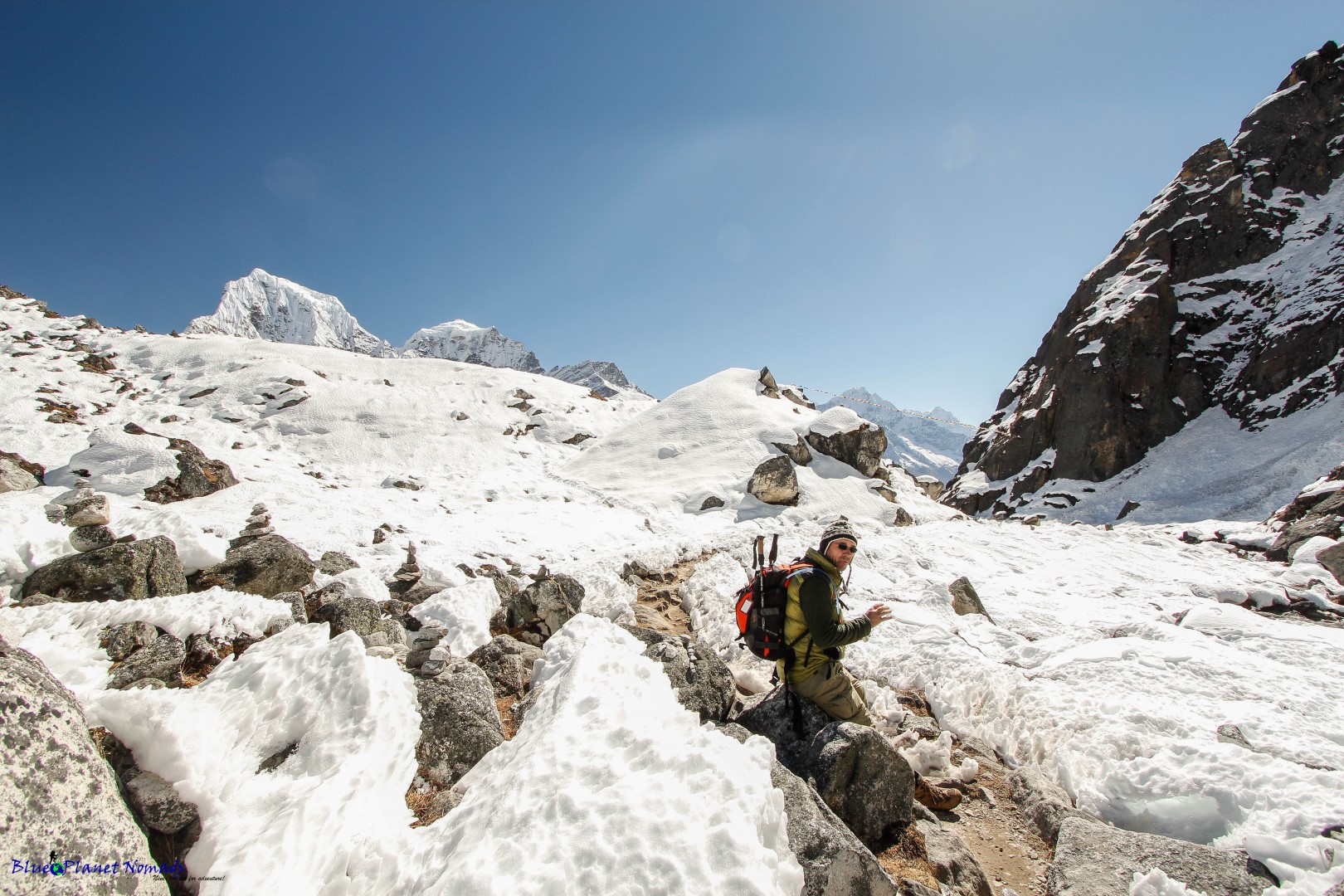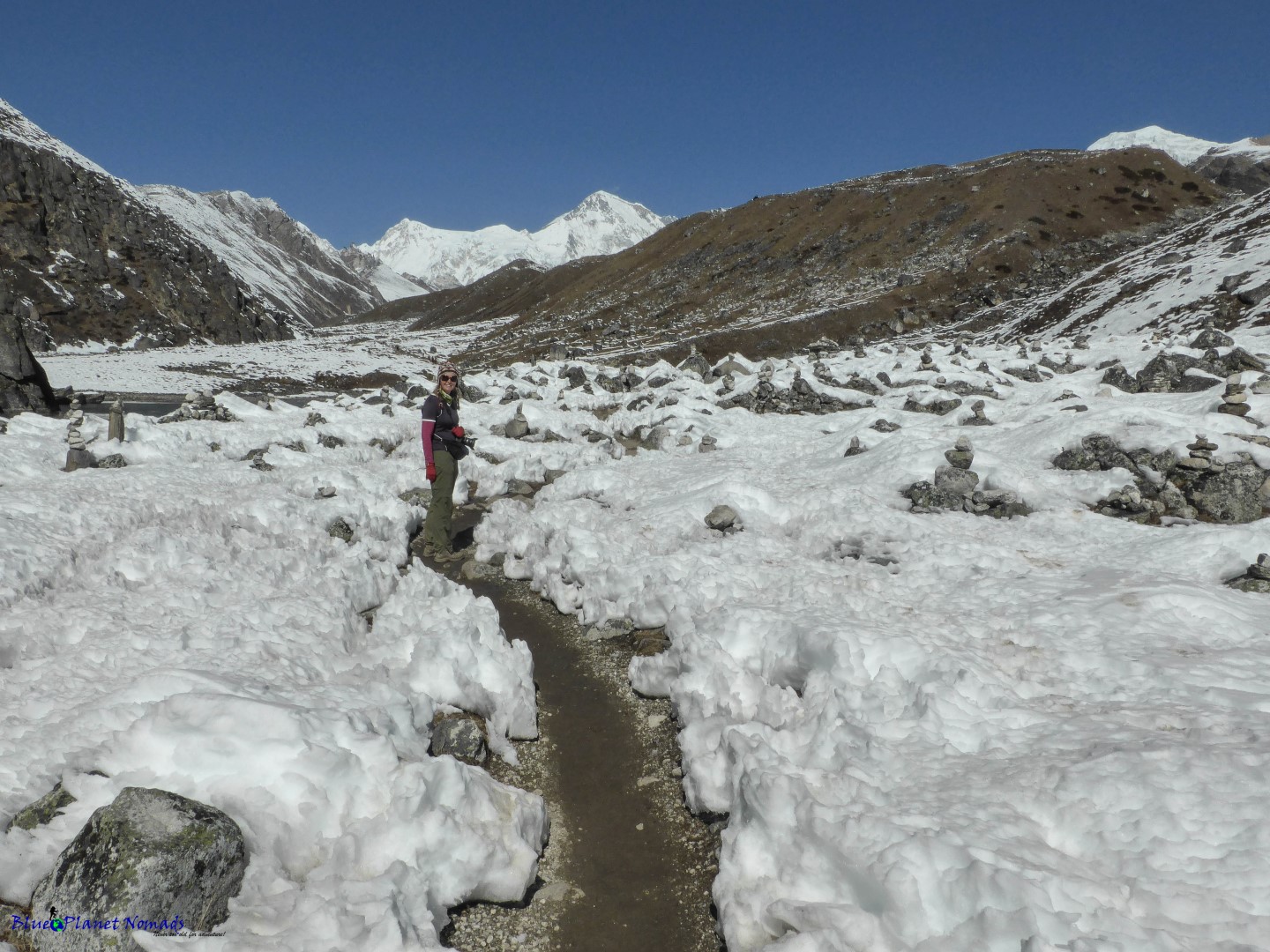 The second lake was smaller and the last lake was large and rich blue/green colour.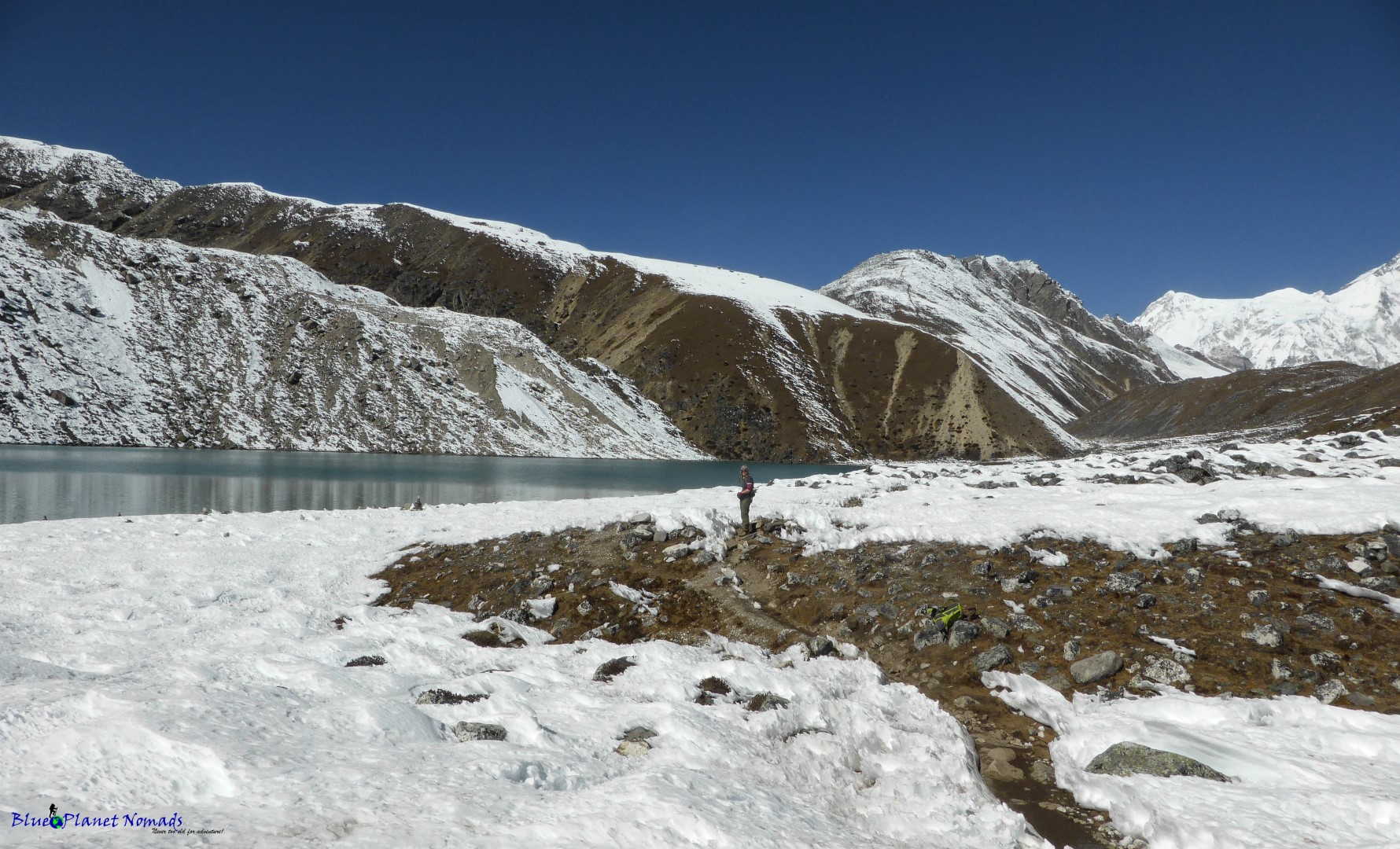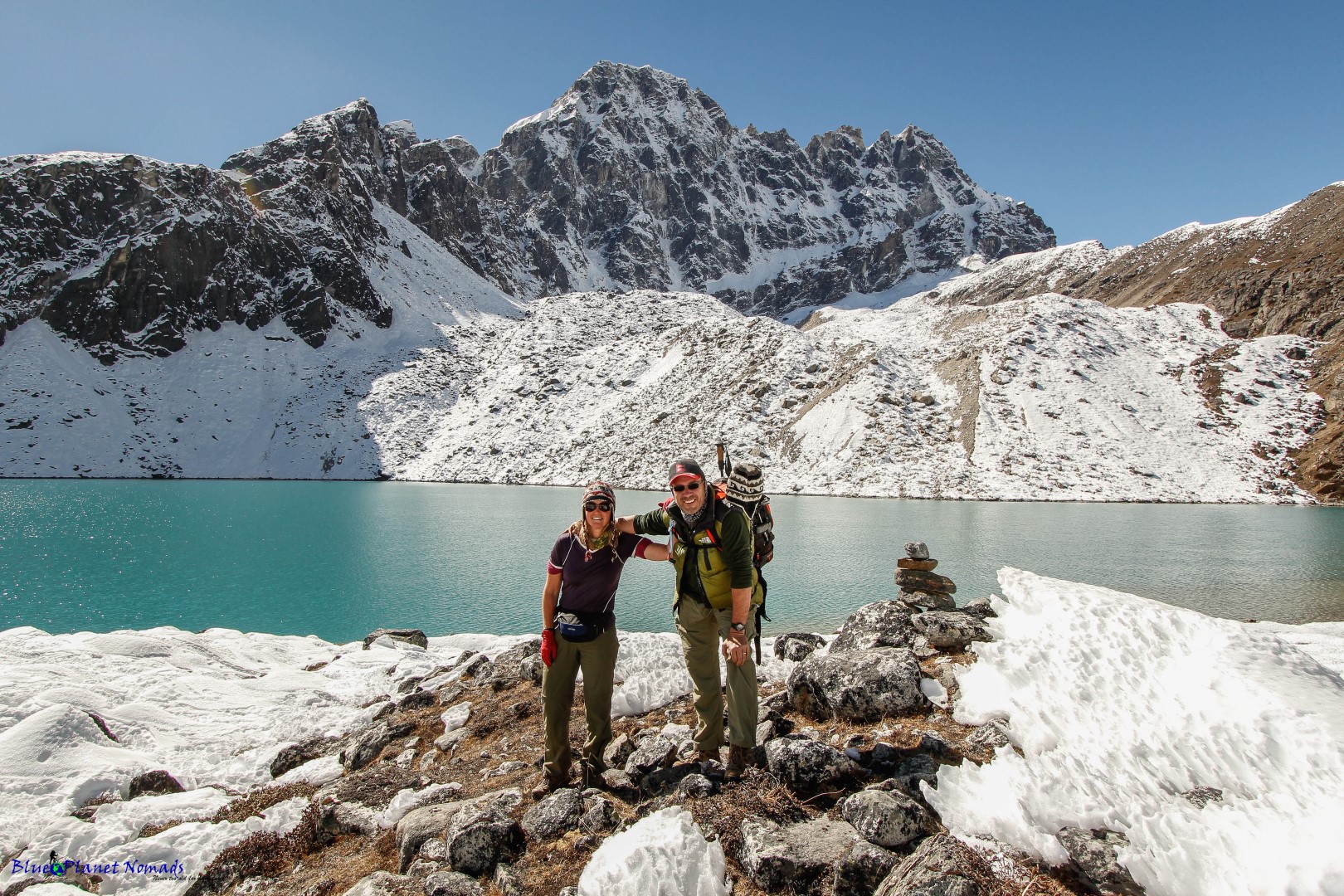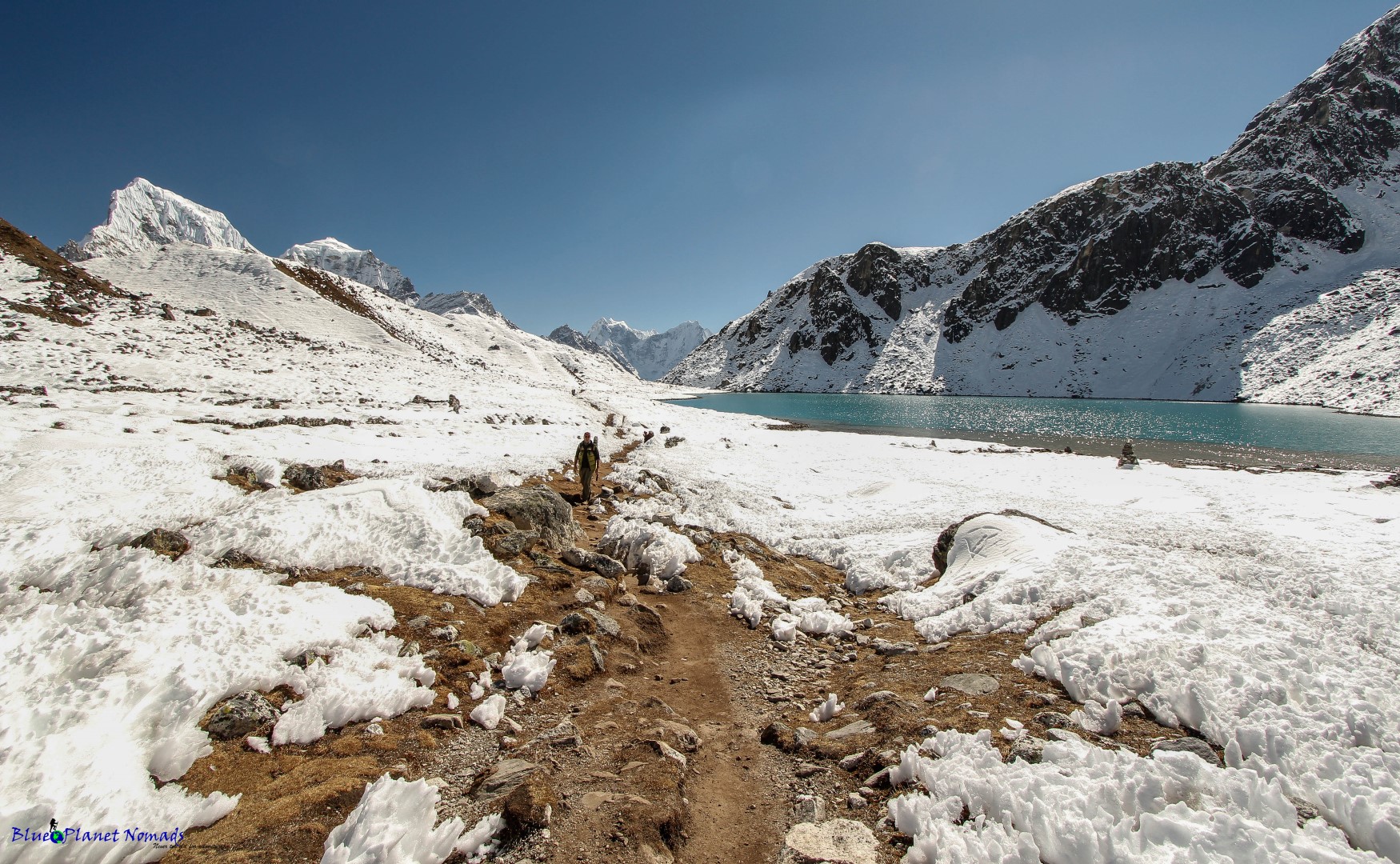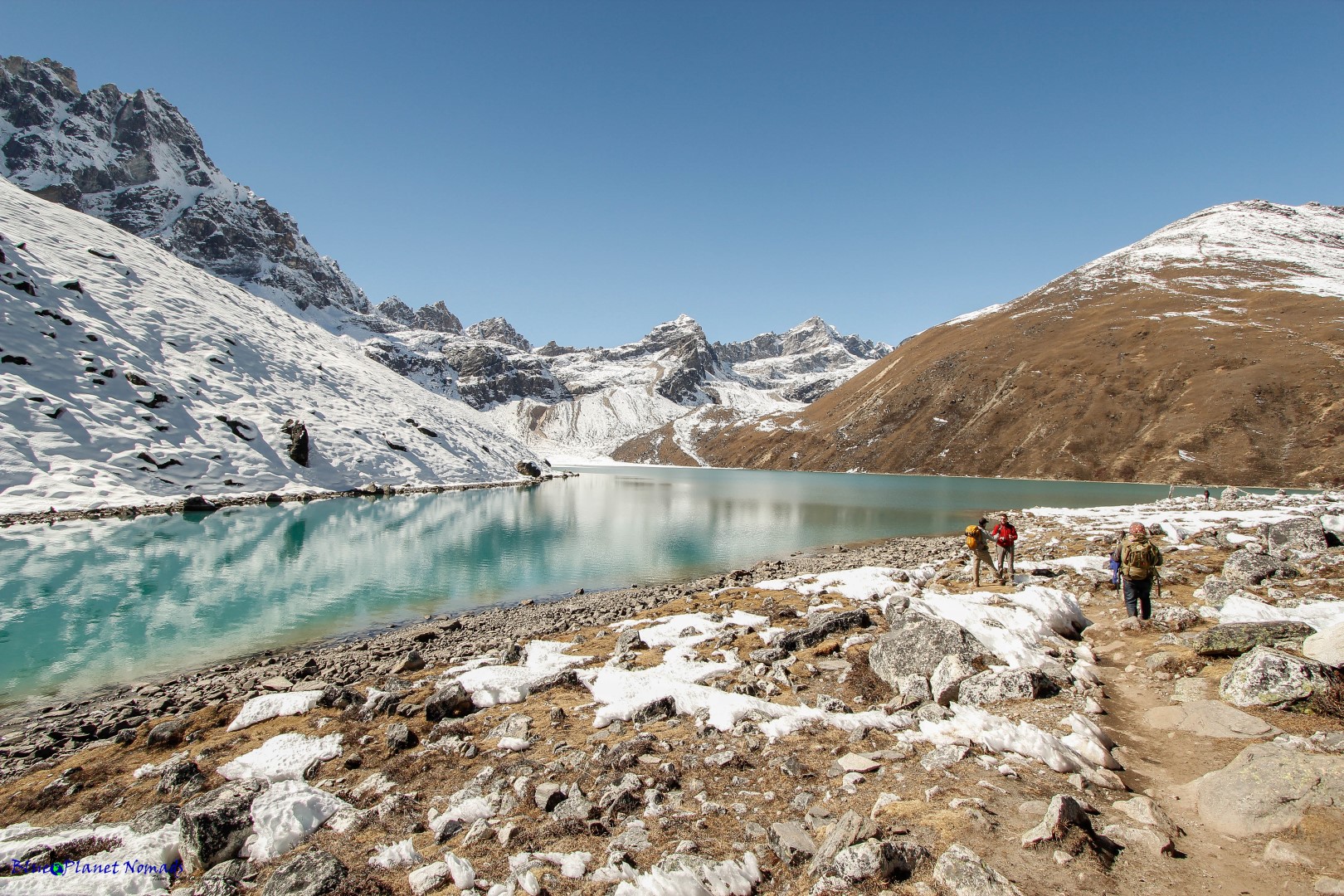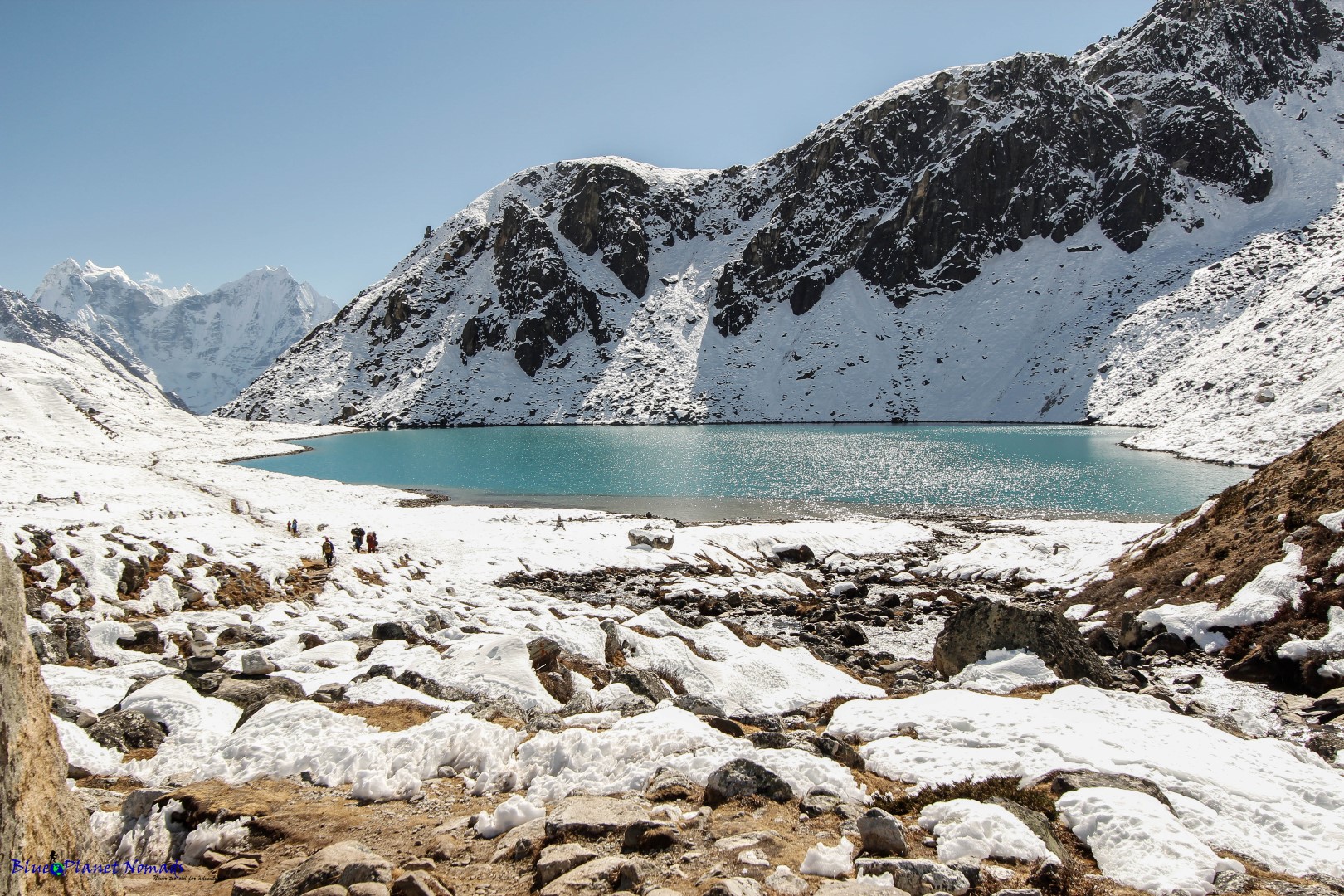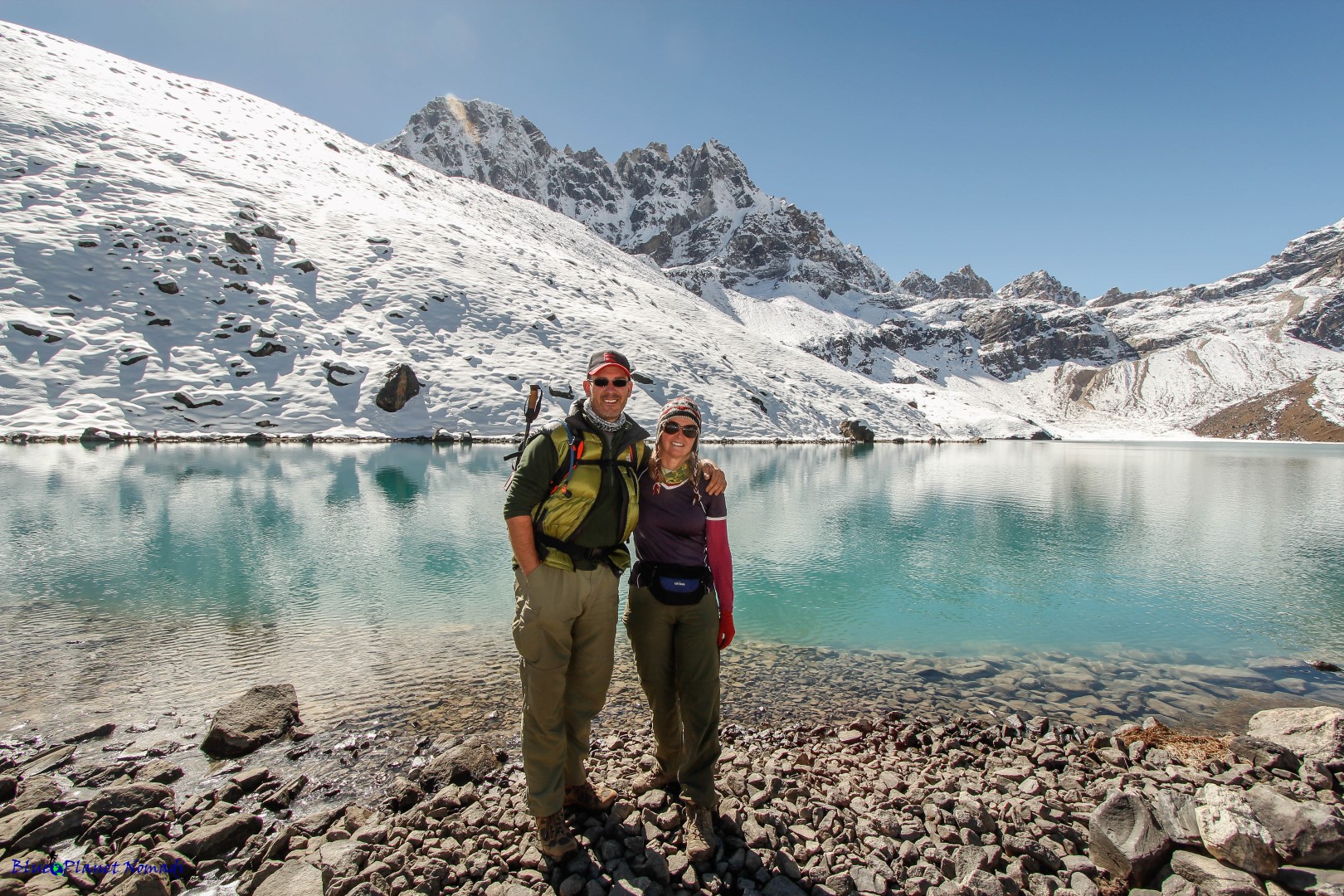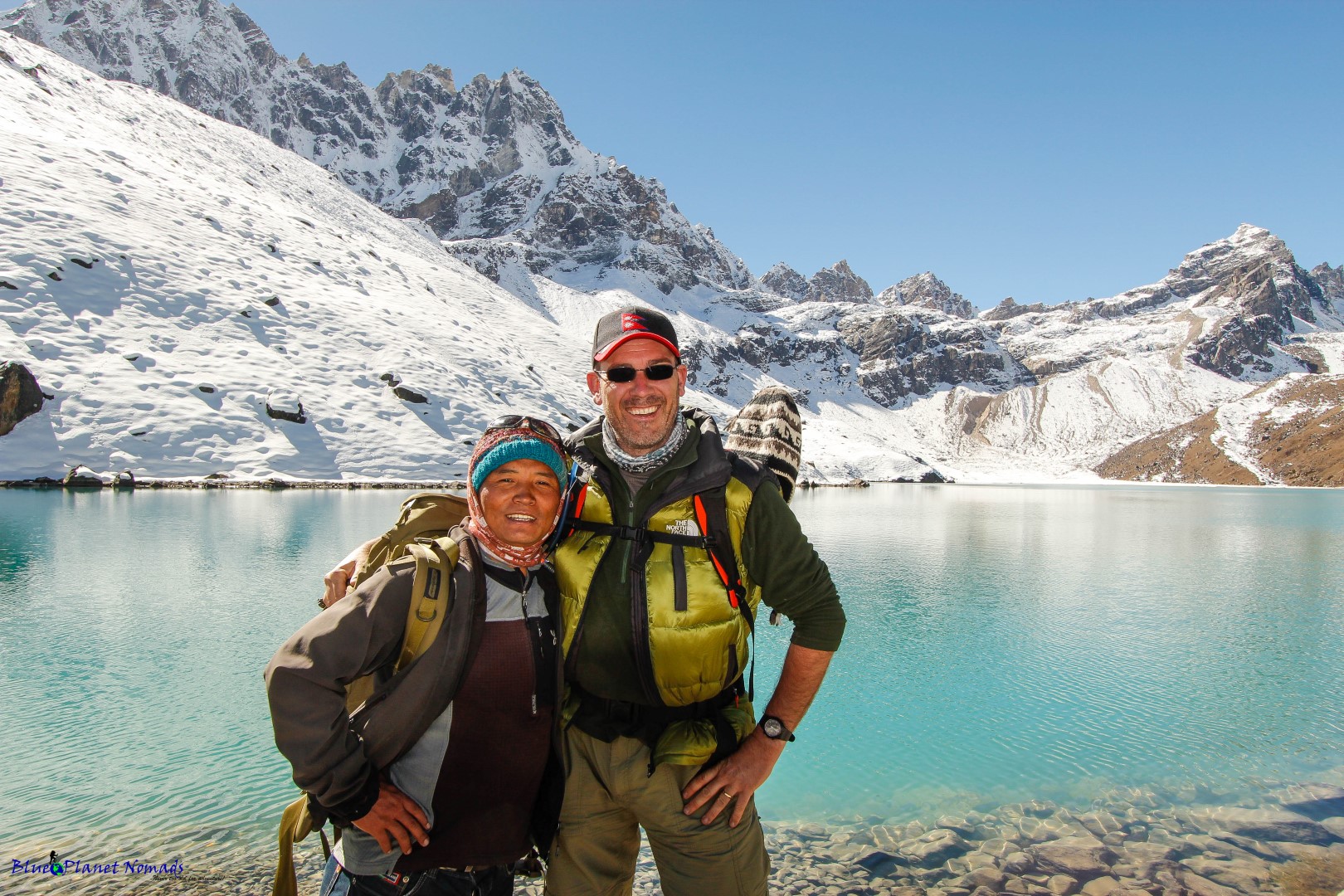 The lodges at Gokyo lined the shores of the large blue/green lake, our lodge Gokyo Resort was elevated so we had amazing views.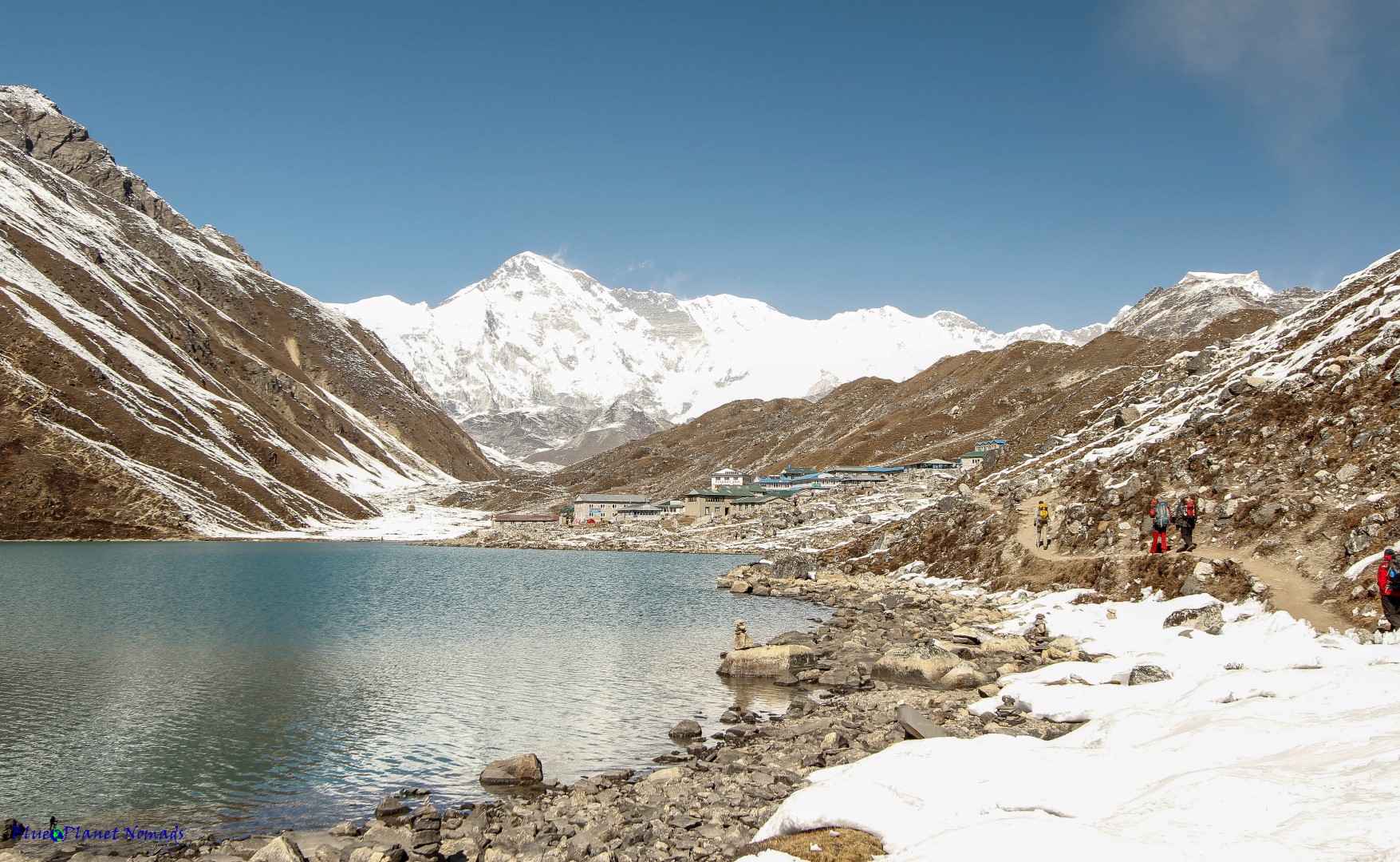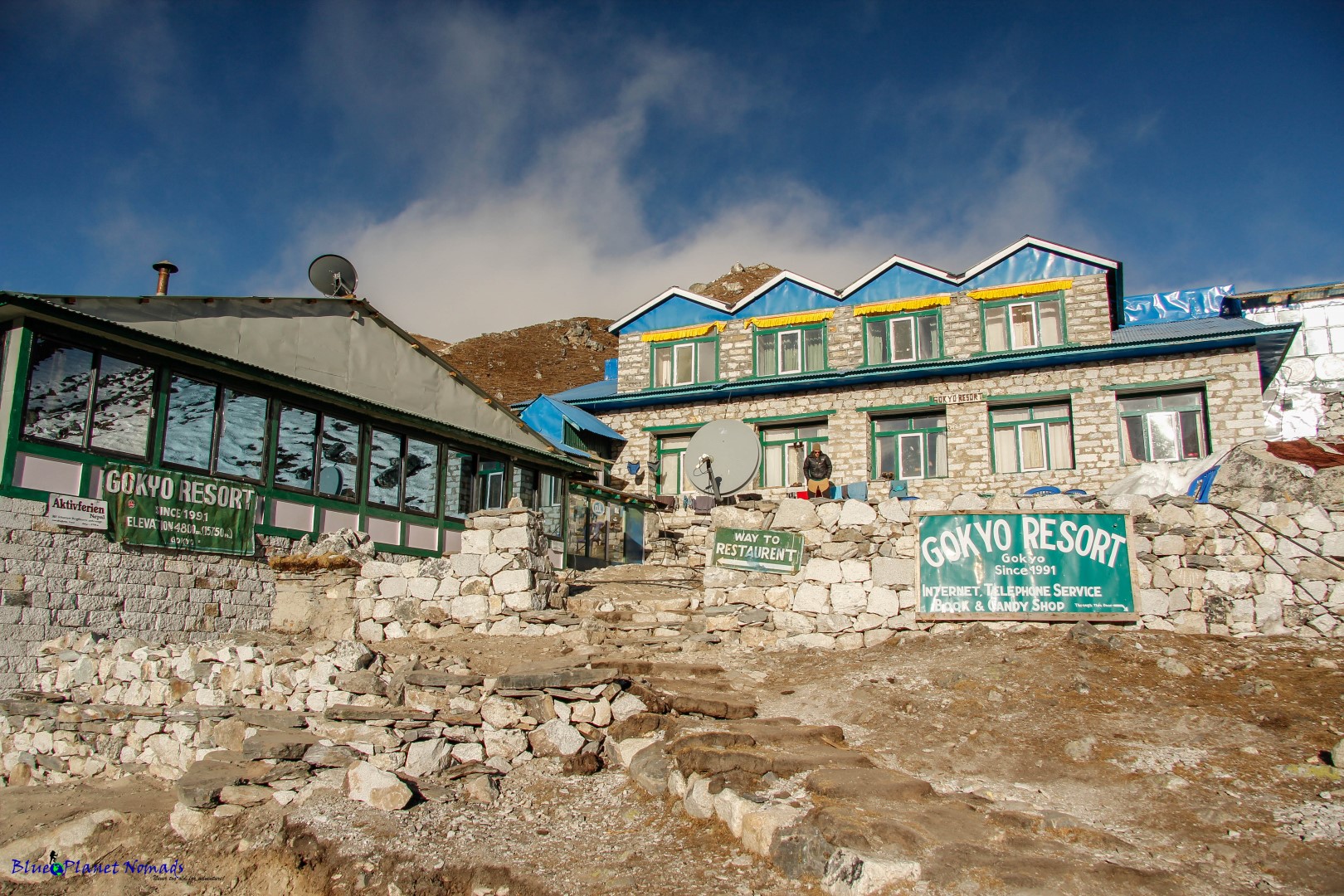 Our room although a little tired had the afternoon sunshine with incredible views over the lake. The toilets stank because at night the pipes would freeze so you couldn't flush but that was a minor issue. Gokyo Ri stood looming over us, the thought of climbing it especially with my now very menacing cough was a little daunting. Our friends Ken and Gordon were also staying at the lodge so we spent the afternoon and evening socialising with them. Gordon was going to climb up Gokyo Ri tomorrow but Ken couldn't because he wouldn't be able to get back down again with his bad knees!
Day 9 – Climbing Gokyo Ri (5483 Meters)
Today we would be doing the climb to the top of Gokyo Ri a difference of 733 meters from the village. It is said that the best views of Everest are actually from Gokyo Ri not Kala Patthar close to base camp where the views are more restricted. It doesn't look that hard but I can tell you it damn well is! We had breakfast with Gordon and Ken. Gordon was going to leave earlier for his climb as he had a 1pm helicopter flight to catch which basically would get Ken back down to Kathmandu as his 72-year-old knees sure hell won't get him down there. We started out at 8:30am through the backdoor of the lodge and down towards the lake crossing. A stone foot bridge took you over the shallow river which flowed down from the glacier.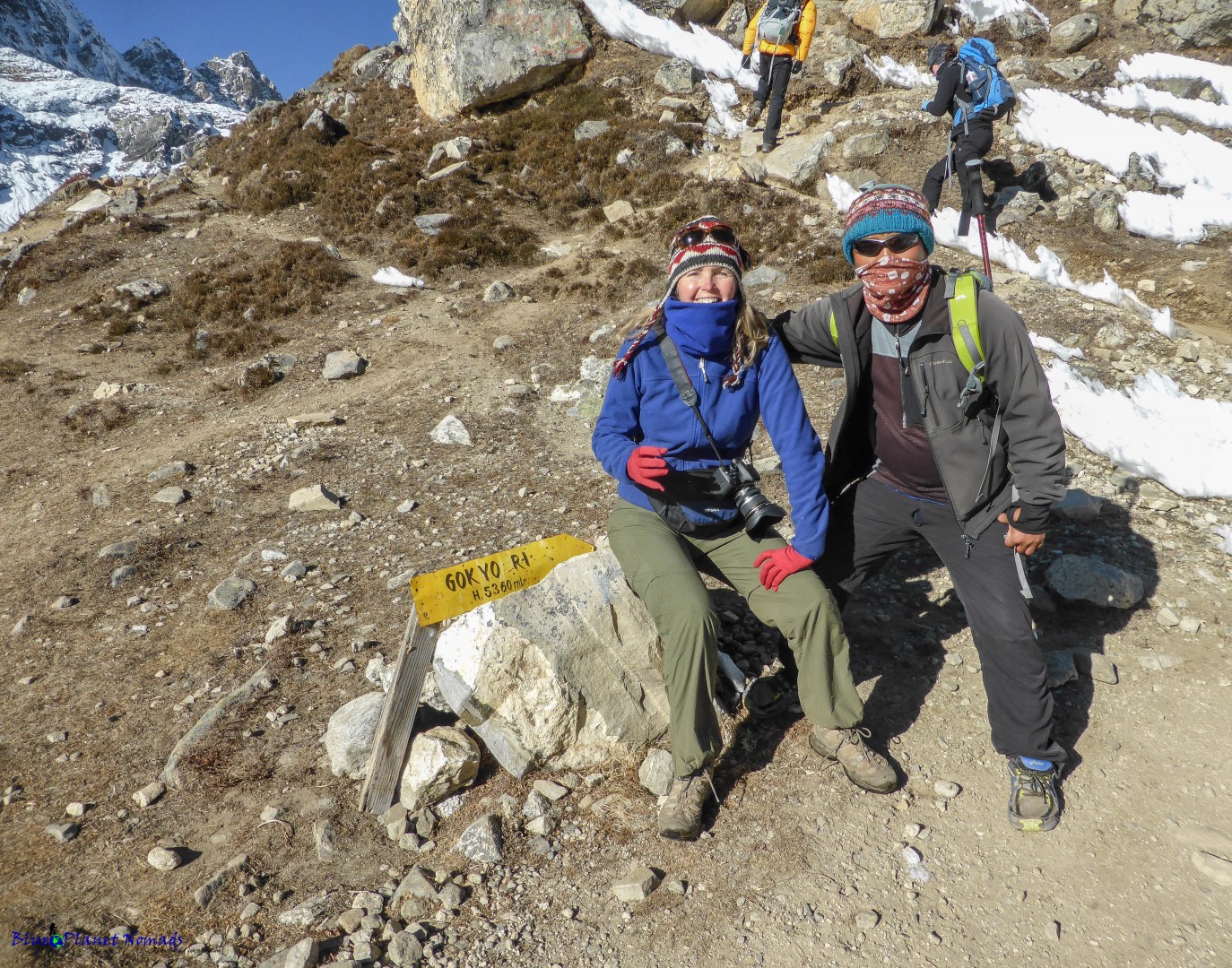 It was the start of a steep climb of switchbacks, my breathing was terrible as it was inhibited by my persistent cough. After 20 minutes of climbing I wasn't enjoying it and was tempted to turn back but I didn't want to admit defeat so easily. As we climbed we were rewarded with amazing views over the lake and the surrounding snow-capped peaks.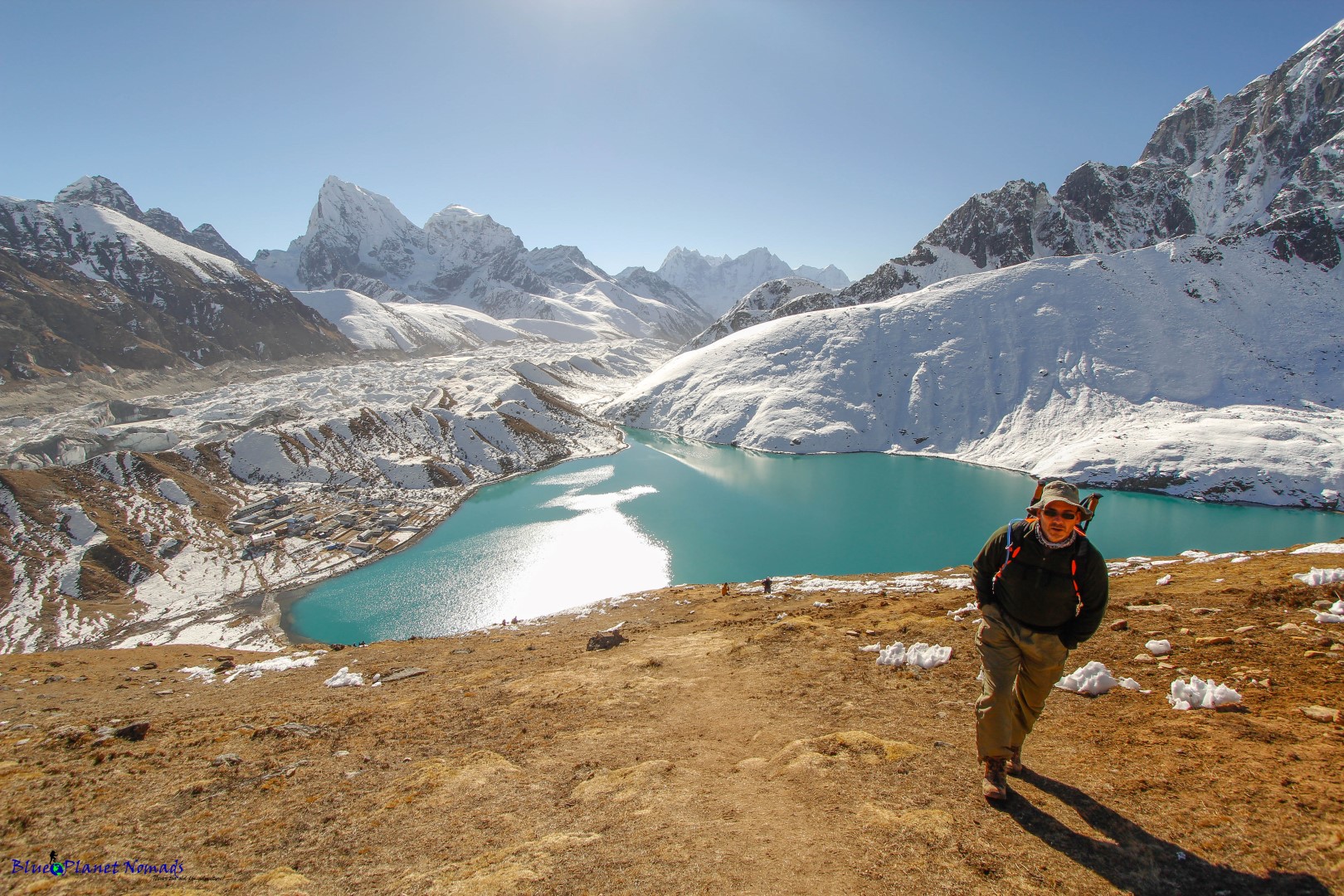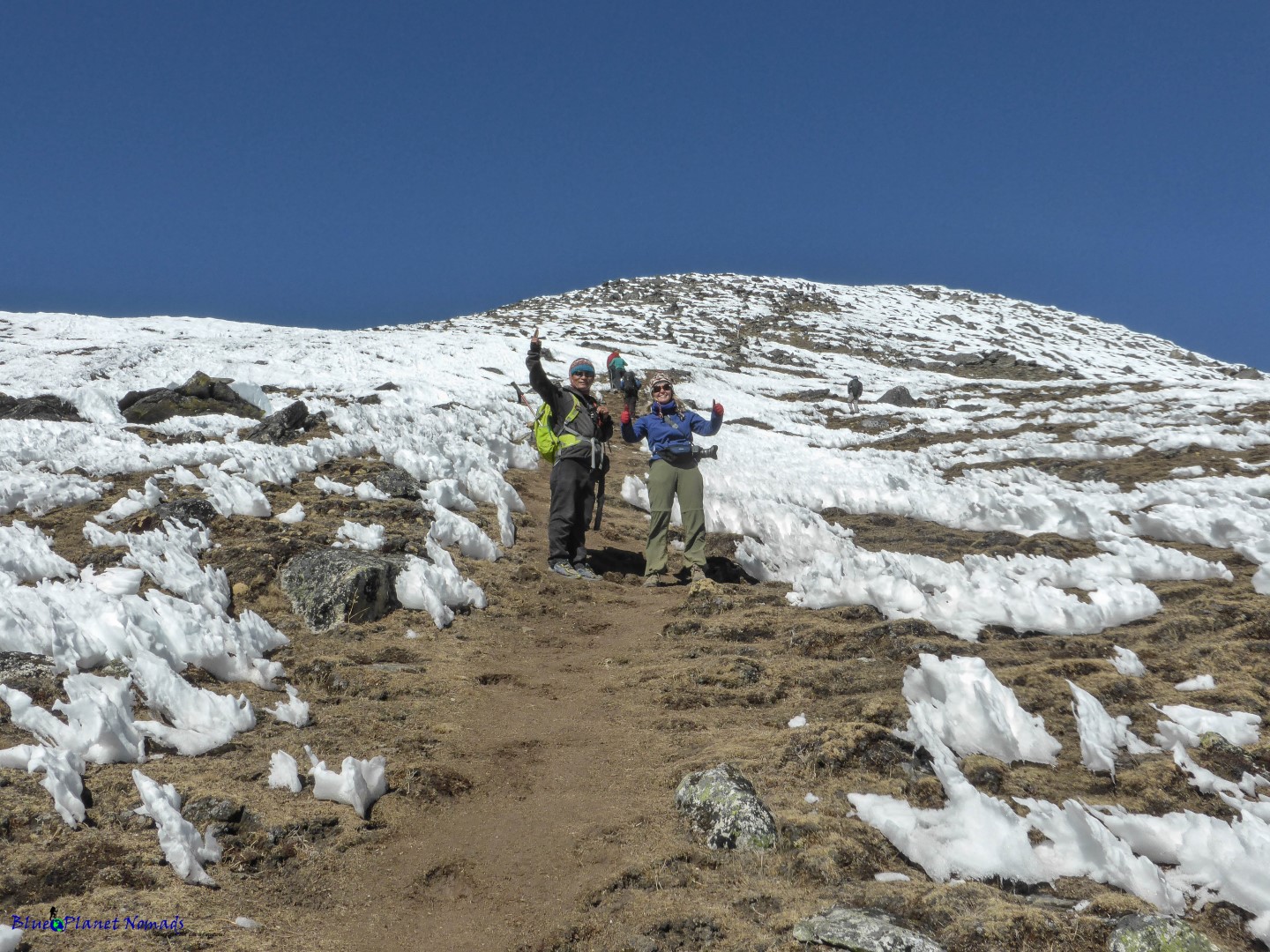 As we climbed higher the second lake came into view. About half way up we had to do some rock scrambling and we were teased with a couple of false summits.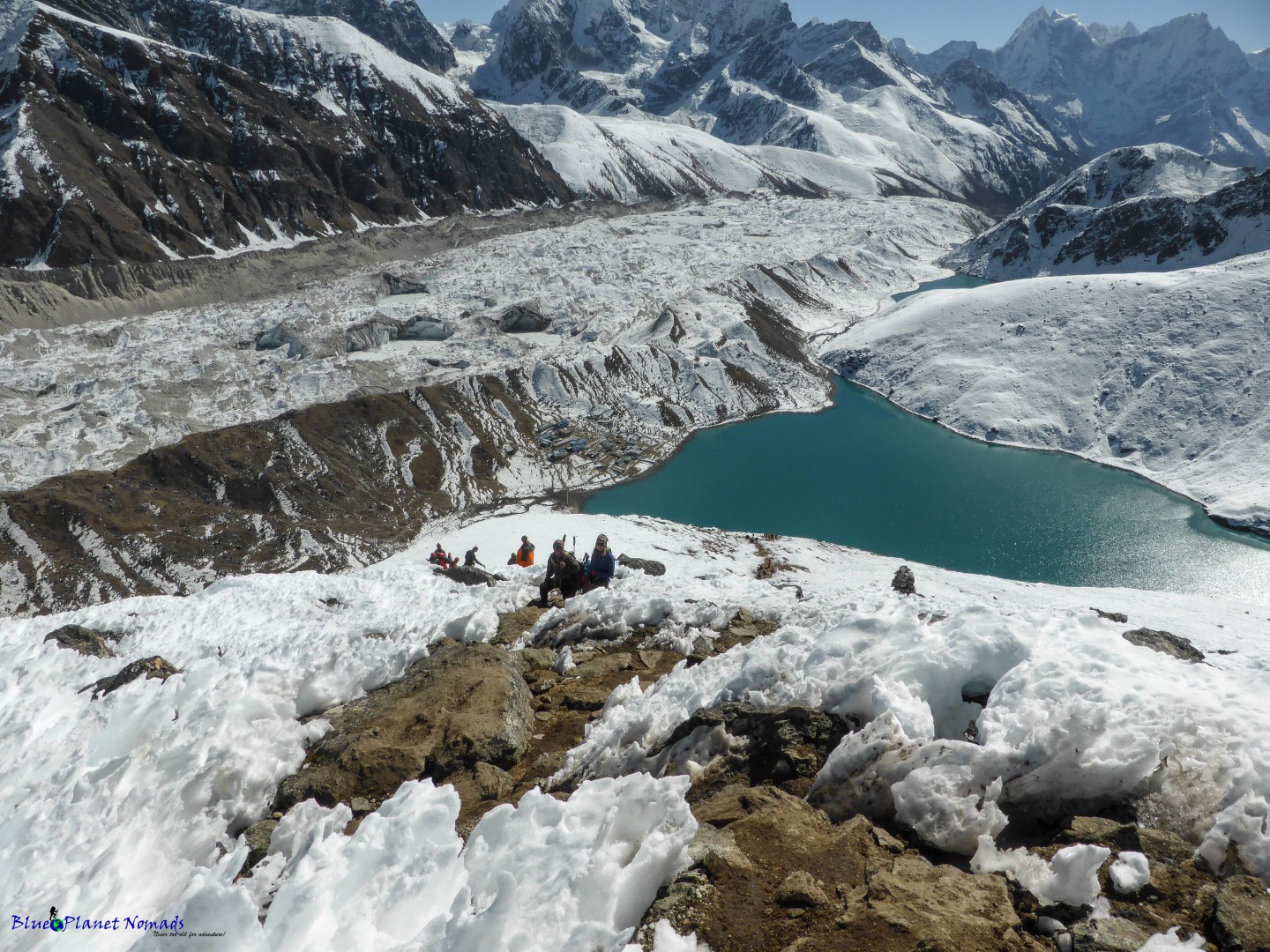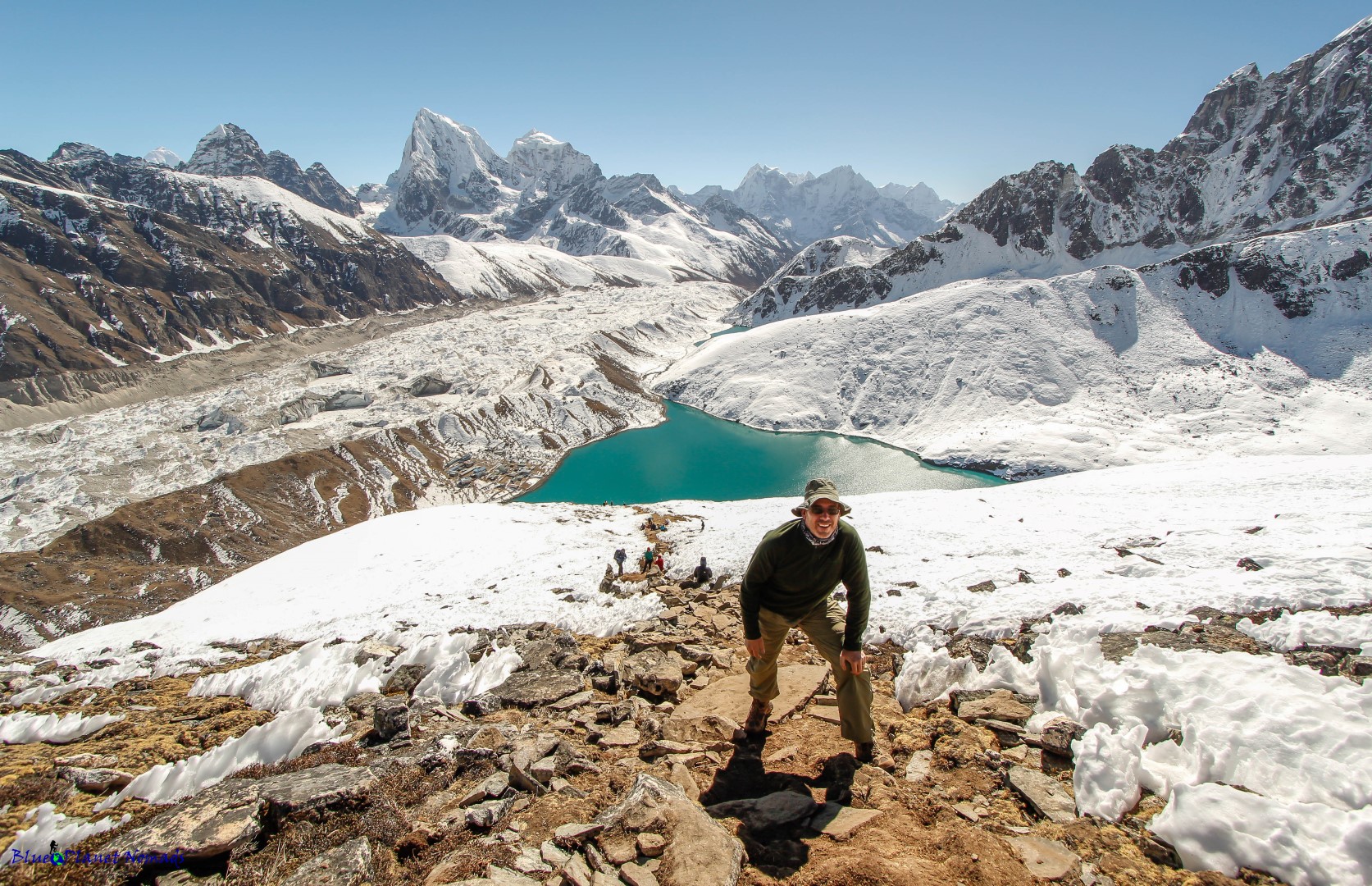 For some reason by breathing seem to get better as we climbed higher which was strange but we still stopped quite a bit to rest. I was exhilarated once Everest and the prayer flags at the top came into view.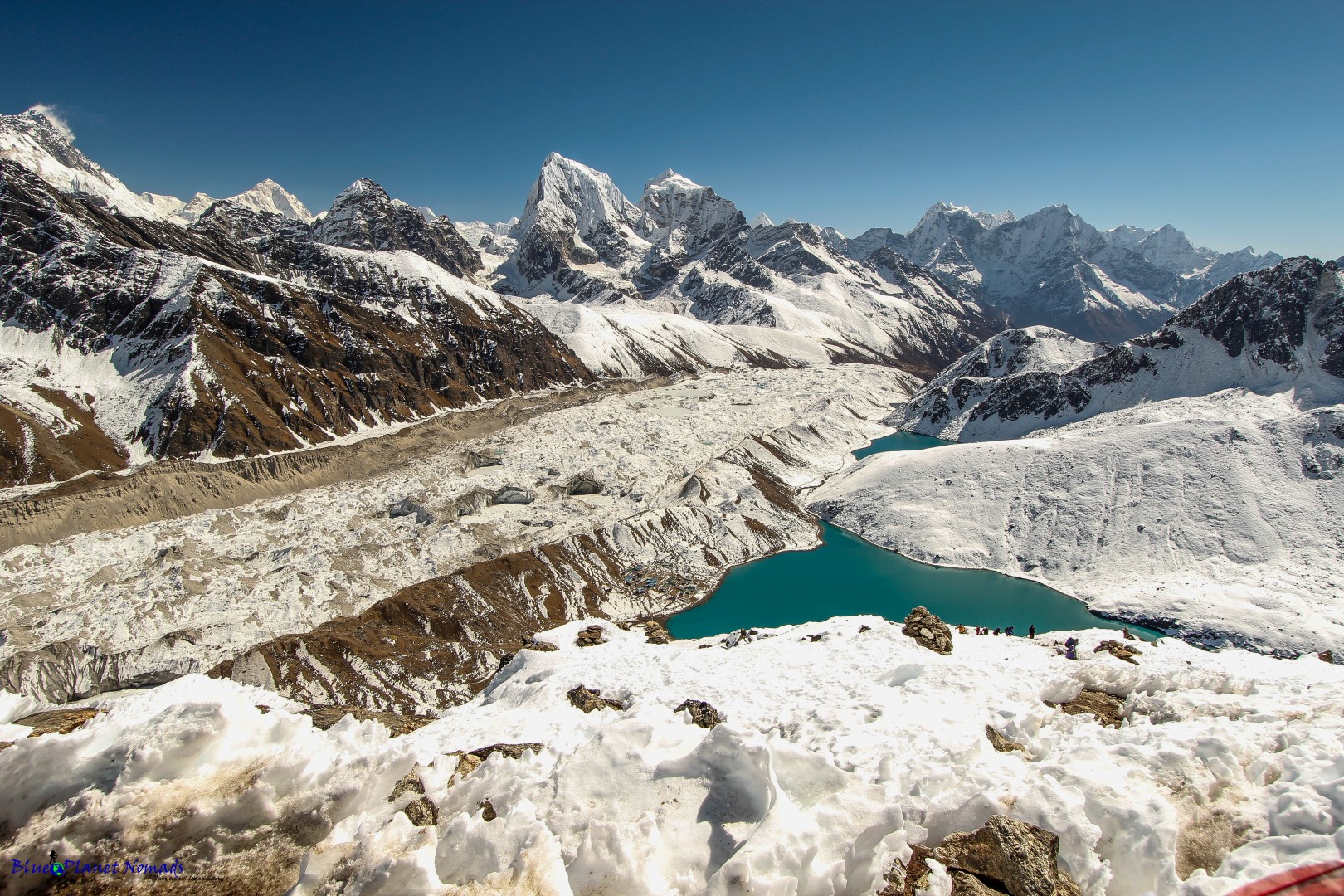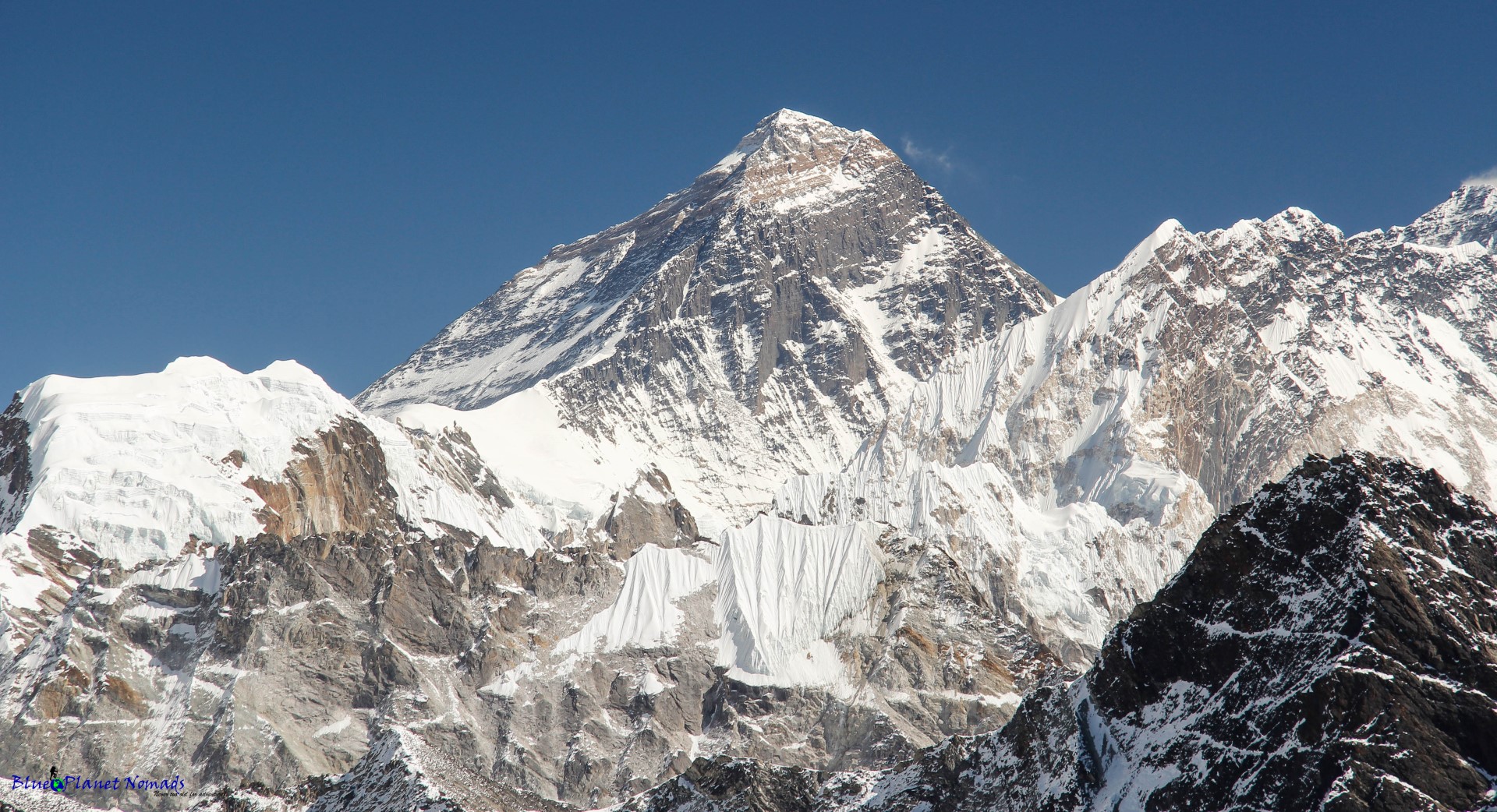 It took 3 hours to reach the summit and we felt a huge sense of achievement. The surrounding mountain scenery was unbelievably amazing, Everest was clear as day as was the gorgeous lakes below us. It was quite cold and icy at the top but we stayed up there for a good hour as the weather was excellent with no wind and lovely sunshine.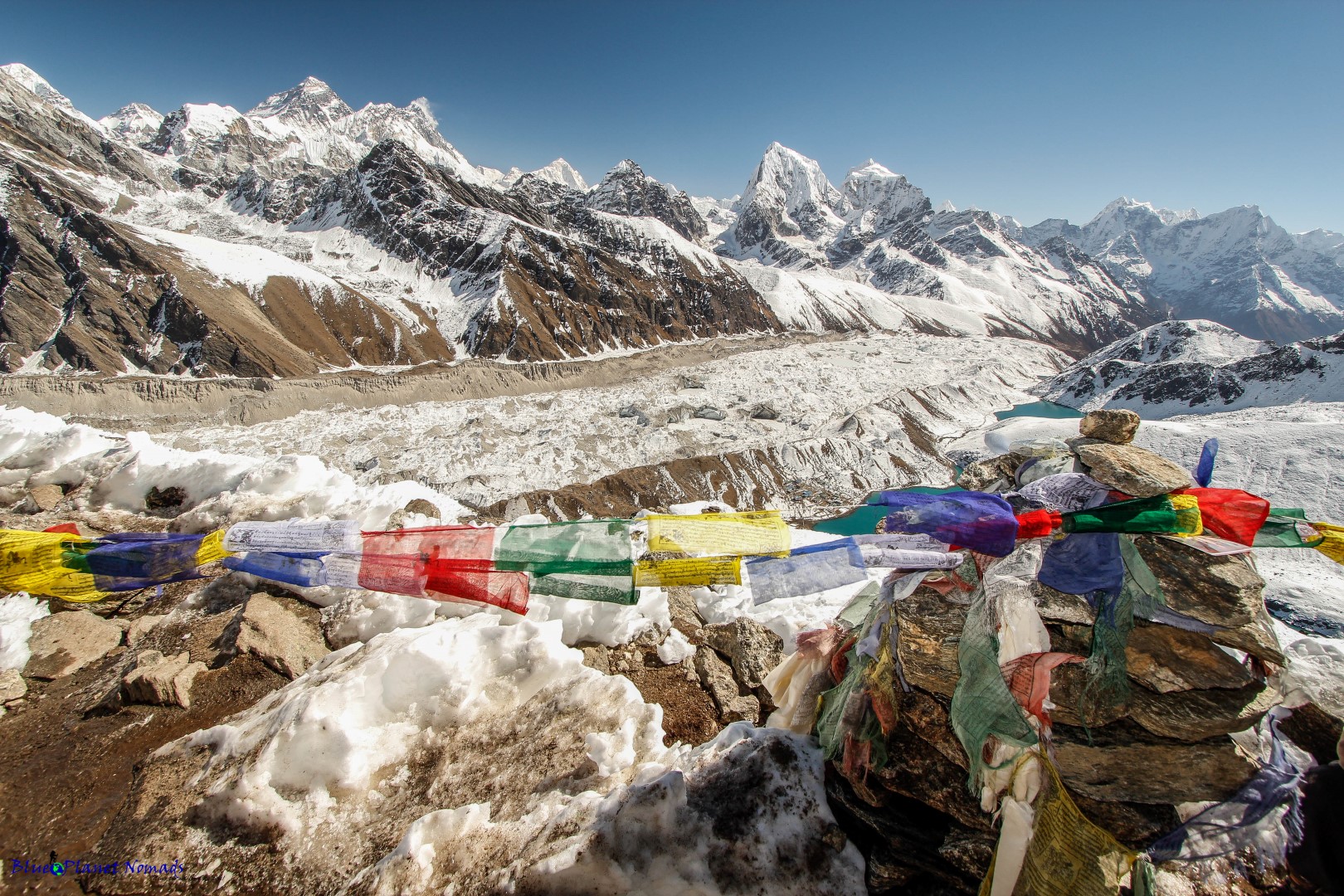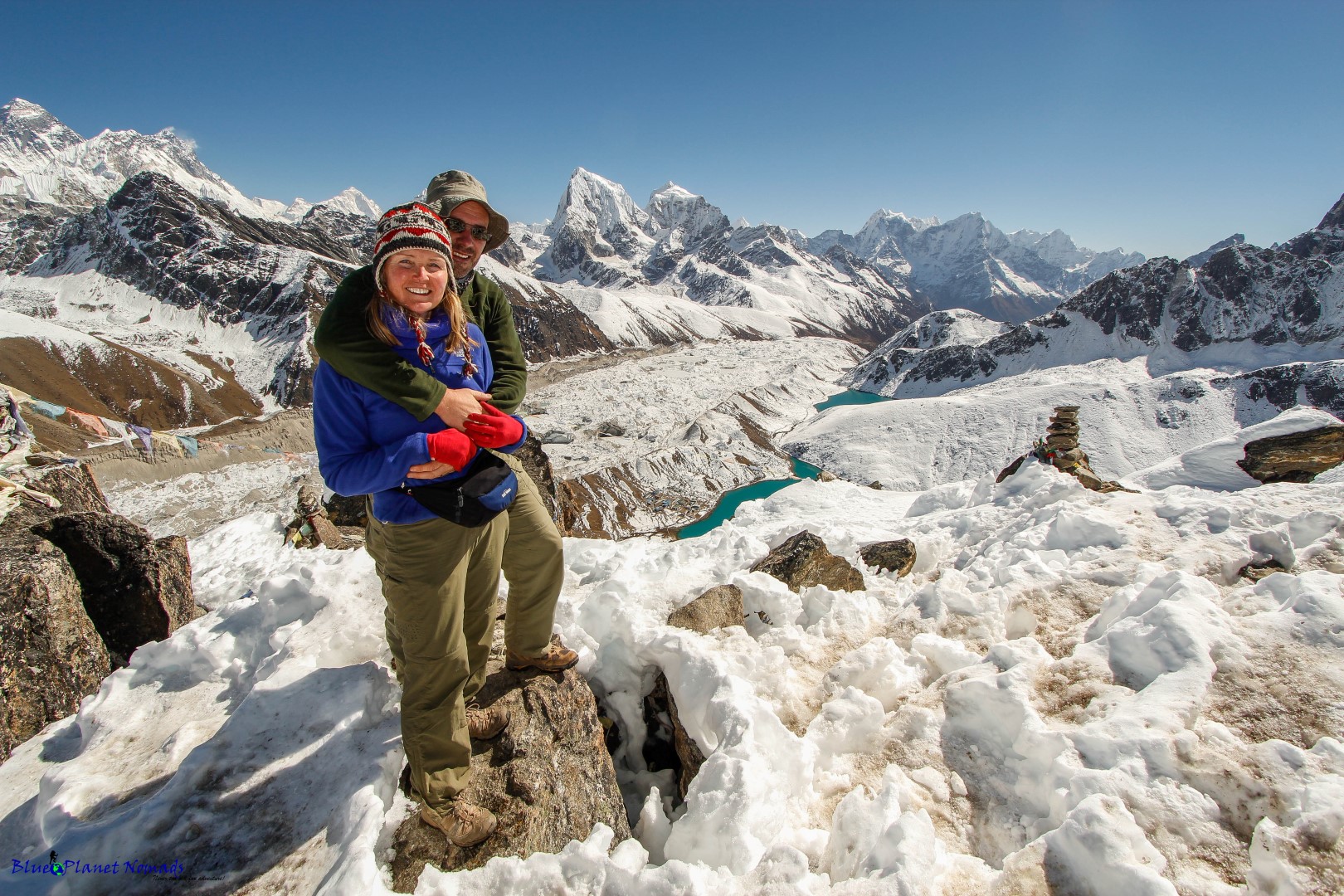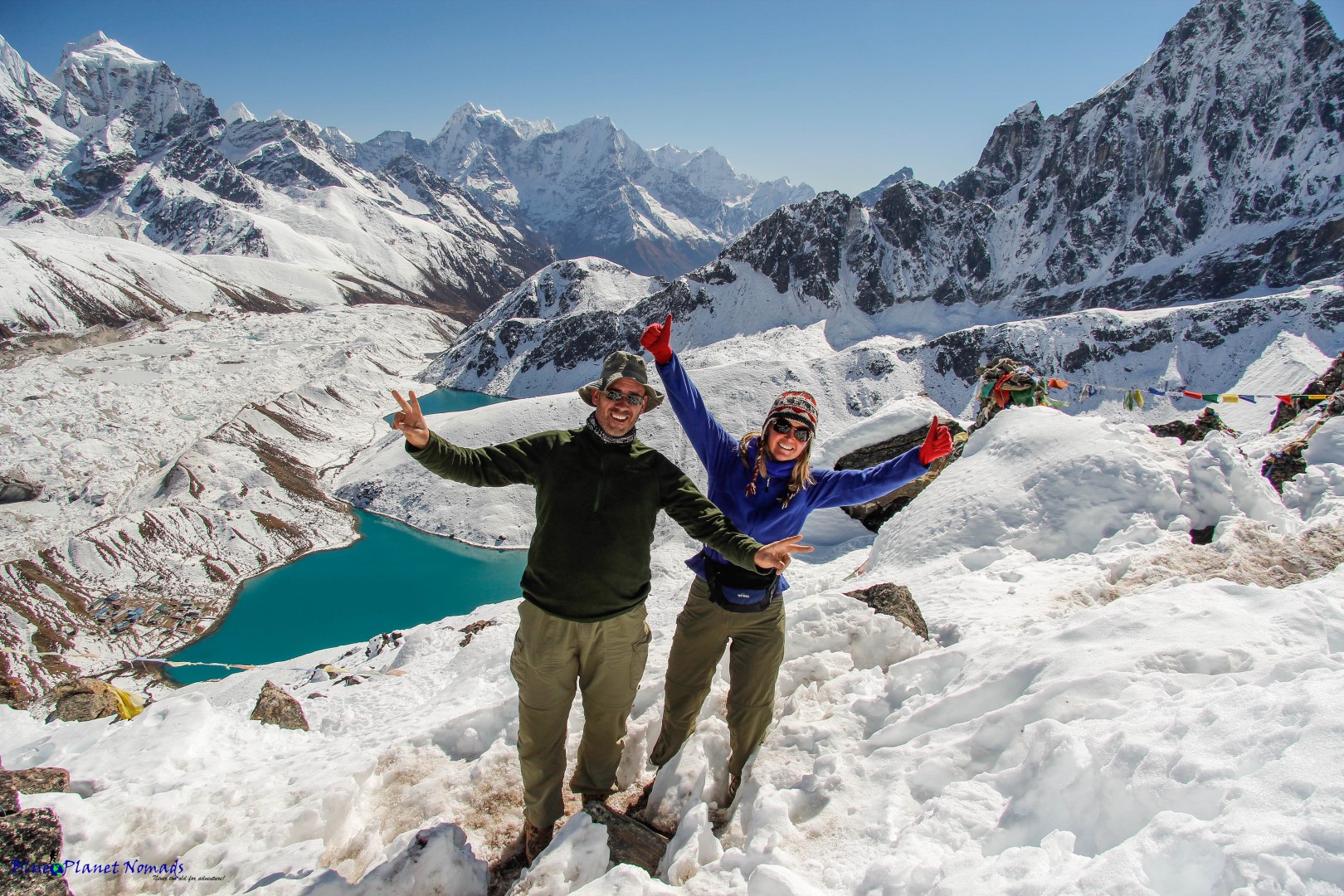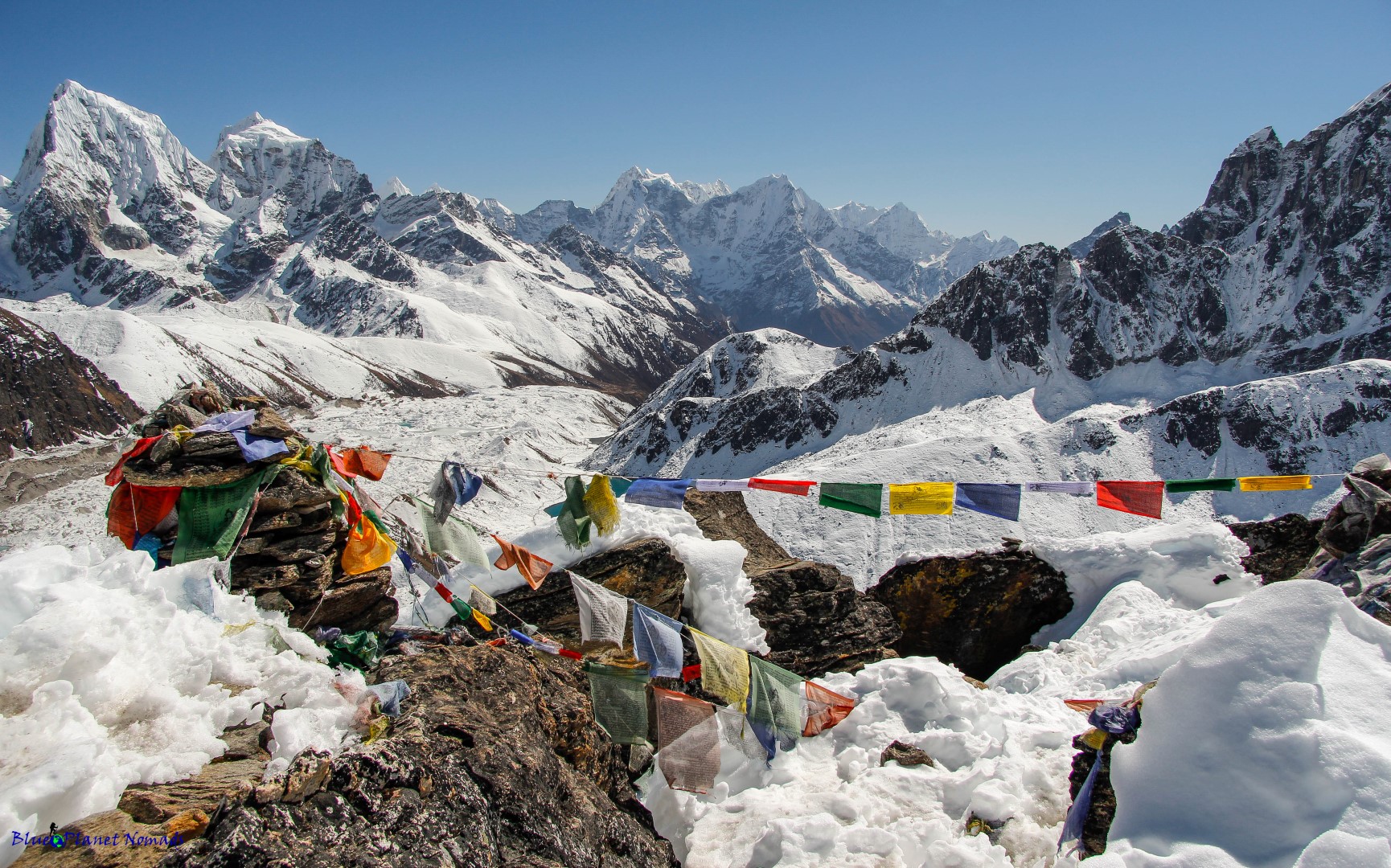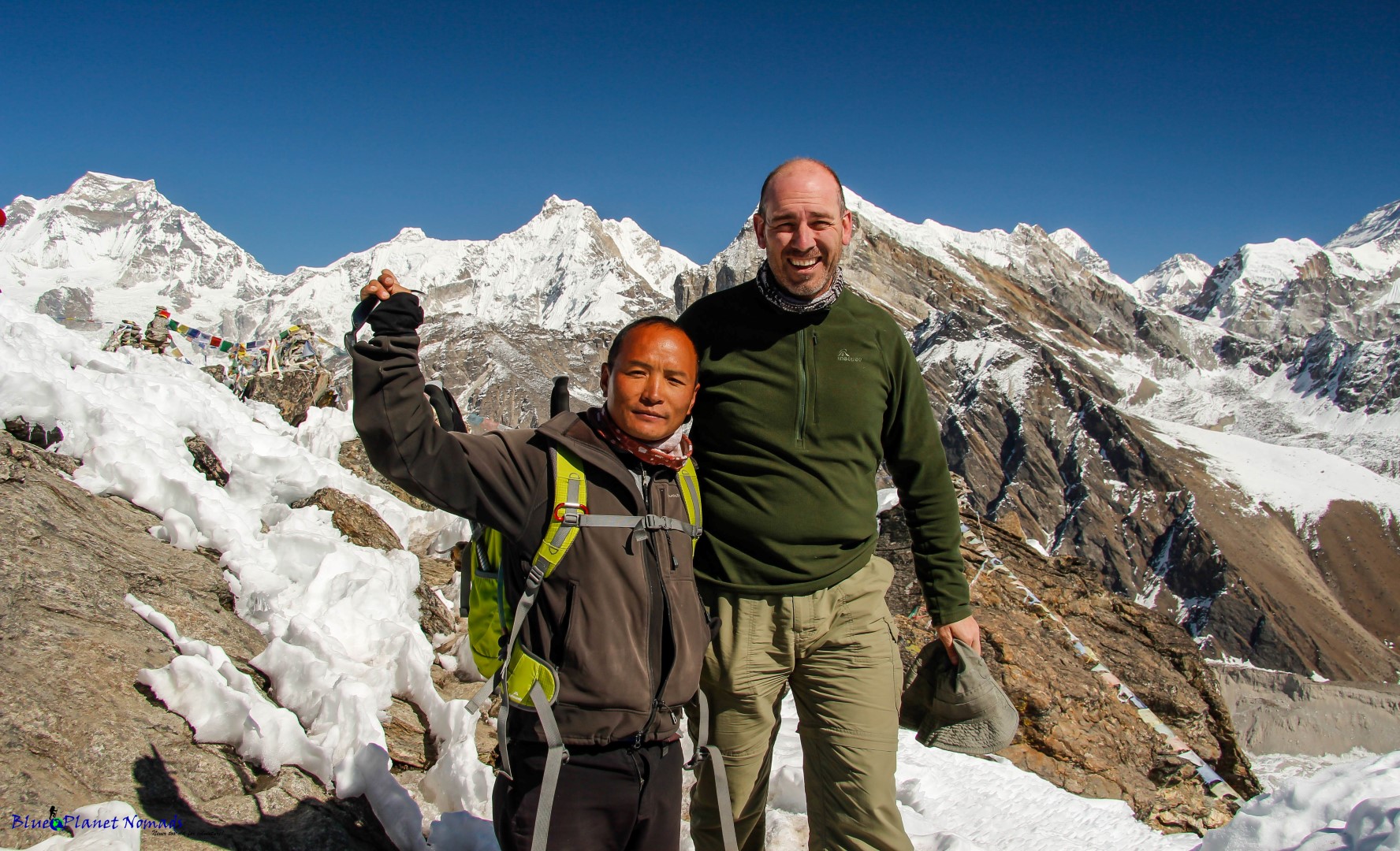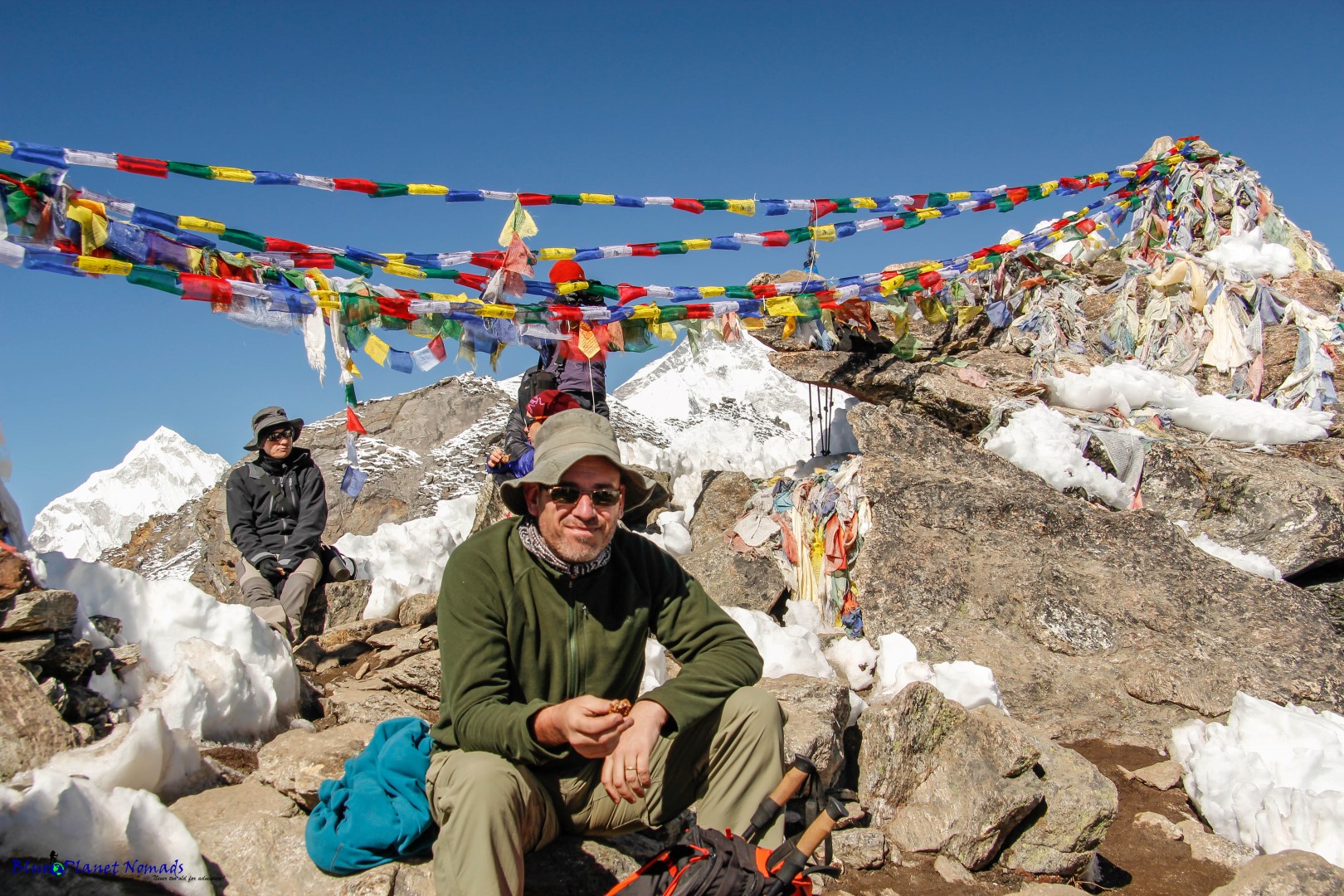 The decent down wasn't too bad and only took about an hour. As we crossed the river stones we met Ken and Gordon waiting for their chopper which arrived 10 minutes later so we bid them farewell and spent the afternoon resting from the mornings stiff climb!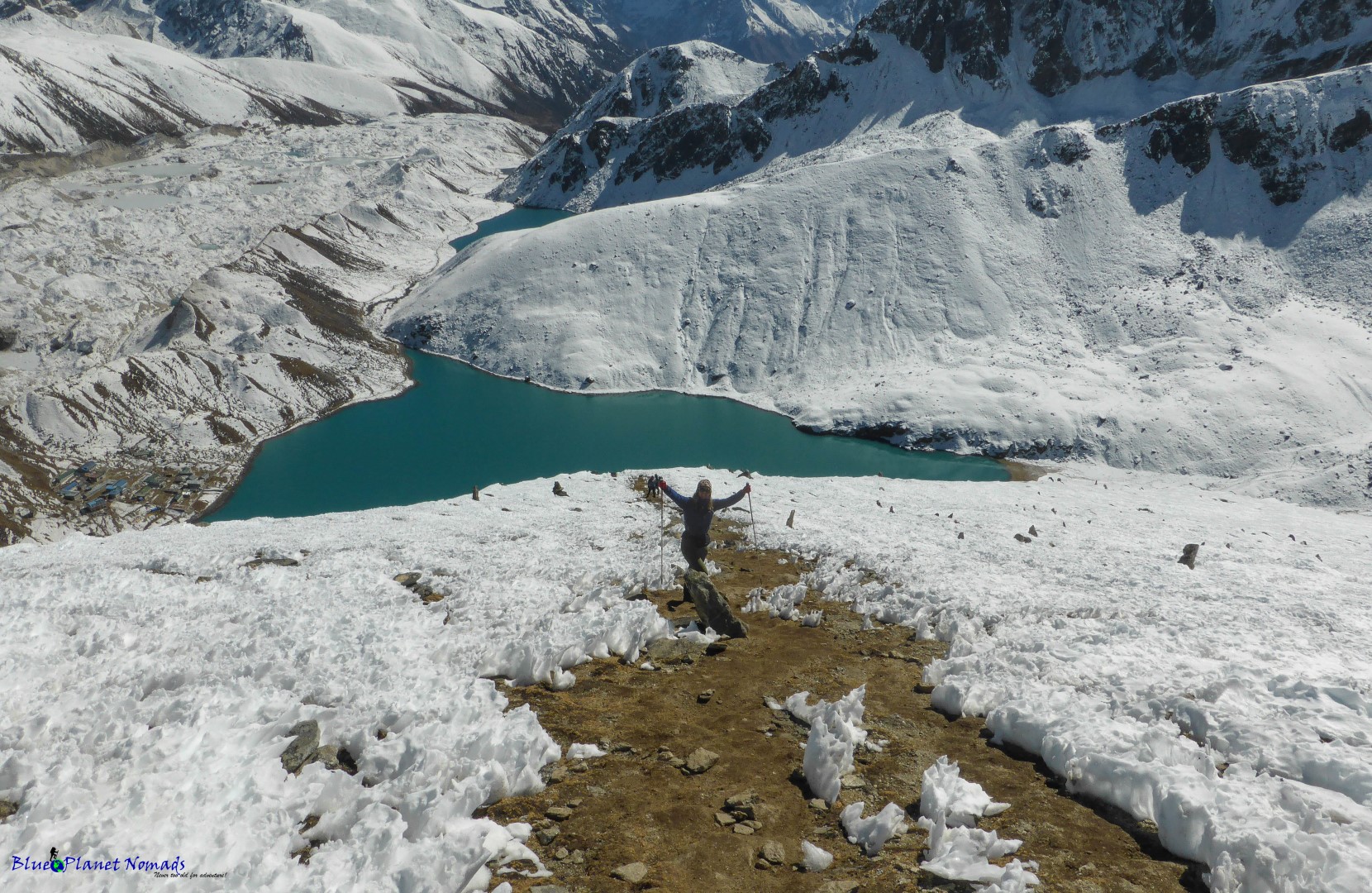 Day 10 – Gokyo Rest Day (4750 Meters)
Between the stiff climb of Gokyo Ri and my cough getting worse we were both exhausted and decided to have a total rest day. We spent the day relaxing, reading, doing laundry and I even visited the local Internet café which was basically a back room of a tea house and the Internet speed was as expected (about 1 byte per 10 minutes!!) although I was more interested in backing up my photos onto my USB stick. We got talking to a nice English couple in the common room of our guesthouse, they were doing the trek by themselves without a guide. I did read sometime later that the Nepalese government were trying to stop this but I am not sure what came of it. I am of the opinion that you should hire at least a guide to support local jobs, after all they don't get much work in the off season and they do have families to feed. It was just nice to do "not much at all" for anyone doing a trek like this it doesn't harm to build in a few "chill days" along the way 🙂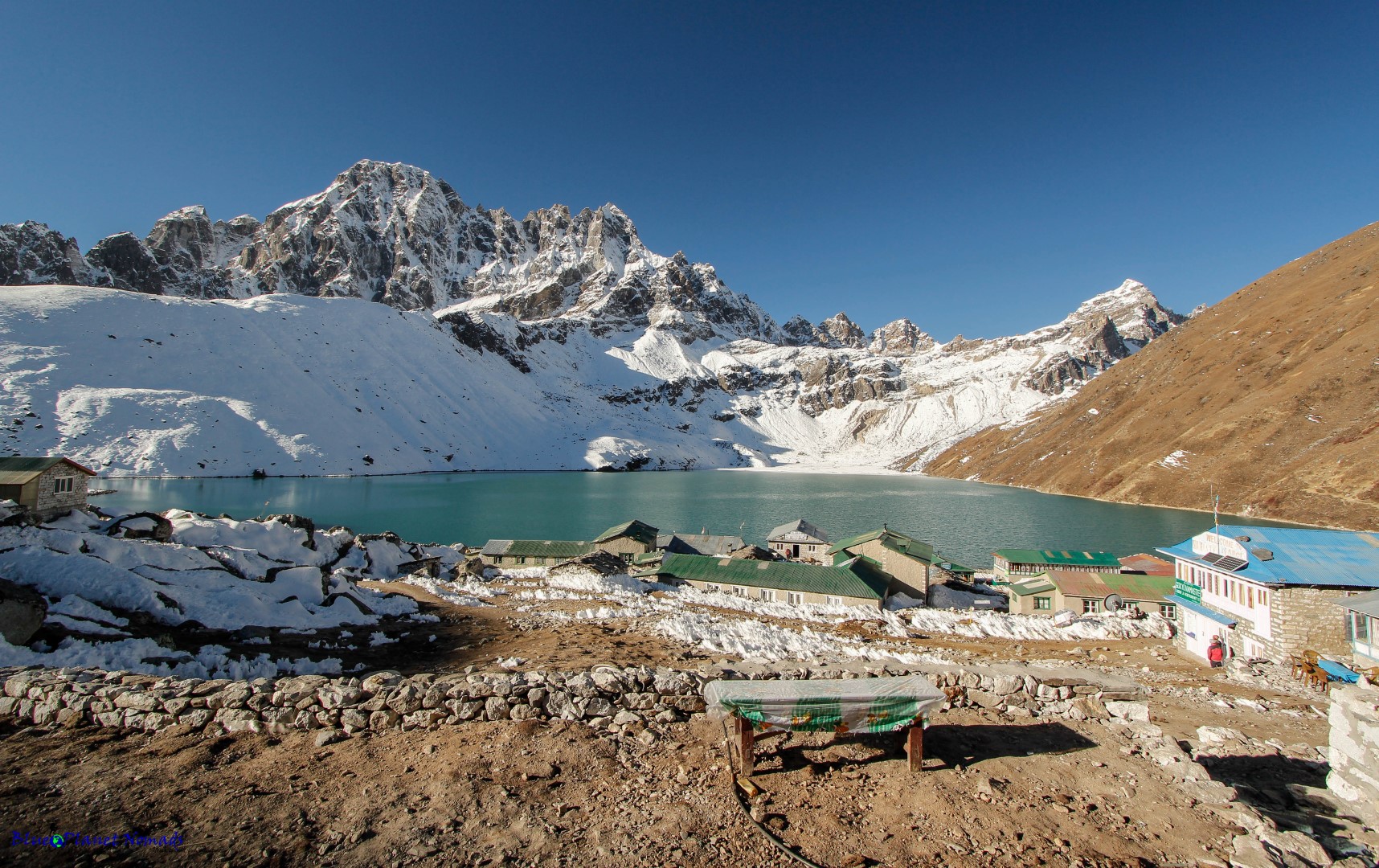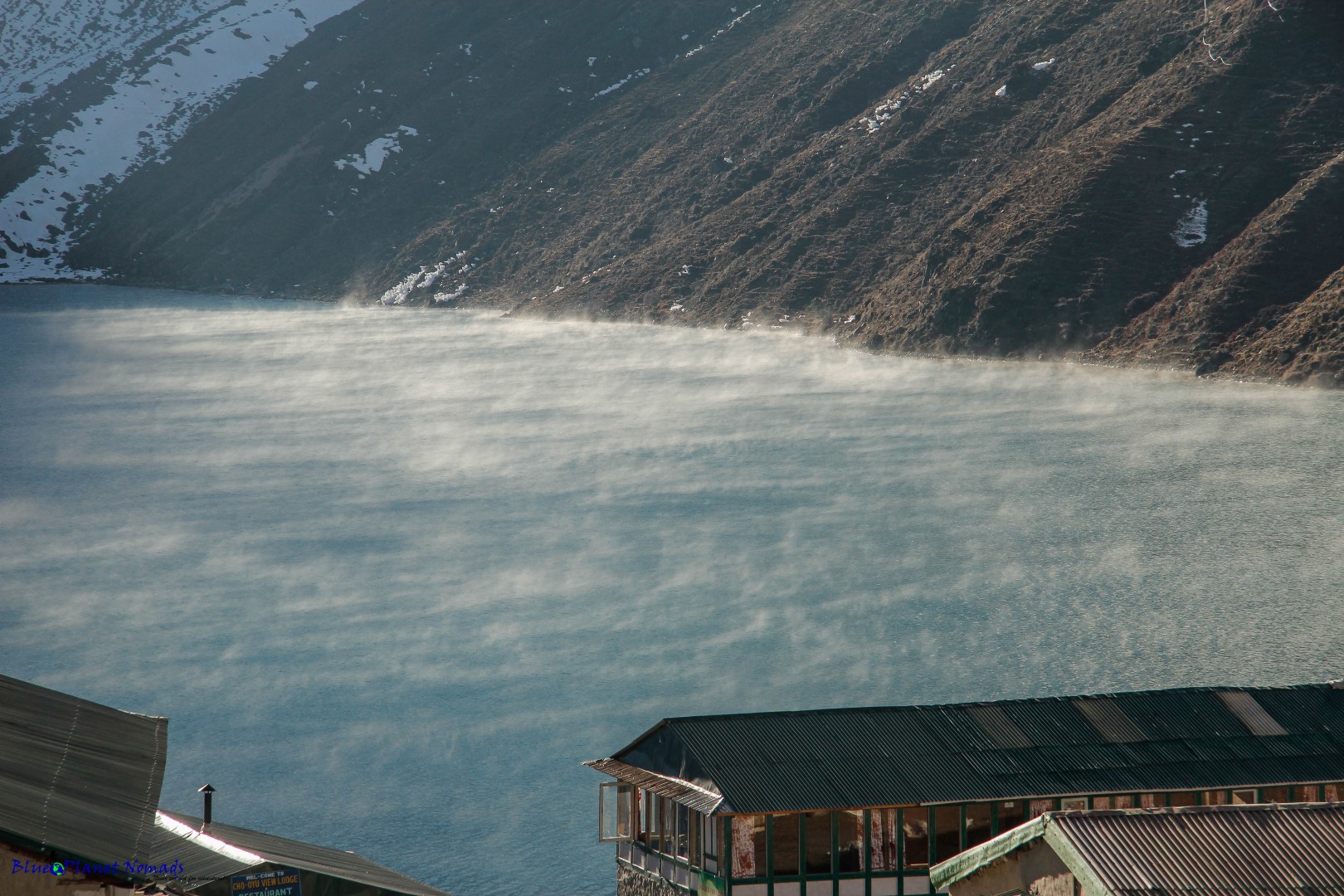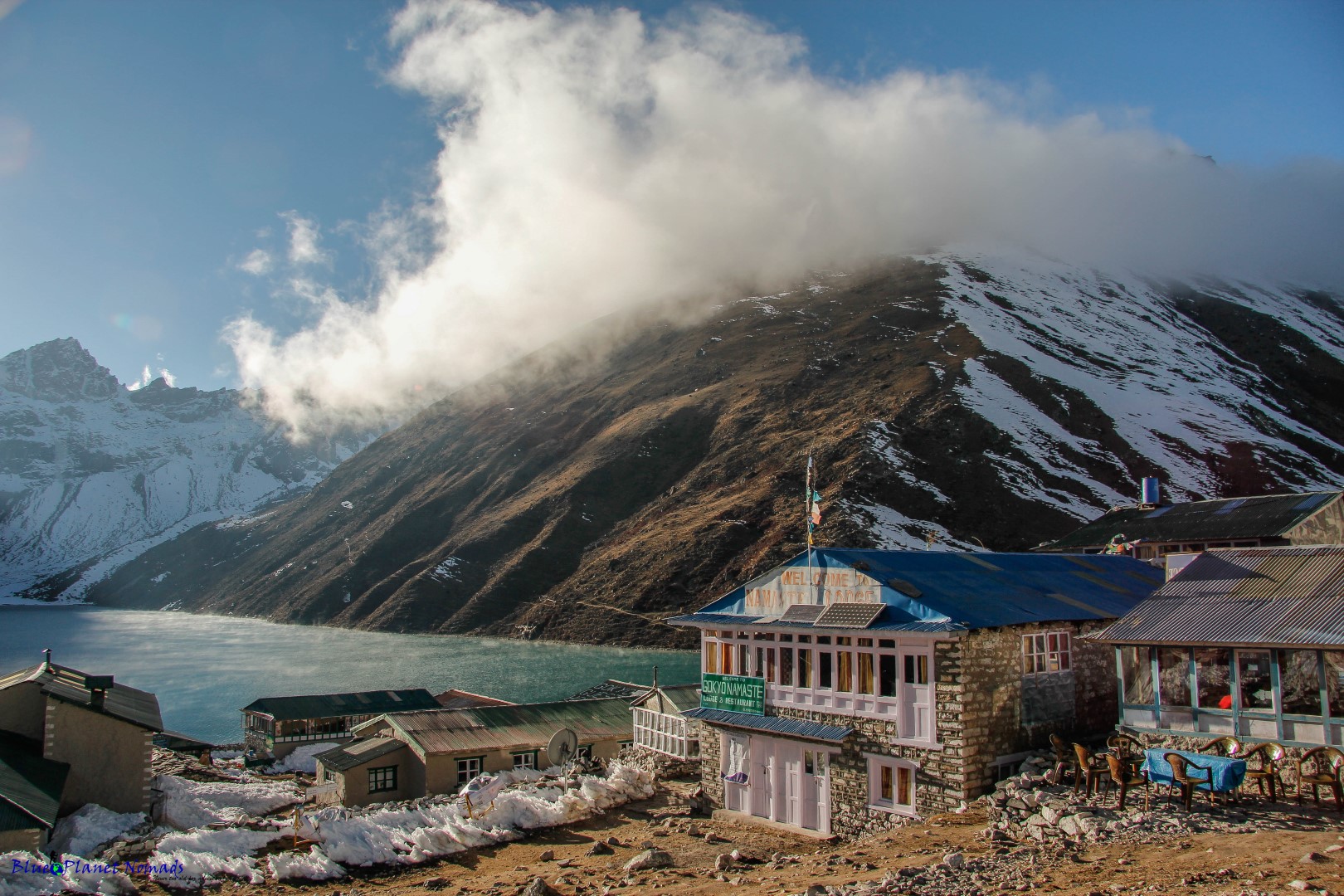 In part 2 of this post we continue our journey towards Everest Base Camp.
If you have enjoyed the photos and would like to see more! then the complete gallery can be viewed in the Trip Photos
Month Visited: November 2013