Welcome to Part 2 of our 19 Day Trek in the Everest Region(Everest Base Camp). If you haven't read part 1 of this post then you will need to read that first before continuing on.
Part 1 of our posting describes the first 10 days of our journey from Lukla to Gokyo Lakes and climbing Gokyo Ri where we were rewarded with some breath taking scenery as well as an excellent view of Everest. In this posting we continue our trek towards Base Camp but run into a problem… do read on 🙂
Day 11 – Thagnag Kharka (5025 Meters)
Today we left Gokyo Lakes and cross the Ngozumpu Glacier to the base of Cho La Pass and spend the night at Thagnag. We had breakfast with our English friends before bidding them farewell at 10am. The first part of the trek was getting out of Gokyo which involved a climb up and over the glacial moraine. I found it hard going; my cough had now consumed me and my breathing was non-existent. I was now worried that I wasn't going to finish this trek as I had no lung capacity to do so.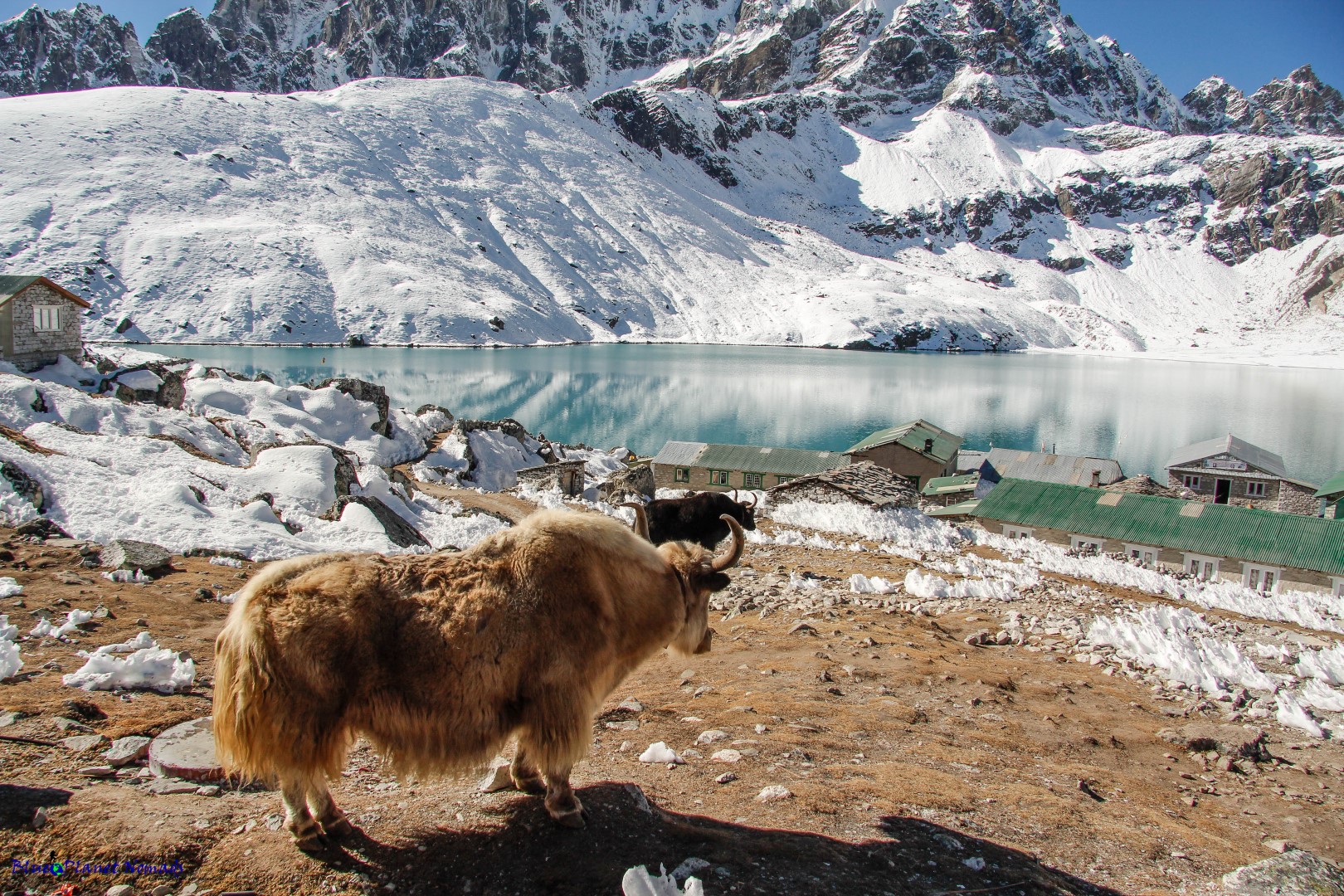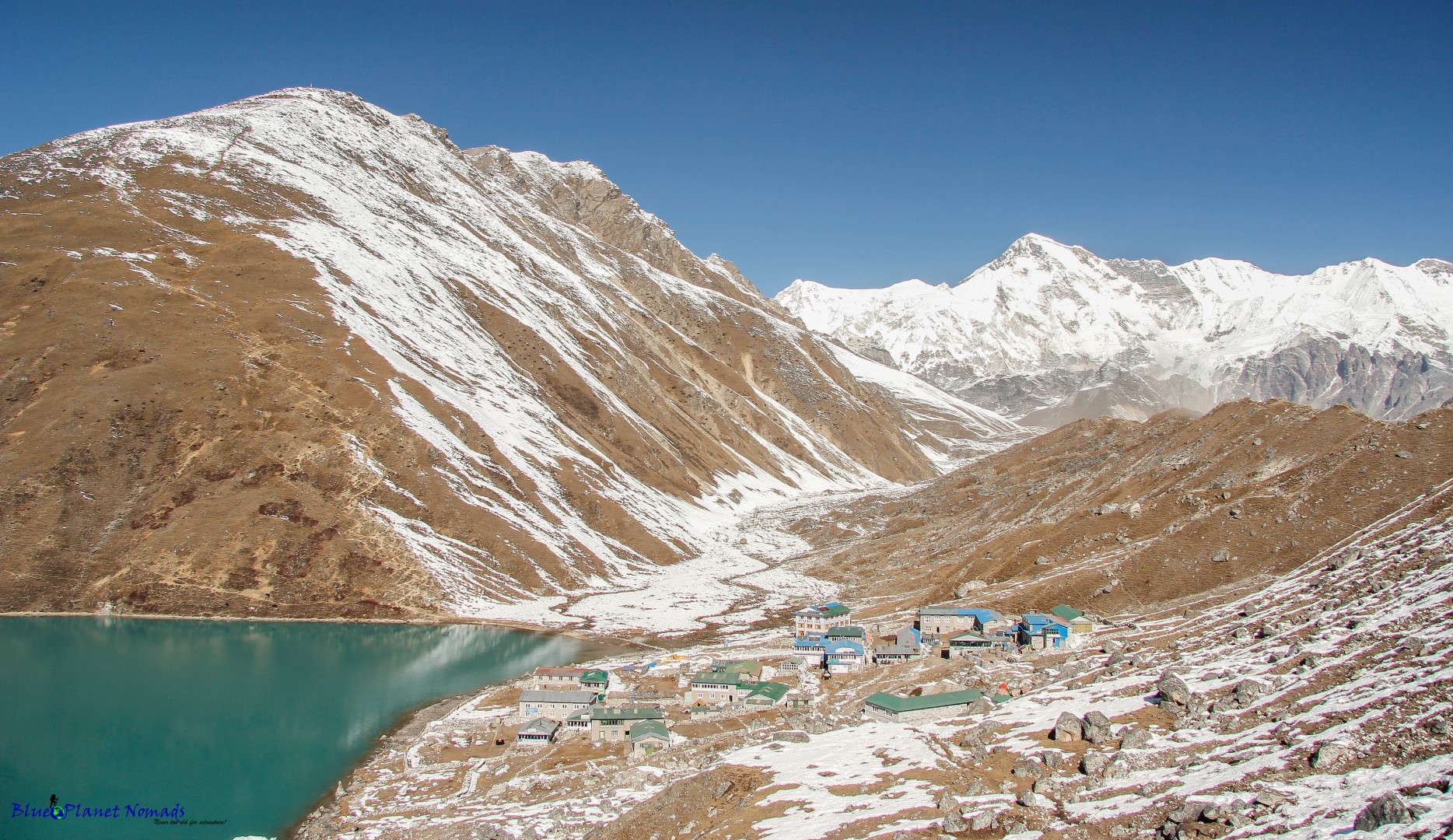 Once at the top we contoured towards the glacier before heading downhill which wasn't that much fun as it was quite slippery. We followed the path over the glacier which was a mixture of ice, rock and terminal moraine. The glacier was stunning, we could hear the cracking sounds as it shifted, it was such an experience.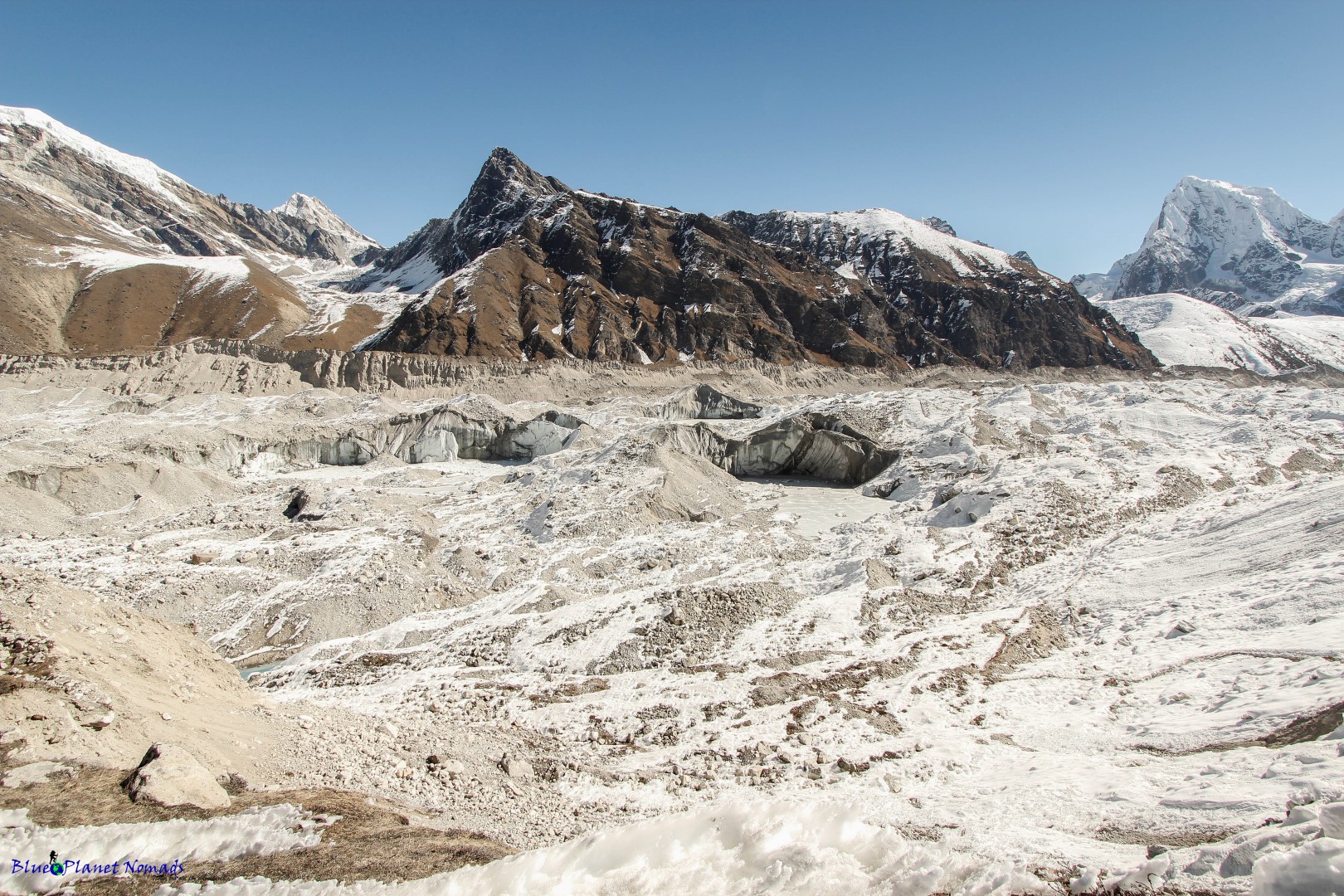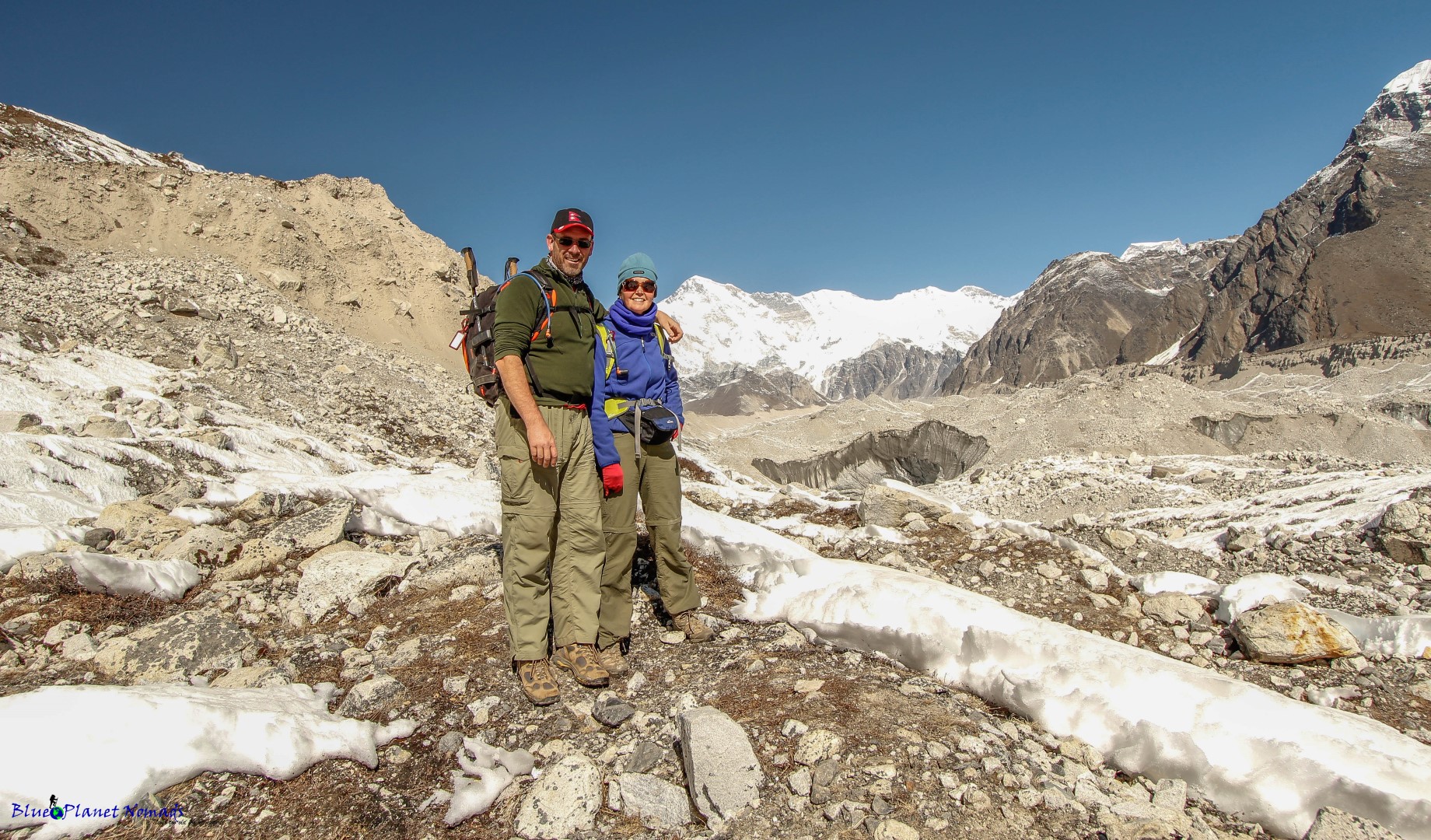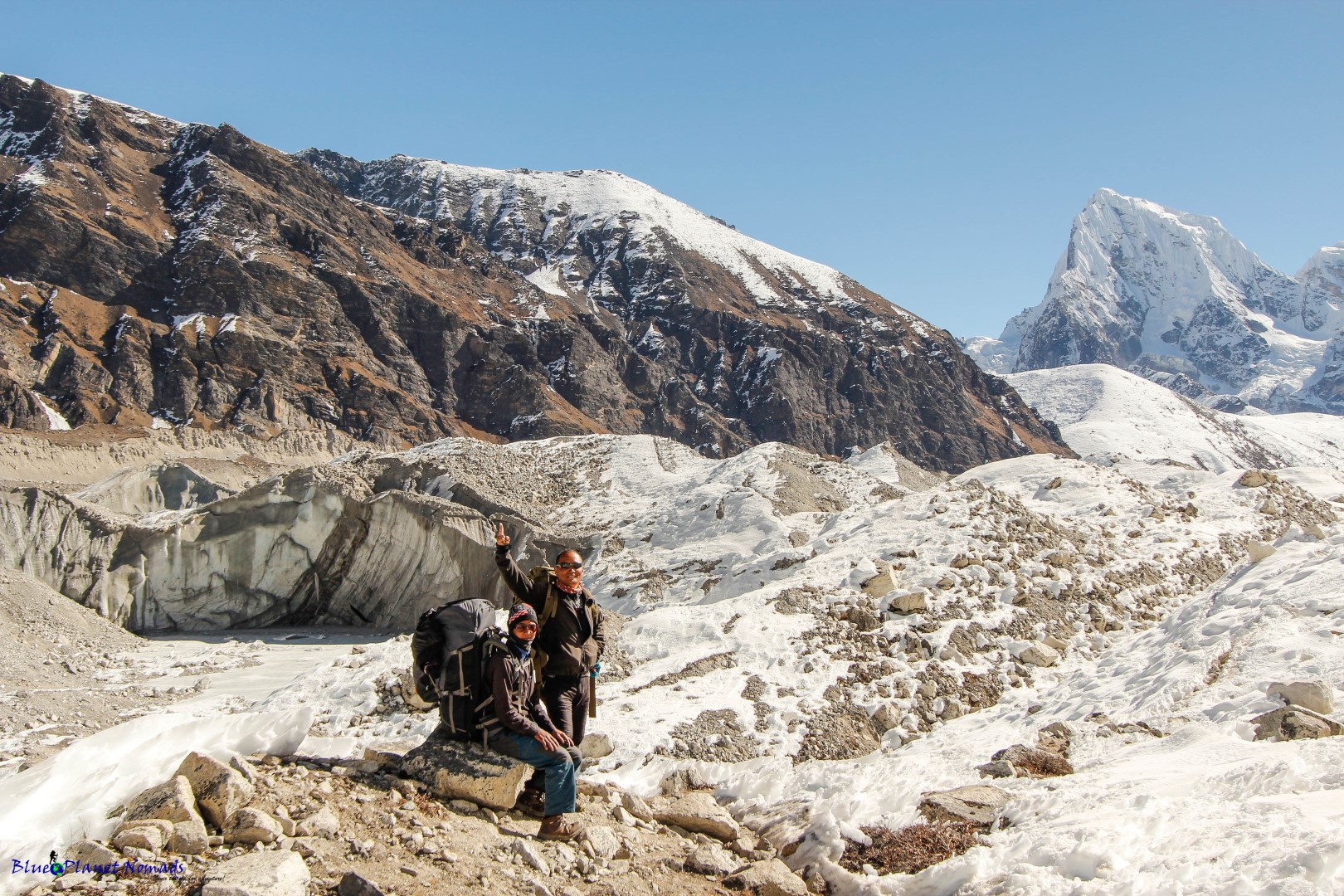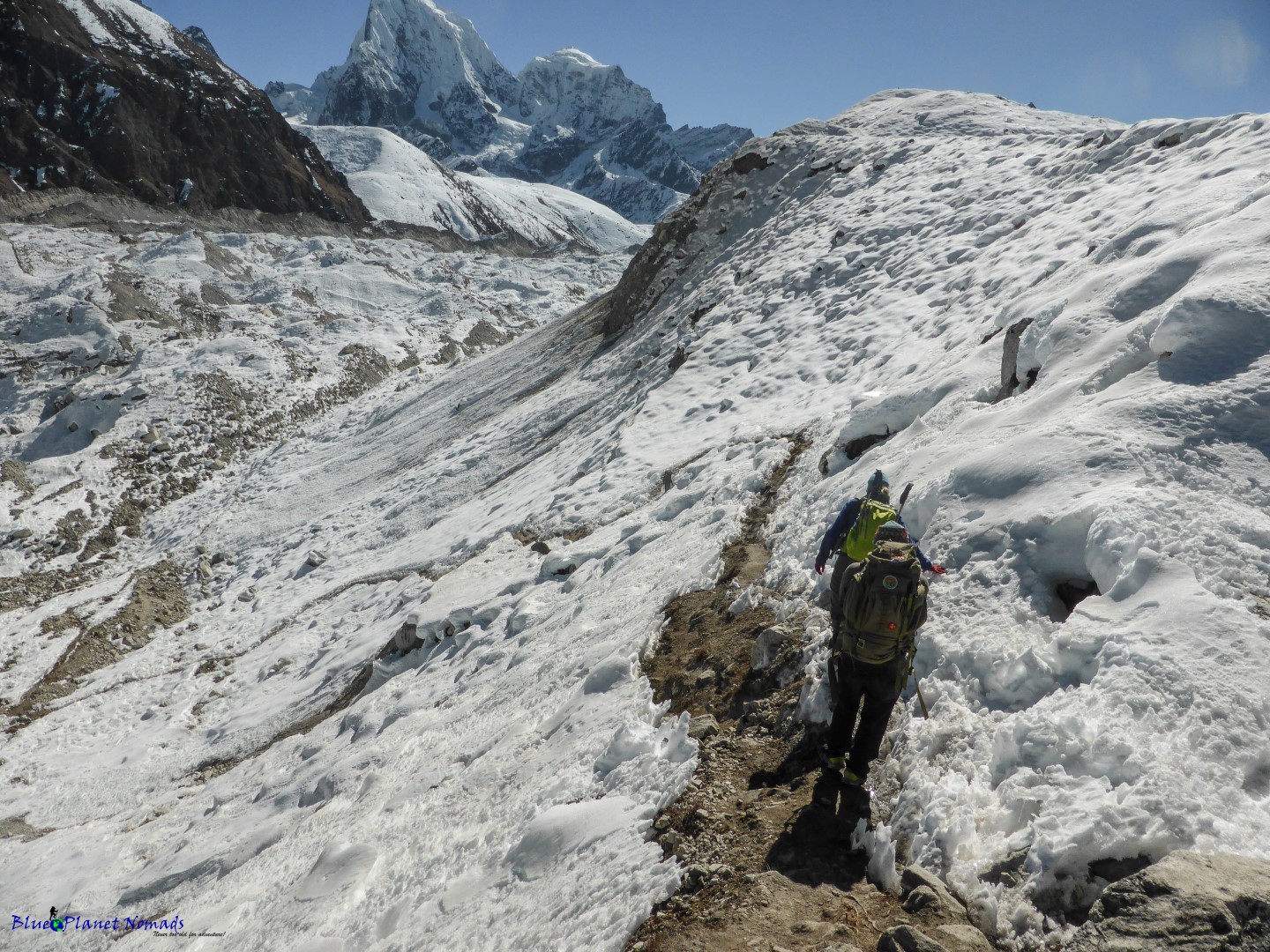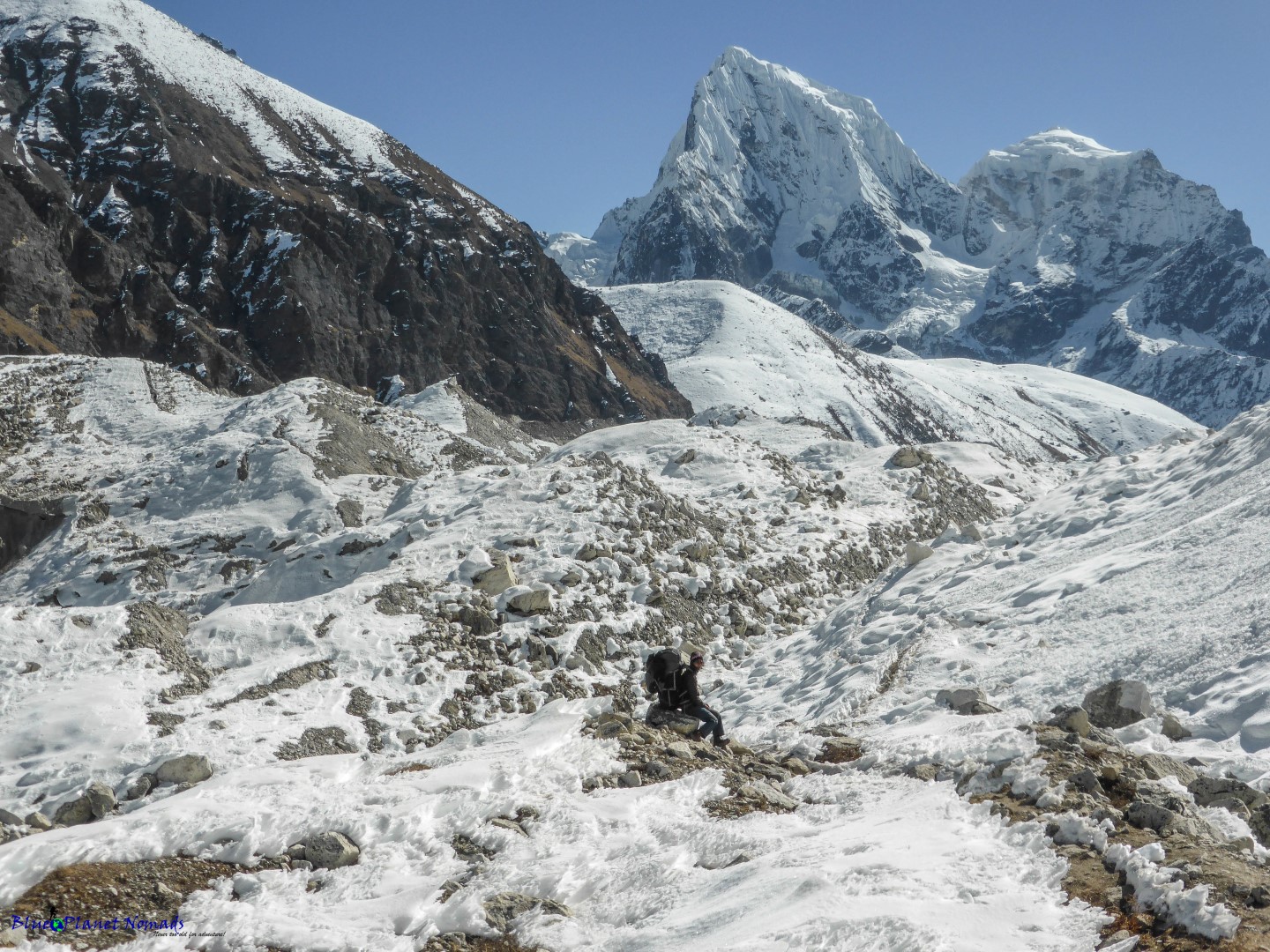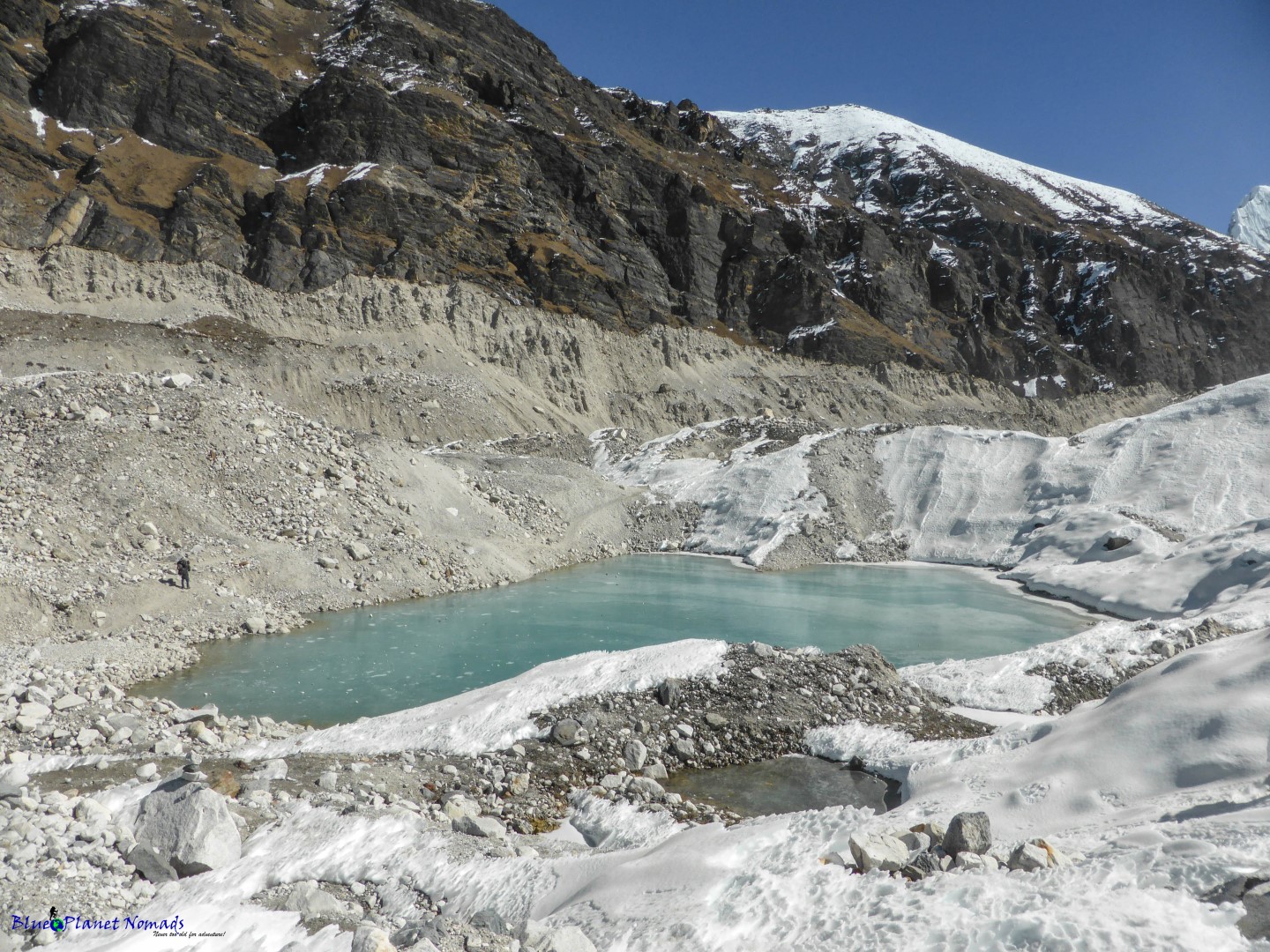 We passed some frozen lakes and Vaughan and Ram skimmed stones across the ice which was quite amusing. One lake was backed by an ice wall which you could hear cracking followed by a small ice fall. The Dudhi Kosa was flowing underneath which caused the shifting of the ice. Once we left the glacier we followed a track that led up a scree slope, it wasn't the most pleasant of tracks as some loose rocks came tumbling down, lucky enough not major enough to sweep us off our feet or bury us!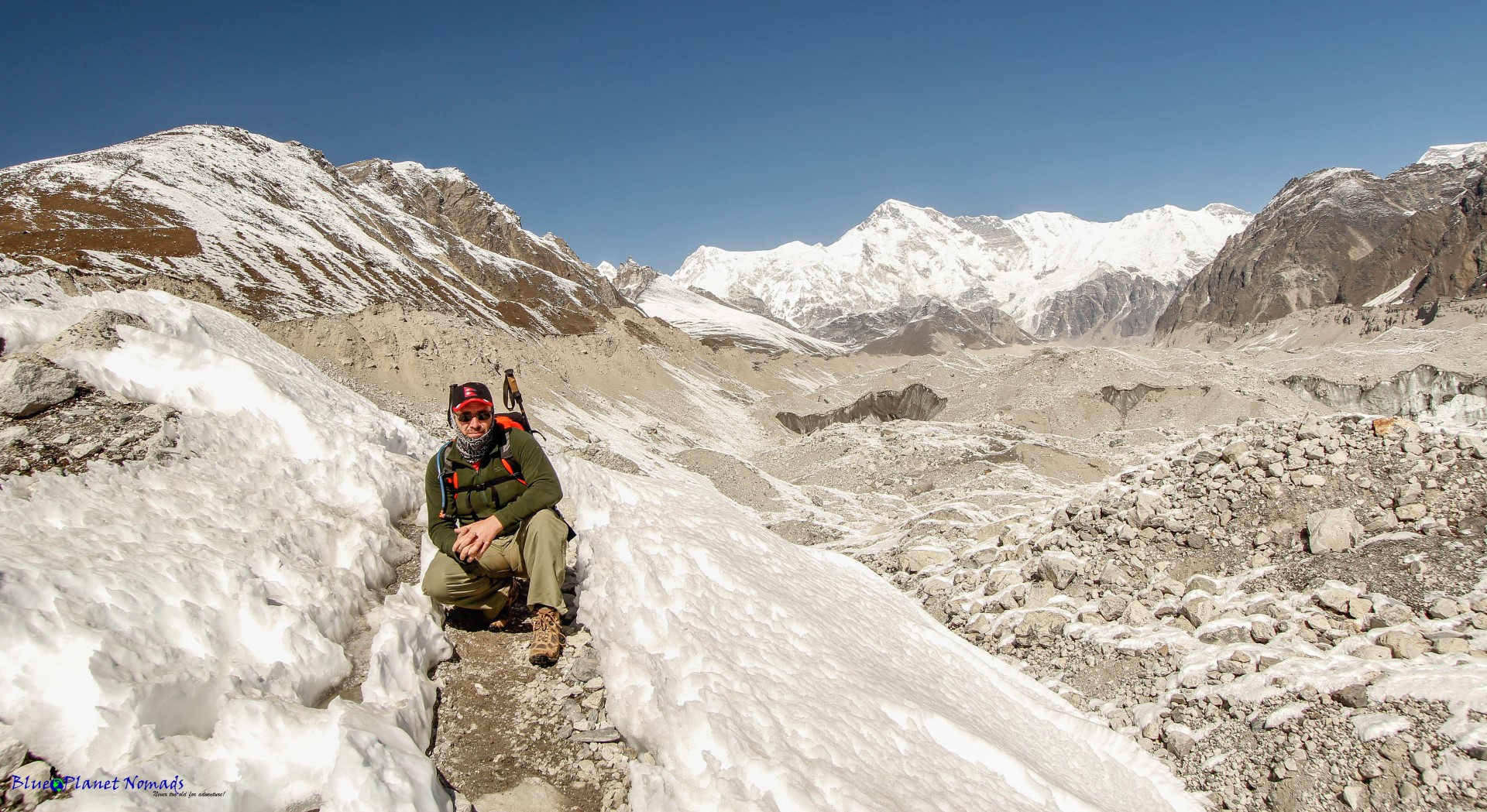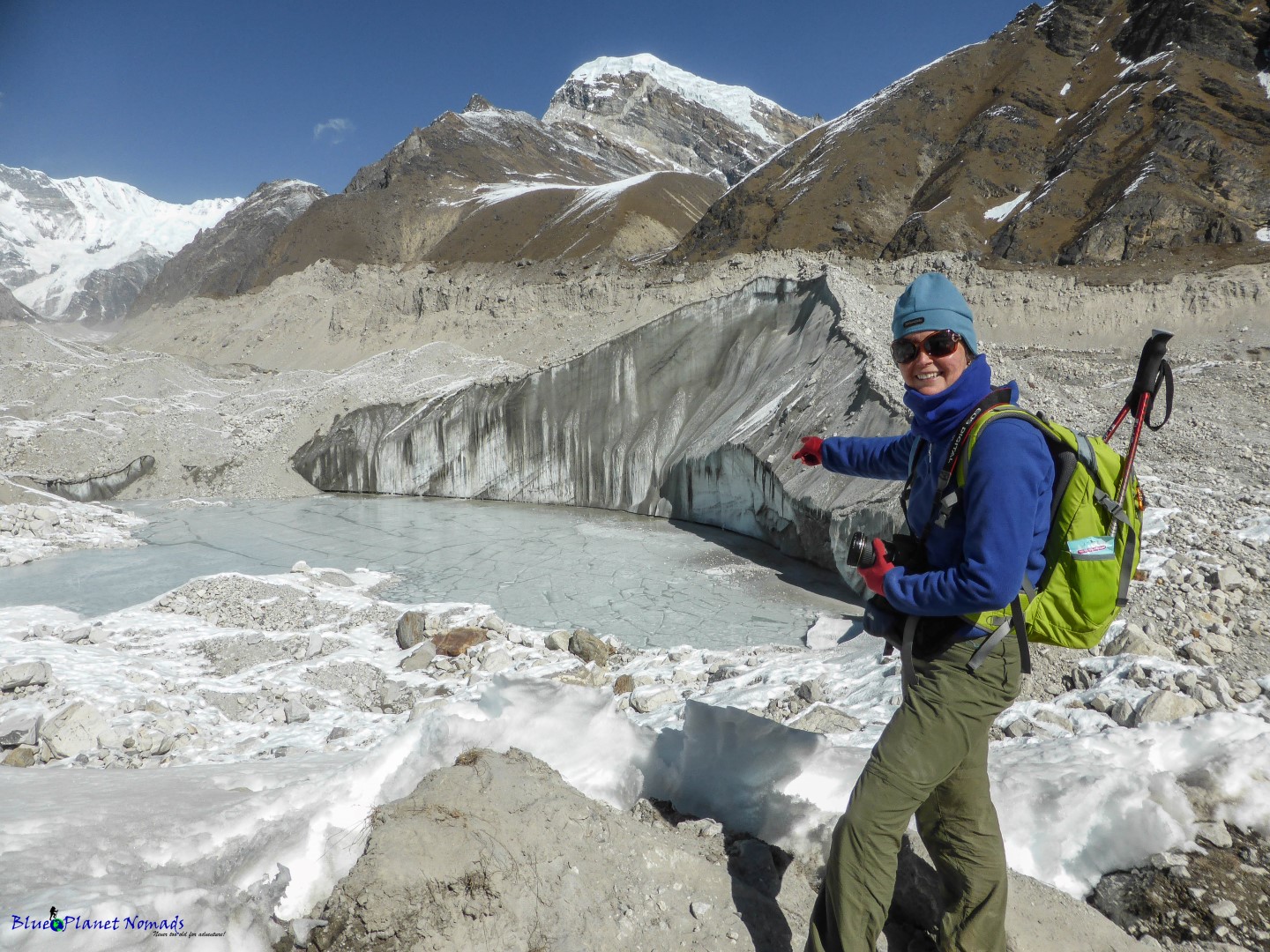 We passed another frozen lake and once again Vaughan took to skimming stones which echoed across the valley.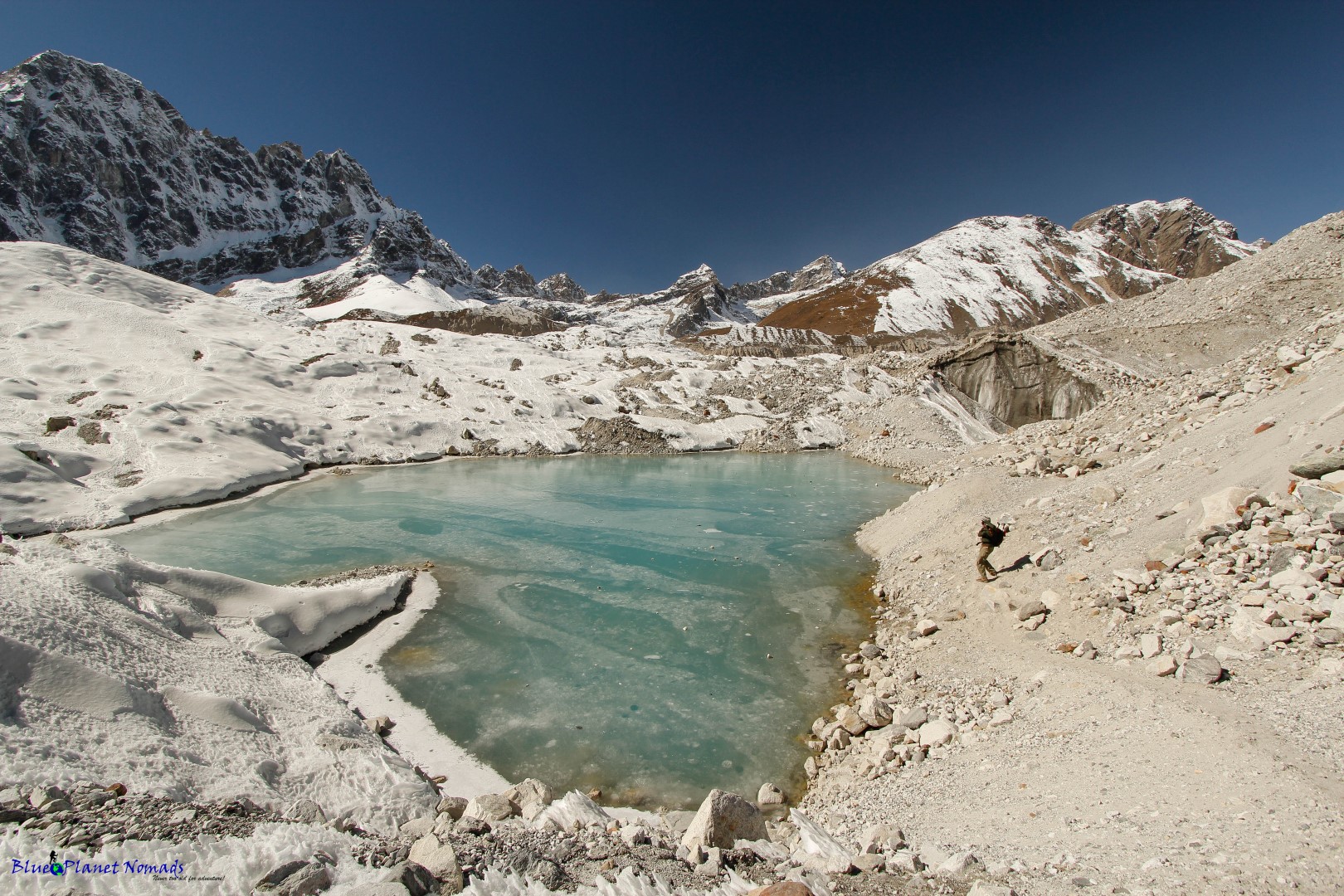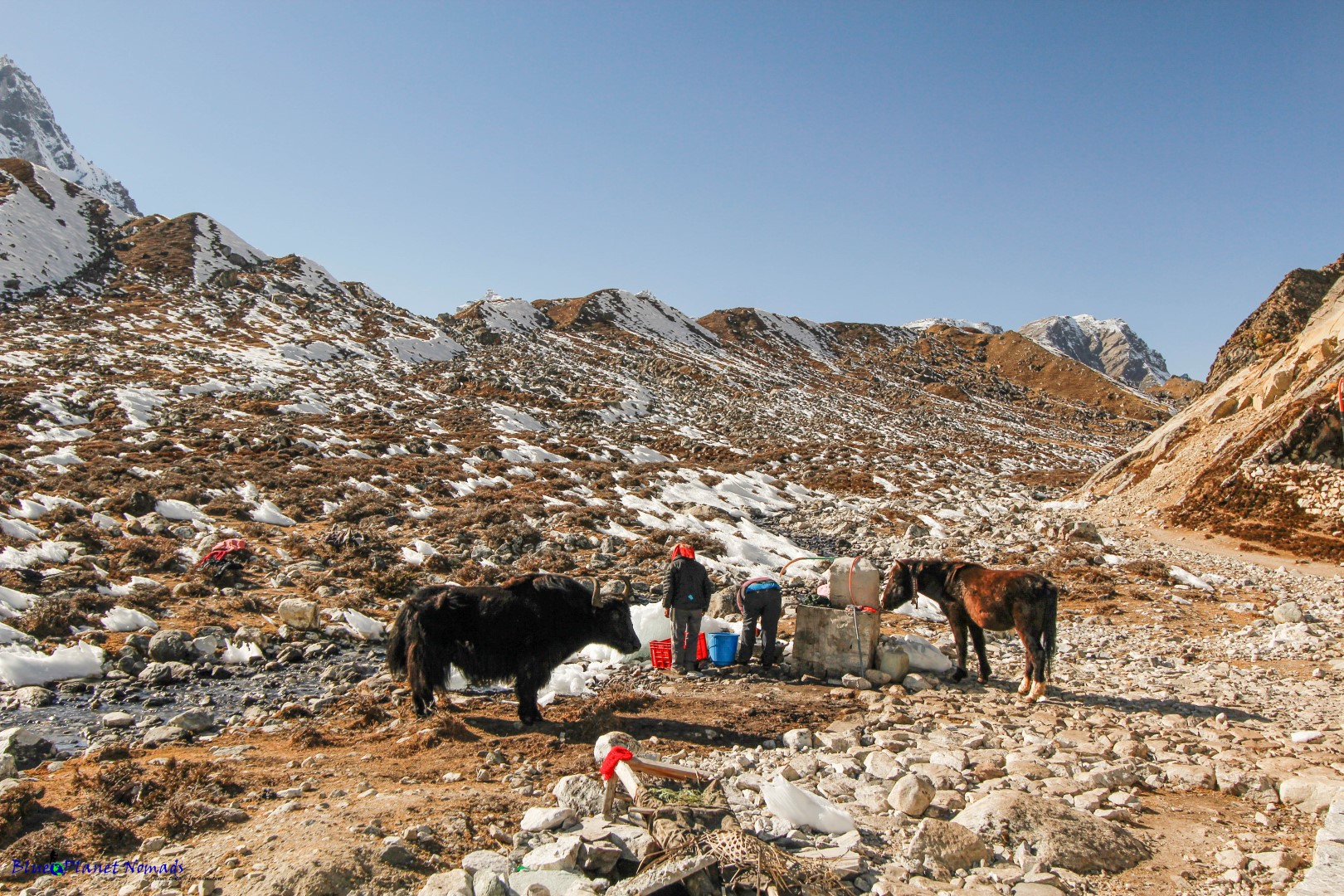 We reached our guesthouse about lunchtime, the place had a resident pet horse and we found it amusing how it walked through the tea house to get to the central yard! The guesthouse wasn't that big and there was a group mainly made up of Aussies who were travelling with the tour company Intrepid. We chatted with them and an American guy so it was a nice social afternoon. Outside was absolutely freezing but I did venture out at dusk to get some photos.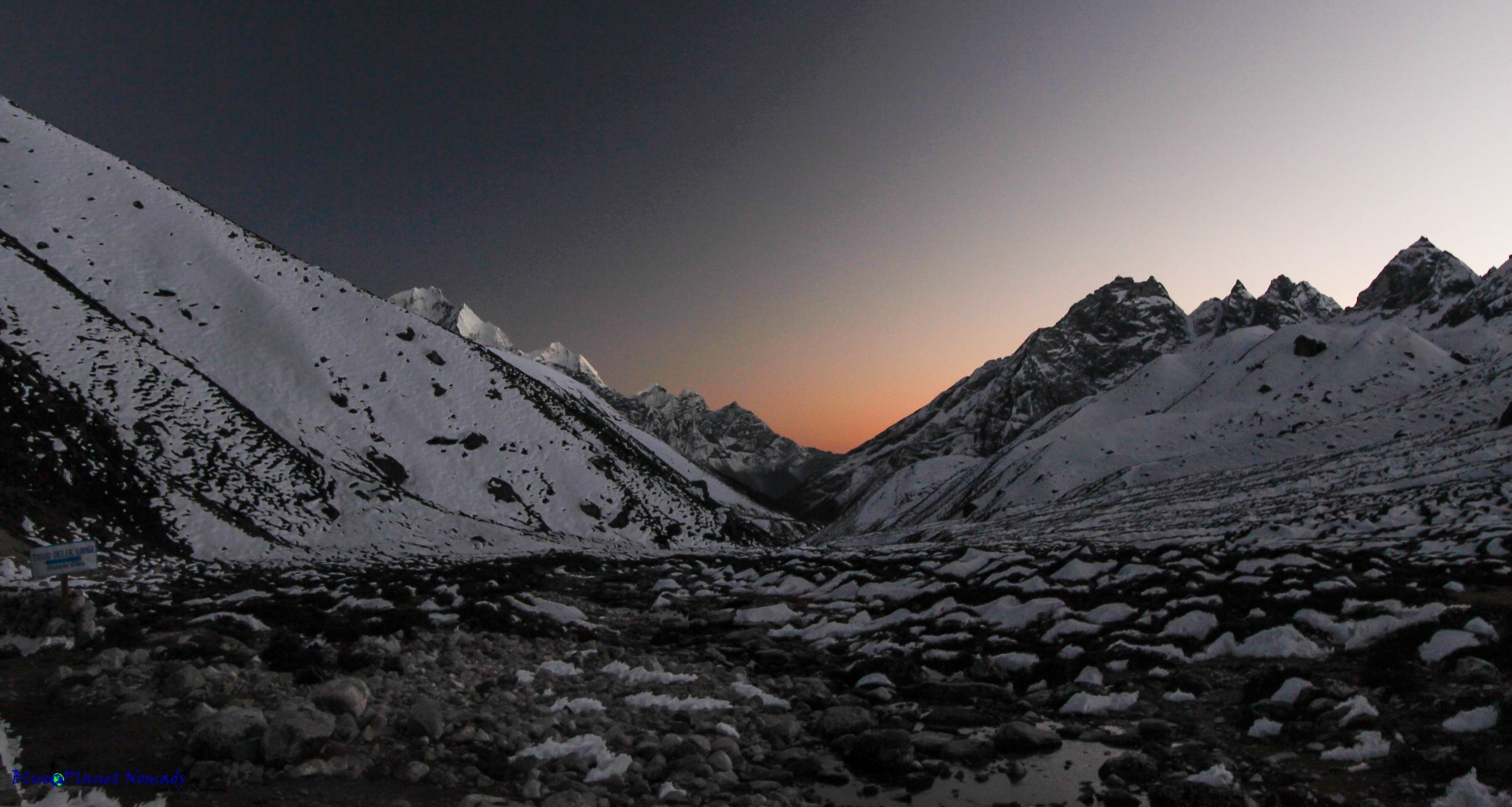 That evening I had to make the decision whether to tackle Cho La Pass. Even for the fittest it could take 7-9 hours, the walk up to the pass is steep and slow and you would be starting off in the dark. You should start the walk at 4am to get up and over the pass before the sun comes up and starts melting the ice which then makes it dangerous. If I was to do this in my current condition I would have to start walking now! As I'm now stopping every 2 minutes to have a coughing fit and get my breath. I was angry and disappointed, so long have I wanted to walk to base camp and I knew I wasn't going to make it on this trip. It wasn't worth the risk to myself, Vaughan and our guide, it would probably take me 12 hours or more to get over that pass and down the other side so I decided to knock it on the head and we would walk around the pass as far as Pangboche so at least I could see the monastery. I went to bed feeling defeated and disappointed but then I did see Everest and the trek so far had been amazingly beautiful so it wasn't the end of the world.
Day 12 – Phortse (3840 Meters)
This had to be the coldest morning we have experienced so far on the trek; the window was frozen and I was informed it was -8 Celsius outside. The central dining room wasn't only freezing cold it was deserted too as the Intrepid group had already left very early. Because the lodge was so cold we were quick in eating our breakfast and leaving! Outside, streams and puddles of water had turned to ice, the sun was still yet to show its face into this part of the valley.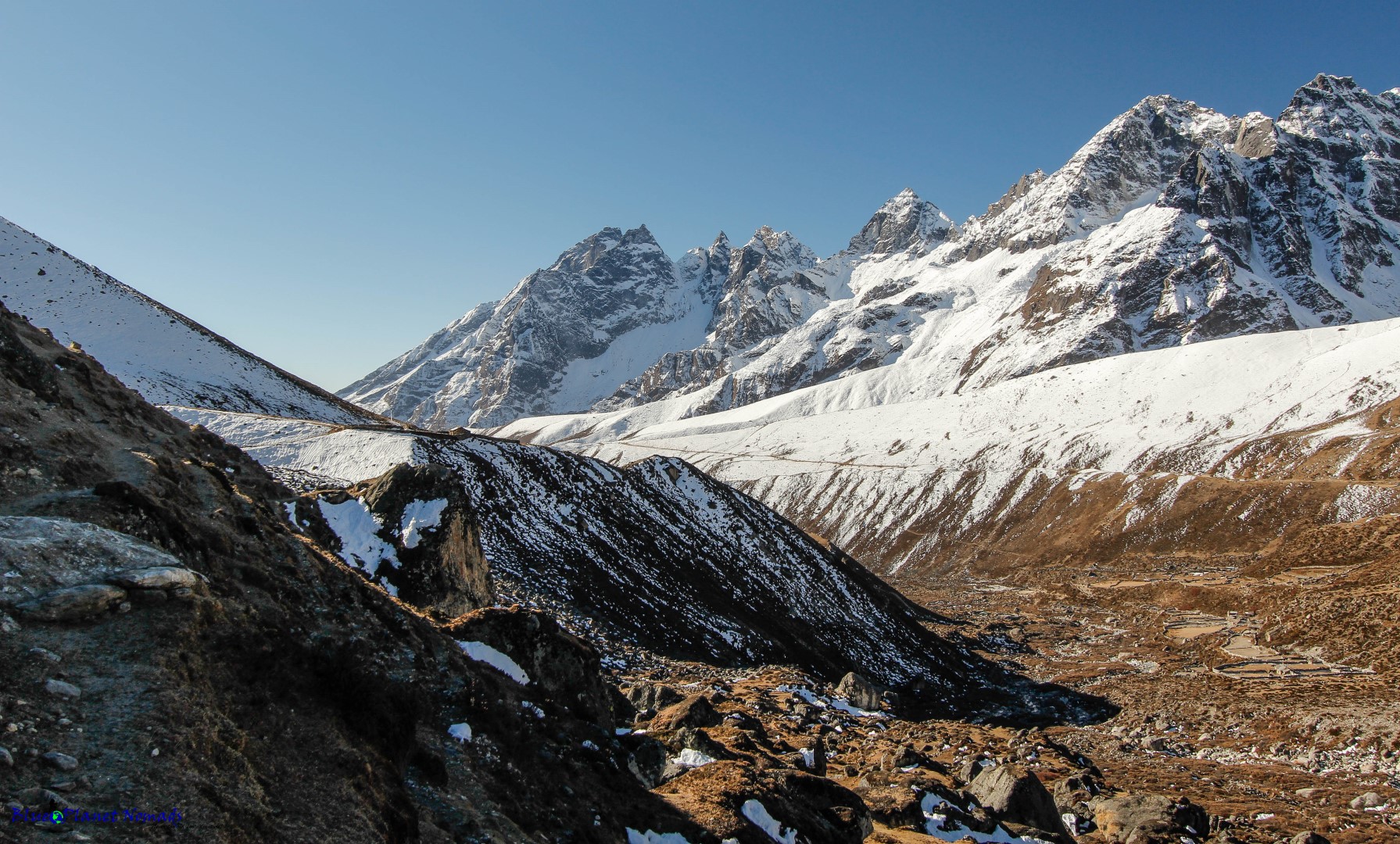 We stepped our way over the grassy expanse until the path narrowed and we were following the contours of the valley with the river far below us. The path was undulating and we passed a few farmhouse settlements with fields enclosed by stone walls housing happily grazing yaks.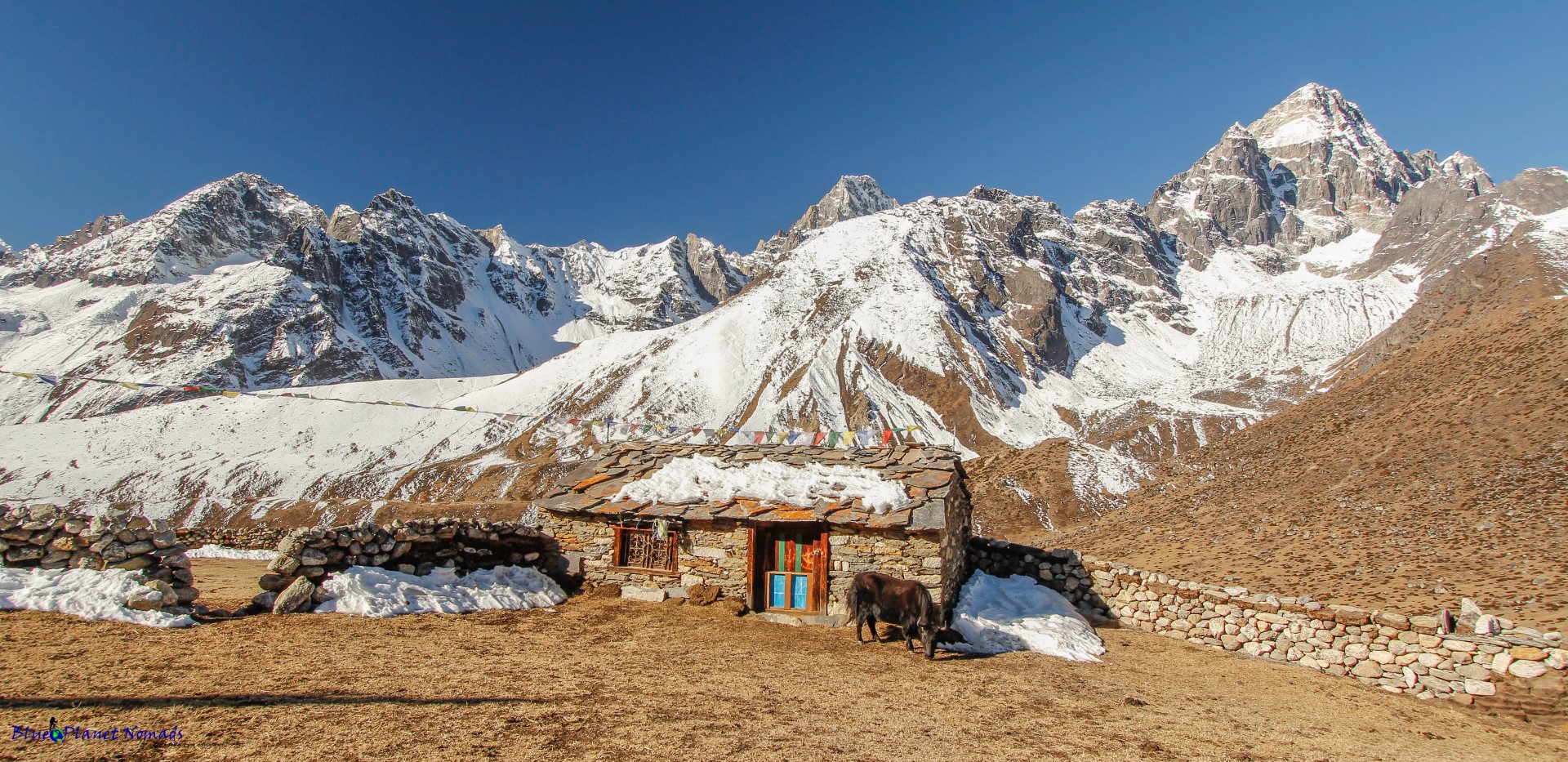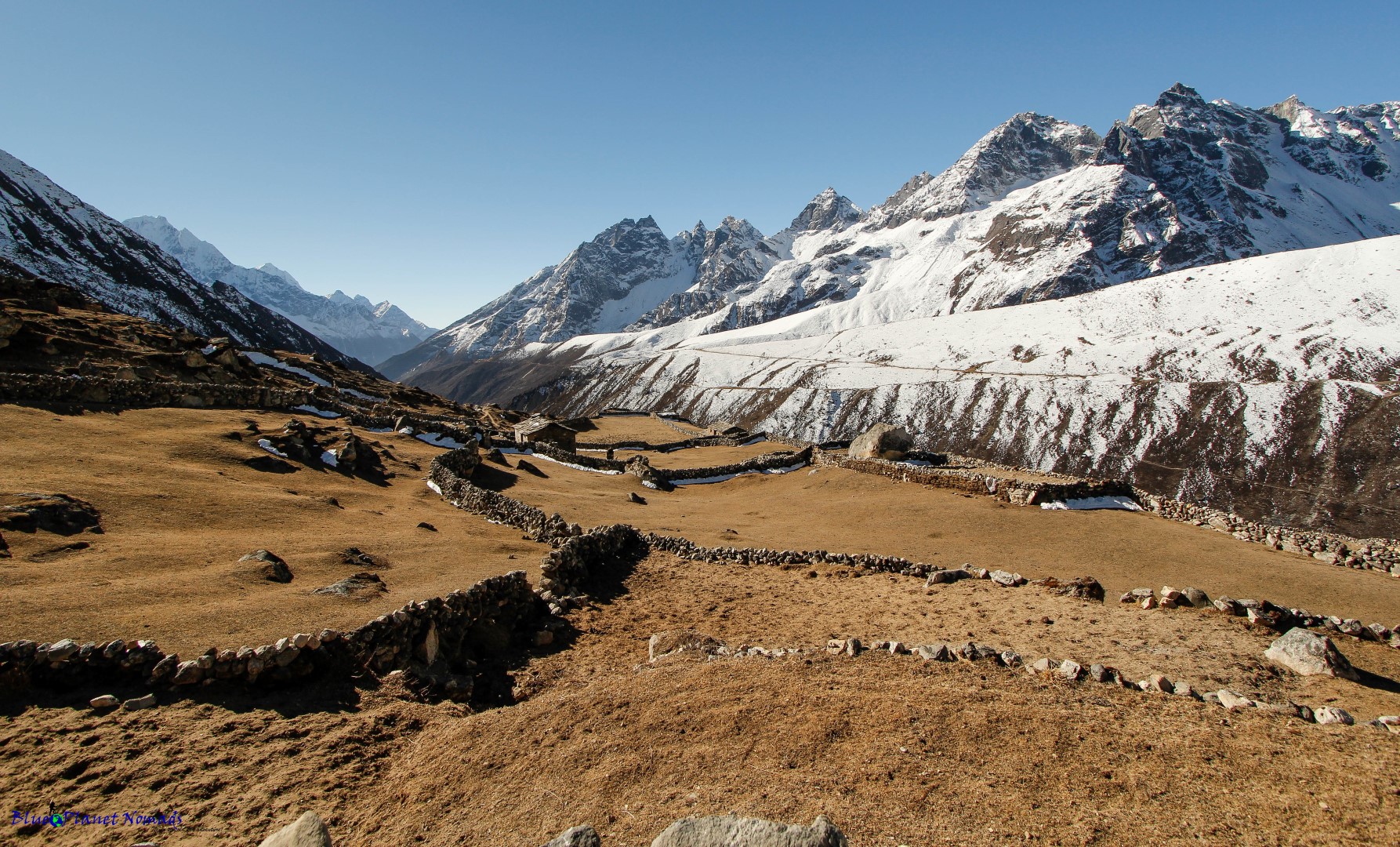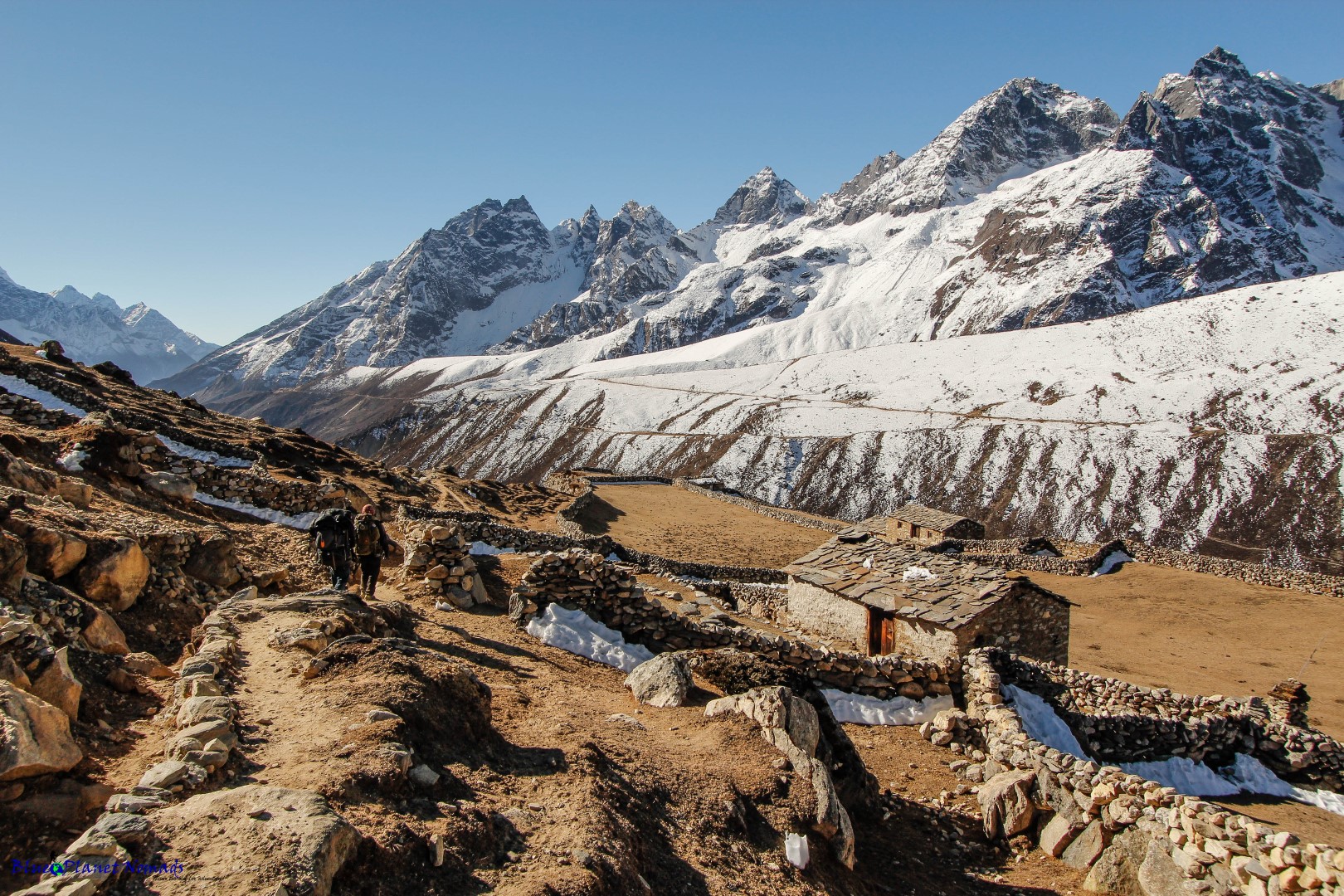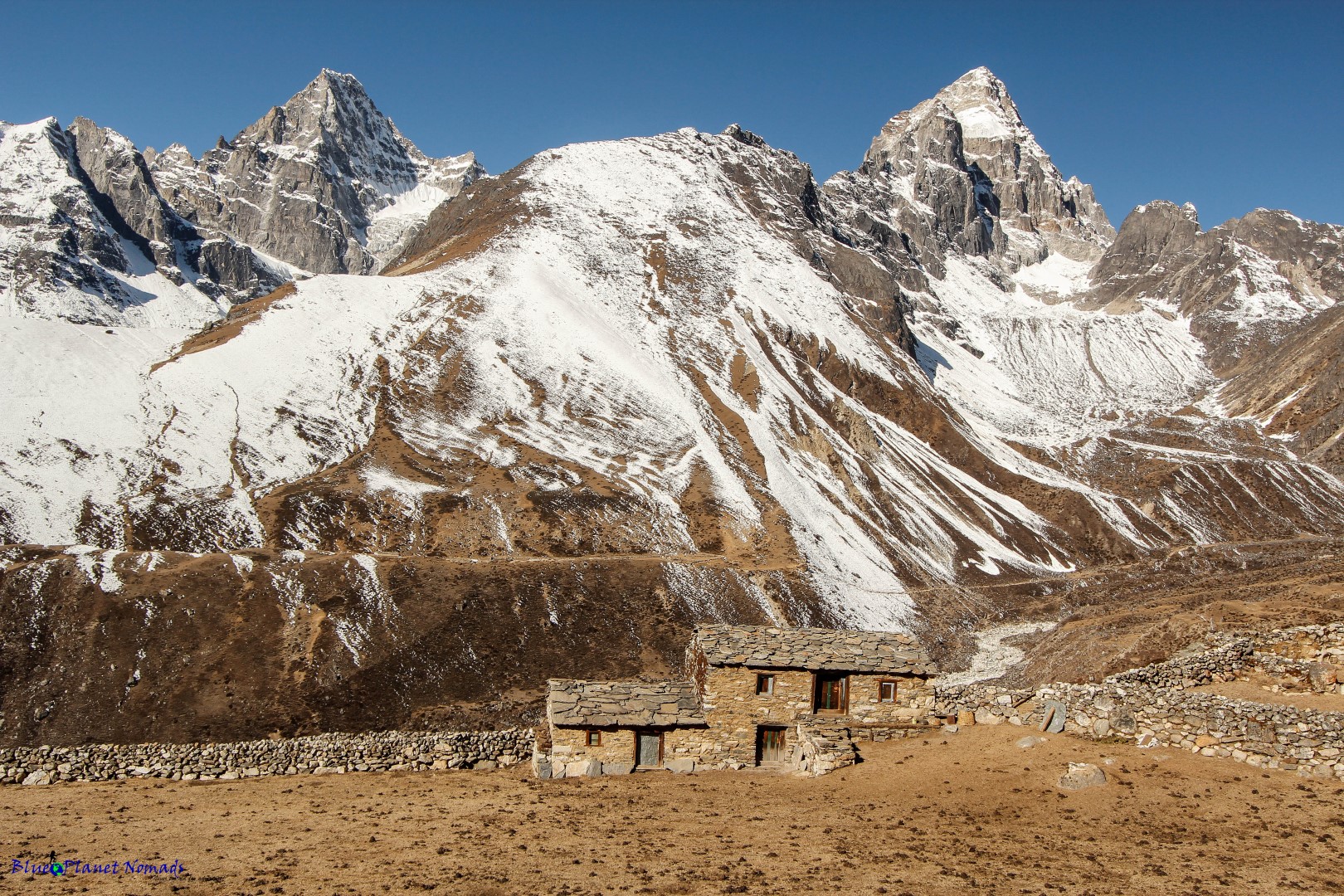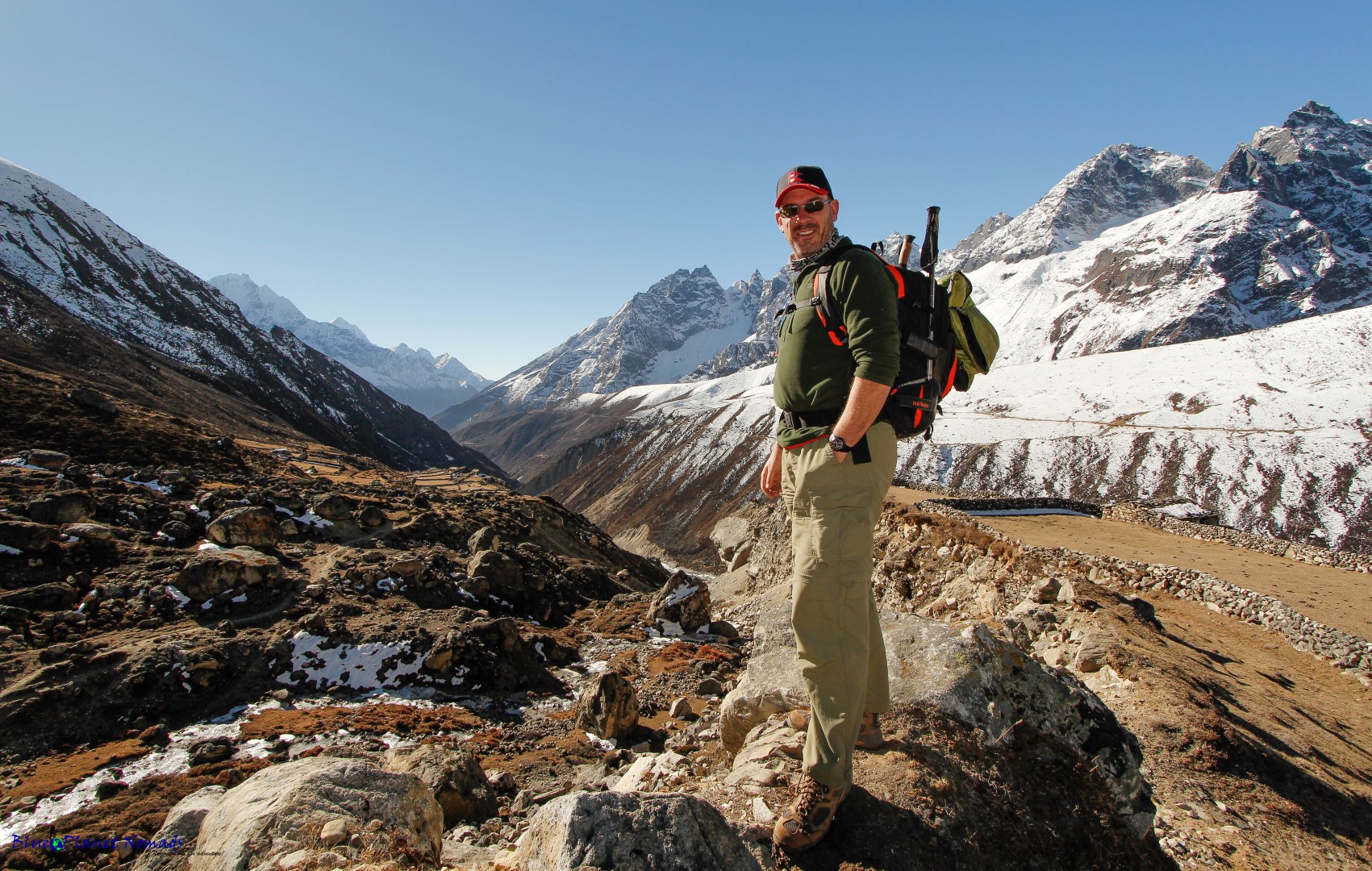 We stopped mid-morning for some tea at a lone lodge before stopping for lunch at the next village where we got talking to 3 Australians (a father and his daughter and a older guy from Canberra). After lunch we set off again following the path which undulated passing a few stupas.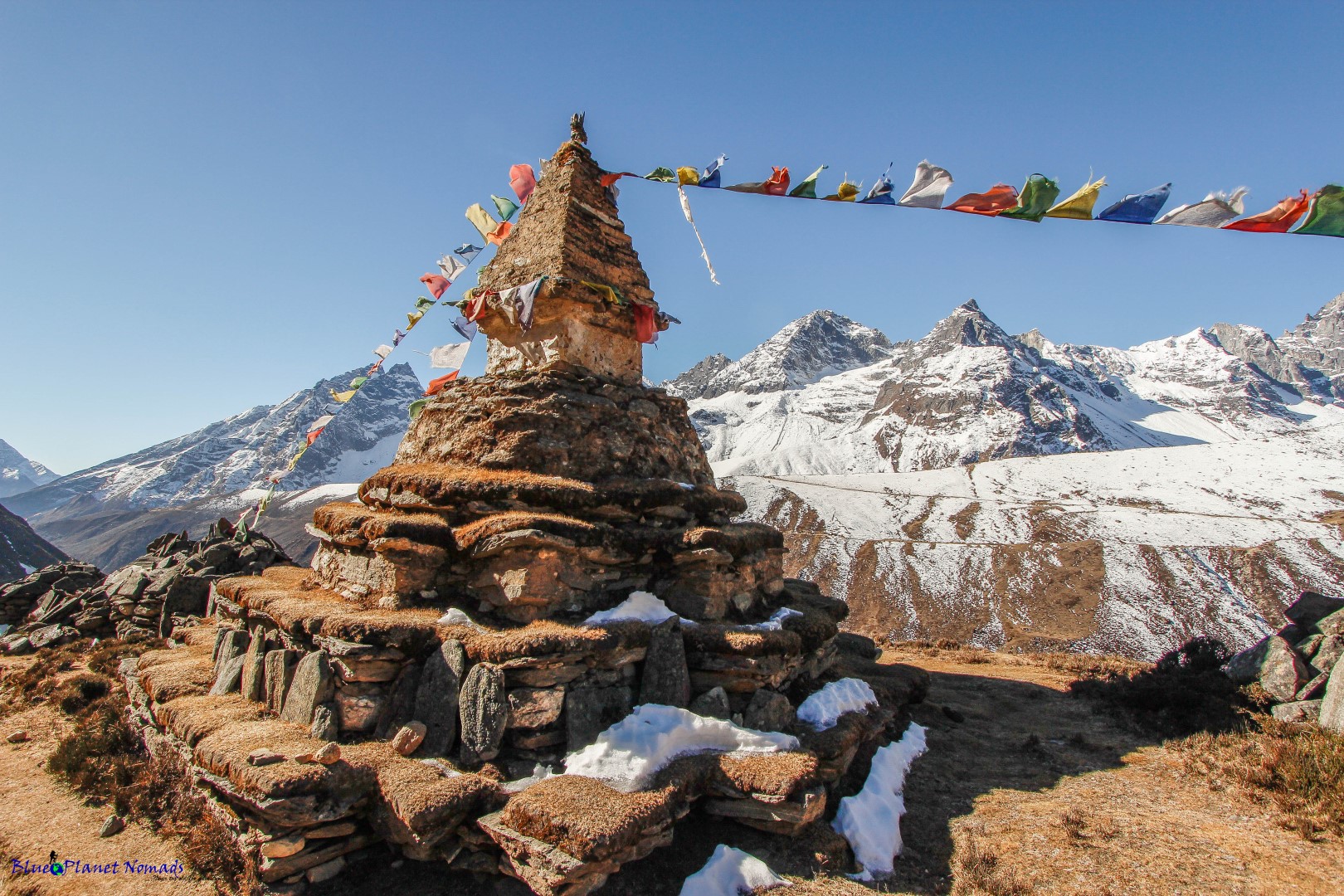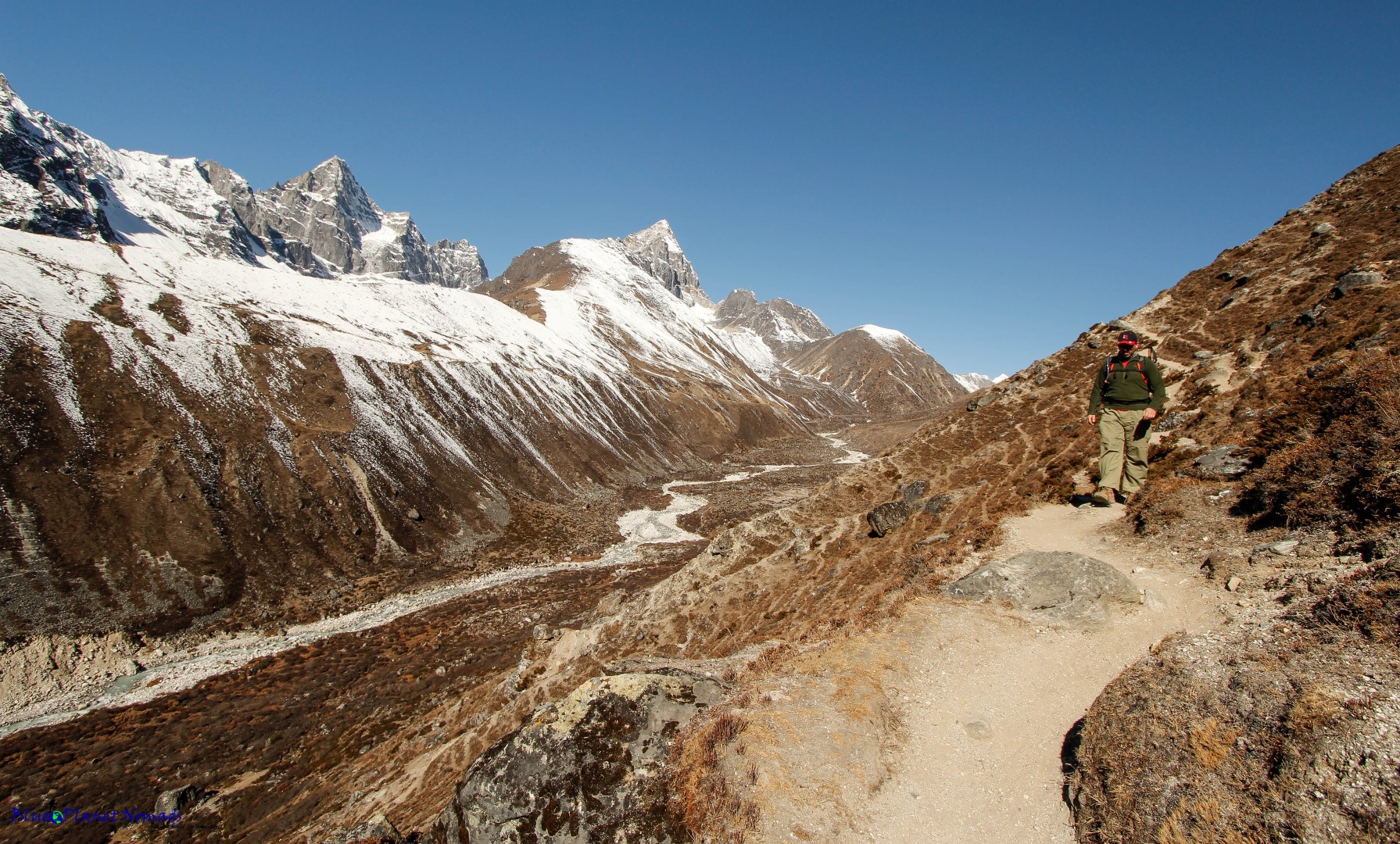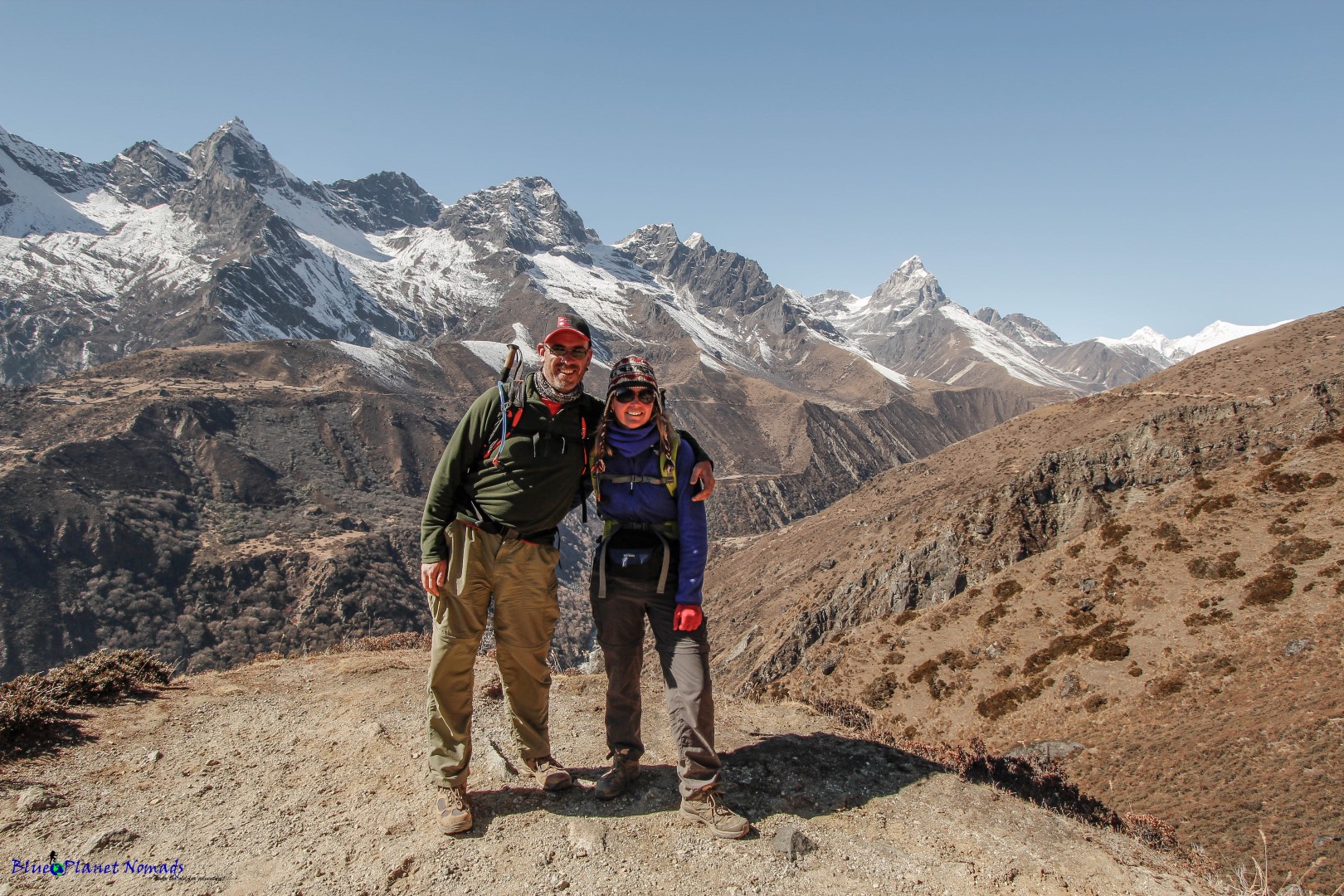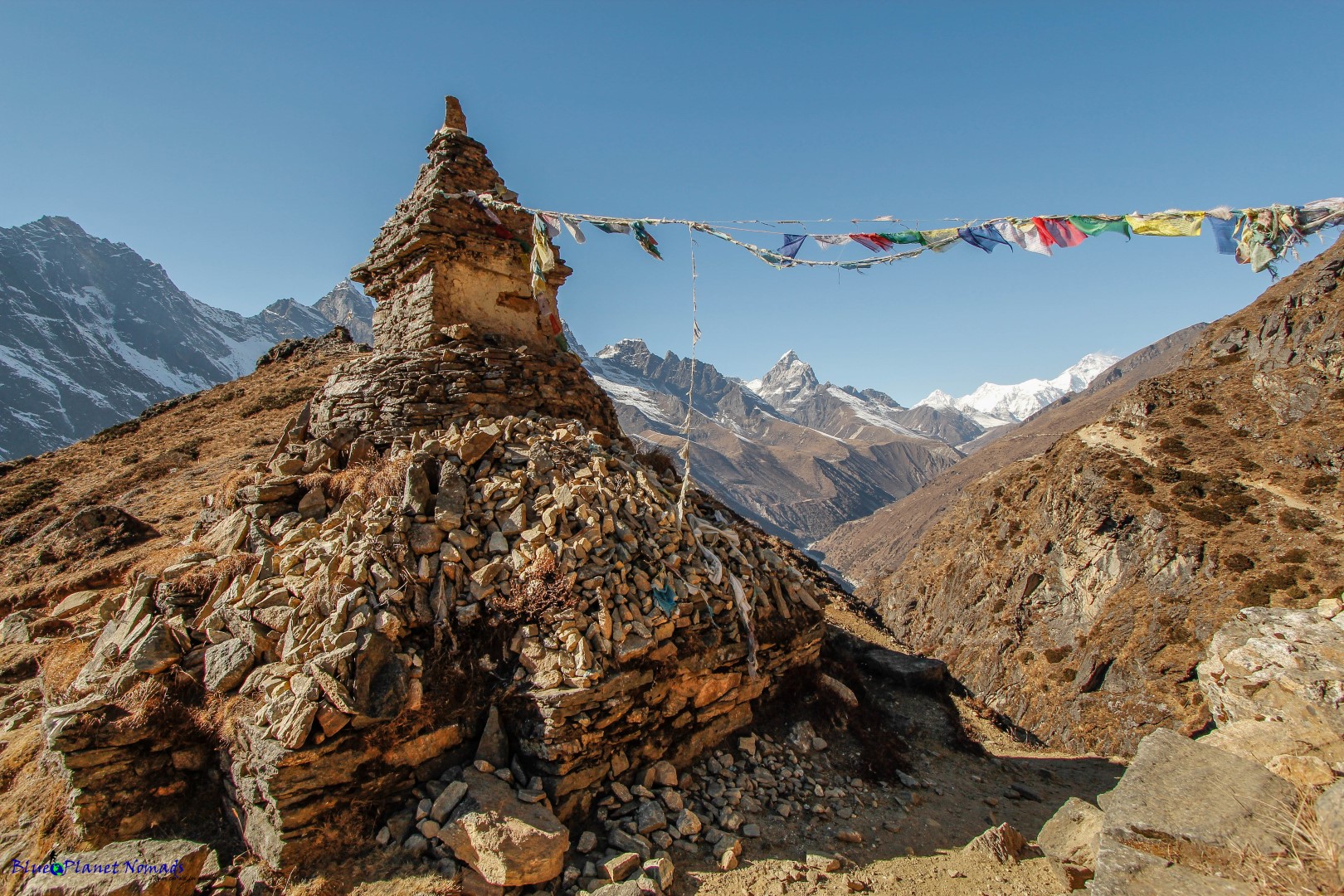 It then gently sloped downhill hugging the mountainside and we had amazing views across to Machermo and Dole and we could see the track to Gokyo that we had taken some days before.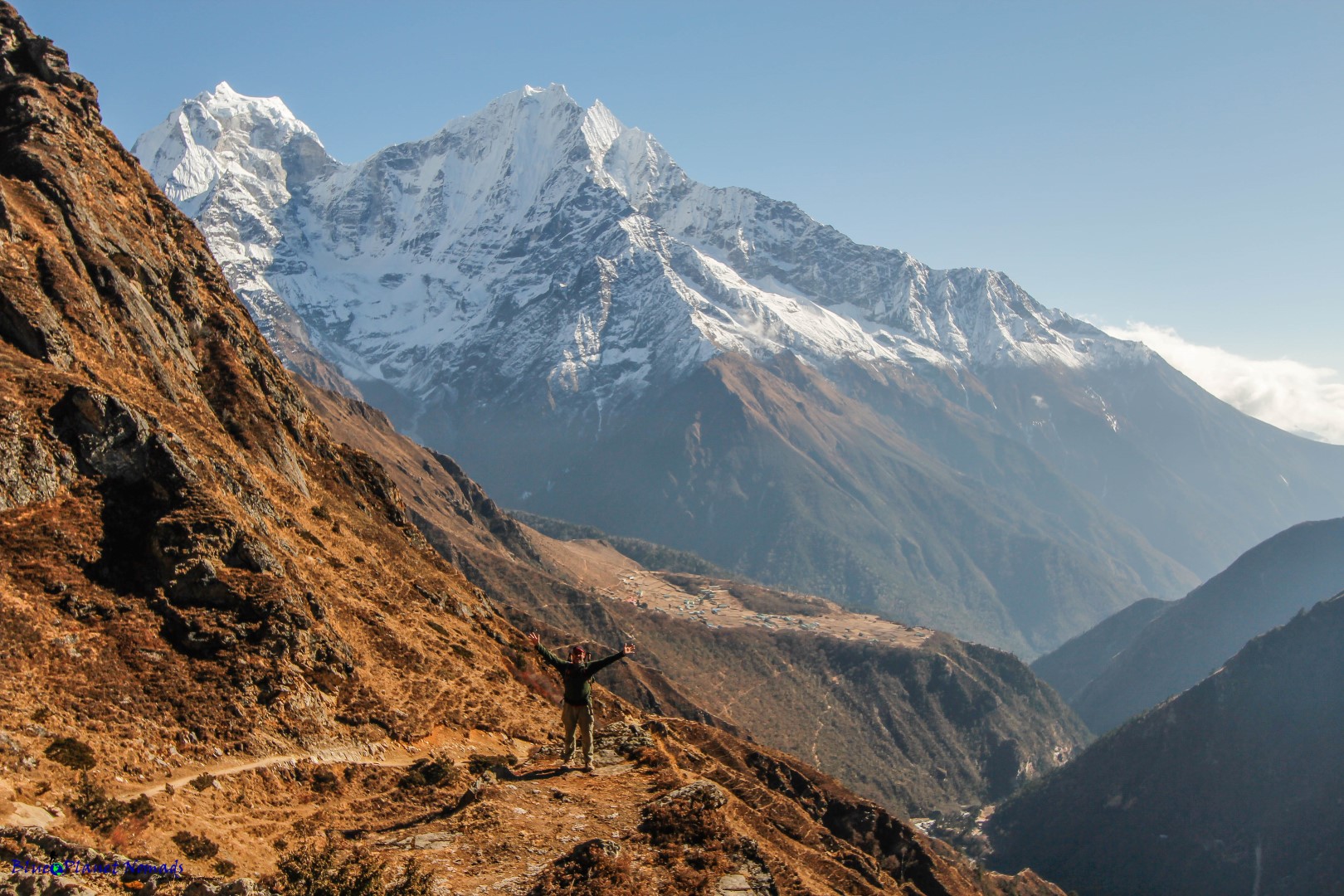 We came across some mountain goats by a frozen waterfall and there was also a cave here with some stalactites guarding its entrance. It was noticeable warmer as we descended towards Phortse for which we arrived at 3pm, staying at Peaceful Lodge. It had been a long days walk but also a very beautiful and relaxing one, I couldn't help think where I would be if we had taken the pass, it certainly wouldn't have been anywhere near as enjoyable as today's walk.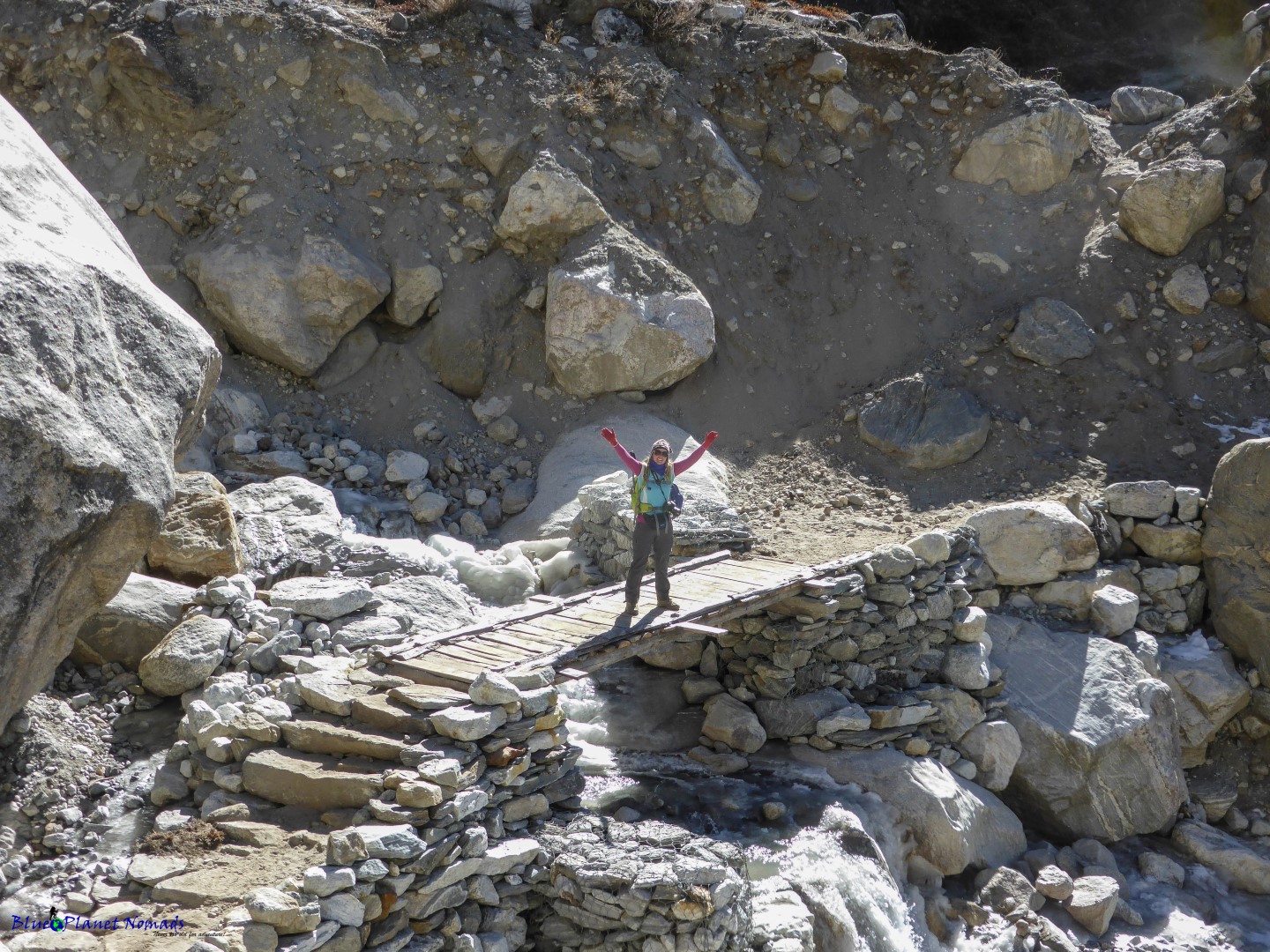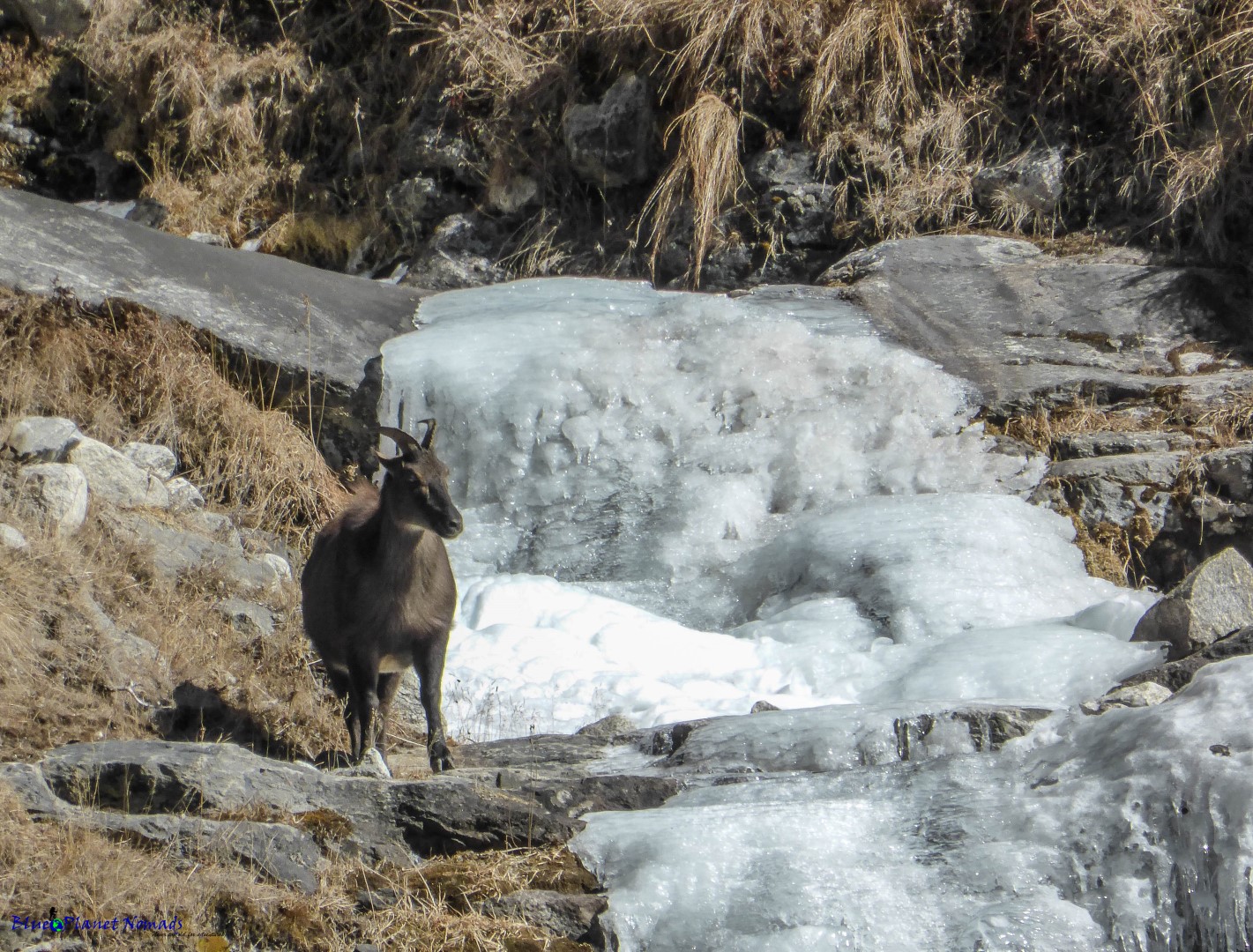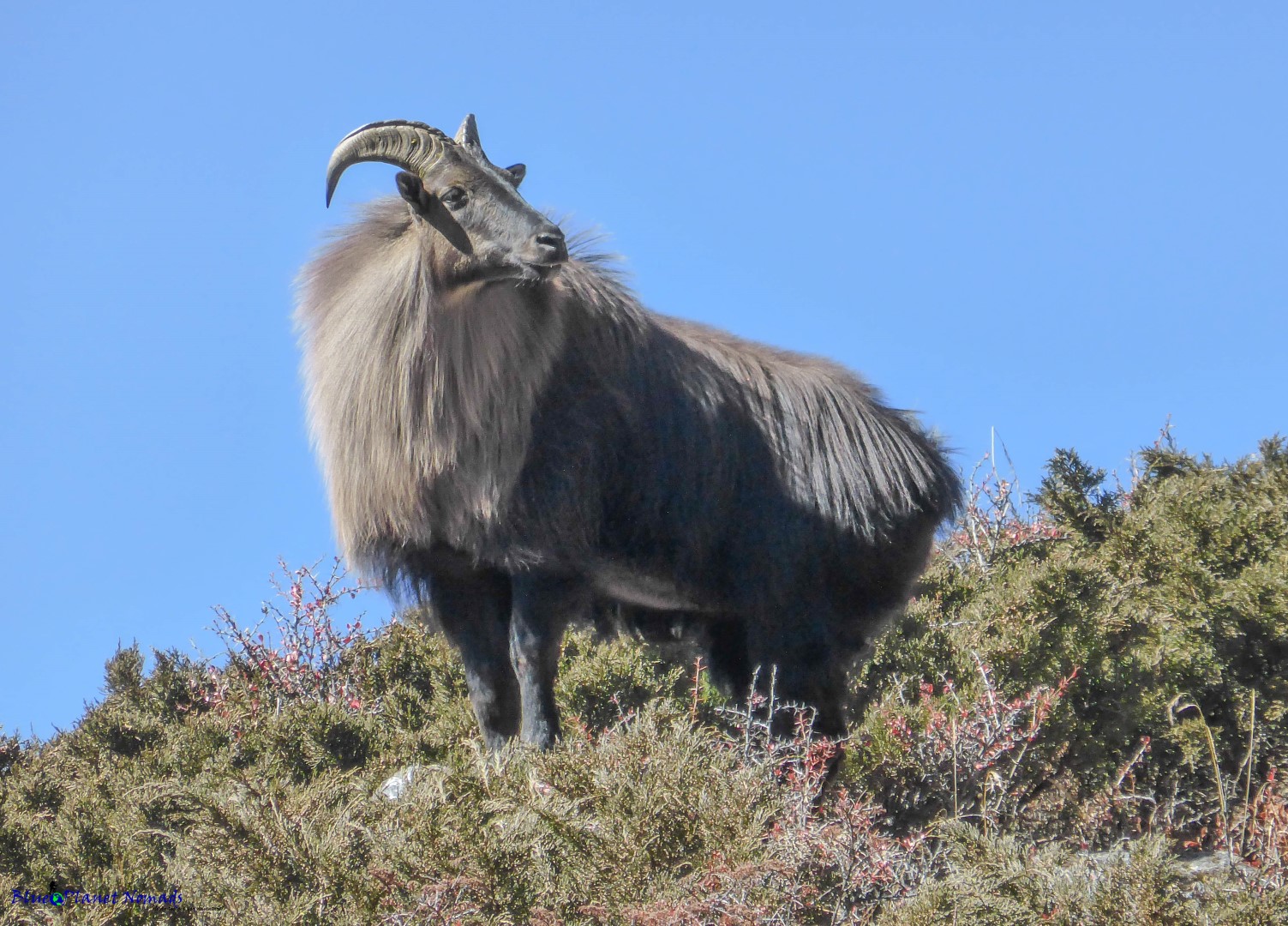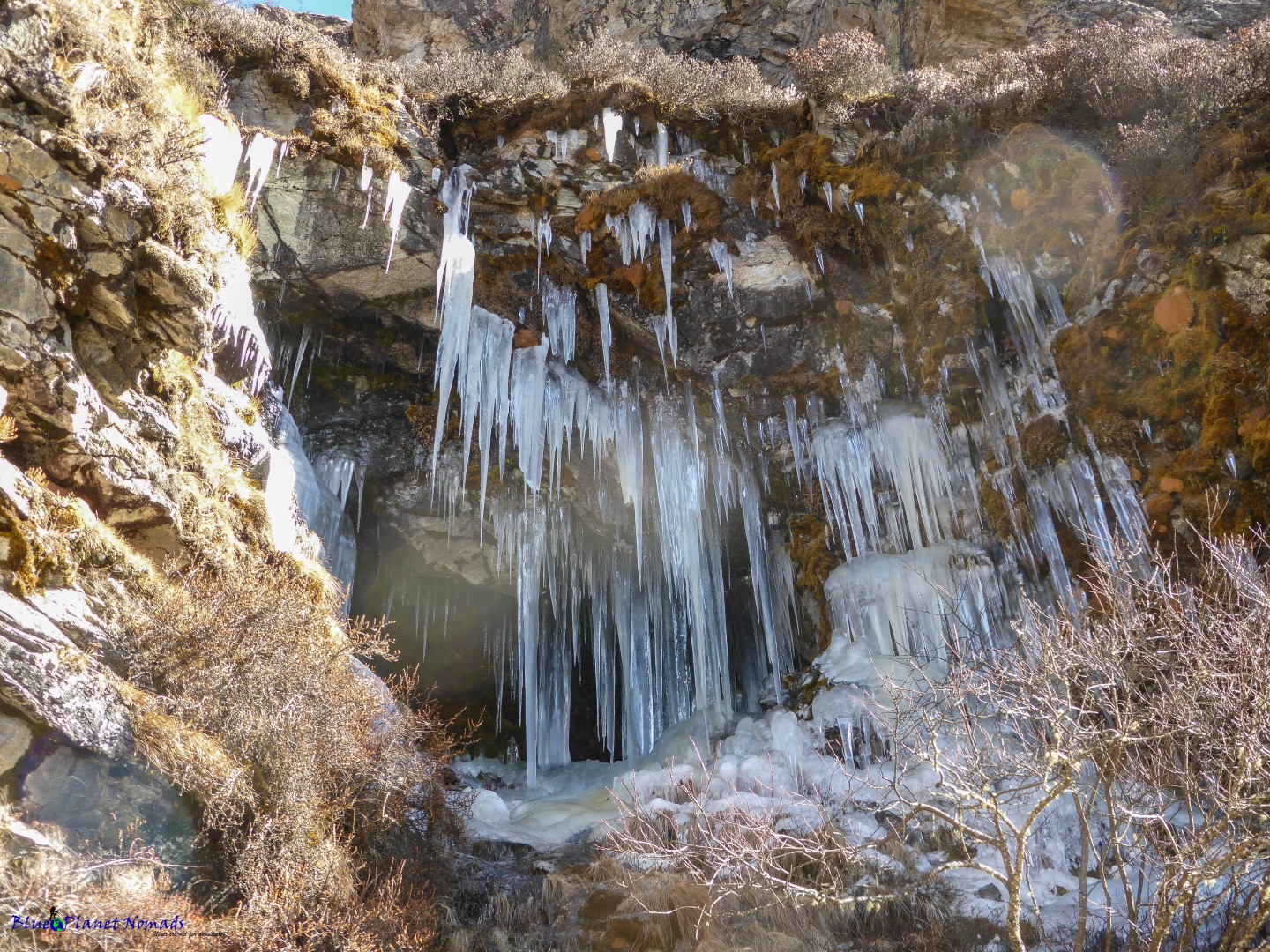 The Australian Father and Daughter that we had met at our lunch stop were also staying at the lodge which was nice so we spent the evening socialising with them and playing card games until the smoke from the fire drove us to bed!
Day 13 – Pangboche (3985 Meters)
Our plan today was to walk to Dingboche (4410m) which would take us a few hours. After breakfast of Tibetan bread with honey we set off up the steep hill which was hard going especially with my cough but once at the top it flattened out.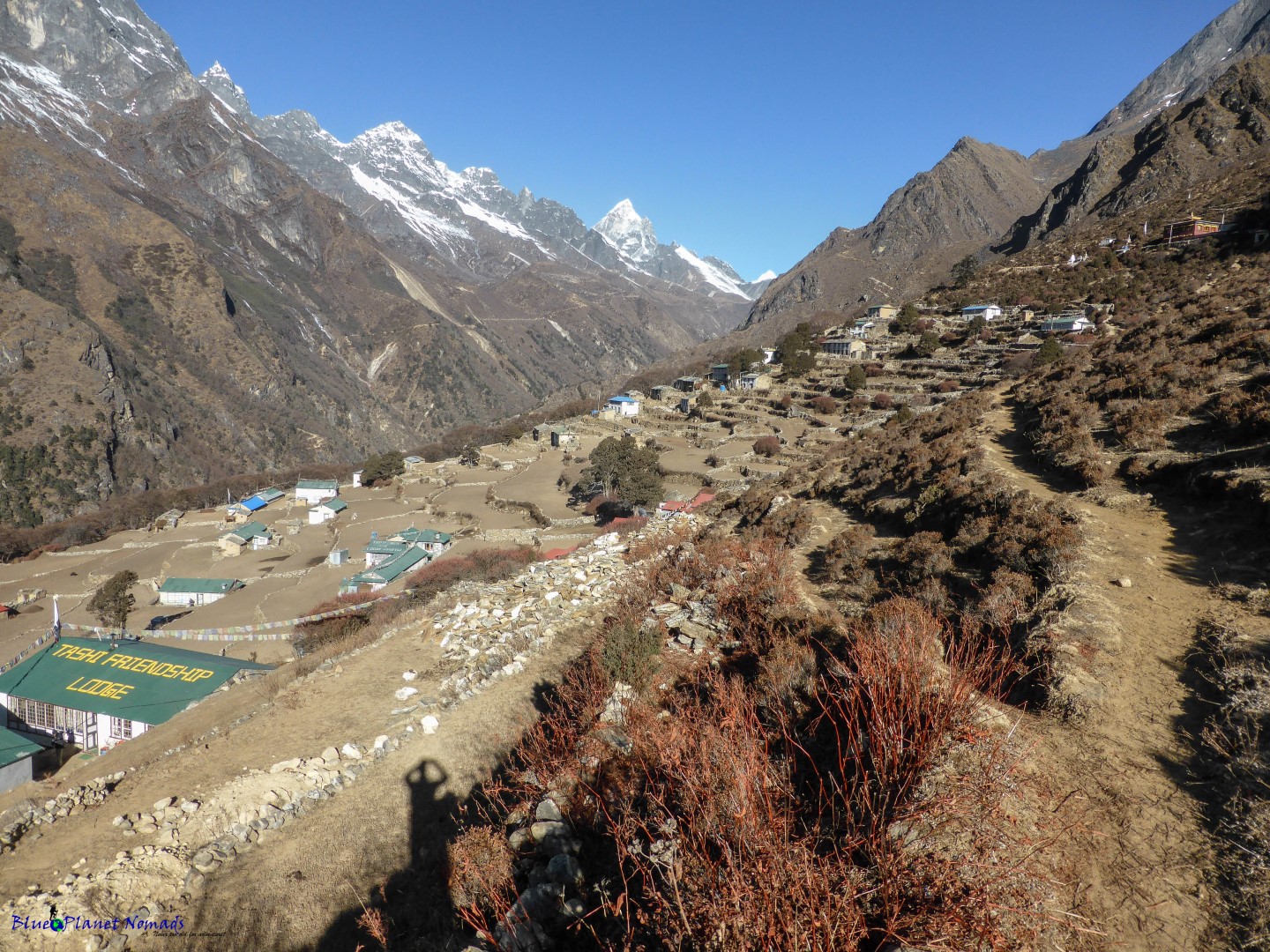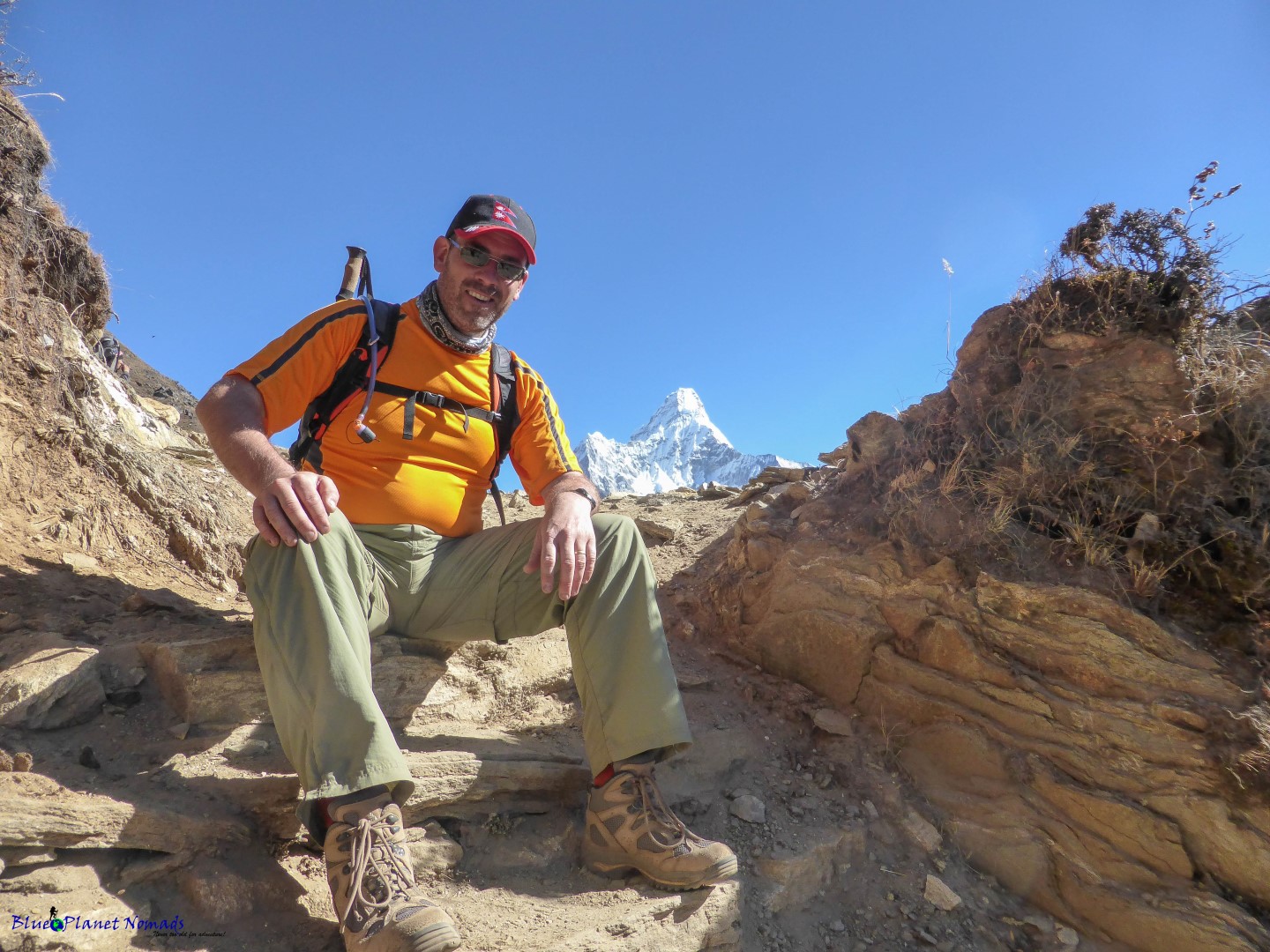 We followed the contours of the valley which undulated and even though the uphills were not that severe, it felt like I was dragging a tonne of bricks with me; I literally had to stop every 2 minutes to get my breath through coughing fits. Vaughan wasn't too good either, he had been OK up until now but today he was complaining of having absolutely no energy. The other side of the valley we could see Tengboche where we would stay on the way back.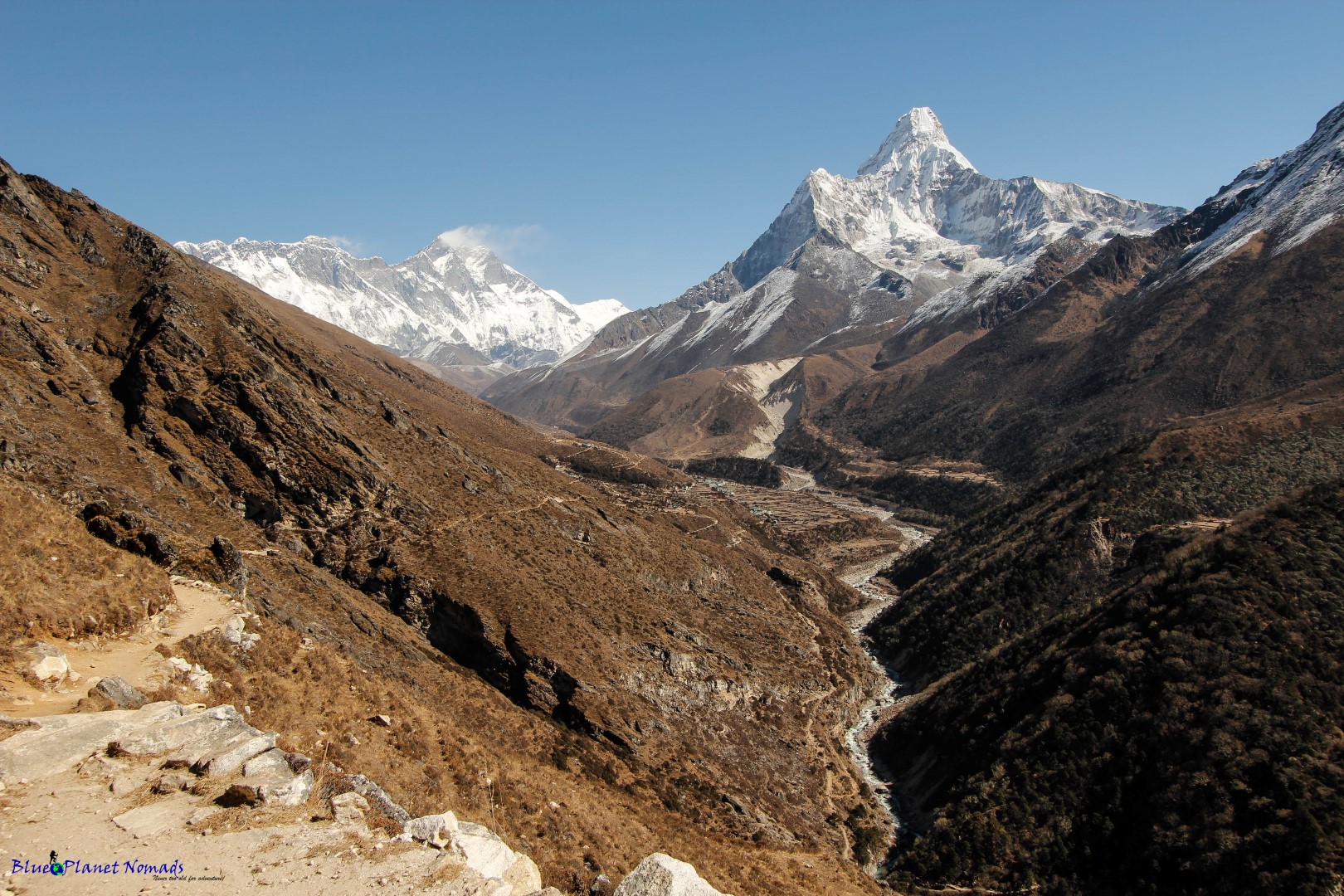 Each uphill was a struggle and just before lunch we came into Pangboche where Vaughan refused to walk any further! Ram booked us into the very pleasant Trekkers Inn right next to the Monastery. The village was pretty with nice views it was certainly a nice place to stay the night and it was noticeably warmer here. After a pleasant lunch out on the sunny patio, Vaughan decided to rest while I wondered down to the Monastery with Ram.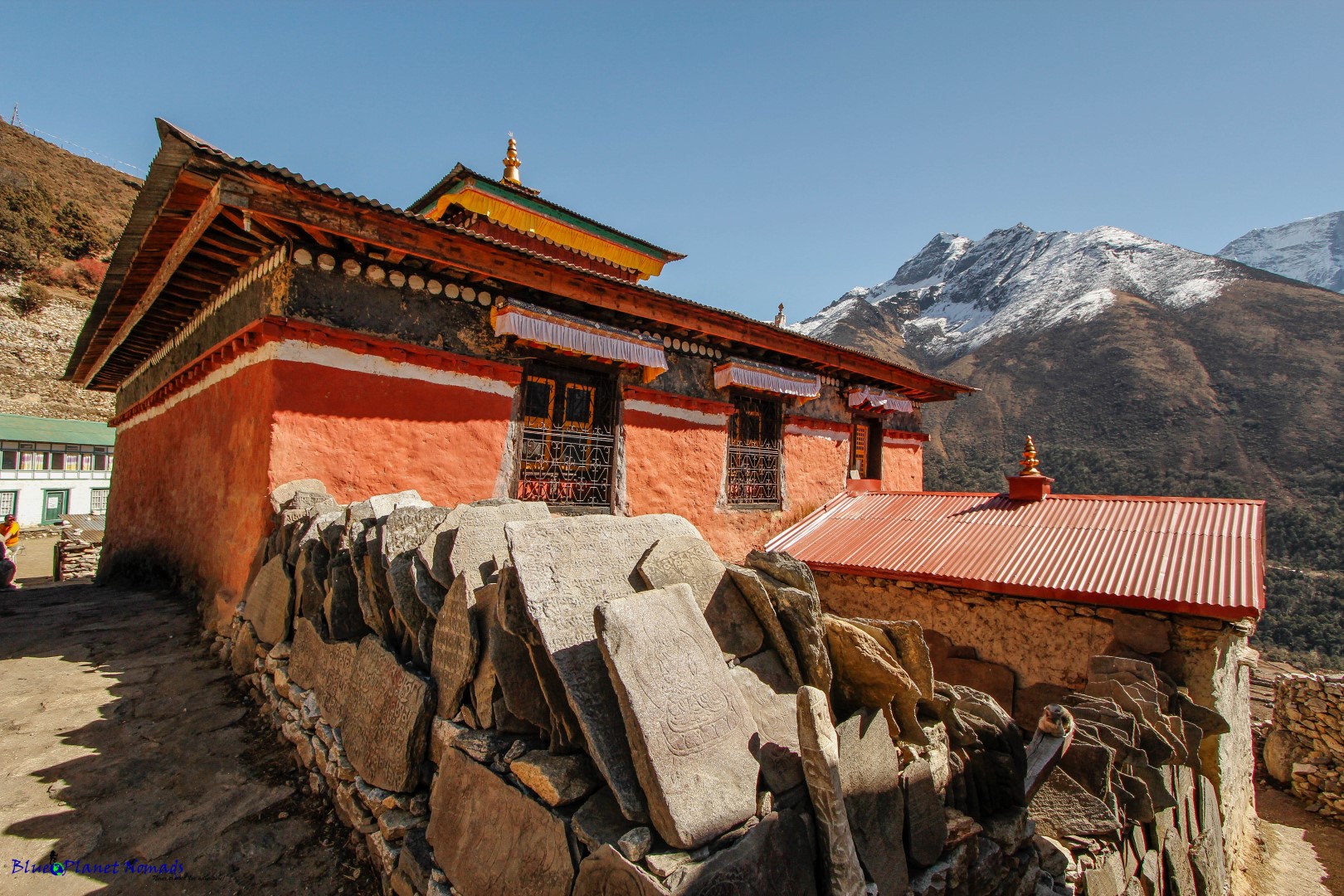 A ceremony was taking place so we sat back and observed it. The monks were sitting and drinking tea and chanting versus from Buddhist texts, it was so nice to experience this culture and I am now glad we stayed in this village. Tomorrow Ram said he would organise for us to be blessed by the Lama which would yet be another cultural experience.
We were the only ones staying at the guesthouse, we had some fun trying to light the fire in the common room but eventually we got it going. Ram was in the kitchen helping with the cooking and we enjoyed a very pleasant relaxing evening although it would have been nice to have a few more guests to chat too!
Day 14 – Tengboche (3870 Meters)
There was no real hurry to get moving this morning as we were only going to Tengboche. After breakfast, I paid another visit to the monastery taking Vaughan with me so he could see it. Ram had organised for us to go to the Lama's house for the blessing. We waited half an hour before he appeared, a couple of locals went in first as they had been waiting before us. Their blessing took a good 45 minutes but we got to witness the procedure.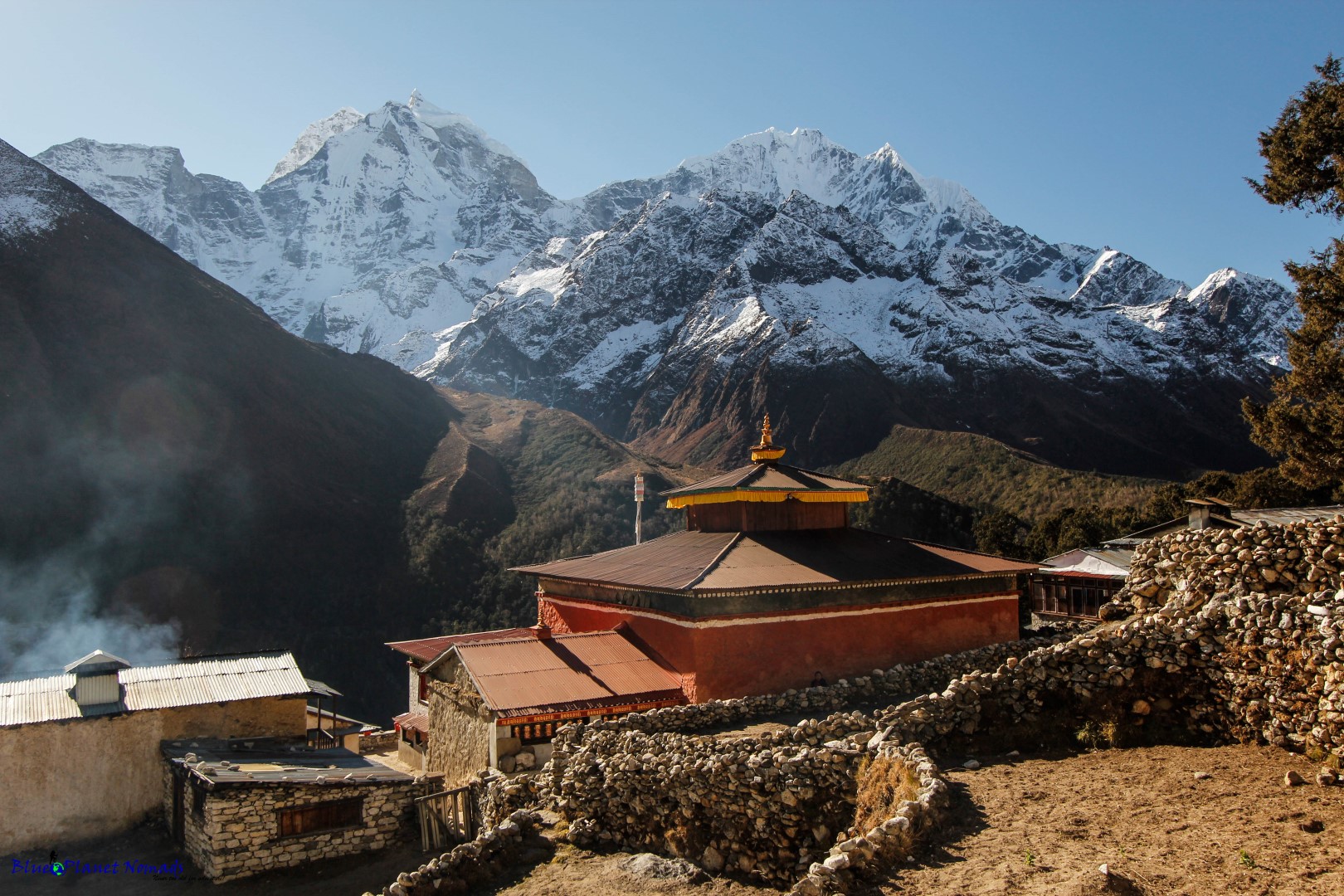 When it was our turn we were first presented with cream silk scarves by a cute old lady (it cost us 100 rupees) We then had to wrap some rupees in the scarf to present to the Lama. We were seated in front of him and through a translator as he only speaks Tibetan he asked us if there was anything we wanted to ask him. I asked him if we were going to have safe and happy travels. He told us that we were lucky and that we would meet good people.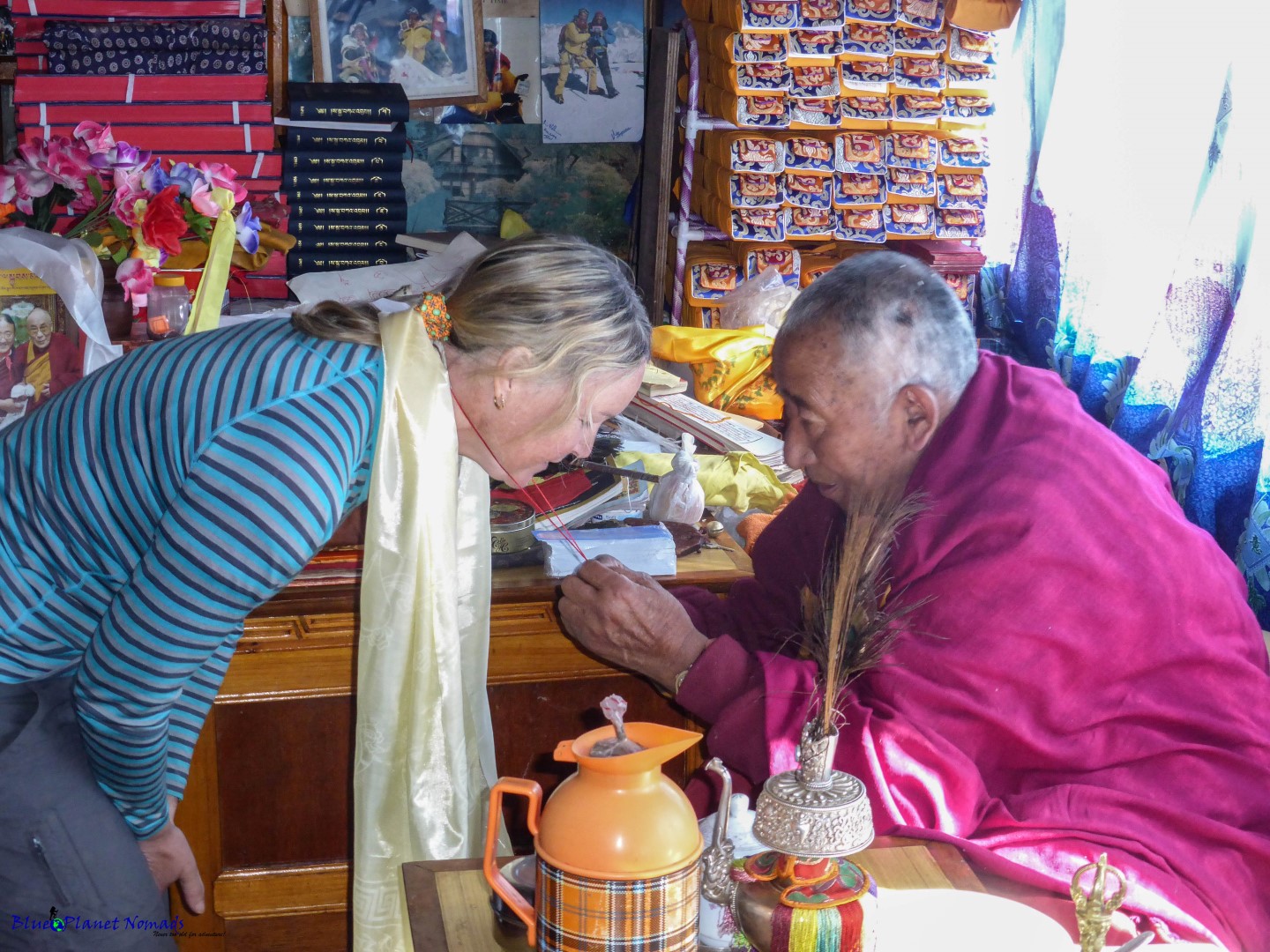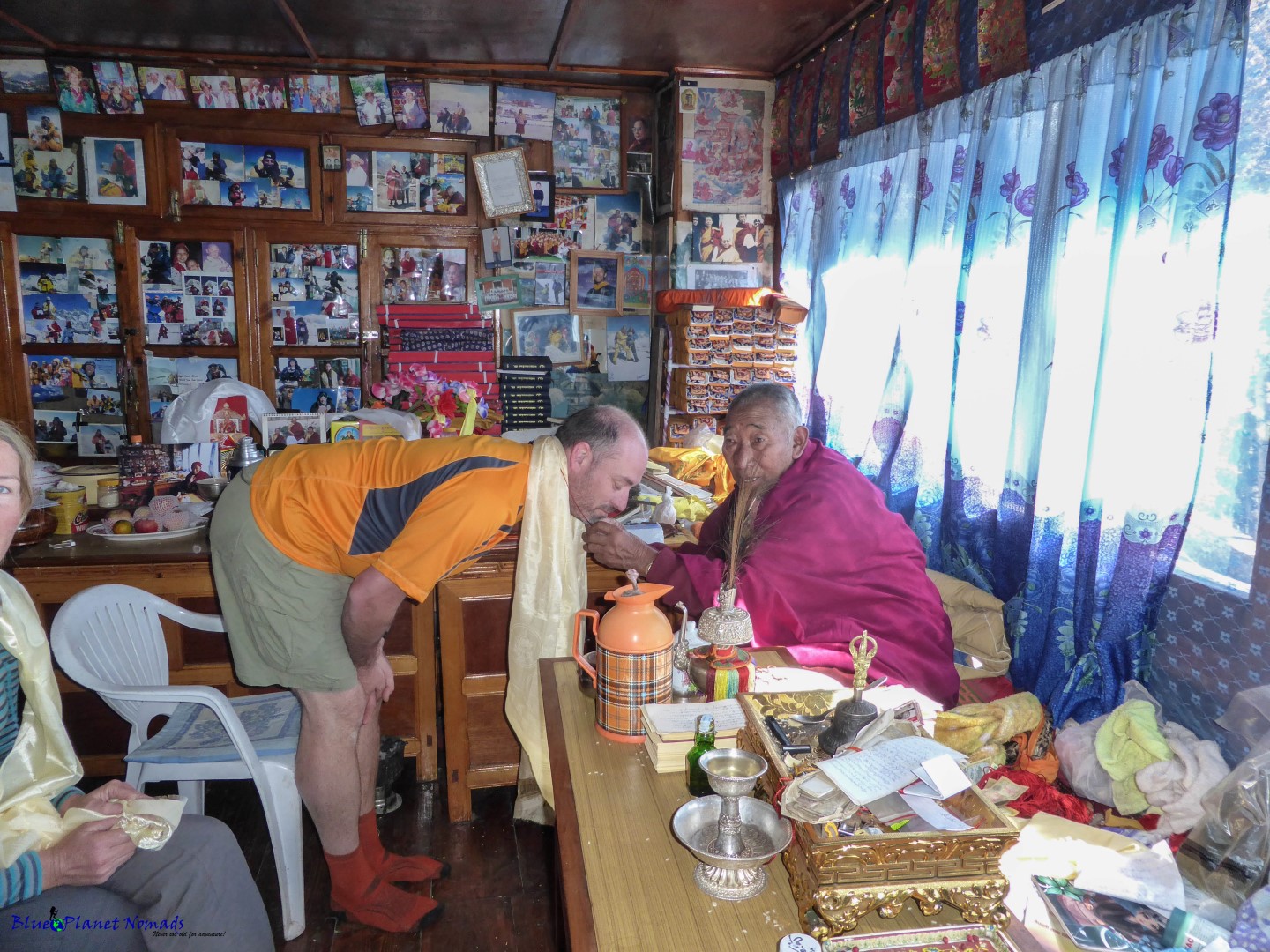 He then put each scarf around each of our necks, tied some red string and started to flick holy water on to us chanting a few words as he did so. He put some seeds into our hand which we put into our mouth. He poured some tea into our right palm which we also put into our mouth then spit out into a bowl. The next lot of tea he poured into your palm you swallowed. He through some rice over us all the time chanting. He then gave us a card with the words "Oi Mani Pad Mi Hum" which we had to repeat. What an experience to be blessed by the local Lama. By the time he finished it was lunchtime so we went back to the guesthouse for lunch.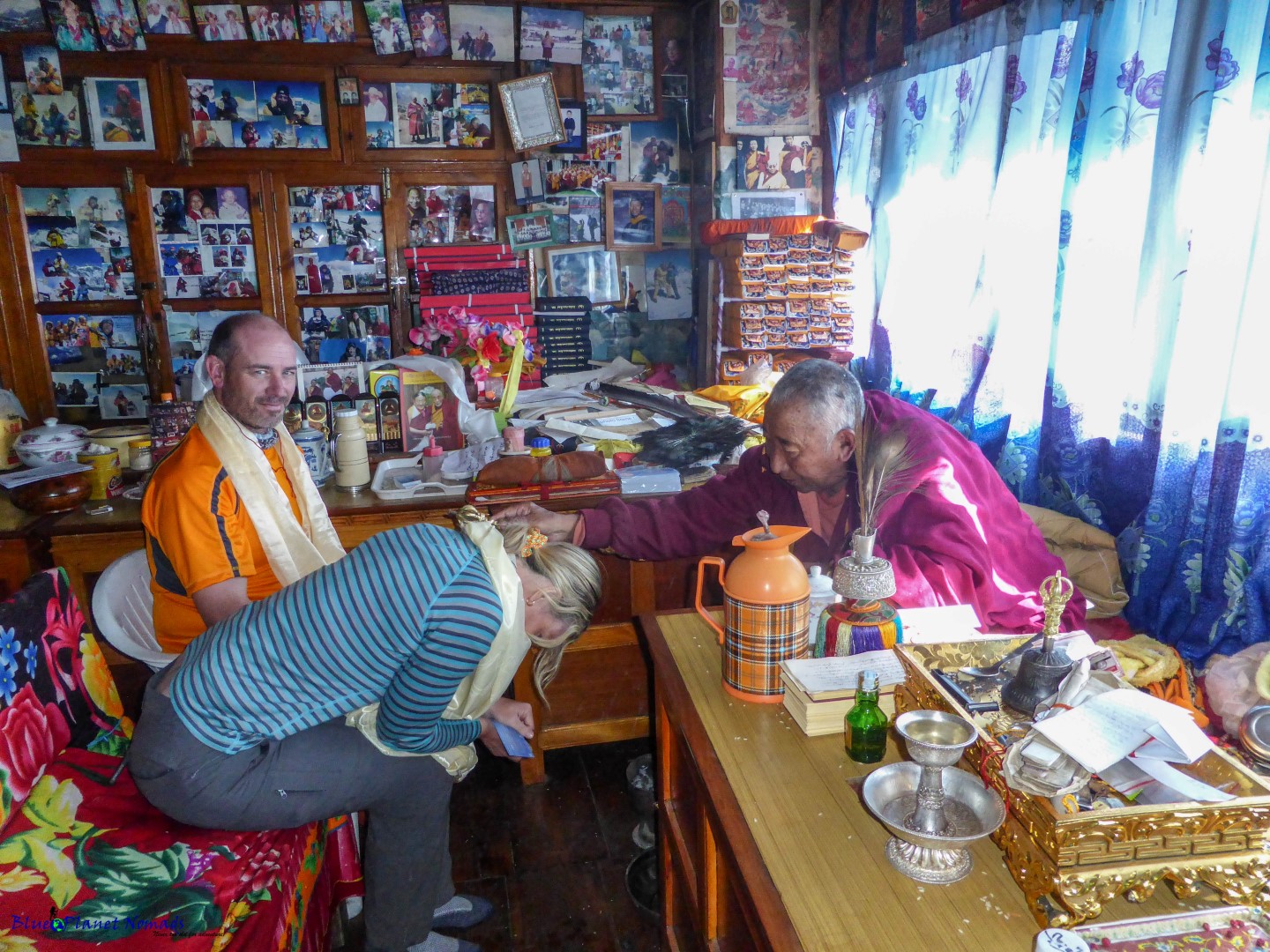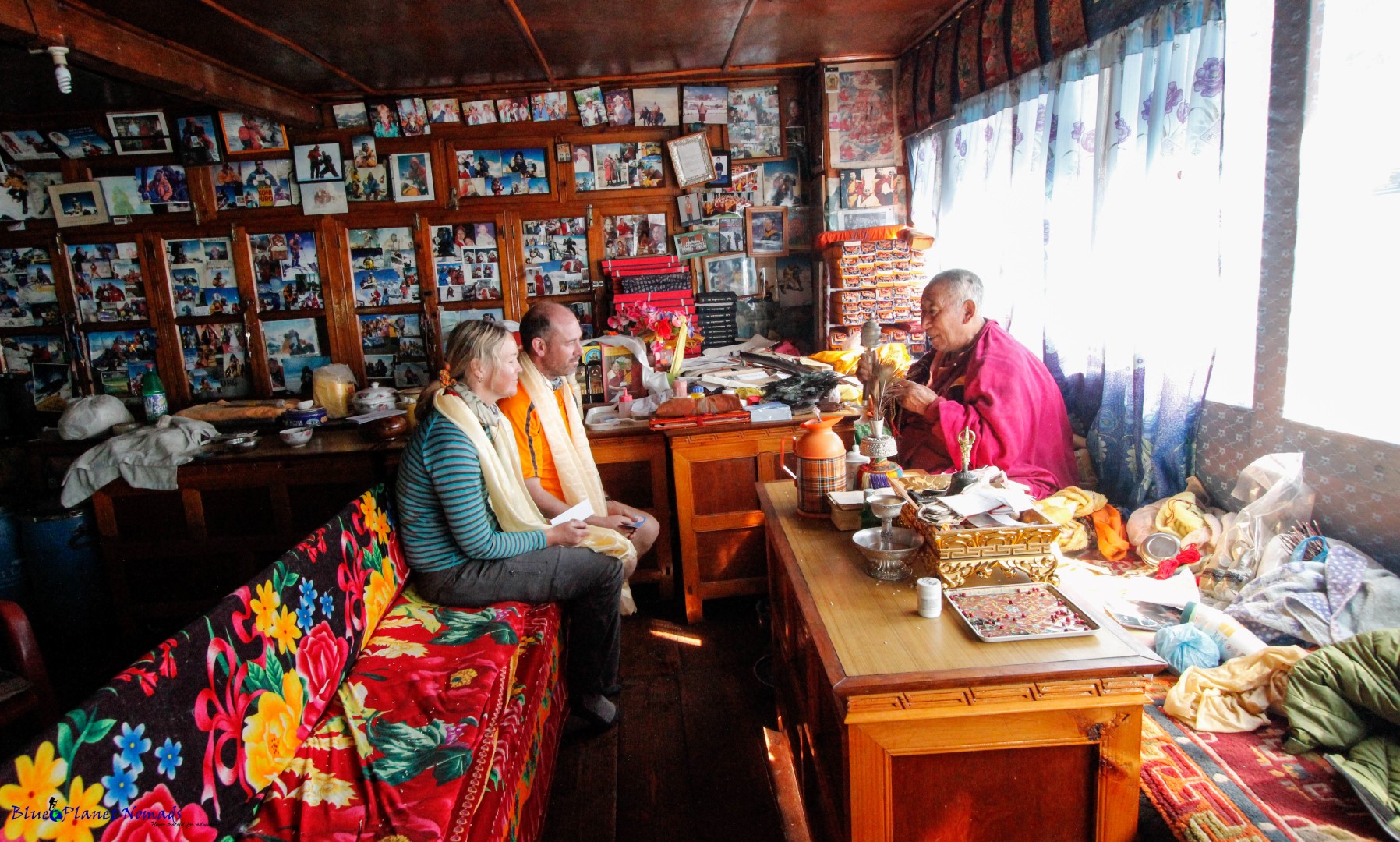 After lunch we headed down to lower Pangboche following the path down to the river and crossing the bridge to the other side. For the first 20 meters we hustled along the path as it was an avalanche zone. The path was a slow ascent upwards then flattened out into a pretty open pine and Rhododendron forest. We passed villages and continued to ascend through more forest until we reached Tengboche.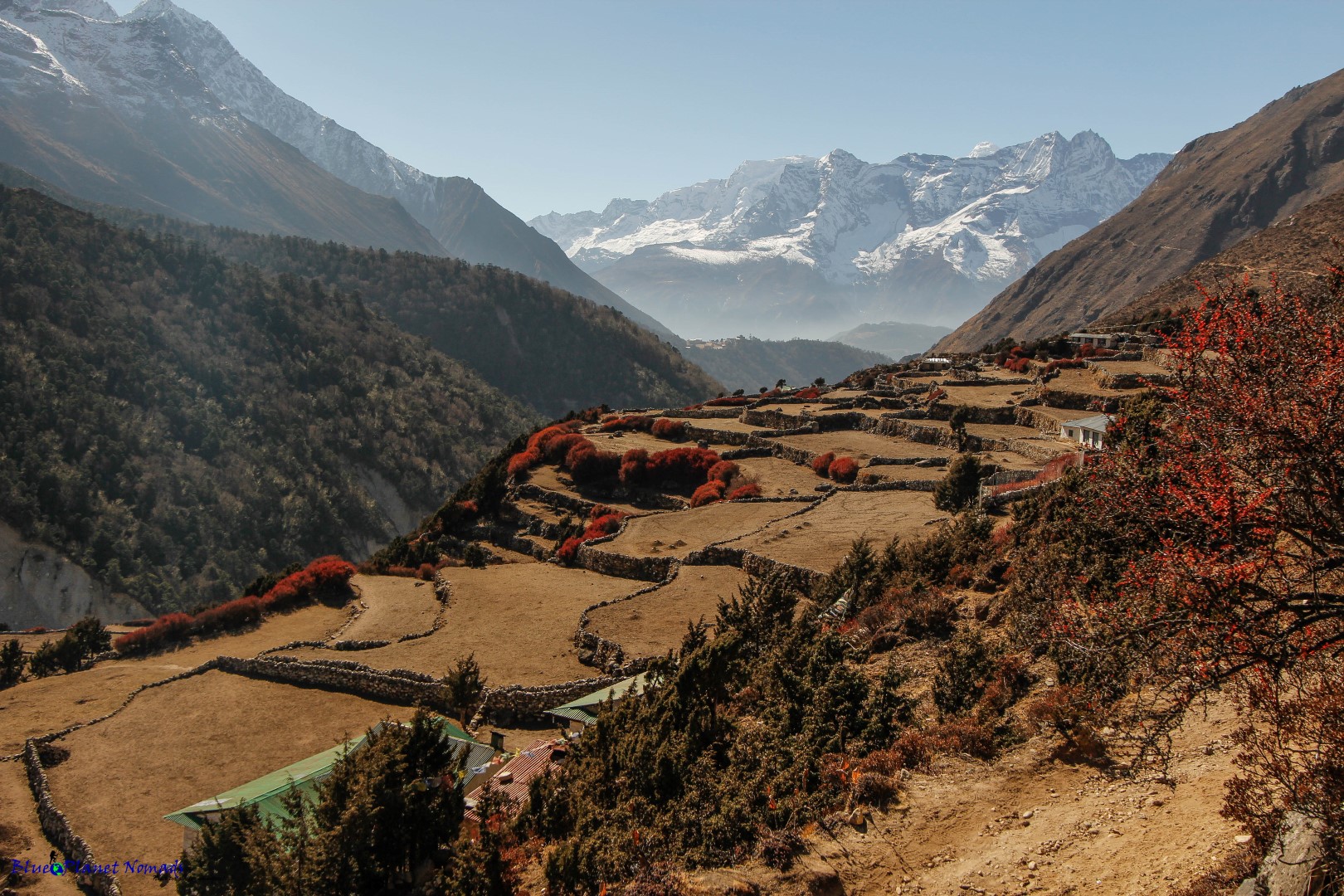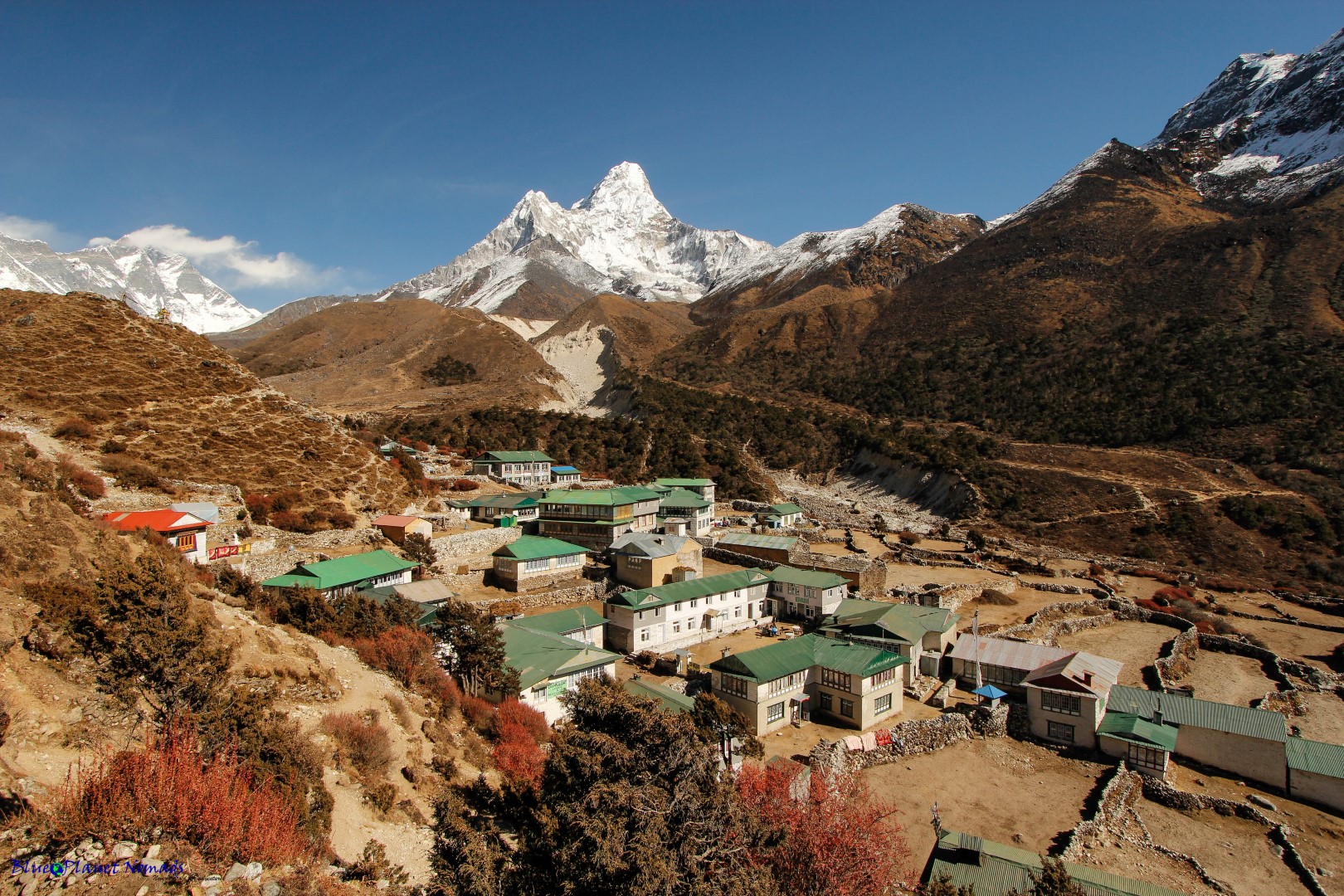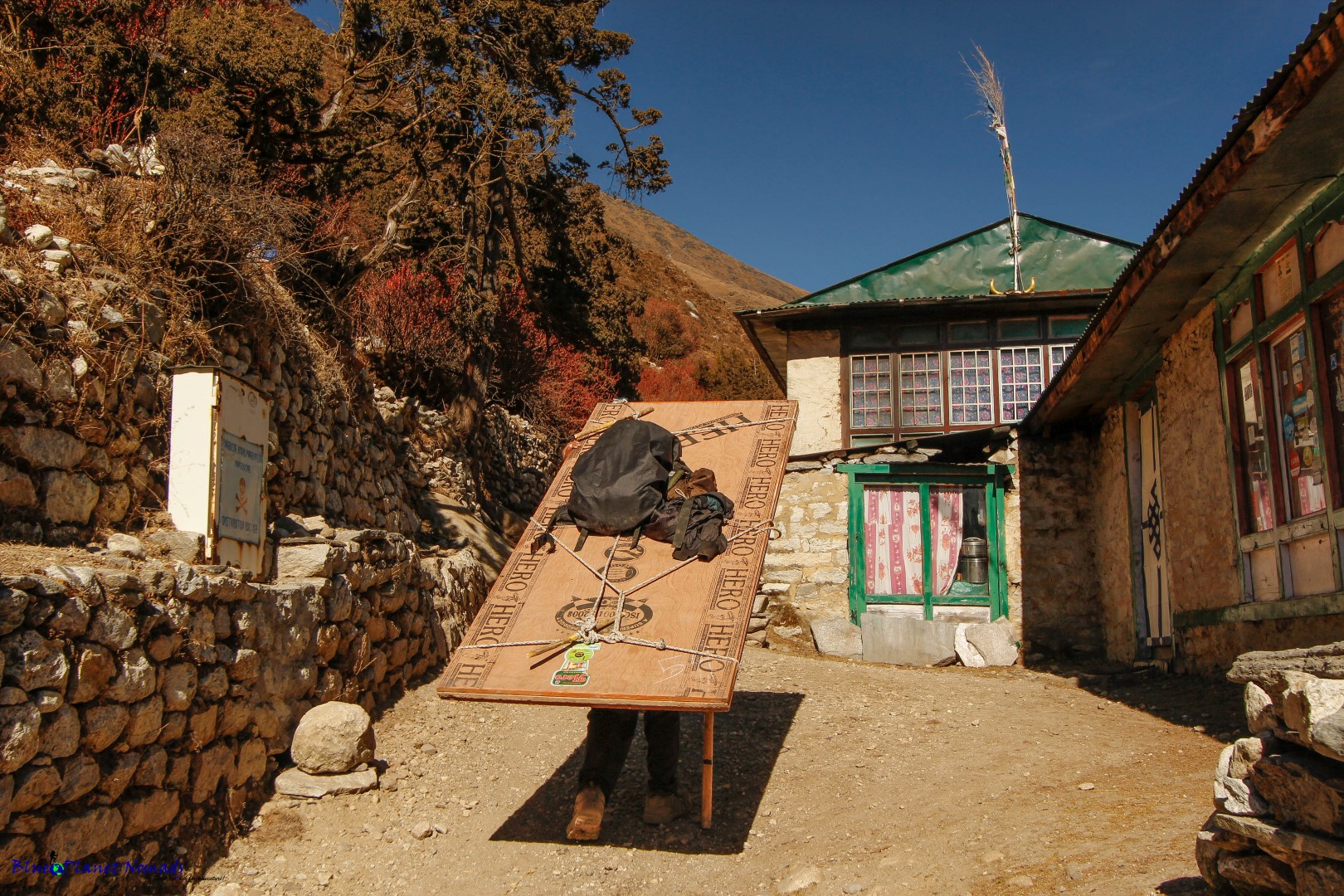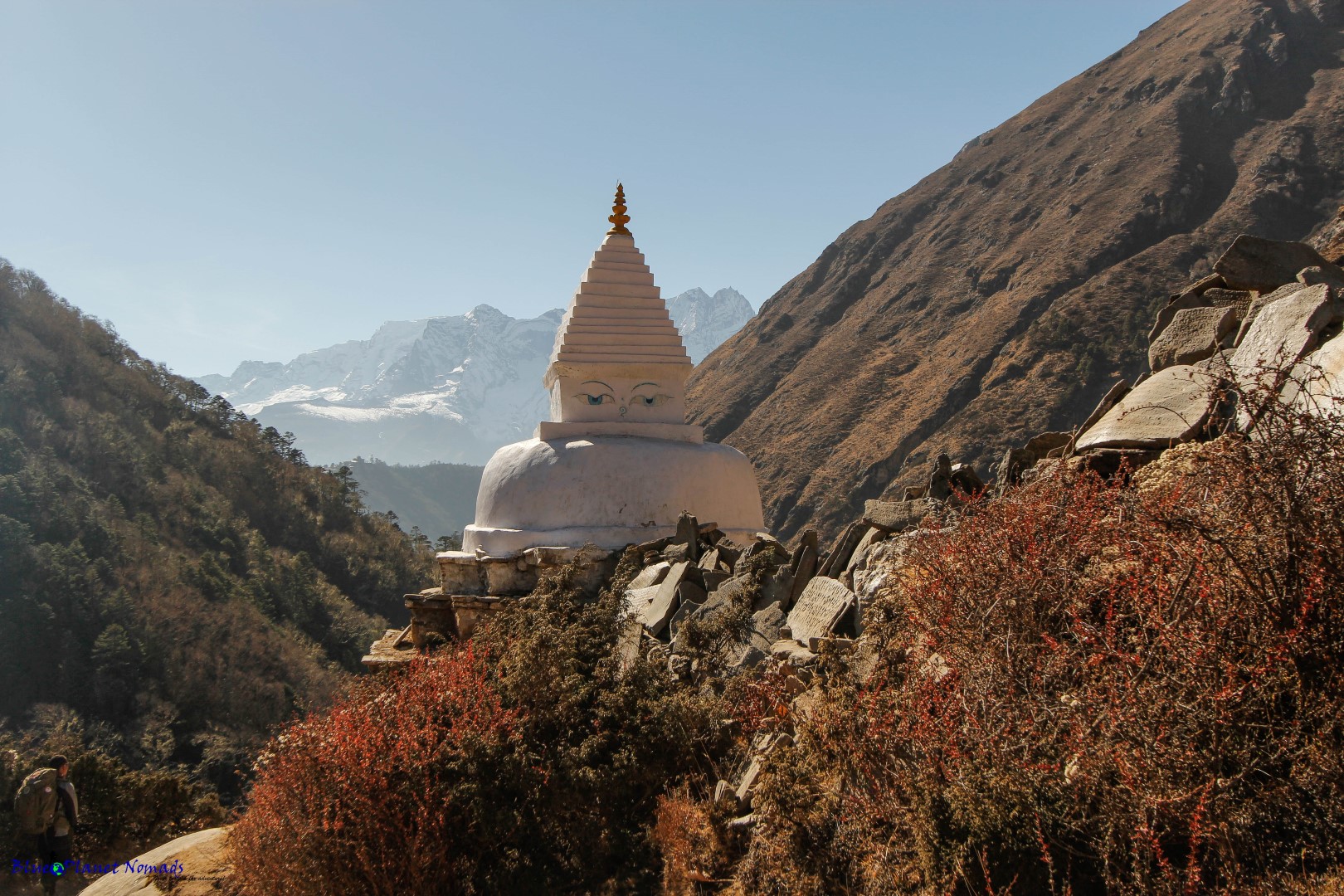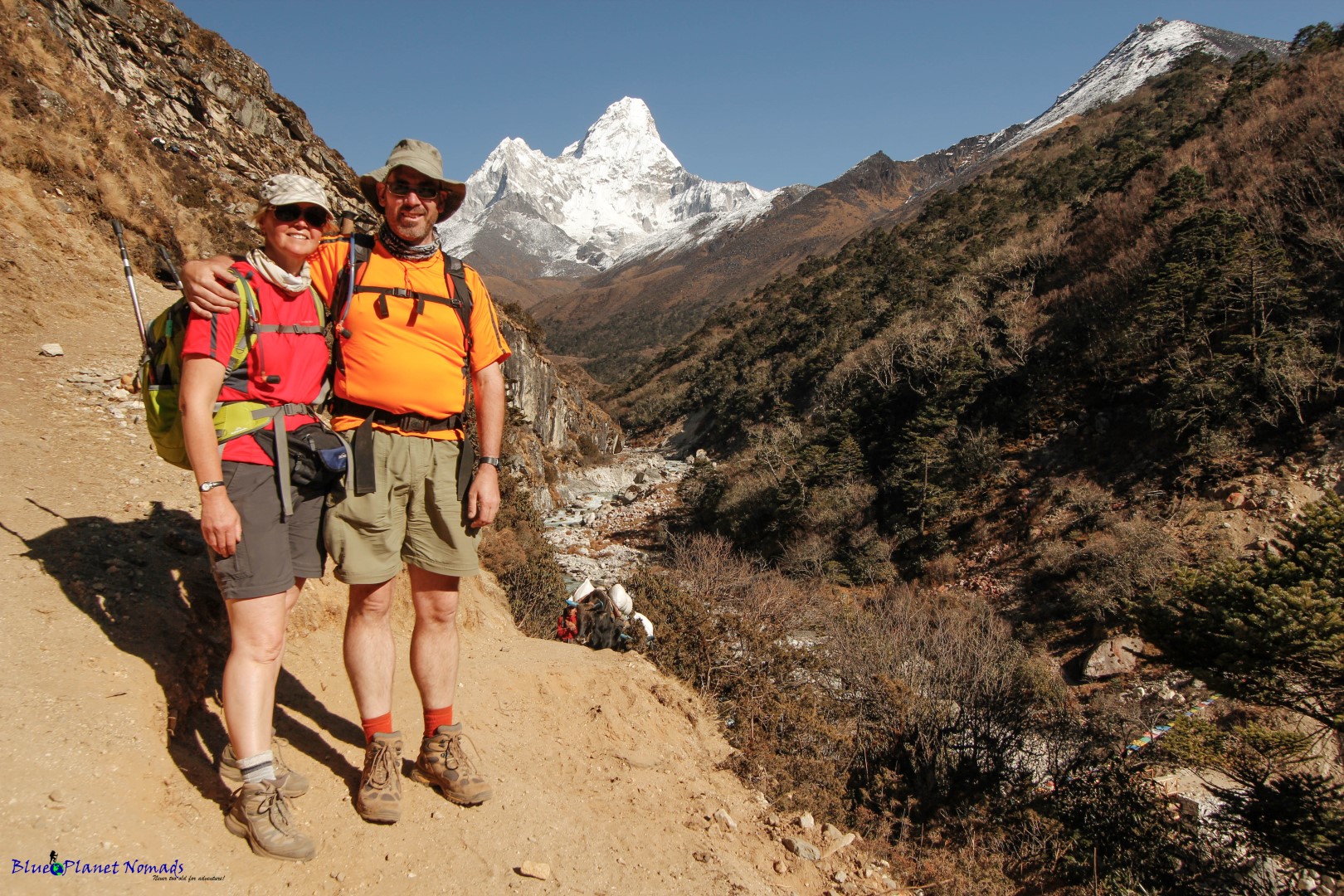 Our guesthouse Himalayan View was large with nice bright rooms and the toilet was western as opposed to a squat which made a refreshing change! The monastery was right next to the guesthouse and we had some great views from our bedroom window.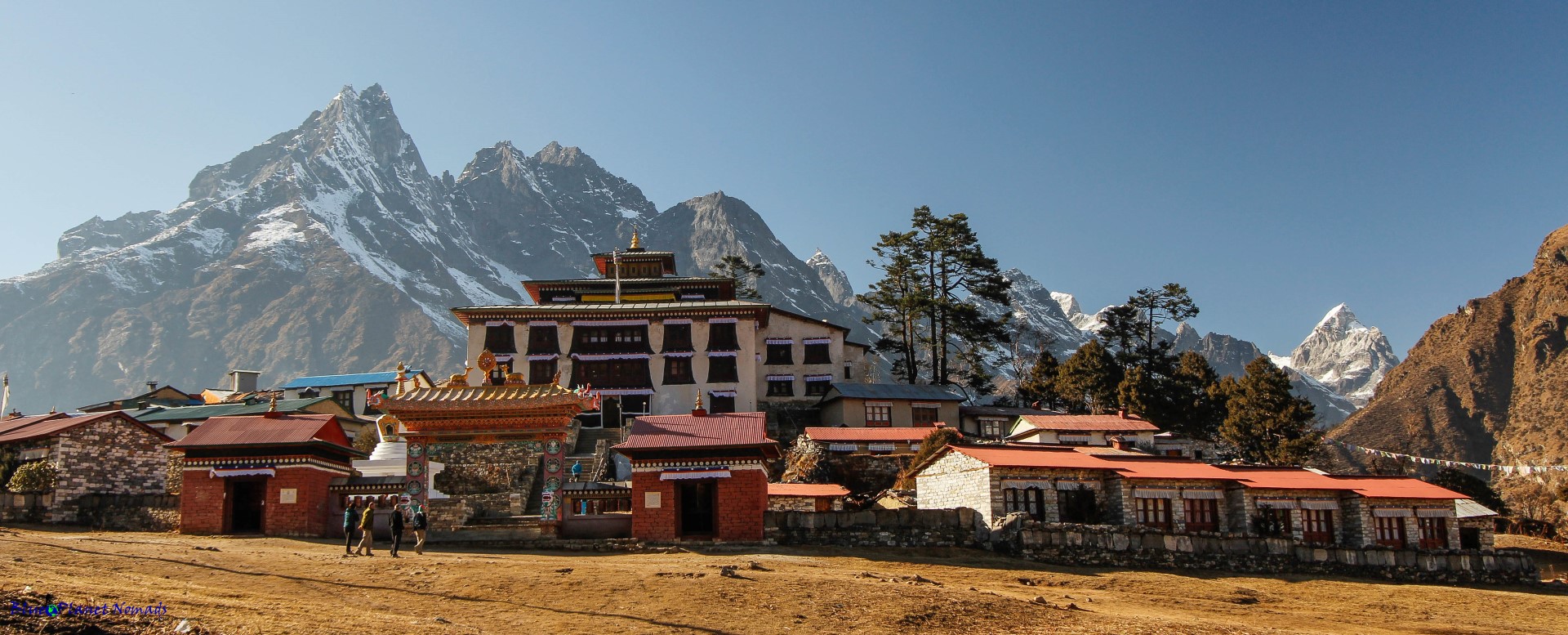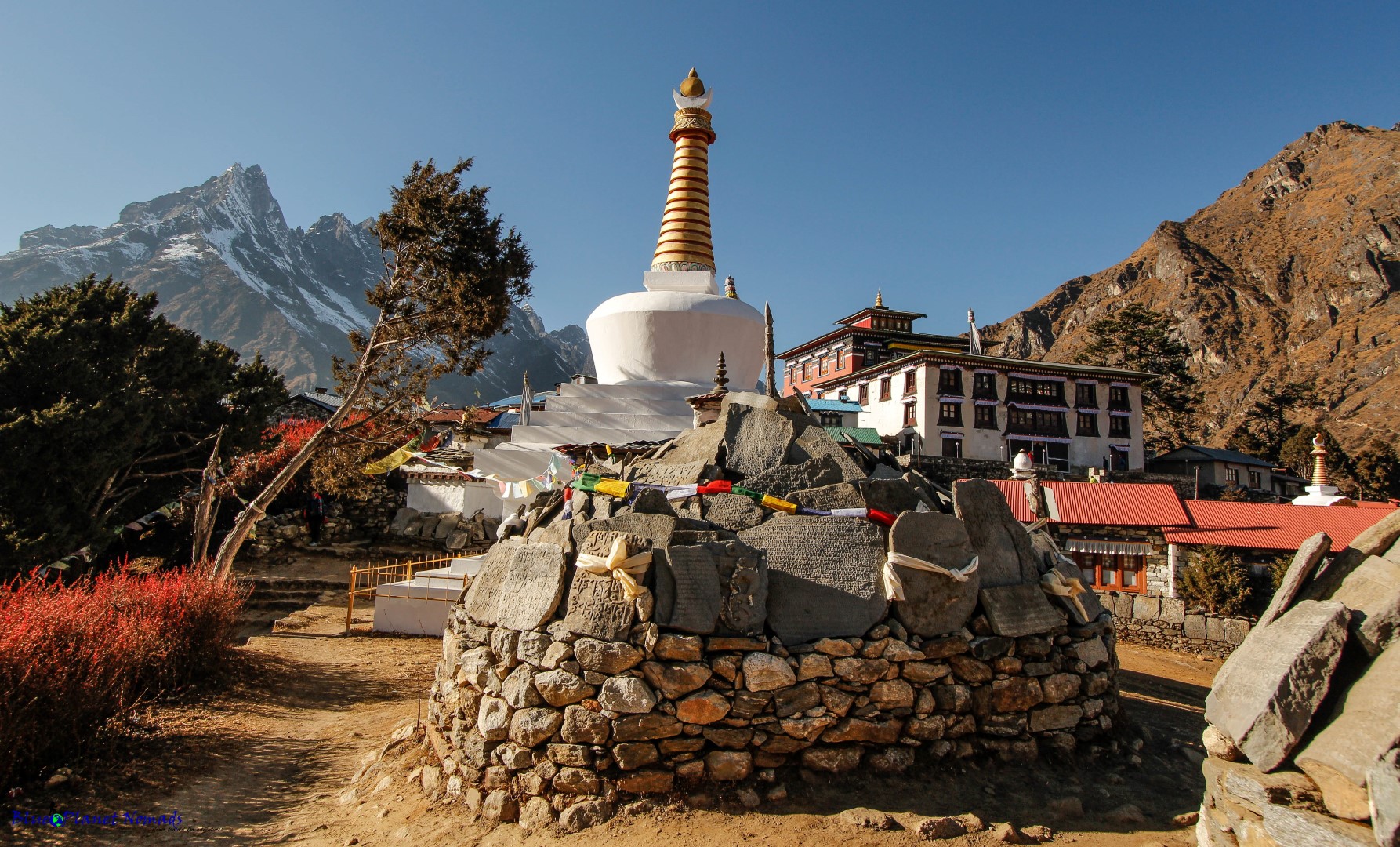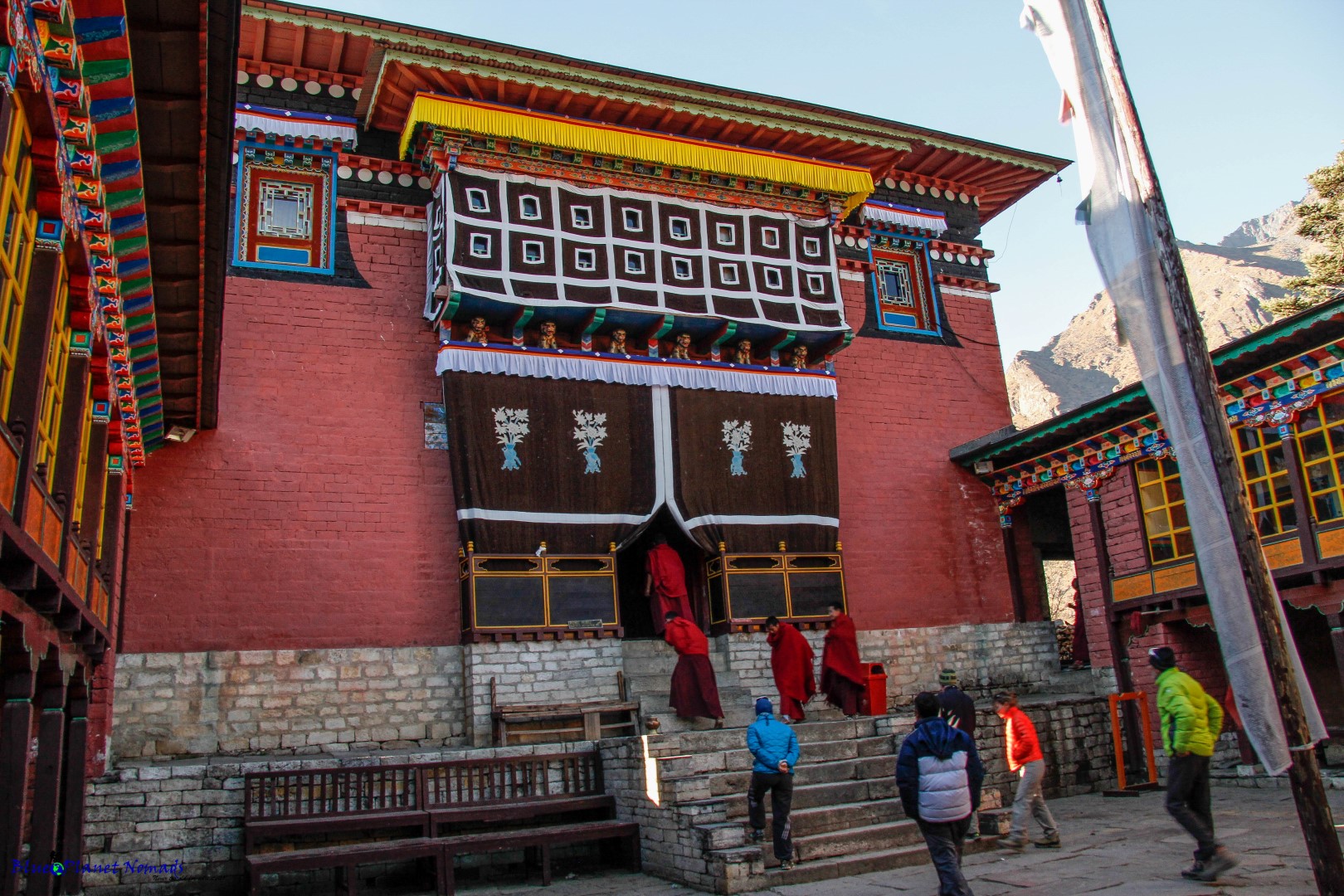 At 4pm we went up to the monastery to watch the evening ceremony, this monastery was huge compared to the little one back in Pangboche. We sat on the floor with the other western guests and witnessed 12 monks chanting, bell ringing, drumming and blowing the iconic Tibetan long horn. It was so spiritual and relaxing, I enjoyed it, Vaughan not so much as I caught him sneaking out! (he is not much of spiritual sort.)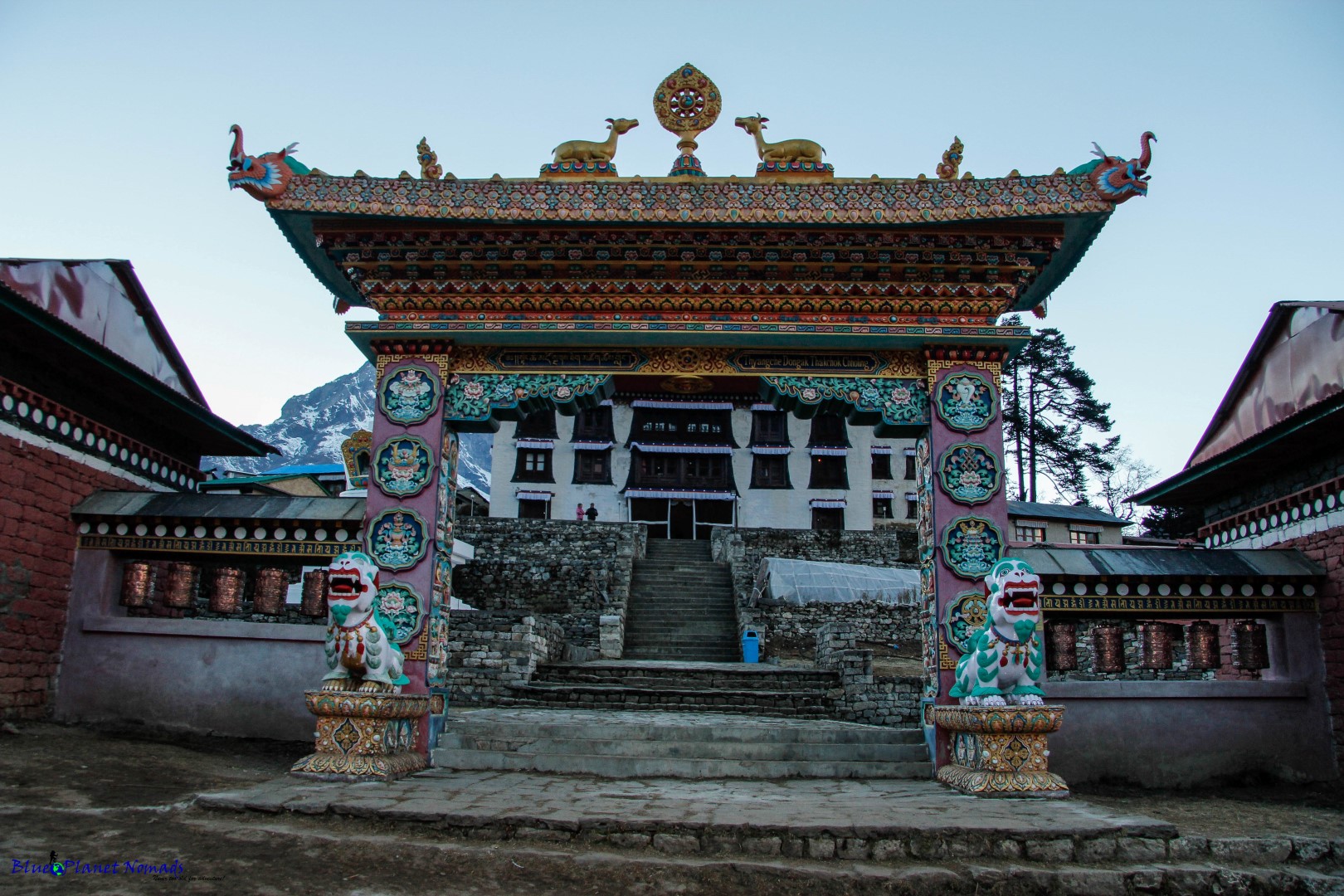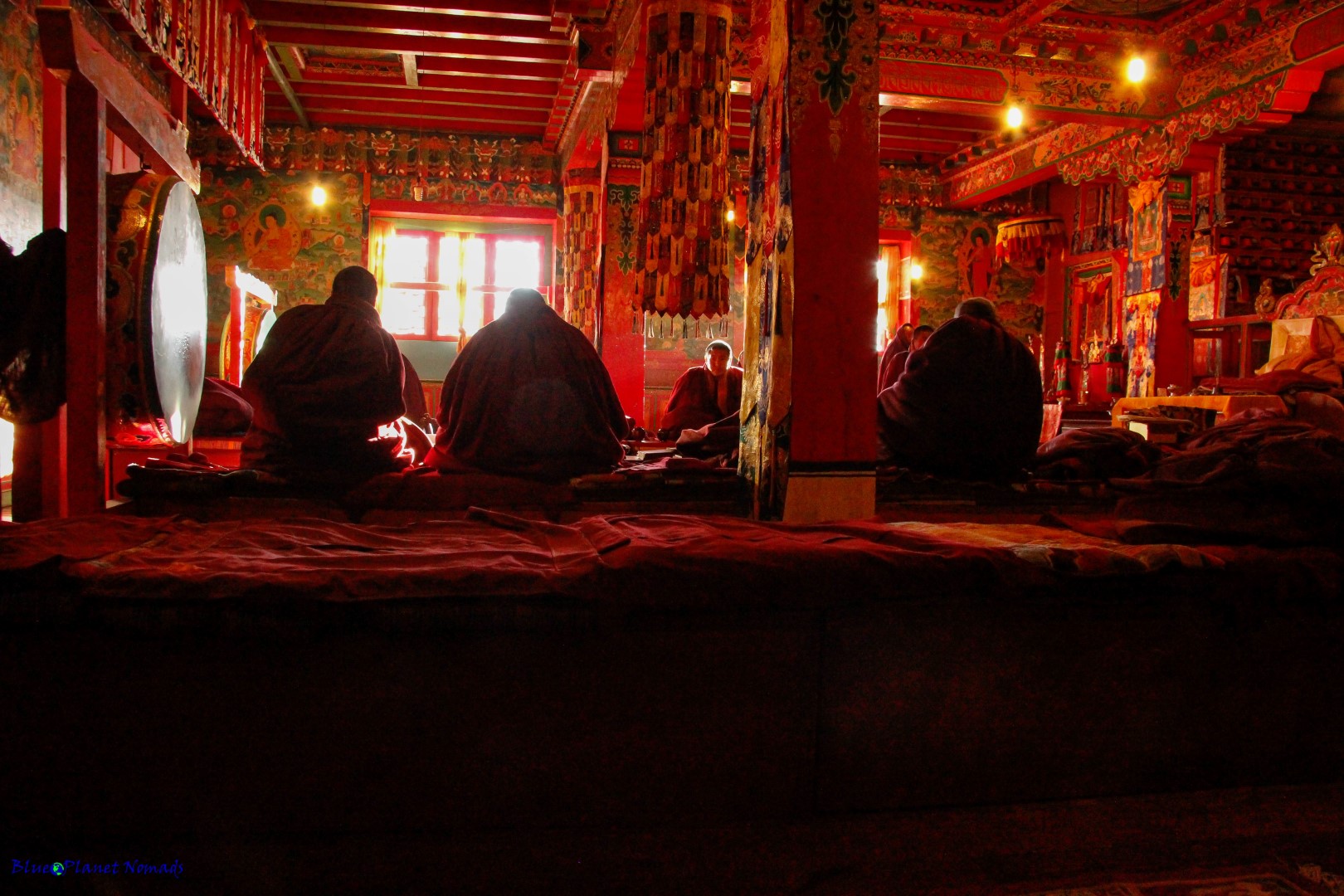 Back outside it was slowly turning to dusk and cloud filled the valley creating an amazing effect like a large fluffy blanket. The nearby mountain peaks glowed a brilliant orange from the last gasp of the day's sunlight. The setting of the monastery was truly magnificent, a definite favourite spot for me.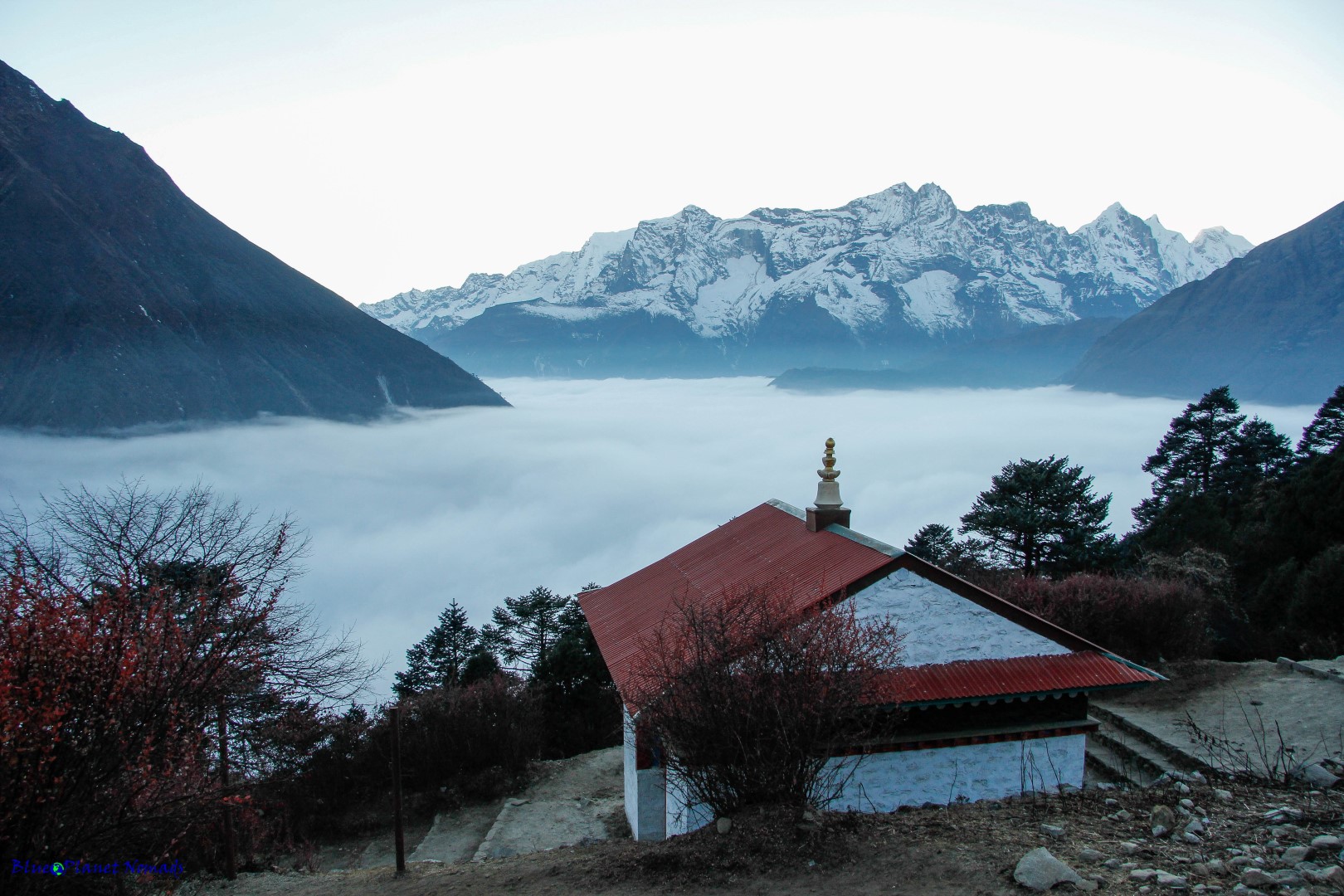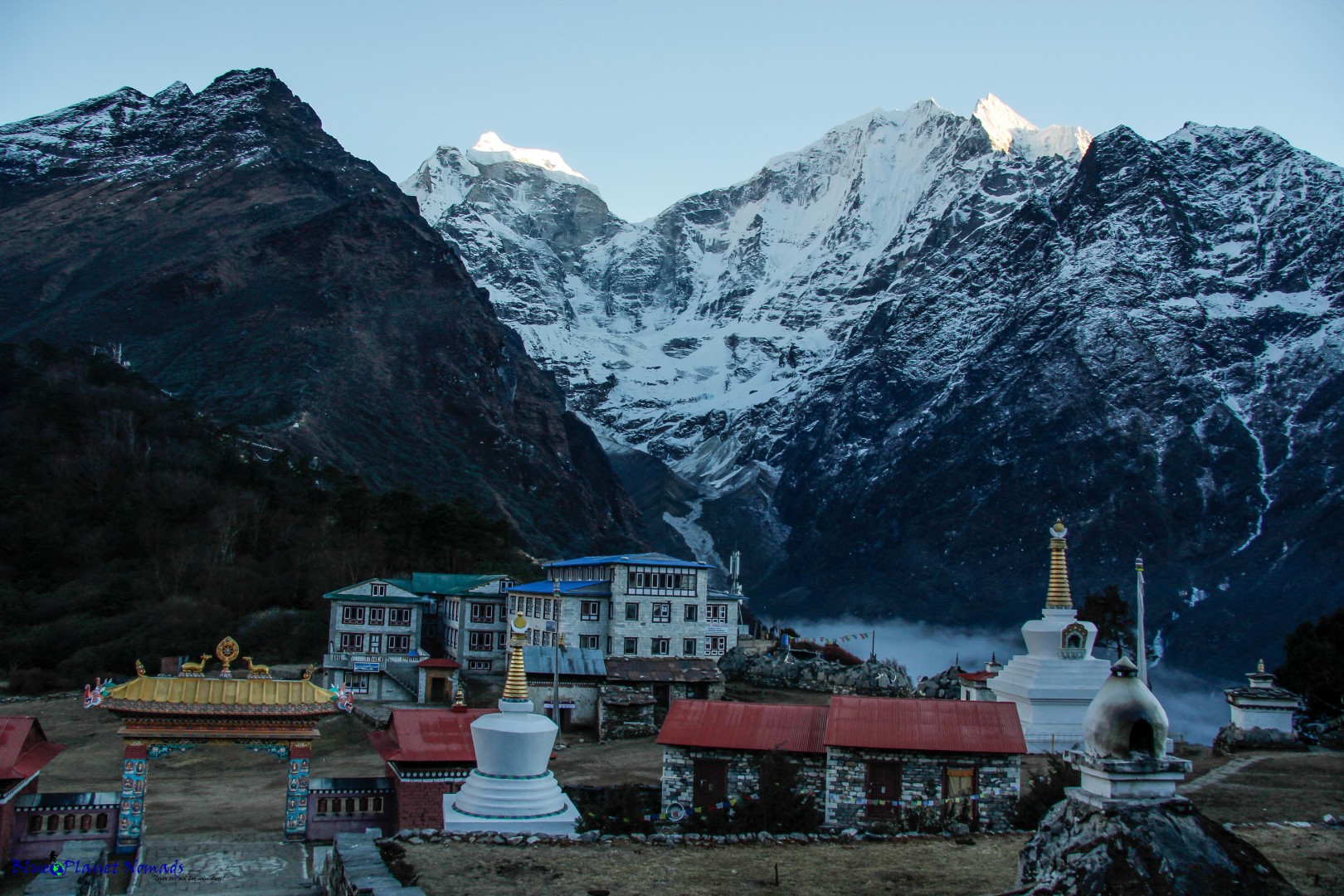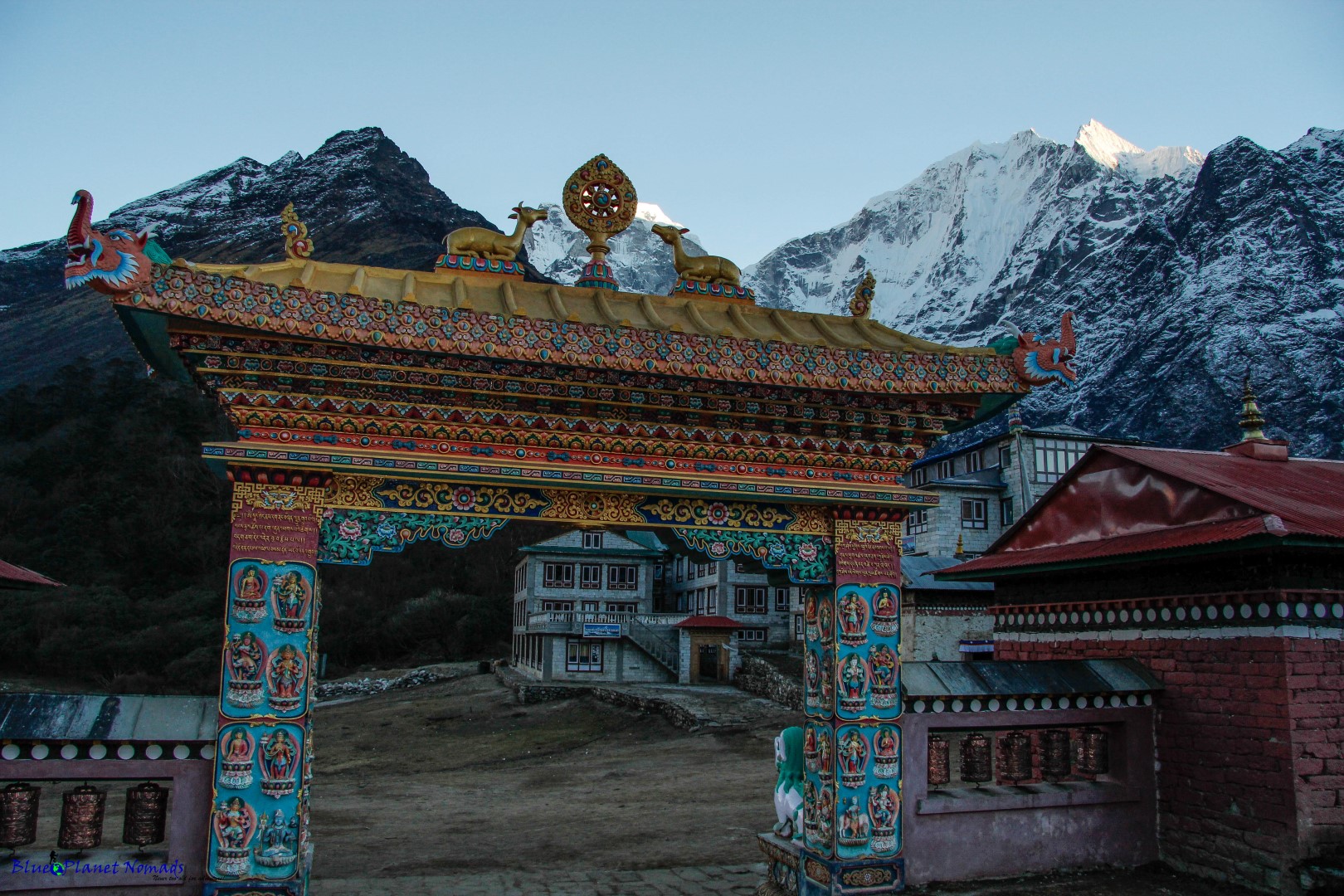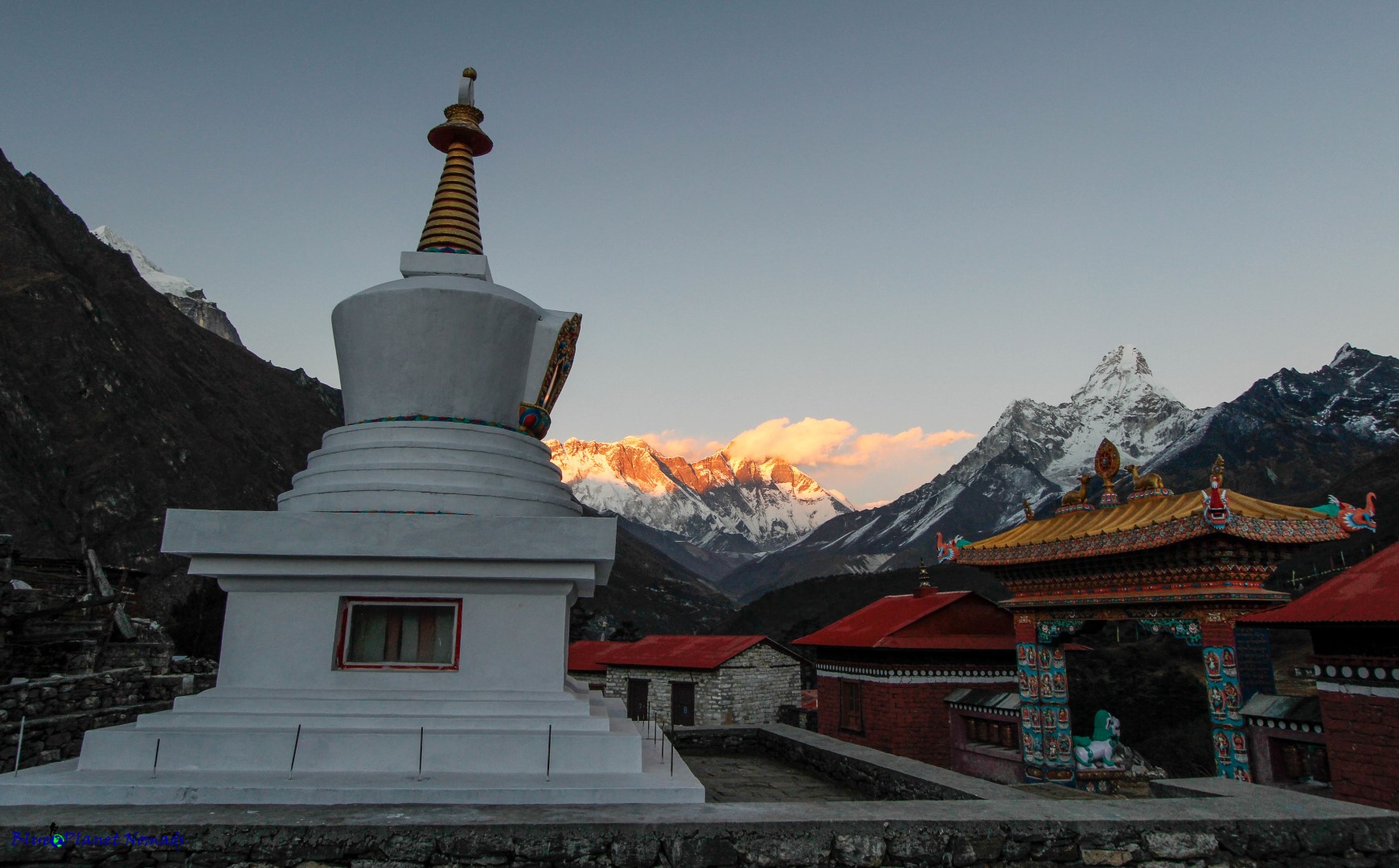 Day 15 – Namche (3440 Meters)
Today's walking was around 3 to 4 hours. We set off around 8am, the first part of the hike was a long steep downhill to the river. The path was slippery because of loose stones so it was not all that pleasant. Once we crossed the river it was then a steep uphill which was very tiring so we stopped in a village for some tea and a rest. It was then another uphill climb and neither myself or Ram felt at all well and once we reached the nearest guesthouse I had to bolt to the toilet!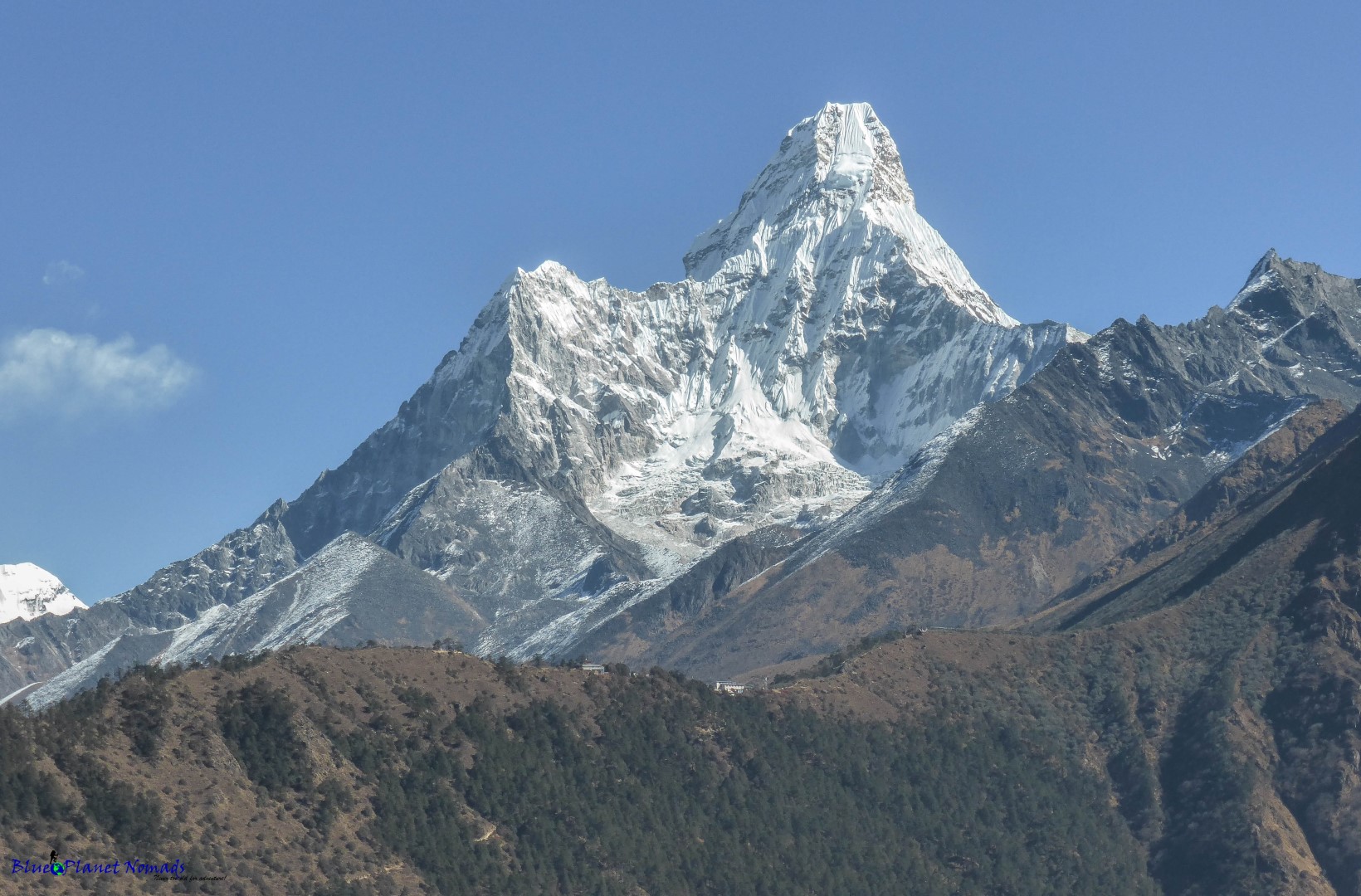 Vaughan had already steamed ahead and was waiting for us at another guesthouse. The trail then flattened out and followed the contours of the valley, it was the same trail we had walked a few days before going to Mong La.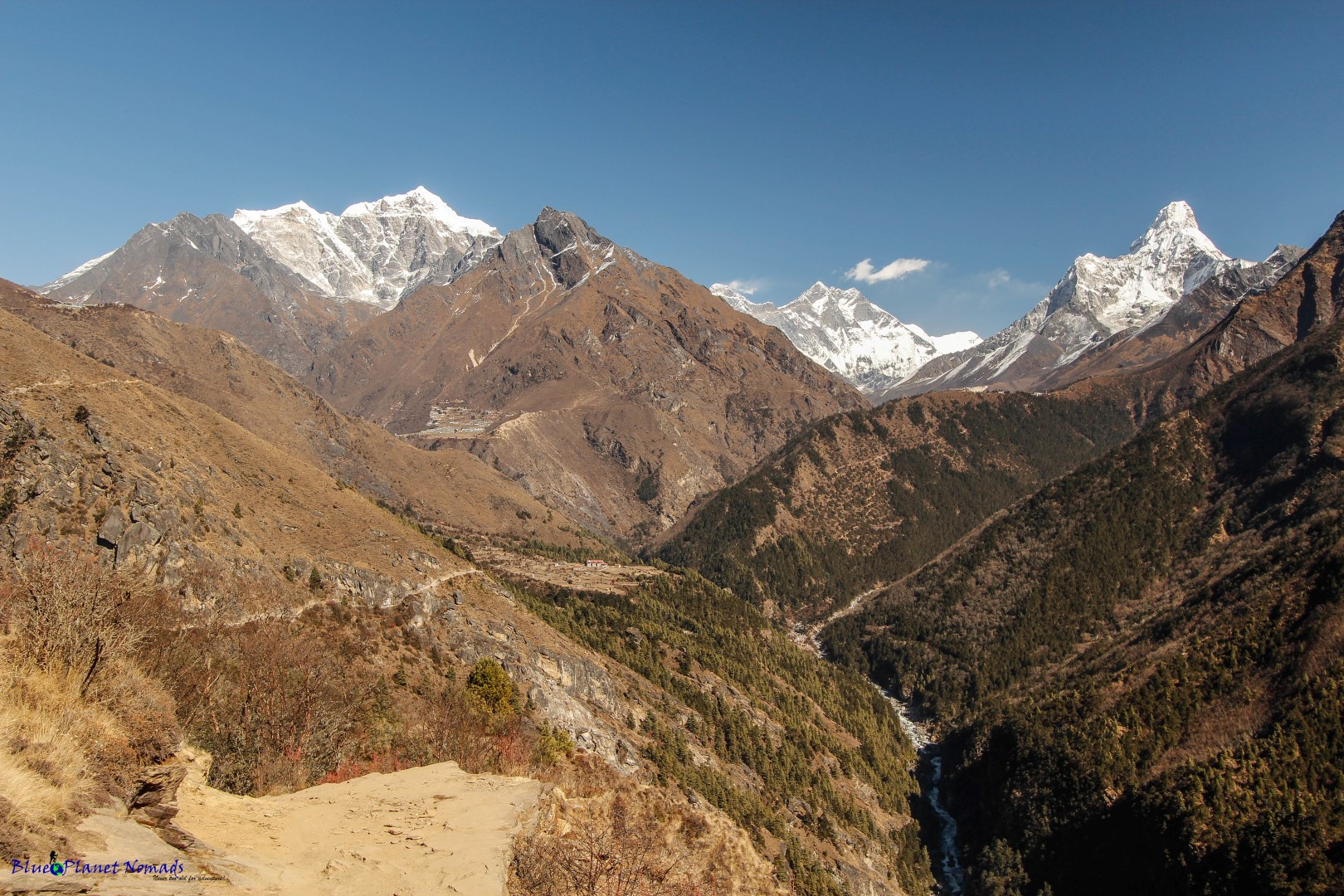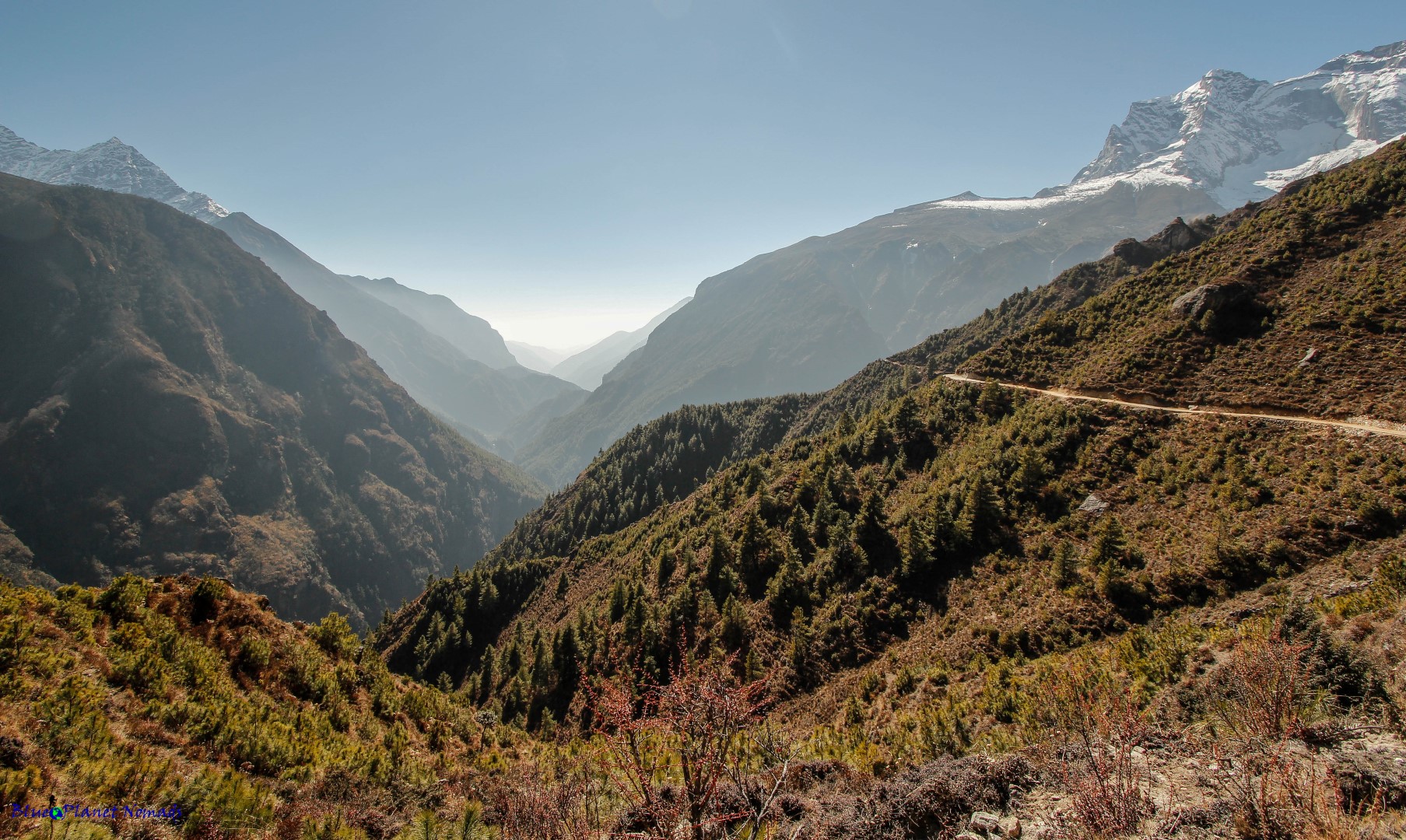 By lunchtime we were back at Moonlight Lodge in Namche. The lodge was empty except for a couple of Americans and a Canadian guy who we got friendly with. The afternoon was free for us to take care of a few errands like Internet and Vaughan getting the best haircut and shave he has ever had!
Day 16 – Day trip to Thame (3950 Meters)
Today was a total rest day for me, I was exhausted and I didn't have the energy to go anywhere. Vaughan wanted to to do a hike to Thame so he and Ram set off after breakfast. Thame makes a good day trip and there is plenty to see like villages, stone paintings, lovely scenery and you can even see the house where Tenzing Norgay was born (the famous Sherpa who climbed Everest with Hillary).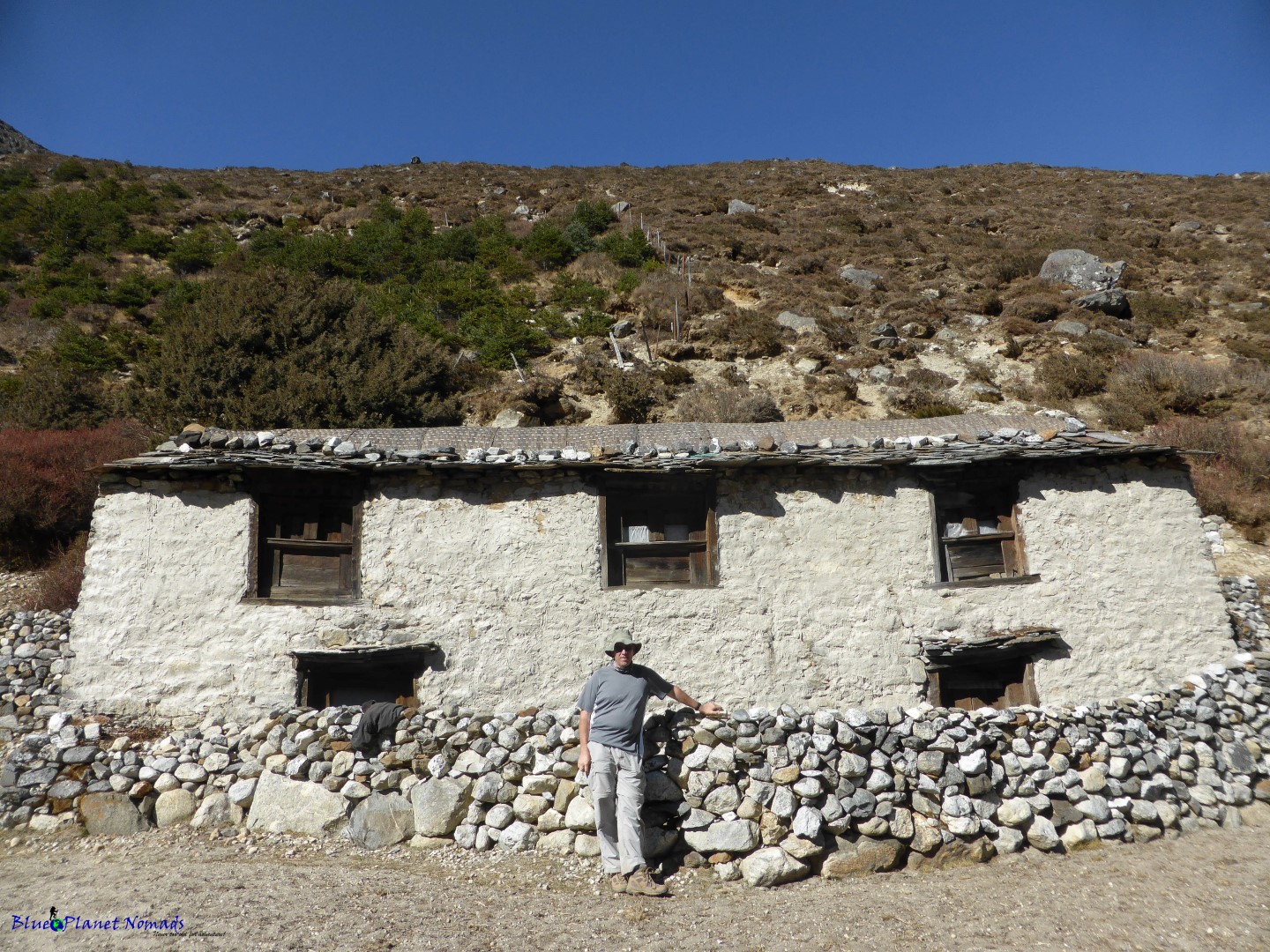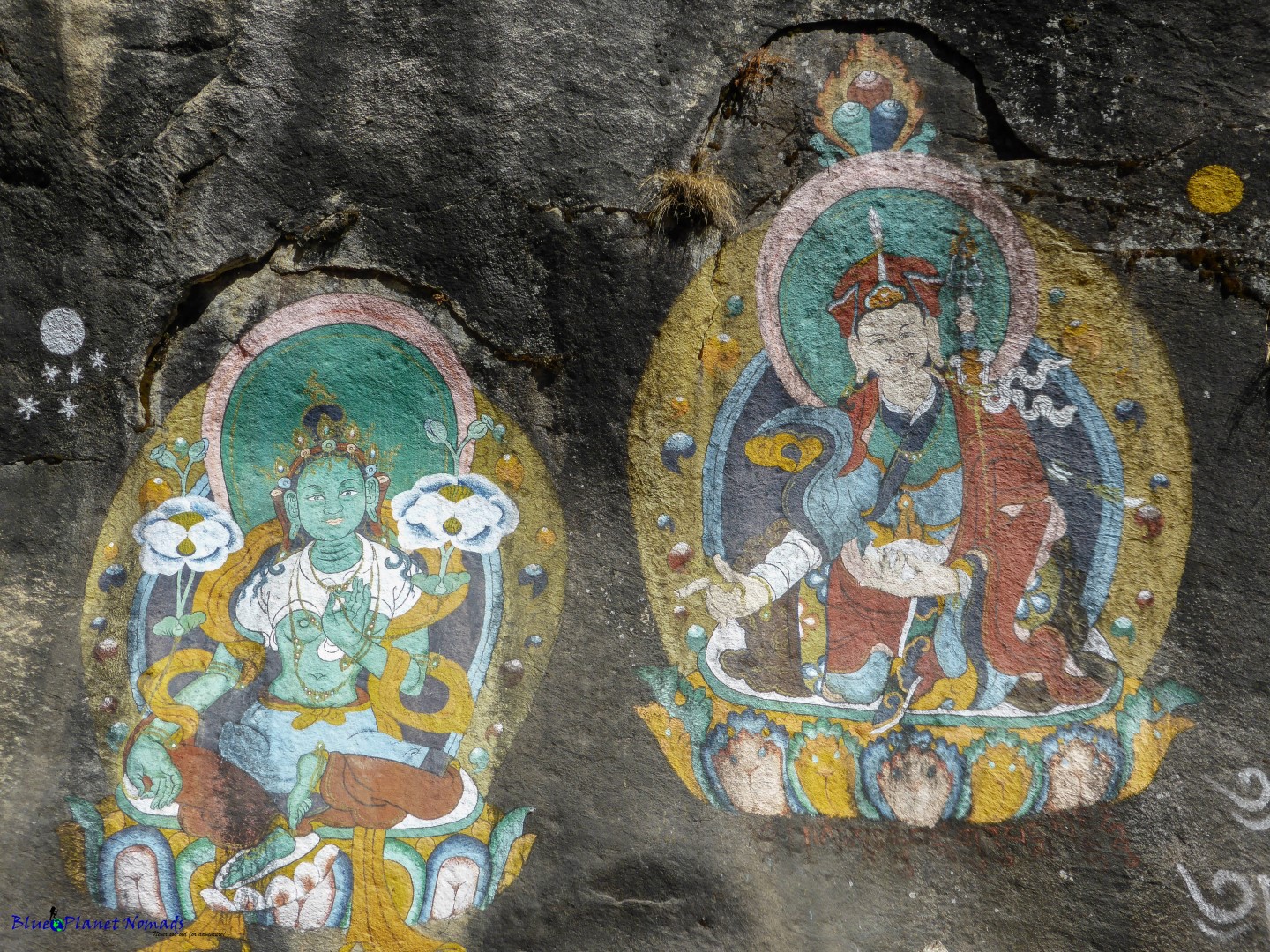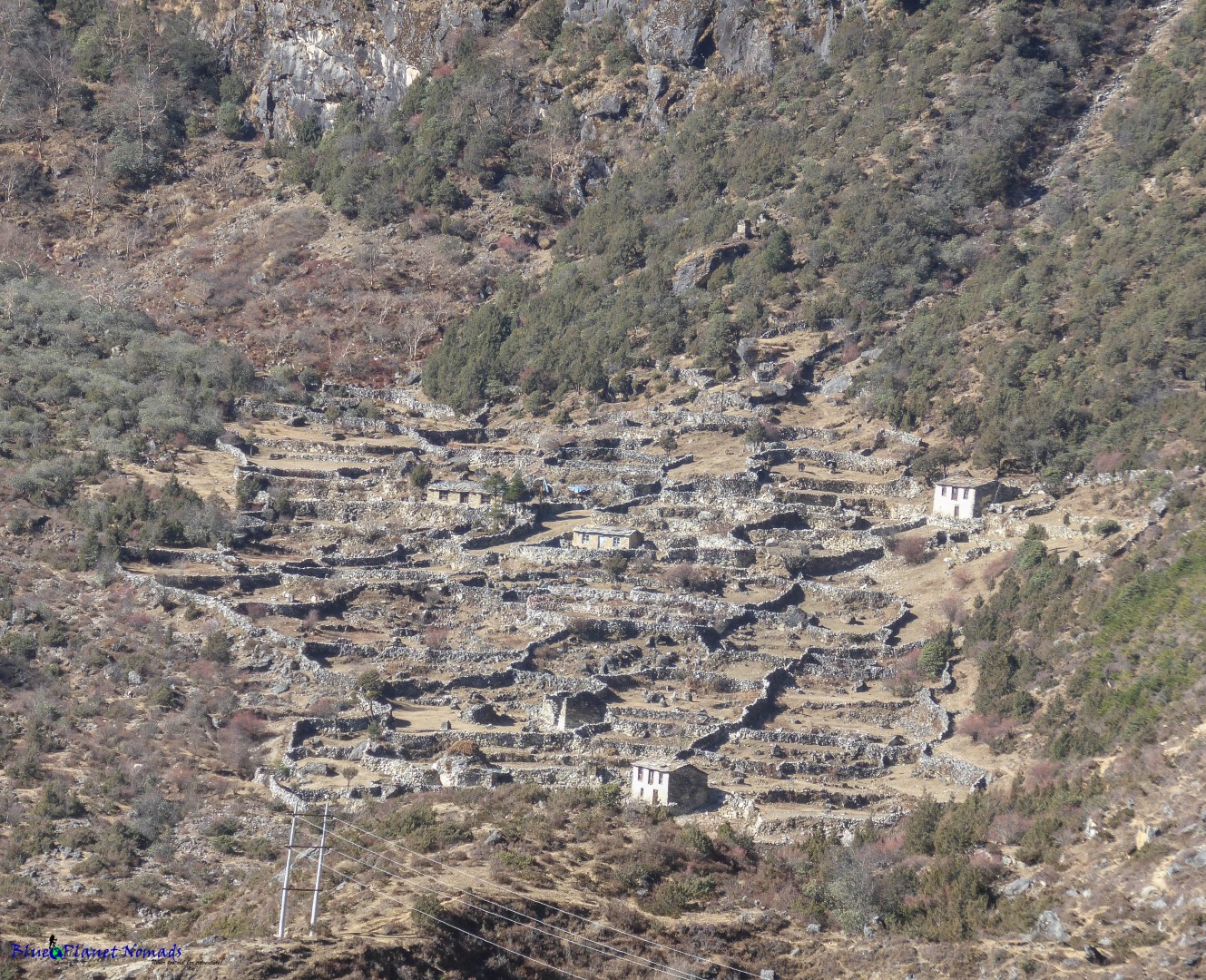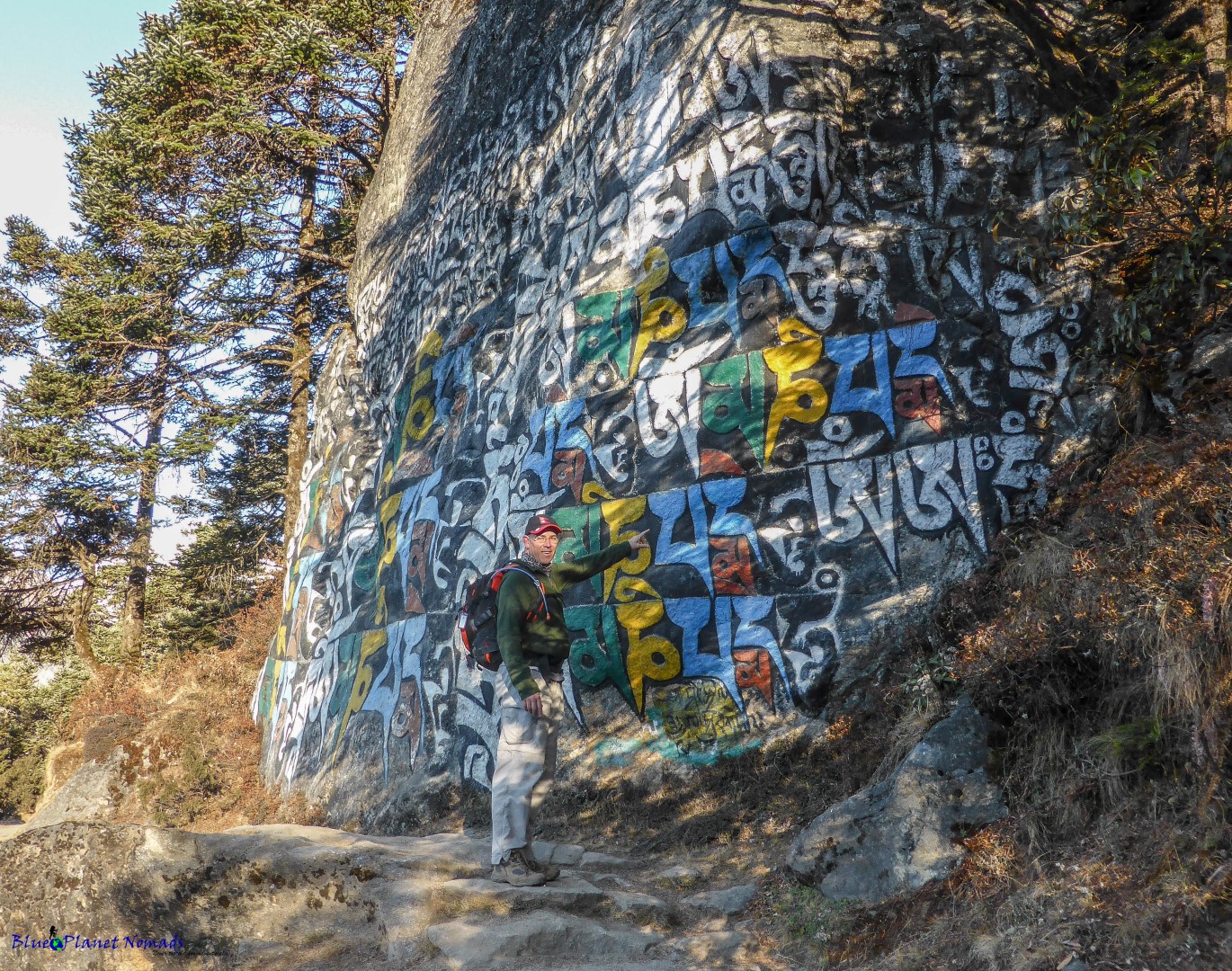 Day 17 – Jorsale (2740 Meters)
Today we were heading back down towards the start line! But tonight we would be stopping in Jorsale and staying once again in the lovely Nirvana guest house. Heading back down was certainly less strenuous than coming up, but the steps were quite busy with other trekkers, locals, porters, mules and dhozias. We caught our last glimpse of Everest and one day hope to see it again, perhaps this time from the Tibetan side. We first stopped just outside Namche at our porter's home to meet his wife and young son. It's an experience to see where the locals live, it was a tiny little house, very minimalist, basically two rooms and a wood stove for cooking. They have also set their home up as a little business and operates as a porter rest stop where porters can stop and rest and enjoy food and beverage. It's quite lucrative and something his wife takes care of while our porter is out walking the mountains with us tourists.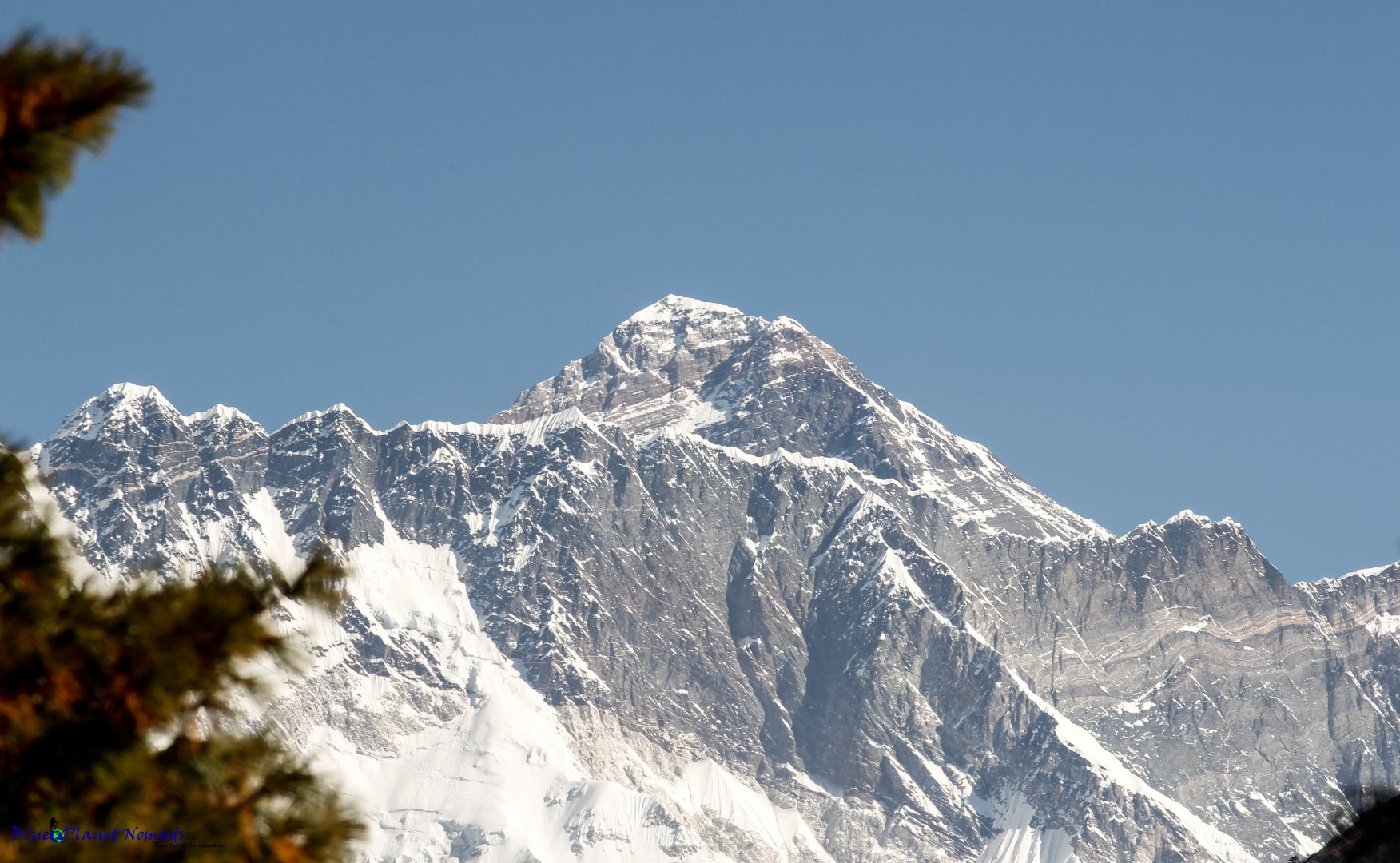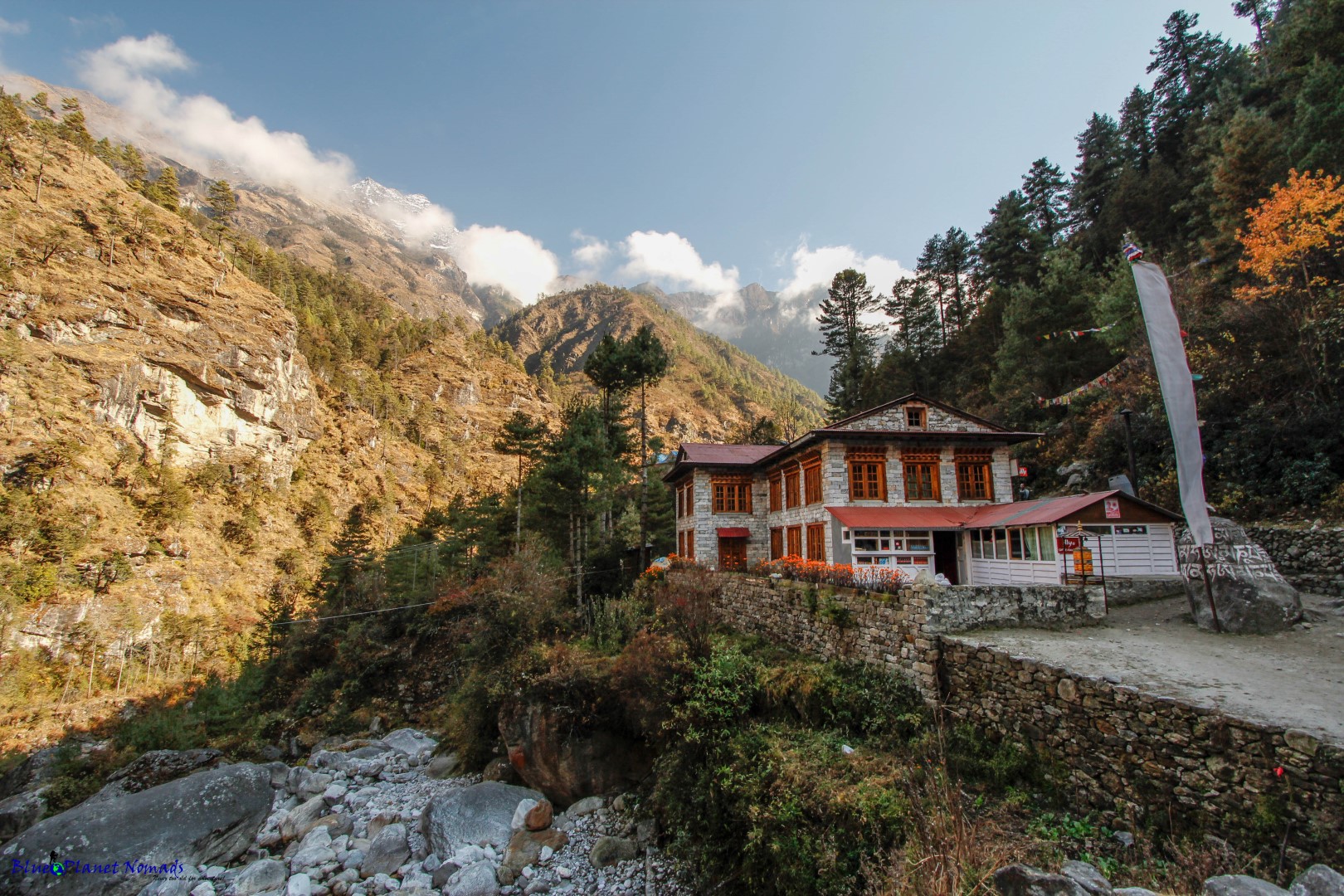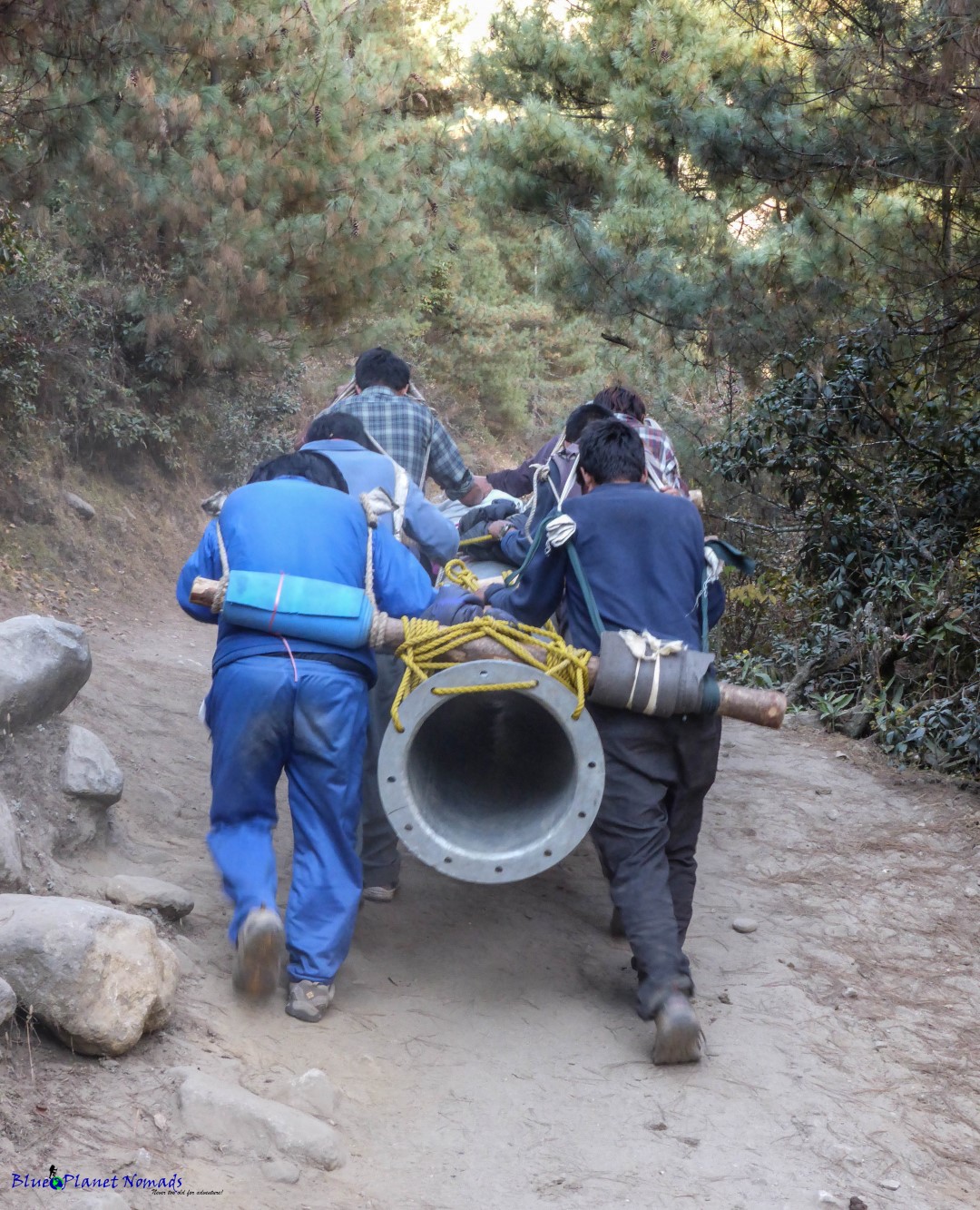 Day 18 – Lukla (2860 Meters)
It was quite a sad day today as it was our last day of trekking in this stunning region of Nepal. Even though the trek hadn't gone to plan and we hadn't quite made it to base camp, it was still an amazing trek witnessing some stunning scenery, seeing Everest and meeting some lovely people.
It was an easy days trek following the same path that we had walked only 18 days before except now we had amazing memories to bring back with us. We once again passed through Phakding and crossed the Dudhi Kosi river then from there just followed the lightly undulating trail through villages until we reached Lukla.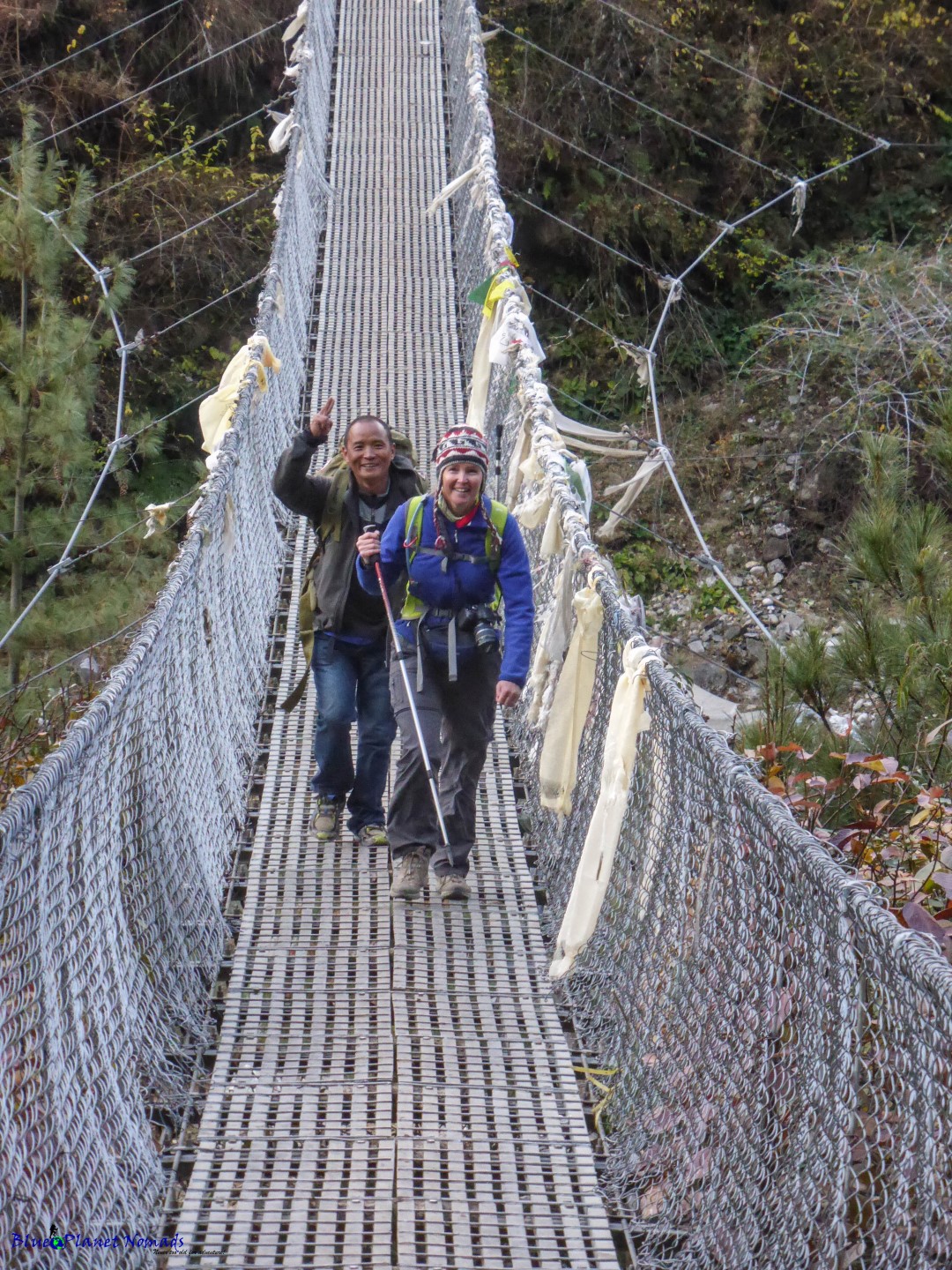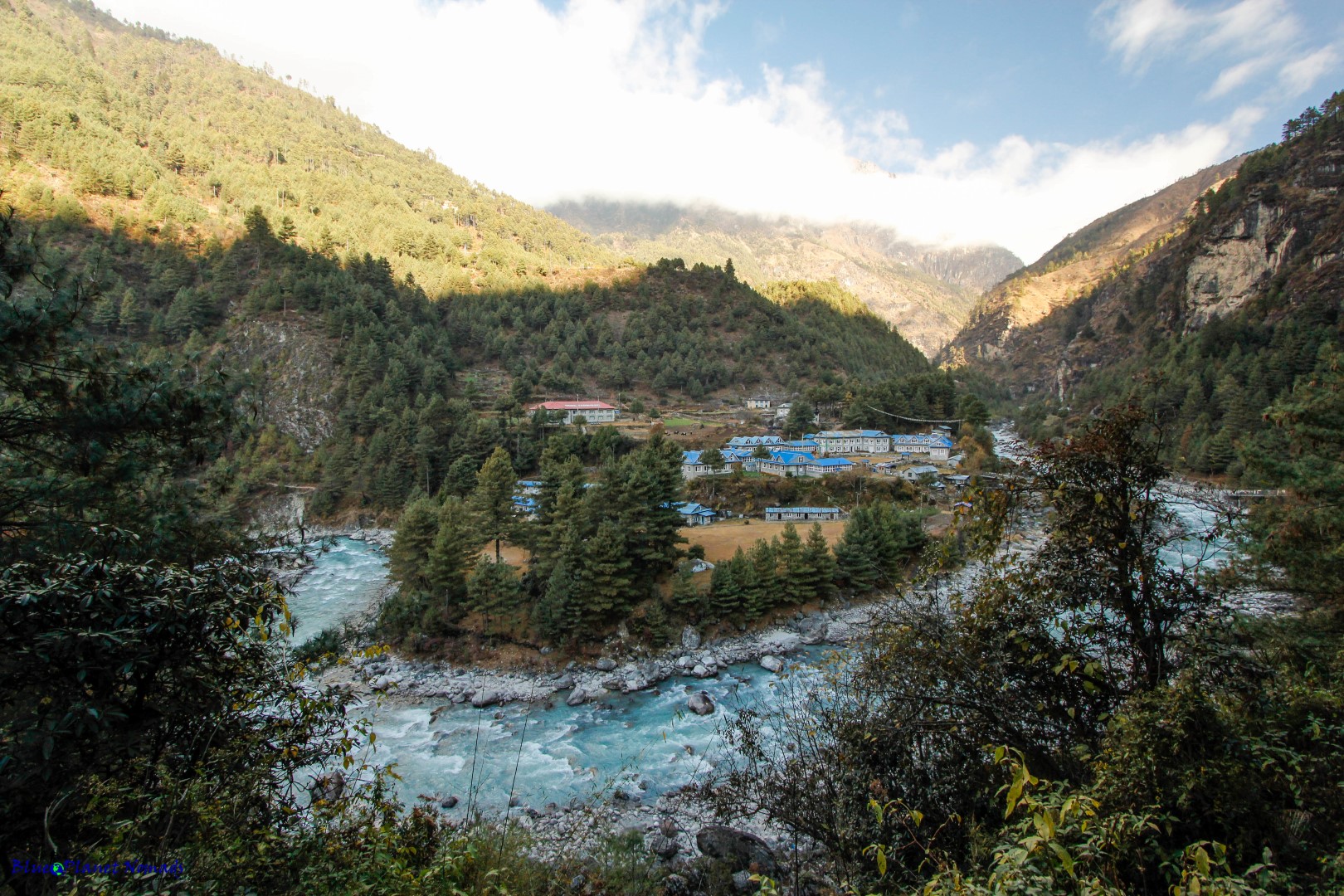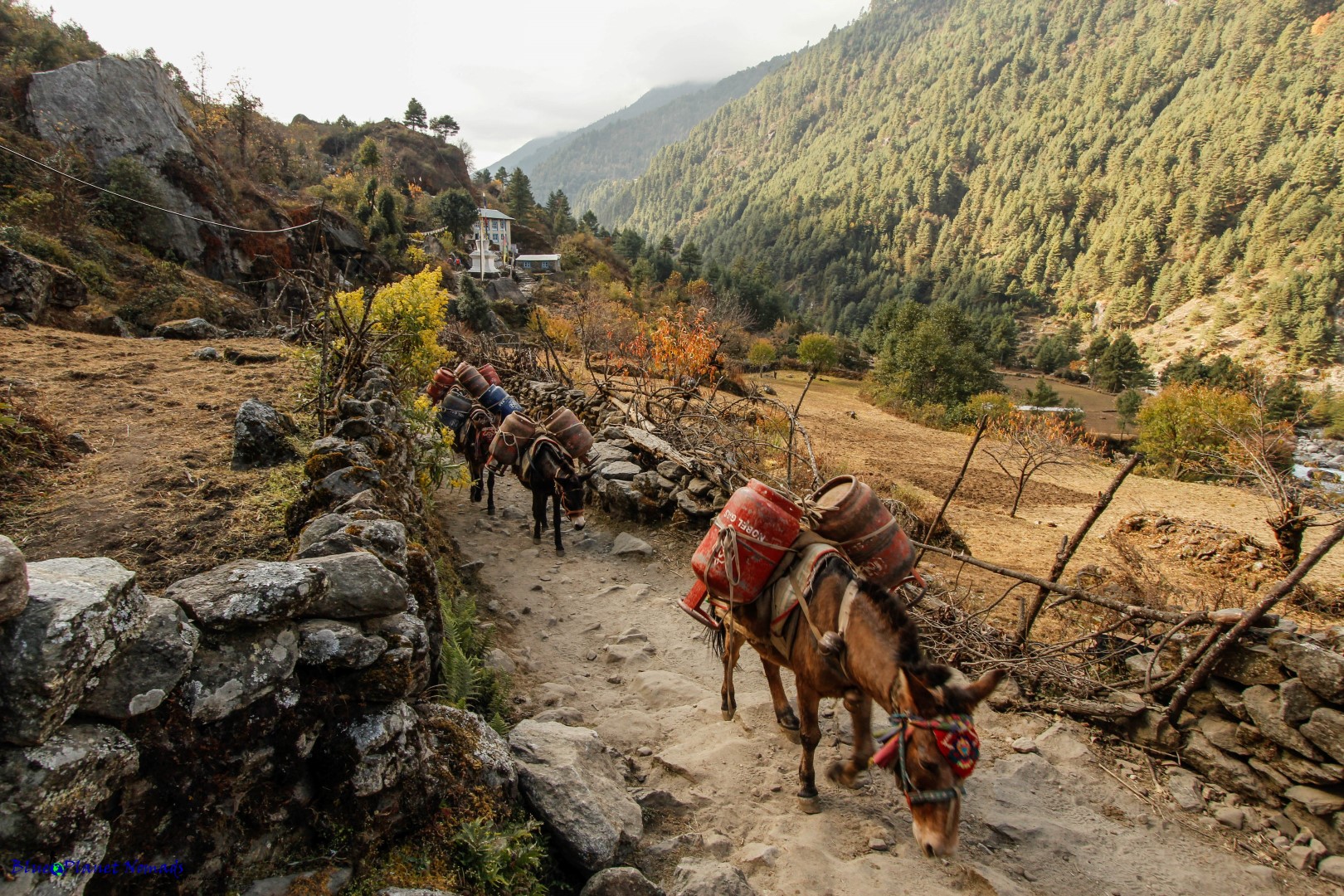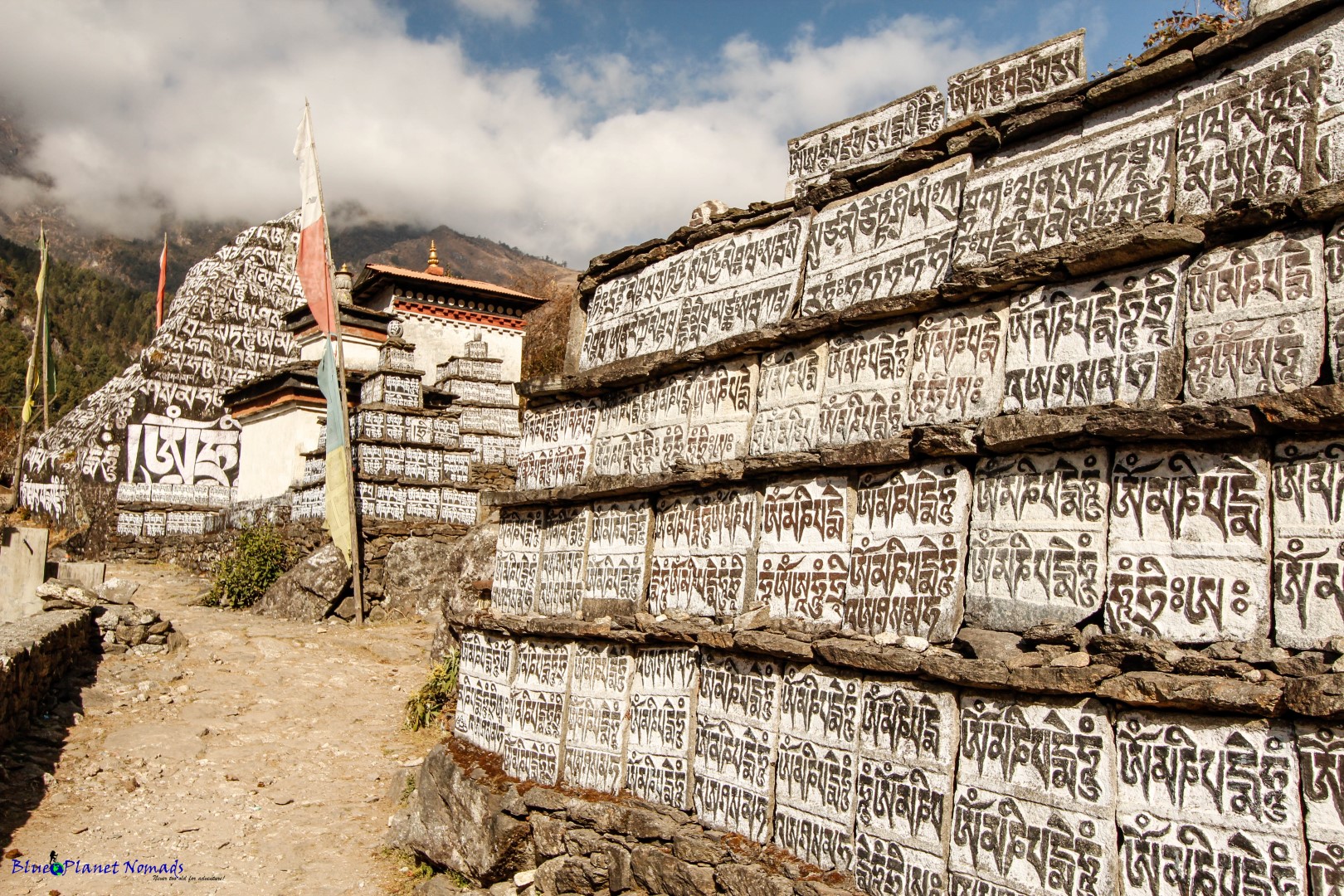 We arrived in Lukla in time for lunch and spent the afternoon exploring its shops, wonderful cafes and bakeries. The Everest Cafe was quite a popular choice for us.
We stayed in the same guesthouse where we had breakfast at the start of the trek. That evening we had a celebratory dinner with our guide and enjoyed a few well deserved beers!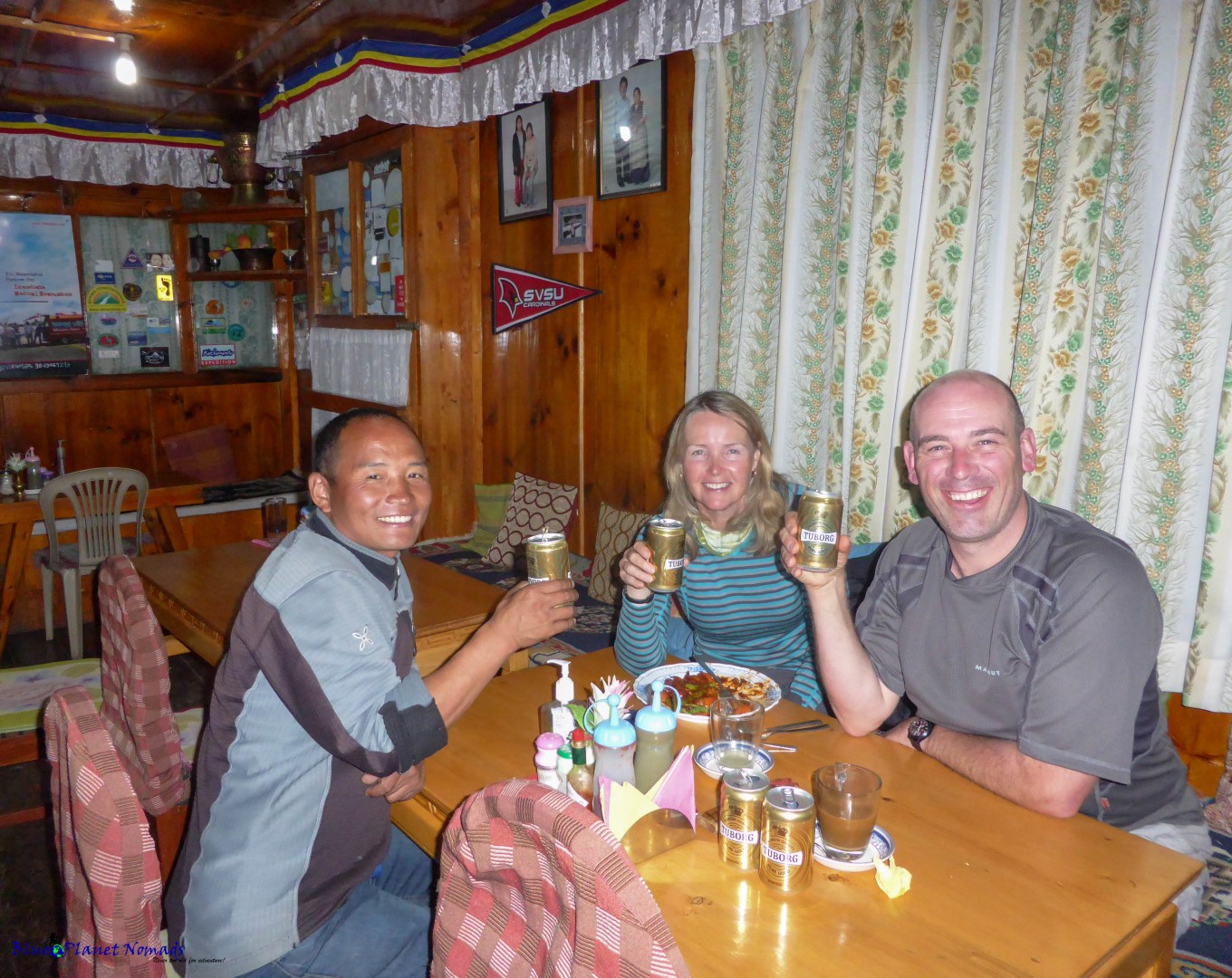 Day 19 – Return to Kathmandu
Today we would be returning back to Kathmandu. After breakfast we headed to the little airport at Lukla and boarded our little plane some hour later. We had another amazing flight and was back in Kathmandu before lunch. We had a few days in Kathmandu before our flight to our next destination – Sri Lanka where I was looking forward to some warm tropical clean air which I hoped would help rid of my cough.
We had been to Kathmandu before so had seen most of the major sites already. I did attempt to go to Durbur Square one of the days but the pollution and dust made it too uncomfortable for my cough so we spent the majority of the time relaxing and enjoying the cafes and restaurants around Thamel.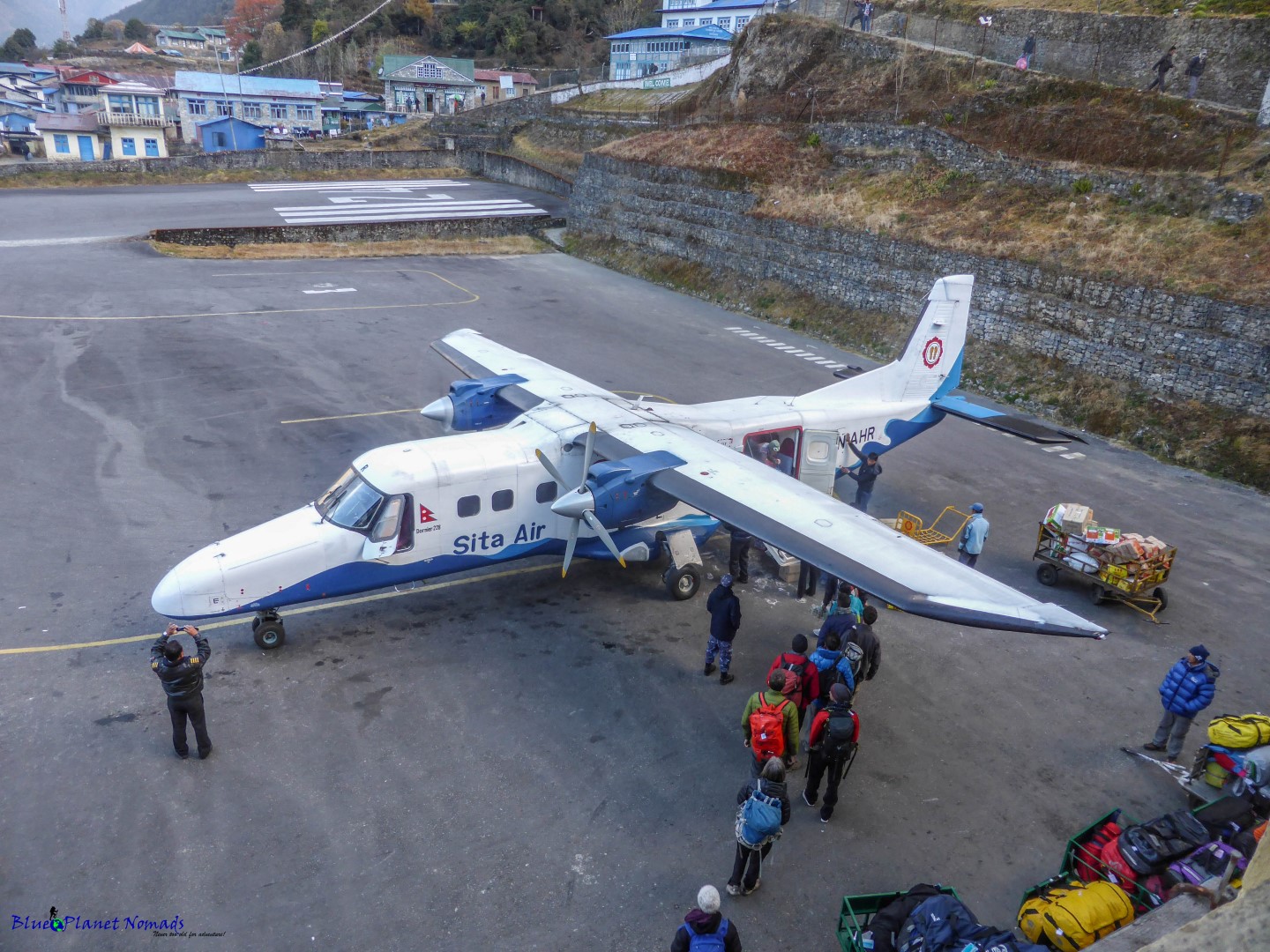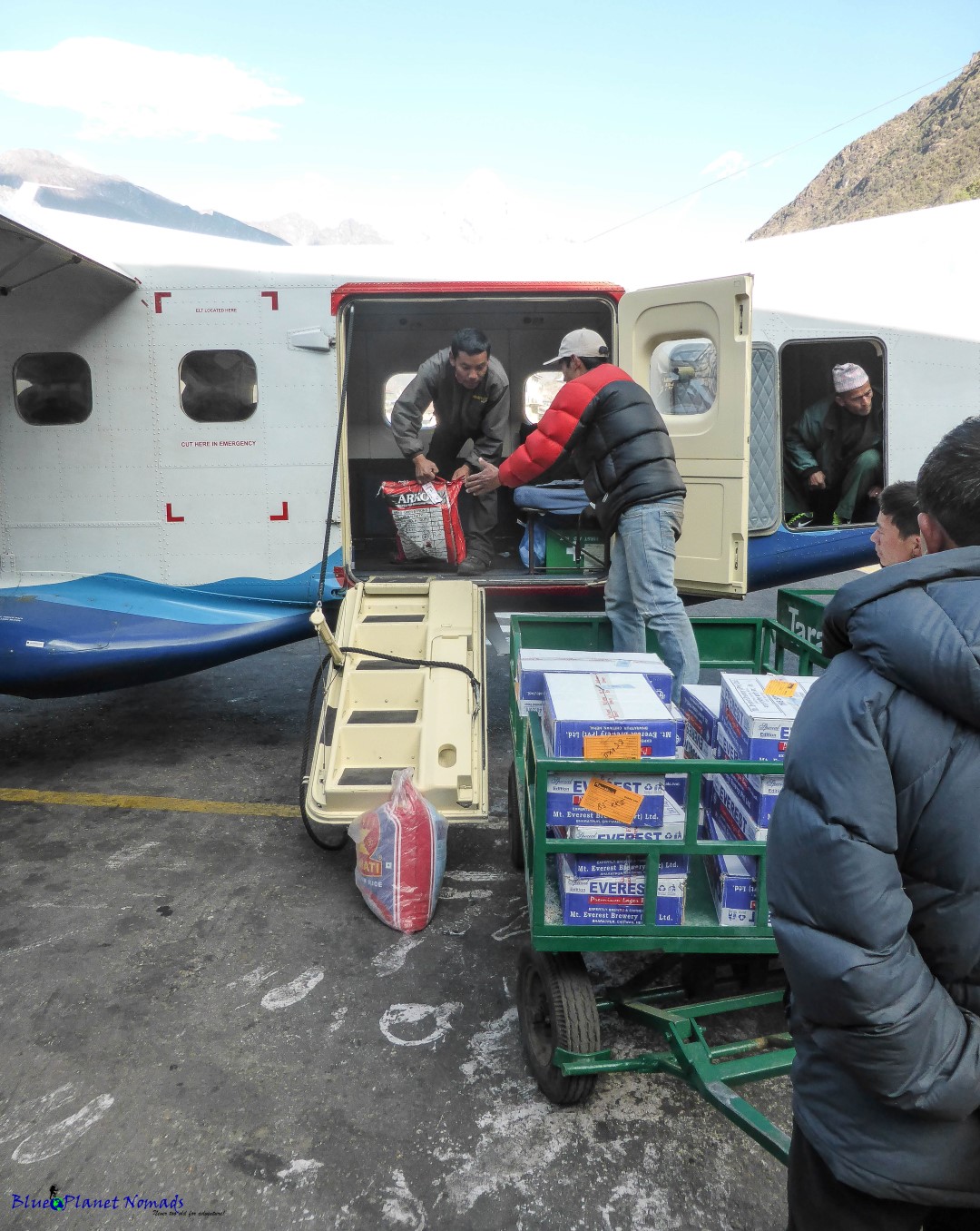 Final reflection:
We started this journey with the intention of making it to Everest Base Camp but things don't always go to plan especially when one gets sick. Looking back on our trek we still met our goal, we trekked among some of Nepal's most spectacular scenery, we met wonderful people both local and international and we saw Everest in all its glory. You learn that it's not about the destination, it's about the journey and this journey should be on every trekkers bucket list. One thing I will say is if you do ever contemplate a trip to base camp then do try include Gokyo Lakes, not only is it the most spectacular part of this region in our opinion but the best views of Everest are actually from Gokyo Ri 🙂
If you want to know more about how we chose Trekking Team as the preferred trekking agency, packing tips and more then keep a watch for my next posting coming soon..
If you have enjoyed the photos and would like to see more! then the complete gallery can be viewed in the Trip Photos